Baked Sweet Potato With Garam Masala Chickpeas
A quick, easy, comforting and filling dinner idea using delicious plant-based ingredients that will nourish your body.
In my opinion, sweet potatoes are one of the most delicious foods ever! High in vitamins A, C, B5, B6 AND fibre, of course (we like fibre!). I usually bake a whole bag of them and store them in the fridge to snack on when I'm feeling peckish or when I need a quick lunch. Tastes amazing with any kind of beans, large side salad and hummus!
This may sound weird, but baked sweet potatoes also make a great dessert or sweet snack! Baking a sweet potato caramelises the natural sugars they contain – you can see in the shot below how the juices are oozing out! Tastes incredible topped with some almond butter and cinnamon. Just the thought of it is making me drool!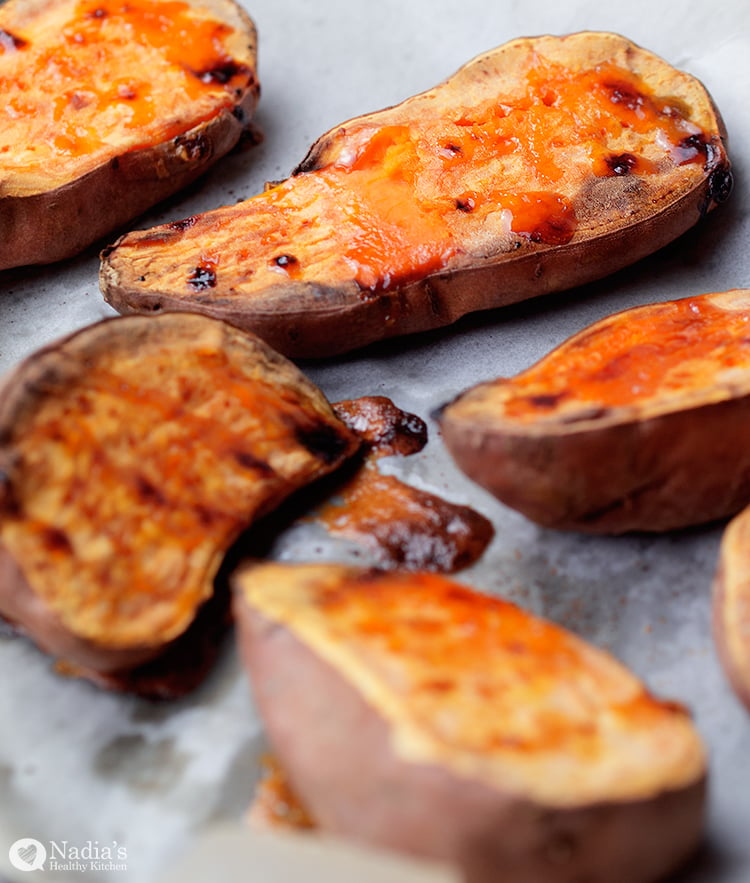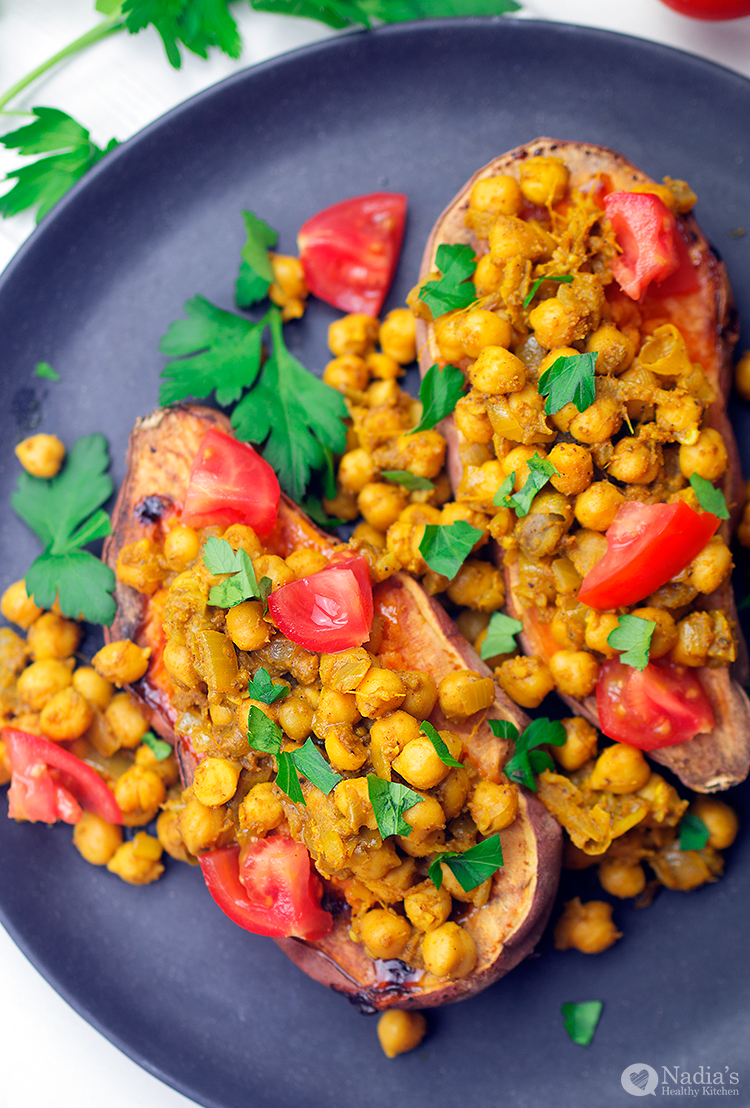 This baked sweet potato with garam masala chickpeas recipe is gluten-free, dairy-free and vegan.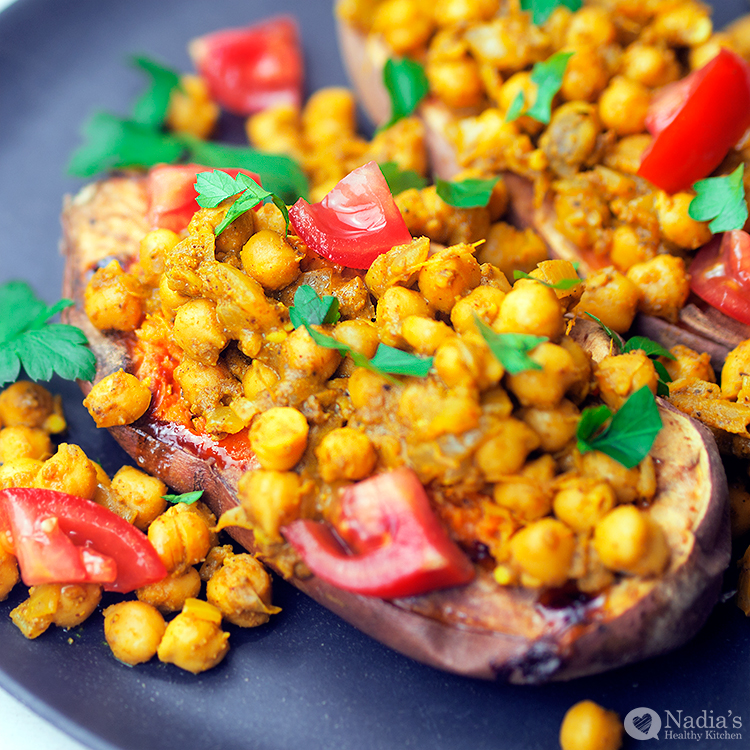 Baked Sweet Potato with Garam Masala Chickpeas
2016-02-29 16:57:21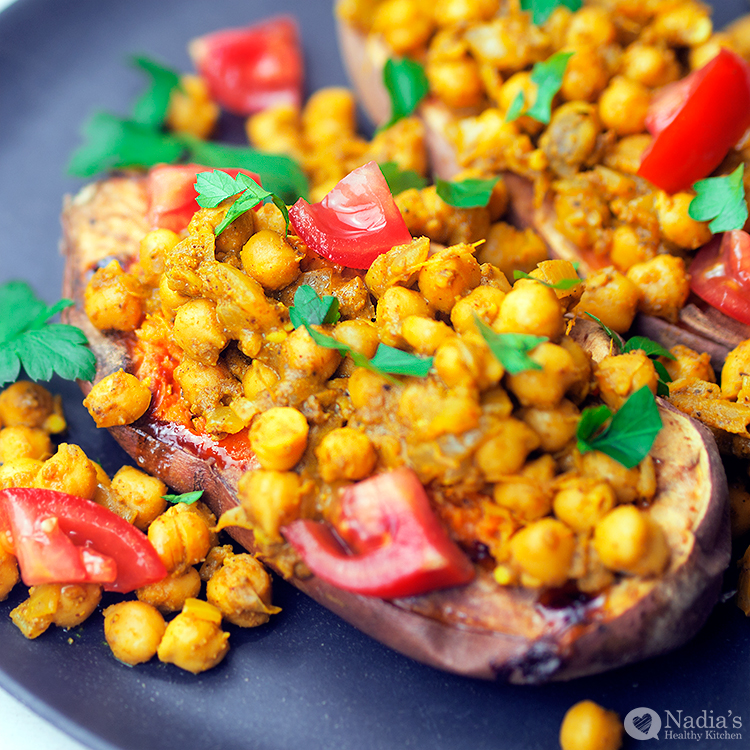 Serves 2
Ingredients
1 1/4 cups (240g) cooked chickpeas
2 medium sweet potatoes
1/2 tsp turmeric
1 tsp cumin
1 tsp coriander
2 tsp garam masala
1 tsp curry powder
Juice of 1 lemon
2 garlic cloves, minced
1/2 medium onion
1 inch piece of fresh ginger
Salt & pepper to taste, minced
Instructions
Preheat your oven to 200*C/400*F
Cut the sweet potatoes in half lengthways.
Prick the potatoes a few times with a fork and drizzle 1/2 tsp of olive oil onto each half. Place inside side up.
Bake for around 30 minutes or until they're cooked all the way through.
In the meantime, heat about a tbsp of coconut oil in a frying pan and add the chopped onion. Sautee for about 5 minutes then add in the spices. Mix and cook for another minute (I like to add a little bit of water with the spices to turn them into a paste to make it easier to mix).
Add in the ginger and crushed garlic. Cook for a few seconds then add in the chickpeas along with the fresh lemon juice.
Mix until the chickpeas are evenly coated and warmed through.
Take the potatoes out of the oven, place on a serving plate and top with the chickpea mixture.
Add fresh chopped tomatoes and coriander to decorate.
Enjoy!
Notes
Nutritional information (estimated per serving)
Calories: 340 kcal
Protein: 10.3 g
Carbs: 53.3 g
Fat: 11 g
Fibre: 11.2 g
Nadia's Healthy Kitchen https://nadiashealthykitchen.com/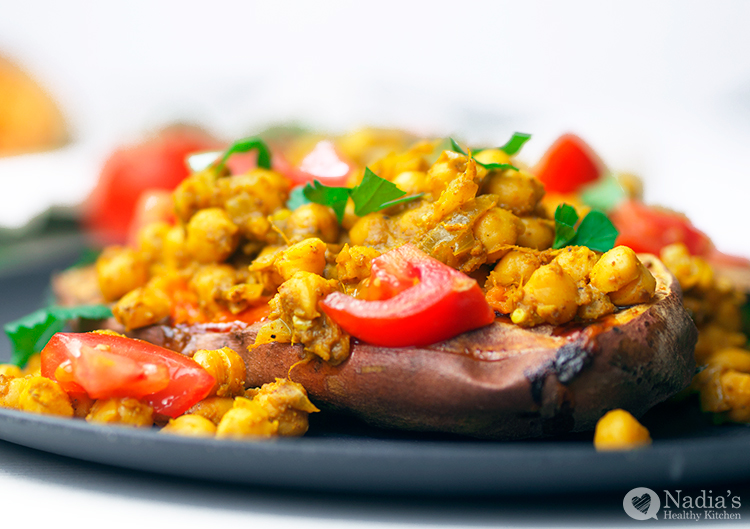 If you love sweet potato, here are some other fun ways to incorporate them into recipes: