Sweet Potato Gnocchi
You know sometimes when you come across a recipe and straight away you think "This looks too difficult" and you move on before actually reading the recipe and knowing what goes into it, well for me, homemade gnocchi was one of those recipes! I'd seen a few people making homemade sweet potato gnocchi but I've always thought there is no way this is not going to be fiddly! Now I realise how completely wrong I was!
I had some mashed sweet potato in the fridge and was feeling adventurous, so thought why not – let's make some sweet potato gnocchi!
I was surprised how easy it actually was to put together. The fact that I had my potatoes already cooked and mashed made it a lot easier and quicker of course, but apart from that, all I did was add some flour and seasoning, boil for a couple of minutes and that was literally it! And I was so pleased with the results. The texture was spot on, just like the gnocchi you get in restaurants and in the supermarkets.
I love pesto and almost always have some in the fridge. To flavour my sweet potato gnocchi, I'm adding some of my homemade sun-dried tomato red pesto, but if you prefer green pesto, I have a homemade version of that too!
This recipe is vegan, dairy-free and gluten-free.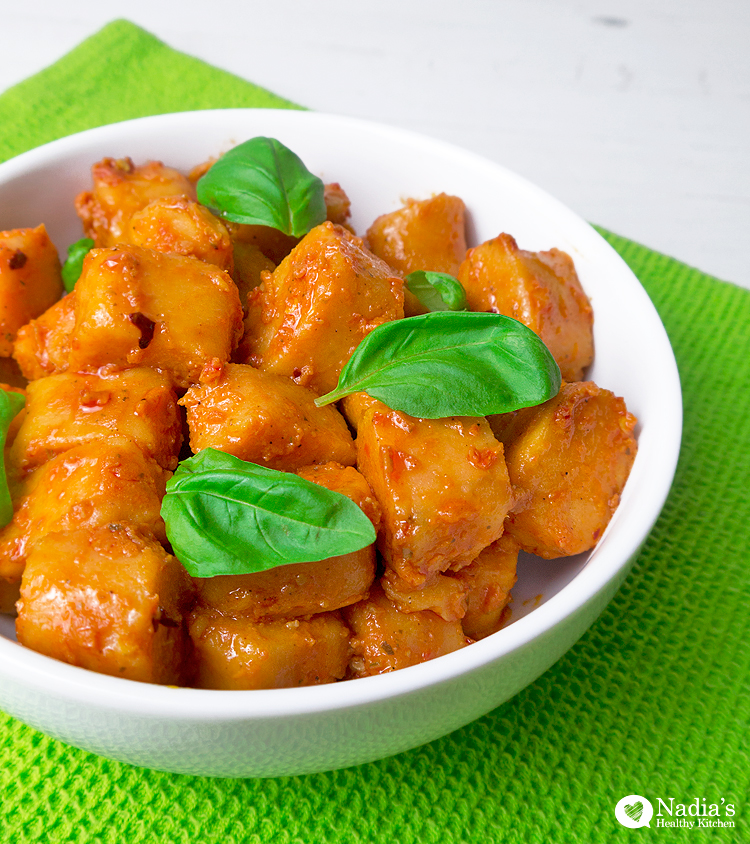 Sweet Potato Gnocchi
Serves – 2
Ingredients
1 cup cooked, mashed sweet potato
1 1/4 cup gluten free flour
1/2 tsp salt
1/4 tsp garlic powder
Black pepper
2 tbsp red pesto (use my easy homemade recipe)
Pinch of chilli flakes (optional)
Squeeze of fresh lemon juice
Method
I steamed and mashed my potatoes before hand. Another option is to boil them until soft enough to mash.
Transfer your mashed sweet potatoes into a large bowl then add in the flour, salt, black pepper and garlic powder. Mix until you have a smooth dough like texture.
If the mixture still feels a little bit wet, add in some more flour – one tablespoon at a time.
Divide the dough in half.
Sprinkle some flour on your work surface and start rolling out your first piece of dough into a long thin cylinder.
Cut your cylinder into 1 inch gnocchi pieces.
Bring a large pan of water to the boil and drizzle in some olive oil. The olive oil will coat the gnocchi stopping them from sticking together.
Once the water is boiling, add your gnocchi pieces and leave to cook until they float to the surface of the water. Transfer the gnocchi onto a dish and repeat with the second piece of dough.
Once your gnocchi is ready. Pour out the liquid from the pan then add to the heat. Return your gnocchi to the pan and mix in the pesto, lemon juice and chilli flakes.
Transfer to your serving dish.
Enjoy!