If you're looking for a speedy dessert, you need to give these 3-ingredient healthier hazelnut fudge a try. Made with wholesome, better-for-you ingredients and taste so decadent!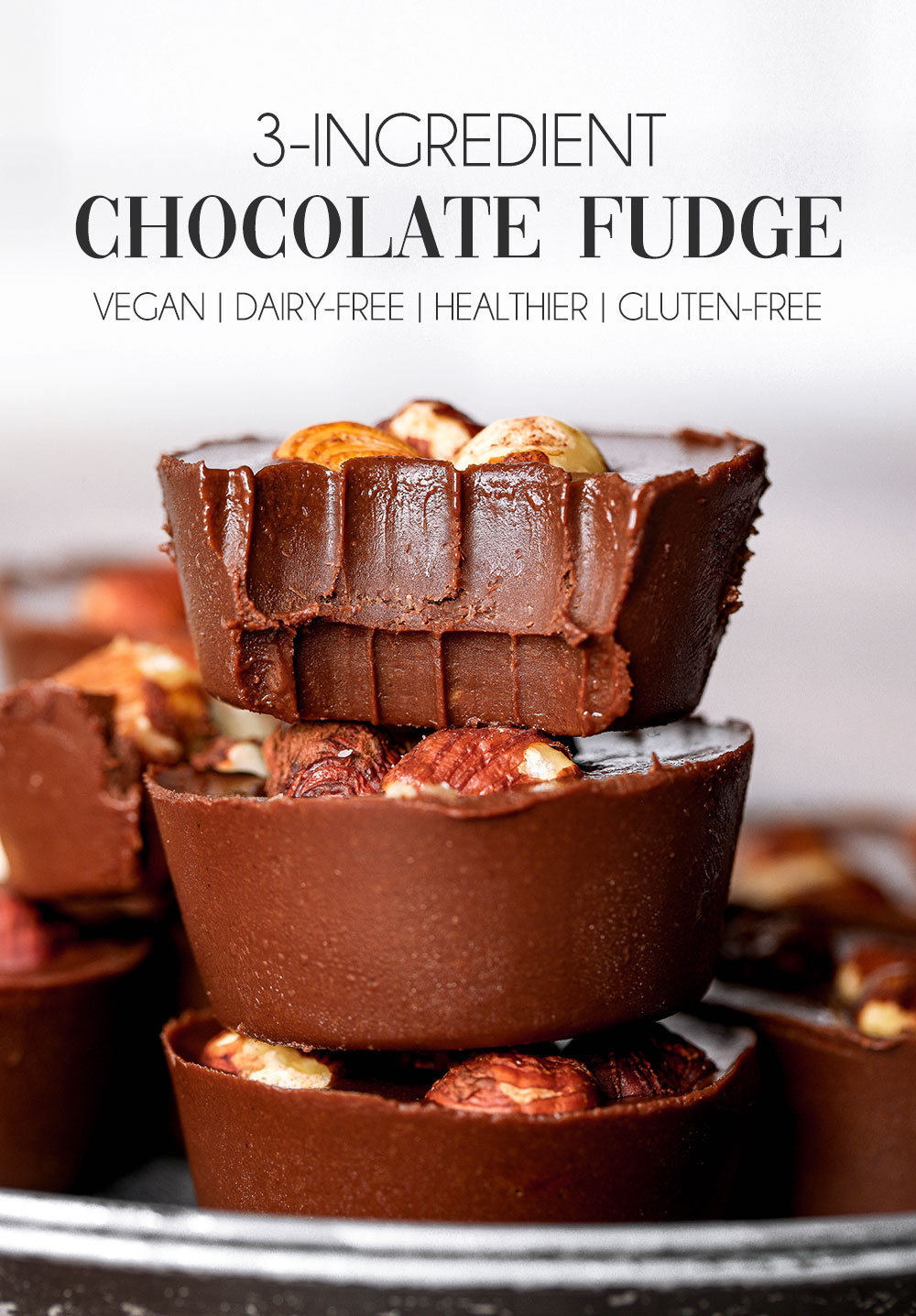 Easy, few ingredient recipes have always been my favourite, especially when it comes to desserts. The fewer the ingredients and steps the better. At the same time I make sure I never compromise on taste. At the end of the day you do want to enjoy what you made, right?
If you've been following me for a while you'll know how much I love tahini. I use it in so many of my recipes, especially desserts. Tahini is more commonly known as an ingredient in savoury dishes like sauces and dips (E.g. Tahini sauce, Hummus & Baba Ganoush).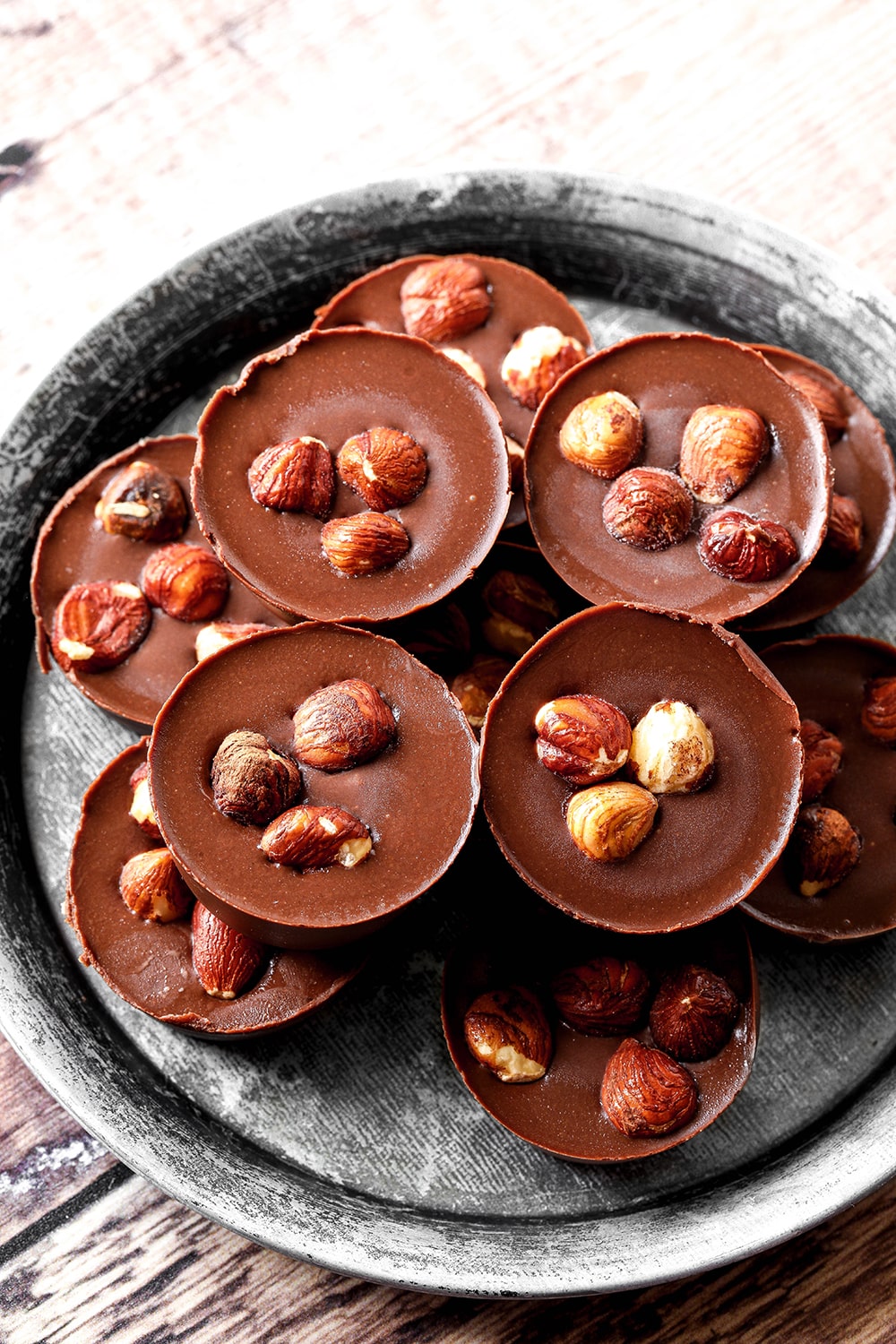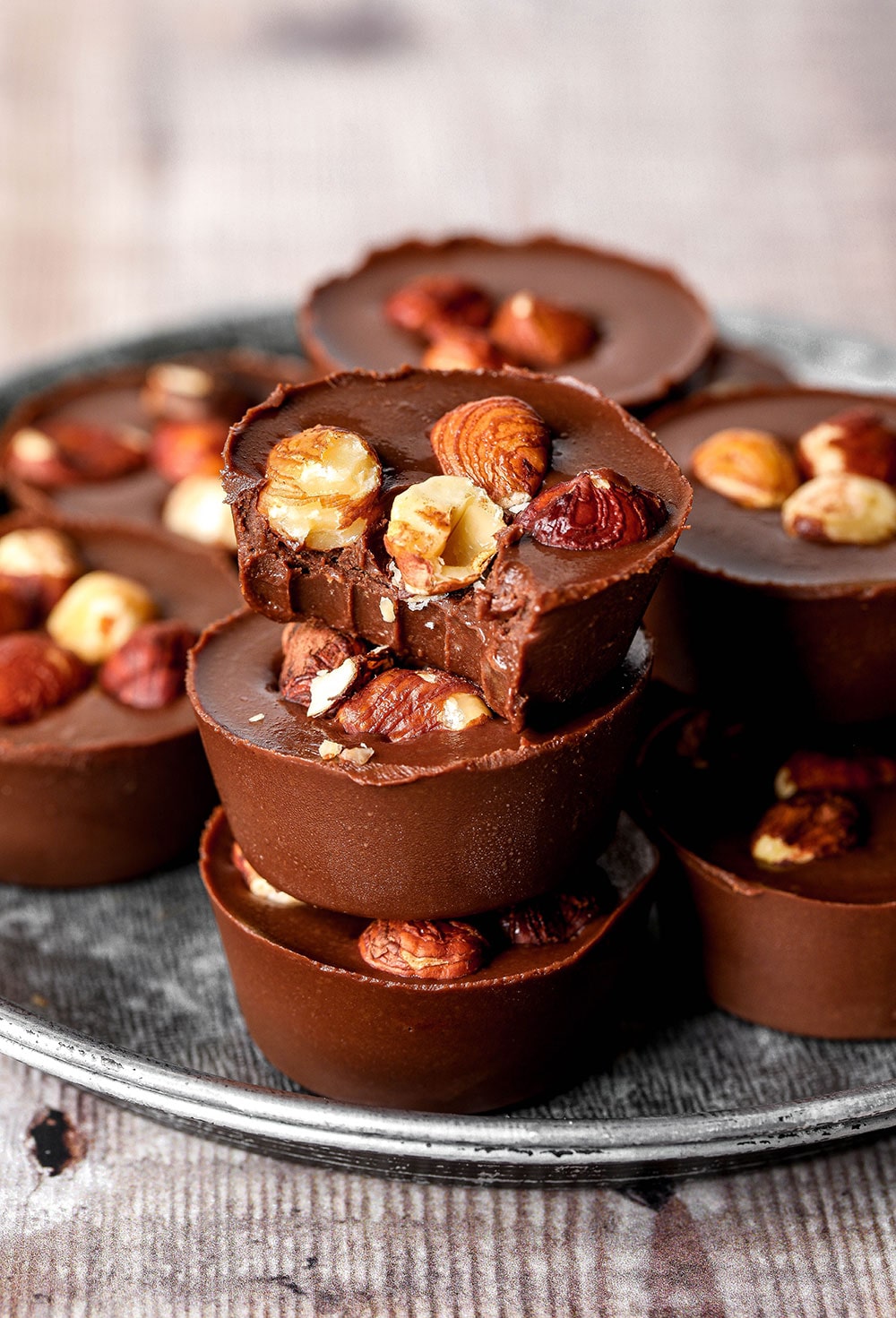 I grew up eating tahini everyday for breakfast. My parents would mix it in a bowl with some date syrup/molasses and we would enjoy it by dipping fresh bread into it. A Middle Eastern peanut butter & jam if you like, but we use tahini instead of the peanut butter and date syrup in place of the jam. It creates the most delicious, rich taste. The sweetness of the date syrup cuts through the bitter tahini beautifully. If you haven't tried it, it's honestly one of the tastiest things ever (in my opinion).
I've used it to make all sorts of desserts – from brownies, cookies, cakes and now these 3-ingredient healthier hazelnut fudge.
This fudge recipe is actually an adaptation of this 2-ingredient fudge recipe that I've been making for years. I wanted to reshoot the recipe and take new shots (my photography skills are constantly improving and I want it to reflect on my blog!), but then thought I'd tweak it a little instead and make a slight variation to show how easy it is to adapt and how many different possibilities there are to make these fudge more fun and exciting.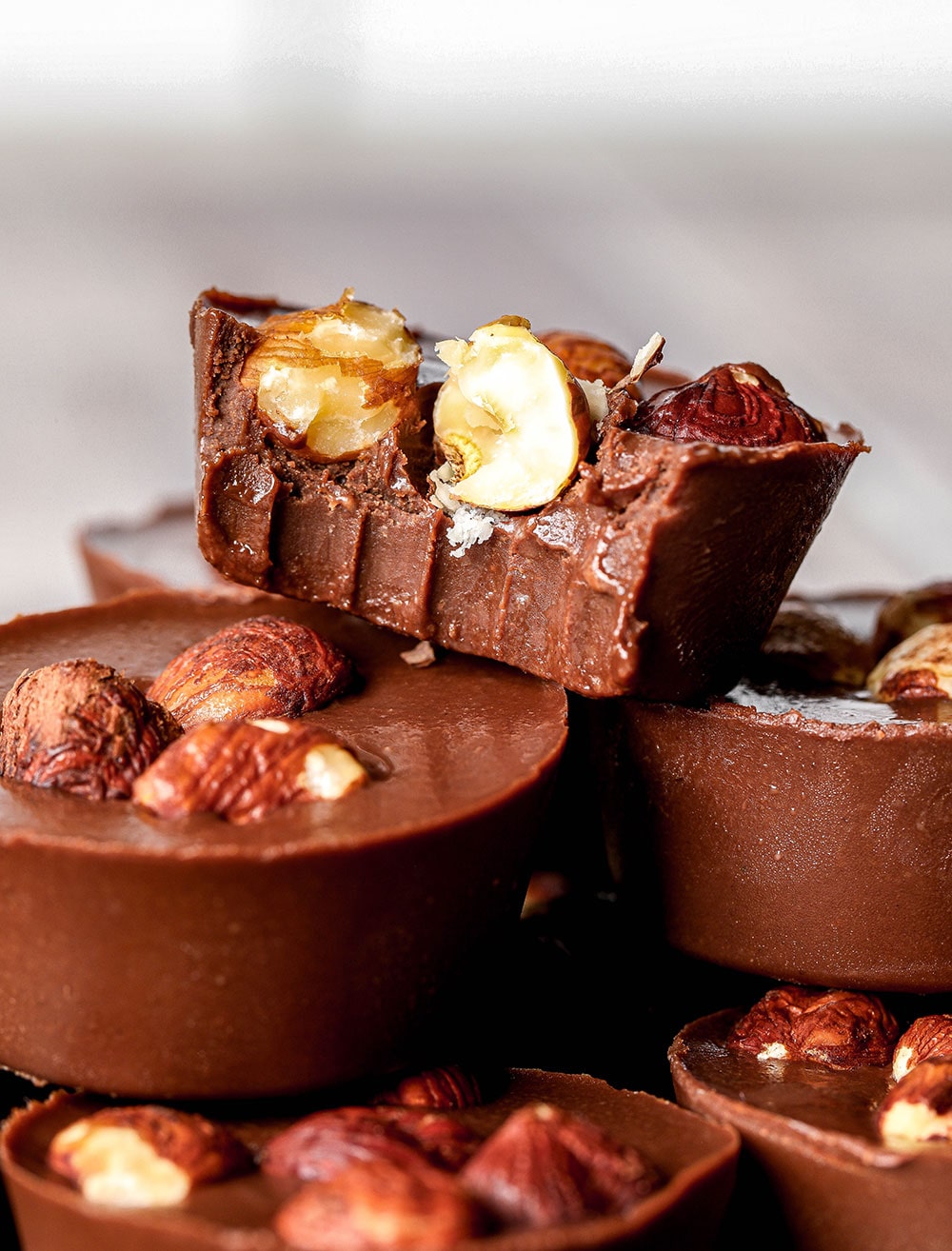 What you need to make these 3-ingredient healthier hazelnut fudge:
Dark chocolate – Aside from being good for the soul, dark chocolate has many health benefits. Good quality high percentage dark chocolate (70% and above) is packed with antioxidants as well as some minerals (like iron, magnesium, manganese, and copper). It's also a source of fibre, which is essential for a healthy gut. The higher the percentage of dark chocolate you choose the better. I usually use 75% or 85% dark chocolate.
Tahini – all nuts and seeds are good for you. They're a source of healthy fats, antioxidants, fibre and nutrients. I love using tahini in desserts because of it's runny texture, making it easy to use as an oil/butter substitute.
Hazelnuts – nuts are nutrient-rich and provide us with things like fibre, protein, vitamins, minerals and other micronutrients. You can use any nut you like really or omit completely if you're allergic to nuts. You also have the option of adding other things like crunchy granola, dried fruit, coconut flakes, etc.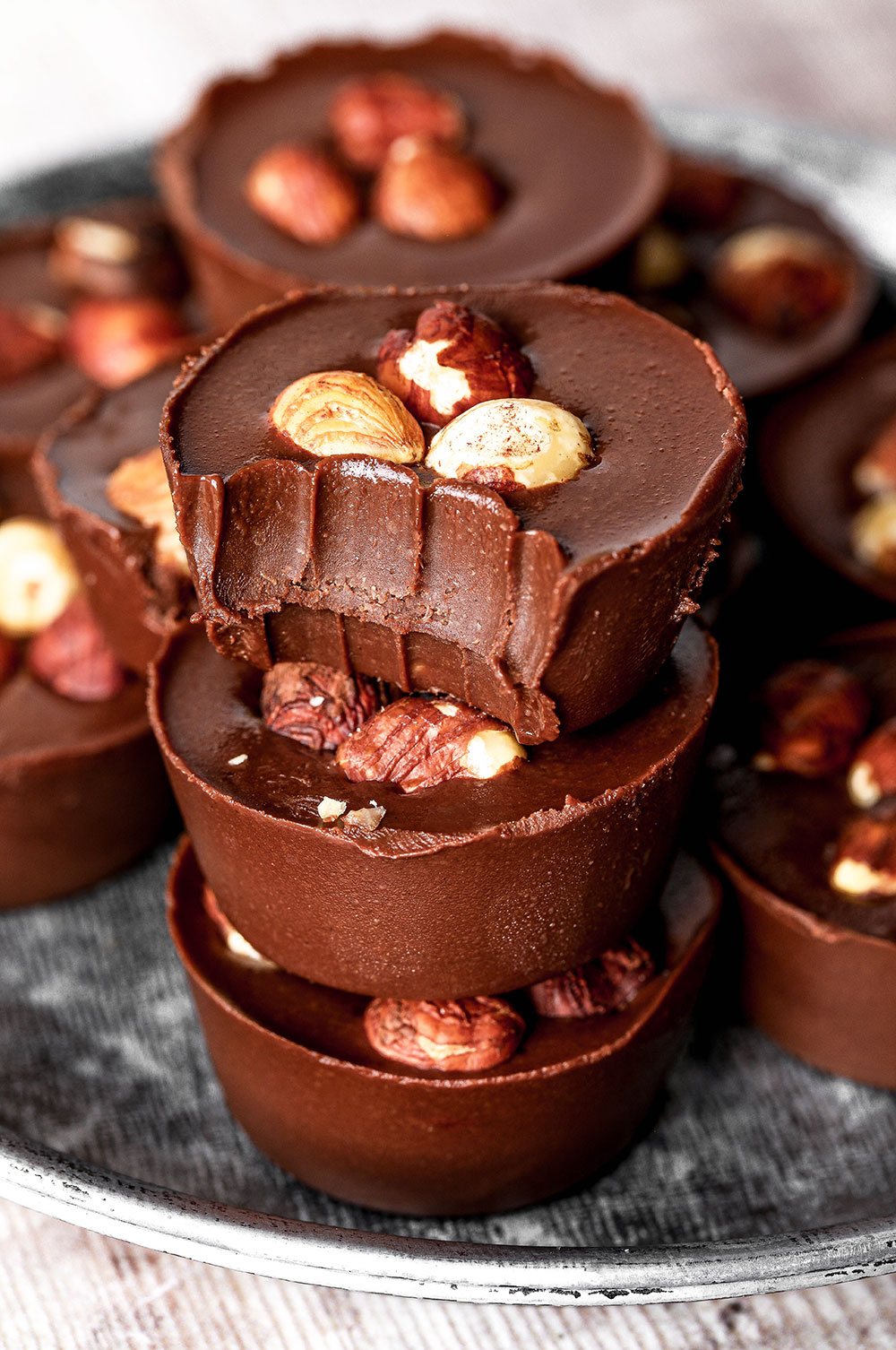 These 3-ingredient healthier hazelnut fudge are:
Vegan
Gluten-free
Healthy
Dairy-free
Easy
Made with only 3 ingredients
Easily adjustable to your liking
Made with better-for-you ingredients
Super easy to put together
So delicious!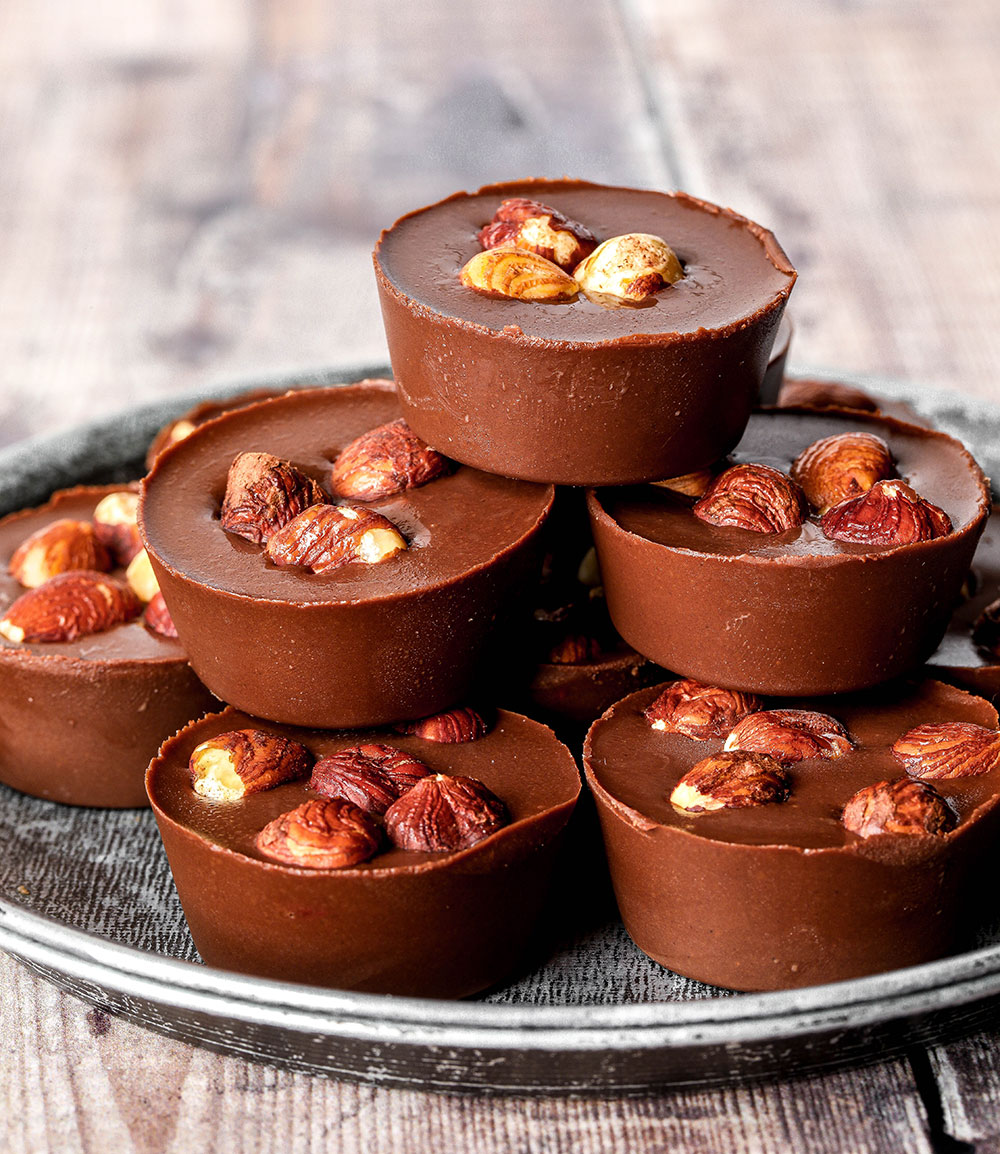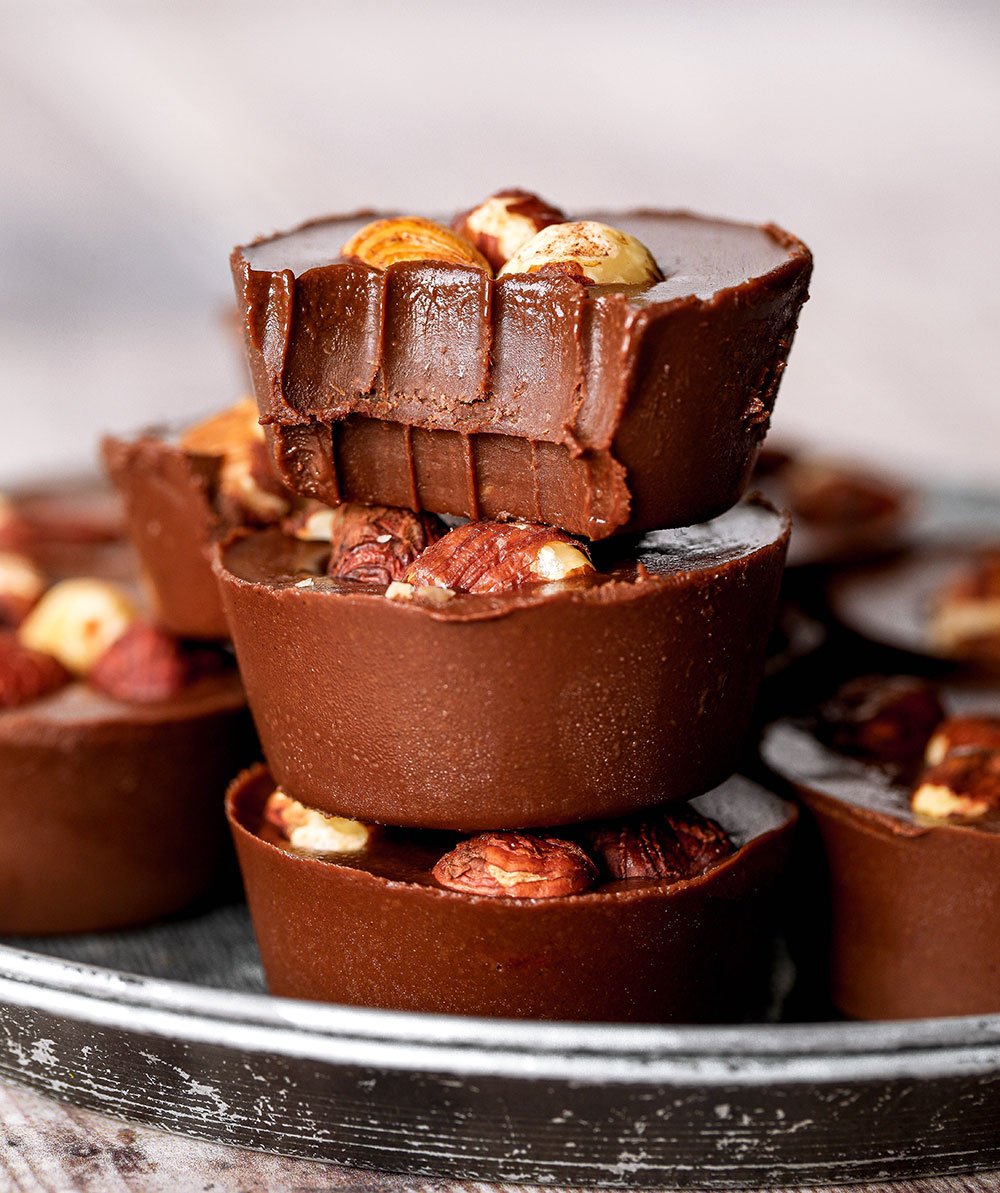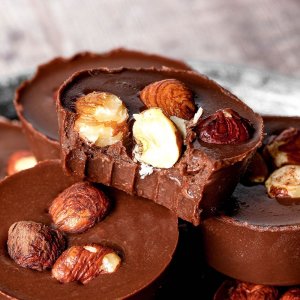 3-Ingredient Healthier Hazelnut Fudge
If you're looking for a speedy dessert, you need to give these 3-ingredient healthier hazelnut fudge a try! Made with wholesome, better-for-you ingredients and taste so decadent!
Ingredients
100g

dark chocolate

100ml

tahini*

25g

hazelnuts**
Instructions
Break up the chocolate into a heat-proof bowl.

You can either microwave until melted, or use a double-boiler method to melt the chocolate.

Pour in the tahini/nut butter and mix until well combined.

Transfer into moulds or a loaf tin lined with baking paper.

Top with the hazelnuts and refrigerate for 2 hours.
Notes
* Other nut/seed butters will also work. Runny tahini/nut butters work best.
** You omit the nuts to make the recipe nut-free. You can use other additions like dried fruit, toasted coconut flakes, crunchy granola, etc.
*** Store in an air-tight container in the fridge.
Nutrition
Calories:
113
kcal
Carbohydrates:
6
g
Protein:
2
g
Fat:
9
g
Saturated Fat:
3
g
Polyunsaturated Fat:
2
g
Monounsaturated Fat:
4
g
Trans Fat:
0.003
g
Cholesterol:
0.3
mg
Sodium:
5
mg
Potassium:
113
mg
Fiber:
2
g
Sugar:
2
g
Vitamin A:
9
IU
Vitamin C:
0.5
mg
Calcium:
20
mg
Iron:
1
mg