What's better than a warming hot cup of cocoa? This vegan protein gingerbread hot chocolate is exactly what you need to stay warm this winter.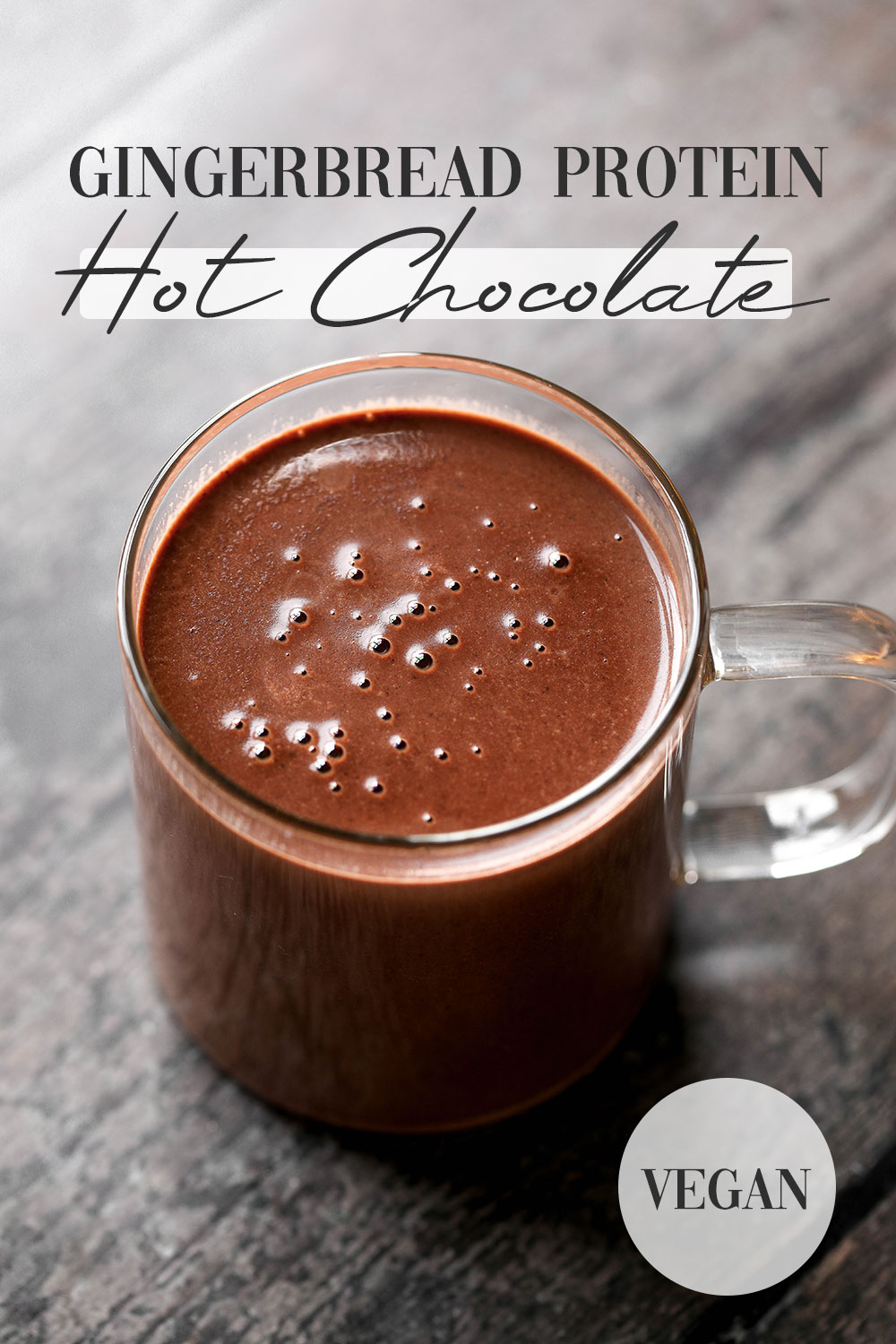 Up until recently, I was never a hot chocolate girl and had never been interested in it…ever! Which is strange considering I'm such a huge chocolate fan. I've always preferred to eat my chocolate rather than drink it.
Around this time last year, all that changed. A chocolate brand gifted me some of their chocolate bars along with a tub of their hot chocolate. I thought why not give it a try since I have it. That was the day I developed this insatiable taste for hot chocolate that never went away.
Most hot chocolate brands do contain a lot of sugar and calories, especially if you're like me and enjoy using a creamier type of milk to make it. Seeing as I wasn't planning on cutting it out of my daily diet anytime soon, I thought it best to make my own healthier version. One with less added sugar and more protein to make it a more balanced warm beverage.
I also wanted to create a Christmasy version to keep me feeling cosy and festive during the holidays!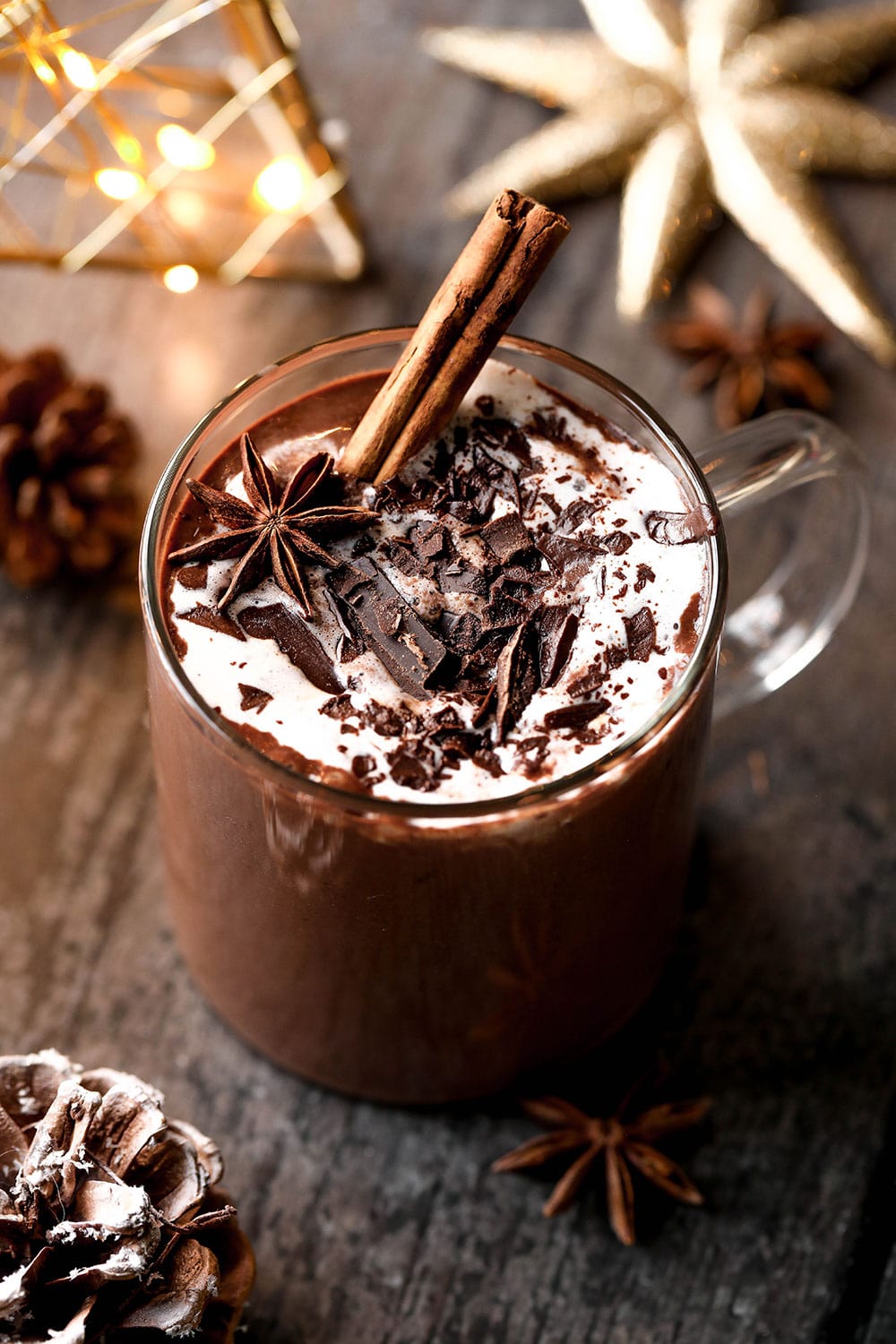 What you need to make this vegan protein gingerbread hot chocolate:
Milk – I use a different milk each time I make it. Some days I use creamier oat based milks, other times I use something lighter like almond milk. Basically any milk will work, dairy or non-dairy, but obviously the creamier the milk, the creamier the hot chocolate.
Protein powder – use your favourite protein powder, one that you enjoy the taste of as it will come through in your hot chocolate. I love using Bulk's vegan gourmet hot chocolate (either the chocolate or caramel) as I find it doesn't taste artificial like some other vegan protein brands do. Vanilla flavoured protein powders will also work.
Cocoa powder – the most essential ingredient! Use 100% cocoa or cacao powder.
Maple syrup – I only use 1 tsp to sweeten, but you can omit if you want a lower sugar version. I sometimes use a zero-calorie syrup instead. You can substitute with any other sweetener, liquid or granulated.
Cornflour – I like my hot chocolate thick. Adding cornflour will help achieve that more luxurious, thick and decadent feel.
Spices – adding cinnamon, ginger and allspice makes this hot chocolate so cosy and festive. Of course you have the option to omit the spices if you prefer a plain hot chocolate!
Almond butter – This is an optional ingredient, but will add some extra creaminess.
You also have the option of topping your hot chocolate with cream and some chopped dark chocolate for an even more decadent hot chocolate experience.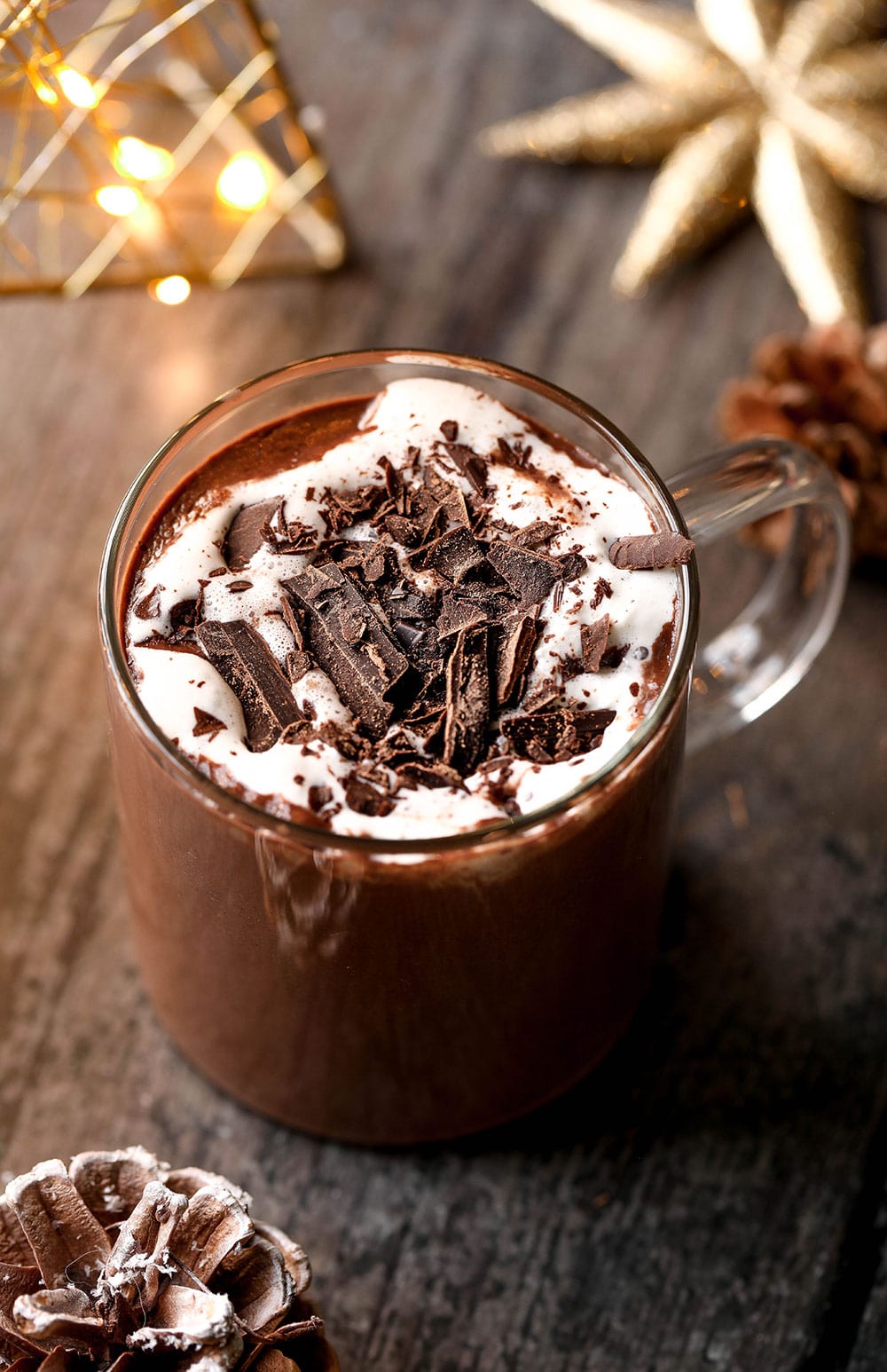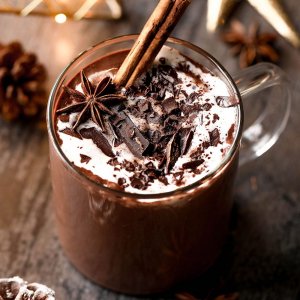 Vegan Protein Gingerbread Hot Chocolate
A thick and creamy hot chocolate to keep you feeling warm and cosy during the festive season. With less sugar and more protein! It's very adaptable to your tastes, preferences and diet needs.
Ingredients
235ml

Oat milk*

2

tbsp

chocolate protein powder

1

tbsp

cocoa powder

1/2

tbsp

cornflour

1

tsp

maple syrup

or honey, agave, etc.

1/2

tsp

cinnamon

1/4

tsp

ginger

Pinch of allspice

1/2

tbsp

almond butter**

optional
Instructions
Add everything to a blender and blend until smooth.

Pour into a saucepan and heat over a medium heat until it starts to bubble.

Take off the heat and pour into a glass/mug.
Notes
* I like using 'whole' oat milk because it's creamier. You can use other types of milk like almond, rice, cow, etc.
** You have the option to add 1/2 tbsp of almond or peanut butter to make it creamier.
Nutrition
Calories:
224
kcal
Carbohydrates:
30
g
Protein:
13
g
Fat:
4
g
Potassium:
15
mg
Fiber:
1
g
Sugar:
25
g