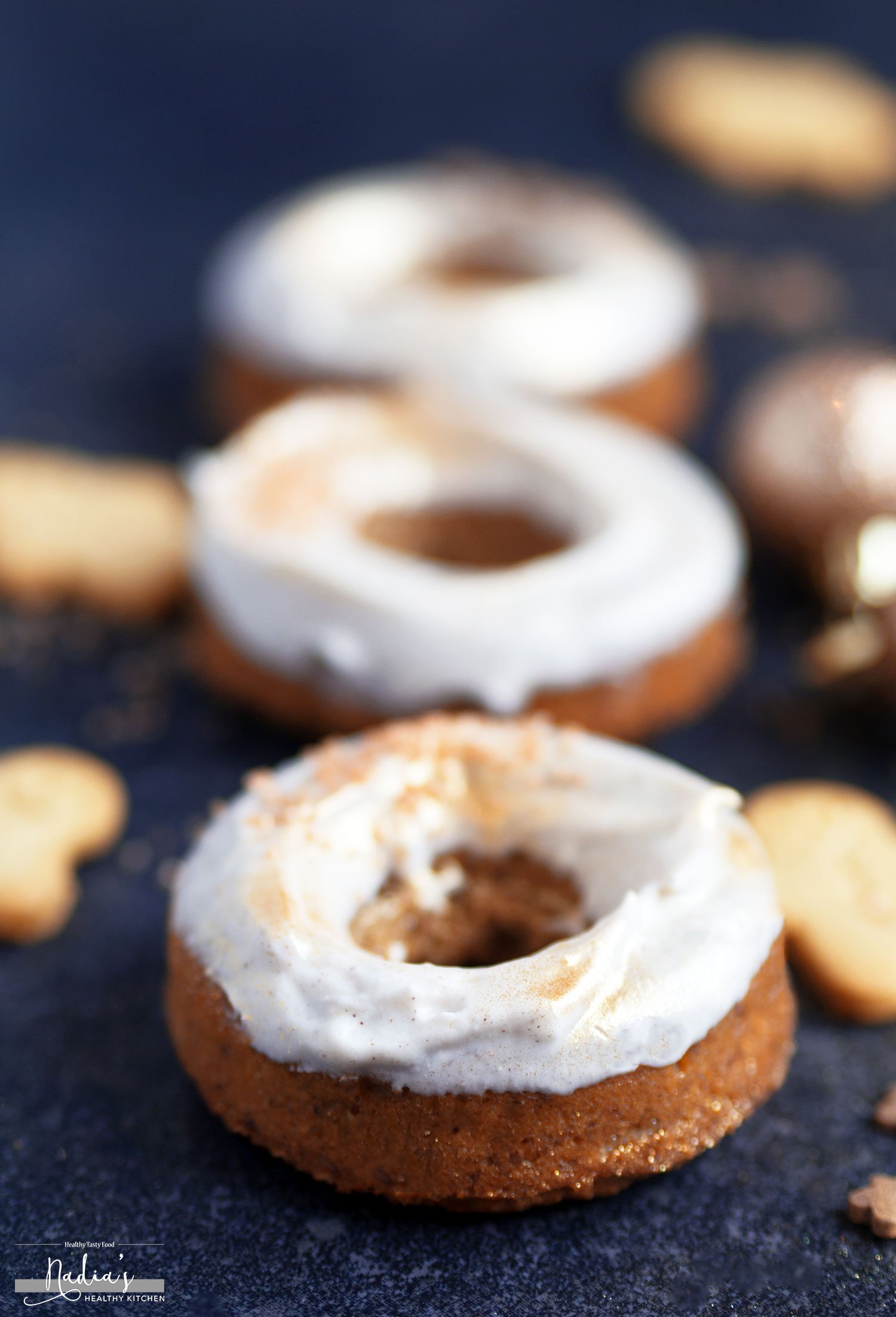 Vegan Gluten-free Gingerbread Doughnuts
During the festive season in my pre "healthy eating" days, we used to buy a lot of boxes of Christmas biscuits like Mcvitie's and Fox's and would over indulge on Celebrations and Quality Street chocolates. After all that was the tradition in many households and ours was no different. I used to let myself go and indulge in as many treats as I liked. And I used to wonder how I ever put on 10kg during the first couple of years since moving to the UK! It's all so clear now haha 😛
We never used to bake anything at home around Christmas. We didn't need to. There were so many treats that they were practically coming out of our ears!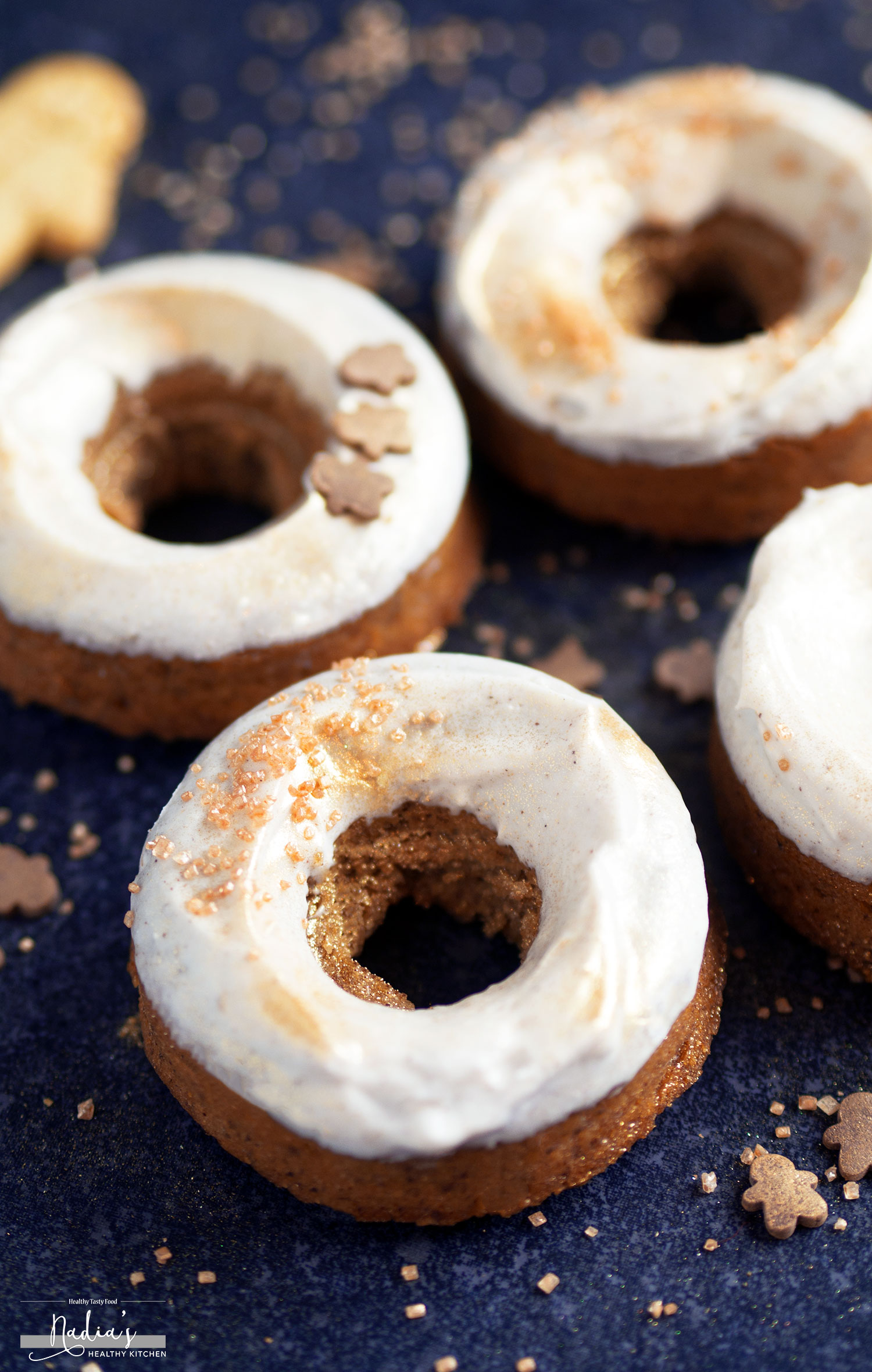 To be completely honest, whenever I see those festive tubs and boxes of treats, I still have the urge to buy one or two for old time's sake. Just the other day the hubby and I were shopping in our local supermarket and we walked pass a huge mountain of those big 750g celebration chocolate tubs and I stopped and said to the hubby "should we get one this year?" and before he had a chance to answer I was like "no, actually that wouldn't be a good idea" as I remembered how treats like these upset my digestive system and make me feel ill. At the end, those few seconds of pleasure are not really worth feeling ill for a whole day (or weeks if they give me a bad IBS flareup!)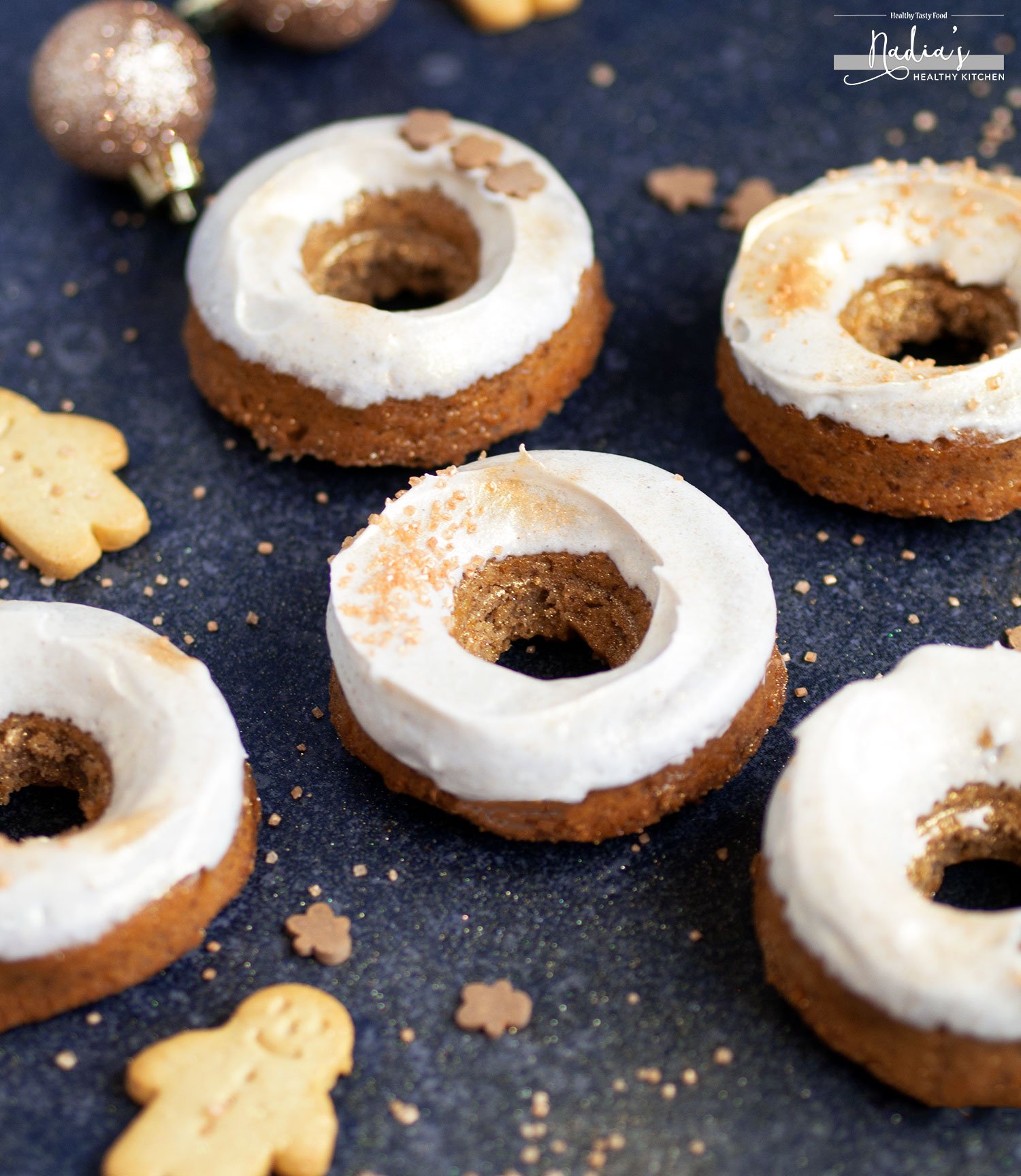 Having said that, I do enjoy Christmas a hell of a lot more when I make and bake homemade treats. It's a new tradition. A better one I think. What's better than baking wholesome, fresh healthy treats to serve to your family? Like these freshly baked vegan and gluten-free gingerbread doughnuts. Not fried, no butter and much lower in sugar! Glazed with a simple coconut maple glaze and decorated with cute sprinkles and edible glitter. They look and taste the part!
I am genuinely enjoying being creative in the kitchen this time of year. All the festive flavour combinations and cute shapes and designs. I wouldn't have it any other way 🙂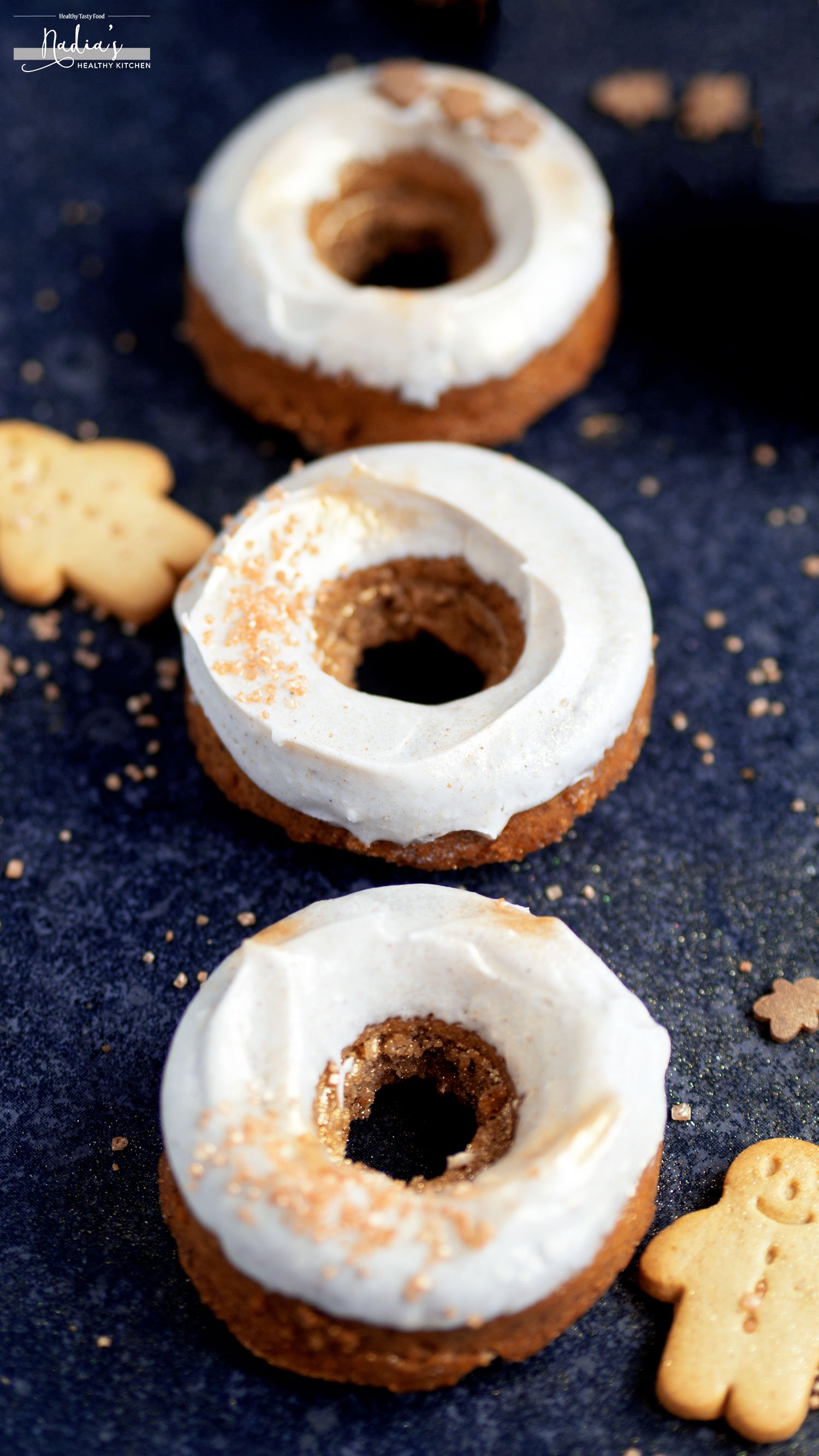 I realise that sprinkles and edible baking decorations are not exactly the healthiest addition to a healthy bake, but I'm making an exception since it's Christmas and a little edible glitter never hurt anyone. If you must, just follow it up with eating a big tub of antioxidant packed blueberries to cancel out any oxidation damage caused 😛
To spice these gingerbread doughnuts, I used a mixture of East End Food spices including their cinnamon, ginger, cloves and nutmeg. As I mentioned in my Christmas Tree Brownie recipe I love their spices and always use them in my kitchen. They're so much better value for money compared to supermarket varieties and they also taste much better in my opinion.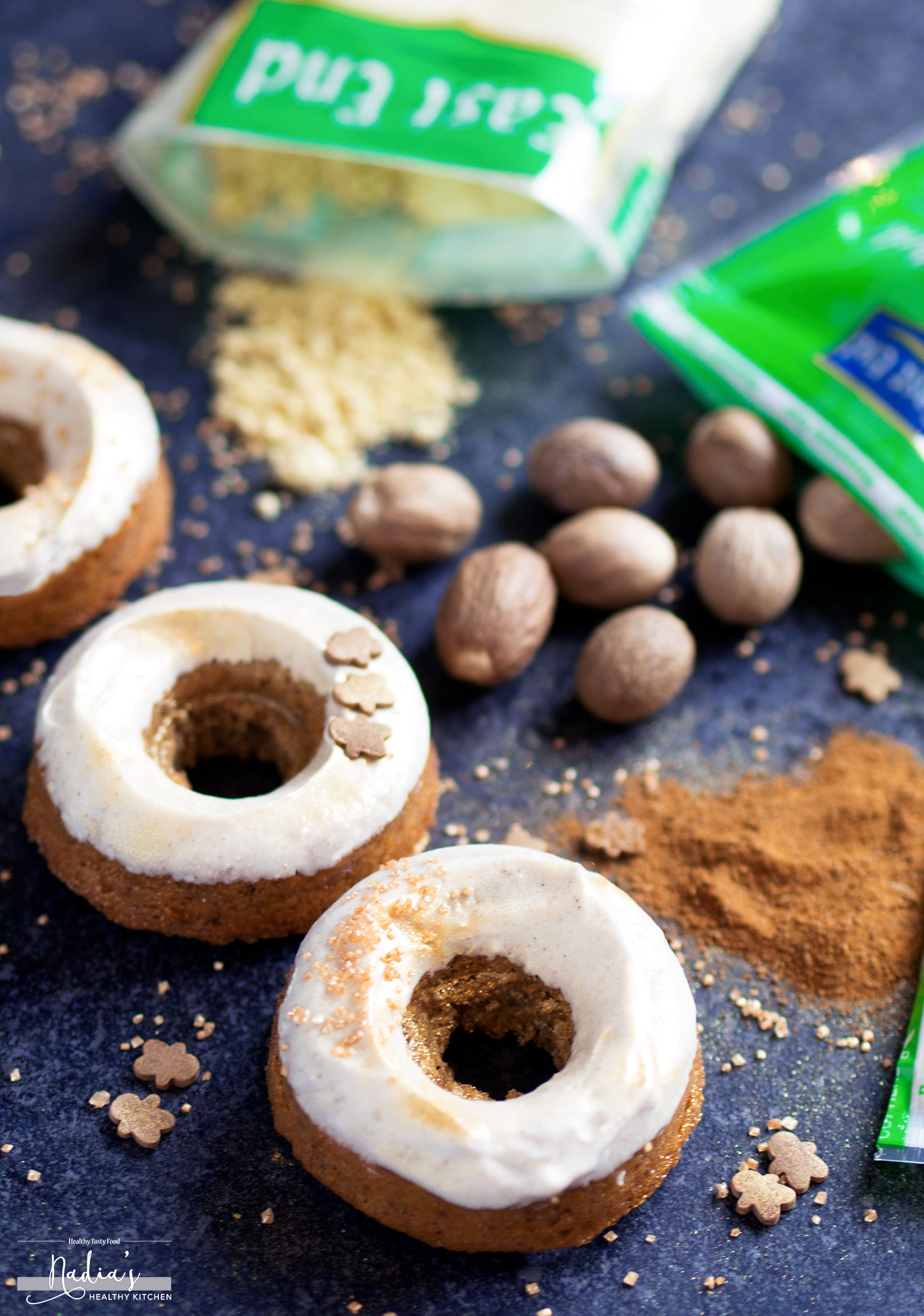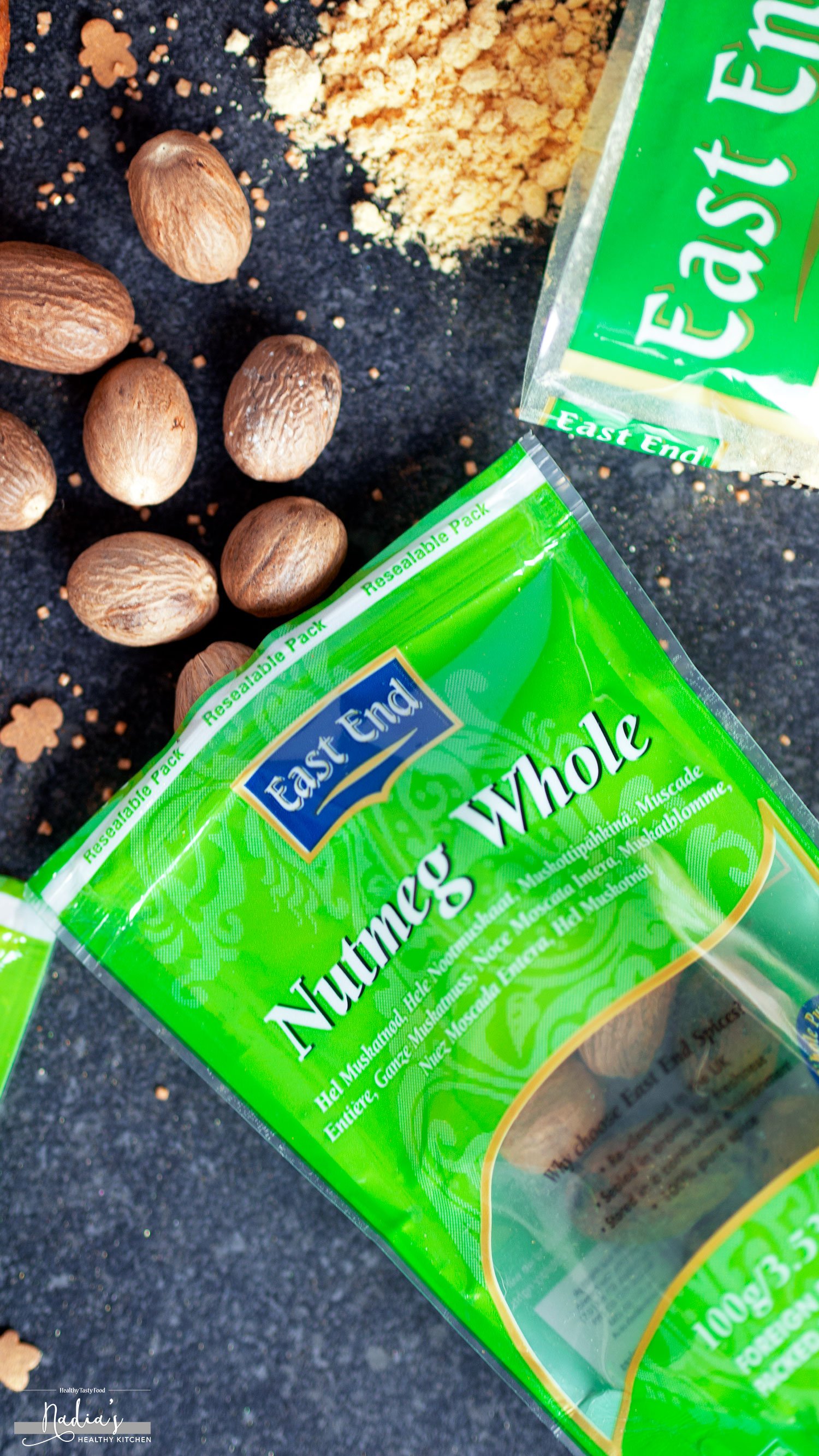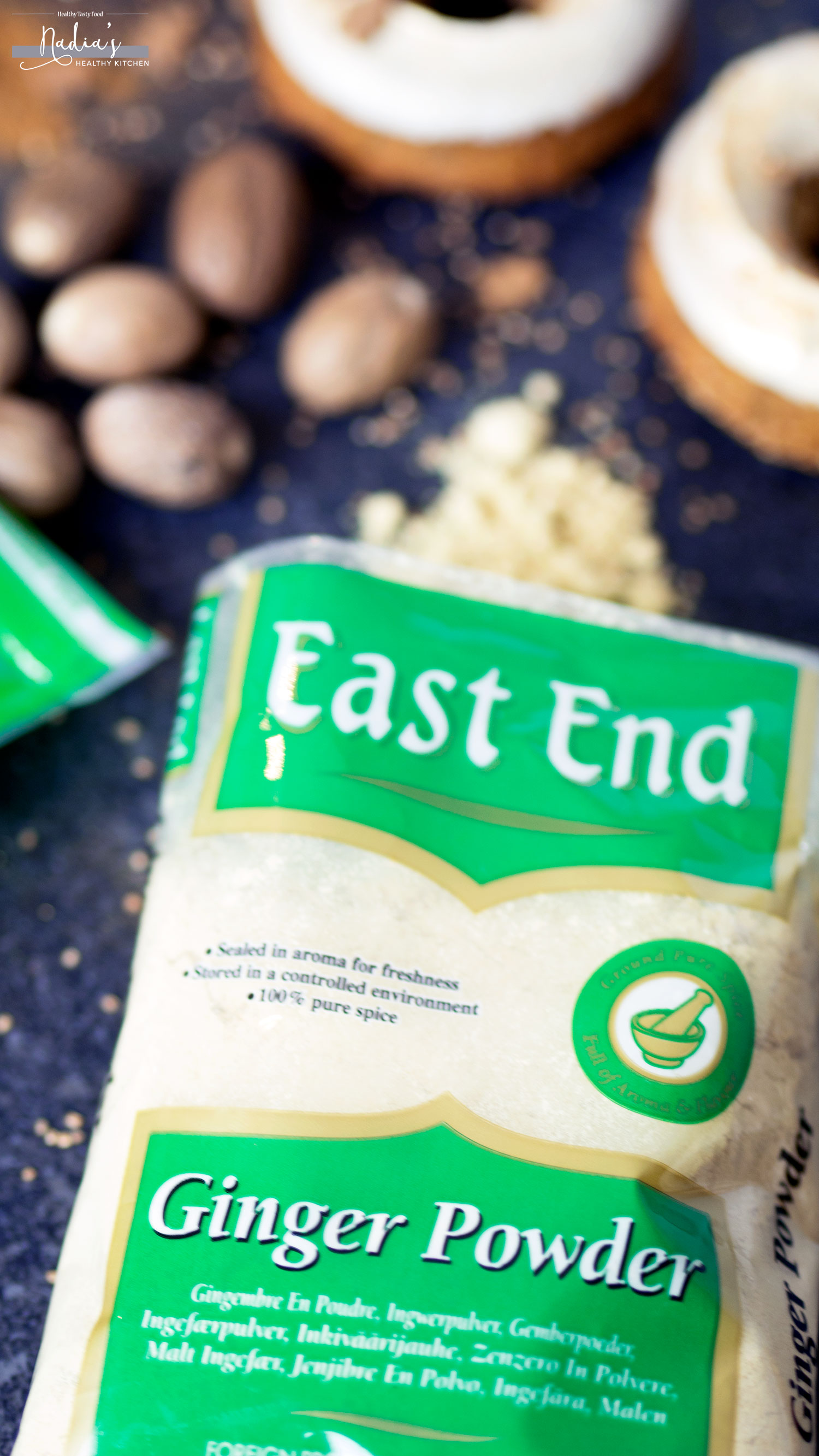 You can get East End Foods spices in most large supermarkets, usually in the international/world food isle.
Vegan Gluten-free Gingerbread Doughnuts
2016-12-22 06:51:23
Serves 12
For the frosting
1 can full fat coconut milk - refrigerated overnight. Use the solid part only
2-3 tbsp maple syrup
1/4 tsp East End Foods cinnamon
Instructions
Make the flax 'eggs' by mixing 2 tbsp milled flaxseed with 6 tbsp hot water. Leave to set for 15 minutes.
In a large bowl, mix the flour, ground almonds, baking powder, sugar, salt and spices.
Pour in the milk, coconut oil and maple syrup.
Add the almond butter and set flaxseed mixture. Mix well to combine.
Grease a silicone doughnut baking tin and divide the mixture evenly between them.
Bake for 25 minutes. Leave to cool completely before attempting to remove them from the mould.
To make the frosting
Scoop out the solid part of the chilled can of coconut milk and add to a large bowl.
Whip using a hand mixer until light and fluffy.
Add the maple syrup and cinnamon and mix again for a minute or so.
Dip each doughnut in the frosting so you have a thick layer of cream on top of each doughnut.
Decorate with sprinkle, mini gingerbread men or a dusting of cinnamon.
Enjoy!
Notes
They're best stored in the fridge and should keep well for 4-5 days.
UK Health Blog - Nadia's Healthy Kitchen https://nadiashealthykitchen.com/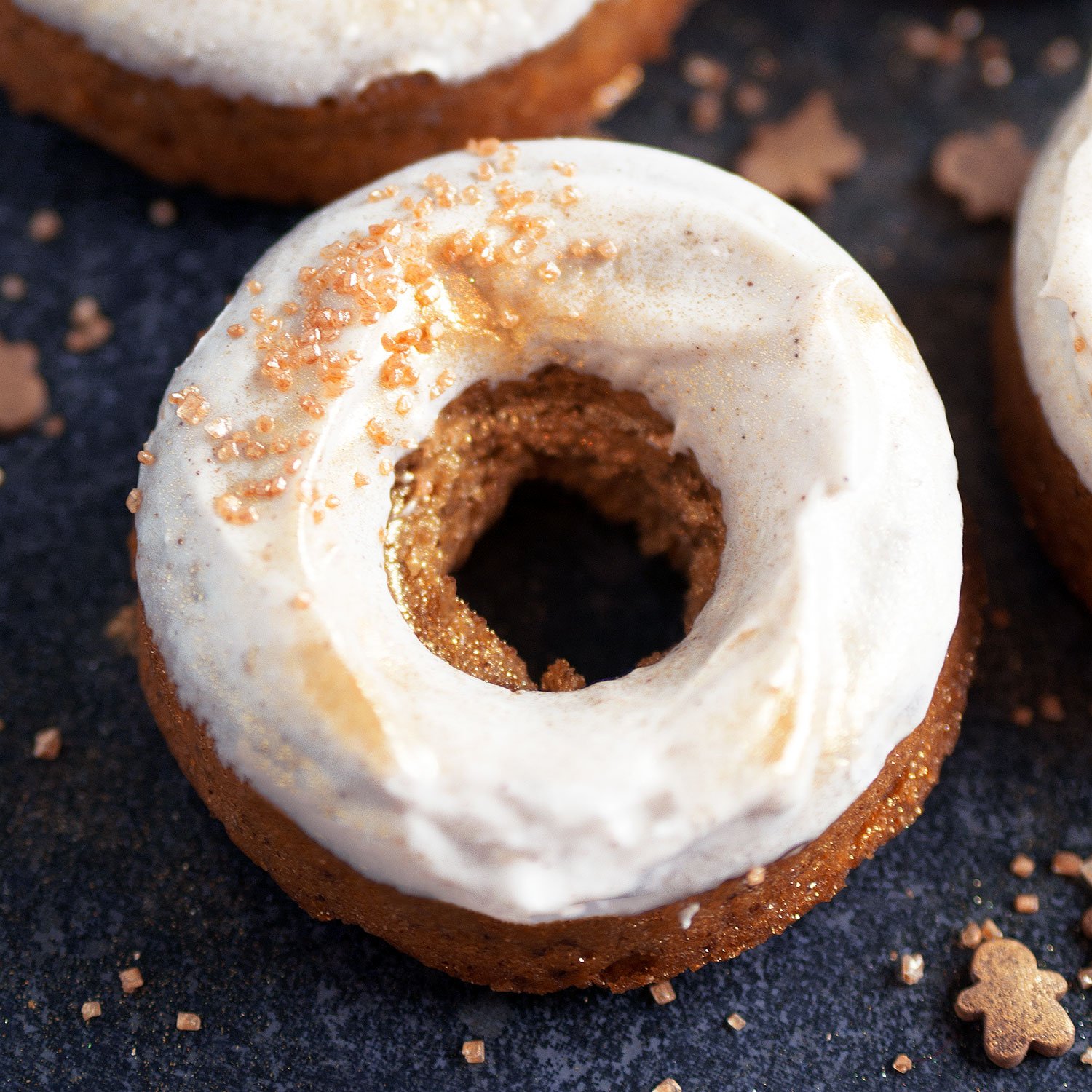 If you liked this vegan gluten-free gingerbread doughnuts, then you may also like these Christmas recipes: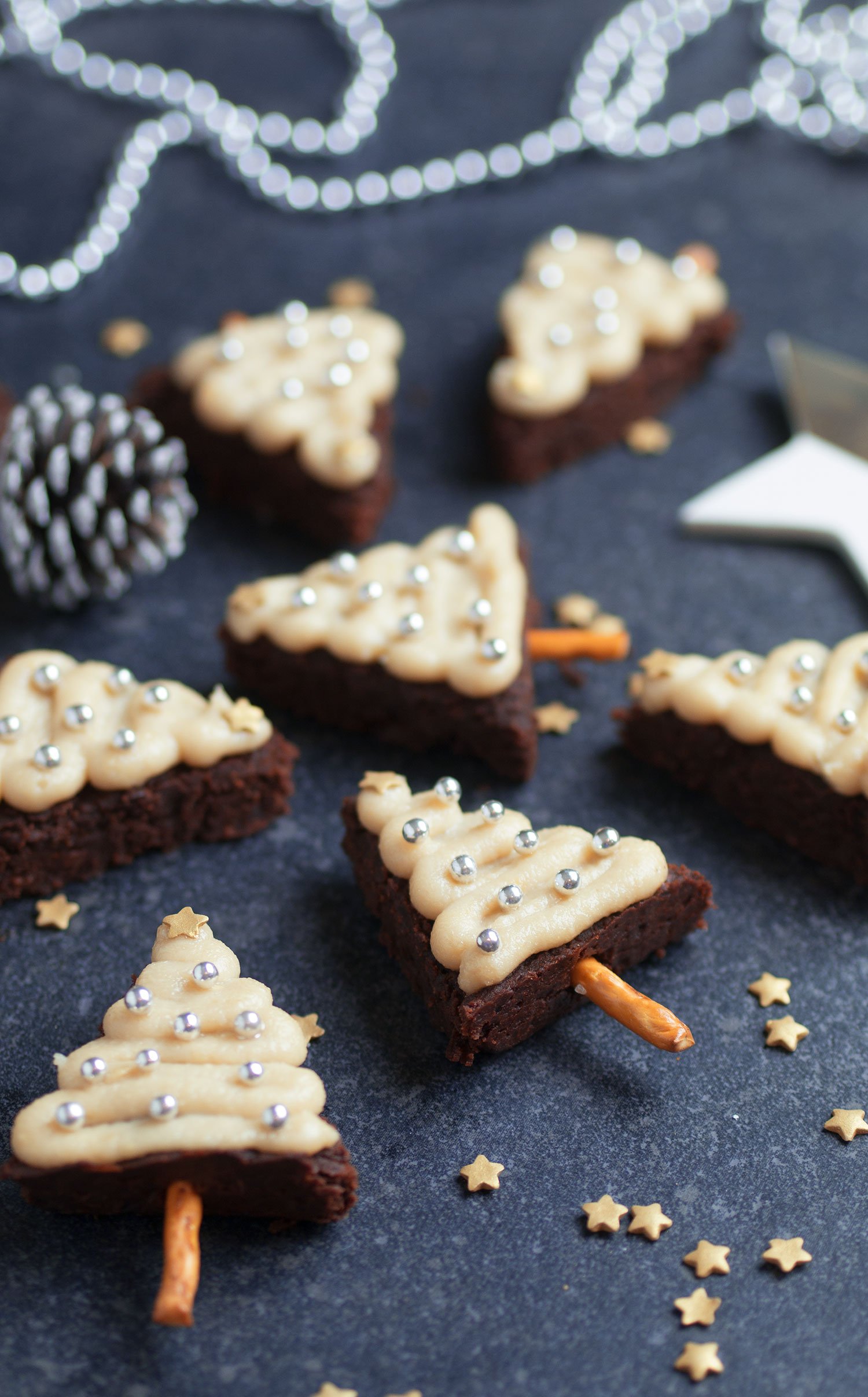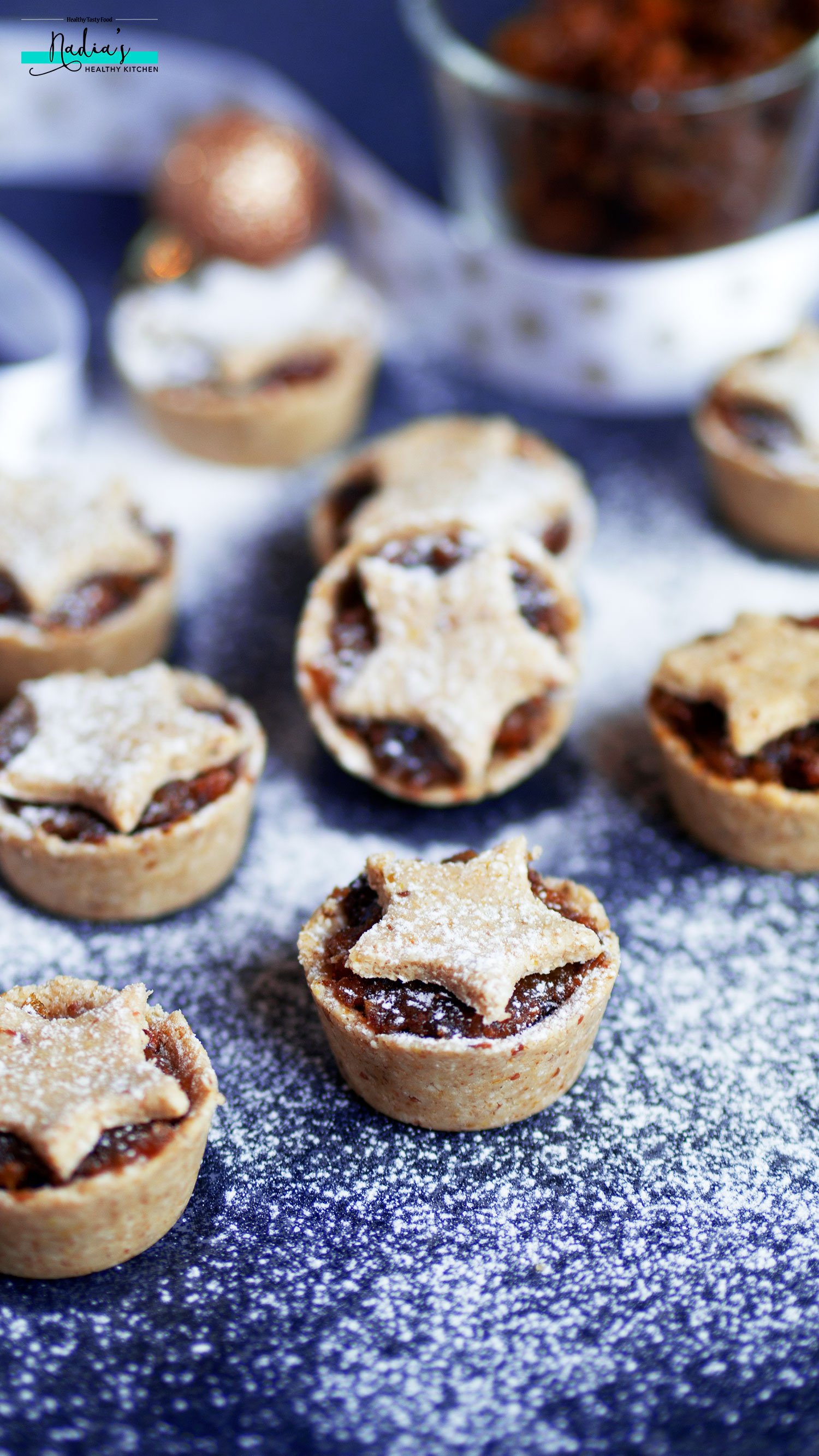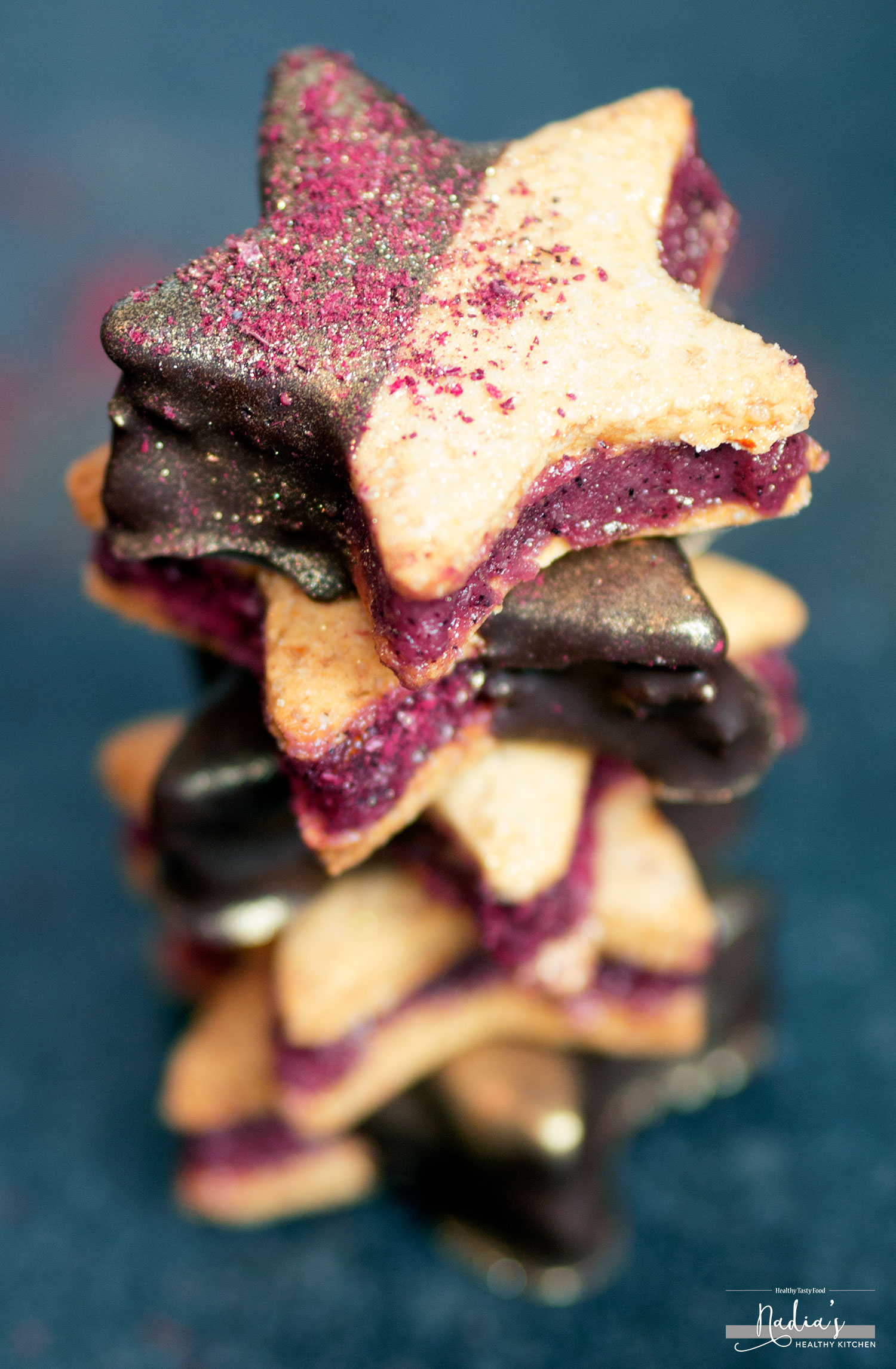 * This post was commissioned by East End Foods; however all opinions are my own.
** This post includes Amazon affiliate links. If you click on one of the links and make a purchase, Amazon pay me a very small percentage.
Share This Post