Orange Cranberry Cookie Sandwiches – Vegan & Gluten-free
Make these orange cranberry cookie sandwiches over the Christmas period and treat yourself and loved one to something extra special that also happens to be healthy, vegan and gluten-free at the same time!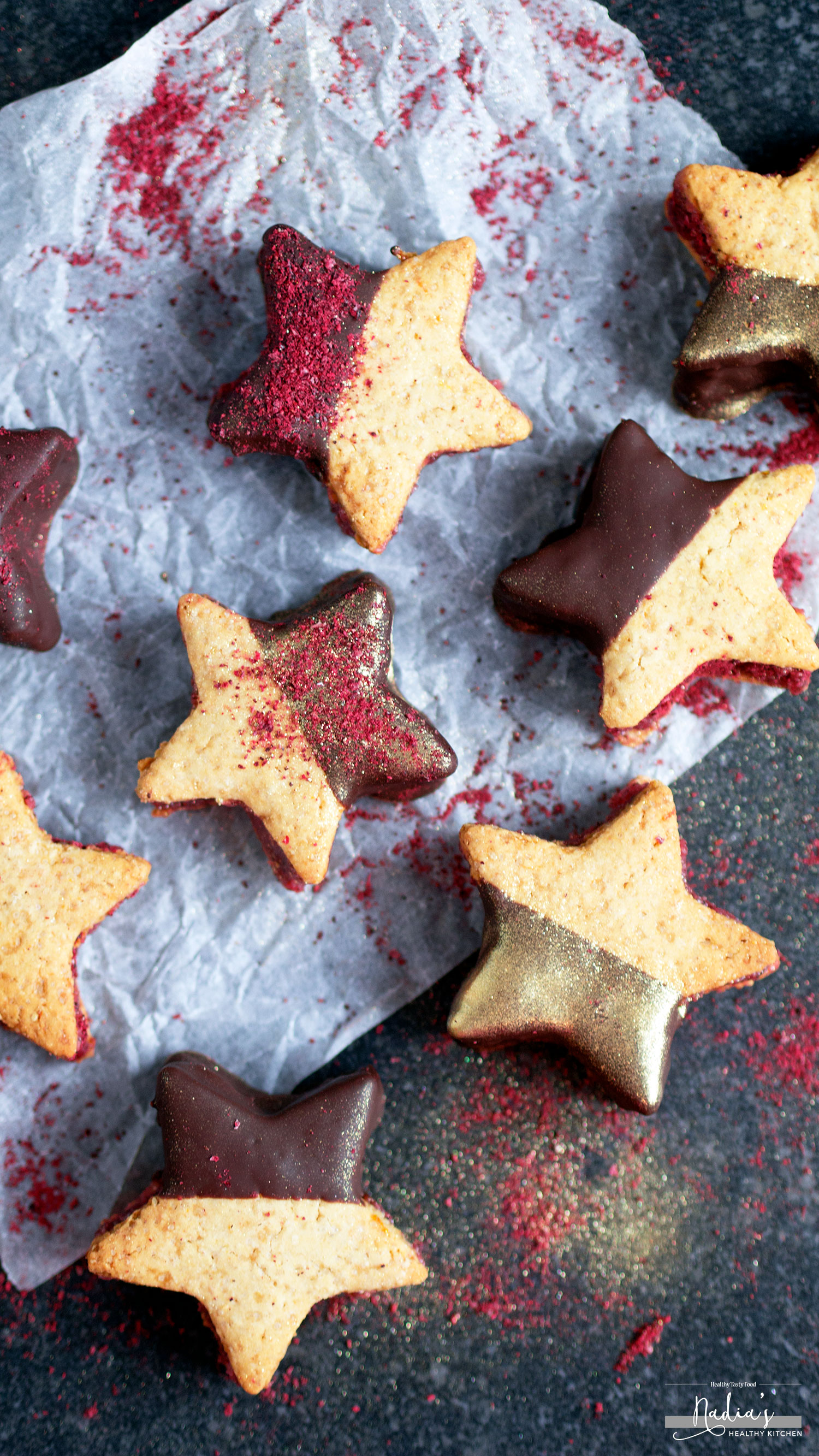 Cranberry cashew cream stuffed between two crunchy orange cookies, what's not to love? Orange and cranberries go so well together and they instantly make anything taste so festive! The shape of the cookies was just important as the taste, so of course I had to use a star cookie cutter and sprinkle them with edible gold dust to create glittery stars 😀
I was genuinely so happy with the way these cookies turned out. I could go so far as to say they're probably the best cookies I've ever made, and I've made a lot of cookies! They're not overly sweet and they're perfectly flavoured with a hint of orange. The cranberry cream adds a deep pinky/red colour as well as a delicious hint of sweet cranberries. To make them look even more visually appealing I dipped them in melted chocolate, because to me anything dipped in chocolate says "eat me NOW!"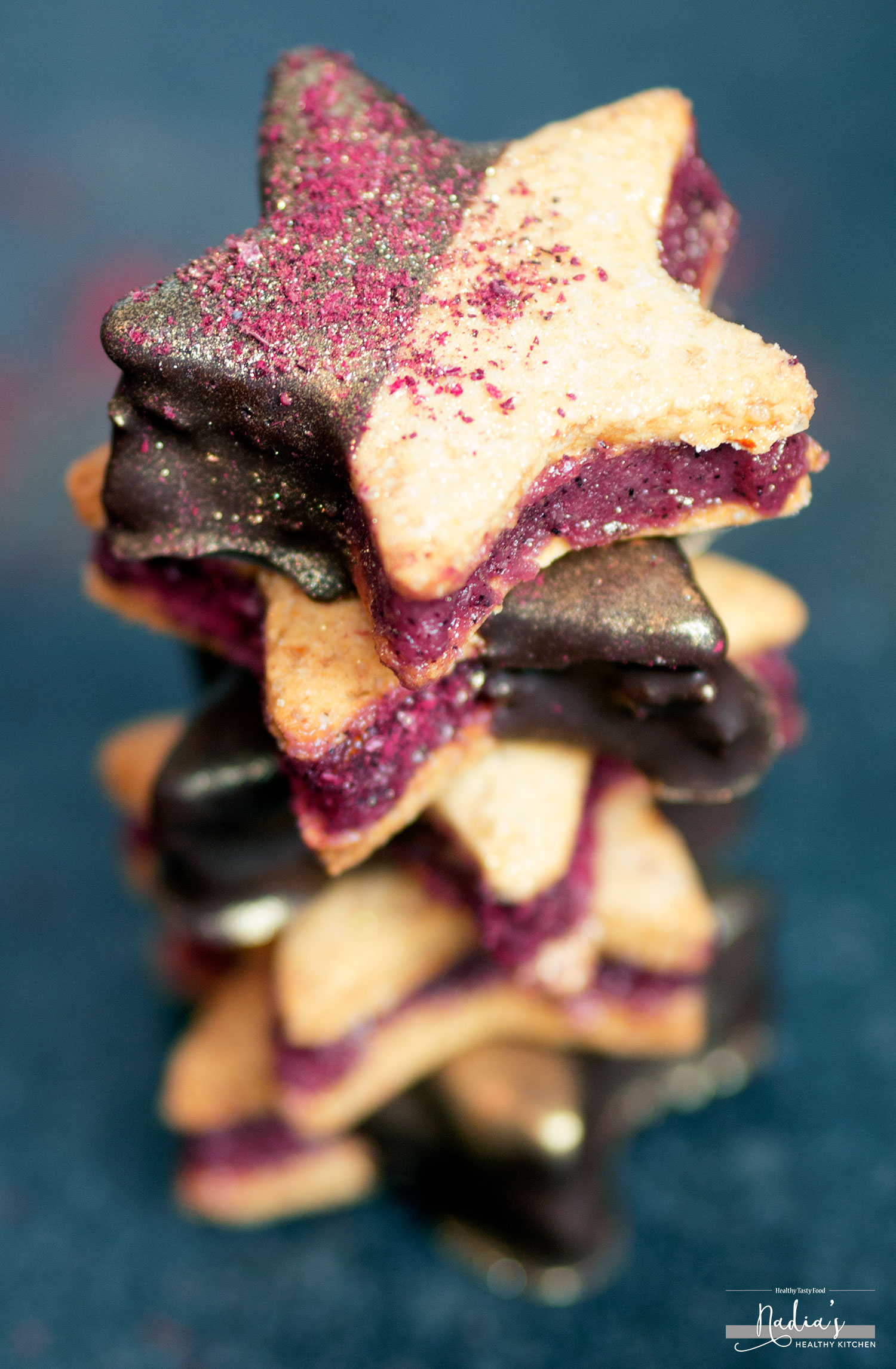 I made these cookie sandwiches for Arctic Power Berries using their cranberry powder. I've been a fan of their powders for years! It's such a genius idea to take some of the world's most nutritious (and lowest in sugar) fruit, dry (below 40°C so they maintain all their best qualities) and grind them into a powder. Adding antioxidants into your daily diet hasn't been easier!
A lot of us may struggle to fit in the recommended 5-a-day (in reality it should be more like 10-a-day for optimal health) into our diet, so using powders is an excellent option to make sure we're getting sufficient amounts of nutrients and antioxidants. Add them to things like smoothies, porridge, yoghurt, overnight oats and even in raw and baked desserts! They add the most beautiful colour to treats so I like to use them as a natural food colouring instead of shop bought chemical synthetic varieties.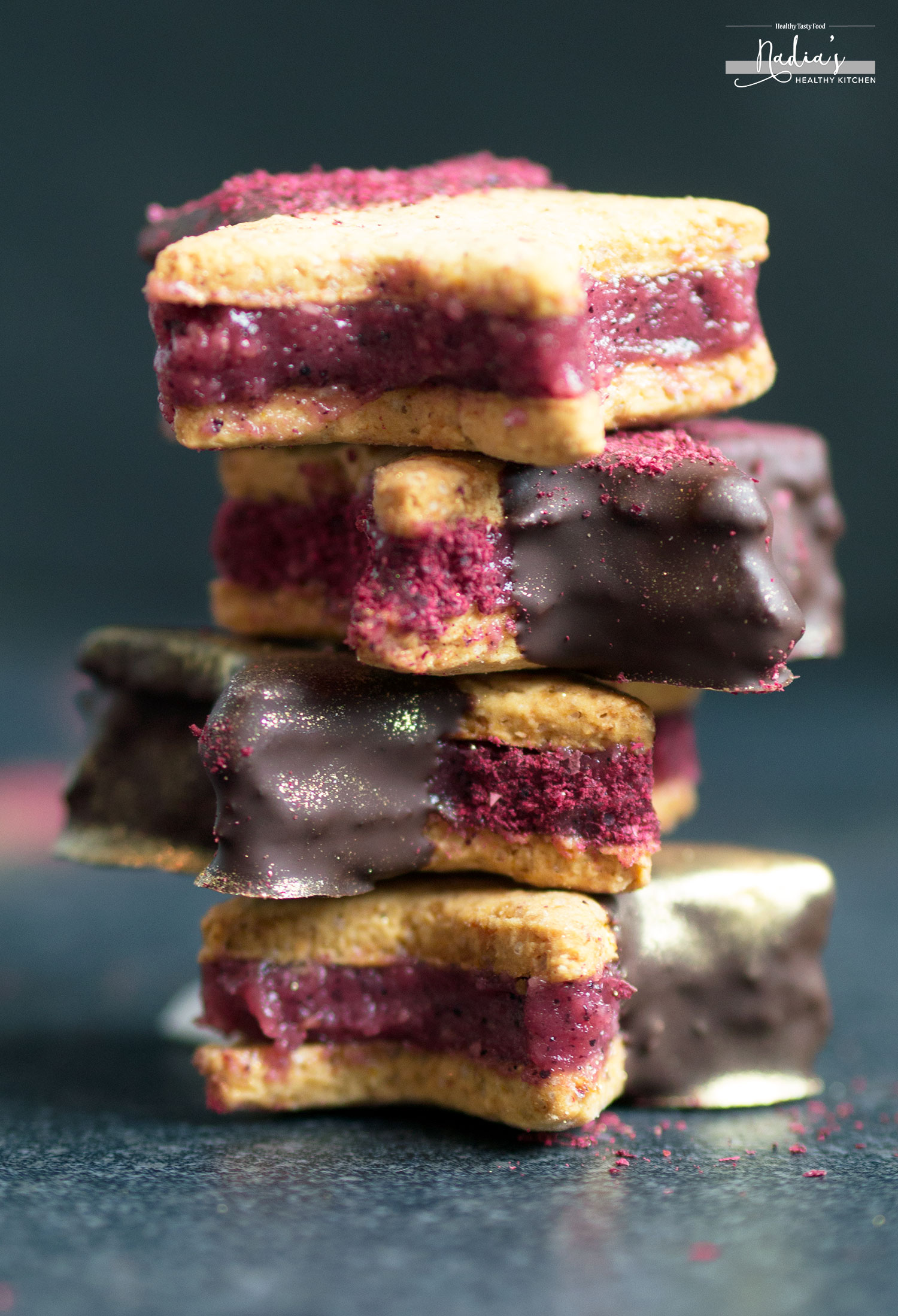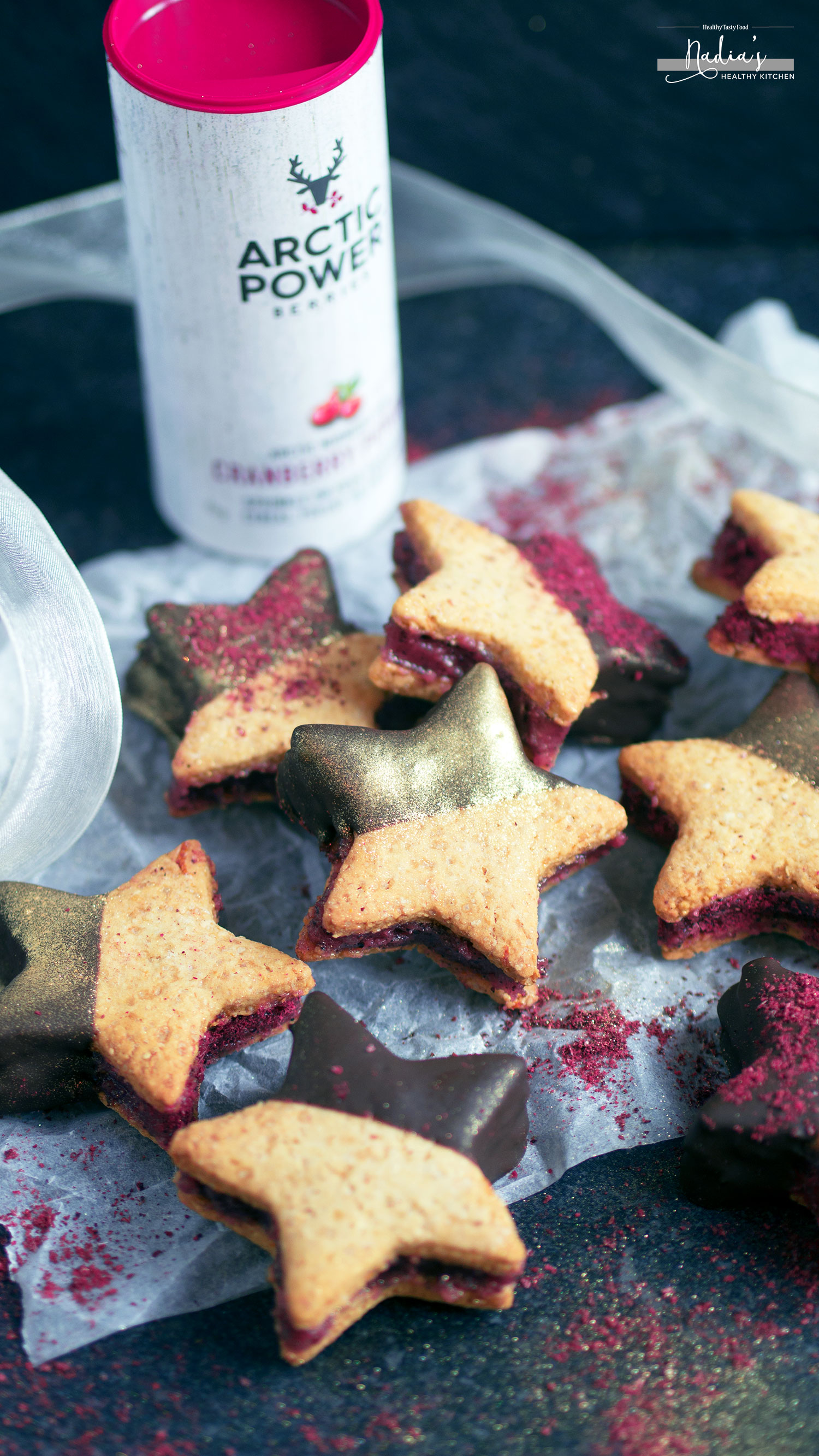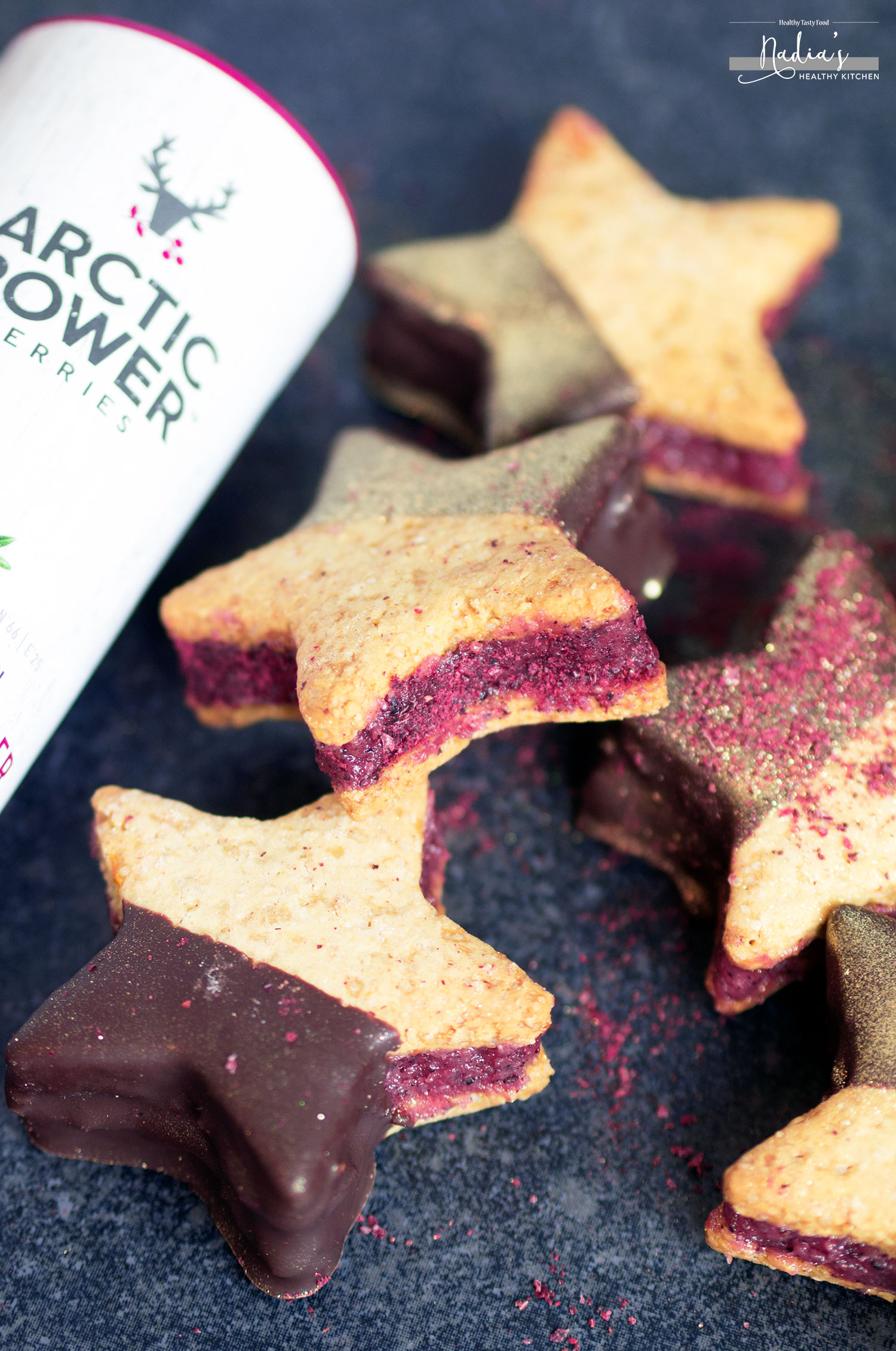 Antioxidants are so crucial, especially in the time we live in now where our exposure to toxins, chemicals and pollution is at an all time high! To put it simply, antioxidants protect from damage caused by oxidation. Oxidation is a chemical reaction that produces free radicals. These free lead to reactions that damage cells. Antioxidants prevent these chain reactions from occurring thus protecting our cells from damage.
The more antioxidants we get, the better chances we have of fighting chronic disease and slowing down the process of aging, so I'll have as many as I can fit in thank you very much!
You can find Arctic Power Berries powders in Wholefoods, Sefridges, Ocado and they're recently started stocking it in Waitrose too! Or you can get their products directly from their website. You only need to use a little at a time to make a huge difference, so one tub will last you ages! They would make perfect Christmas stocking gifts 😉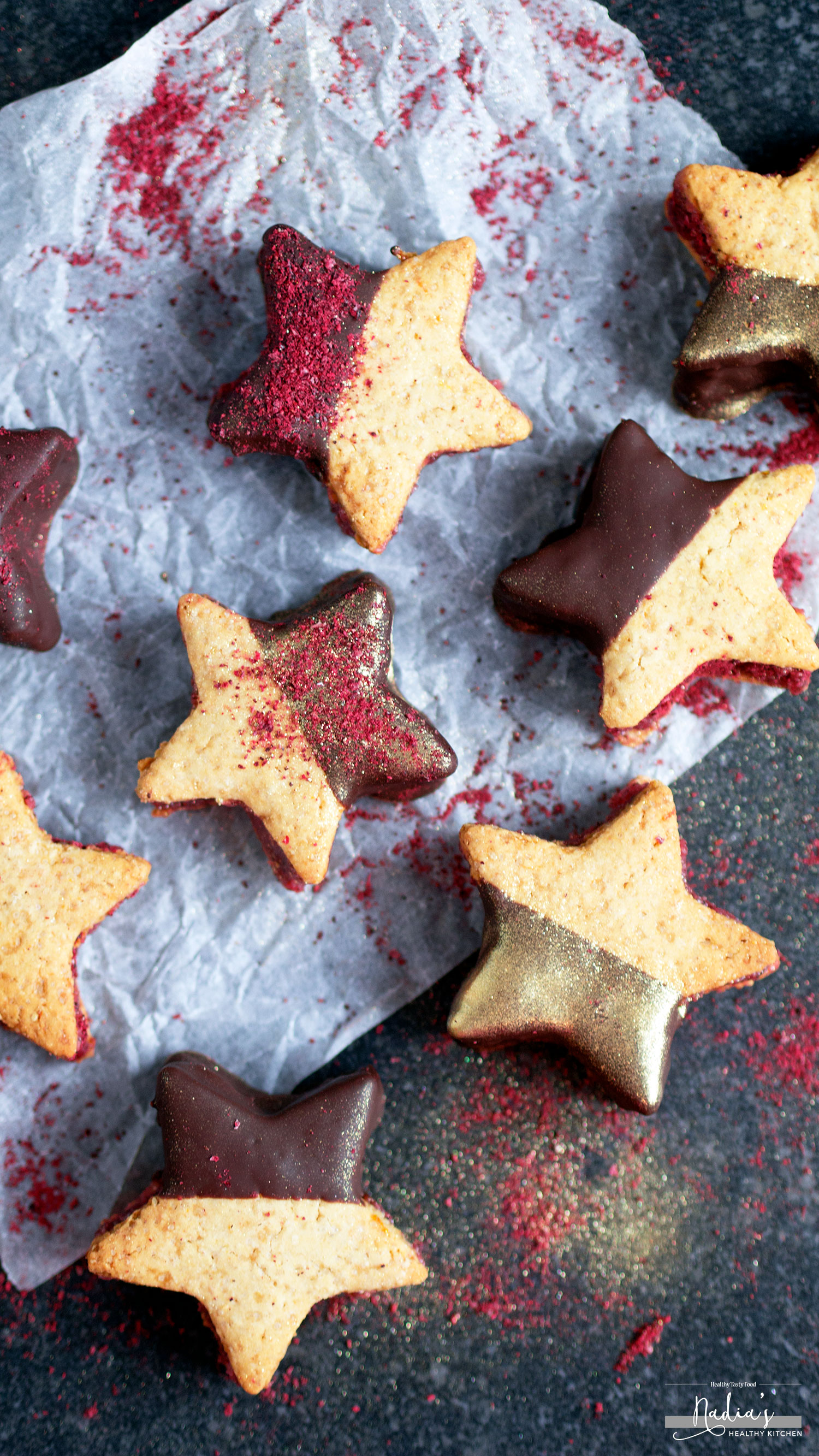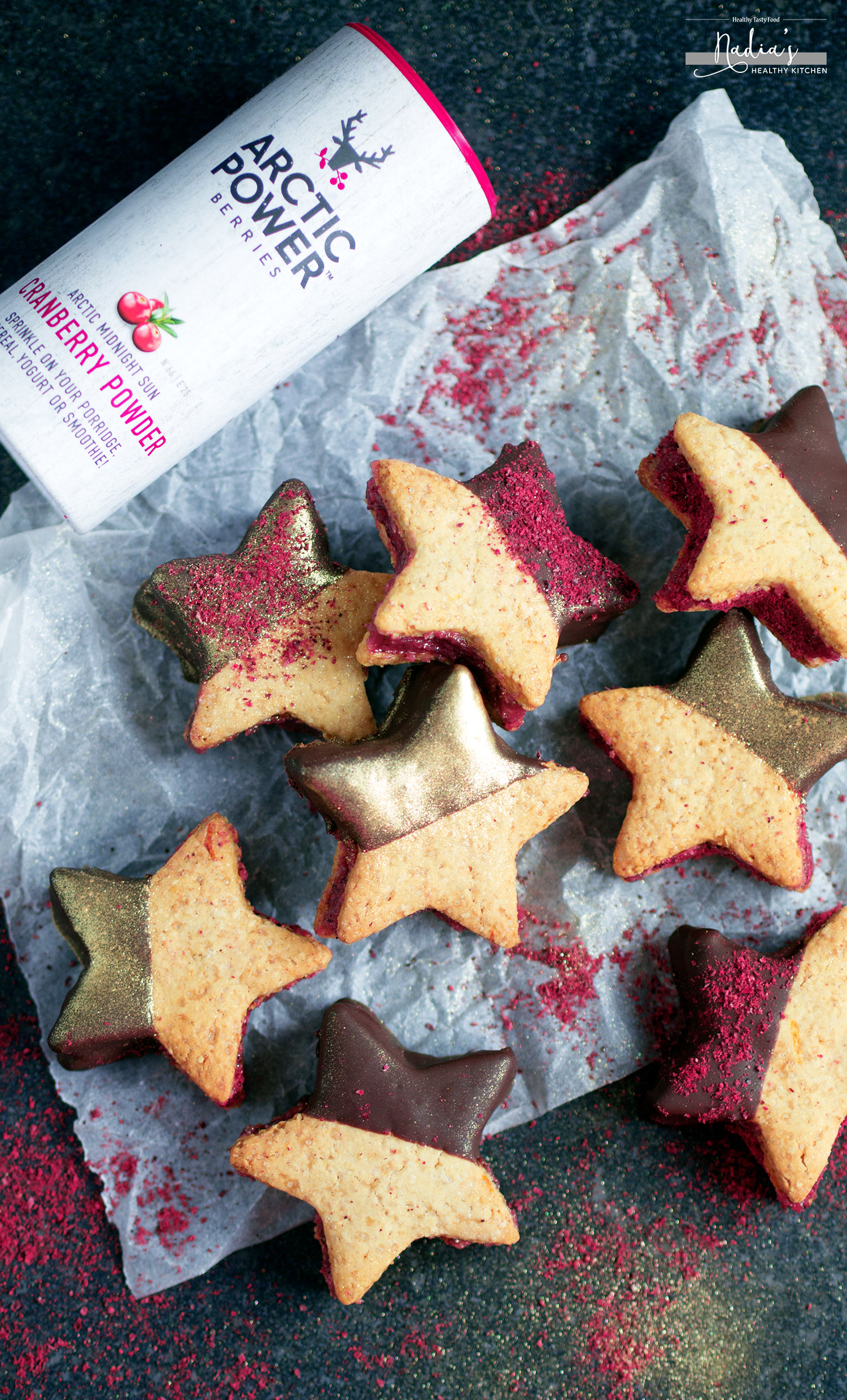 Orange Cranberry Cookie Sandwiches - Vegan & Gluten-free
2016-12-19 07:26:00
Serves 20
For the orange cookies
1 cup (115g) gluten-free oat flour - make your own by blending oats into a fine flour in your food processor/blender
¾ cup (135g) gluten-free plain flour
¼ cup (4 tbsp) coconut sugar or brown sugar
¼ cup (4 tbsp) maple syrup
¼ tsp salt
1 tsp baking powder
3 tbsp orange juice
Zest of 1 orange - about 1 tbsp
¼ cup (4 tbsp) coconut oil, melted
For the cranberry cashew cream
1 cup (145g) cashews - preferably soaked in water for 4 hours
2 tbsp coconut oil, melted
2 tbsp maple syrup
4 tbsp milk of choice
1 tbsp Arctic Power Berries cranberry powder
To make the cookies
Preheat your oven to 180°C (160°C fan assisted)/ 350°F.
In a large bowl, mix together the oat flour, GF flour, sugar, baking powder and salt
Pour in the melted coconut oil, maple syrup, orange juice and orange zest. Mix to combine.
Wrap up the dough in cling film and chill in the fridge for 30 minutes.
Place dough on a lightly floured worktop. Roll out to a thickness of about 1/4 inch.
Use a star shaped (or any shape!) cookie cutter to cut out the cookies.
Arrange on a baking sheet covered with parchment paper and bake for 15-20 minutes. I like mine super crunchy so I left mine in for 20 minutes. Bear in mind the baking time will also depend on the size of your cookies.
Leave to cool completely.
To make the cranberry cream
Blend all the ingredients in your food processor until smooth.
Chill in the fridge for 30 minutes to make it easier to work with
Assembling the cookies
Spread a layer of the cranberry cream on one of the cookies and top with another. Smooth the edges out with a knife.
Chill in the fridge again to allow the cream to harden.
You have the option of dipping the cookie sandwiches in melted chocolate, because everything is better with chocolate 😀
Enjoy!
Nadia's Healthy Kitchen https://nadiashealthykitchen.com/