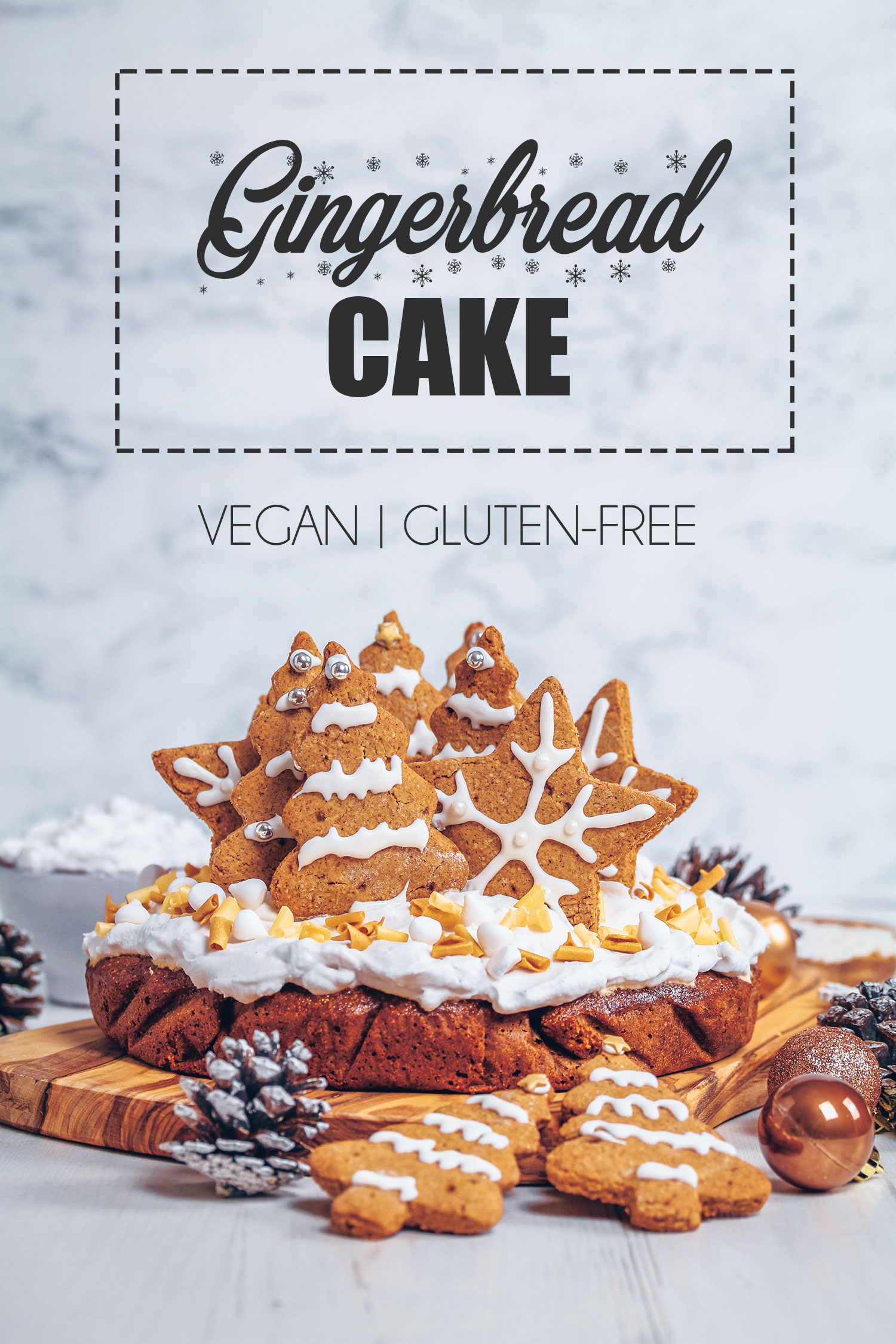 Vegan & Gluten-free Christmas Gingerbread Cake
Just under two weeks until Christmas (woohoo!). Can you believe how fast time is flying? It doesn't feel that long ago when we were about to welcome 2017, and look at us now. The year is almost over and we'll soon be welcoming 2018! Crazy!
I've created something really special to help you celebrate Christmas in style! A gingerbread cake topped with whipped coconut cream and decorated with gingerbread Christmas trees and stars. A really simple and easy to follow recipe that looks super festive and so impressive!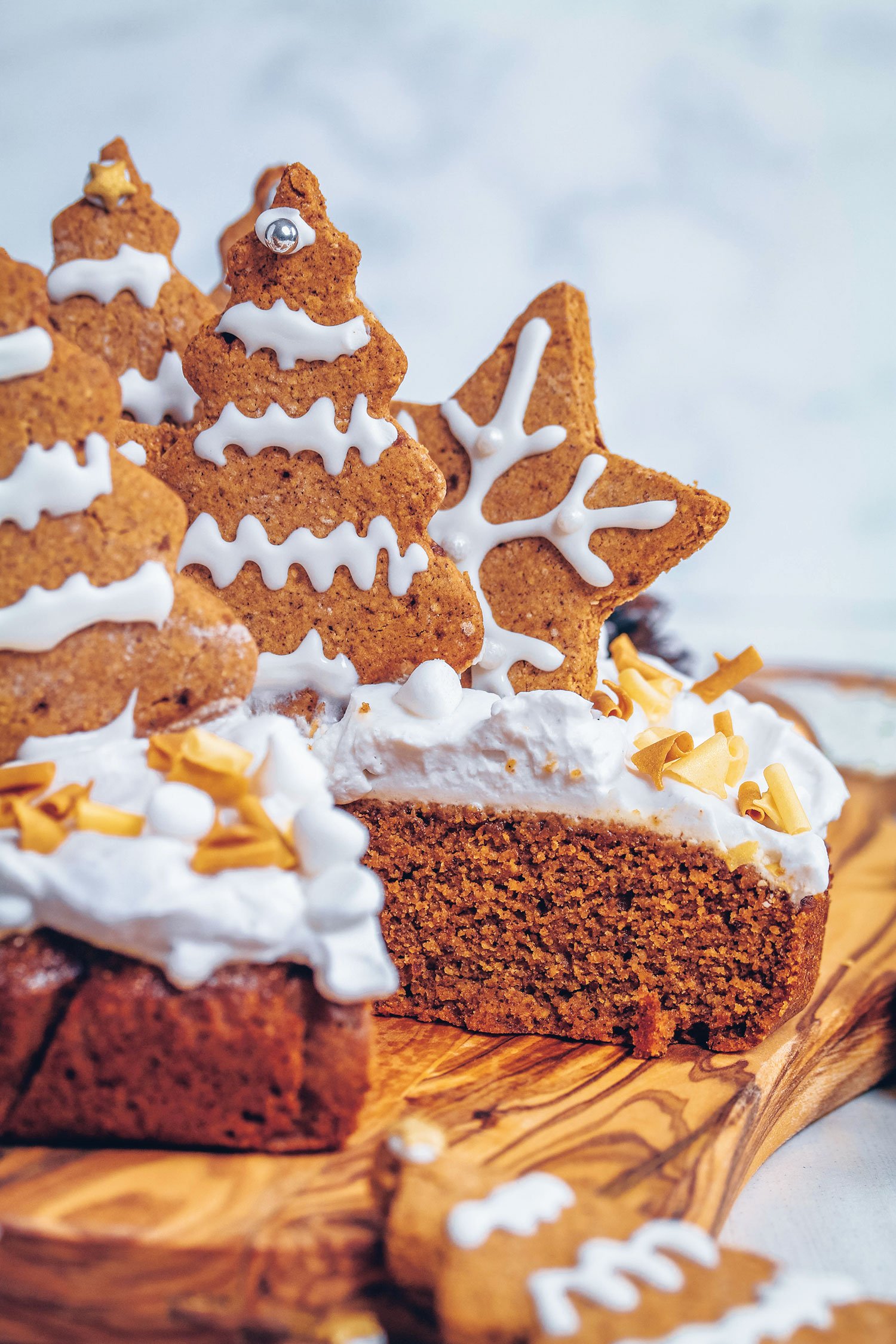 A lot of people put so much time and effort into making the Christmas dinner that dessert often gets neglected. I know you can easily buy a festive dessert to serve on Christmas day, but nothing beats a homemade treat. Besides I find shop bought Christmas desserts way to sweet and heavy for my liking, so I prefer making my own treats to share with family and friends.
I'm also aware that even though supermarkets are stocking more vegan and gluten-free options than ever before, there just isn't the same variety for those who follow a vegan diet or have an allergy/intolerance to dairy and gluten. This gingerbread cake is both vegan AND gluten-free so it's a great option if you're looking for a treat to serve to someone with an allergy to dairy or gluten. It's also not too sweet or heavy making it perfect as an after dinner dessert or even an evening treat after you've given your stomach some time to work on your Christmas meal.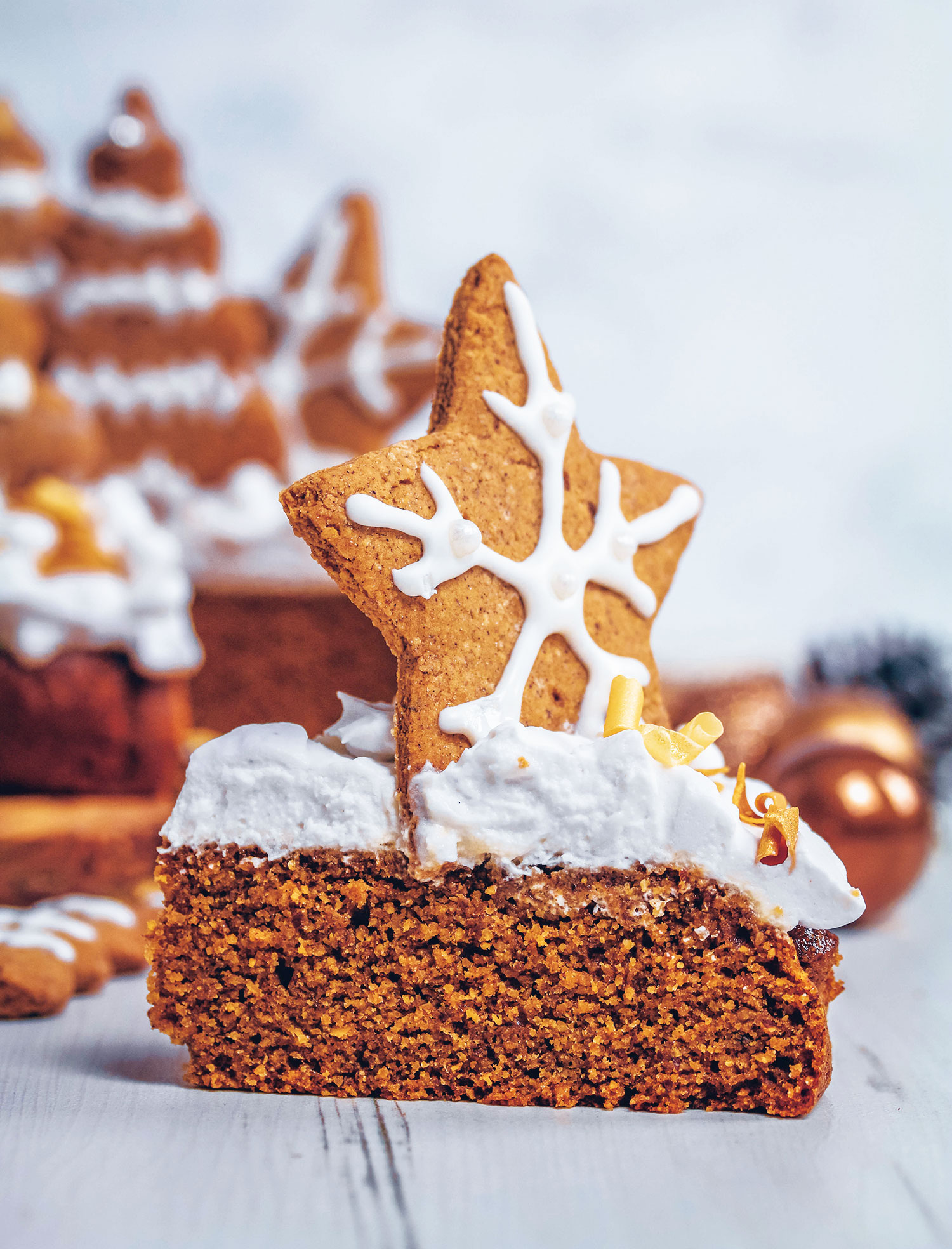 I created this cake in collaboration with Schwartz as part of their '12 Tastes of Christmas' campaign with BBC Good Food. They sent me a fun and colourful Schwartz calendar with a selection of their herbs and spices. It really got me excited for Christmas and in such a festive mood. I couldn't wait to play around with their amazing spices!
The first thing that came to mind when thinking of recipe ideas was something gingerbready. It's one of my favourite Christmas flavours, and one of the many reasons I look forward to this time of the year! There's just something so comforting about the mixture of cinnamon, ginger and allspice.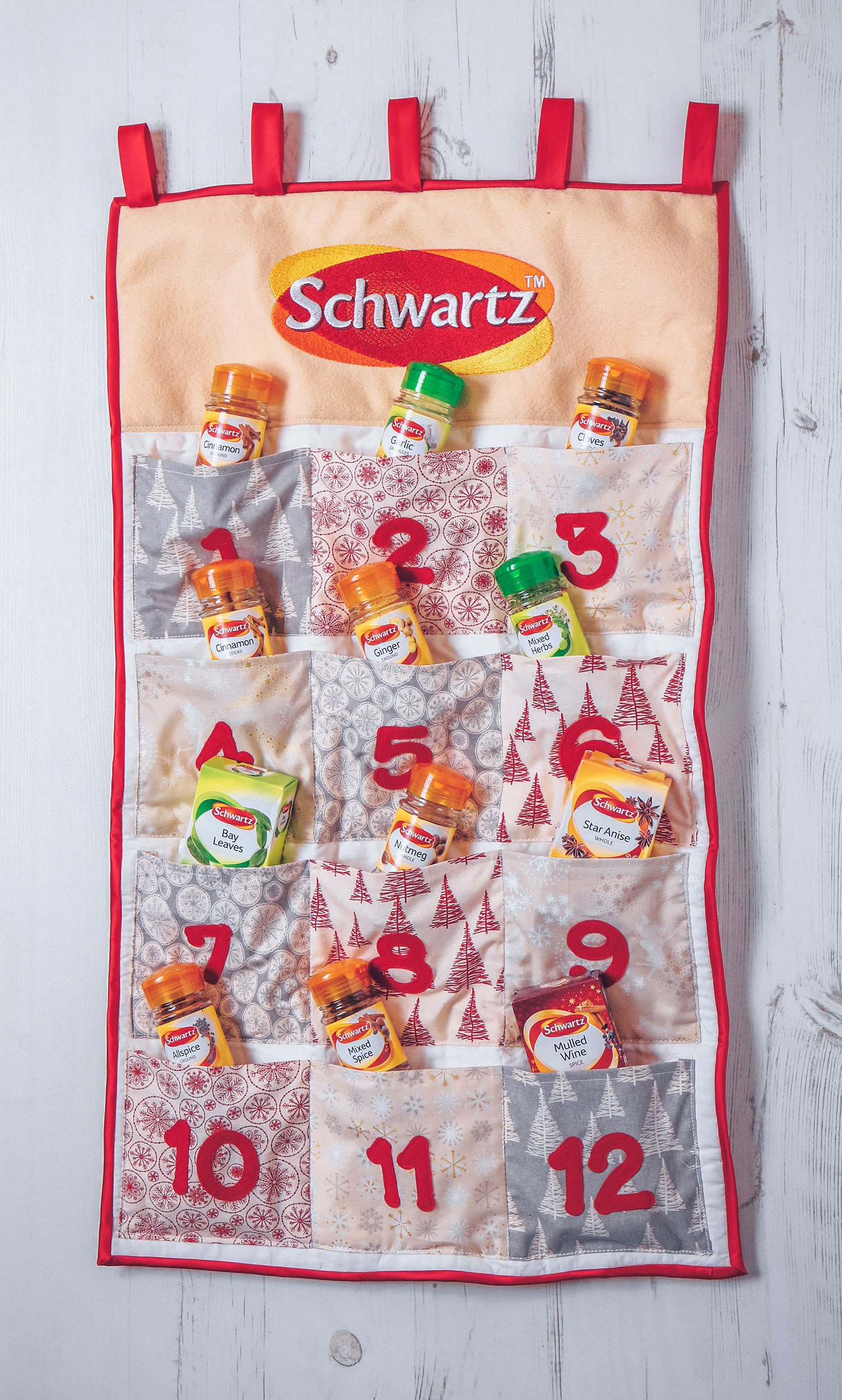 Since you're always asking me to create more cake recipes, I thought this was the perfect opportunity to play around with a classic Christmas recipe and turn it into a cake!
Flavoured with warming aromatic Schwartz spices like cinnamon, ginger and allspice as well as molasses for that deep authentic gingerbread taste and topped with a simple 3 ingredients whipped coconut cream. You can decorate the cake however you like really, but I think gingerbread biscuits really complements the taste of the cake, plus they make the cake look so cute and festive! You can make your own (click here for my recipe), buy ready-made gingerbread men or biscuits to save time, or you can keep it simple and scatter grated chocolate on top or some Christmas sprinkles.
To take the stress out of the Christmas day preparations, you can make this gingerbread cake a couple of days before the big day, then all you have to do on the actual day is ice and decorate it.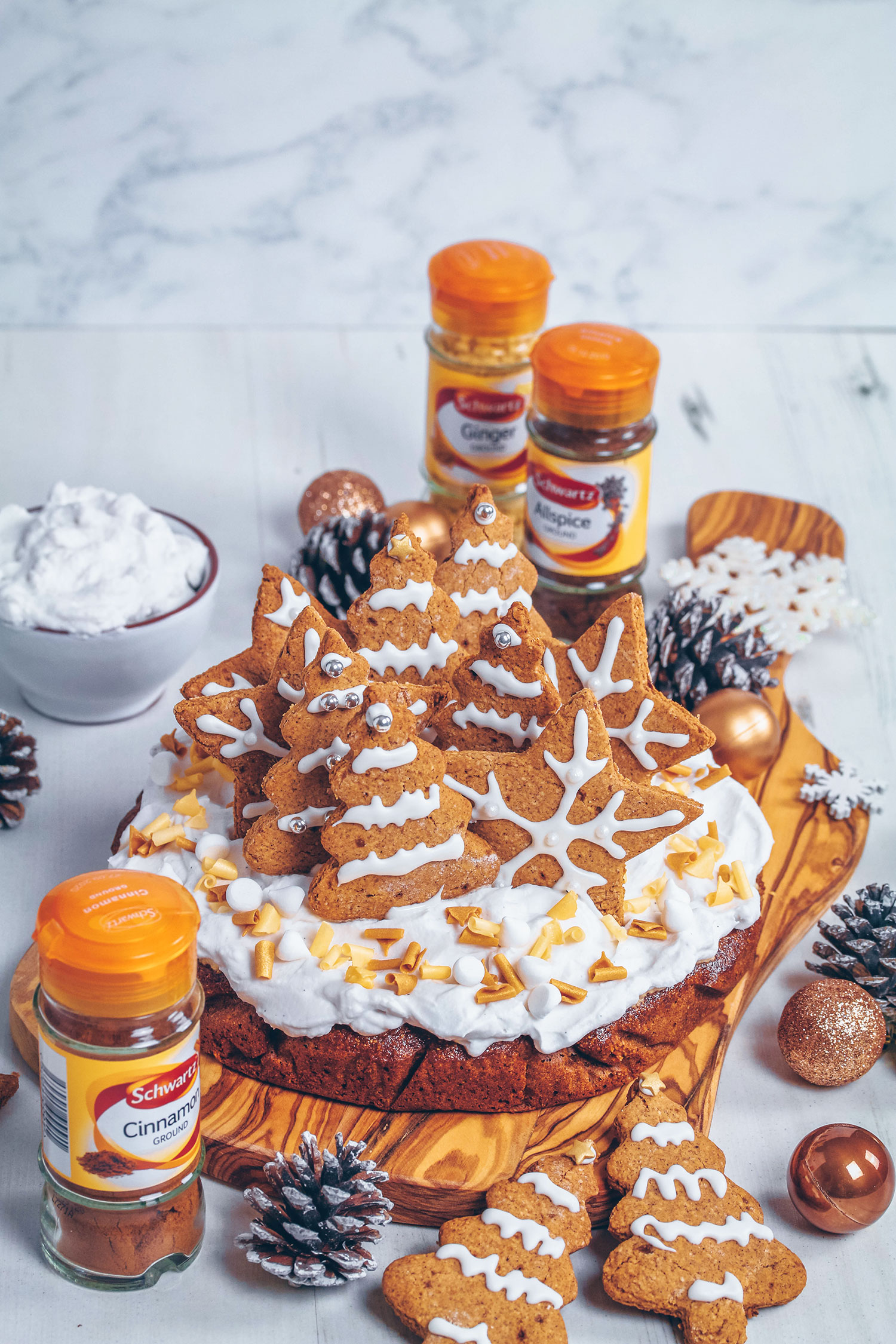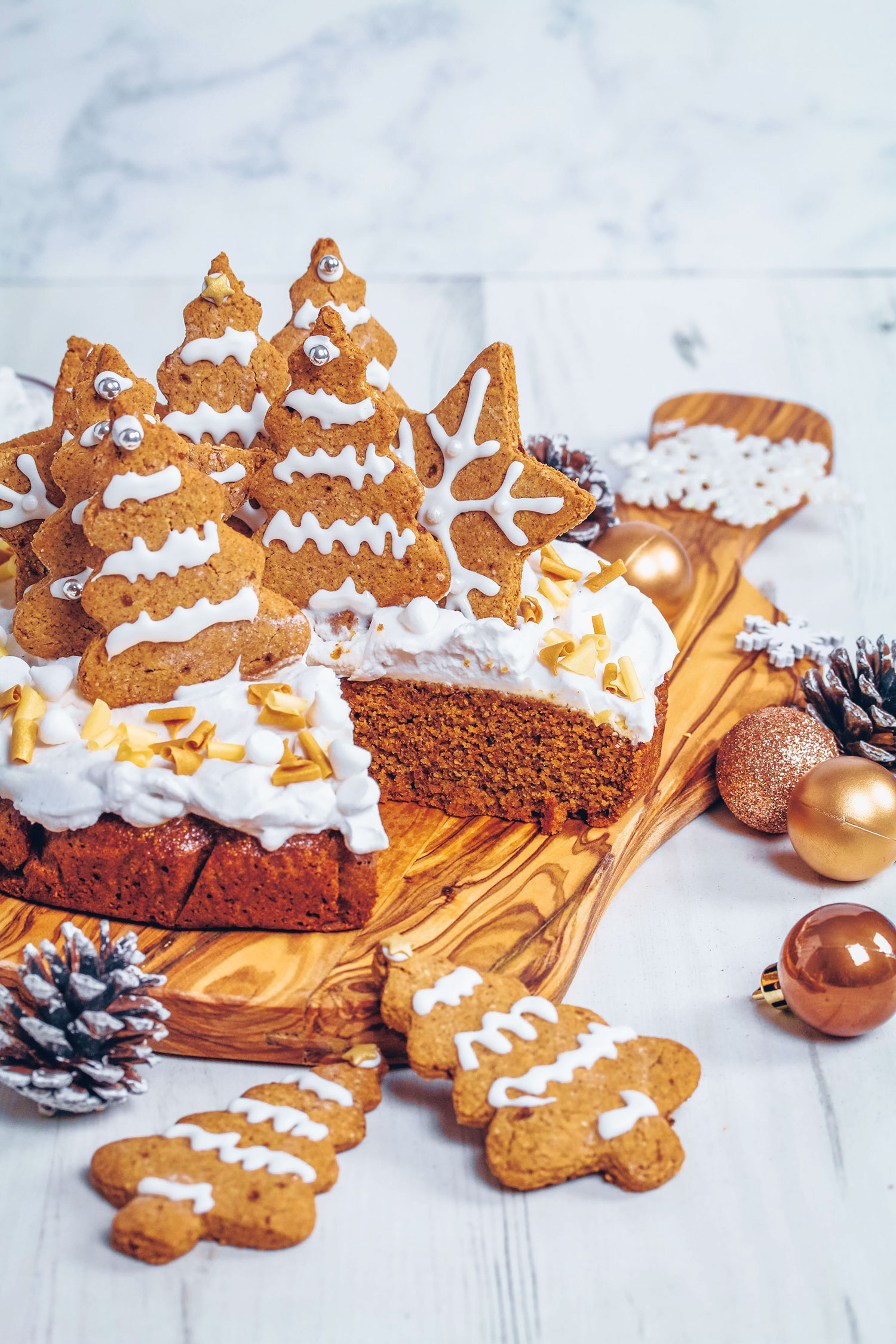 ---
Vegan & Gluten-free Christmas Gingerbread Cake
Serves: 10
Dry ingredients
1/2 cup (90g) polenta
1/2 cup (55g) ground almonds
1/2 cup (75g) buckwheat flour
1 tbsp Schwartz ginger
2 tsp Schwartz cinnamon
1/4 tsp Schwartz allspice
1 tsp baking powder
1/4 tsp salt
Wet ingredients
1/4 cup (60ml) maple syrup
1/4 cup (60ml) molasses
1/2 cup (120ml) milk of choice
2 tbsp coconut oil, melted
2 flax eggs (2 tbsp milled flaxseed + 5 tbsp hot water)
For the whipped coconut cream
2 cans full fat milk – refrigerate overnight, discard the liquid and use the solid part only (at the top of the can when you open it)
1-2 tbsp stevia or icing sugar – use more or less to taste!
½ tsp vanilla paste or extract
Method
Preheat your oven to 170°C (150°C fan assisted)/ 325°F
Prepare the flax eggs by mixing 2 tbsp milled flaxseed with 5 tbsp hot water. Leave to set for 15 minutes.
Mix all the dry ingredients in a large bowl, then fold in the in the maple syrup, molasses, milk, coconut oil and flax eggs.
Transfer to an 8" round cake tin lined with parchment paper and bake for 25-30 minutes. Leave to cool completely before icing.
To make the whipped coconut cream – add the solid part of the cooled can of coconut milk to a bowl along with the sweetener and vanilla. Whip on a high speed for 5-10 minutes using a hand mixer
Spread evenly over the cake, and decorate with
gingerbread cookies
.
Enjoy!
Store in the fridge for up to 3 days. Take out of the fridge and leave to rest at room temperature for 20 minutes before serving.
---

Thanks to Schwartz for sponsoring this post. Commissioned posts is how I'm able to continue working on the blog and creating recipes and recipe videos for you. As always, all opinions are my own.