Vegan Gluten Free Gingerbread Men
Gingerbread men cookies are one of my favourite festive treats. The first time I ever had a gingerbread cookie was one that I had bought from a Christmas market. It was massive, heart shaped and was decorated with sugar icing. Looked delicious but when I came to eat it, I was disappointed! It was soft and didn't have much taste. That didn't deter me from wanting to try it again. The next time I tired one, it was crunchy and full of flavour! Since then I've preferred crunchy gingerbread cookies over soft.
When it comes to making healthy cookies, achieving a crunchy texture is not the easiest thing to do. Most of my healthier cookies tend to be soft or chewy, but if I were to make any cookie recipe crunchy, it had to be this one!
Instead of decorating with sugary icing, I decided to use melted sugar free chocolate to create the smily faces. Because let's be honest, everything tastes better covered in chocolate!
These vegan gluten free gingerbread men are dairy free, sugar free and easy to make. Enjoy with a cup of tea or coffee on and around Christmas day. They also make an excellent and cute edible gift.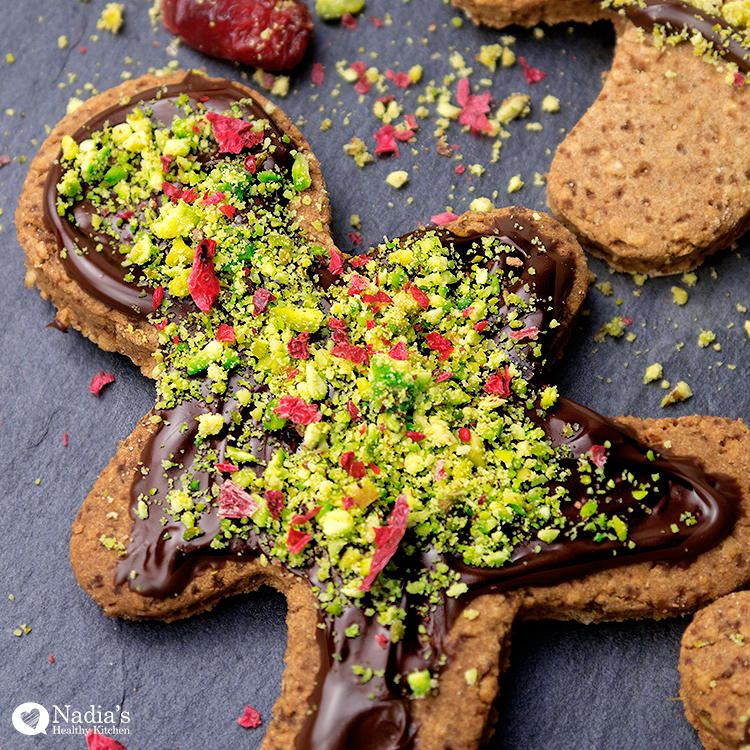 Vegan Gluten Free Gingerbread Men
2015-12-22 11:38:50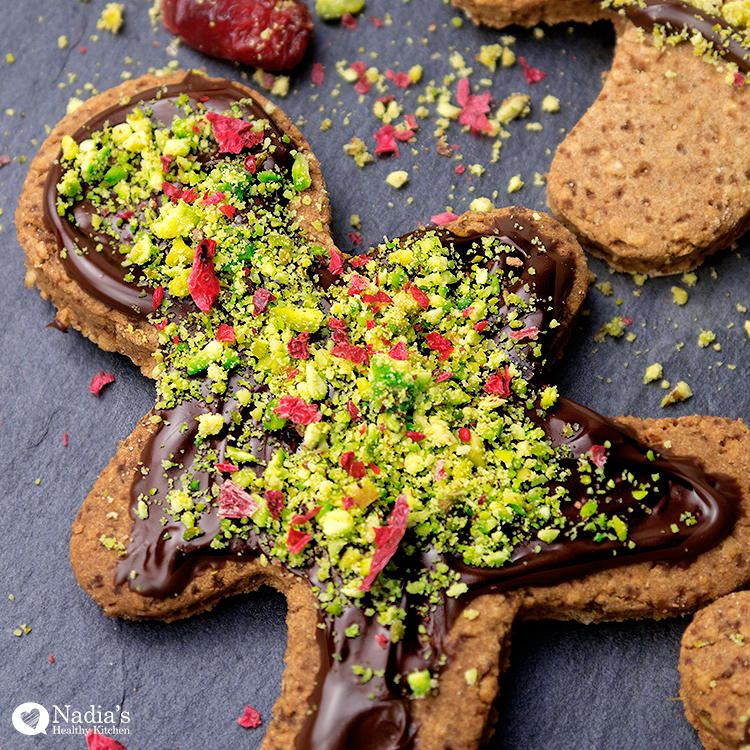 Ingredients
1 cup (115g) gluten-free oat flour
¾ cup (135g) gluten-free plain flour (I used Dove's farm gluten free plain white flour)
¼ cup (4 tbsp) sugar (I used Sukrin brown sugar-free sweetener bur you can use coconut sugar or brown sugar)
¼ cup (4 tbsp) date syrup (you can use molasses or golden syrup)
2 tsp ginger
2 tsp cinnamon
¼ tsp nutmeg
¼ tsp cloves
¼ tsp salt
1 tsp baking powder
¼ cup coconut oil or butter, melted
3 tbsp milk
Instructions
Preheat your oven to 180°C (160°C fan assisted)/ 350°F.
Line 2 baking sheets with parchment paper.
In a large bowl, mix together the oat flour, plain flour, sweetener, baking powder, salt and spices.
In a separate bowl, add in the melted coconut oil, milk and date syrup. Give everything a good mix.
Pour the wet mixture into the bowl of dry ingredients. Mix well.
Wrap up the dough in cling film and chill in the fridge for 30-60 minutes.
Take the dough out and place it on a lightly floured worktop. Roll out to a thickness of about 1/4 inch.
Use a gingerbread man cutter to cut out the cookies. The number of cookies really does depend on the size of your cookie cutter. I wanted mine to be crunchy so I used a medium sized gingerbread man cutter.
The baking time also depends on the size of your cookies. I would suggest baking for 10 minutes then keep checking every couple of minutes from there onwards. What you're looking for is golden brown edges. Keep in mind that the cookies will become crunchier once they've cooled down so don't leave them in too long unless you want a super crunchy cookie. I like my gingerbread men crunchy so I baked them for 15 minutes ☺
To decorate, I used melted sugar free chocolate. Alternatively you can make icing by mixing 3 tbsp of icing sugar or stevia with a few drops of water until you have a paste consistency.
Nadia's Healthy Kitchen https://nadiashealthykitchen.com/