Vegan Easter Chocolate Pudding
A delicious Easter treat that's rich, chocolatey and so quick and easy to make! This vegan Easter chocolate pudding is a must try!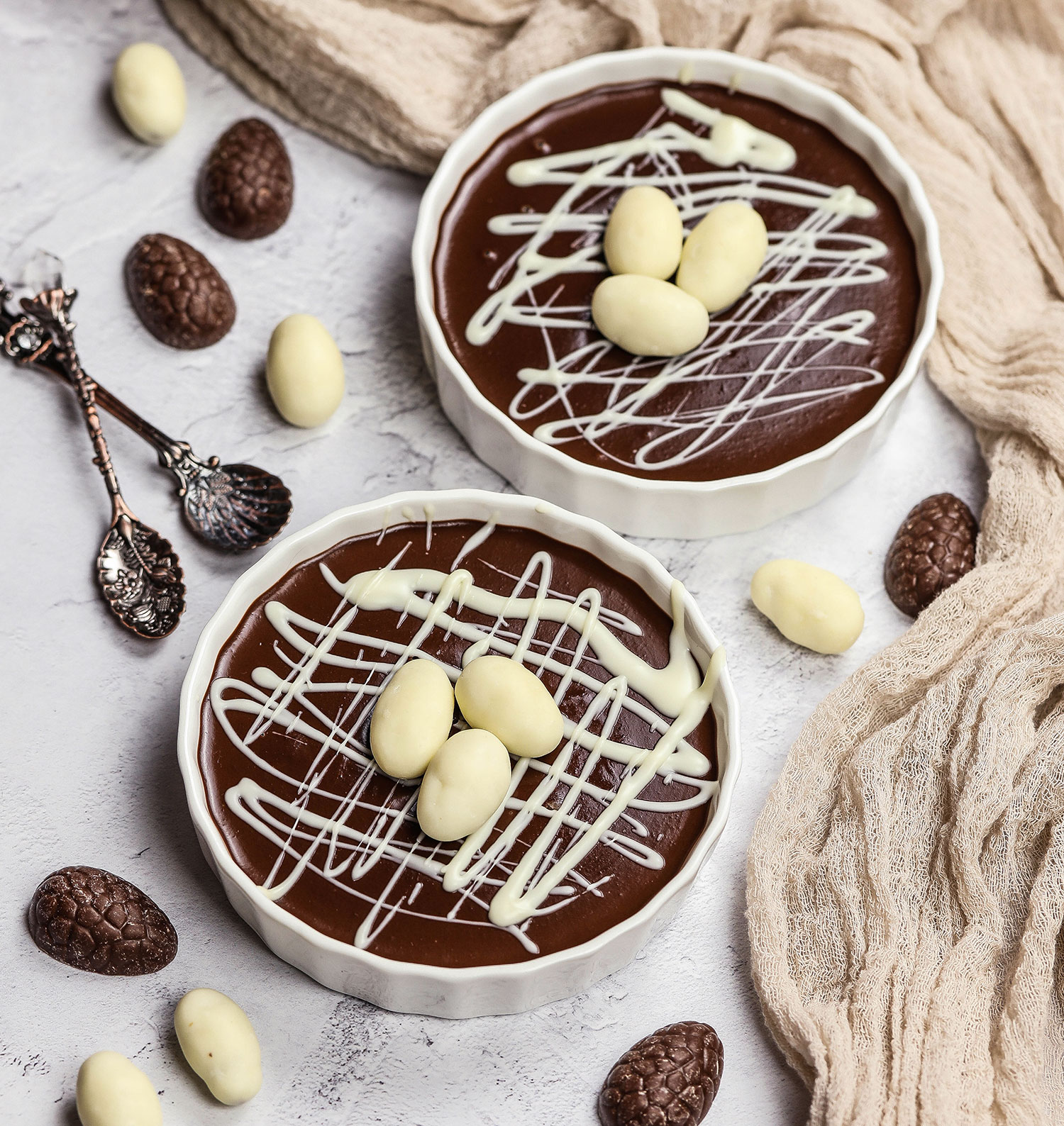 Here's yet another super quick and easy dessert that takes very little time to prepare and only calls for 3 ingredients! After seeing the positive reaction to my 2-ingredient chocolate fudge, I wanted to continue going strong with my very few ingredient recipes. I really enjoy making these kinds of recipes too because I still surprise myself when I can make something so delicious with so few ingredients! I also love the reaction I get when I tell people just how easy a treat is to make. The look of disbelief on their faces when I tell them a treat can be made with only two or three ingredients is priceless. Most of all though, I love eating them!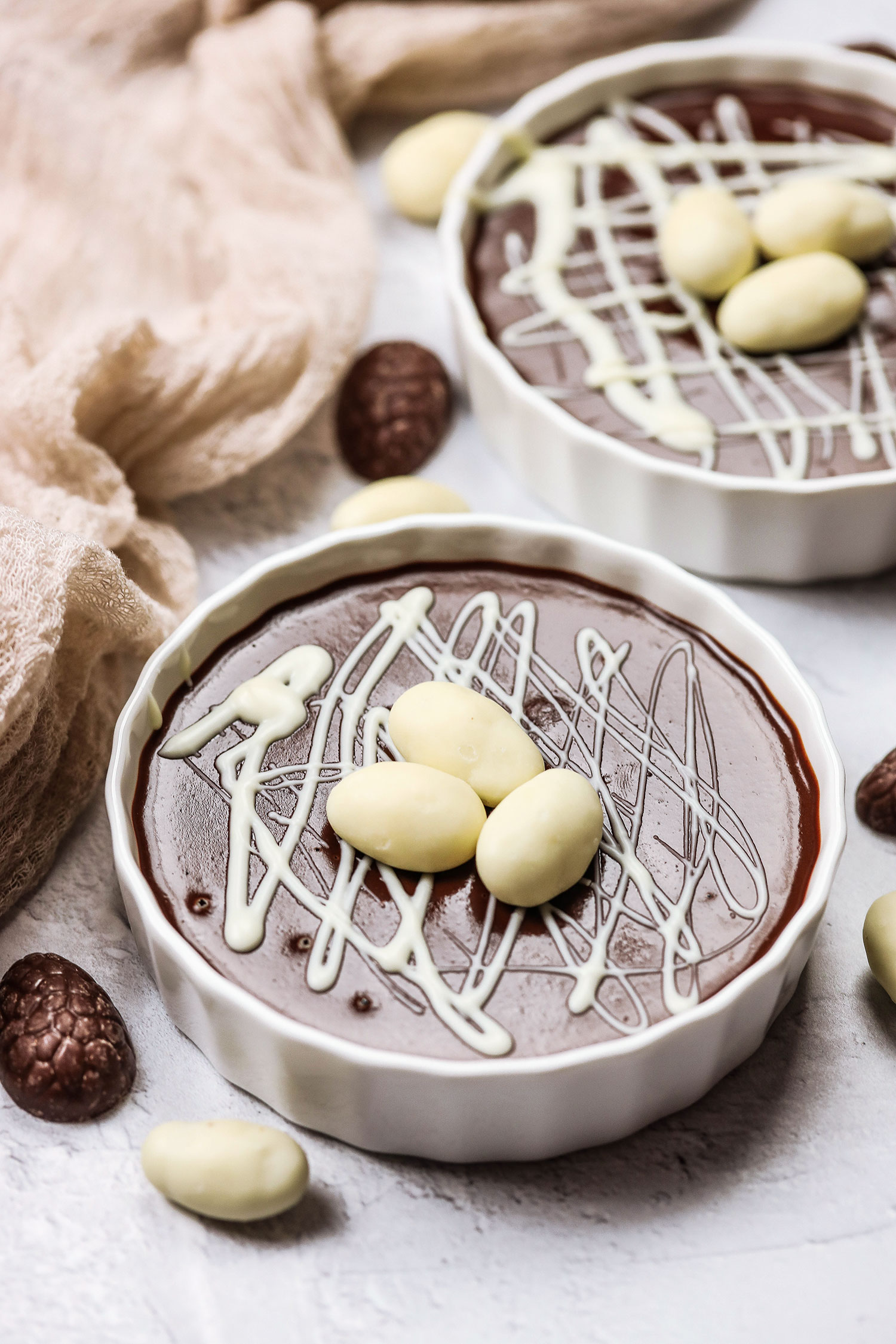 I used Planted oat drink with date & vanilla that you can get from Asda to add a bit more flavour and sweetness. I really do love their selection of dairy-free drinks. They sent me a big pack filled with with their 330ml drinks including a few cartons of their new flavours – coffee and date & vanilla. I was eager to use one of them in a recipe and thought a chocolate pudding/mousse would be perfect, and I was right 😀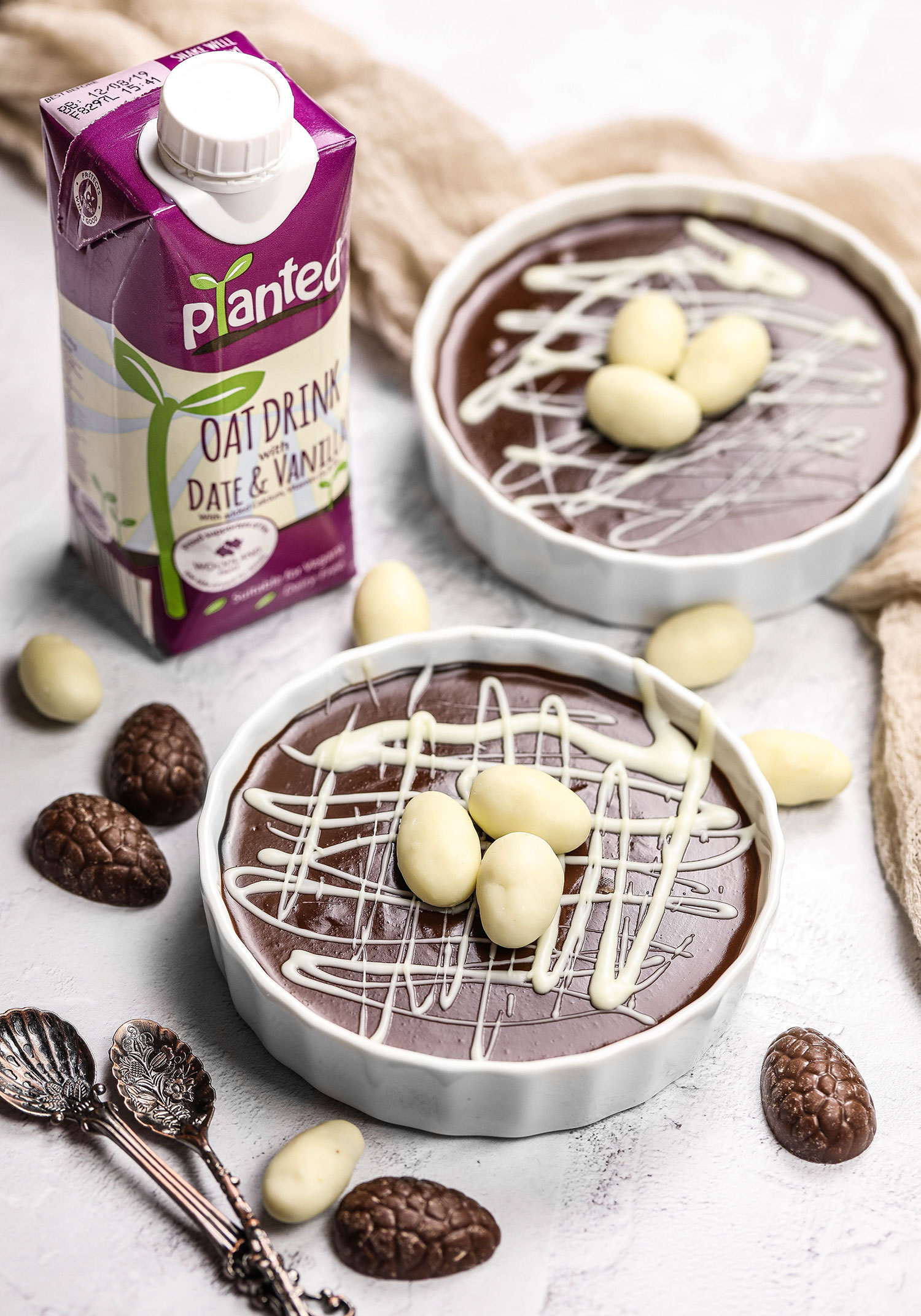 This vegan Easter chocolate pudding only calls for 3 main ingredients:
Chocolate
Nut butter
And milk
Any good quality chocolate will work. I'm a huge dark chocolate fan so that's my go to in recipes. The good thing about many dark chocolate is that a lot of them are naturally dairy-free so they're great for anyone avoiding dairy or following a vegan diet. They're also so much cheaper than 'vegan chocolates'.
Although I used almond butter, any nut butter will work including peanut butter and hazelnut butter (Chocolate and hazelnut, is anyone else thinking Nutella?? :D)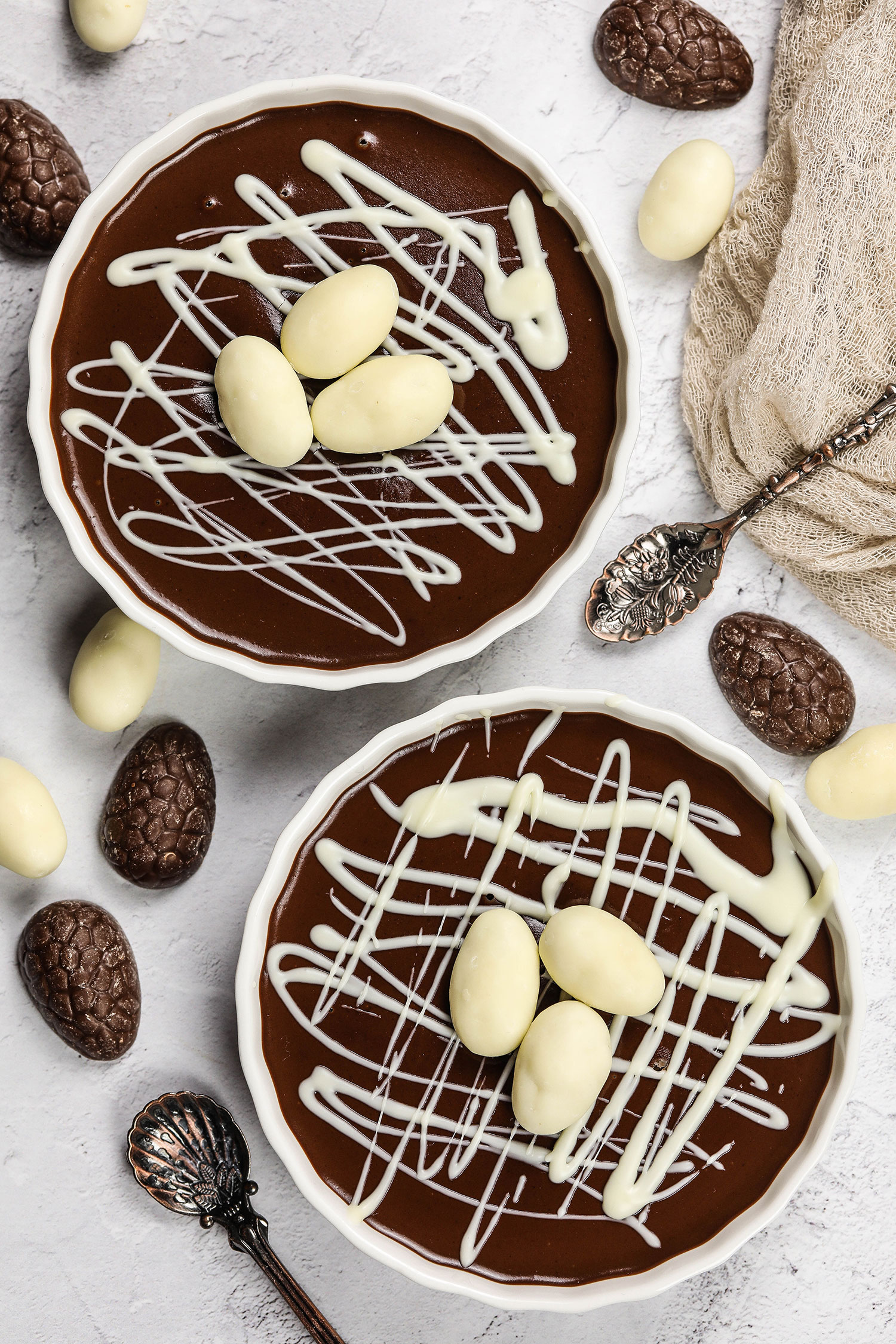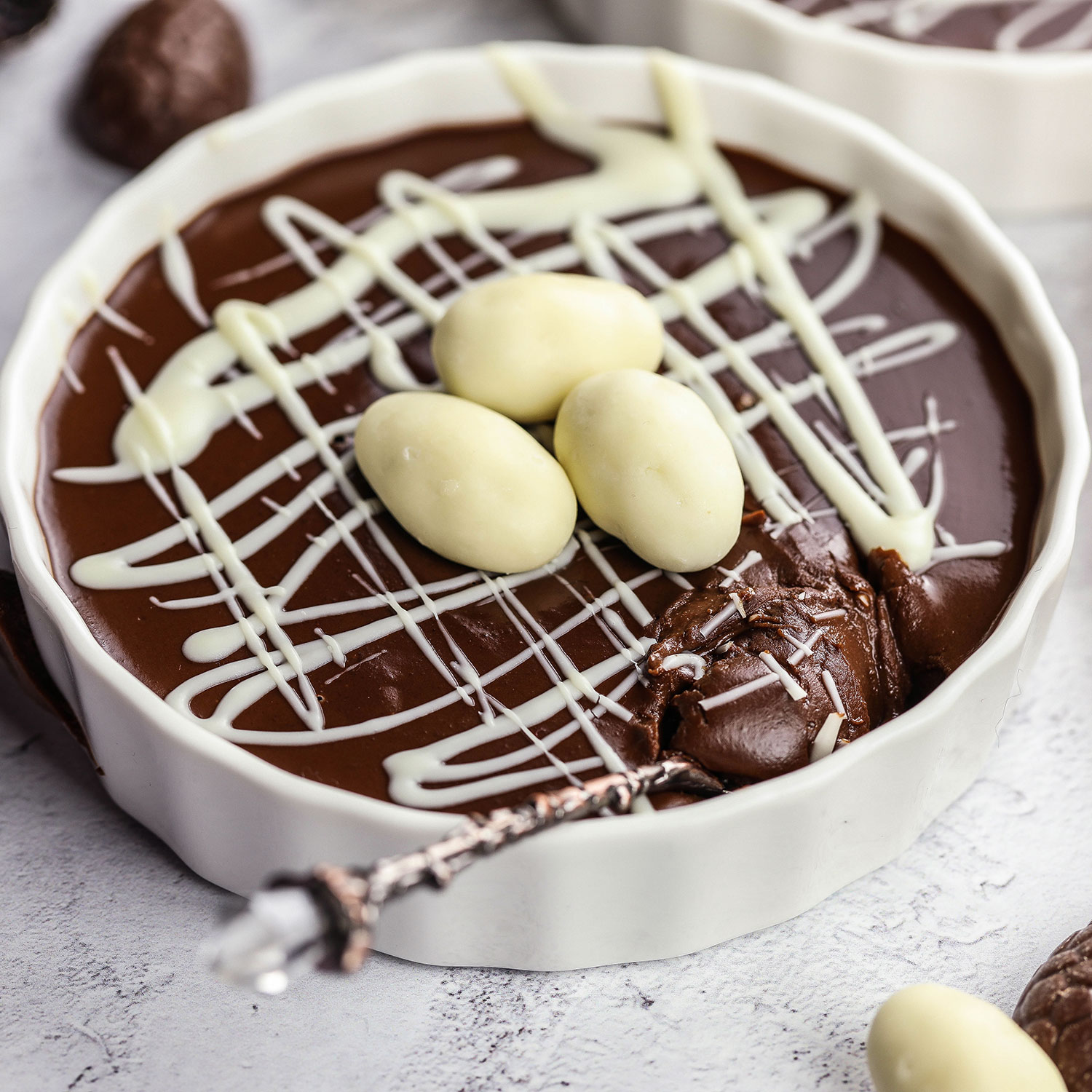 If you have a lot of uneaten Easter chocolate laying around that you would like to get rid of, or if you're simply looking for a healthier treat to make over the long holiday weekend. This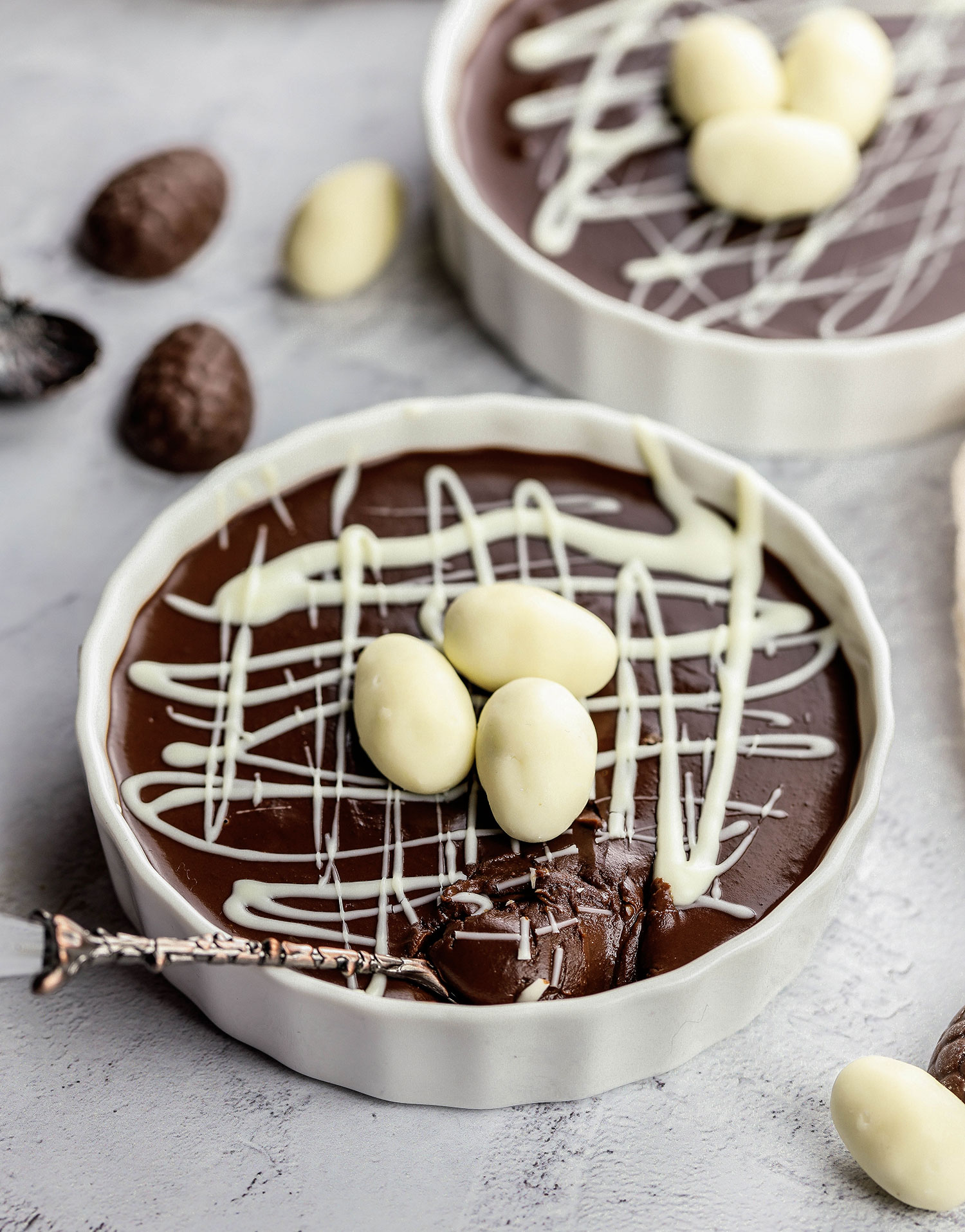 ---
Vegan Easter Chocolate Pudding
Serves 4
100g dark chocolate (I used 70%)
200g Planted oat drink with date & vanilla
4 tbsp almond butter or peanut butter
Optional – 1 maple syrup
Topping – melted vegan white chocolate and white chocolate covered almonds
Method
Break up the chocolate into a heat-proof bowl and add the almond butter.
Pour the Planted milk into a small sauce pan. Heat on high until it starts to bubble, then take off the heat and pour into the bowl with the chocolate.
Stir until everything is melted and you have a smooth mixture.
Pour into 4 small ramekins and refrigerate for 2 hours or until set.
Drizzle some white melted chocolate and top with white chocolate covered almonds*
*I simply melted white chocolate and dipped some almond in, then transferred them onto a plate lined with parchment paper to set. You can top with mini vegan chocolate eggs or anything else you want!
---