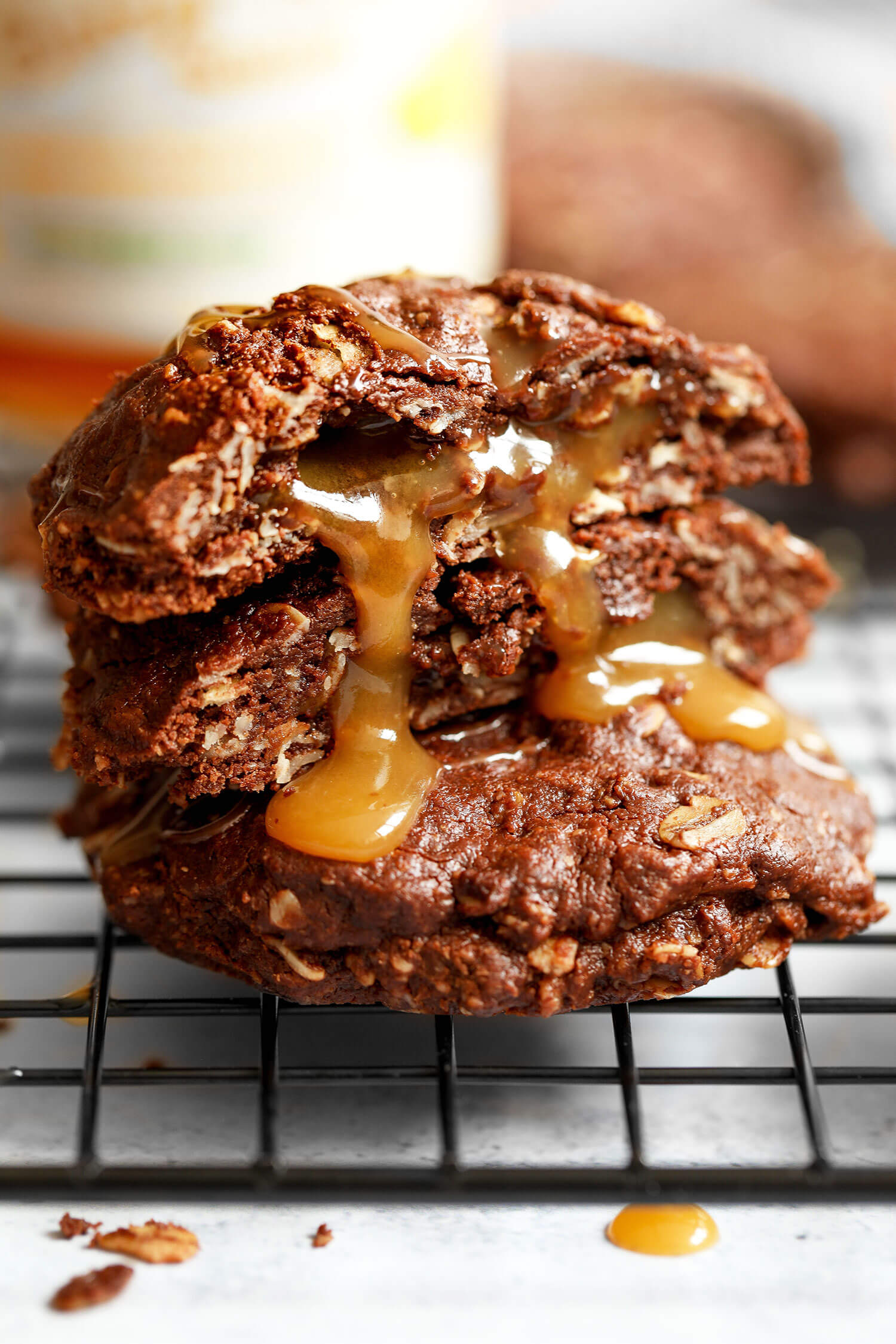 * This post is sponsored by Nature's Charm*
A chocolate cookie with a yummy hidden surprise – These vegan caramel filled chocolate cookies are exactly what you need during this lockdown!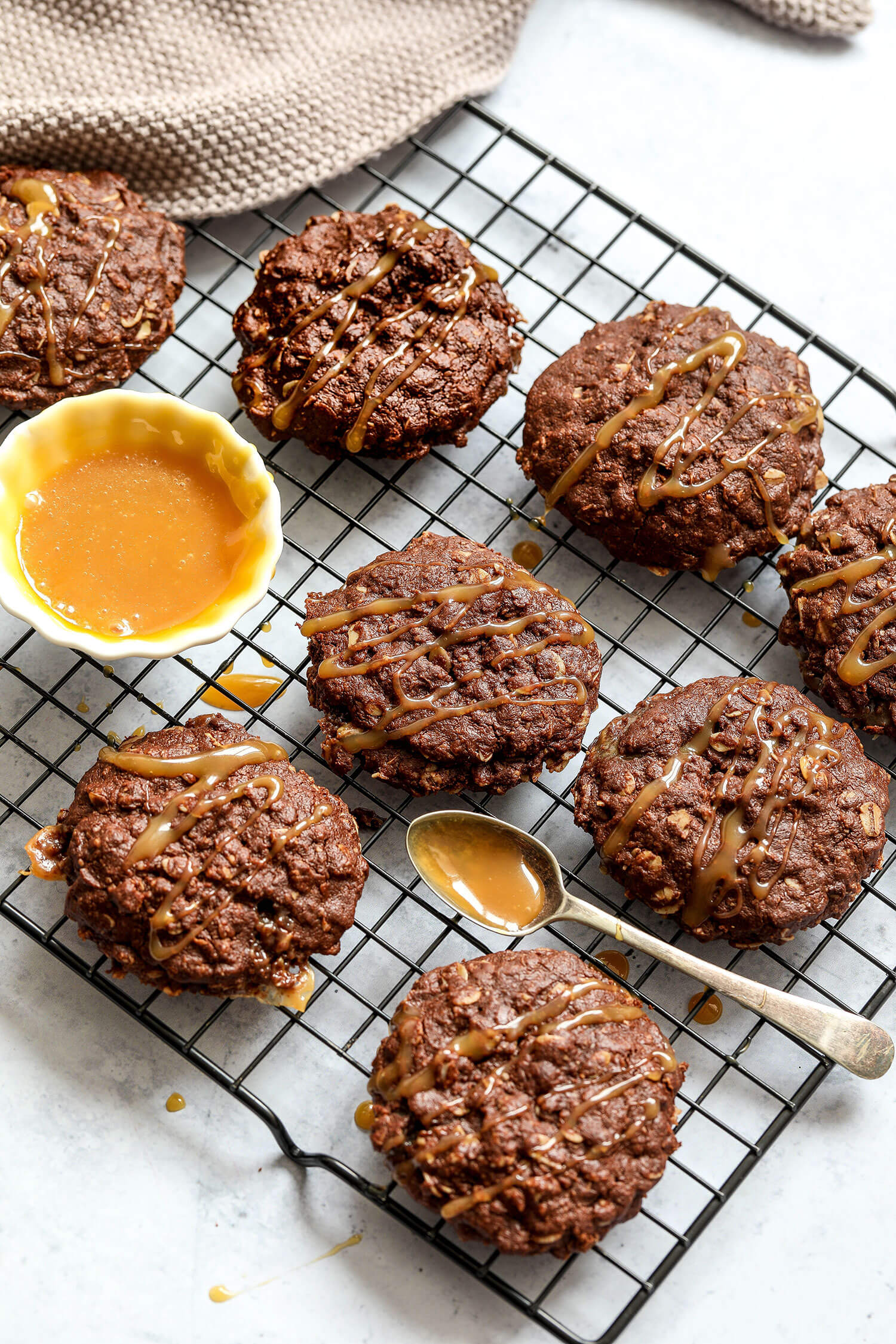 We all need a little cheering up. It's bad enough that we're having to spend our days in doors without being able to see friends and loved ones, but this cold and gloomy weather is only making things that much more difficult! I think many of us, myself include, need little pleasures throughout the day. Something to look forward to to make the day a little easier.
For me, cookies are the ultimate comfort treat. Especially when paired with a cup of tea. That time on the sofa afternoon is needed to keep my sanity! Even better the if cookie is chocolate flavoured.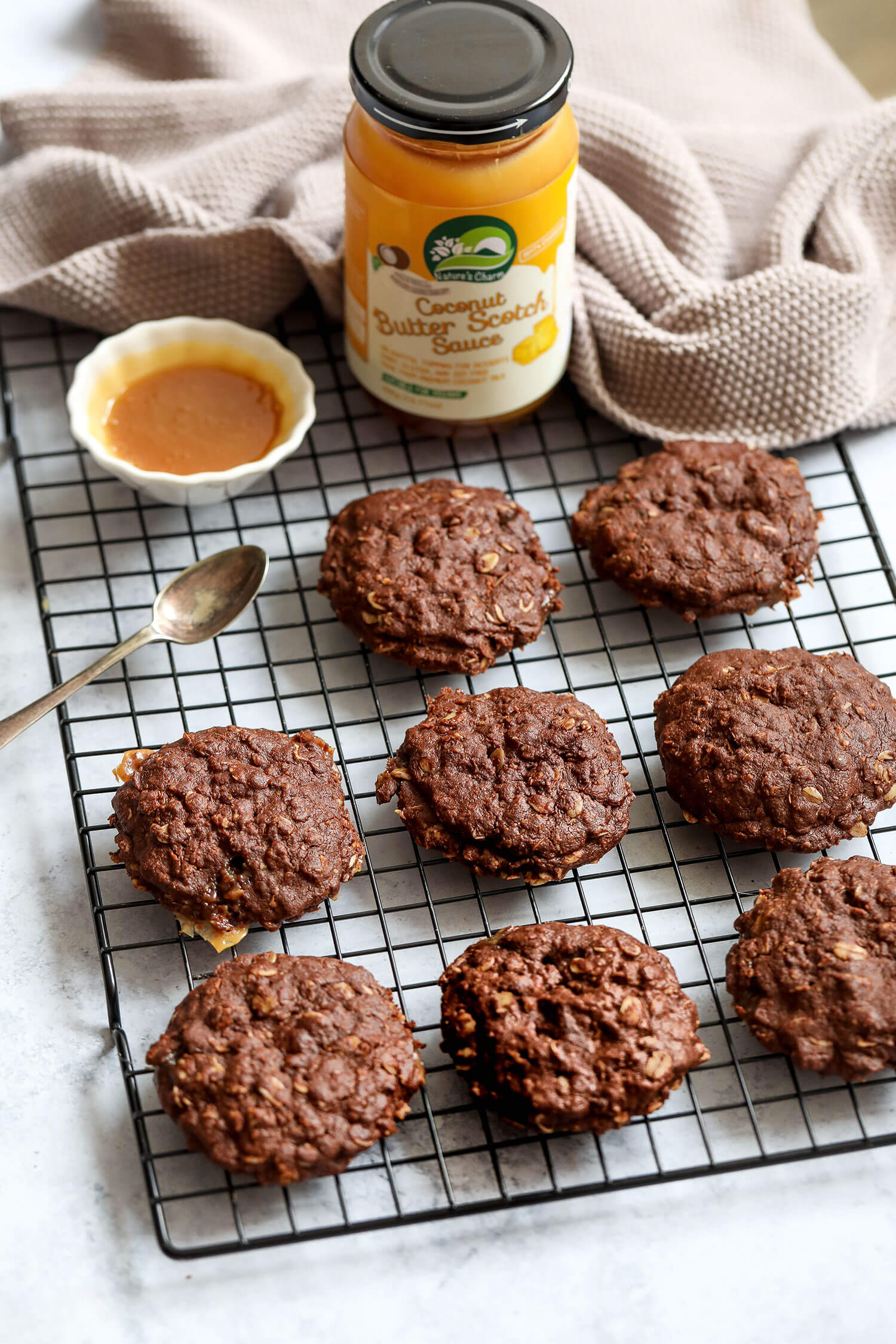 As if chocolate cookies on their own aren't delicious enough, add in some caramel in the centre to make them out of this world delicious! I used Nature's Charm Butter Scotch Sauce for the filling. It's so SO yummy and made vegan by using coconut products. I have tried making my own version of caramel, but nothing compares to this! It also makes the baking process so much easier when you can skip making your own caramel.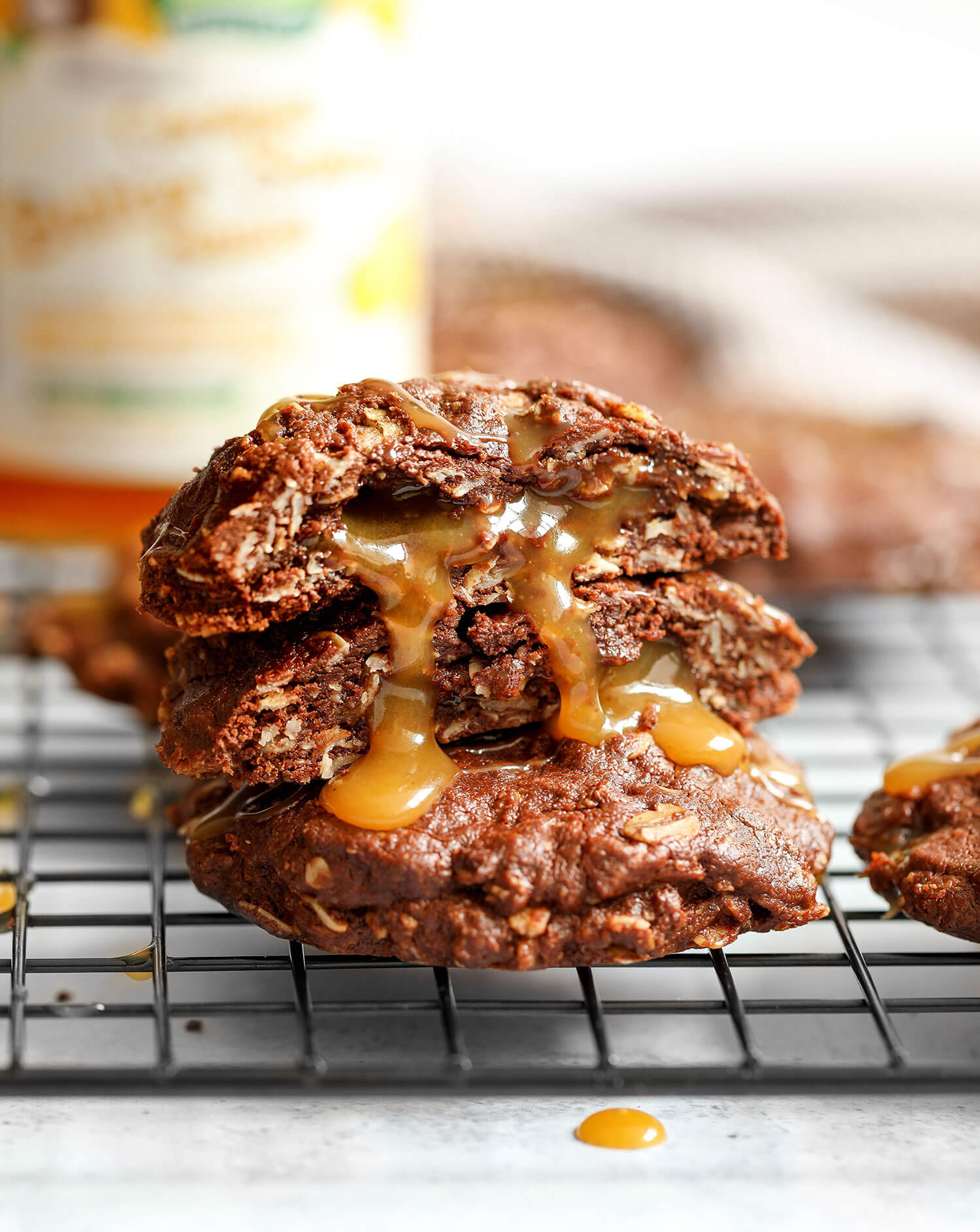 Nature's Charm also make other amazing plant-based ingredients perfect for vegan baking and treat making like evaporated milk, coconut milk and coconut whipping cream. They also make dessert toppings, which come in the most delicious flavours like coconut caramel, butter scotch sauce and chocolate sauce. All coconut based and no dairy in sight!
They were kind enough to send me some of their products to create some delicious, quick and easy recipes and these vegan caramel crunch bars are my first offering! They're a must try if you like chocolate, caramel and treats that come with a lovely crunch.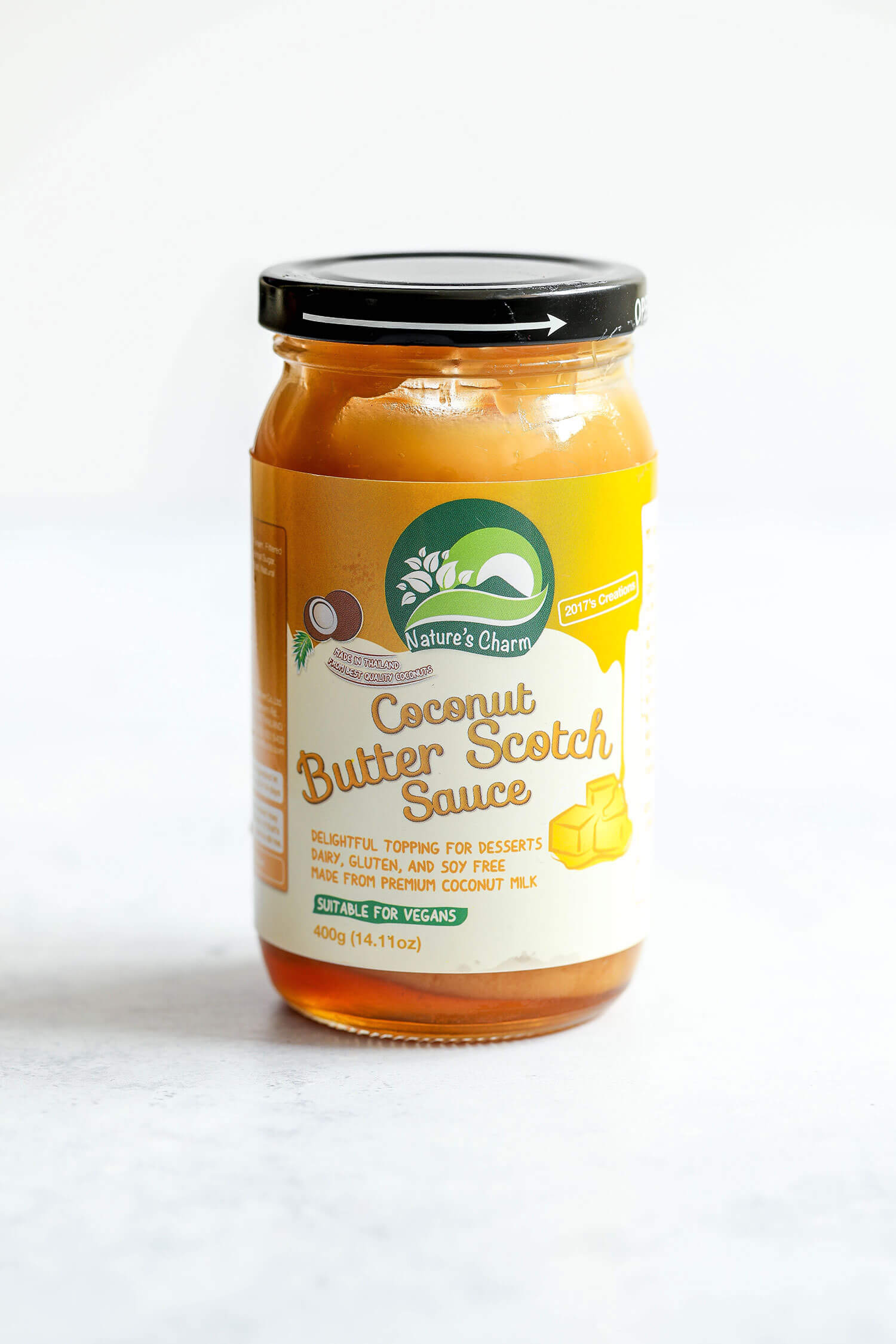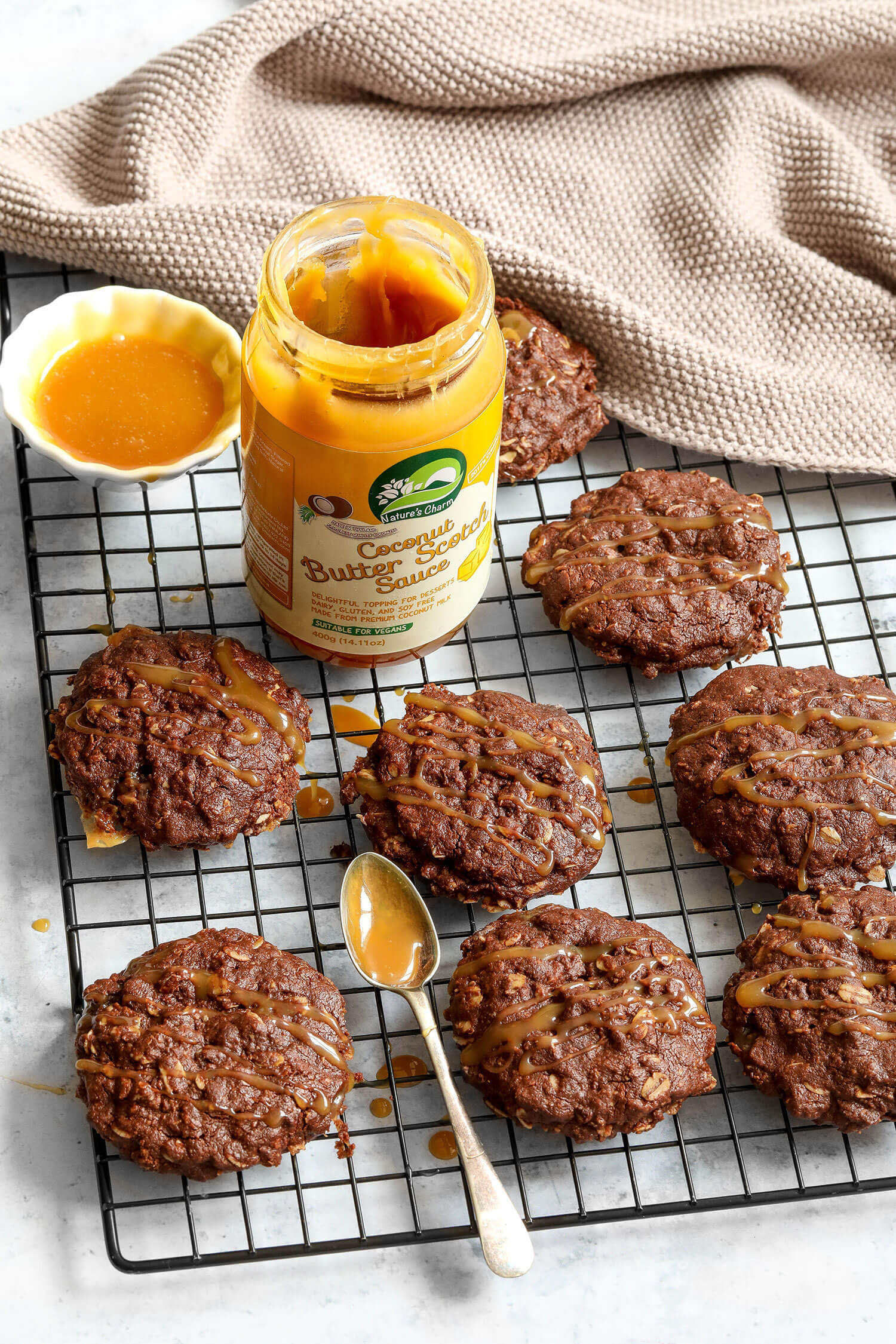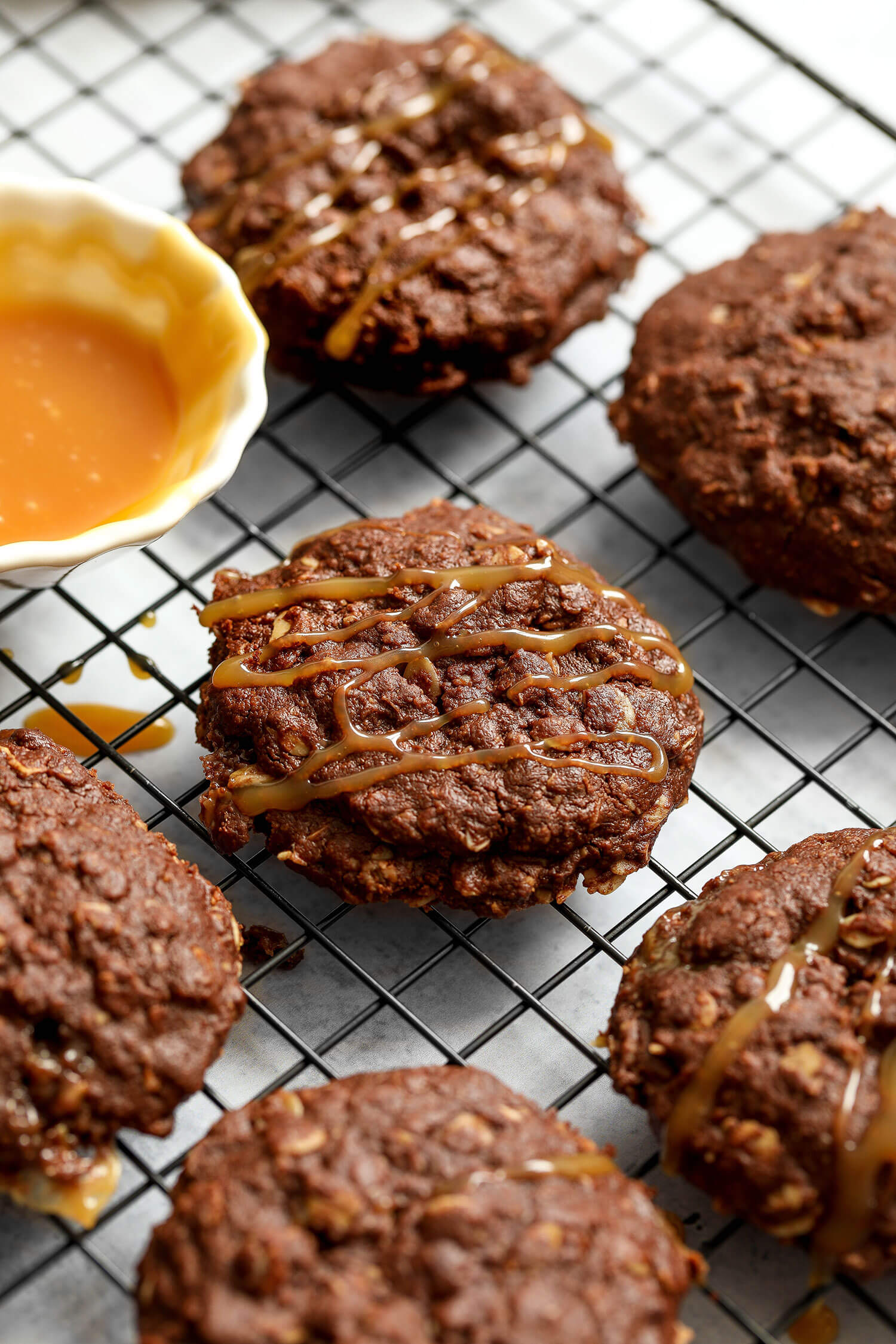 These vegan caramel filled chocolate cookies can also be made gluten-free by using gluten-free oats. They're so decadent, yet feel lighter than your average cookie.
Vegan Caramel Filled Chocolate Cookies
Makes – 8
Ingredients
80g (3/4 cup) rolled oats
55g (1/2 cup) oat flour
30g (6 tbsp) cocoa powder
1/2 tsp baking powder
1/4 tsp salt
125g (1/2 cup) almond butter
60ml (1/4 cup) maple syrup
60ml (1/4 cup) coconut oil, melted
For the caramel filling
About 8 heaping teaspoons of Nature's charm Butter Scotch Sauce
Method
Preheat your oven to 180C/160C fan/350F
Mix the oats, oat flour, cocoa, baking powder and salt in a large bowl, then mix in the almond butter, maple syrup and coconut oil.
Divide the mixture into 8 balls, then divide each into 2 smaller balls to create 2 layers for each cookies – a top and a bottom.
Press down 8 of the balls to create 8 cookies, then drop a dollop of Nature's Charm in the centre. Top with the other half of the dough and gentle press the edges down to seal.
Bake for 12 minutes, then leave to cool on a cooling rack.