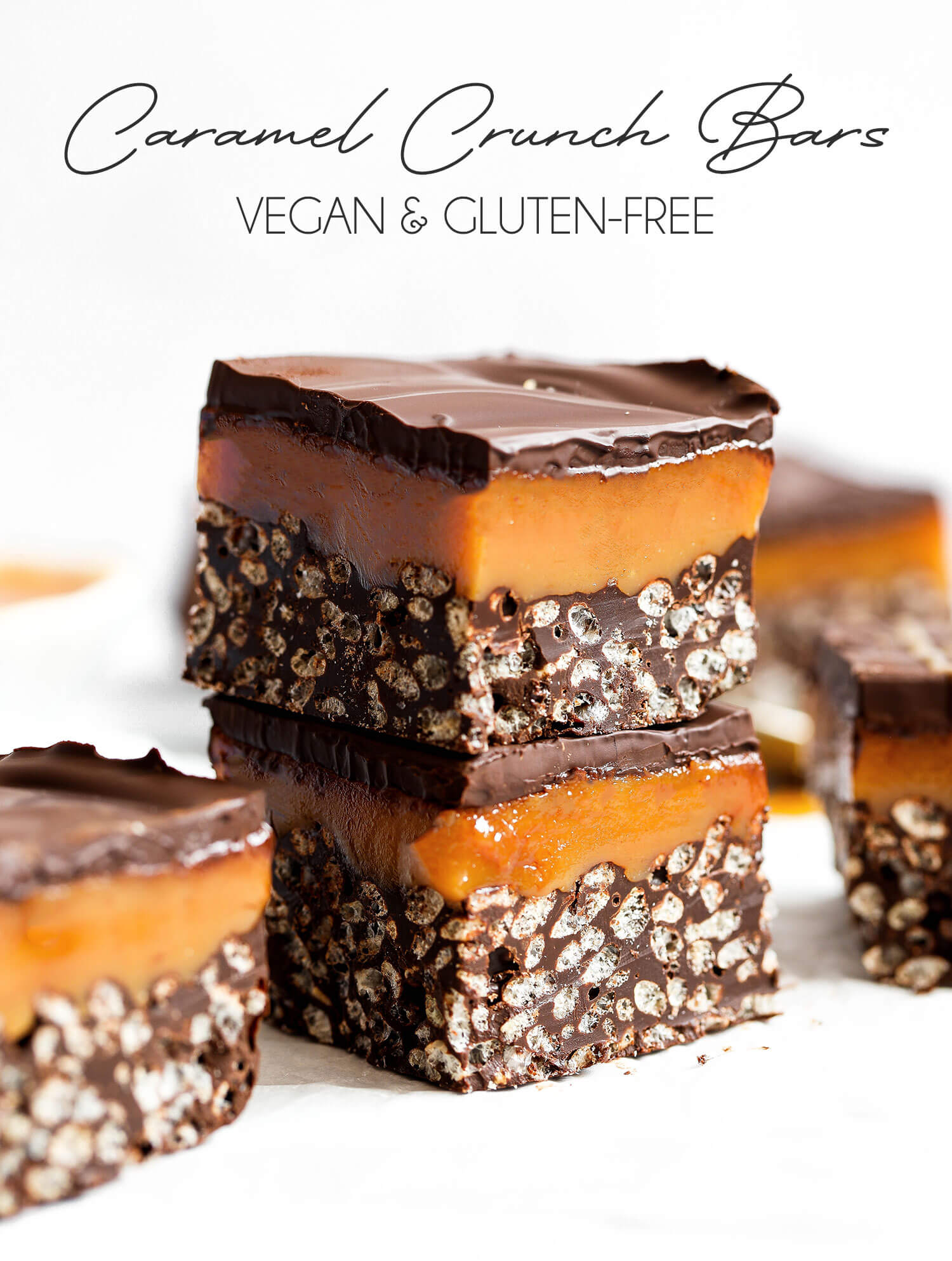 * This post is sponsored by Nature's Charm*
These vegan caramel crunch bars are one of my favourite creations so far this year! So easy to make, only call for a few ingredients and they taste divine!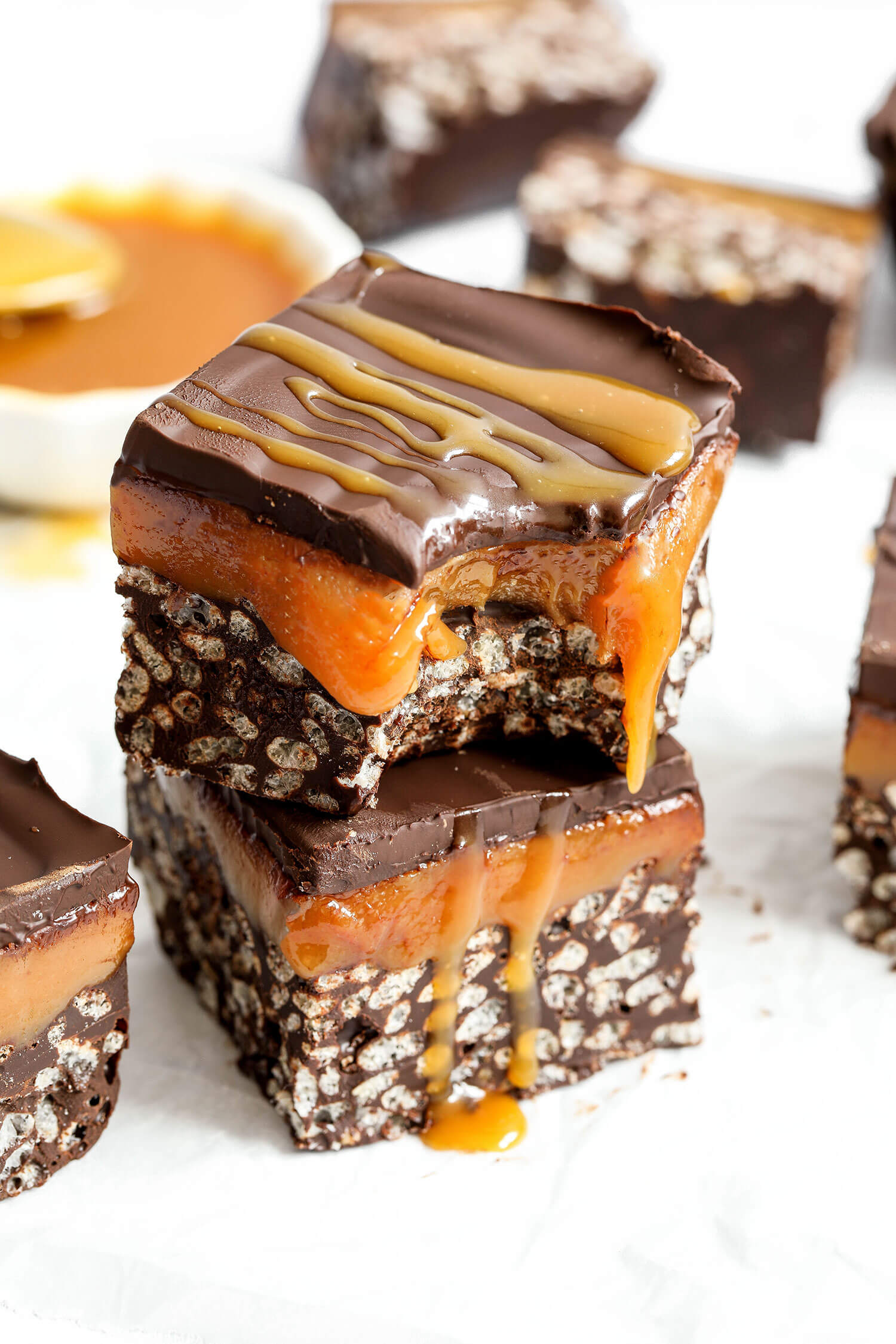 I know I'm being biased…but these bare are AMAZING!!
A crunchy chocolate base, topped with a decadent caramel and drizzled with dark chocolate. That first bite tastes like heaven! And the best part about these bars is that you only need 6 ingredients to make them!
Oh and did I mention these bars are completely vegan and gluten-free? I made the caramel layer using Nature's Charm sweetened condensed coconut milk…guys…this product is a game changer! I can't believe I haven't tried it before. I was able to create the smoothest, richest and sweetest caramel using only this sweetened condensed coconut milk, coconut oil and peanut butter…that's it! It's going to take my vegan treats to a whole new level.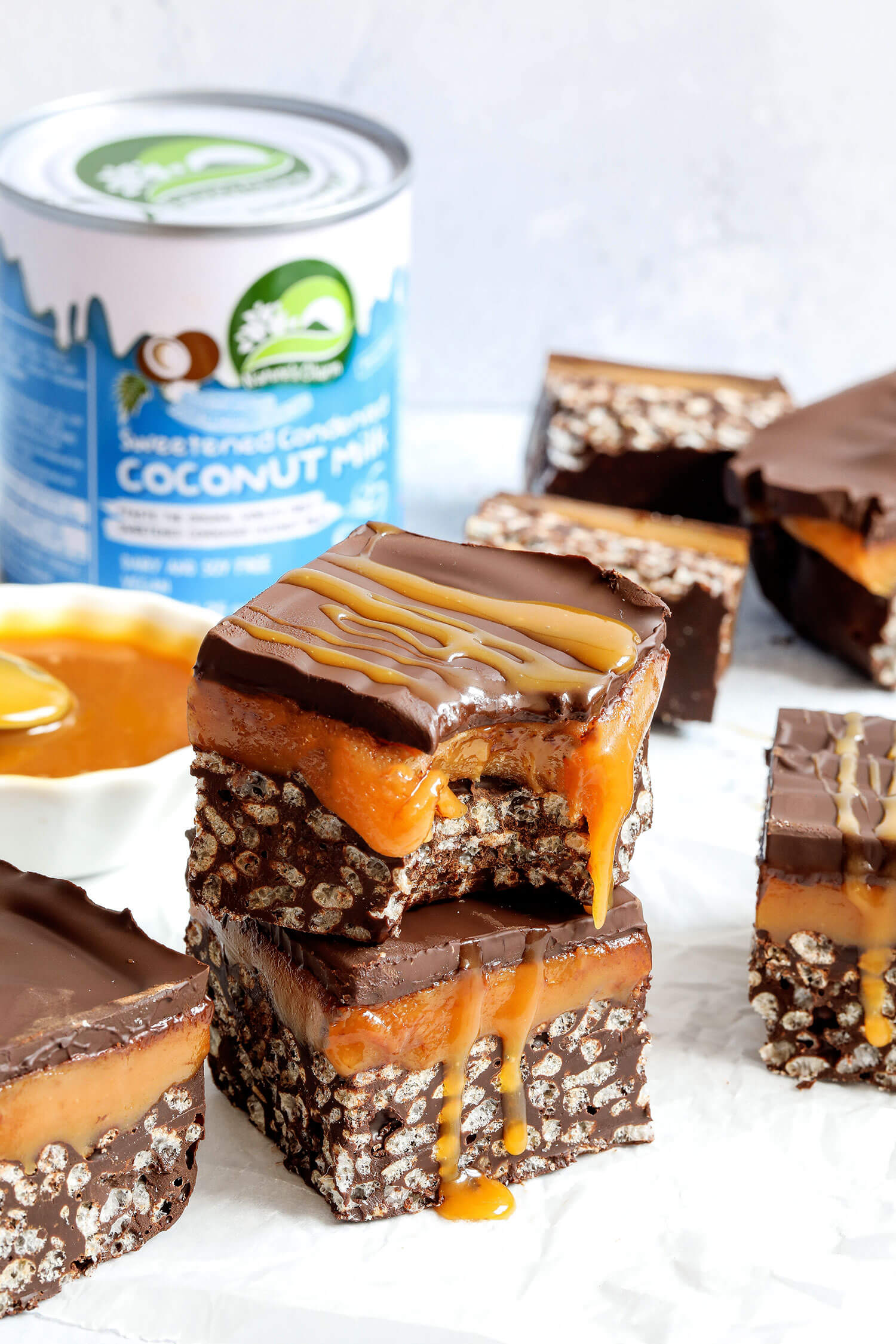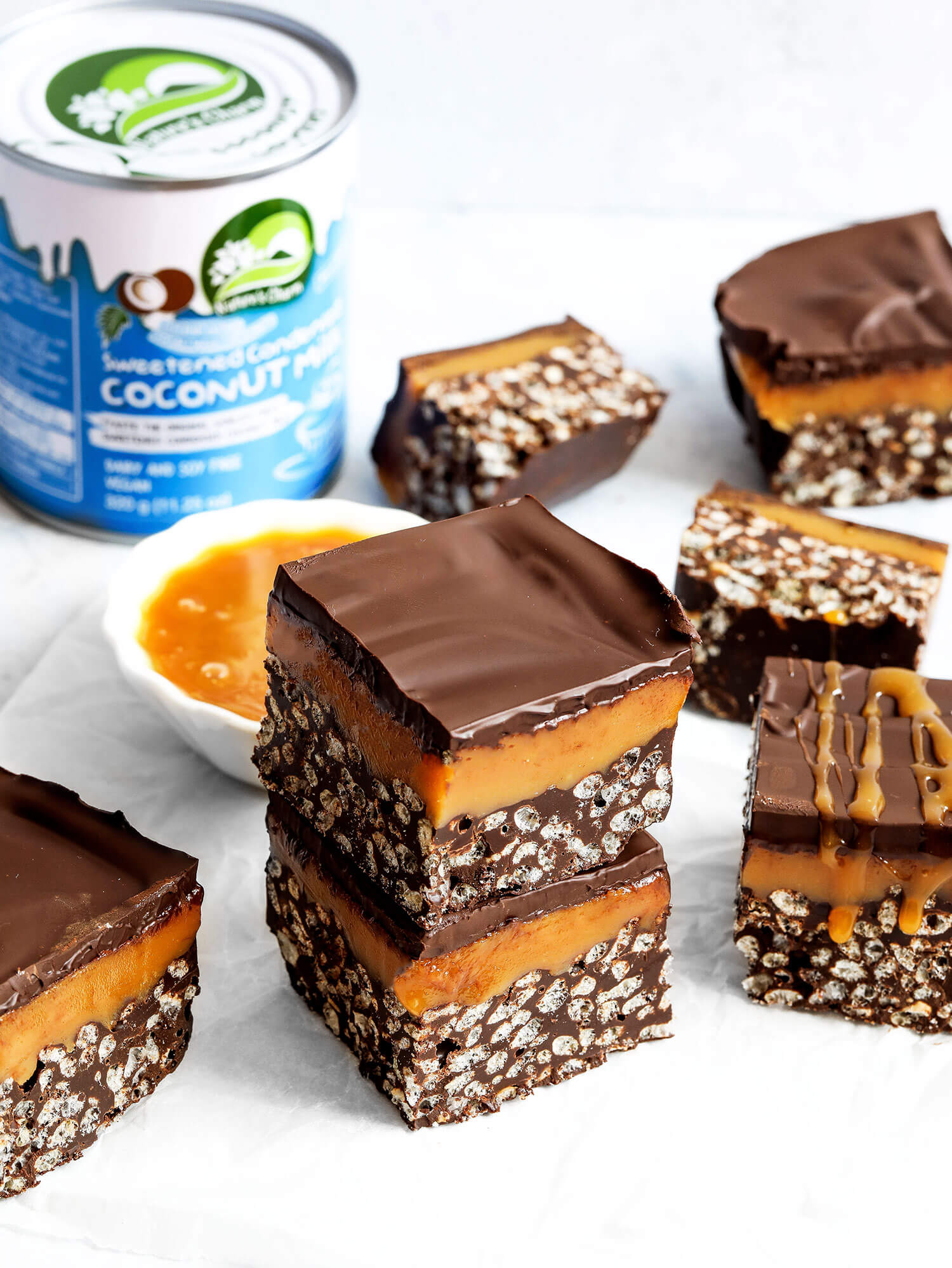 Nature's Charm also make other amazing plant-based ingredients perfect for vegan baking and treat making like evaporated milk, coconut milk and coconut whipping cream. They also make dessert toppings, which come in the most delicious flavours like coconut caramel, butter scotch sauce and chocolate sauce. All coconut based and no dairy in sight!
They were kind enough to send me some of their products to create some delicious, quick and easy recipes and these vegan caramel crunch bars are my first offering! They're a must try if you like chocolate, caramel and treats that come with a lovely crunch.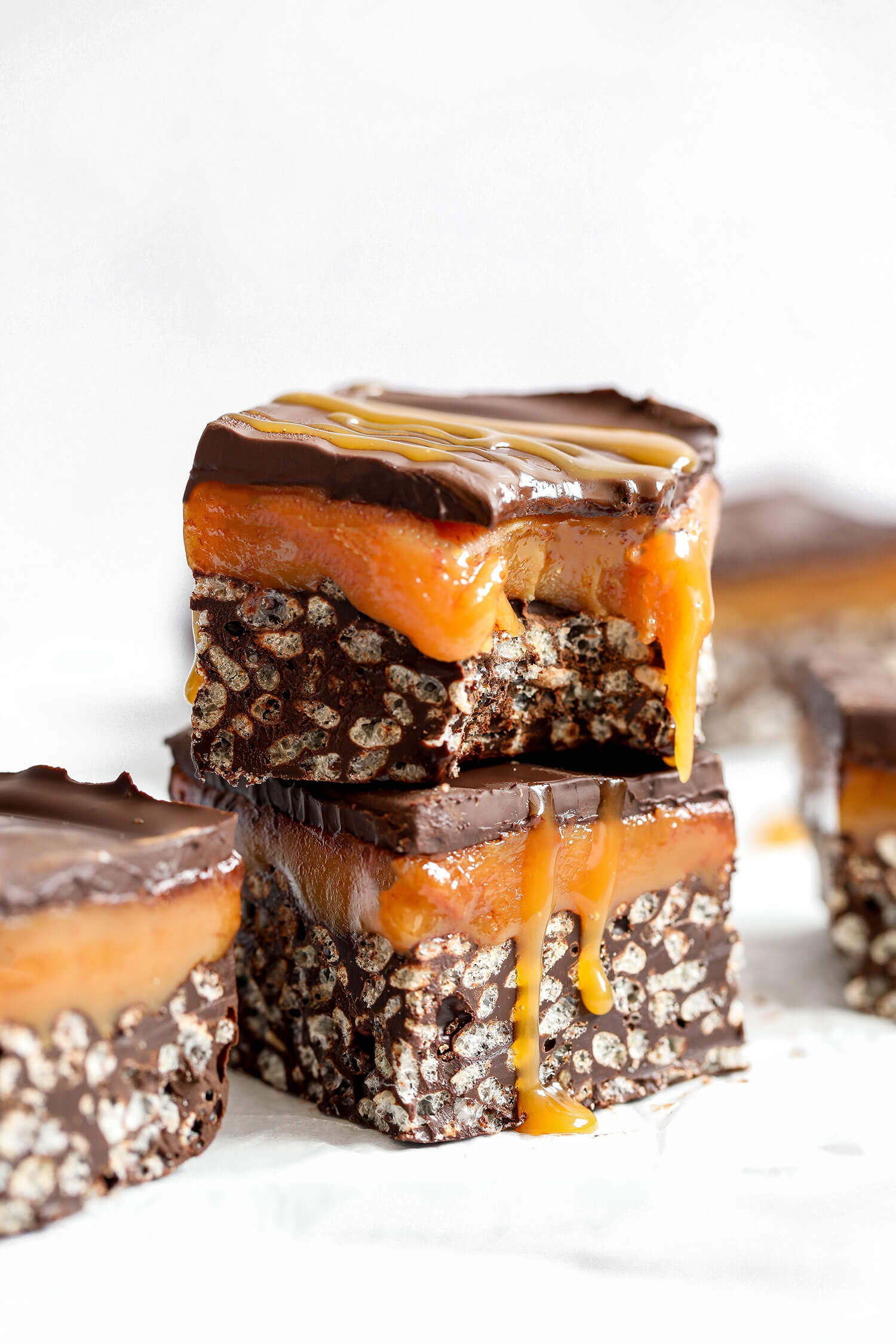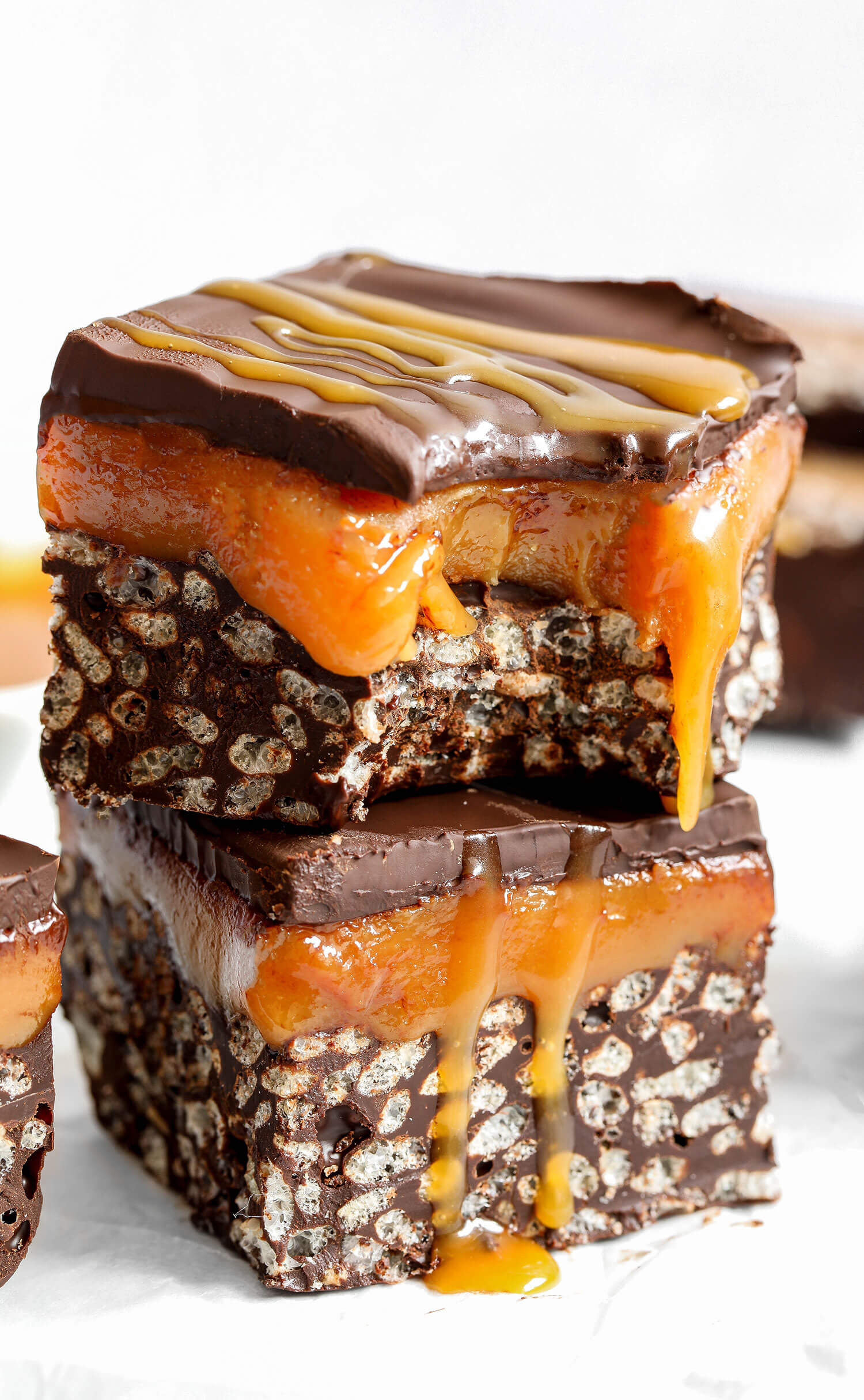 Vegan Caramel Crunch Bars
Makes – 8 bars
Ingredients
For the chocolate crunch layer
200g dark chocolate
25g dairy-free butter
40g puffed rice
For the caramel layer
160g Nature's Charm sweetened condensed coconut milk
4 tbsp peanut butter
2 tbsp coconut oil
For the chocolate topping
120g dark chocolate, melted
Method
Break up the chocolate and add to a heat-proof glass bowl along with the dairy-free spread. Place the bowl over a saucepan of lightly simmering water (a bain marie) ensuring that the bottom of the bowl doesn't touch the water. Stir until melted, then carefully take off the heat.
Fold the puffed rice in, then spread in a loaf tin lined with baking paper (I used a 22×12 cm loaf tin). Place in the freezer while you prepare the caramel.
Pour the condensed coconut milk into a saucepan and add the peanut butter and coconut oil. Bring to a gentle simmer over a medium heat and cook for 7-10 minutes stirring continuously until the mixture thickens. Take off the heat and allow to cool slightly.
Spread the caramel over the chocolate crunch base. Once cooled, place in the freezer for 1 hour until the caramel is set.
Pour the melted chocolate on top and return to the freezer for 10 minutes.
Slice into 8 slices and enjoy!
Store in an air-tight container in the fridge for up to 5 days.