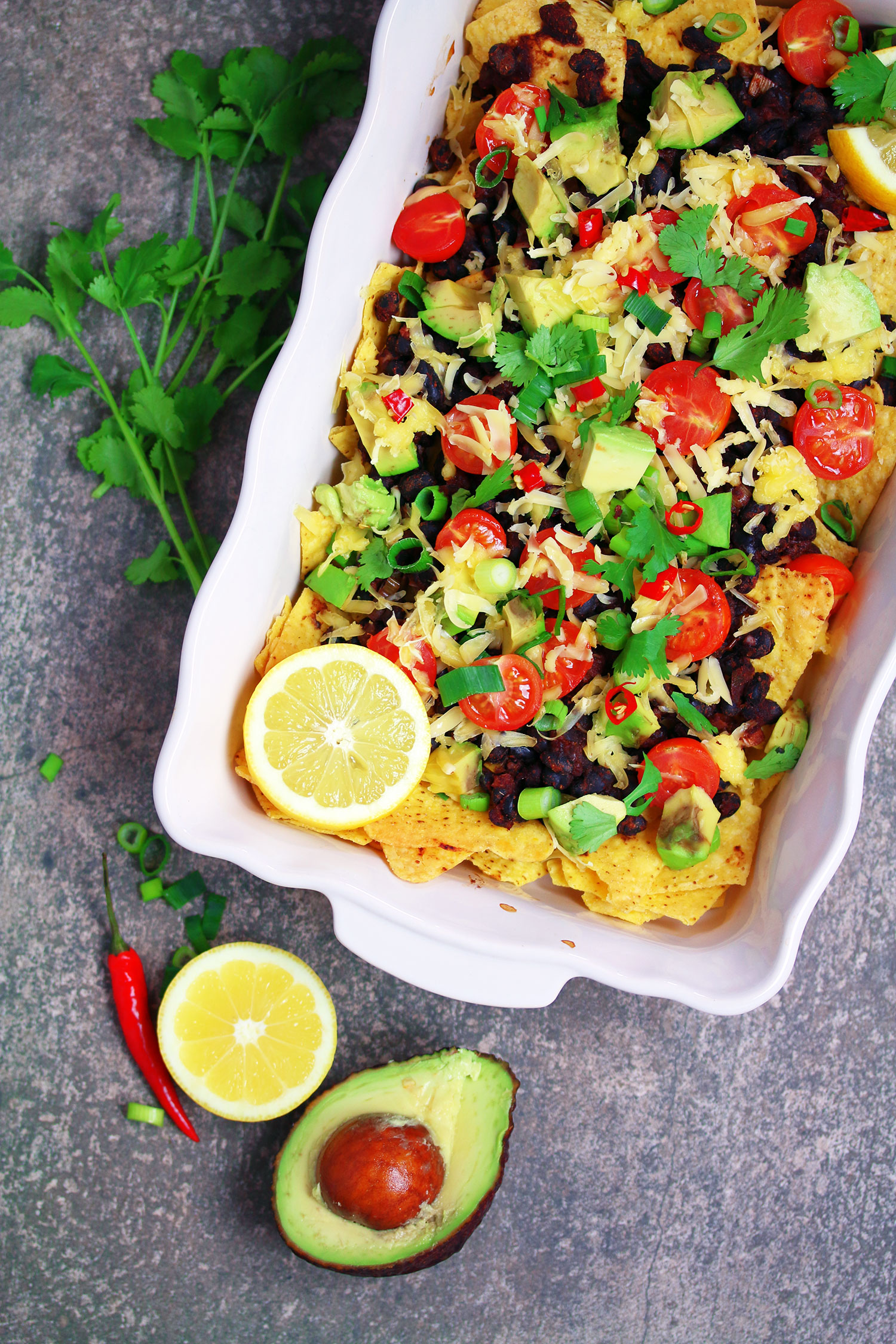 Vegan Spicy Black Bean Nachos
Since it's Friday today and apparently National Tortilla Chip Day, I just had to make a recipe using tortilla chips. Obviously it's not the healthiest thing in the world but it's ok to have every now and then as a treat. I've made it healthier by adding beans (for fibre and slow energy release), avocado (for an amazing source of fats), tomatoes, onions, and vegan cheese which you can leave out or use any kind of cheese you prefer.
Whenever I see nachos on a menu, I'm always so tempted by it. Especially if it's loaded with other delicious ingredients like avocado, tomatoes and jalapenos! But they're always smothered in cheese making them extra delicious of course but so unhealthy.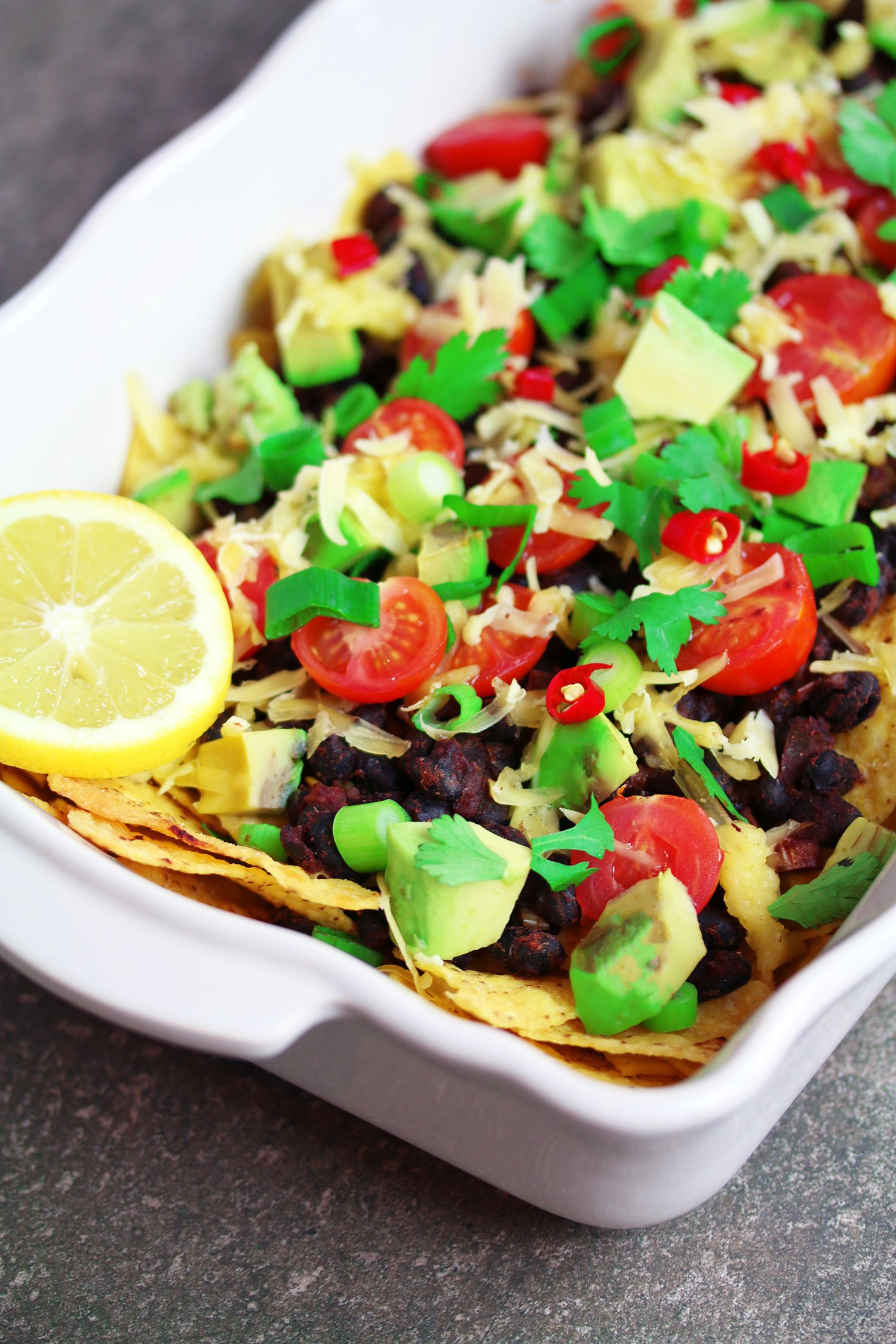 Friday night's in the NHK house is usually a movie/Netflix bing night where hubby and I forget about work any other adult responsibilities. We cosy up on the sofa and usually have some treats like homemade popcorn (a must!), dark chocolate (another must!) and sometimes some sort of crisps. If I can I would always choose lentil chips because they're so darn delicious, but we can only get them from a local food health shop which is usually out of our way so we don't often go there. The hubby likes munching on Doritos or potato chips (sometimes I steal one or two…shhh), but if we are going to eat crisps, I would rather it be something like these loaded nachos as a way to get in some extra nutrients rather than just empty calories.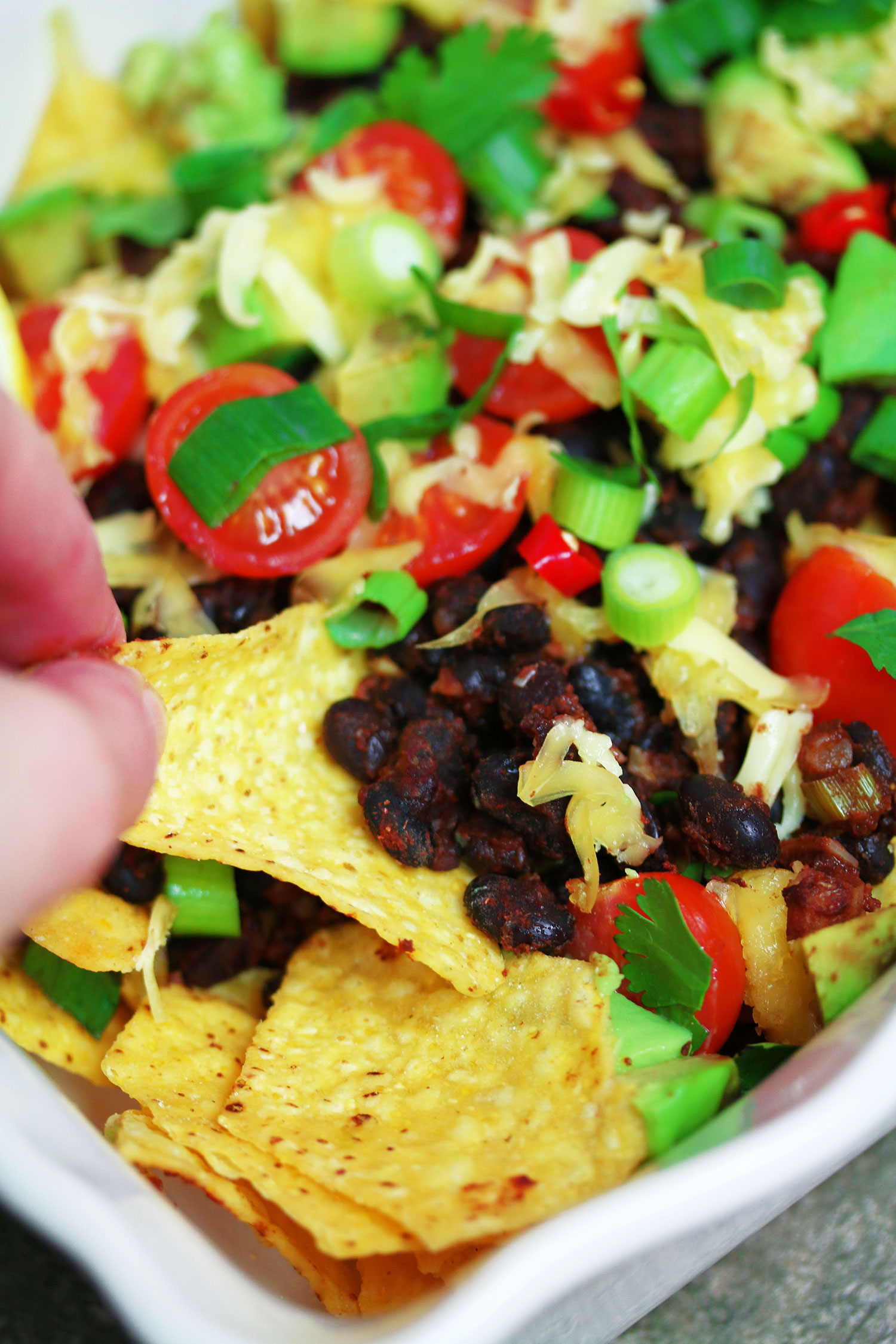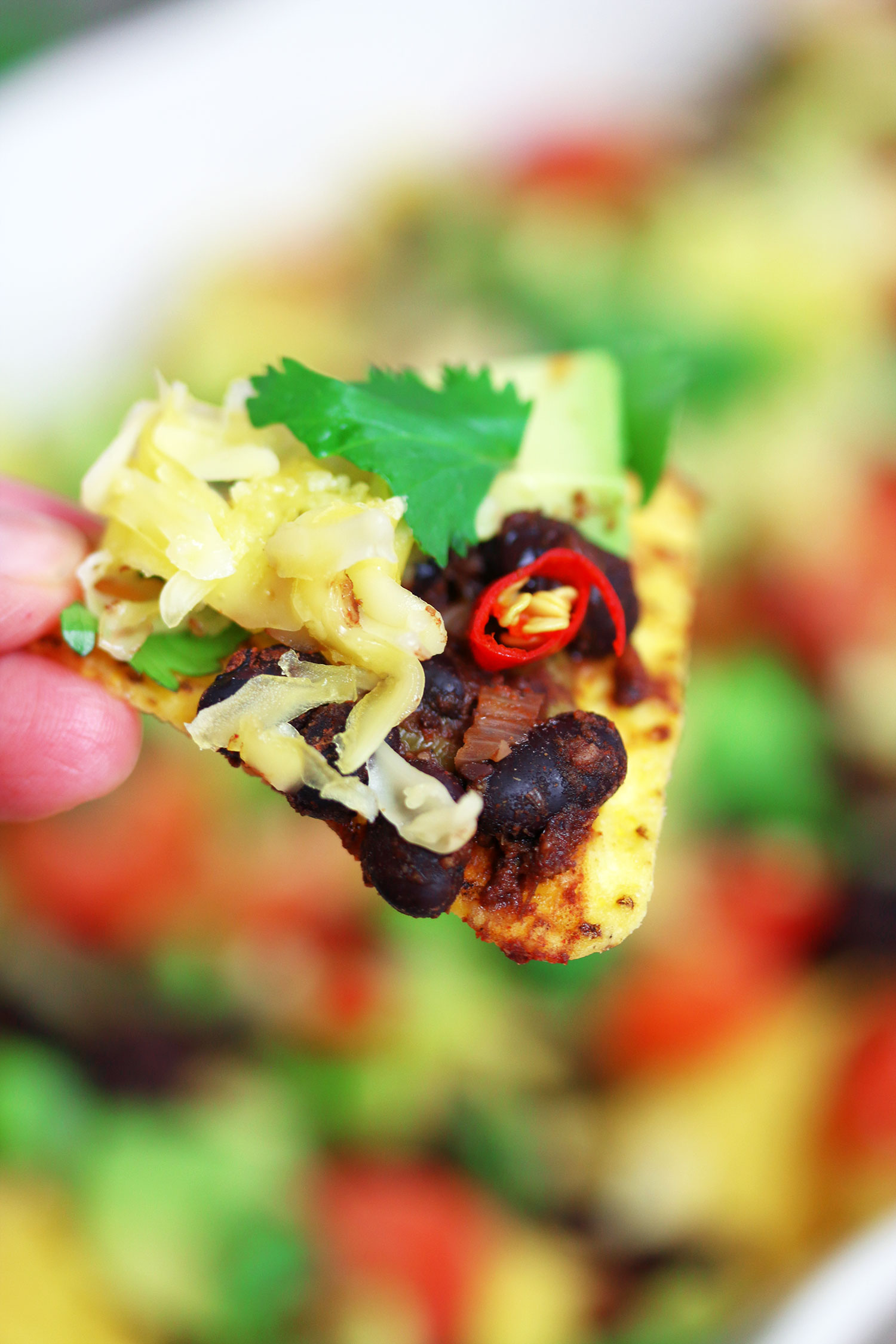 Be warned, these vegan spicy black bean nachos are dangerously addictive so I would recommend you putting a sensible portion in a bowl or a plate so as not to eat the whole thing! Which is easy to do when you're watching a movie and not paying much attention to how much you're putting in your mouth 😛
I hope you like the recipe 🙂 happy weekend!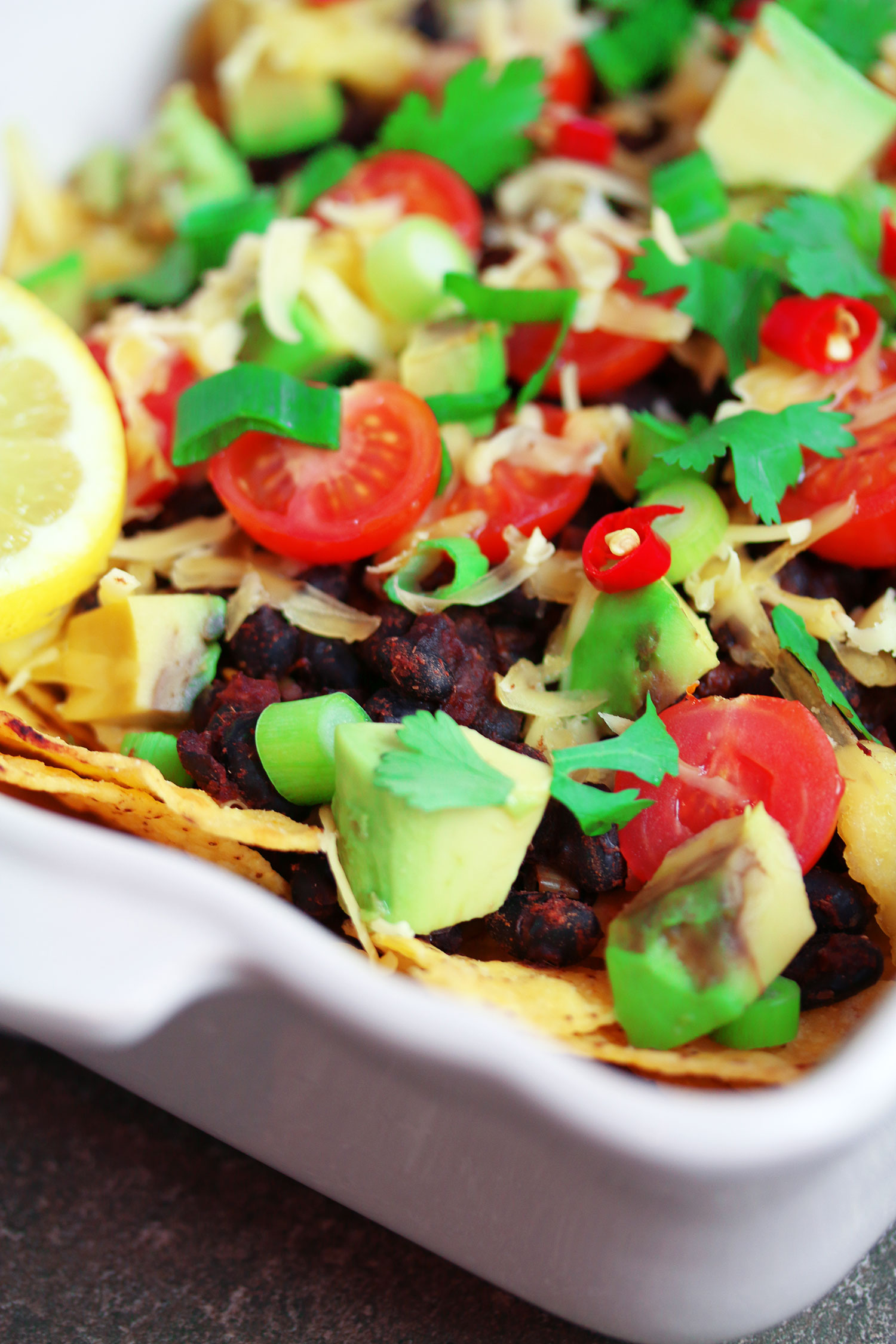 ---
Vegan Spicy Black Bean Nachos
Serves: 4-6
Ingredients:
For the black beans:
1 400g can black beans
3 green onions, chopped
3 garlic cloves, crushed
1.5 tsp paprika
1 tsp cumin
1/2 tsp chilli powder
1/2 tsp coriander
1 tsp oregano
Salt & pepper to taste
Juice of 2 limes
For the Nachos:
200g lightly salted tortilla chips
1 ripe avocado, chopped into cubes
10-12 baby tomatoes, sliced in half
Fresh coriander
Jalapenos – optional
Vegan cheese, grated – or cheese of choice
Method:
Heat 1/2 tbsp coconut oil in a frying pan over a medium heat. Add the onions and cook for 3 minutes.
Add the garlic and spices and cook for another 1 minutes. Add a splash of water to help turn the spices into a paste.
Add the cooked beans and lime juice. Cook until heated through.
Arrange the tortilla chips in a baking dish and top with the black beans.
Arrange the tomatoes, avocado, jalapenos and grated cheese on top.
Place under a hot grill until the cheese melts.
Top with fresh coriander and lime slices.
Enjoy!
---

Share This Post