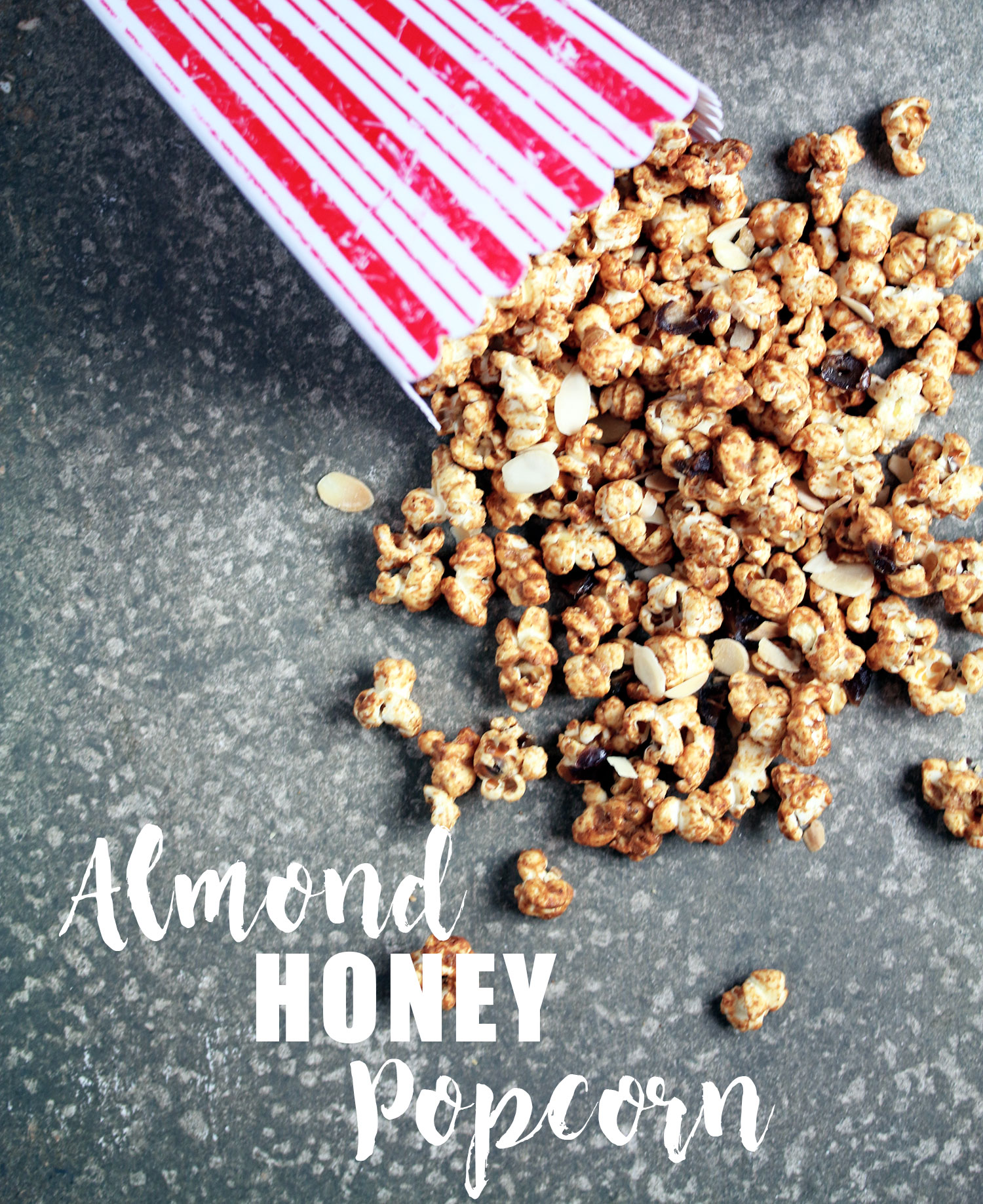 Almond Honey Popcorn
Popcorn is one of my favourite snacks and it's a must on a movie night or on a weekend evening when the hubby and I binge watch a TV show (right now it's a show called 'The OA' it's so good!!).
We've both always been salty popcorn kind of people so when I make it at home that's how I ALWAYS make it. It's so delicious plain with a but of salt that I've never bothered trying any different additions or flavour combinations.
I always make popcorn at home. Buying pre-popped popcorn doesn't make sense to me. It's so SO easy to make at home and so much cheaper! All you need is a big pan, popcorn kernels, coconut oil and salt – that's it! And it doesn't take long to make either.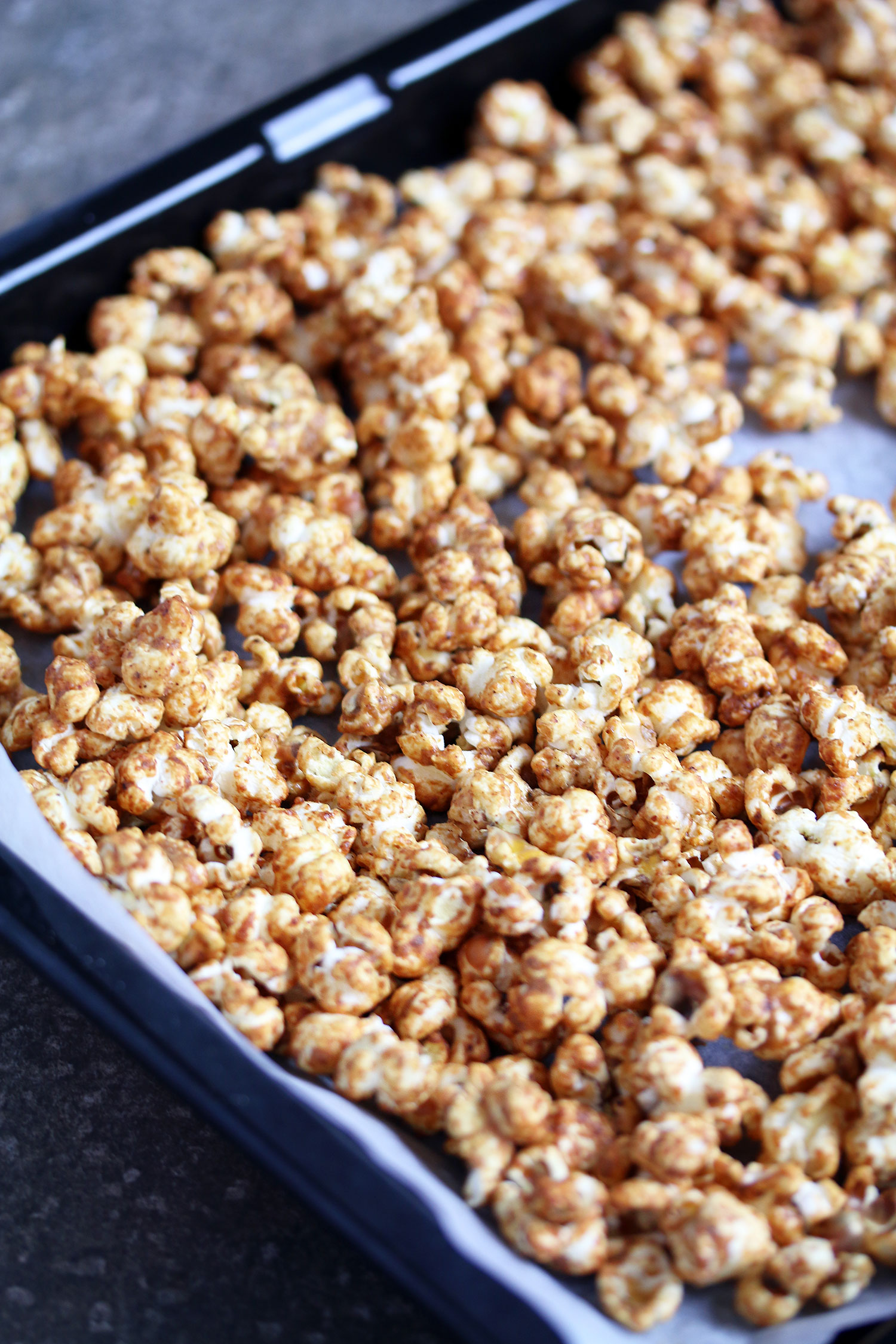 This weekend the hubby wanted to watch Star Wars so of course I had to make some popcorn, but this time I fancied a change for once. I was craving something sweet so instead of munching on popcorn and something sweet like chocolate, I thought why not make sweet popcorn. I was so pleasantly surprised with the outcome! Even the hubby was shocked at how good it was and asked me to make it again the next time we have a movie night.
It's safe to say this almond honey popcorn has now become our new favourite treat.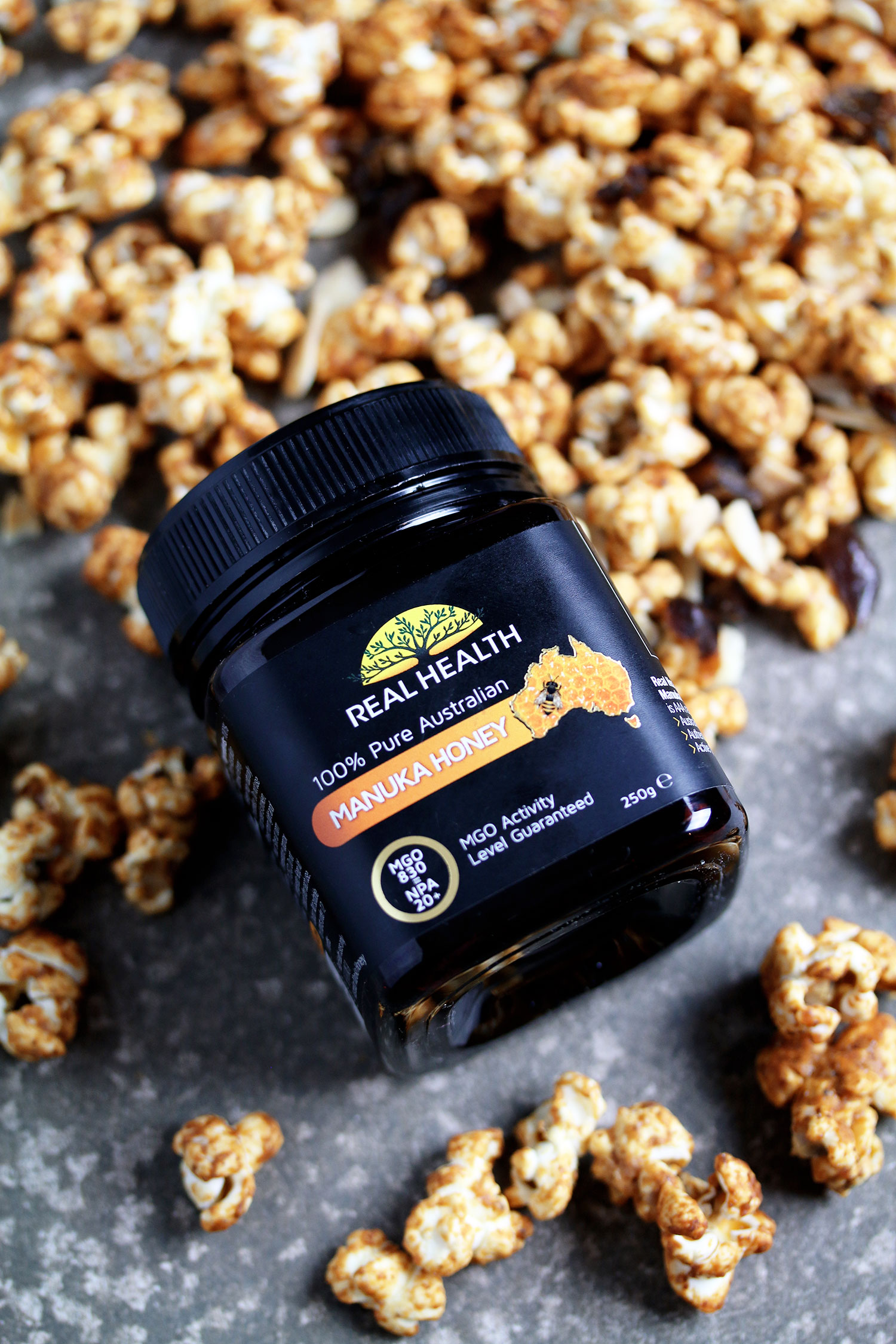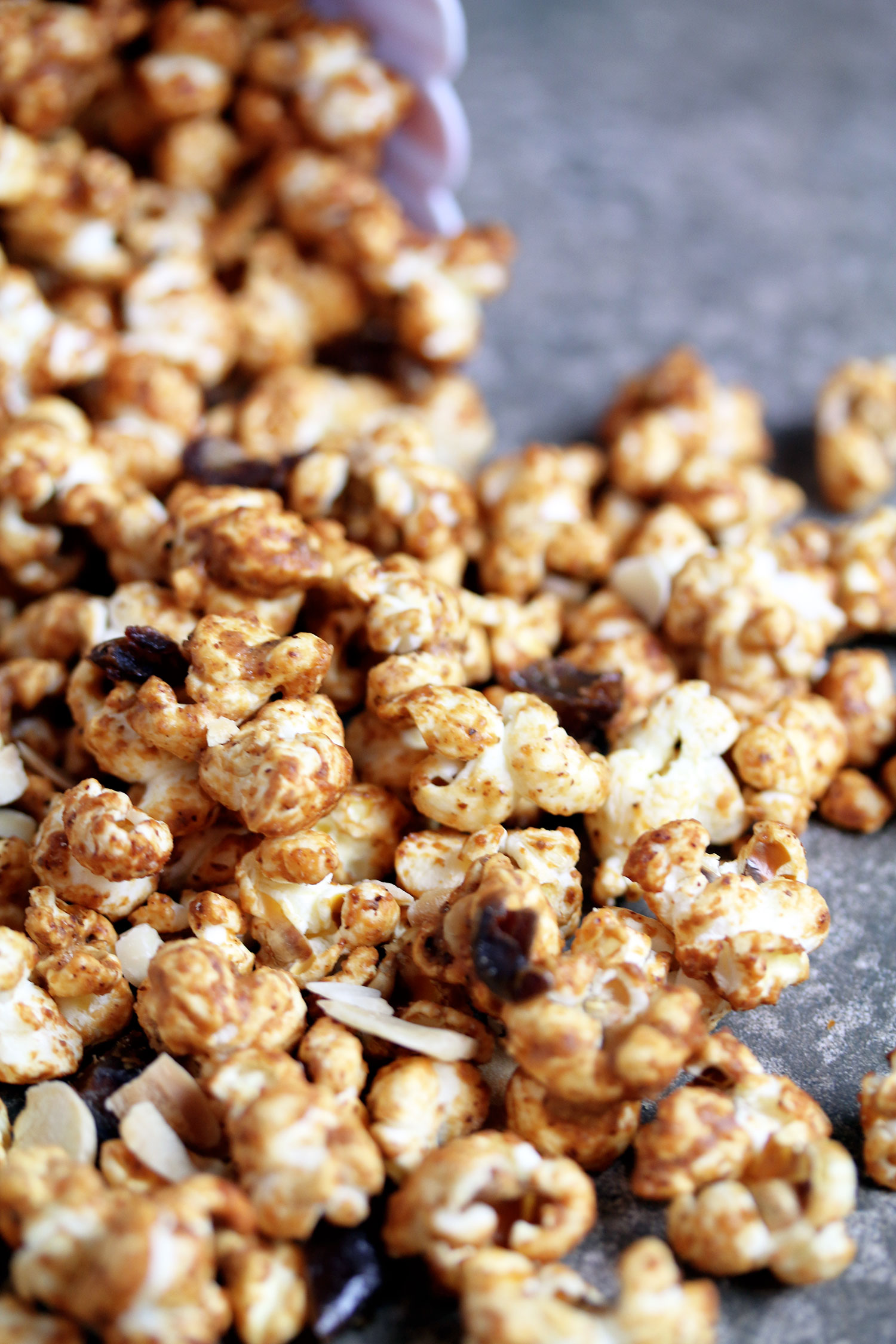 To sweeten, I used Real Health 20+ Manuka honey. Manuka honey is harvested from the Manuka bush native to New Zealand and Australia. Containing anti-bacterial properties and high in antioxidants, Manuka honey is very different to the honey you buy from the supermarket shelves. Manuka honey contains a substance called methylglyoxal, which acts as an anti-bacterial and inflammatory agent. It also contains the antioxidant pinocembrin, which helps boost immunity. Regular honey is usually pasteurised so would have lost this property in the packaging process.
You can get Real Health Manuka honey from Boots and Holland & Barrett. Make sure you get a tub with a higher MGO number, preferably 500 (NPA 15+) or above.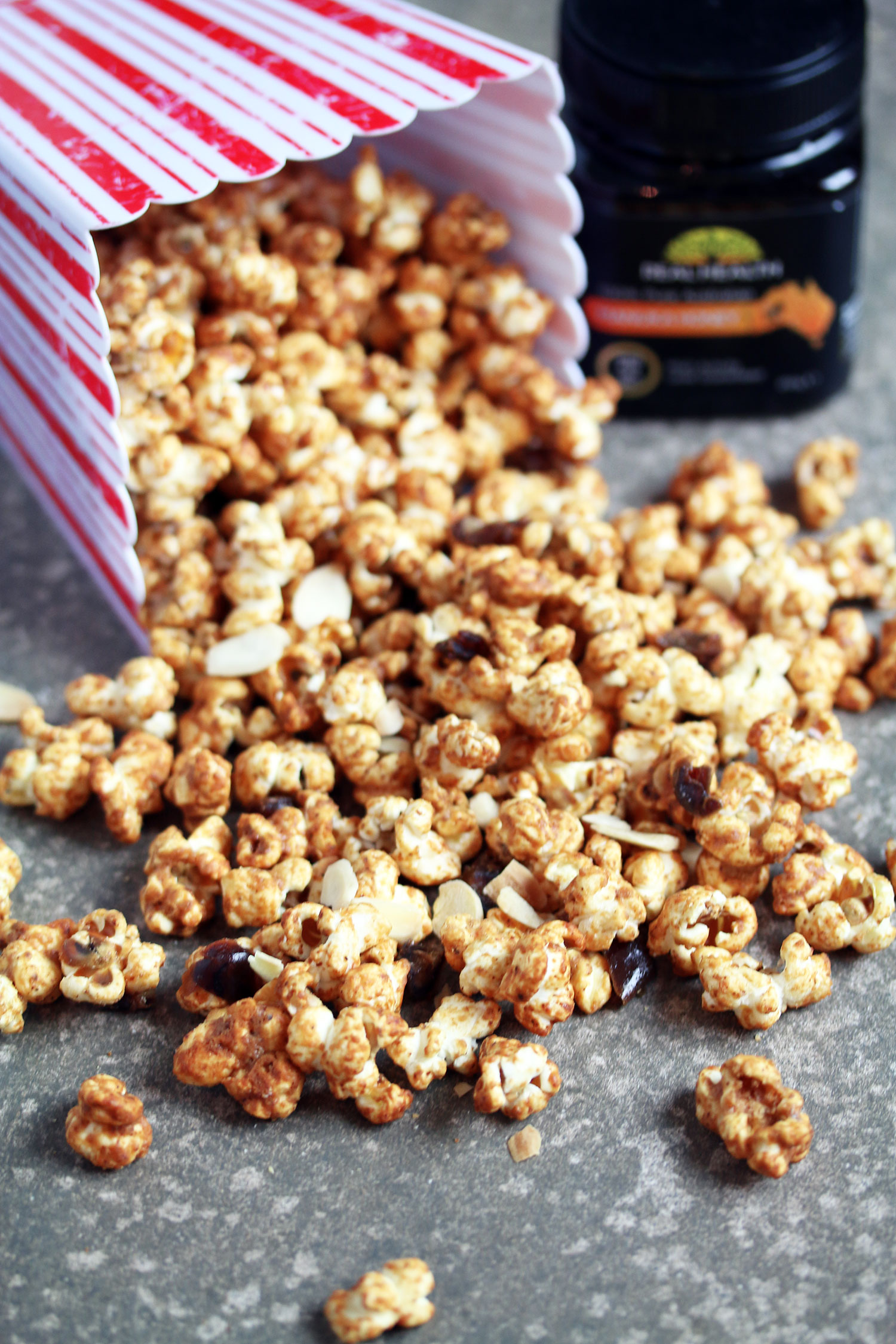 Almond Honey Popcorn
2017-02-06 07:28:52
Serves 4
For the popcorn
1/2 cup (120g) popcorn kernels
2 tbsp coconut oil
For the almond honey sauce
2 tbsp Real Health Manuka honey
2 tbsp natural almond butter
1 tbsp coconut oil
3/4 tsp salt or to taste
Optional toppings
Toasted almond flakes
Dates, finely chopped
Instructions
Prepare the popcorn - melt 1-2 tbsp of coconut oil in a large pan over a medium heat. Make sure you use enough oil to cover the bottom of the pan.
Once the coconut oil is hot, add 3-4 kernels. Cover and wait for them to pop.
Once they pop, take off the heat and add in the rest of the kernels. Count to 30 then return the pan to the heat and cook until the popping sound slows to about one pop per every few seconds. Take off the heat and transfer into a large mixing bowl.
In a small pan, add the honey, almond butter, coconut oil and salt. Melt over a low heat until well combined.
Pour the mixture over the popcorn and mix until all the popcorn is evenly coated.
Preheat your oven to 180*C (160*C fan assisted)/ 350*F
Arrange the popcorn on a large baking sheet covered with parchment paper.
Bake for 5-8 minutes, giving them a toss every couple of minutes.
Optional - top with some toasted flaked almonds and chopped dates.
Enjoy!
UK Health Blog - Nadia's Healthy Kitchen https://nadiashealthykitchen.com/

* This post was commissioned by Real Health; however all opinions are my own.
Share This Post