A delicious and easy bake that the whole family can enjoy – this vegan aubergine chickpea bake is filling & satisfying with a lovely rich and tangy tomato sauce.

I seem to be going back to my Middle Eastern roots recently where food is concerned. I think Middle Eastern food is so underrated and not many people have even tried it which is such a shame because you will never get a dish that is bland or boring! Many Middle Eastern dishes can actually be quite healthy, although they're usually heavy on red meat, oil and simple carbs. If you take out/reduce the red meat, use less oil and a healthier source of carbs, you can have a meal that's delicious as well as well rounded.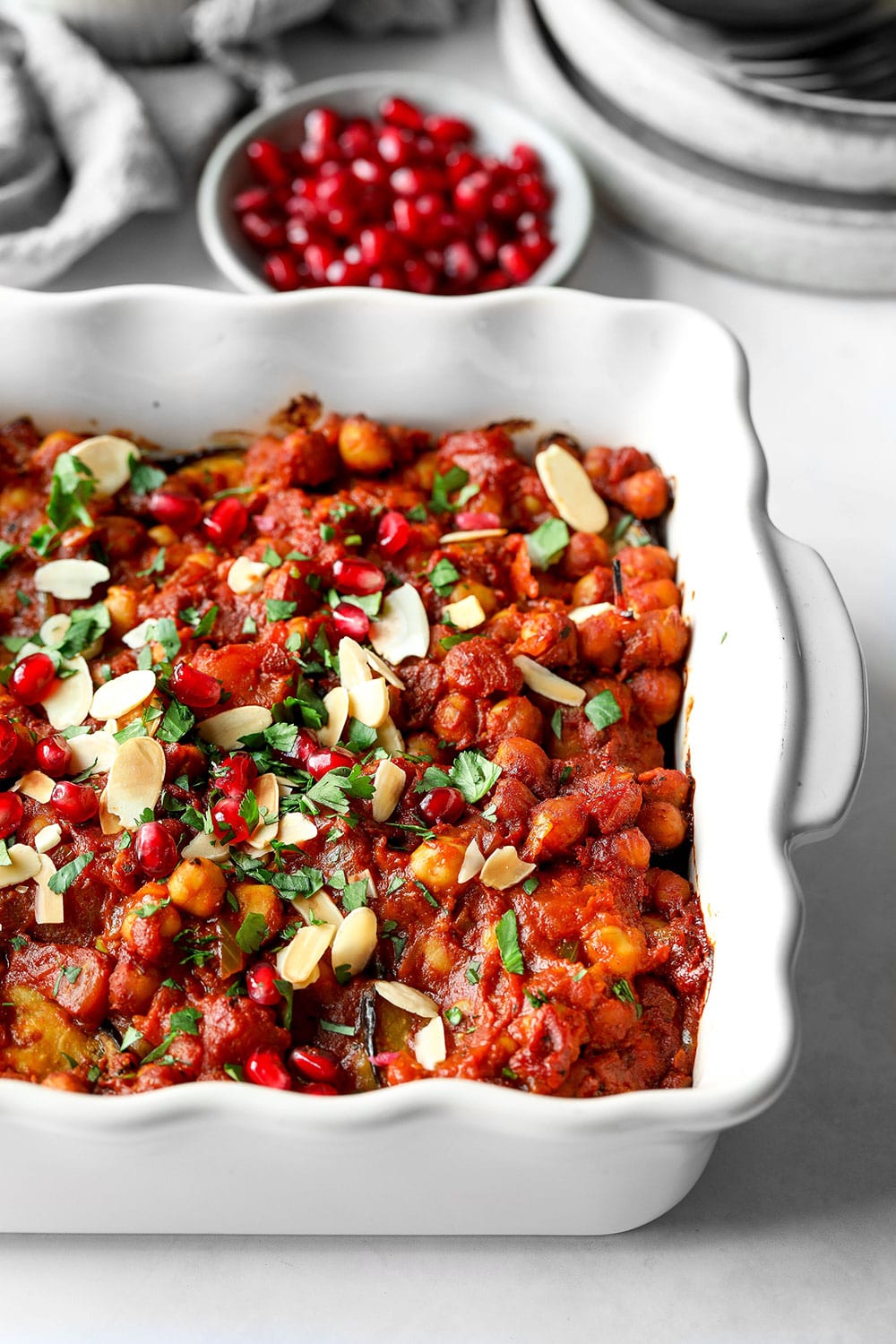 This vegan aubergine chickpea bake, or 'tepsi baytinjan' was one of the many dished I loved growing up. Aubergine is probably one my favourite vegetables, especially in a main dish. As far as vegetables go, aubergine is one of the 'meatiest' veggies out there in my opinion. Like meat, they give dishes, especially those that are tomato based, lots of flavour so I always feel it's a good option for meat eaters who are trying to eat more vegetarian meals, unless they don't like aubergines, of course!
I always cook aubergine in some sort of a tomato base. The hint of sweetness and sourness from the tomatoes break the bitter taste that you usually get with aubergine. The other great thing about aubergine compared to other veg is that it absorbs flavoures so well.
This aubergine chickpea bake is my take on a Middle Eastern version of mousakka. Typically made with a minced lamb base, topped with fried aubergine slices then everything is covered with a tomato sauce and baked into a thick sauce, perfect with rice or bread. The main difference between the two is that tepsi is not topped with melted cheese.
This is my meat free, version of the tepsi baytinjan which also happens to be dairy free, vegan and gluten free! Instead of frying the aubergine slices I baked them for a lighter, healthier option.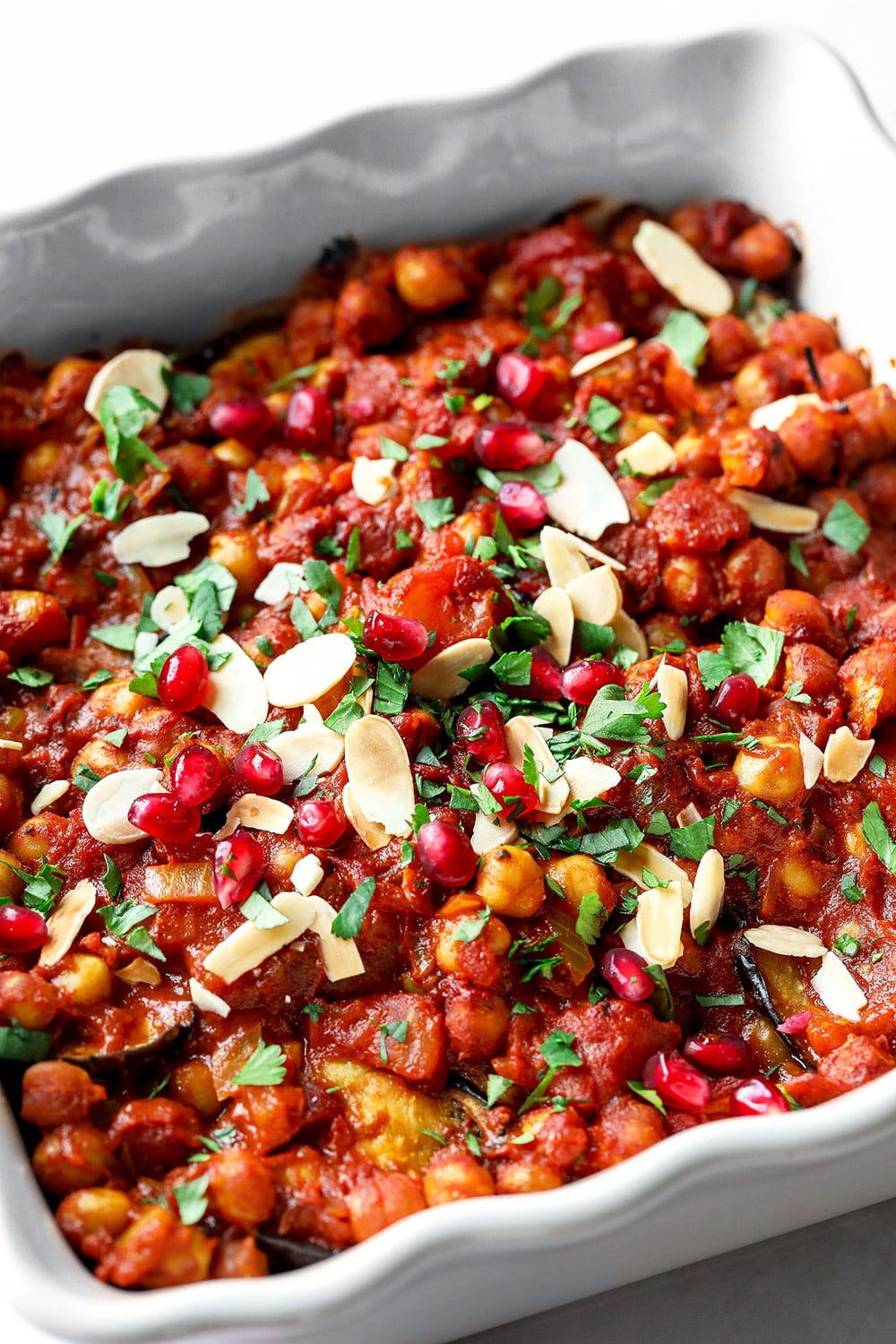 What you need to make this vegan aubergine chickpea bake:
Aubergine – works really well in the rich and sour tomato base. It also absorbs all the flavours, which is one of the reasons I love using so much.
Chickpeas – I also love using beans and pulses in my dishes. They're cheap, easy to get hold of and so versatile. They're a great source of plant protein and fibre. They work so well in bulking up meals to make them filling and satisfying.
Tomato puree – adds a more intense tomato flavour as well as a hint of sweetness.
Chopped tomatoes – I used canned chopped tomatoes for ease. Aubergine, chickpeas and tomato work so well together!
Tamarind Chutney – I usually use pomegranate molasses in Middle Eastern based dishes, but I realise it's not the easiest ingredient to find. A great substitute is Geeta's tamarind chutney, which you can find in most major supermarkets. It adds a lovely sour/tangy flavour that just works!
Vegetable stock – to add more flavour and saltiness. I used a vegetable stock pot for ease, but you can use a stock cube dissolved in a little bit of hot water.
Spices – you can use whatever you like really. I think cumin and curry powder work really well in this dish to add a little bit of spice, but not too much heat. You can also add chilli powder for a bit of a kick.
Onion & garlic – essentials in savoury dishes to add lots of flavour!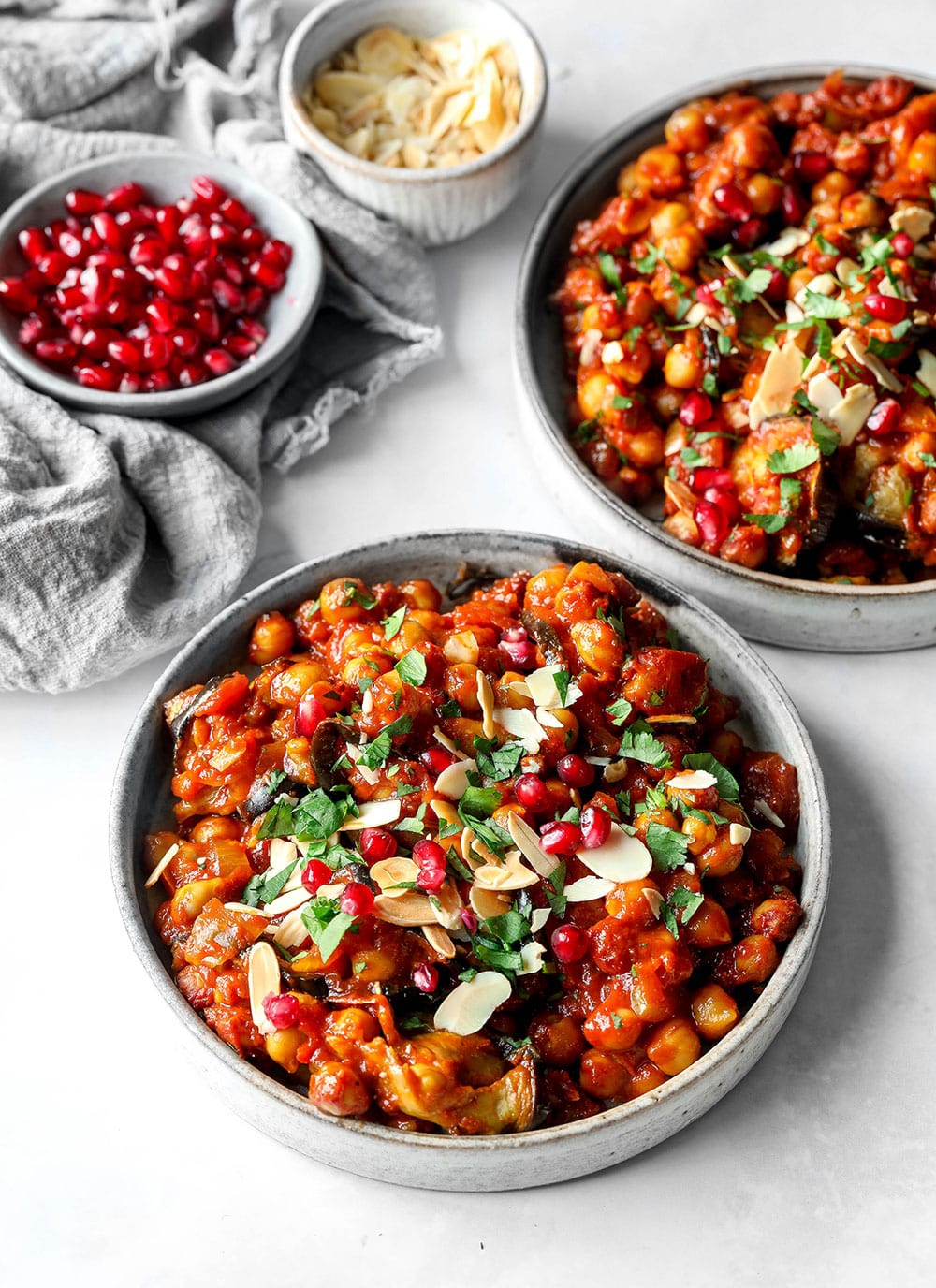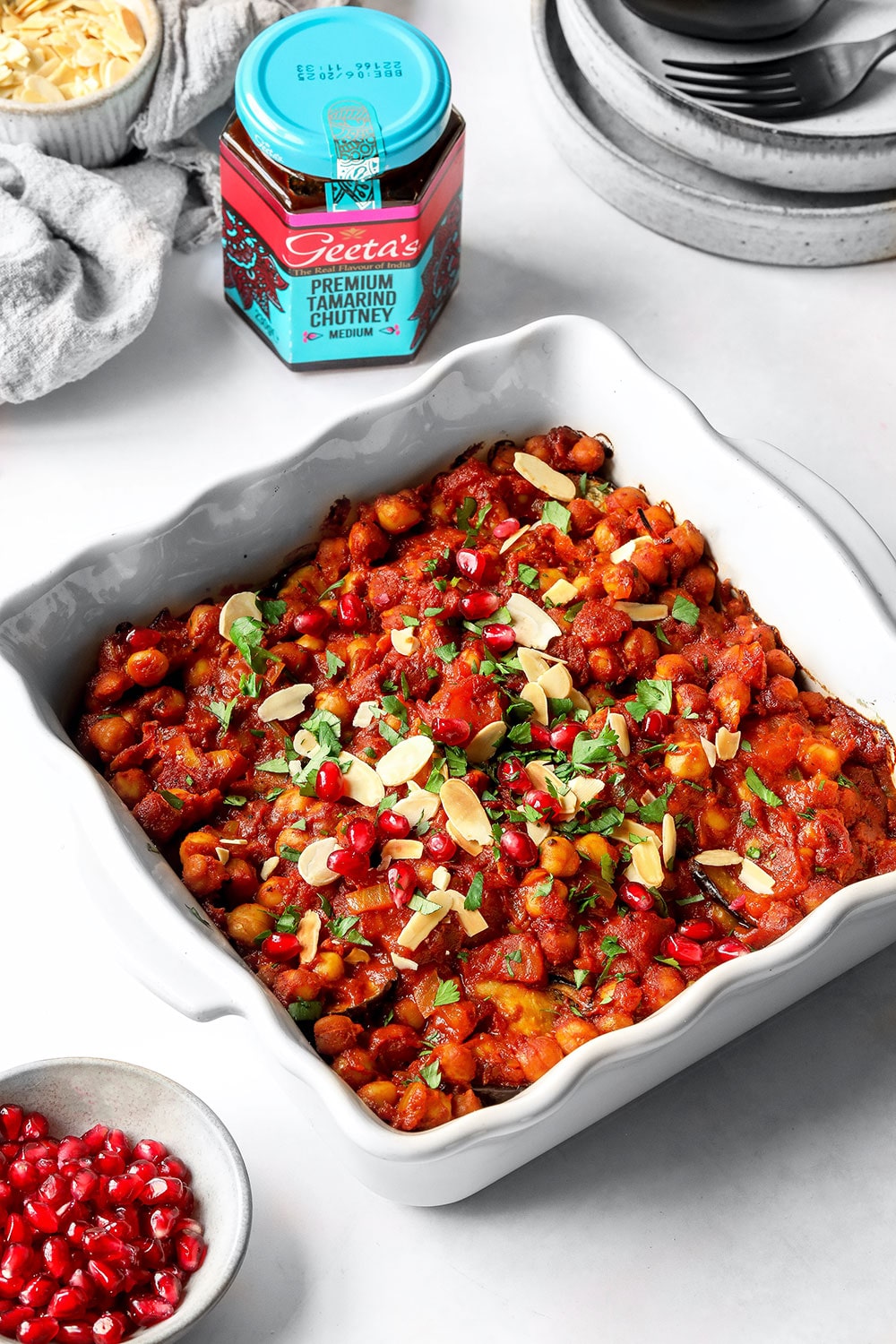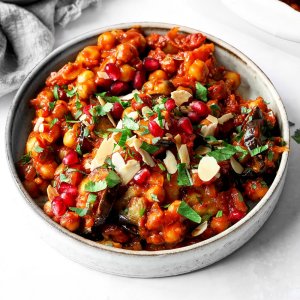 Vegan Aubergine Chickpea Bake
Aubergine slices and chickpeas layered in a rich tomato sauce and baked to perfection. A really easy, satisfying and filling meal to enjoy on a week day!
Ingredients
2

tbsp

olive oil

1

aubergine

sliced into thin discs

1/2

onion

finely chopped

3

garlic cloves

crushed

2

cans chickpeas

drained and rinsed

1

can chopped tomatoes

4

tbsp

tomato puree

1

vegetable stock pot

or cubed dissolved in a little hot water

2

tbsp

Geeta's tamarind chutney

1

tsp

cumin

2

tsp

mild curry powder
Garnish
Pomegranate seeds

Fresh coriander

Toasted flaked almonds
Instructions
Preheat your oven to 200C/180C fan/350F.

Brush the aubergine discs on each side with olive oil and arrange on a baking tray lined with baking paper. Bake on each side for 10 mins.

In the meantime heat 1 tbsp of oil in a large pan and sauté the onions for 5 minutes.

Add the garlic, spices, chickpeas, chopped tomato, tomato puree, stockpot and chutney. Bring to a quick boil, then lower the heat, cover and simmer for 10 minutes. Season to taste with salt & pepper.

Layer the chickpeas and baked aubergine in a deep oven dish, then return to the oven and bake for 25-30 minutes.

Garnish with a sprinkle of pomegranate seeds, toasted flaked almonds and fresh coriander.

Serve with rice, quinoa, couscous or bread.
Nutrition
Calories:
300
kcal
Carbohydrates:
34
g
Protein:
11
g
Fat:
11
g
Saturated Fat:
1
g
Polyunsaturated Fat:
1
g
Monounsaturated Fat:
5
g
Sodium:
328
mg
Potassium:
315
mg
Fiber:
13
g
Sugar:
14
g
Vitamin A:
246
IU
Vitamin C:
16
mg
Calcium:
62
mg
Iron:
2
mg