Tofu Quinoa Sushi Bowl
A quick and delicious meal that you can enjoy for lunch or dinner. This tofu quinoa sushi bowl is both tasty and nutritious!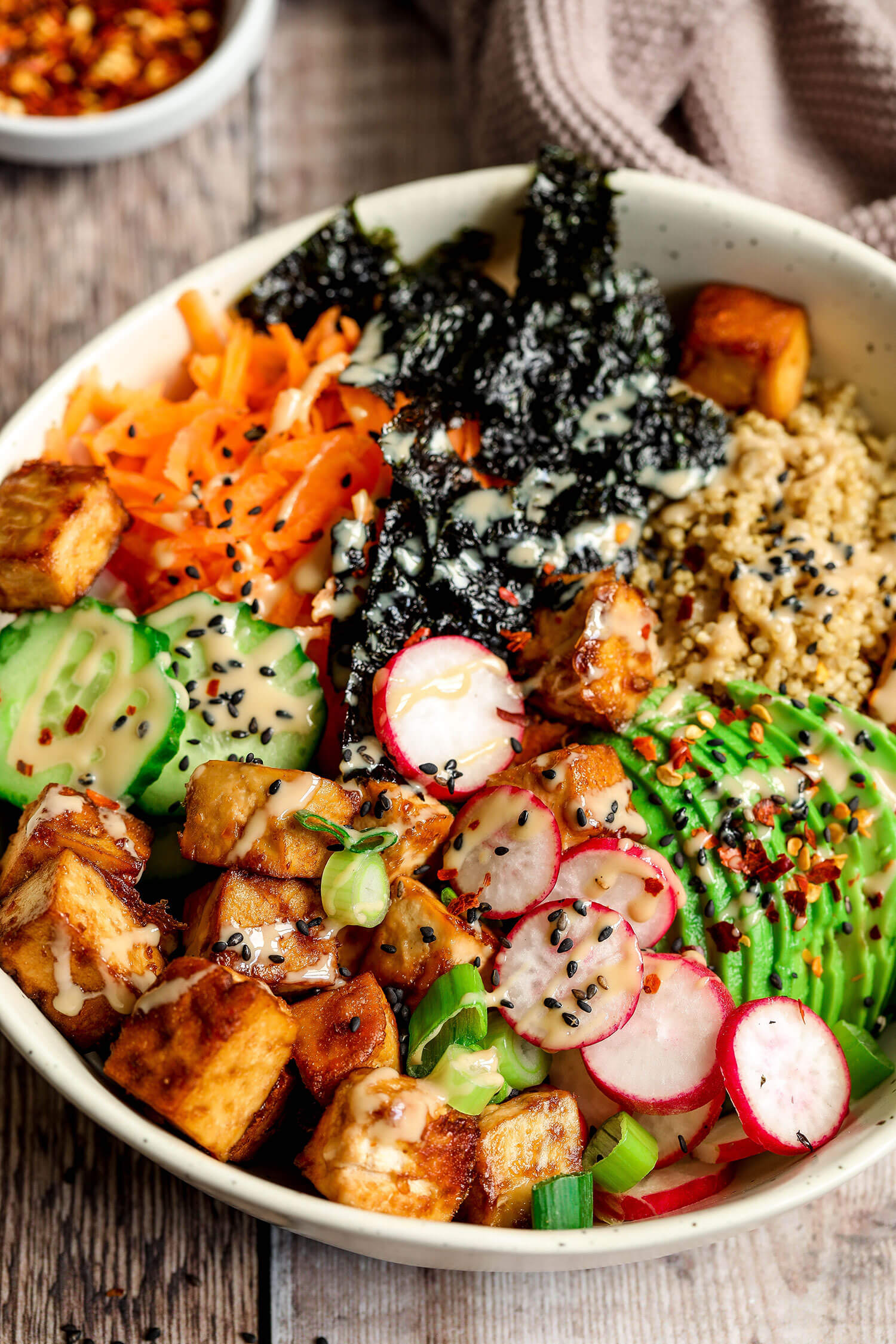 For many people, January is about developing new habits, self improvement and meeting health goals. However, this tends to be short lived as the temptation is for us to flip our diet on its head and change it completely as well as embark on a crazy new fitness regime that our bodies aren't used to. The combination of both just gets on top of us and we lose the will to carry it through. I've been there so I know exactly what it's like.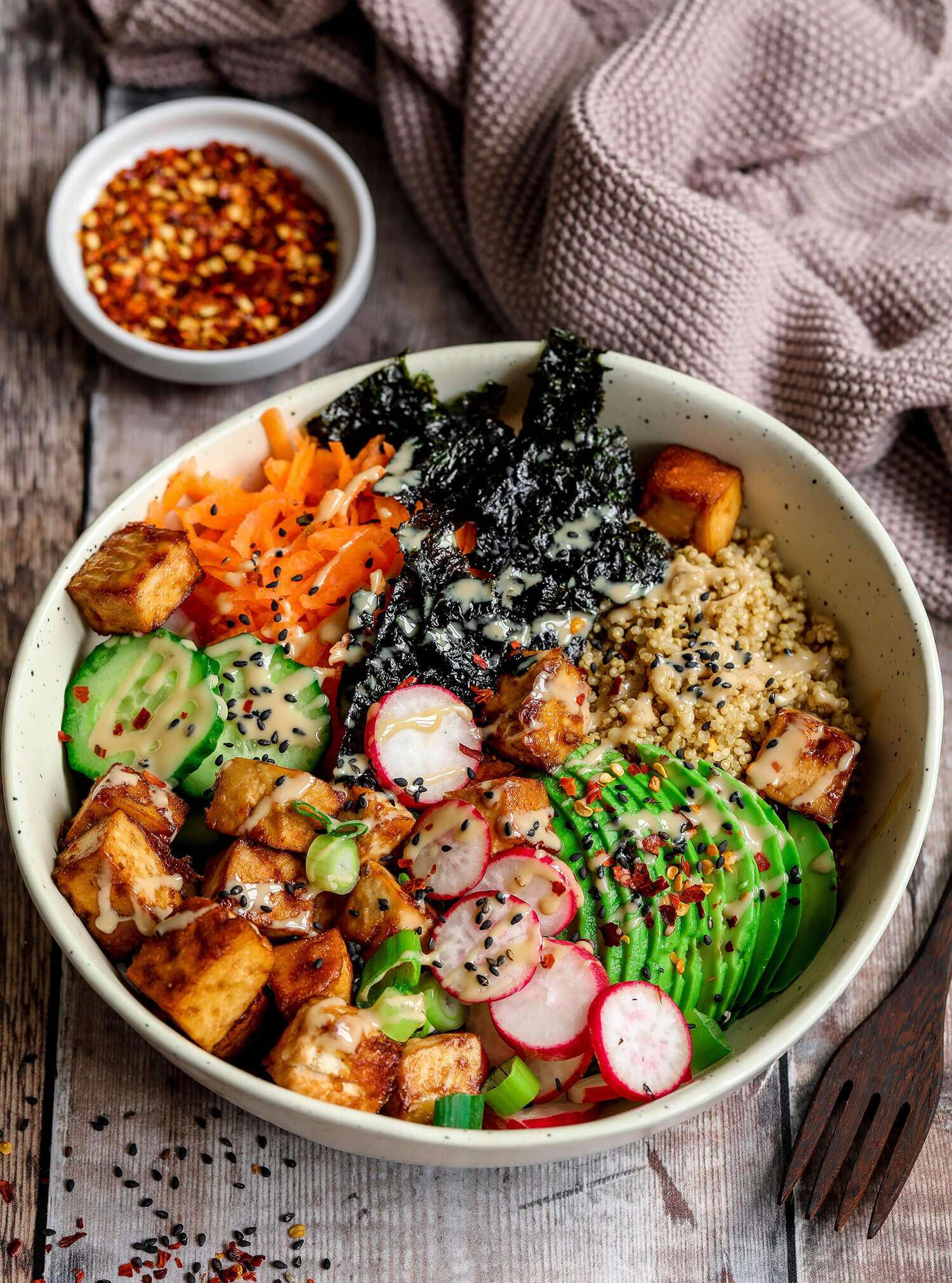 Instead what we should be doing is making small changes here and there that we can continue throughout the year and build on it slowly as we go along so it's more manageable and achievable making it easier for us to continue. So now that we're coming to the end of the month, I encourage you (and I'm using this as a reminder to myself) to hold on to some of those healthy habits and not stress too much about 'falling off the wagon'. When you become too strict with anything it can very quickly become tiresome, boring and even stressful.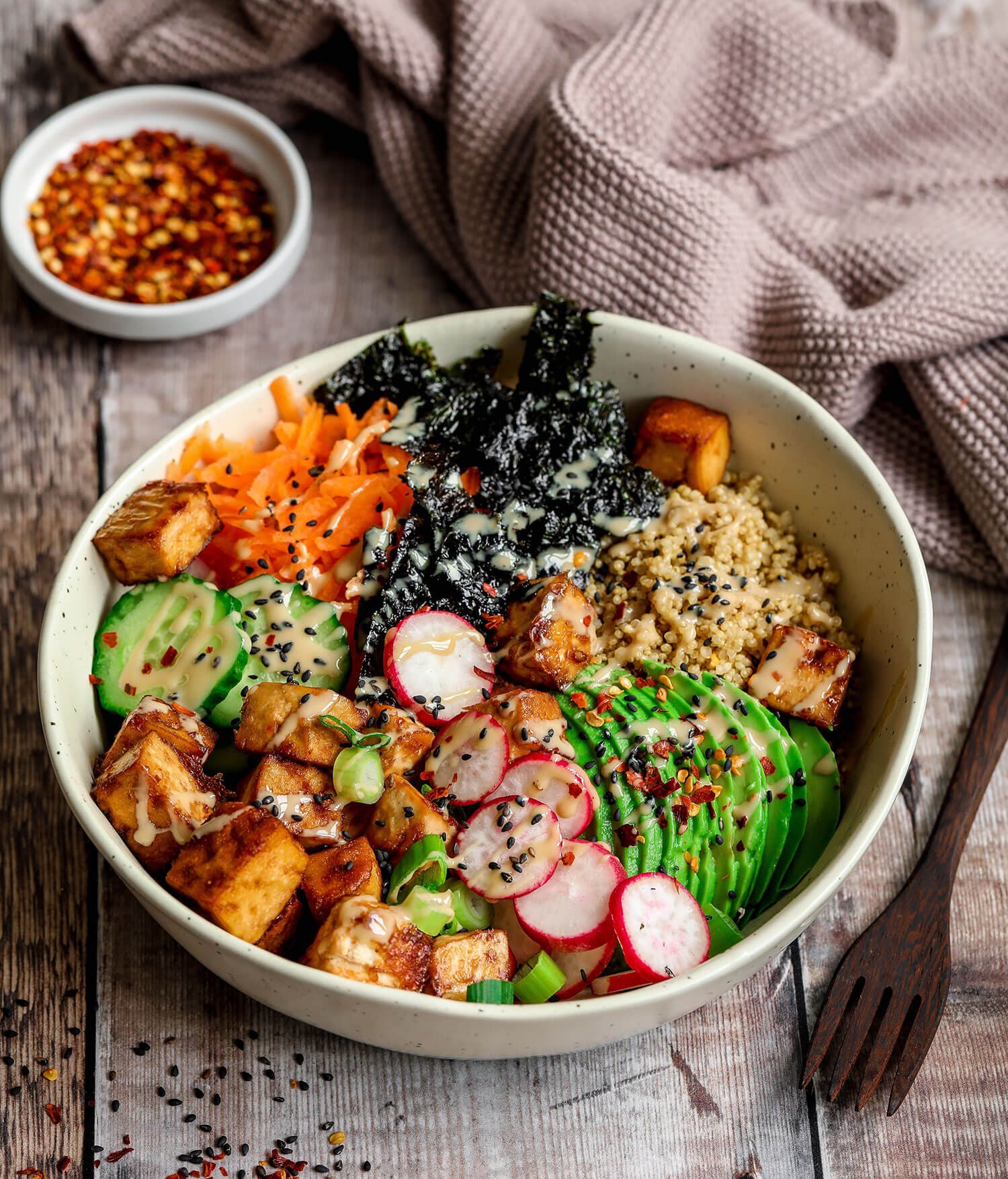 Meal prepping is a good habit to start if you're looking to make healthier food choices, and it doesn't matter if you do it every week or not. It doesn't have to be all or nothing. Whenever you get the chance to prepare a meal or two in advance, do it. Small changes can still make a huge impact.
This tofu quinoa sushi bowl is a great way to get a healthy meal in that's easy, tasty and balanced. High in fibre and protein and you can change it up each time you make it by adding different vegetables or using whatever you have available in your fridge/freezer. You can double up the recipe and have your lunch/dinner sorted for a couple of days making more time to do other things on your tick list!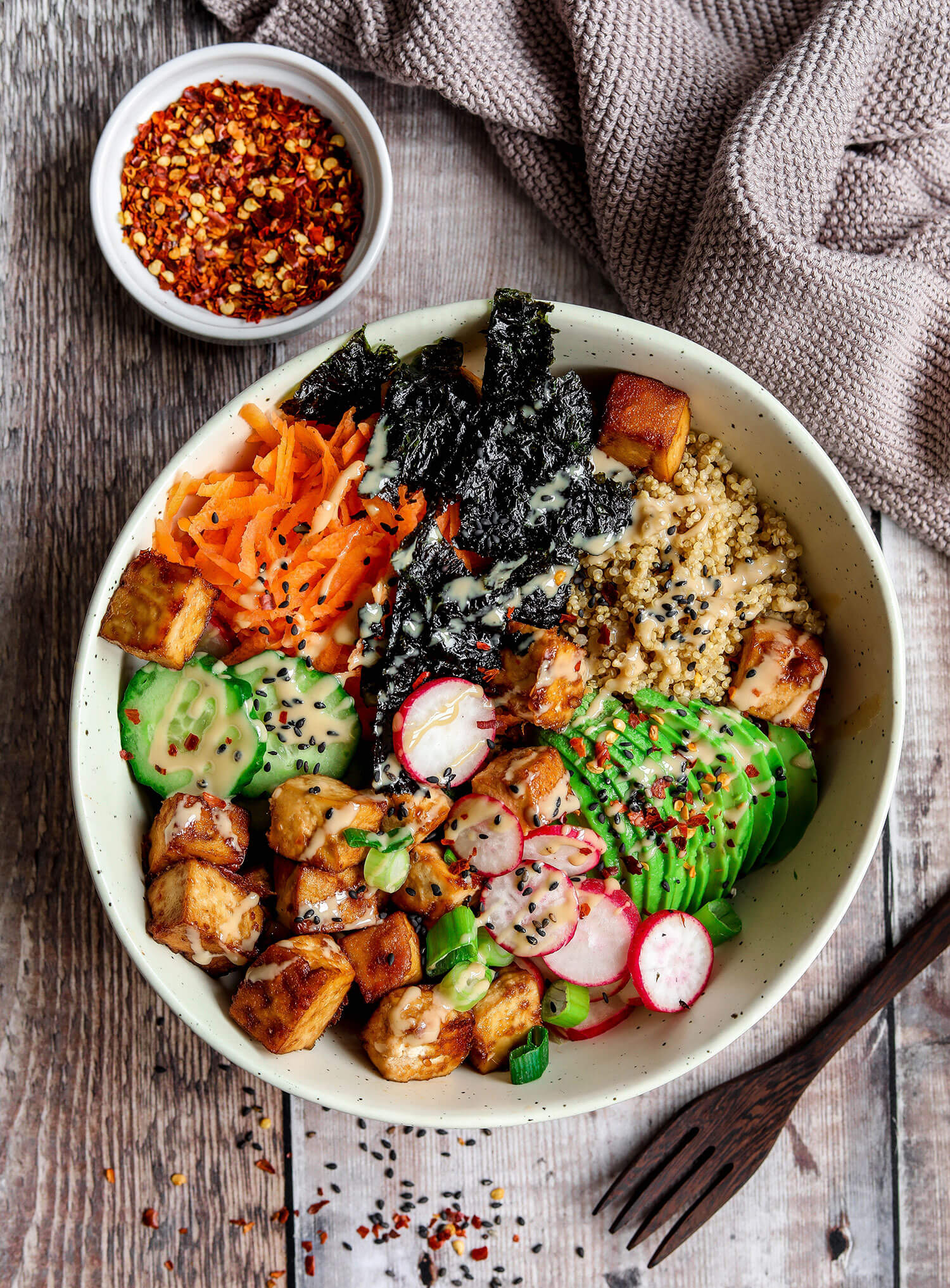 ---
Tofu Quinoa Sushi Bowl
Crispy Tofu Quinoa Sushi Bowl
Serves – 2
For the tofu
225g block of firm tofu, cubed
1 tbsp soy sauce
1/2 tbsp lemon juice
1/2 tbsp sesame oil
1/2 tsp sriracha
1 tbsp cornflour
For the quinoa bowl
85g dry quinoa
150ml boiling water
1 carrot, shredded
3 spring onions, chopped
5 radishes, sliced
1 avocado, sliced
5g pack seaweed thins
Black sesame seeds to garnish
For the dressing
2 tbsp soy sauce
2 tbsp rice wine vinegar
2 tbsp lemon juice
1-2 tsp maple syrup
Method
Add the quinoa to a saucepan and pour over the boiling water. Bring to a quick boil, then reduce the heat and simmer until all the water has been absorbed (about 15 minutes). Leave to the side to cool down.
In the meantime prepare the tofu – preheat your oven to 220C/200C fan/420F. Add the tofu cubes to a bowl along with the soy sauce, oil, lemon juice and sriracha. Mix to combine then add the cornflour making sure everything is evenly coated. Arrange on a baking sheet lined with baking paper and bake for 25 minutes.
Combine the dressing ingredients, plate everything up in a dish and drizzle the dressing on top. Garnish with the sesame seeds and an optional sprinkle of chilli flakes.
Enjoy!
---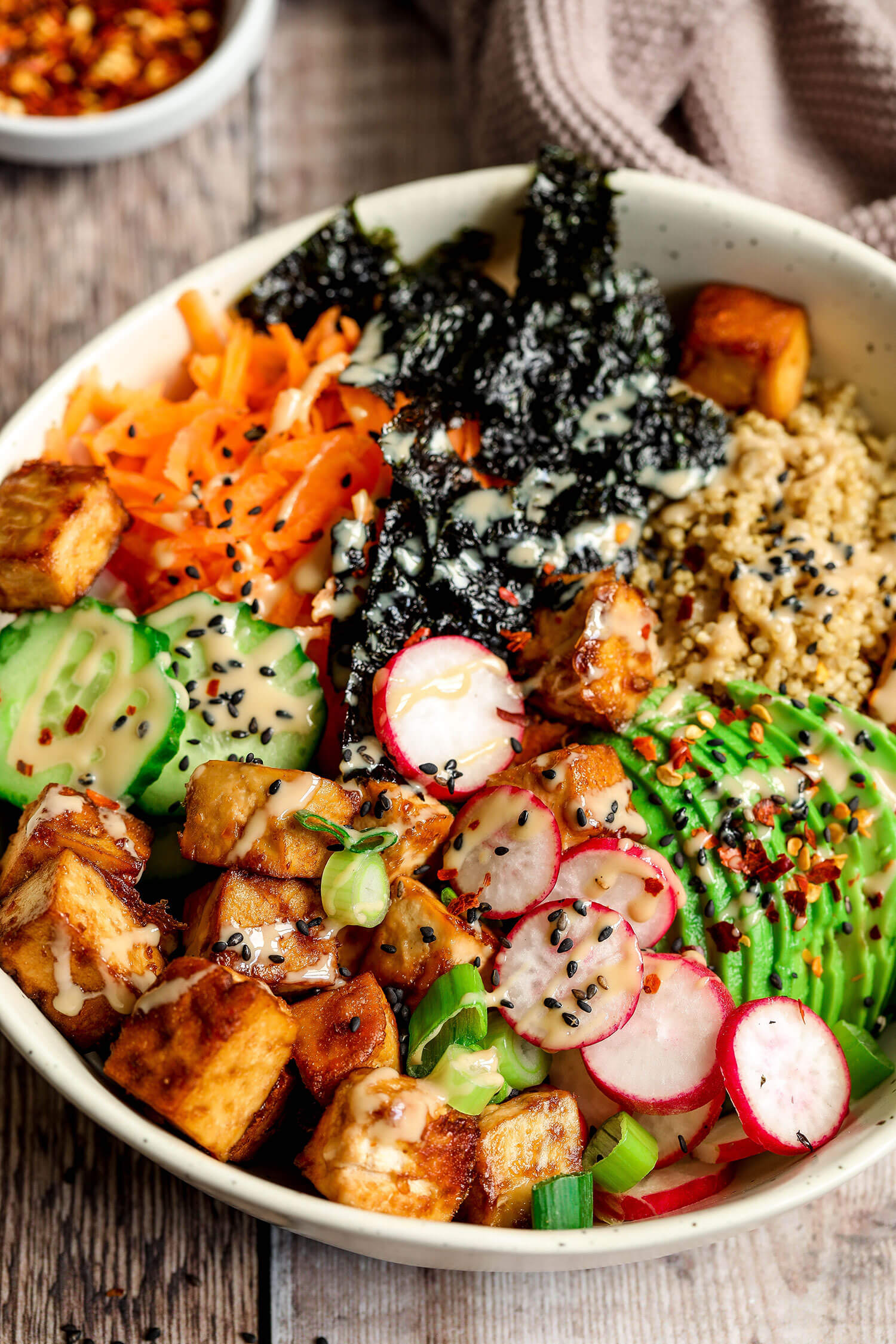 Share This Post