Superfood Chocolate Mousse Parfait
January is the time when everyone is on the hunt for healthy recipes that will help detox their bodies from the potential damage caused by the holiday's overeating and overindulging. And even though everyone seems to be on a diet or restricting their food intake, I still think there is room for desserts and treats, especially when they're super healthy like these superfood chocolate mousse parfait jars 😀
I'm usually wary of the word 'detox' when it's attached to a product as it's been over used and abused over the last few years. There are so many detox foods and diets out there promising to rid your body of toxins when in reality the body is fully capable of detoxifying itself. Having said that, I don't think it's a bad thing going on a 'detox' where you basically illuminate or reduce the amount of bad ingredients you consume and at the same time feeding your body with nourishing ingredients. This will give the body a chance to do its thing – getting rid of toxins, rebuilding and healing itself naturally!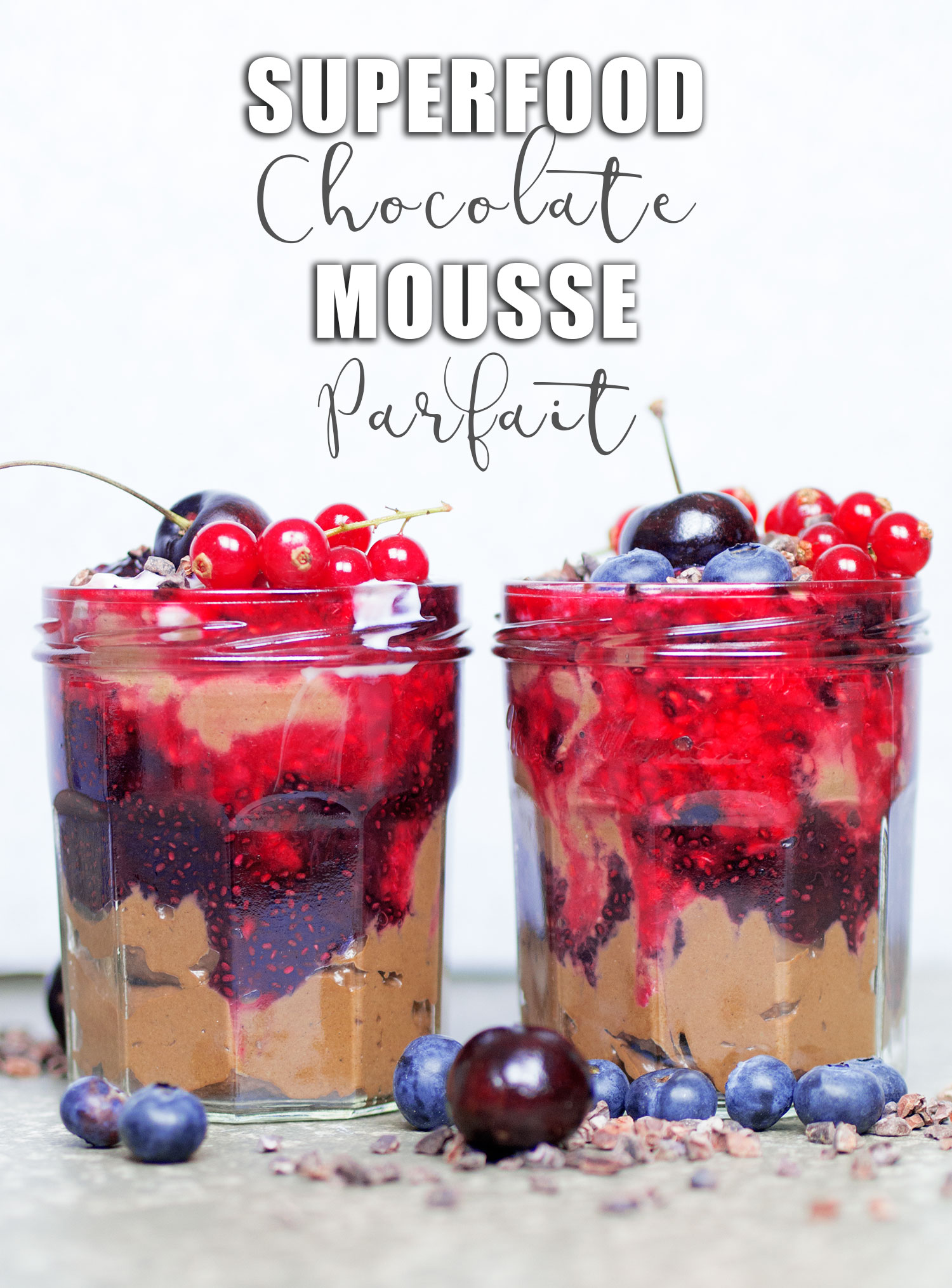 Our bodies are constantly under pressure, trying to stay in balance with all the things we throw at it on a daily basis. From the things we eat (additives, preservatives, pesticides, chemicals etc) to environmental factors (pollution, chemicals, radiation etc) and other harmful lifestyle factors we sometimes can't avoid (lack of sleep, lack or exercise, minimal outdoor time, stress, anxiety etc). All these things put the body under enormous amounts of stress and even though it deals with it exceptionally well, over time it wears the body out and eventually will lead to premature aging and chronic diseases. For that reason, it's never a bad idea to give it a break and allow it to take some time out to recover and regenerate.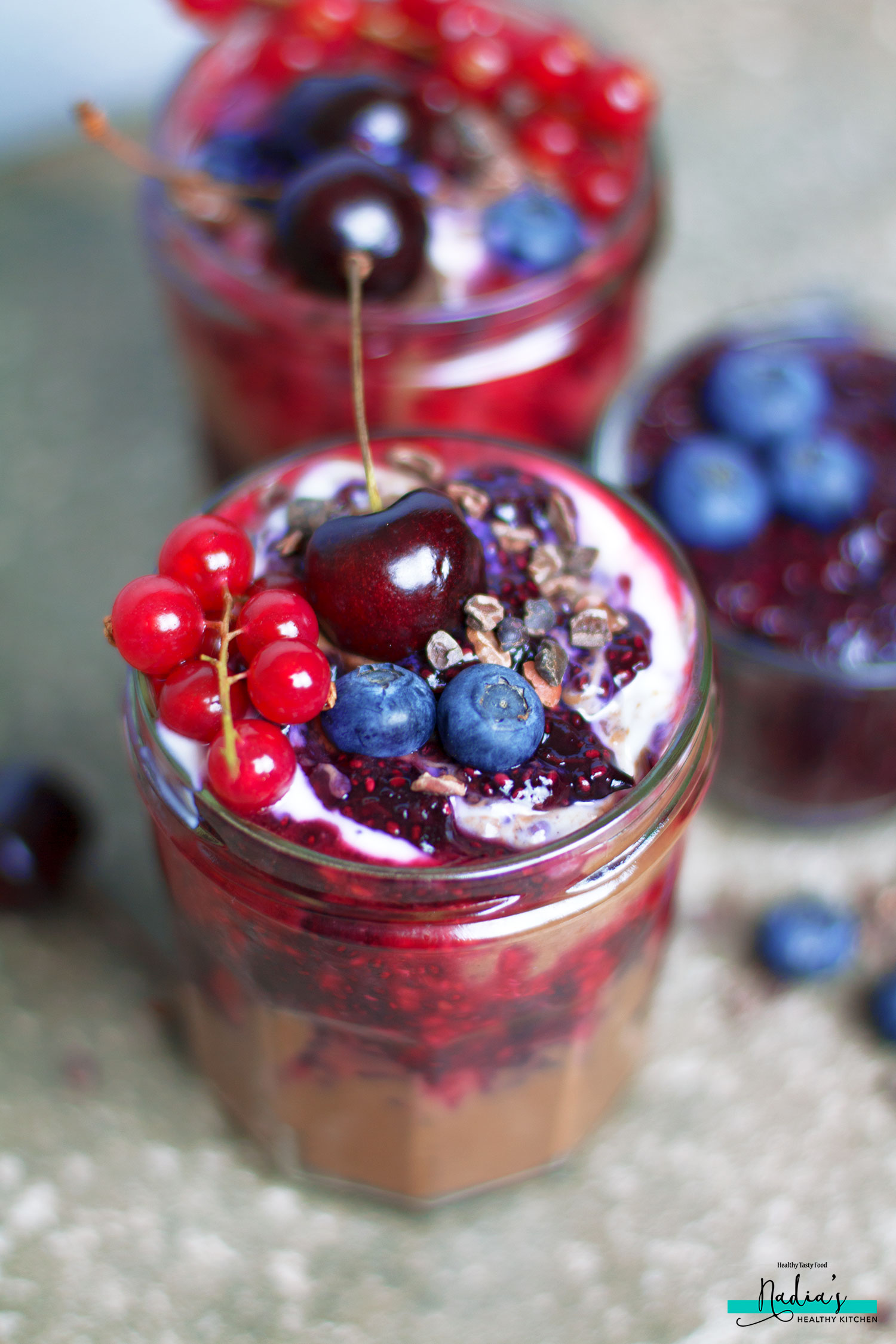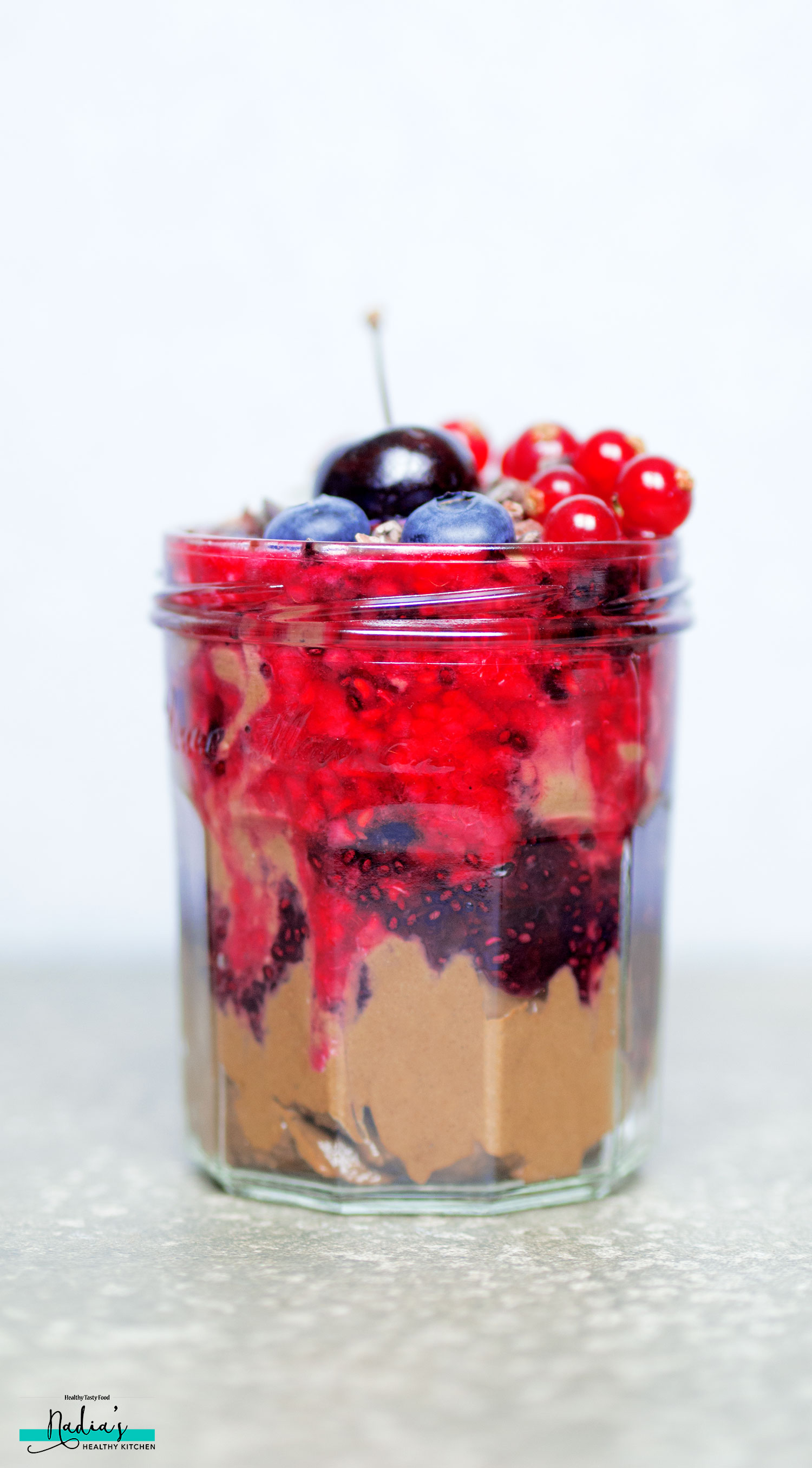 Minvita challenged me to create a recipe using some of their good quality organic superfoods. I decided to create a recipe that included their chia seeds, maca powder, cacao nibs and their new detox superfood blend.
Their detox superfood blend is formulated to help stabilise blood sugar and support weight management with only 4 ingredients:
Chlorella – helps reduce fatigue, supports hormone function and helps flush out toxic metals. Also high in protein and iron.
Wheatgrass – acts as an antioxidant and is high in fibre so increase feeling of fullness.
Acai berry powder – anti-inflammatory and high in antioxidants.
Cacao nibs – high in flavonoids and are beneficial for blood pressure, lipids and inflammation.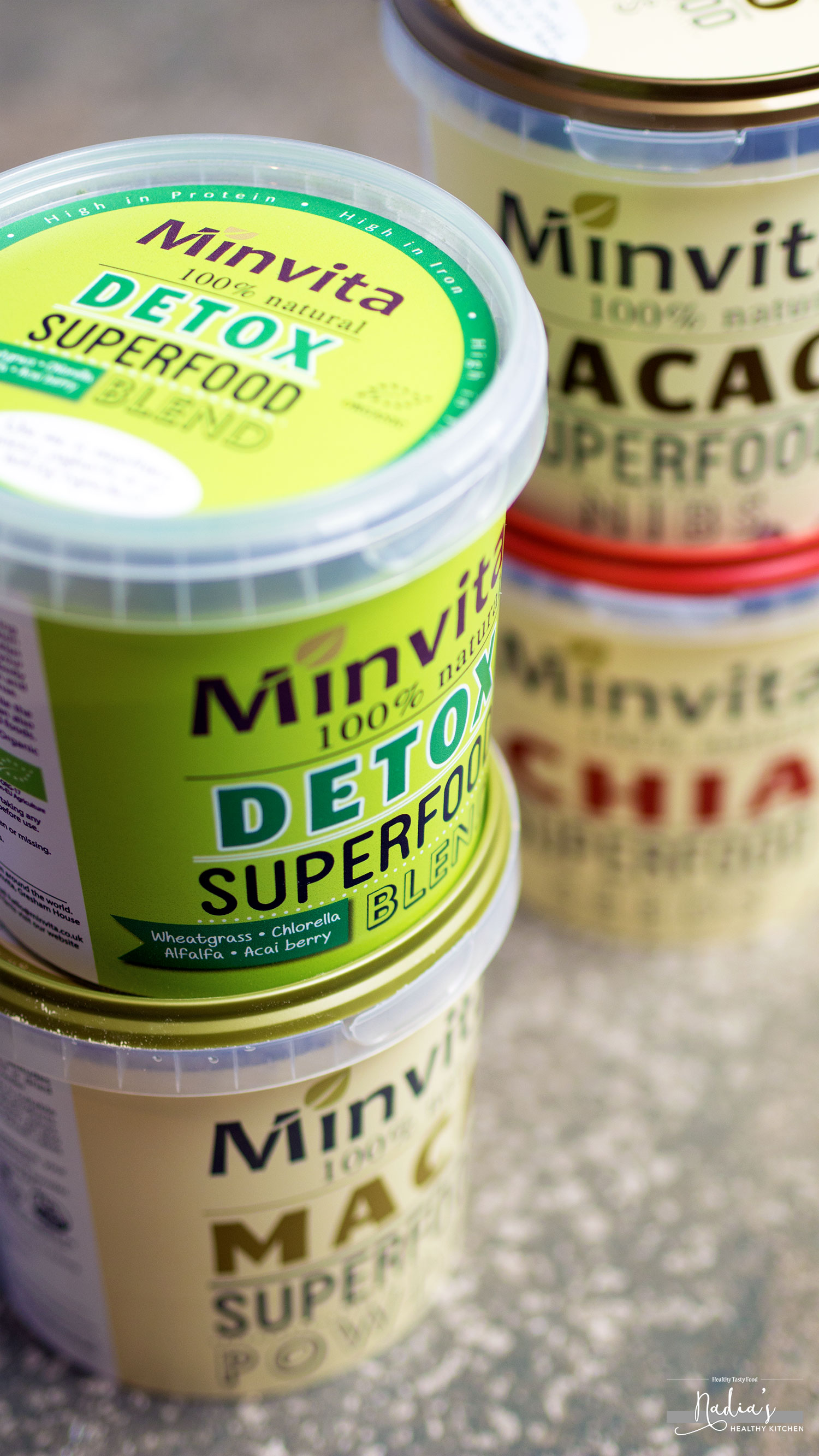 This superfood chocolate mousse parfait is as healthy as a dessert can get! High in good fats and omega-3, vitamins and minerals, fibre, antioxidants and free from cholesterol all in a sweet, chocolatey and decadent treat! What else can you ask for in a dessert?
In fact it's so good for you, that I've been enjoying it for breakfast recently. It has everything I need for a healthy start to the day, and it's a dessert! Who doesn't like eating dessert for breakfast? No one. The answer is no one!
The chocolate mousse is a simple mix of avocado, banana, cashew butter, cocoa/cacao powder and sweetened with maple syrup. You could always sweeten with dates to make it even healthier! Layered with a simple homemade blueberry maca chia jam and a 1-ingredients raspberry compote (which is basically warmed up raspberries!) all together creating a delicious parfait heaven! 😀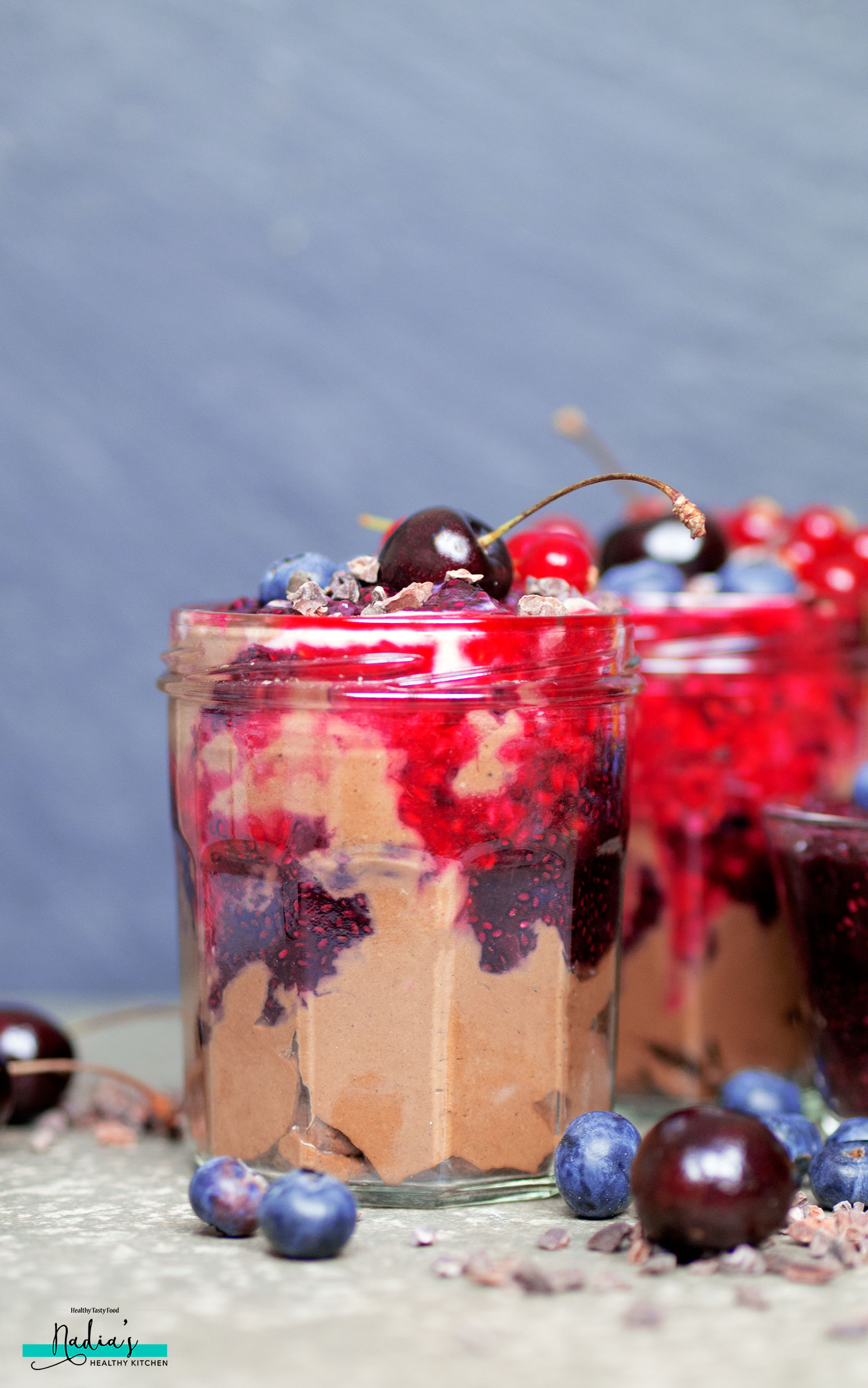 Superfood Chocolate Mousse Parfait
2017-01-16 06:47:38
Serves 5
For the Chocolate Mousse
2 ripe avocados
2 ripe bananas - the riper the bananas the less sweetener you need to use
4 tbsp cashew butter
5 tbsp cocoa/cacao powder
4 tbsp milk of choice
4-5 tbsp maple syrup
1 tsp Minvita detox superfood blend
Pinsh of salt
For the Blueberry Maca Chia Jam
200g blueberries - frozen or fresh
2 tbsp chia seeds
2 tsp maca powder
1-2 tbsp maple syrup
For the Raspberry Compote
100g raspberries - frozen or fresh
Toppings - fresh berries and cacao nibs
To make the Chocolate Mousse
Blend all the ingredients together in your food processor/blender until smooth.
To make the Blueberry Maca Chia Jam
Add the blueberries to a small saucepan with a splash of water. Cook over a medium heat and mash with the back of a wooden spoon until you have a sauce like consistency.
Take of the heat, then fold in the chia seeds and maca powder. Leave to set for 30-60 minutes.
To make the Raspberry Compote
Heat the raspberries in a small saucepan to create a sauce. Leave to cool.
Assemble
Layer the chocolate mousse, blueberry chia jam and raspberry compote. Top with fresh berries and cacao nibs.
Enjoy!
Notes
Store in the fridge for up to 3 days
Nadia's Healthy Kitchen https://nadiashealthykitchen.com/

* This post was commissioned by Minvita; however, all opinions are my own.