A simple speedy healthy black eyed beans curry recipe that comes together in just 20 minutes! Made with wholesome ingredients and tastes absolutely delicious.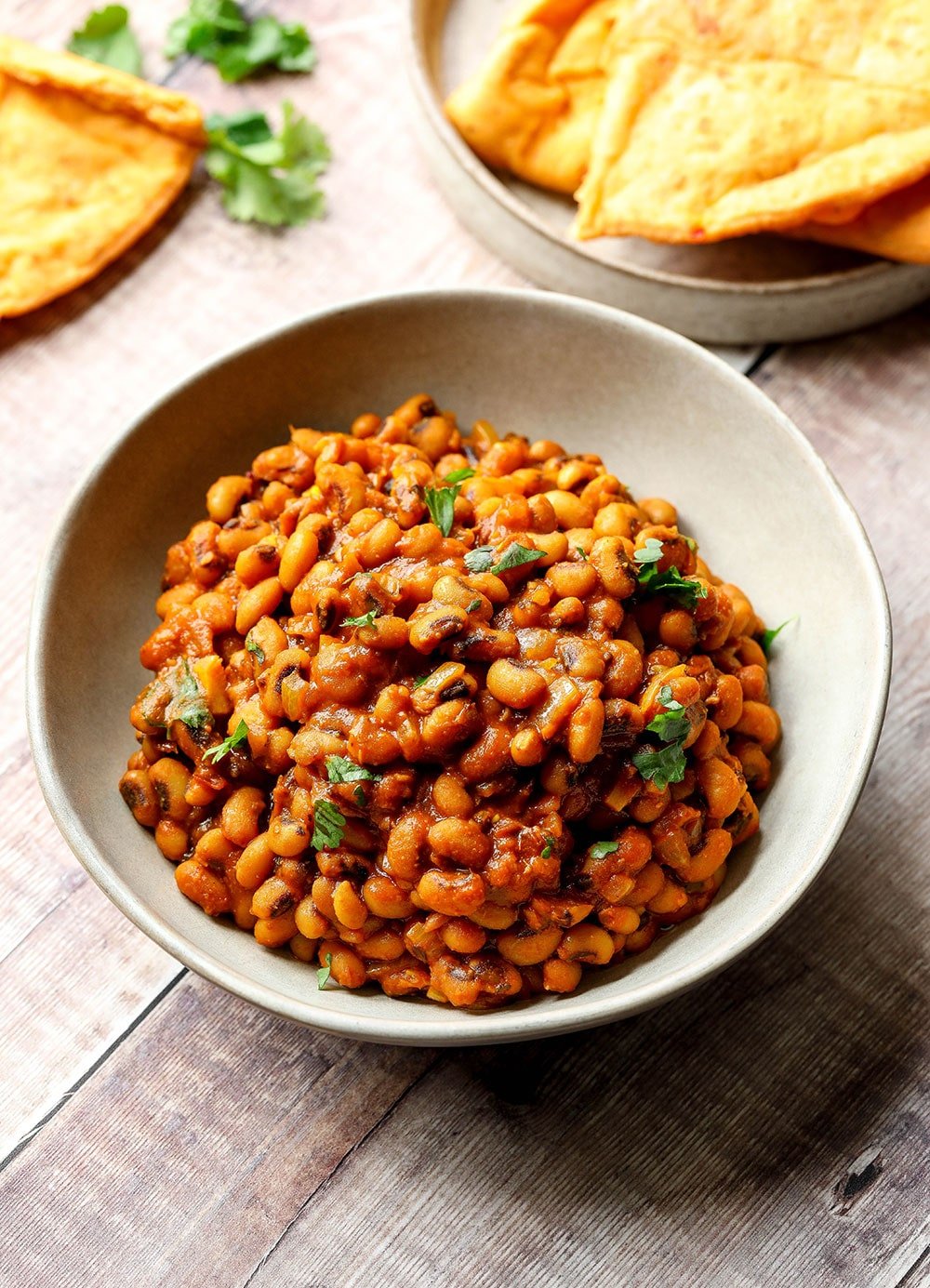 I can never get bored of bean based dishes. They're such a wholesome and versatile ingredient that also happen to be affordable too! For some reason unbeknown to me, black eyed beans don't seem to enjoy the same popularity as their bean and legume counterparts like chickpeas, white beans and lentils. If you've tried black eyed beans before, you'll know they have a unique taste.
As I do with most of my recipes, I like to give you options to change around the recipe depending on what you like or what you have available in your cupboard/fridge. Feel free to use any other bean like chickpeas, lentils, butter beans, etc. (they will all work!). You can also add in some vegetables as a way to get in more of your 5-a-day.
You can play around with the spices too, for example if you don't like spicy food, leave out the chilli. If you're keen on the taste of turmeric, feel free to add more.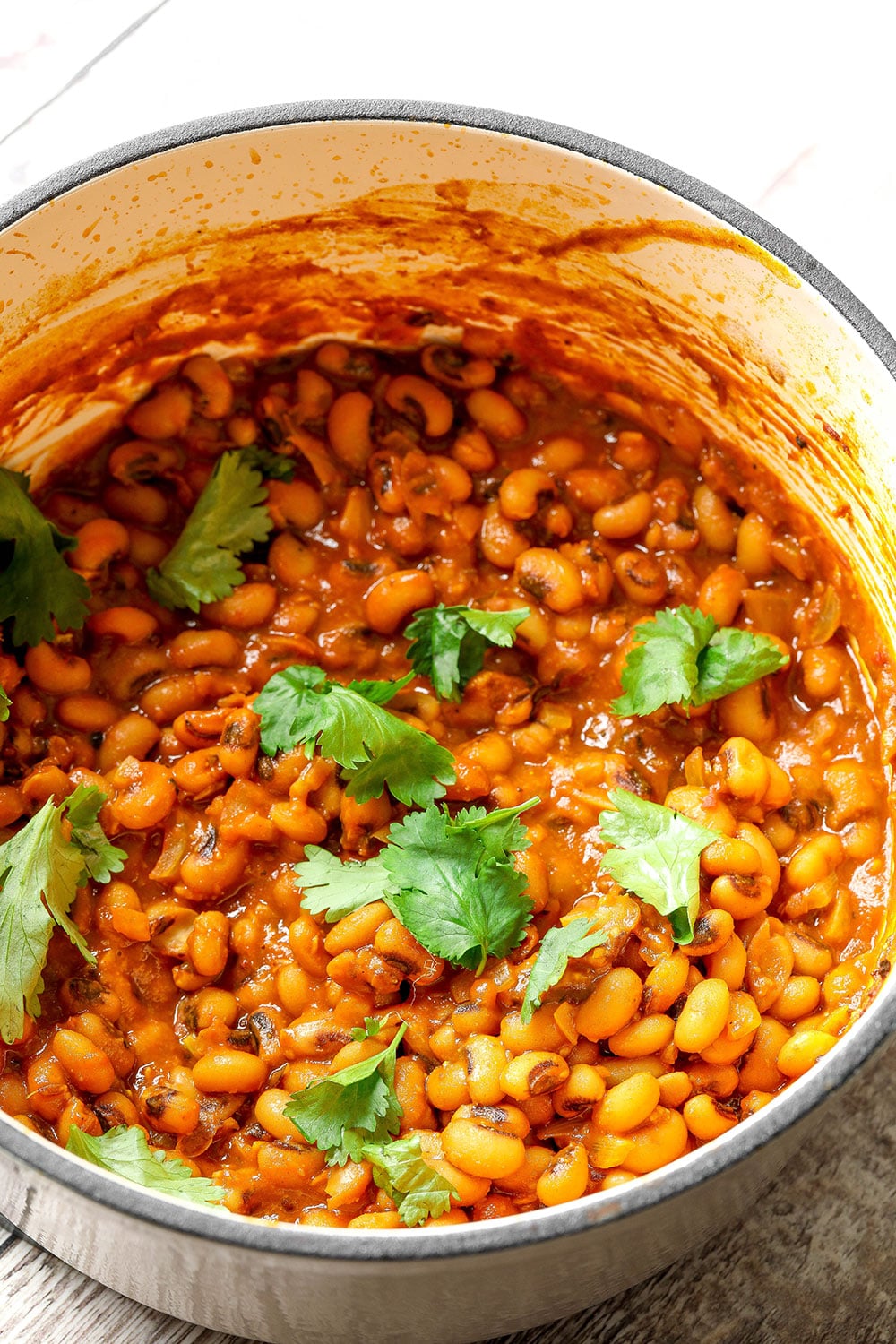 You can double, triple or quadruple the recipe to enjoy over the next few days for lunch or dinner. I also love serving leftovers on crusty bread in the morning as a savoury breakfast.
It freezes well too, so you can store leftovers in the freezer and heat up on days when you don't fancy cooking, but still want a delicious and comforting homemade meal.
This speedy curry is best served with rice, or quinoa if you want some added fibre and protein. I also love serving it with roasted vegetables or a simple tomato, cucumber, onion and coriander salad for a bit of crunch.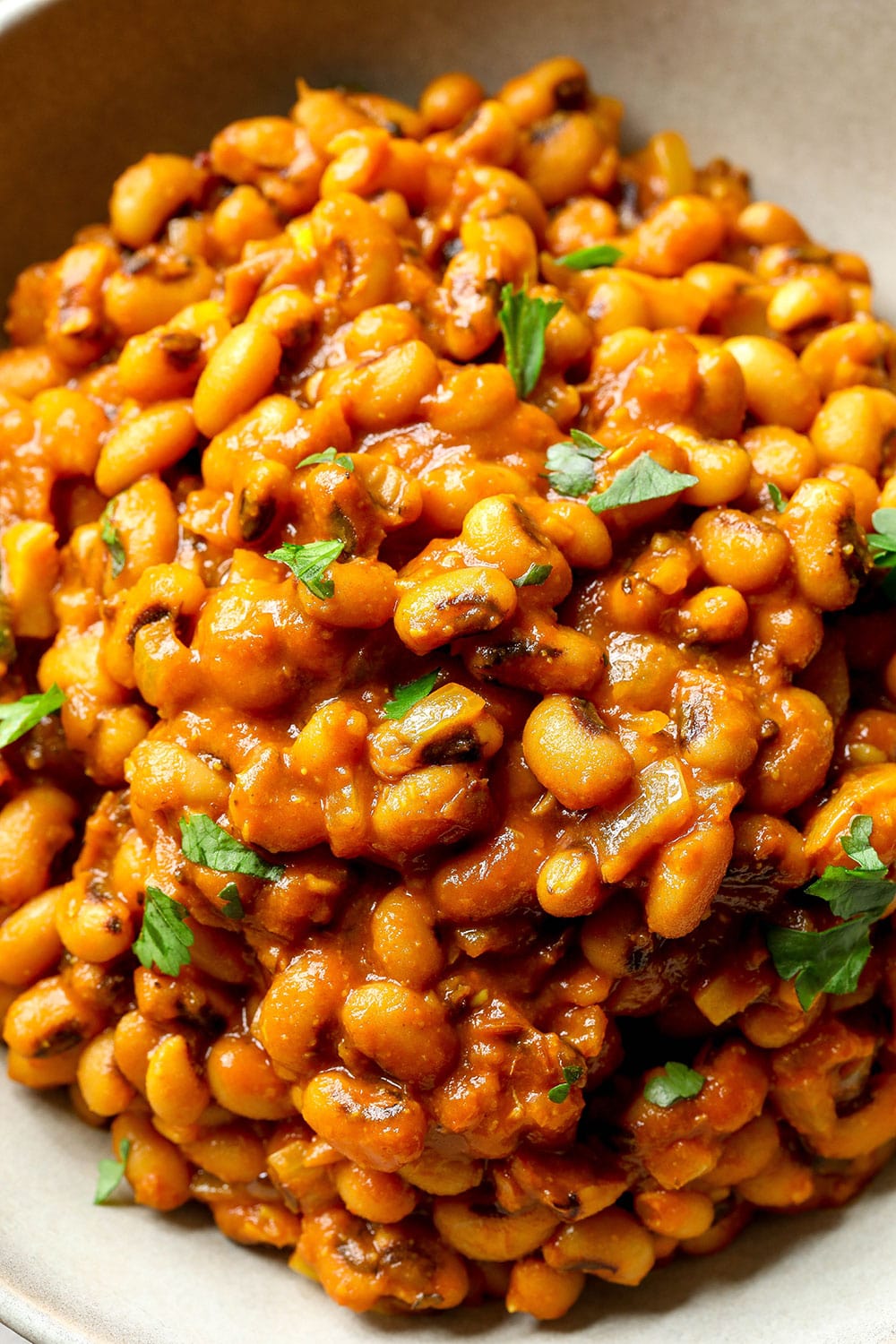 What you need to make this speedy healthy black eyed beans curry:
Black eyed beans – aka black eyed peas. You can either used canned (like I did) or dry beans. Canned is a lot more convenient as you don't need to cook them before hand. Dry black eyed beans will need to be soaked overnight, then boiled in a pan of water until soft. They do work out to be a lot cheaper, but obviously more time consuming.
Spices – I like to use a mixture of whole and ground spices. Each add a slightly different quality to a dish. Whole spices add deep, rich and aromatic flavours, while ground spices are more subtle. A mishmash of both works the best to create a balance of flavours that comes through beautifully with each mouthful.
Onion and garlic – no savoury dish is complete without either in my opinion.
Tomato puree and lemon juice – the tomato puree adds a rich tomato taste with a hint of sweetness, which is balanced by the sourness of the lemon juice. You only need small amounts of each to make a big difference to the taste of the final dish!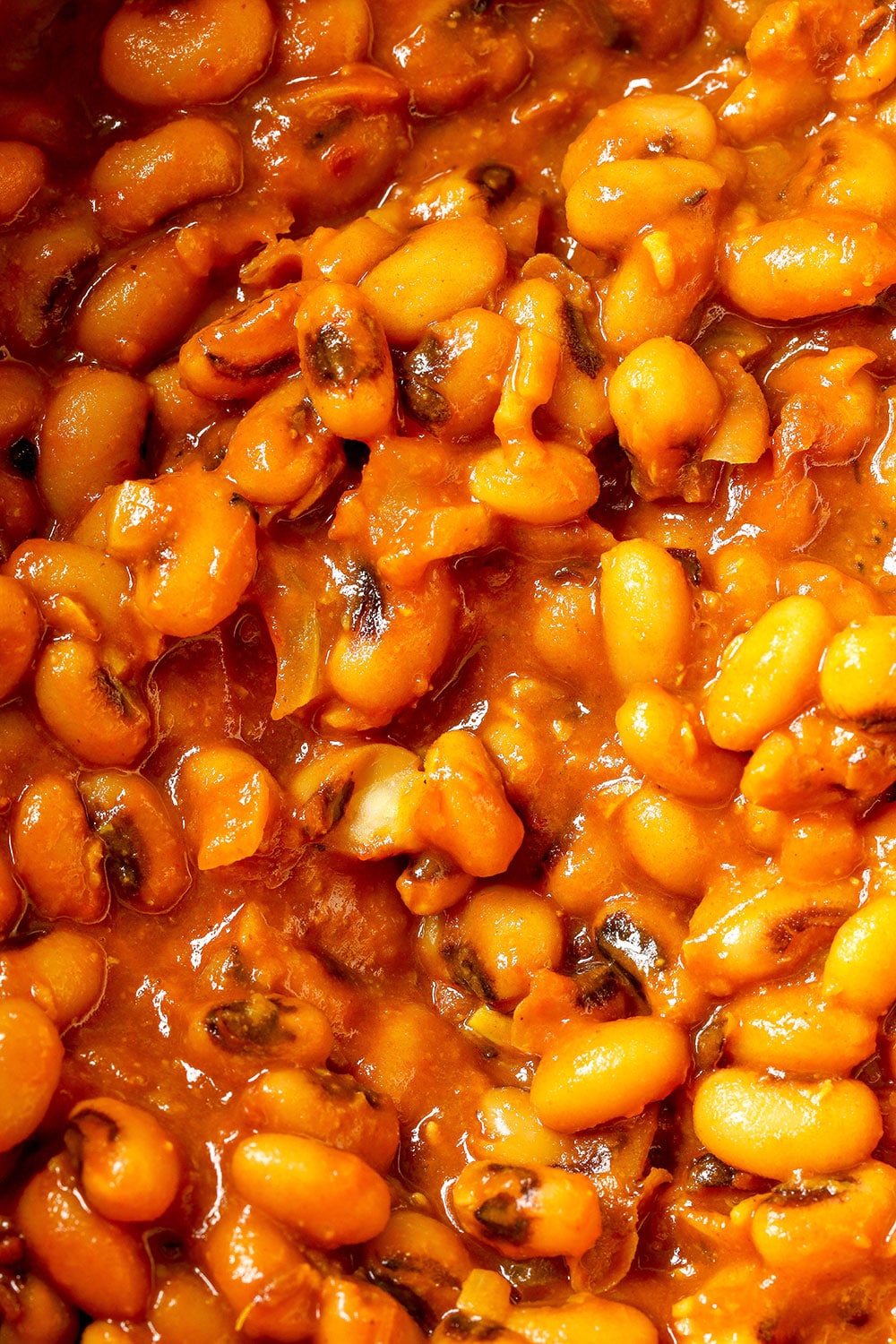 This speedy healthy black eyed beans curry is:
Vegan
Gluten-free
Dairy-free
Nut-free
Nutritious
Speedy
Comes together in just 20 minutes
Freezes well
Great idea for meal prep
Made with wholesome ingredients
A great source of fibre & plant-protein
Perfect served with rice/quinoa and a side of vegetables or salad.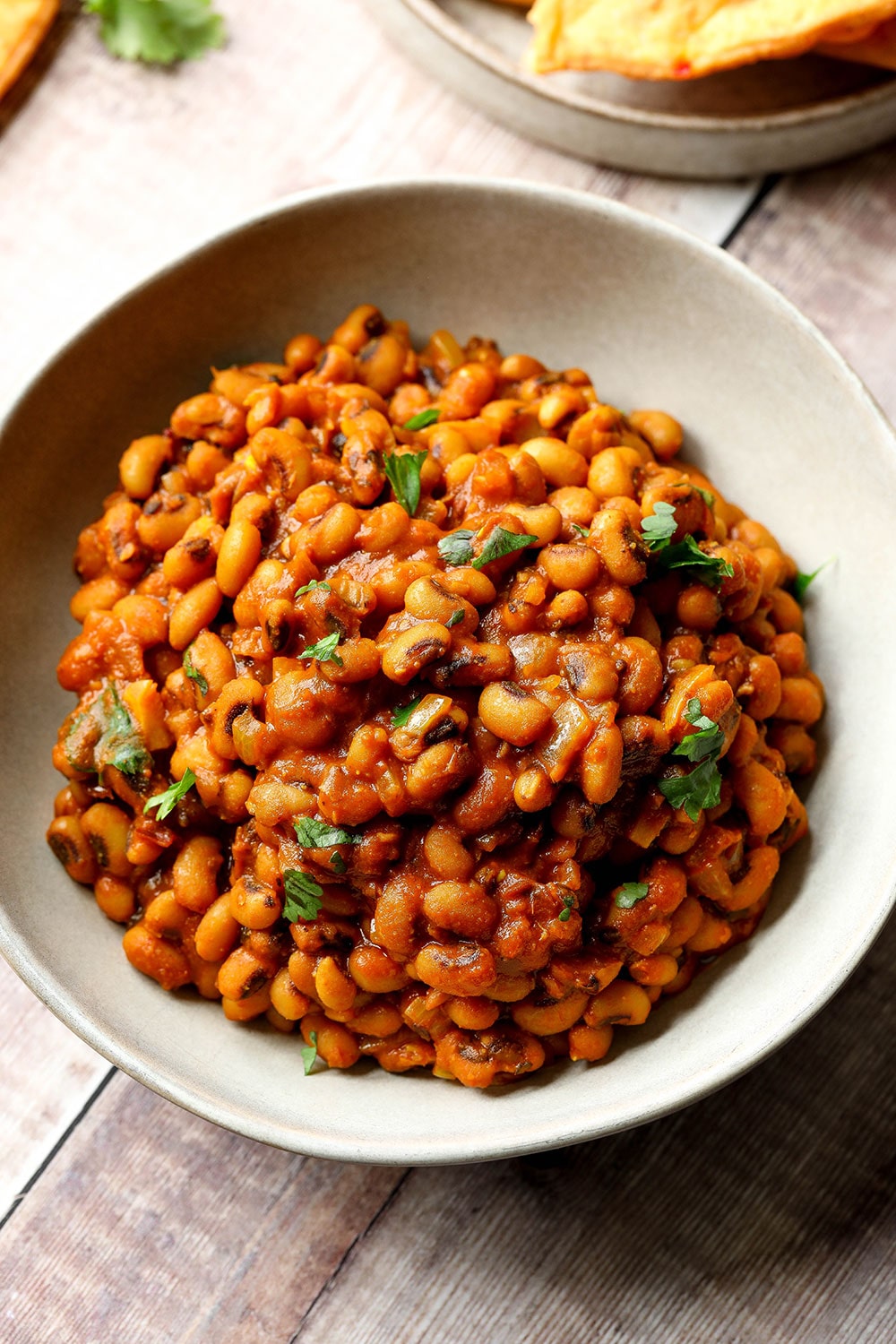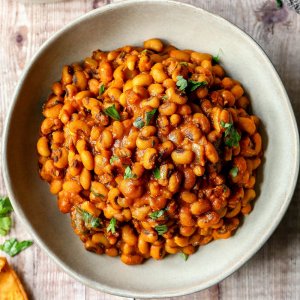 Speedy Healthy Black Eyed Beans Curry
A simple speedy healthy black eyed beans curry recipe that comes together in just 20 minutes! Made with wholesome ingredients and tastes absolutely delicious.
Ingredients
2

cans

black eyed beans

beans and liquid

1

tbsp

oil

1/2

tsp

mustard seeds

1/2

tsp

cumin seeds

1/2

tsp

chilli flakes

1

small onion

finely chopped

2

garlic cloves

minced

1

tsp

minced ginger

1/2

tsp

turmeric

1

tsp

ground coriander

1

tsp

ground cumin

2

tbsp

tomato puree

1

tbsp

lemon juice

Salt & pepper to taste

Fresh coriander to garnish
Instructions
Heat the oil in a large pan, add the onions, mustard seeds, cumin seeds and chilli flakes. Cook for 5 minutes on a medium heat until the onions become translucent.

Mix in the spices, garlic, ginger, beans along with their water, tomato paste and lemon juice.

Bring to a quick boil, then reduce the heat and allow to simmer for 10-15 minutes until the sauce thickens. Season to taste with salt and pepper.

Garnish with coriander and serve with rice/quinoa and some vegetables.
Nutrition
Calories:
285
kcal
Carbohydrates:
42
g
Protein:
13.9
g
Fat:
8.5
g
Saturated Fat:
0.9
g
Polyunsaturated Fat:
1.3
g
Monounsaturated Fat:
5.6
g
Sodium:
107.4
mg
Potassium:
147.7
mg
Fiber:
8
g
Sugar:
3
g
Vitamin C:
3.8
mg
Calcium:
38.1
mg
Iron:
1.8
mg