Salted Caramel Protein Ice Cream Doughnuts
These salted caramel protein ice cream doughnuts are made up of a cookie/biscuit base, a protein salted maca caramel centre, a layer of gooey caramel all dipped in chocolate to make them extra decadent and lush! You really NEED to try this recipe!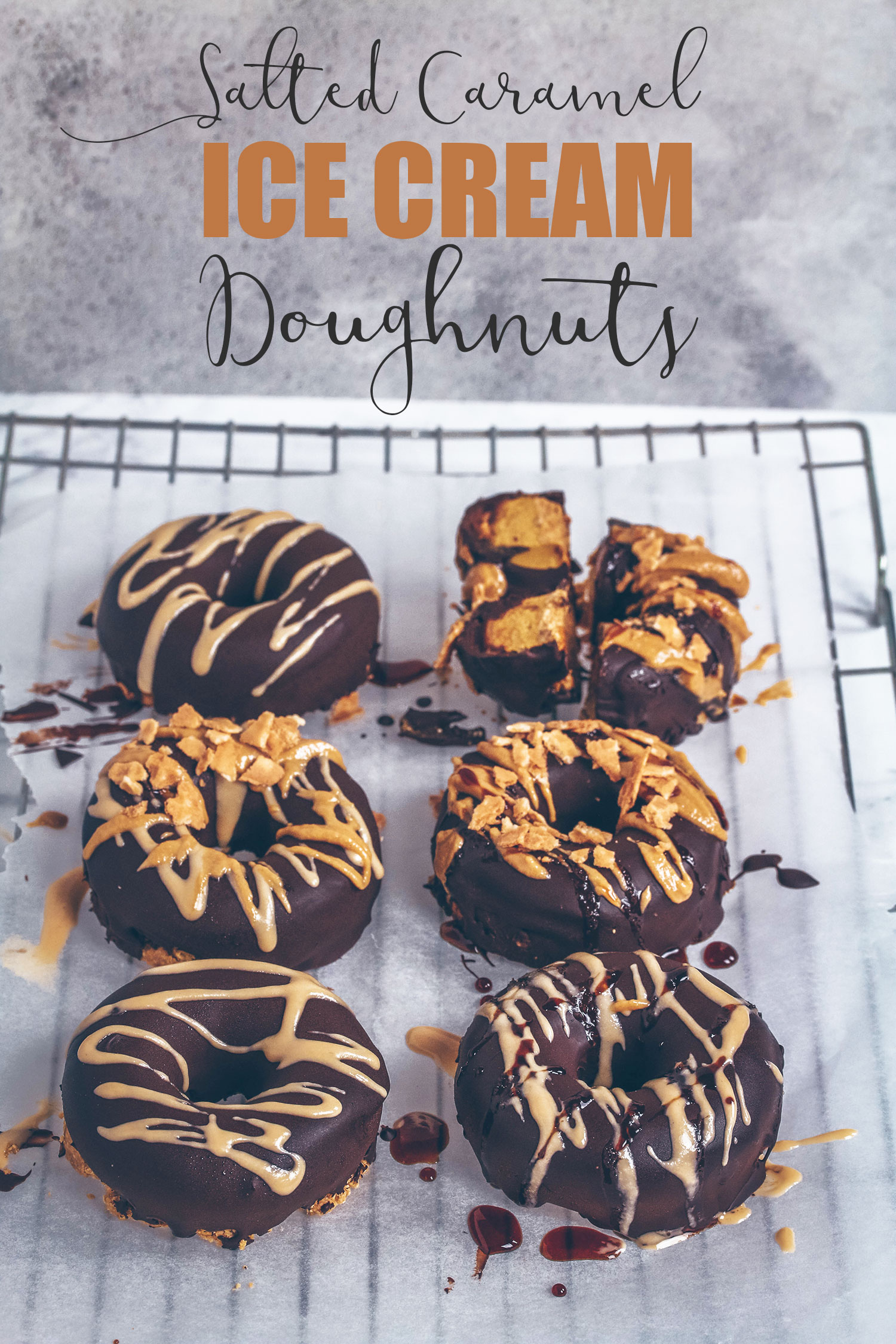 Prior to starting my blog and Instagram page, I never thought I could ever be creative. I grew up in Iraq, a country and environment that didn't encourage creativity. Not because its people chose not to be creative, but because they had been through so much hardship over the decades. We had to endure war after war, economic decline and never ending financial struggles. So over time things like creativity were seen as a luxury. Our schools focused very heavily on subjects like science and maths so things like music, art, poetry, sports or any type of creative or self expressional activities were neglected.
I grew up thinking I didn't have a drop of creativity in me, and looking back I know I didn't, but I believed that I was simply born that way. Only since becoming a blogger and experimenting with recipes, video editing and photography that I realised that creativity, like most things in life, is learnt and can be improved through a lot of practice as well as trial and error.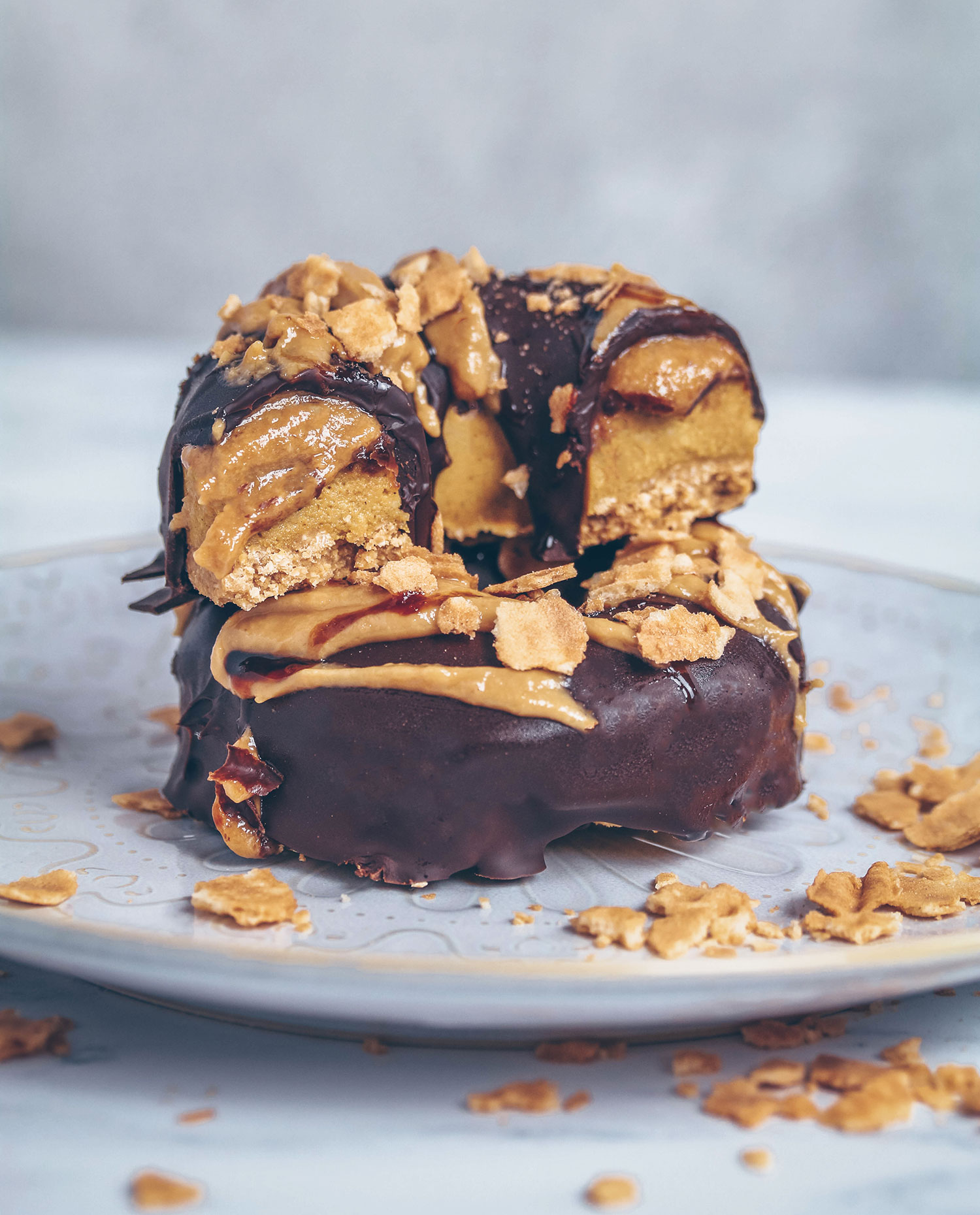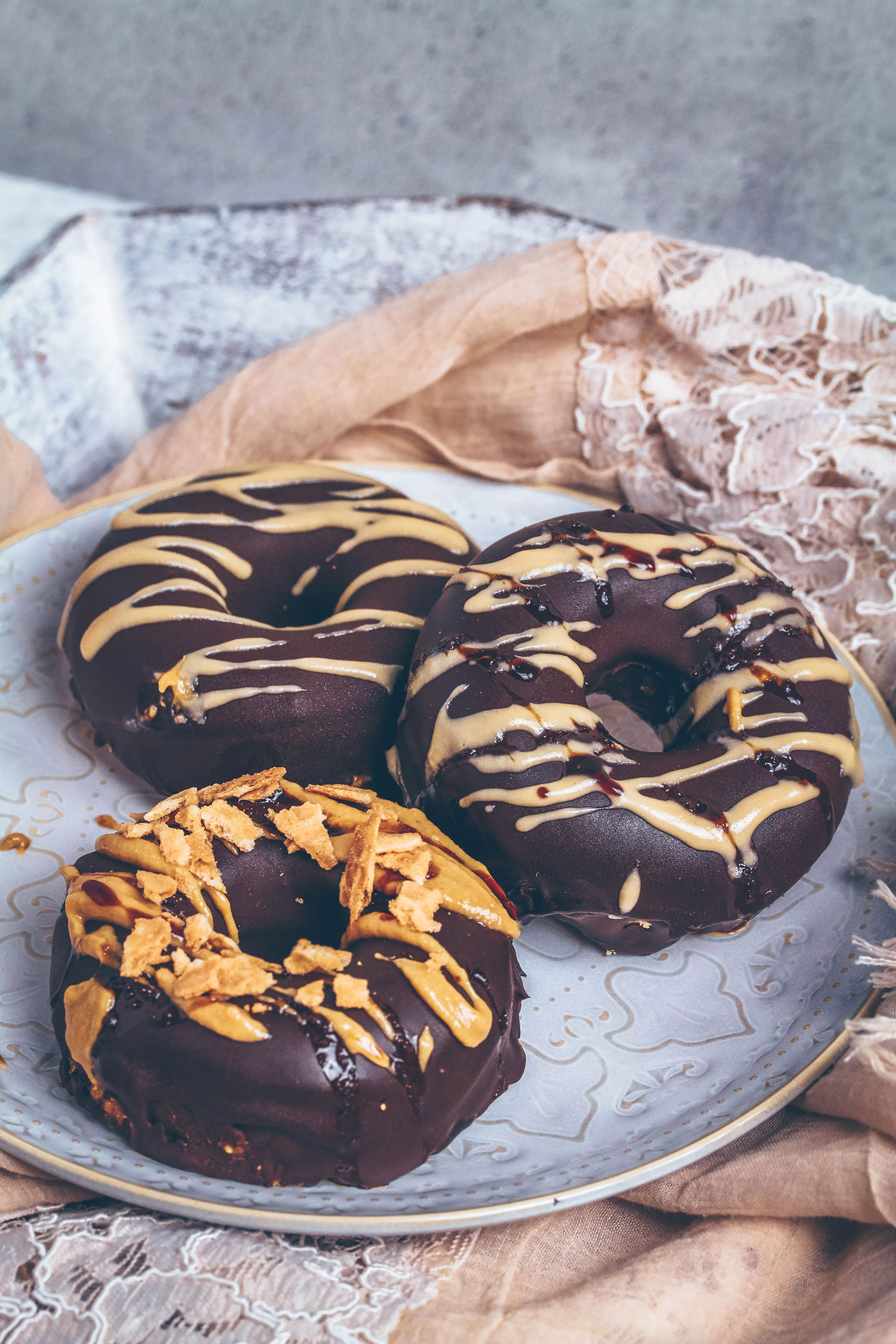 Blogging has opened so many doors for me and has given me a space to allow me to use my imagination. Having unlimited access to the internet these days does make it much easier to be creative. Without it I wouldn't have been able to learn basic photography techniques, improve my editing skills or get inspirations and ideas to create my own recipes.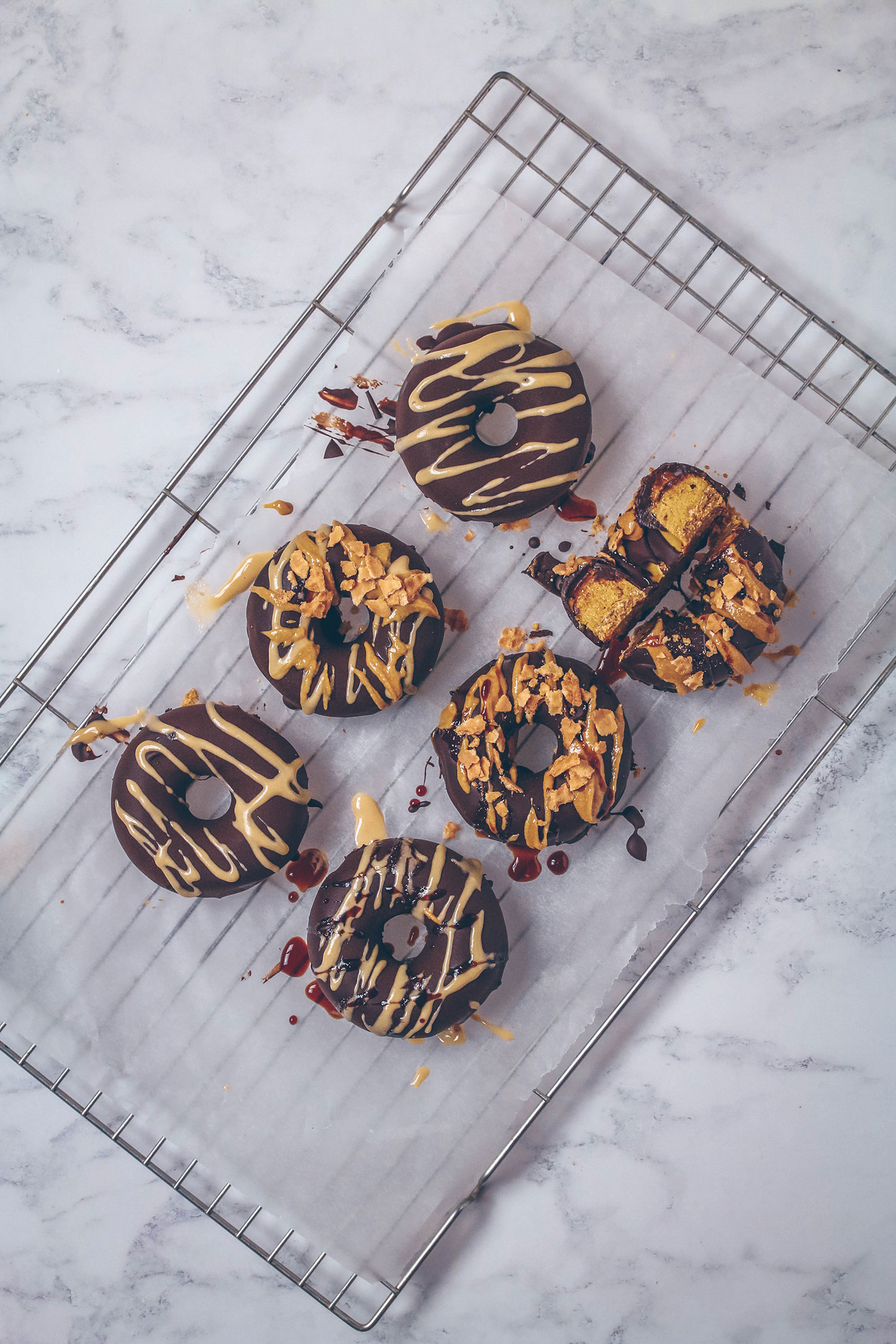 The idea of an ice cream doughnut recipe occurred to me when I was sorting out my moulds while planning recipe ideas. I now have a huge collection of moulds, most of which I haven't even used yet! I do love them though because they do make recipe creating so much more fun and interesting. I picked up doughnut moulds and an ice cream mould and was debating which one of the two I should use for my next recipe. I love baked doughnuts, but I also felt like creating an ice cream recipe. That's when the idea of merging the two together occurred to me and I knew I just had to try it!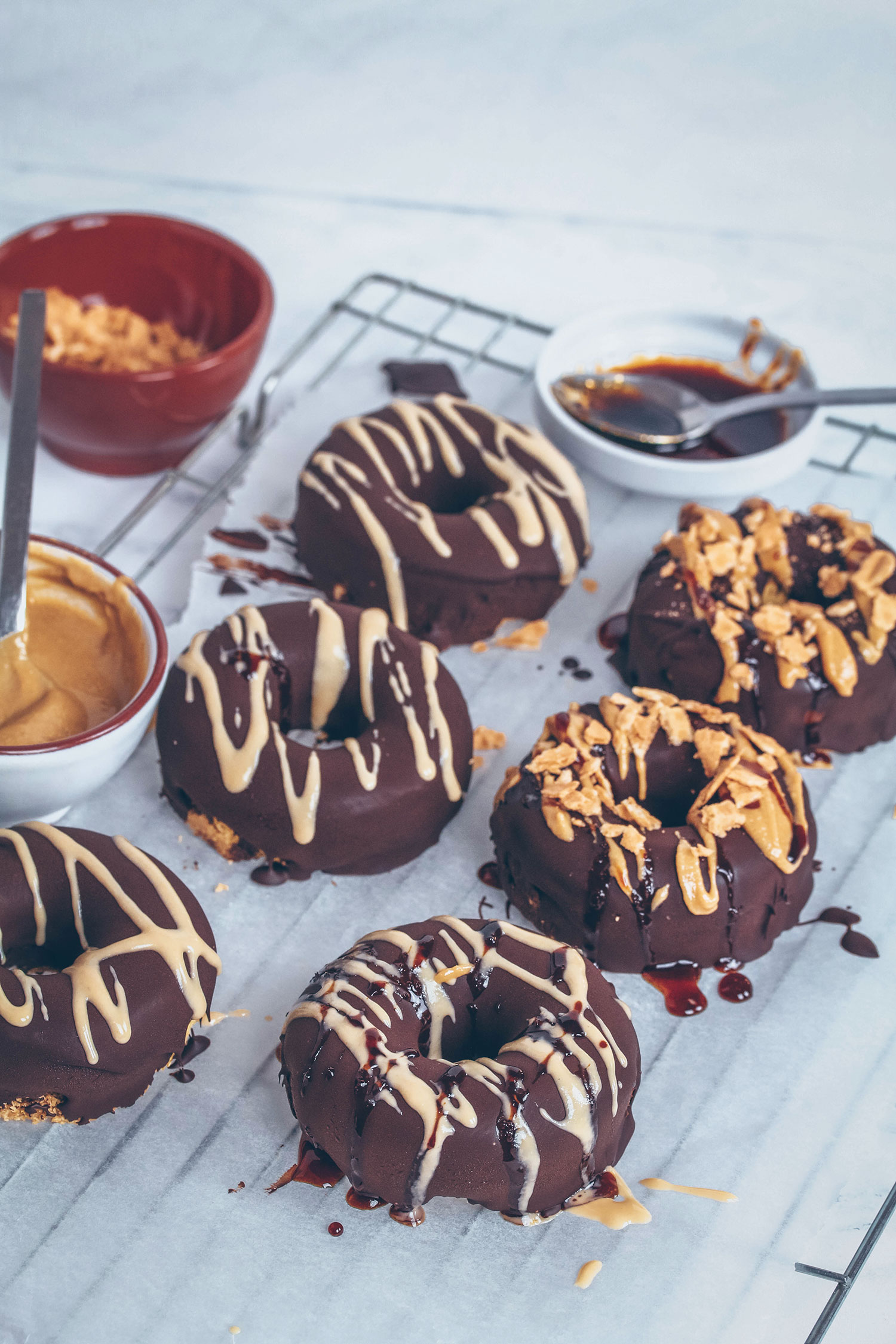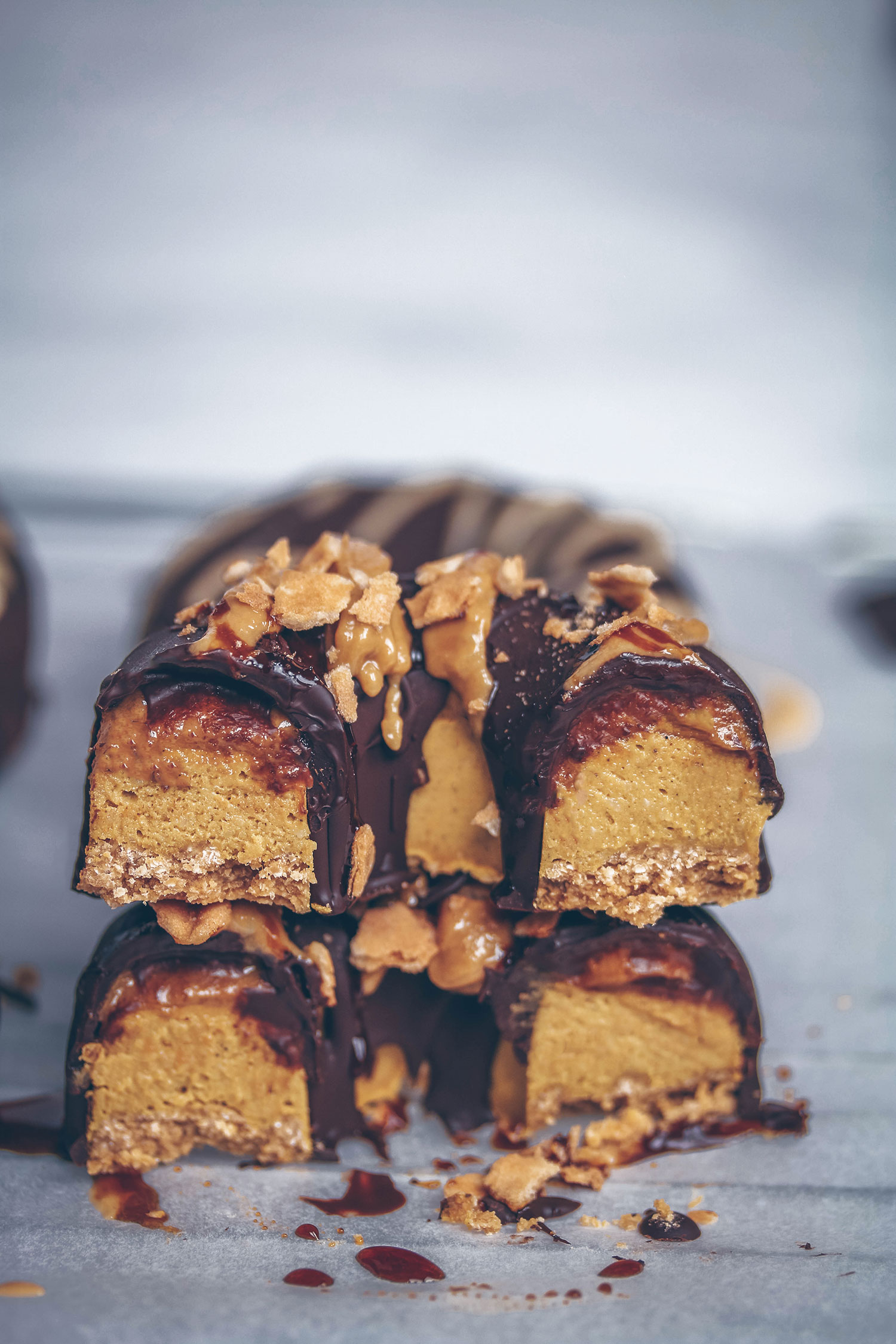 I'm so thrilled to be working with Vivo Life on this recipe. I use vegan protein powder almost on a daily basis. I usually add a scoop to my morning porridge, smoothie or nicecream. It's such an easy way to bump up your protein content and I feel it's important to start the day with a good protein breakfast.
To make these salted caramel protein ice cream doughnuts I'm using their Perform Salted Maca Caramel protein powder. It's completely plant-based made with a mixture of hemp and pea protein and it's sweetened with stevia. It also contains turmeric to help with recovery and digestive enzymes for absorption.
I usually find flavoured protein powders quite strong and they usually overpower a recipe. More often then not they also taste artificial, but Vivo's salted caramel protein tastes amazing! Even the hubby loved it and he usually can't stand the taste of either hemp or pea proteins.
Their Perform protein powders come in different flavours, which I've yet to try, but based on this one I'm sure I'll love them all!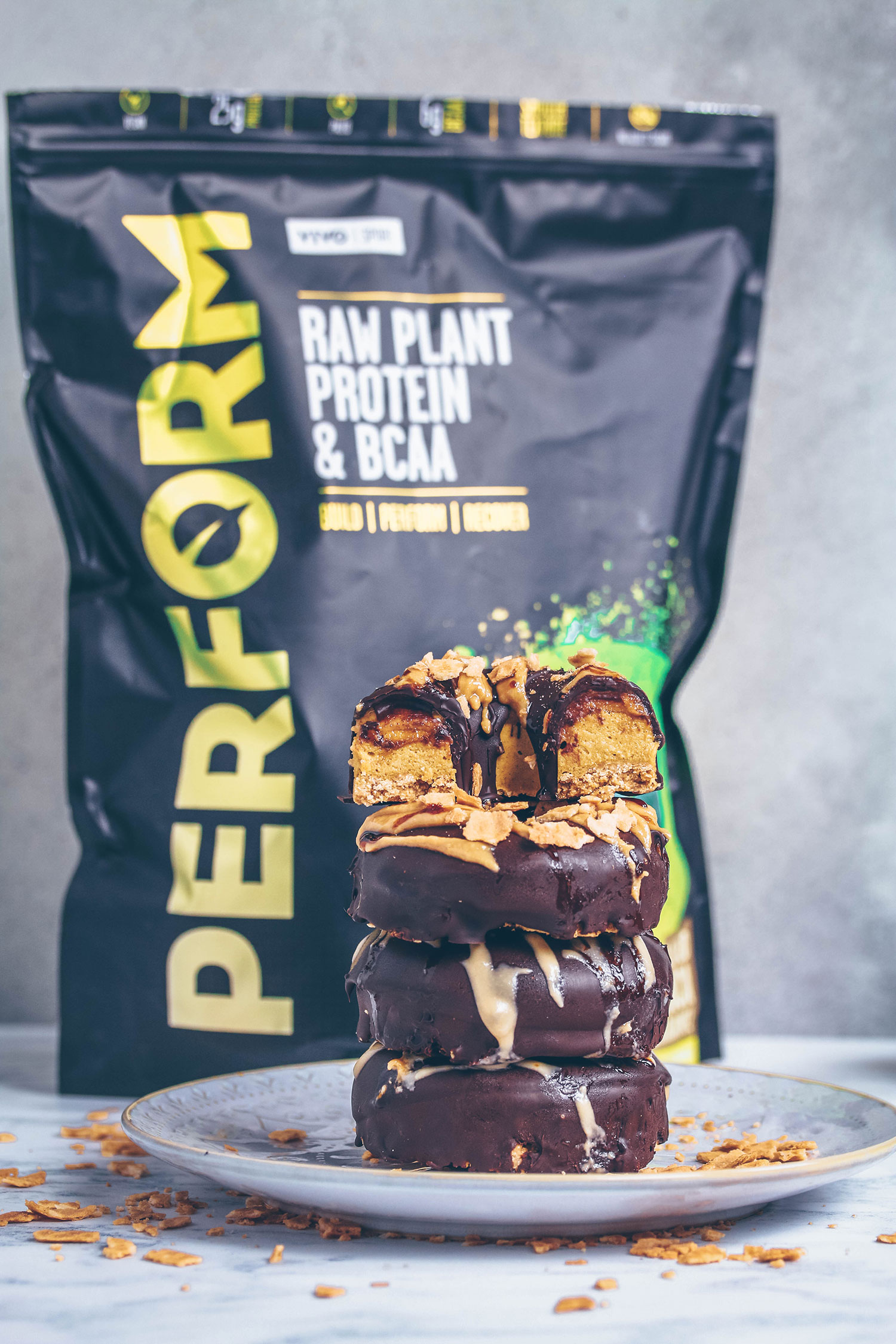 To make these ice cream doughnuts extra yummy, I also included a biscuit/cookie base for extra texture and a salted caramel topping. Of course I had to finish it off by dipping them in dark chocolate, because…chocolate!
Feel free to leave out the biscuit base, or the chocolate part, or the caramel layer. Basically you can customise the recipe to your liking but I would definitely recommend adding all the different components because all together they make for a ridiculously delicious treat!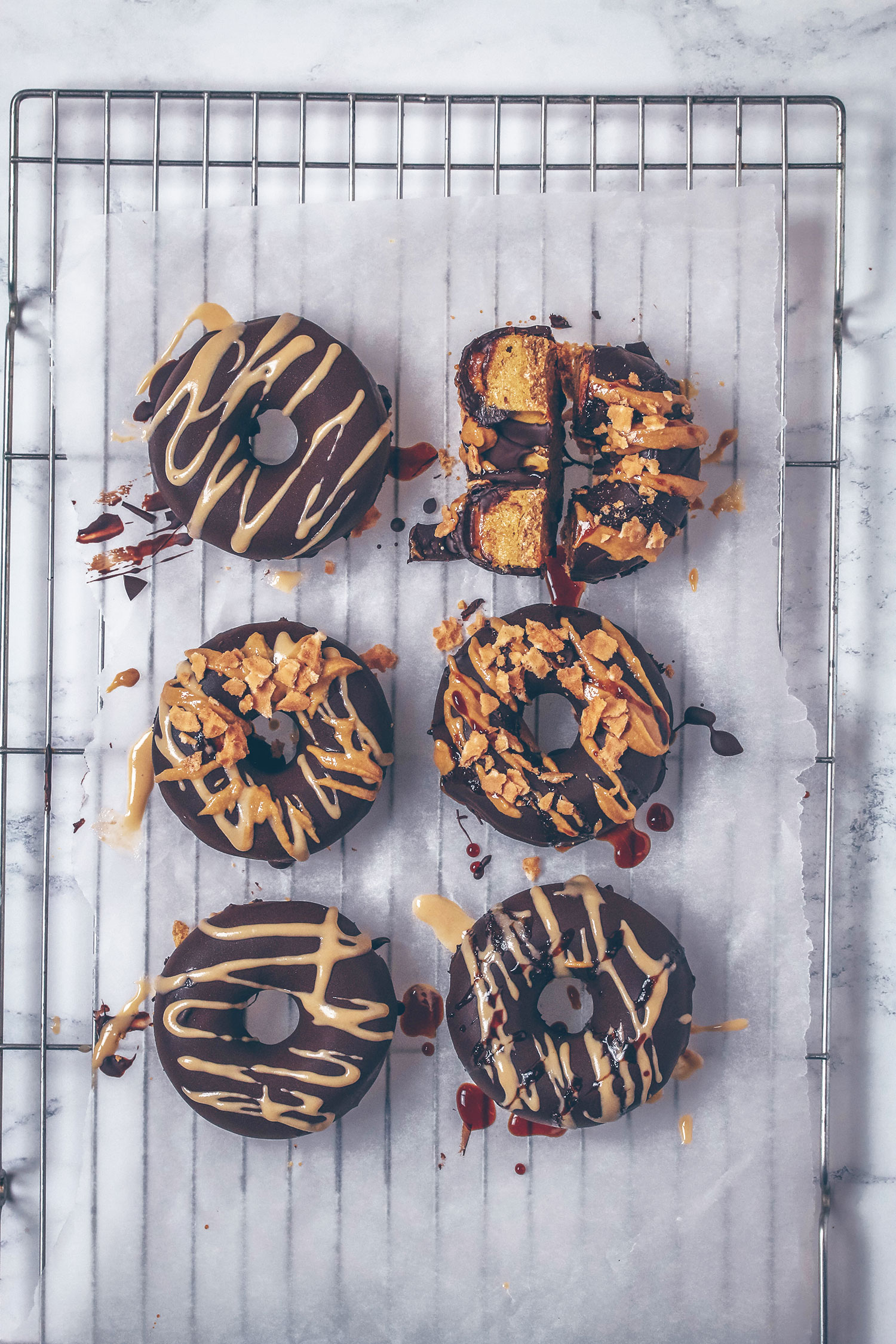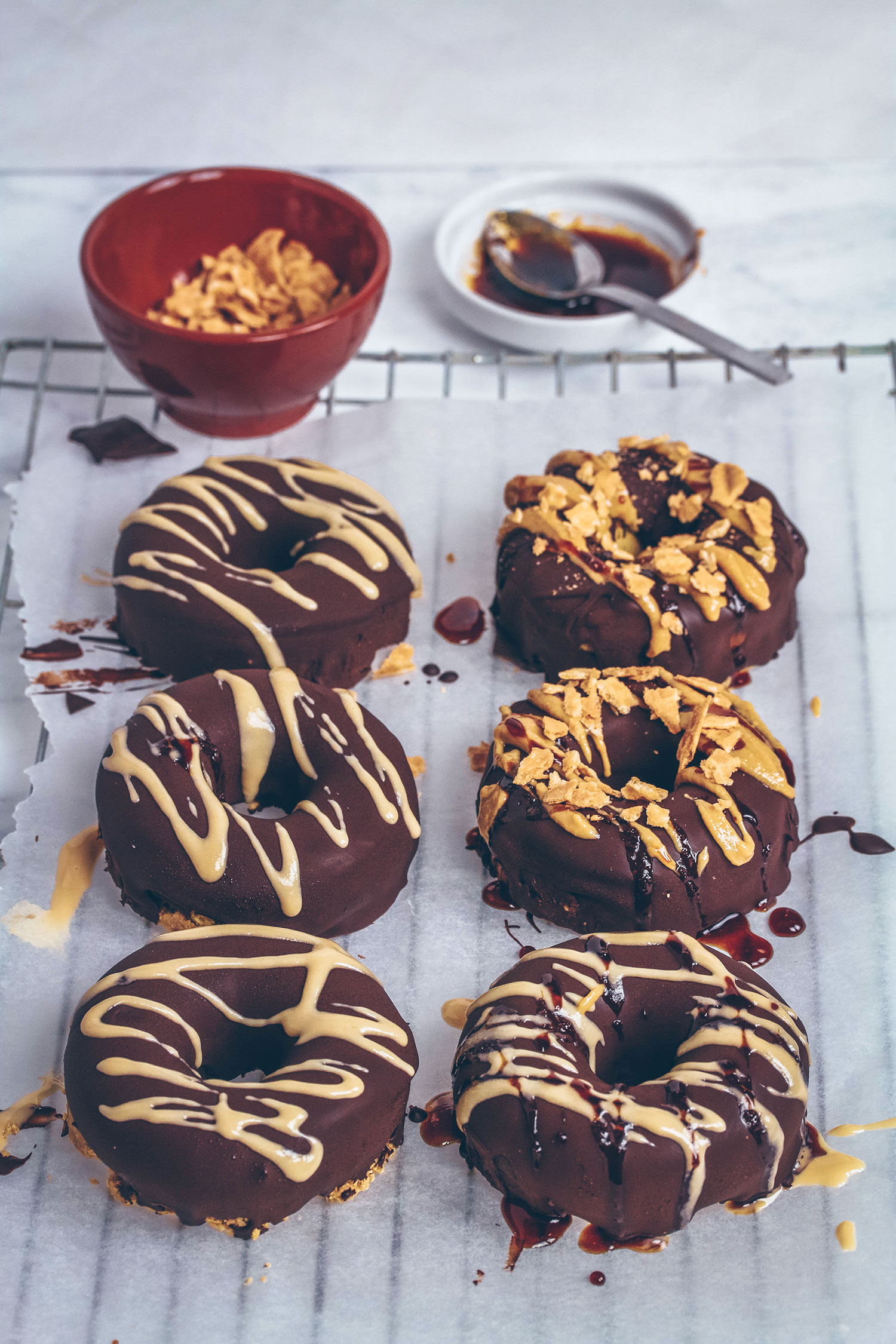 ---
Salted Caramel Protein Ice Cream Doughnuts
Makes: 6
Ingredients
For the base
3/4 cup (75g) oat flour
Pinch of salt
2 tbsp coconut oil – use more if needed
1.5 tbsp date syrup or maple syrup
For the salted caramel ice cream
1x 400g can full fat coconut milk – stored in the fridge overnight
1/2 cup (70g) cashews
2 scoops Vivo Life Perform Salted Maca Caramel protein
2-3 tbsp date syrup
Pinch of salt
1/2 tsp vanilla paste or extract
For the caramel layer
1/3 cup runny tahini
2 tbsp date syrup
For the chocolate coating
200g dark chocolate, melted and left to cool for a few minutes
Method

First make the caramel layer by mixing together the tahini and date syrup. Spread a thin layer of the caramel at the bottom of doughnut moulds. Freeze for 1 hour.
Blend together all the ice cream ingredients until smooth. Divide between the doughnut moulds, ensuring you leave space for the base. Freeze for 1-2 hours.
In a bowl, mix together the oat flour and salt. Pour in the coconut oil and date syrup. If the dough is still a little dry add more coconut oil, 1 tsp at a time until you have a sticky but crumbly texture (see video at the top of the page for reference).
Press the mixture on top of each doughnut then freeze again for 1 hour.
Remove the doughnuts from the mould while they're still frozen, then dip in the melted chocolate. Another option is to place the doughnuts on a fork and drizzle the chocolate on top.
Top with another drizzle of caramel for decoration.
Store in the freezer and take out 15 minutes before serving.
Enjoy!
---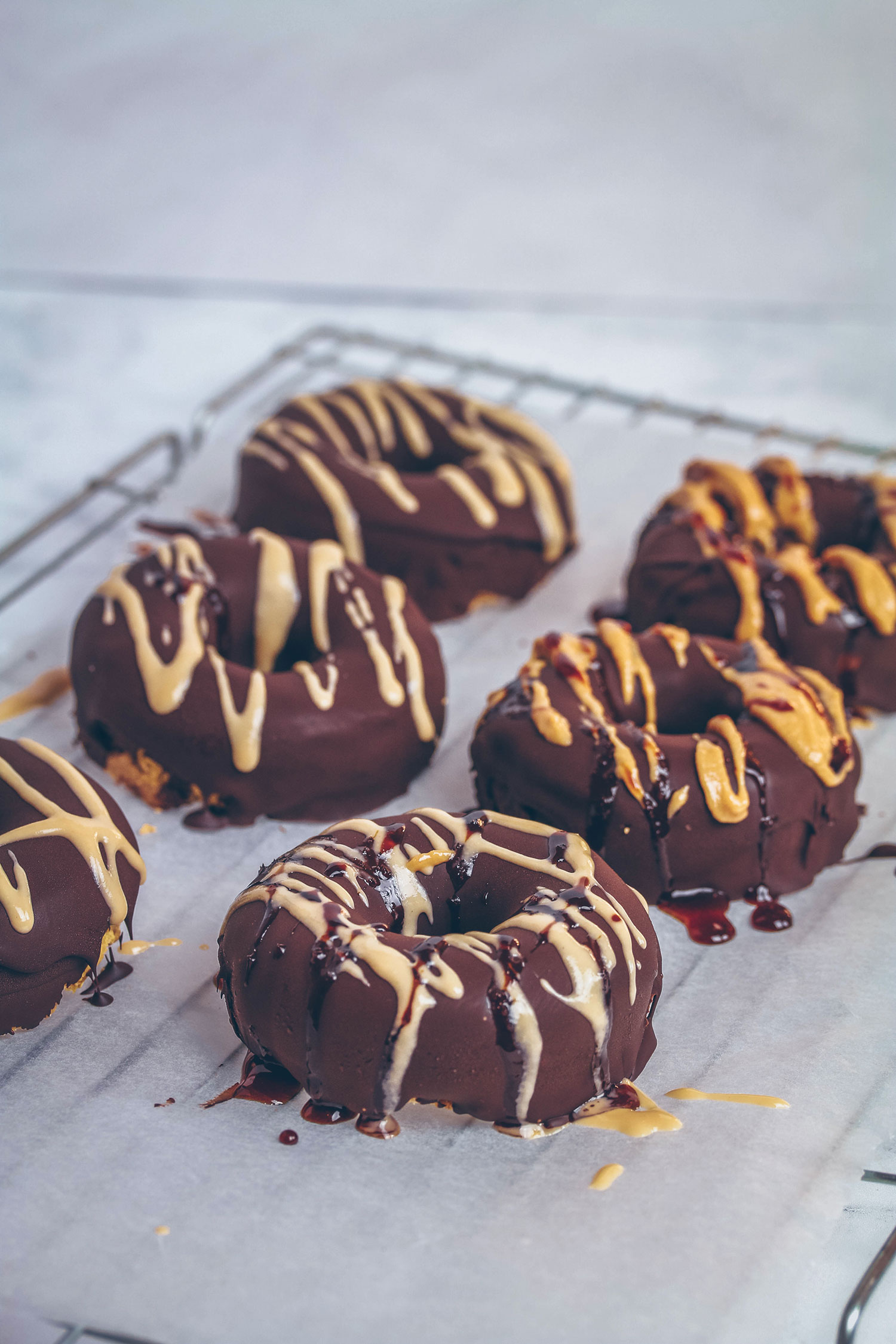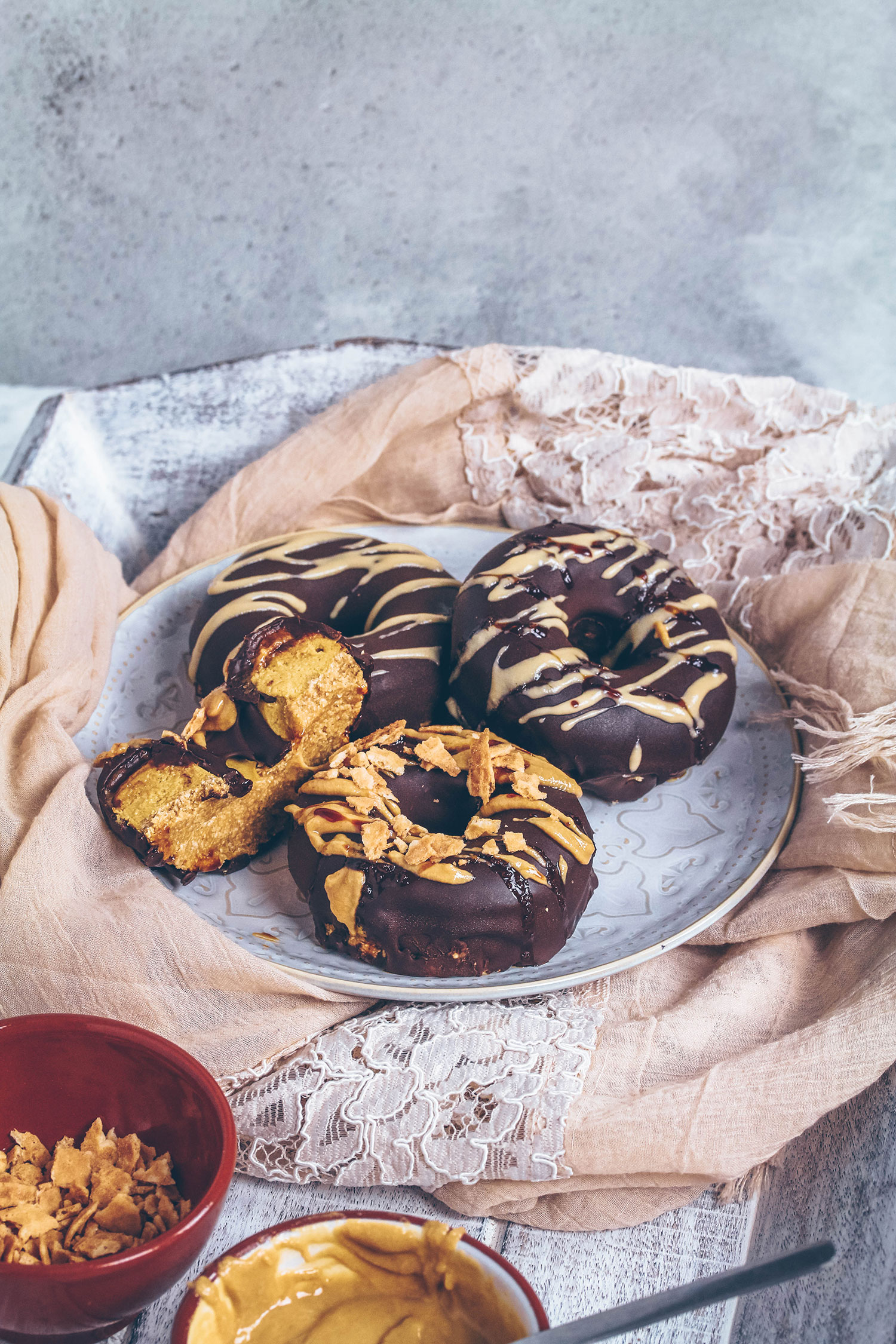 Thanks to Vivo Life for sponsoring this post. Commissioned posts is how I'm able to continue working on the blog and creating recipes and recipe videos for you. As always, all opinions are my own.