Raspberry Almond Baked Oats
Happy New Year! Hope you enjoyed the holidays. I definitely needed to take a couple of days out to recover. 2018 was intense for me, especially the last two months. But overall it's been good to me and for that I'm thankful.
Like many others around this time of year, I let myself go and ate whatever I wanted! Lots of chocolate, gluten and even some dairy. It's really hard staying dairy and gluten-free around the holidays with all the festive celebrations and family get togethers. I used to be more strict with what I ate at Christmas and New Year's gatherings. It was stressful and uncomfortable being the only odd one out refusing to eat what was being served, so this year I decided to be a lot more relaxed and didn't even ask if the food on the table had dairy or gluten. I just ate it. Thankfully, I haven't had any major IBS flare-ups, just some bloating and gas. Both subsided after a day or so. Although I must say I am so glad to be back to my usual routine and eating habits.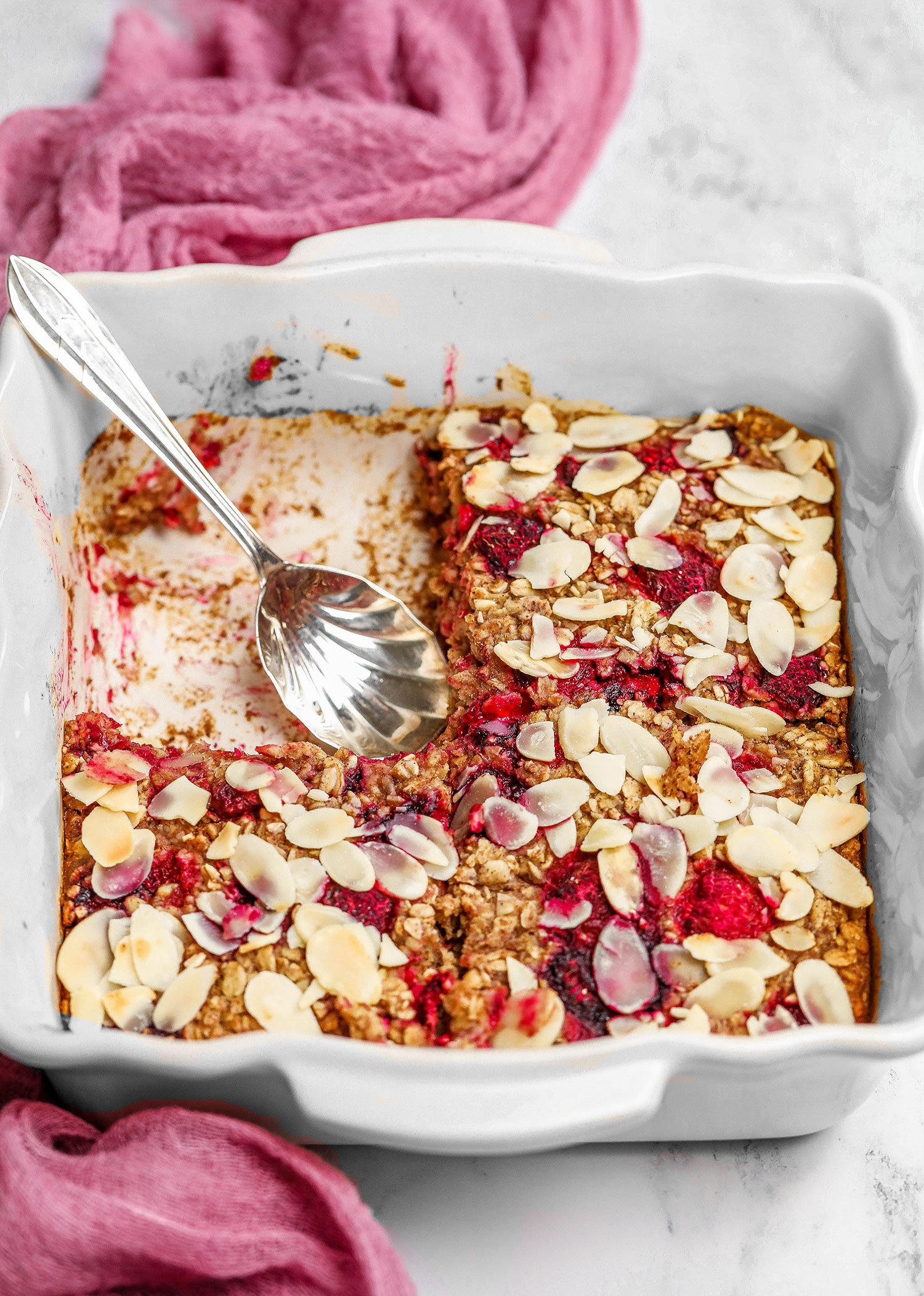 Since starting my final year of my nutrition course in September, I feel I haven't been on the ball with my blog, new content and my social presence has suffered. In fact I know I haven't been on top of it all, and that has been making me feel a bit sad, not gonna lie. I really want to try and produce more content this year at the same time as focusing on my studies. Not sure how I'll be able to do them both and do them well, but all I can do is try!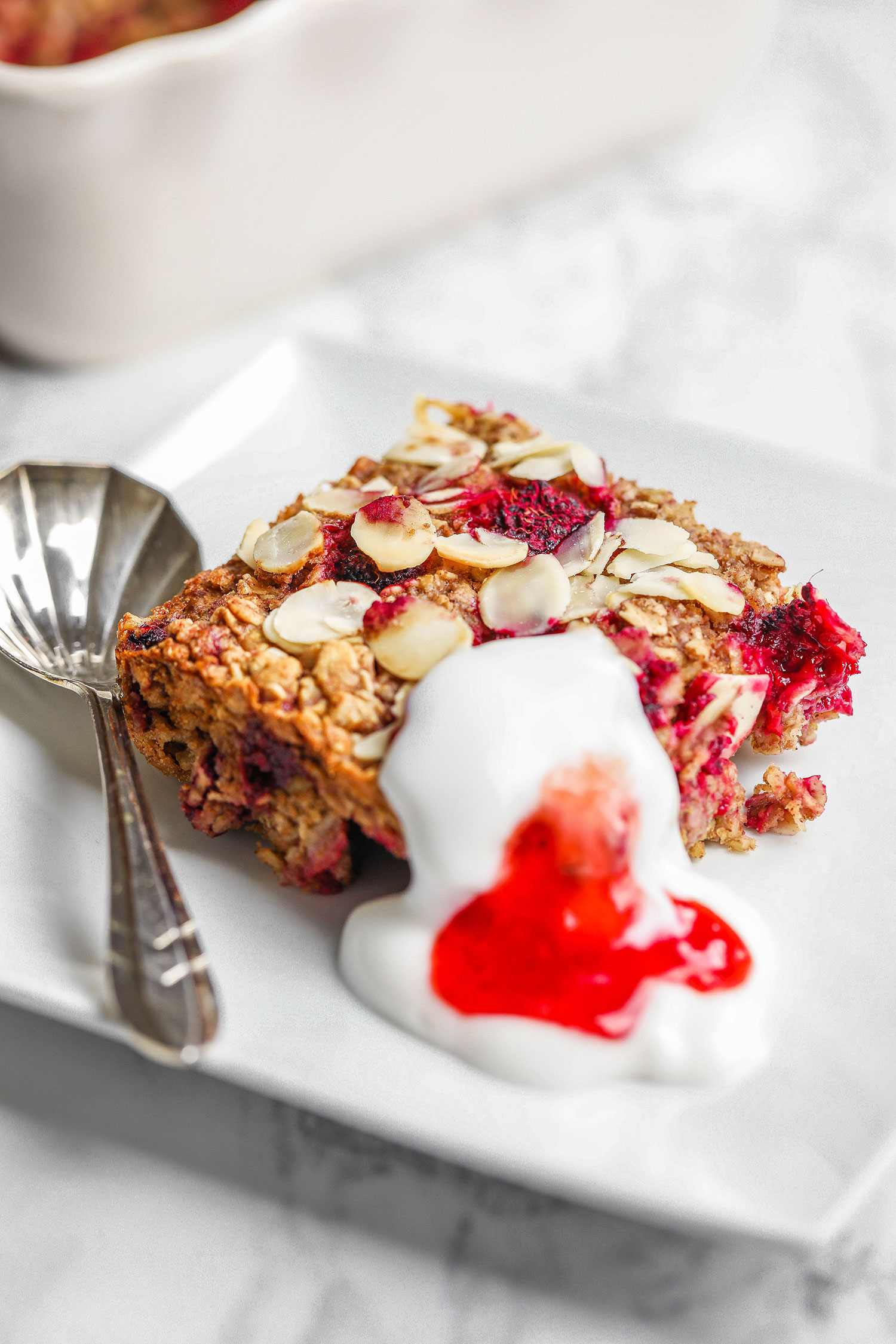 Starting the new year with this raspberry almond baked oats recipe. I know a lot of people tend to go on fad diets and detox cleanses in January. I used to be one of those people, but the fact of the matter is once you go back to your normal routine and eating habits, whatever weight you put on will naturally and gradually fall off. No diets or restricting necessary.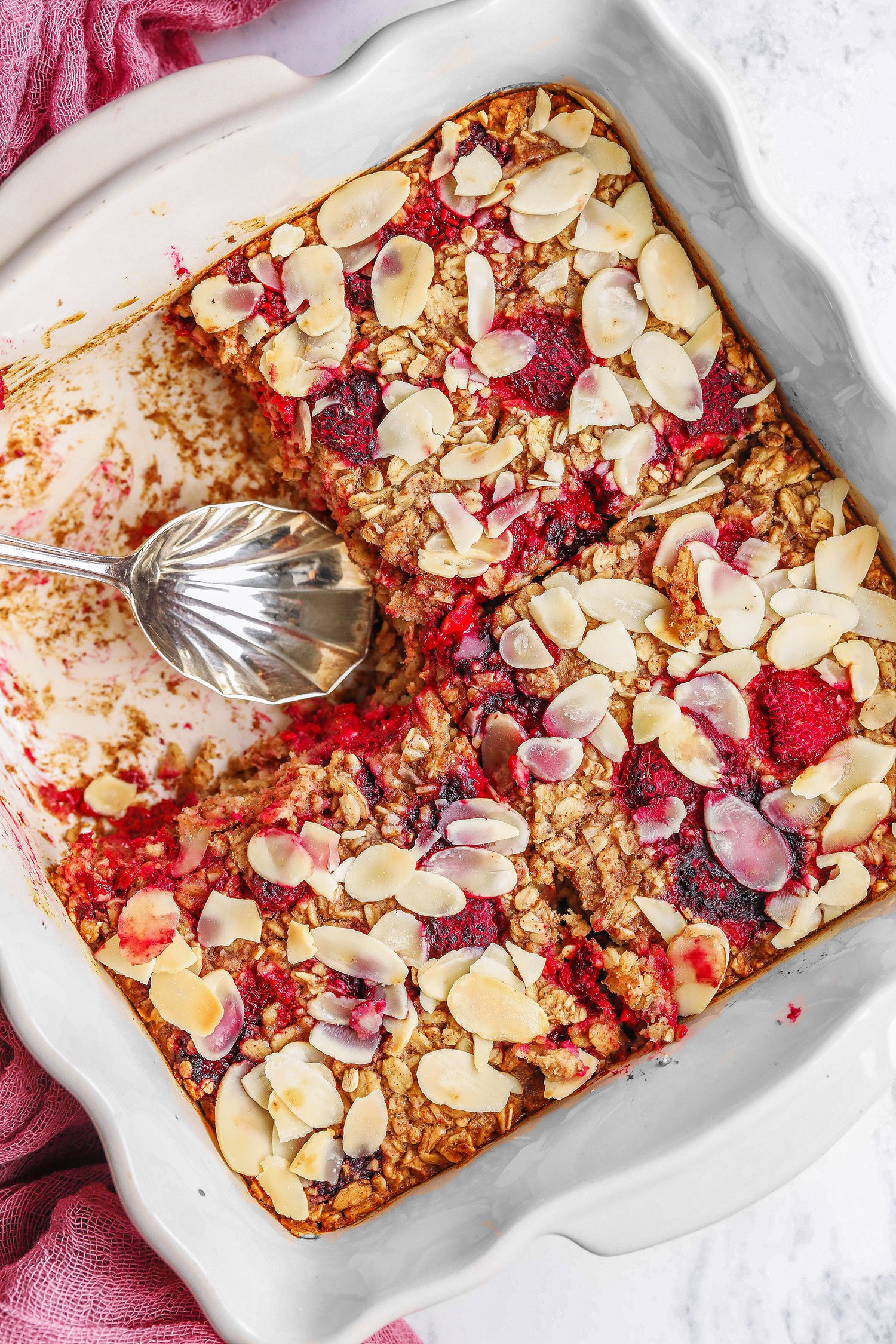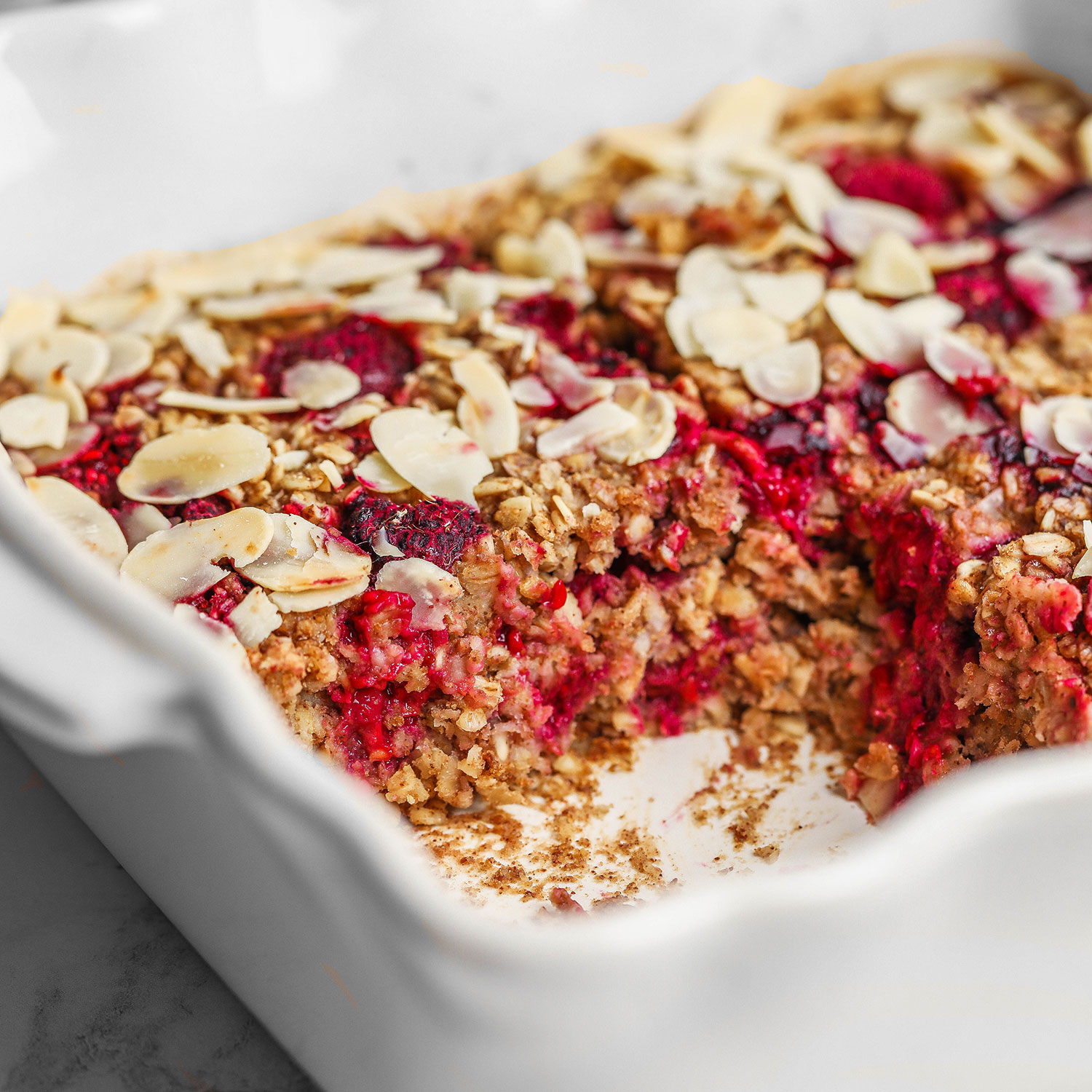 Planning your meals is the best advice I could give for someone trying to eat healthier in January. Making batch meals that you can divide and freeze for a rainy day, prepping healthy snacks to take with you on the go and pre-making your breakfasts the night before. These raspberry almond baked oats are a great example of a prep in advance kind of breakfast that you can make on a Sunday night and have for the next 4 mornings. You can easily double up the recipe if you're feeding two mouths. It also makes a good snack if you're looking for healthier snack ideas.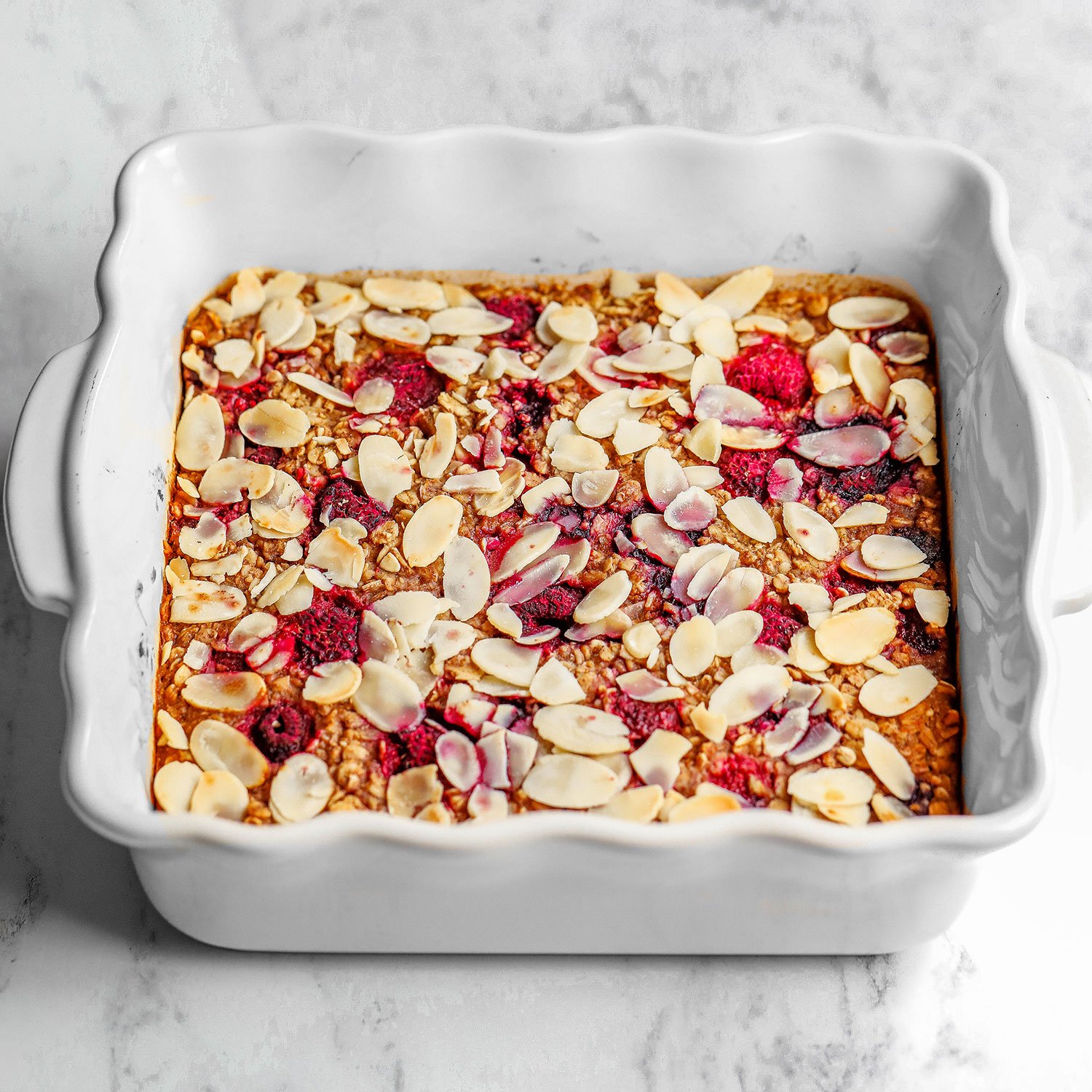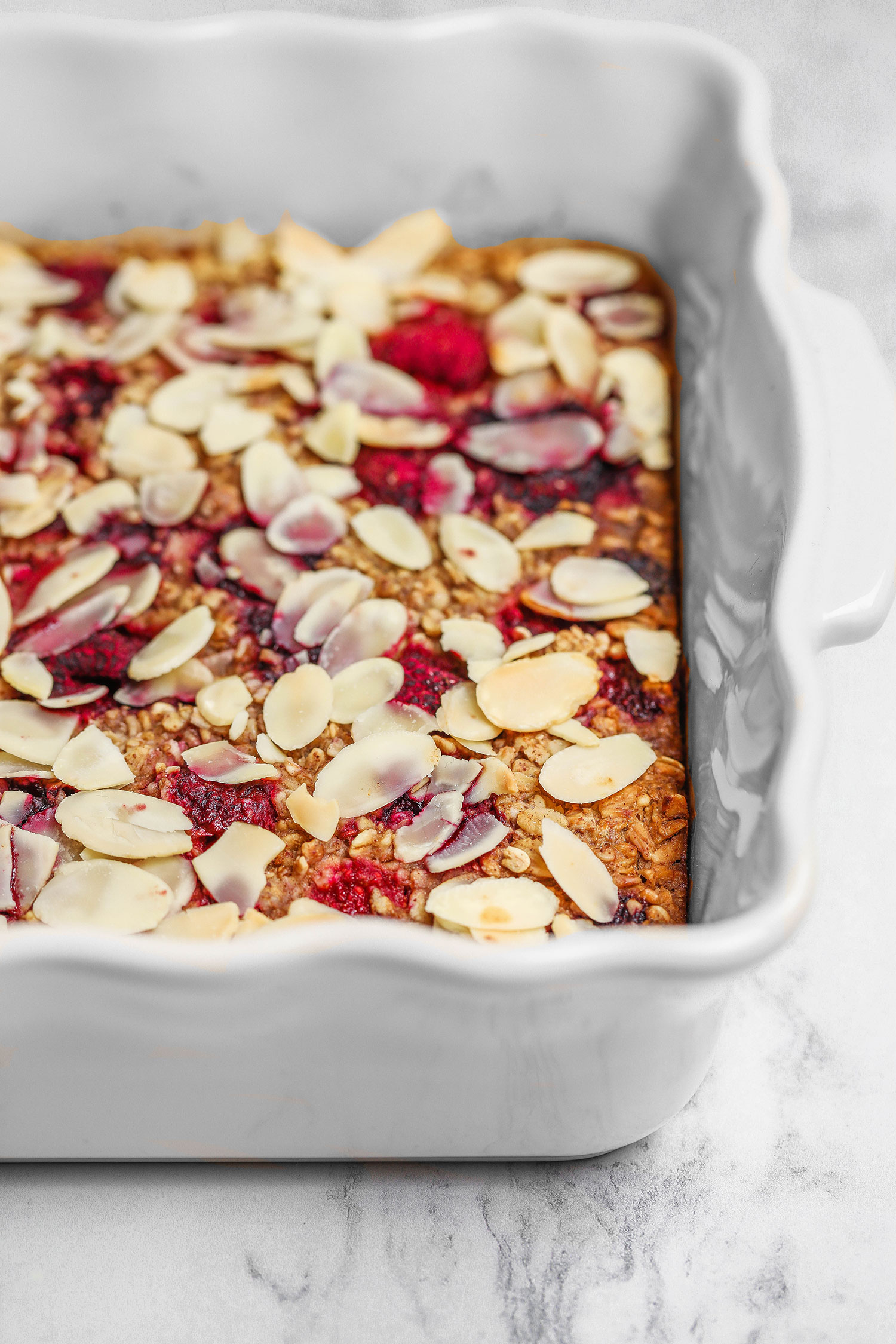 High in fibre from the oats, healthy fats from the almond butter and antioxidants and vitamin C from the raspberries. I love adding cinnamon to my breakfast whenever I can as it's shown to improve blood sugar control. As someone who struggles with balancing their blood sugar levels, especially between breakfast and lunch, I need all the help I can get and cinnamon is one of those food items that helps me. Each serving of these baked oats offers 12g of protein, which is pretty decent considering I didn't add any protein powder.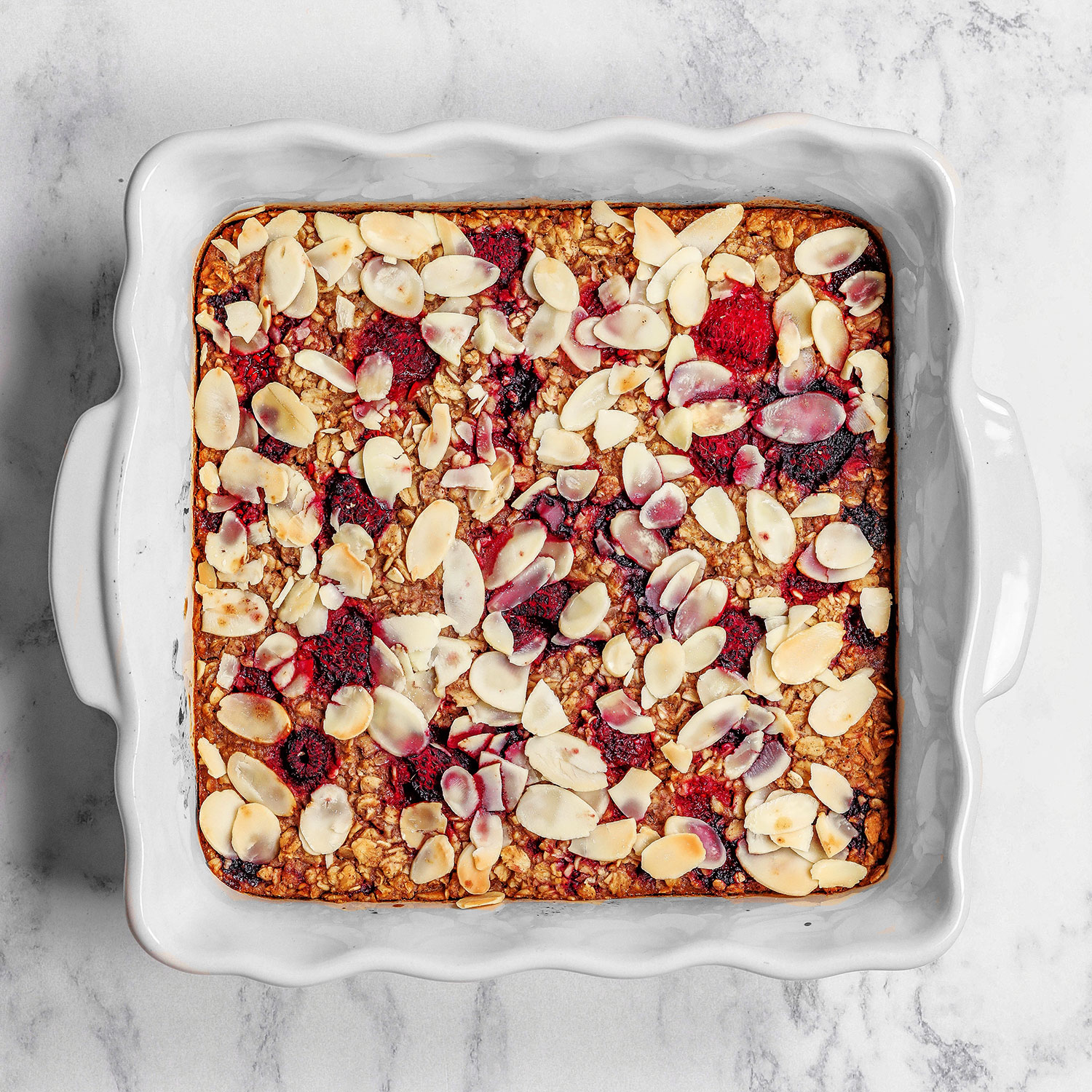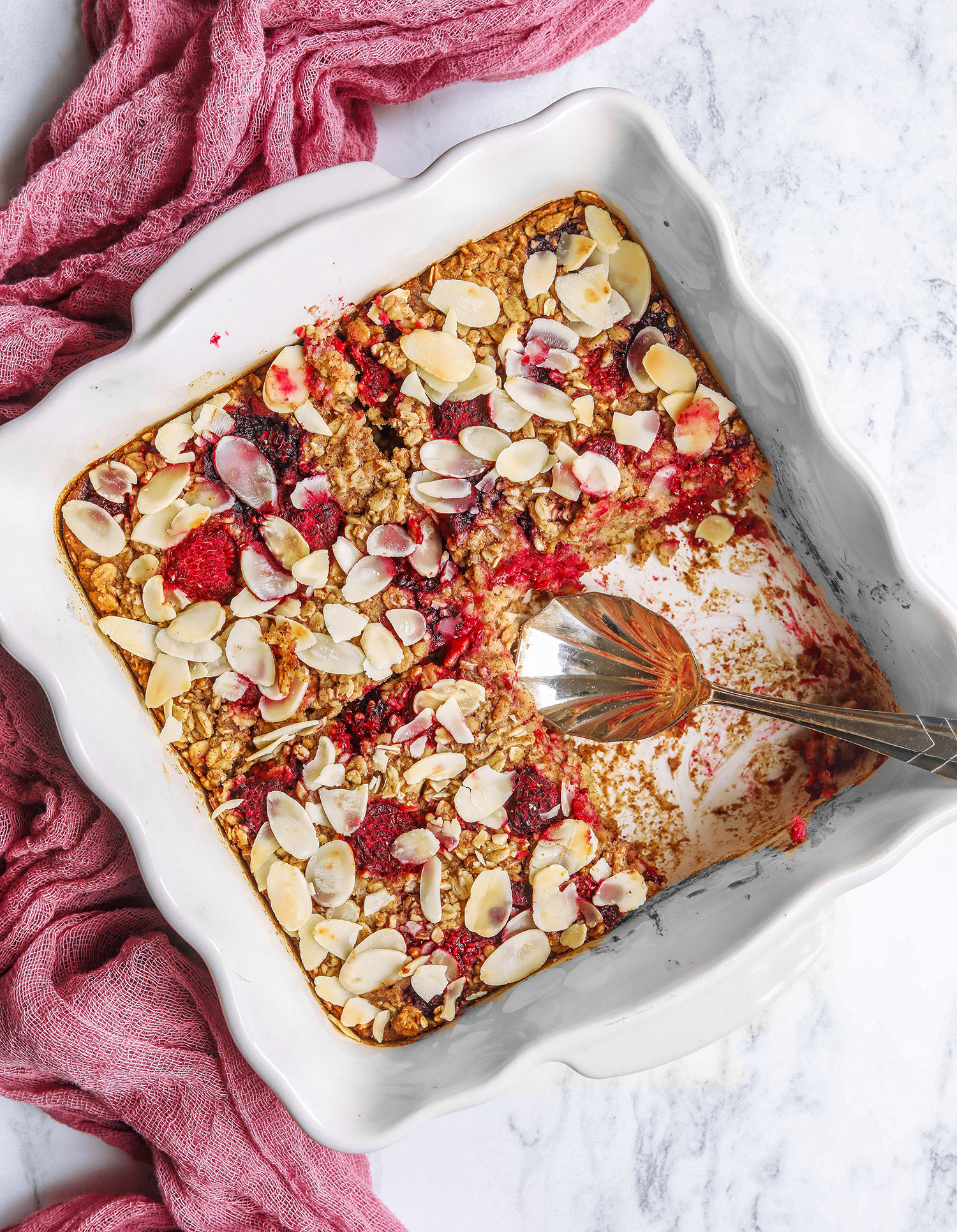 I like to serve mine warm out of the oven (or you can microwave it for speed) with a dollop of coconut yoghurt. Yum!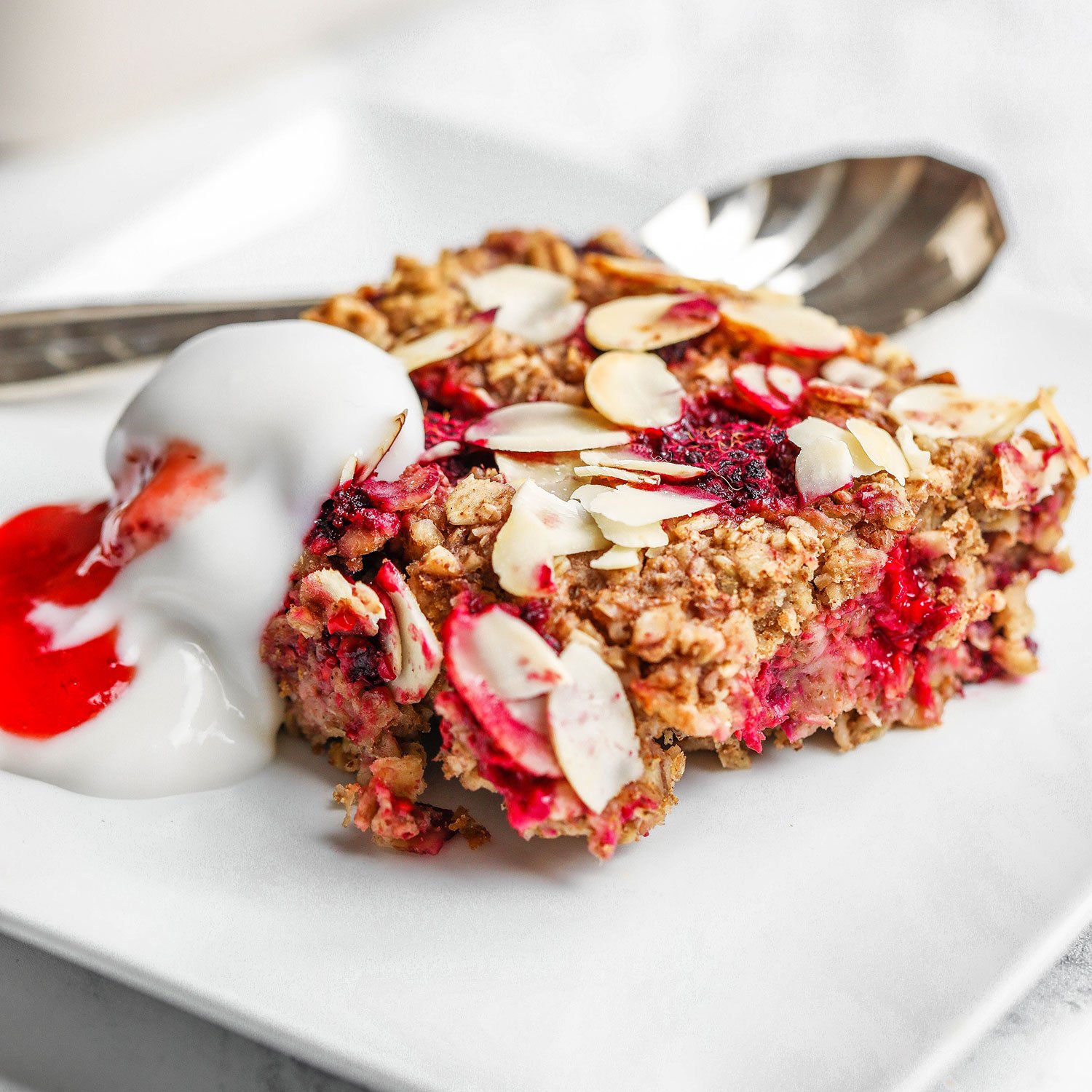 ---
Raspberry Almond Baked Oats
Serves: 4
Ingredients
180g (2 cups) rolled oats – use gluten-free oats if allergic/intolerant
1 tsp cinnamon
1 tsp baking powder
pinch of salt
4 tbsp (1/4 cup) maple syrup
4 tbsp (1/4 cup) almond butter
235ml (1 cup) milk of choice
160g (1 1/2 cups) raspberries, fresh or frozen
25g (1/4 cup) flaked almonds
Method
Preheat your oven to 180C/160C fan assisted/350F
In a large bowl, mix together the oats, cinnamon, baking powder and salt.
Add the maple syrup, almond butter and milk, then fold in the raspberries.
Spread into a 9×9 inch baking dish and sprinkle the flaked almonds on top. Bake for 35-40 minutes.
Serve with yoghurt. Enjoy!
---

Share This Post