Pistachio Cardamom Rose Loaf (Vegan & Gluten-free)
A deliciously nutty pistachio loaf flavoured with aromatic cardamom and topped with a silky pink rose flavoured frosting. Decorated with chopped pistachios and pomegranate seeds to add a pretty pop of colour contrast.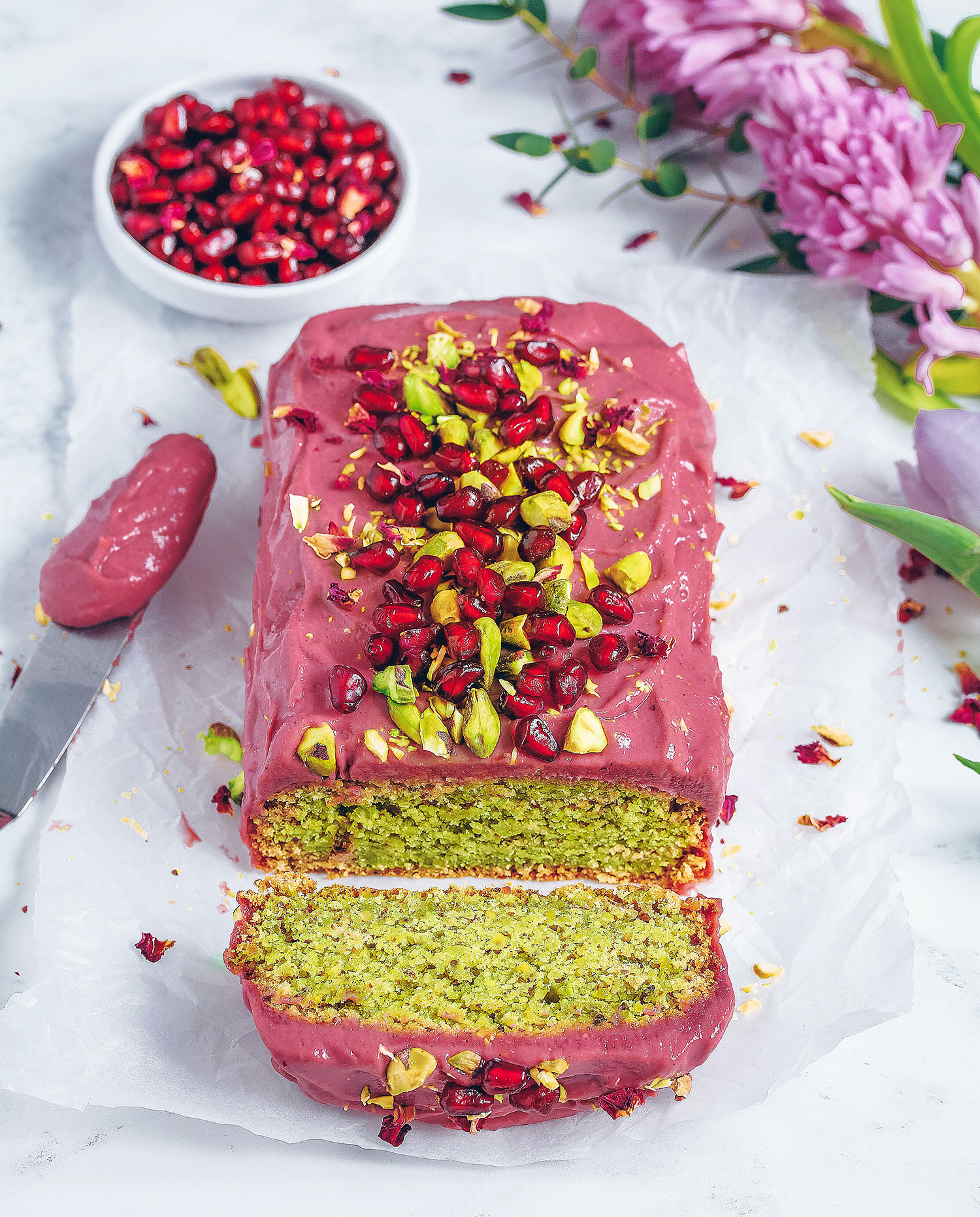 A couple of days ago I posted a pistachio cardamom thumbprint cookie recipe and it made me realise how much I love that flavour combination. As you may be able to tell this loaf is inspired by Middle Eastern flavours. Pistachios, cardamom, rose and pomegranate are all essential ingredients in Middle Eastern cooking and especially desserts. Think baklava meats Turkish delight. This is what this cake tastes like to me. And I'm a huge fan of both baklava AND Turkish delight!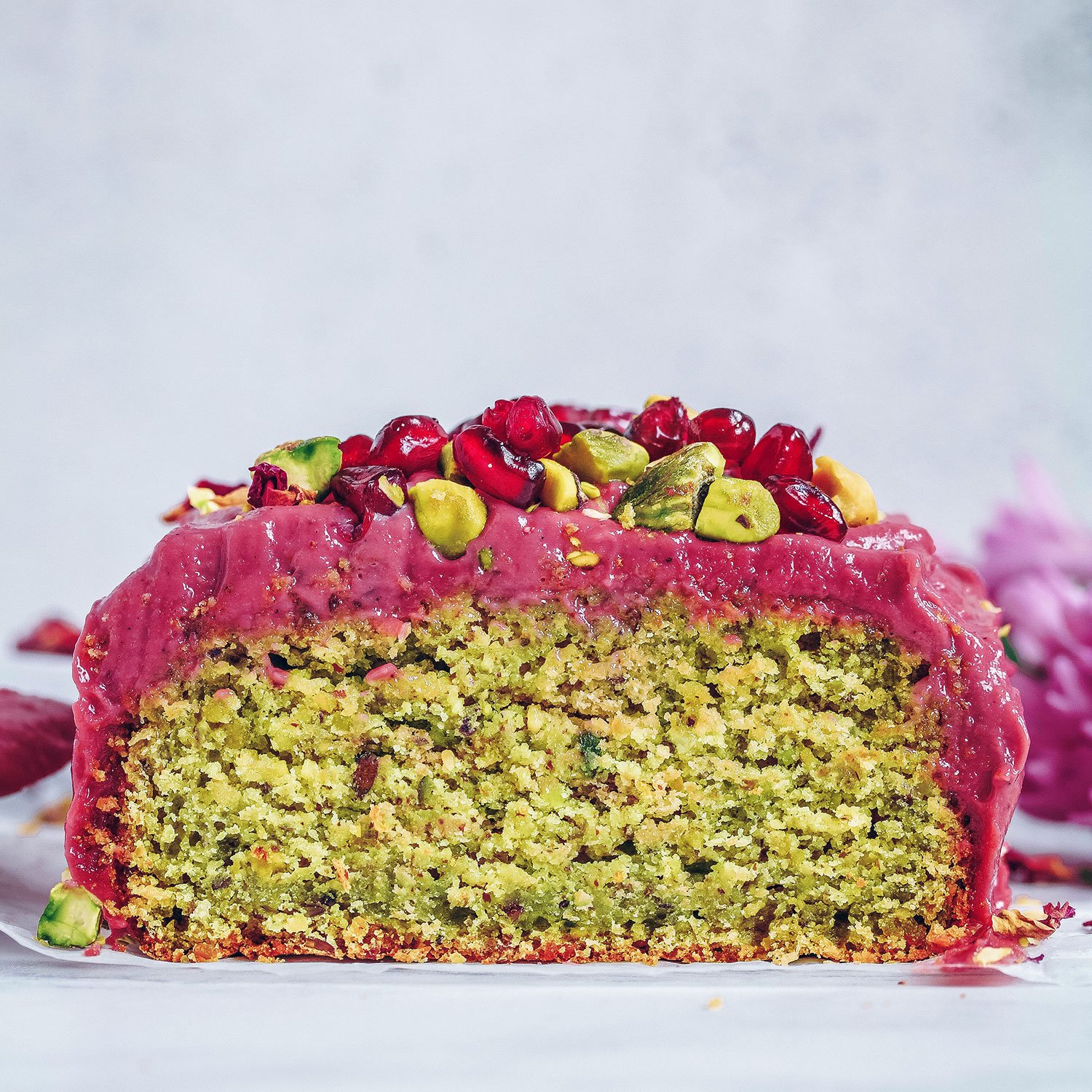 I absolutely love sweet, dense loaves. they're probably my favourite variety of cake. I need my cakes to be rich and moist and loaf cakes are exactly that! The absolute perfect accompaniment to an afternoon cup of tea.
This would make the perfect Mother's Day treat. Not only because the frosting is pretty pink, but the tempting aromatic cardamom and floral rose flavouring make for a thoughtful edible treat.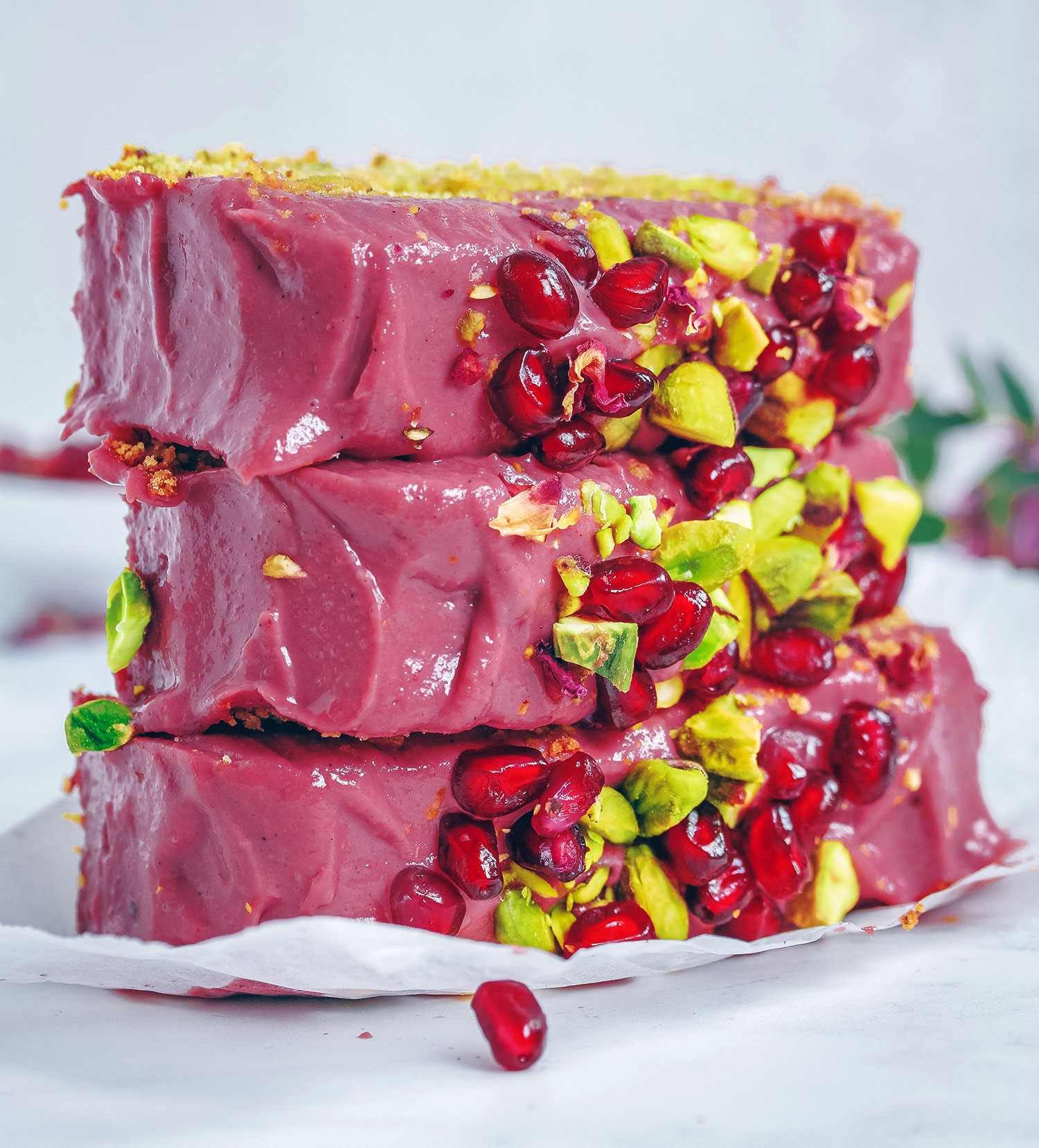 This pistachio cardamom rose loaf is both vegan and gluten-free. Made up of ground pistachios, ground oats, a bit of gluten-free flour and sweetened with some maple syrup. I used coconut yoghurt instead of oil as a way to add lots of moisture whilst trying to make it lighter.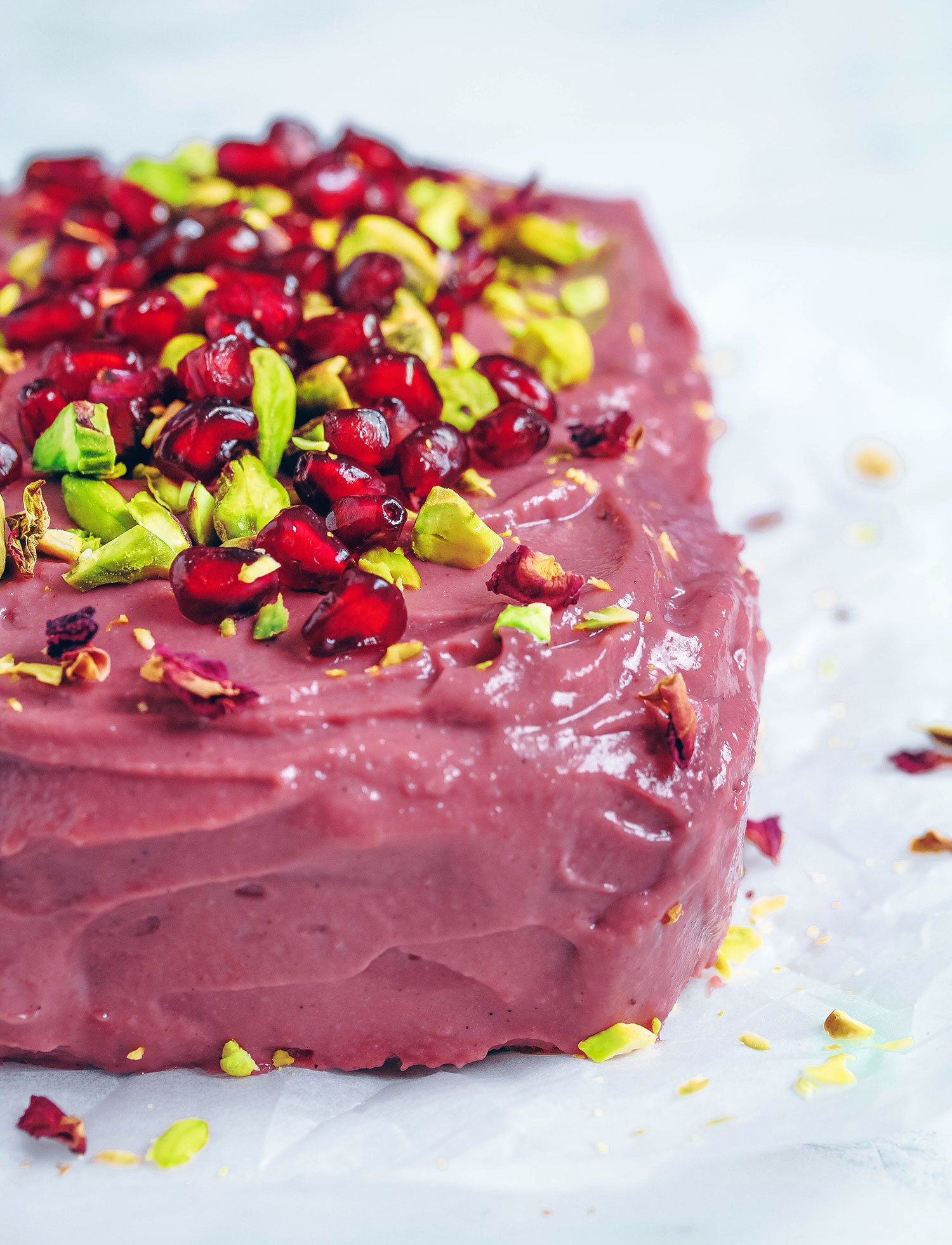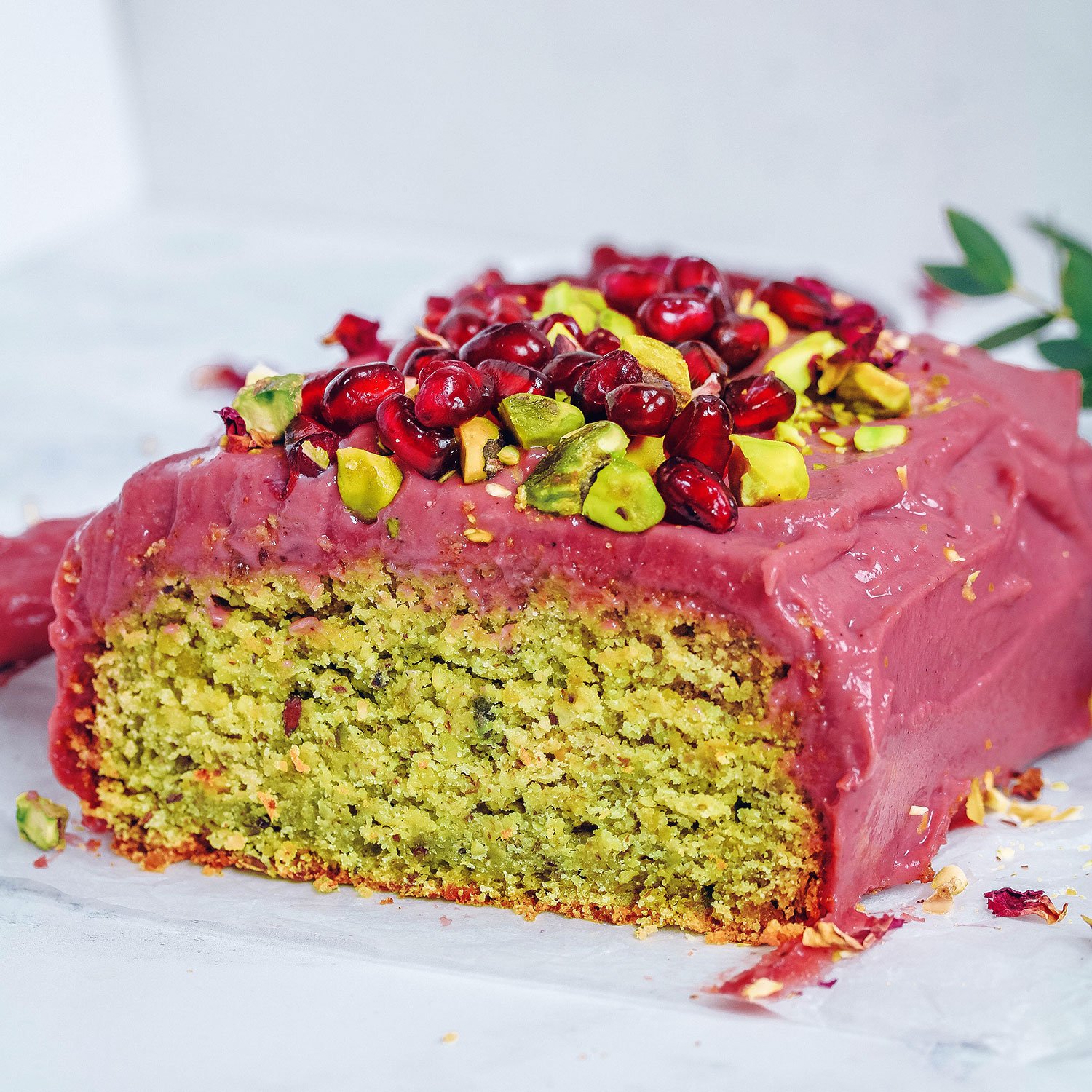 I used cashews as the base for the frosting and added a bit of beetroot powder to add that beautiful vibrant pink colour. If you can't get hold of beetroot powder you can always use pink food colouring.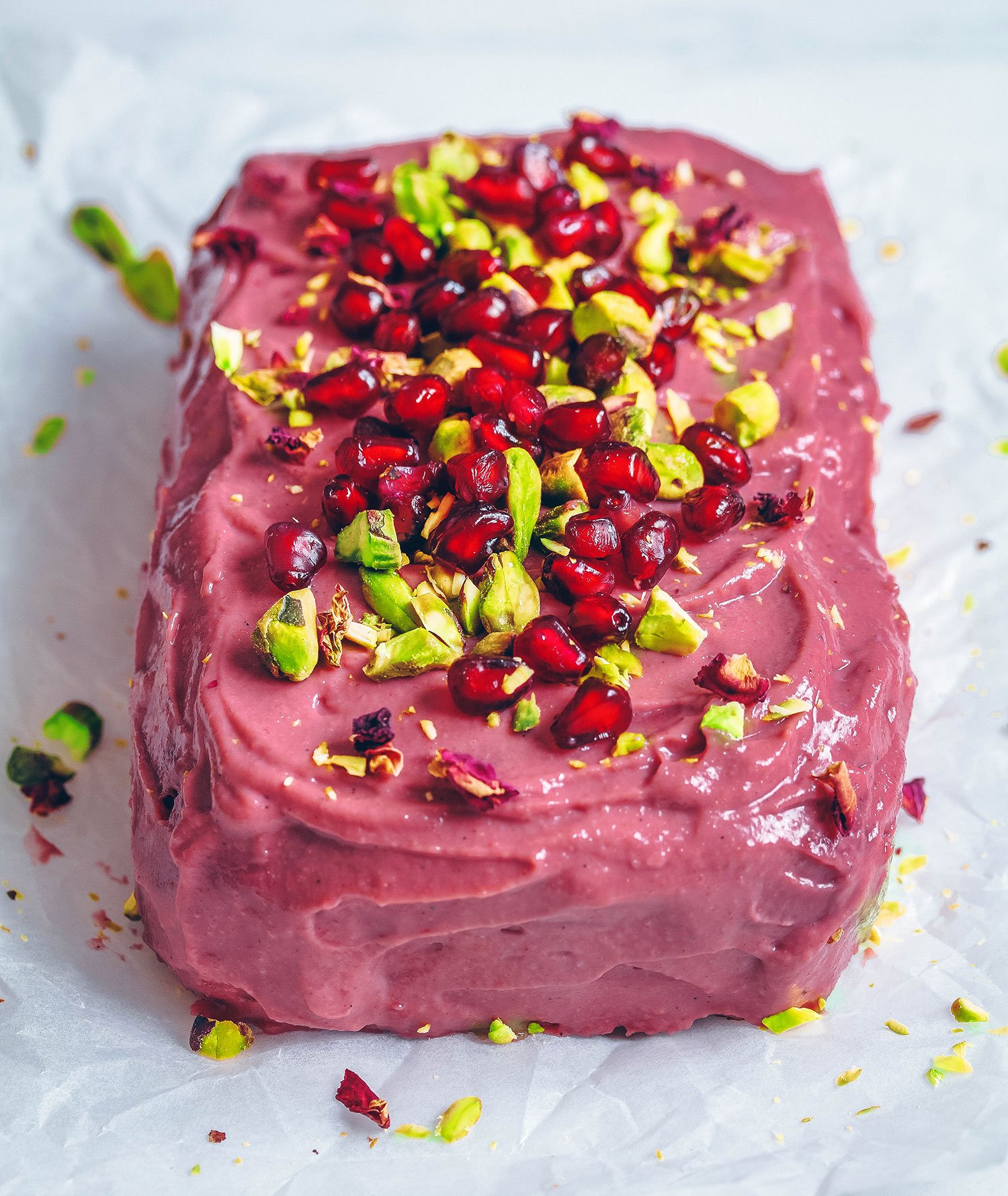 ---
Pistachio Cardamom Rose Loaf (Vegan & Gluten-free)
For the cake
1 cup (125g) ground pistachios – unsalted raw pistachios ground up in the food processor
2/3 cup (70g) oat flour – plain rolled oats ground into a flour in the food processor. Use gluten-free if necessary
1/4 cup (40g) gluten-free plain flour
1 tsp baking powder
1/4 tsp salt
1/2 tsp cardamom
1/2 cup (120ml) coconut yoghurt
1/3 cup (80ml) maple syrup
For the frosting
1 cup (150g) cashews
1/4 cup (60ml) milk of choice – use more if necessary
3-4 tbsp maple syrup – depending on how sweet you want it
2 tsp beetroot powder. Or you can use a couple of drops of pink food colouring
1/2 tsp vanilla
1/4-1/2 tsp rose water
To decorate: chopped pistachios and pomegranate seeds
Method
Preheat your oven to 180ºC /160ºC fan/350ºF
Mix the ground pistachios, oat flour, gf flour, baking powder, salt and cardamom in a large bowl. Add the yoghurt and maple syrup and mix well to combine.
Transfer the batter into a loaf tin lined with parchment paper. I used a 22×12 cm loaf tin.
Bake for 35-40 minutes and leave to cool completely.
To make the frosting – simply add all the frosting ingredients into a blender/food processor and blend until smooth.
Once the cake has cooled down, spread with the frosting and decorate with chopped pistachios and pomegranate seeds.
Enjoy!
---

Share This Post