If you're looking for a really easy recipe to make, then these blueberry pistachio thumbprint cookies are for you! They're simple, fun to make and so pretty to look at. Oh and they taste amazing too 😀 
I think pistachios are such an underrated and under appreciated nut. Even though I always say that I love all nuts equally, pistachios have a special place in my heart. And if I had to had to choose a favourite it would definitely be pistachios. Growing up in the Middle East it was one of the most used nuts in cooking and especially desserts.
Cardamom is another underrated ingredient. It's such a beautifully aromatic spice and I absolutely love using it in sweet treats. Again it's an ingredient used heavily in Middle Eastern cooking. Needless to say cardamom and pistachios go hand in hand when it comes to desserts. The flavour combination is just to die for!
Do you know what else goes really well with both pistachios AND cardamom? You guess it. Blueberries!
The cookie itself is made up of only five ingredients – ground pistachios, ground oats, a bit of coconut oil and just enough maple syrup to add a hint of sweetness. So they're fairly healthy and definitely much healthier than regular thumbprint cookies. The jam in the centre of the cookie is homemade blueberry chia jam, which is made up of fresh Chilean blueberries, chia seeds, lemon juice and a bit of stevia. Again much healthier than regular jam and surprisingly easy to make!
I used Seasonal Berries blueberries from Chile because their blueberries are in season at the moment in the UK. British blueberries are only available from June until September, so Chilean blueberries are a life saver if you're a fan of blueberries and like to eat them all year round like I do 😀 Find out more about the many benefits of blueberries here.
Since Mother's Day is this Sunday, these blueberry pistachio & cardamom thumbprint cookies would actually make a really nice treat for your mama! 
Blueberry Pistachio & Cardamom Thumbprint Cookies
For the cookies
95g oat flour – plain oats ground up into a flour in a food processor
105g unsalted pistachios
1/4 tsp salt
1/2 tsp cardamom powder
3 tbsp coconut oil, melted
2 tbsp maple syrup
8-10 tsp jam of choice – I used shop bought raspberry jam when taking the images, but I usually use homemade blueberry jam (see recipe below).
For the blueberry chia jam
80g Chilean blueberries
1 tbsp lemon juice
1 tbsp stevia
1 tbsp chia seeds
Method
Preheat your oven to 180°C/160°C fan/350°F.
Add the pistachios to a food processor and blend until you have a fine crumb consistency.
In a large bowl, mix together the oat flour, ground pistachio, salt and cardamom. Pour in the coconut oil and maple syrup and mix to combine.
Divide into 8-10 equal portions and shape into balls by rolling them between the palms of your hands.
Arrange on a baking sheet lined with parchment paper and press down the middle using your thumb to create the 'thumbprint'. Add jam in the centre, then bake for 12-15 minutes. You can leave them in longer if you want a firmer cookie.
Leave to cool completely before serving. Enjoy!
To make the blueberry chia jam – add the blueberries, lemon juice and stevia into a small saucepan. Cook over a low/medium heat until soft enough to mash with a potato masher. Once you have a sauce like consistency, take off the heat and mix in the chia seeds. Leave to cool.
If you love blueberries, check out these other blueberry creations: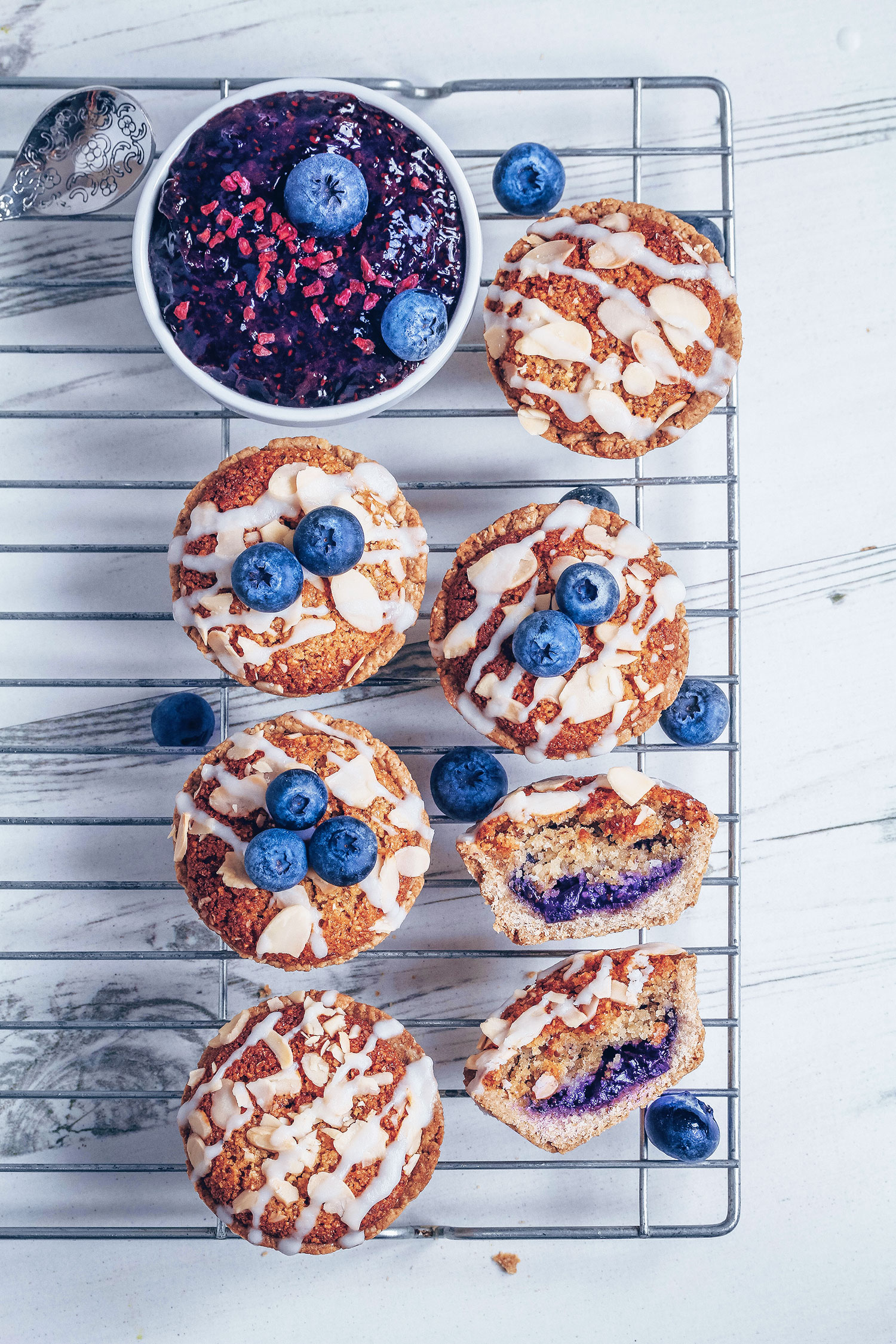 Thanks to Seasonal Berries for sponsoring this post. Commissioned posts is how I'm able to continue working on the blog and creating recipes and recipe videos for you. As always, all opinions are my own.