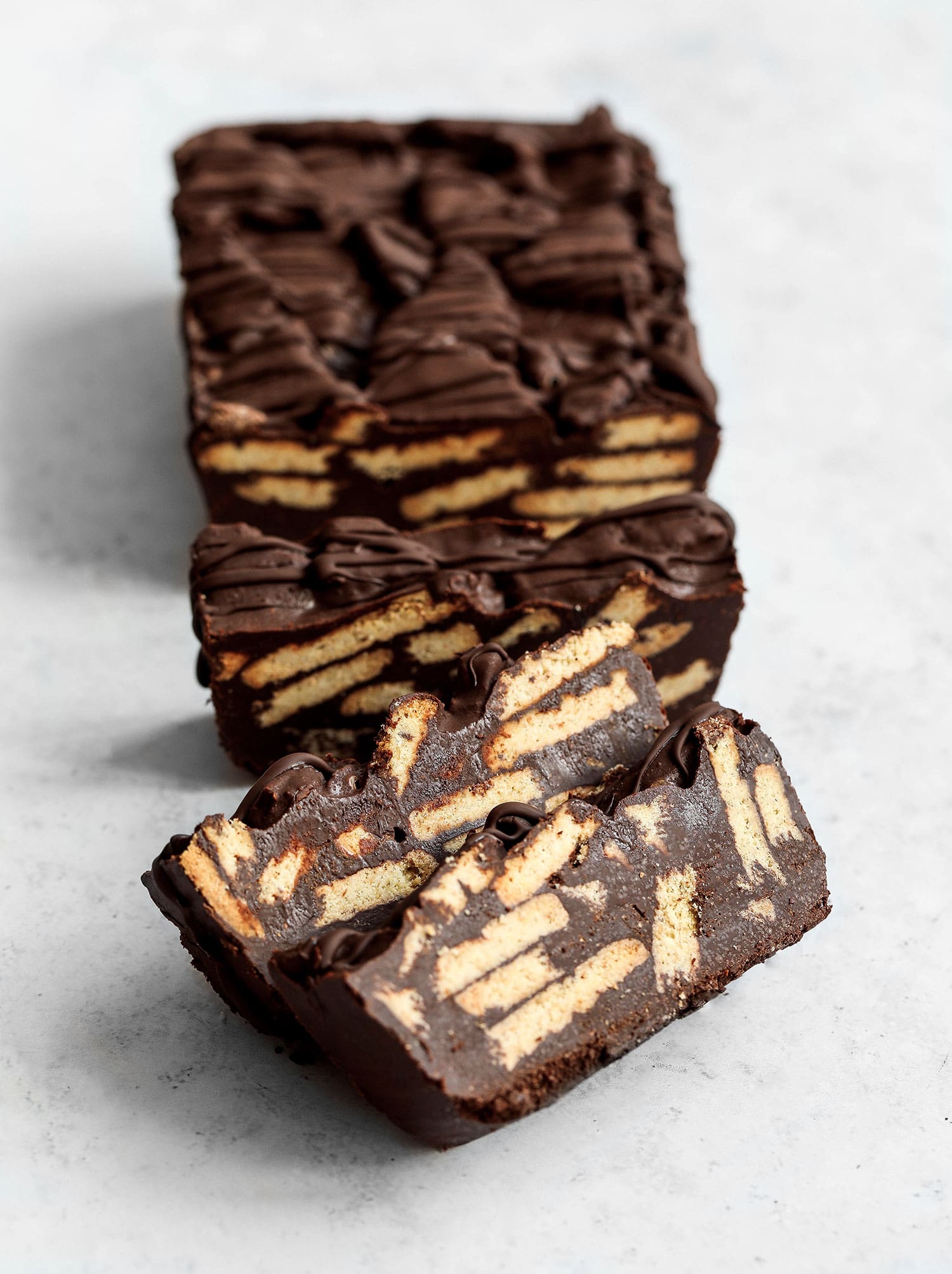 *This post is sponsored by The Raw Chocolate Company*
Delicious and crunchy no-bake chocolate biscuit cake that you can make using only 6 ingredients!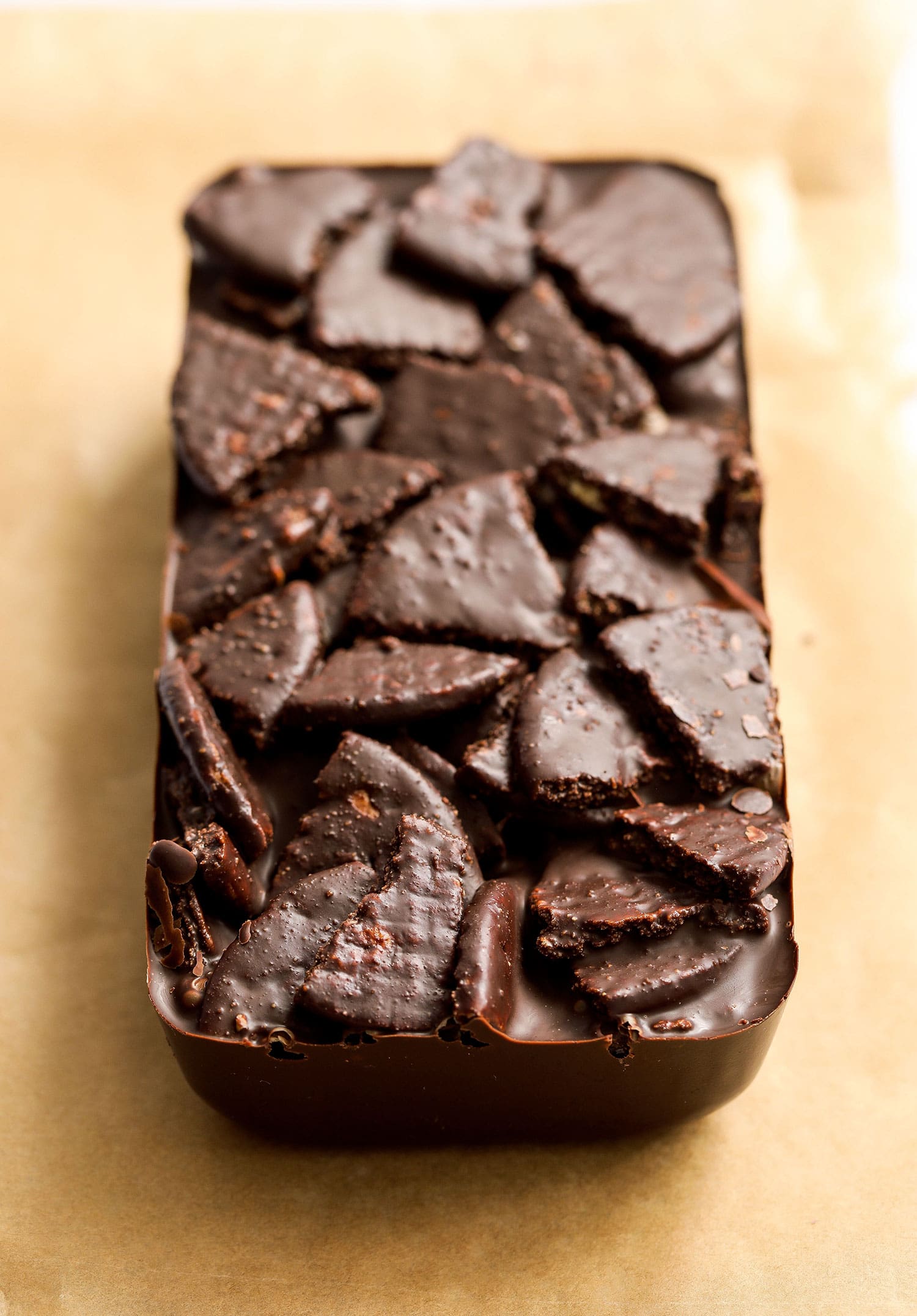 If there are two things I love most in the food world, it has to be chocolate and biscuits. If I could, I would live on them! That and tea 😛 So why not make a treat the combines those 2 beautiful creations and make something that's even more delicious!
This biscuit cake, aka fridge cake, is no bake and you only need a handful of ingredients to make it. The crunchy biscuits and smooth chocolate mixture go so well hand in hand. The recipe is vegan and can easily be made gluten-free if you use gluten-free digestive biscuits.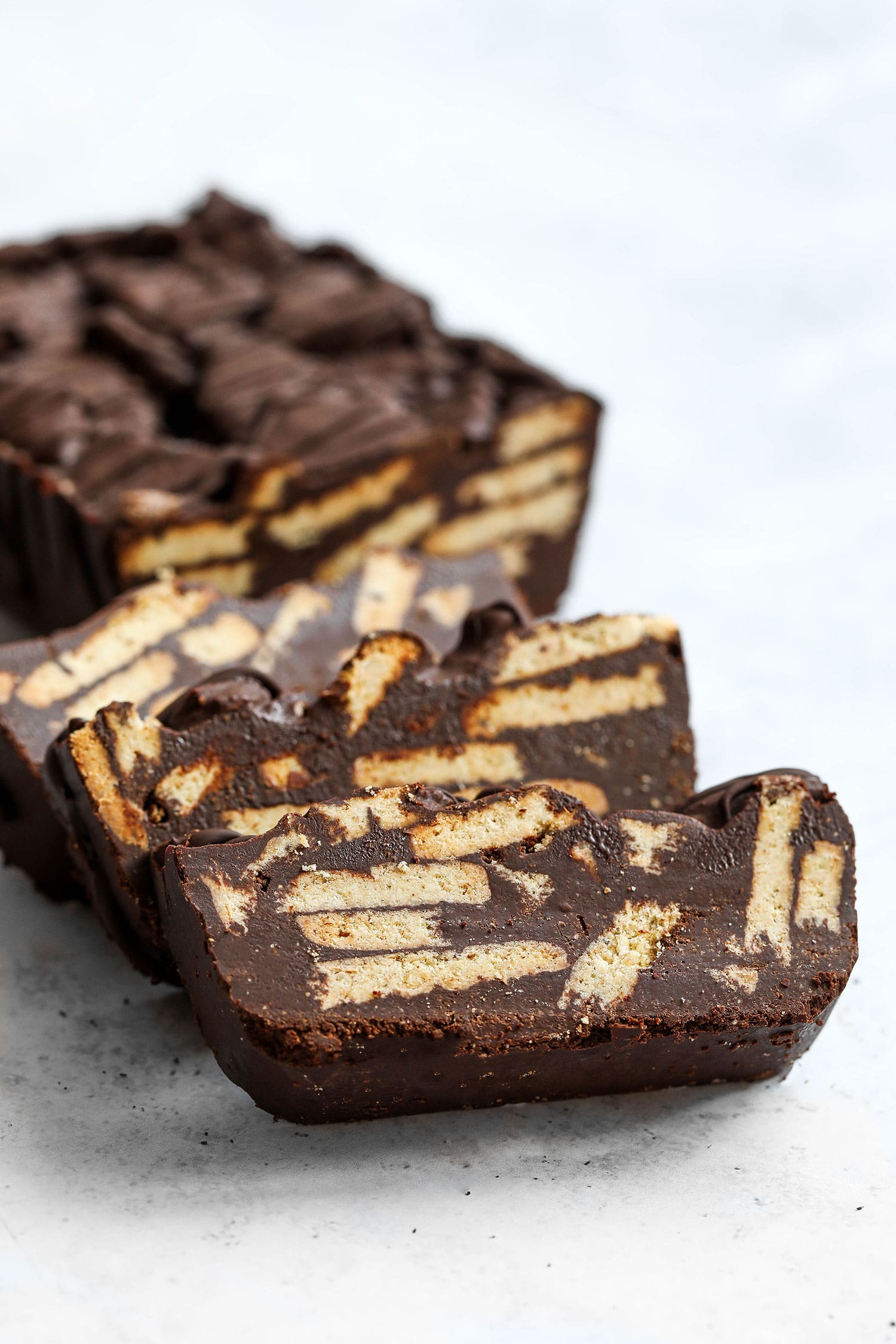 I created this recipe for The Raw Chocolate Company – they produce the most delicious range of vegan products including raw chocolates, cacao butter, cacao powder and coconut blossom sugar. They also sell a range of yummy healthier snacks like chocolate covered nuts and berries. If you haven't tried their chocolate covered mulberries you're really missing out! Great movie night snack.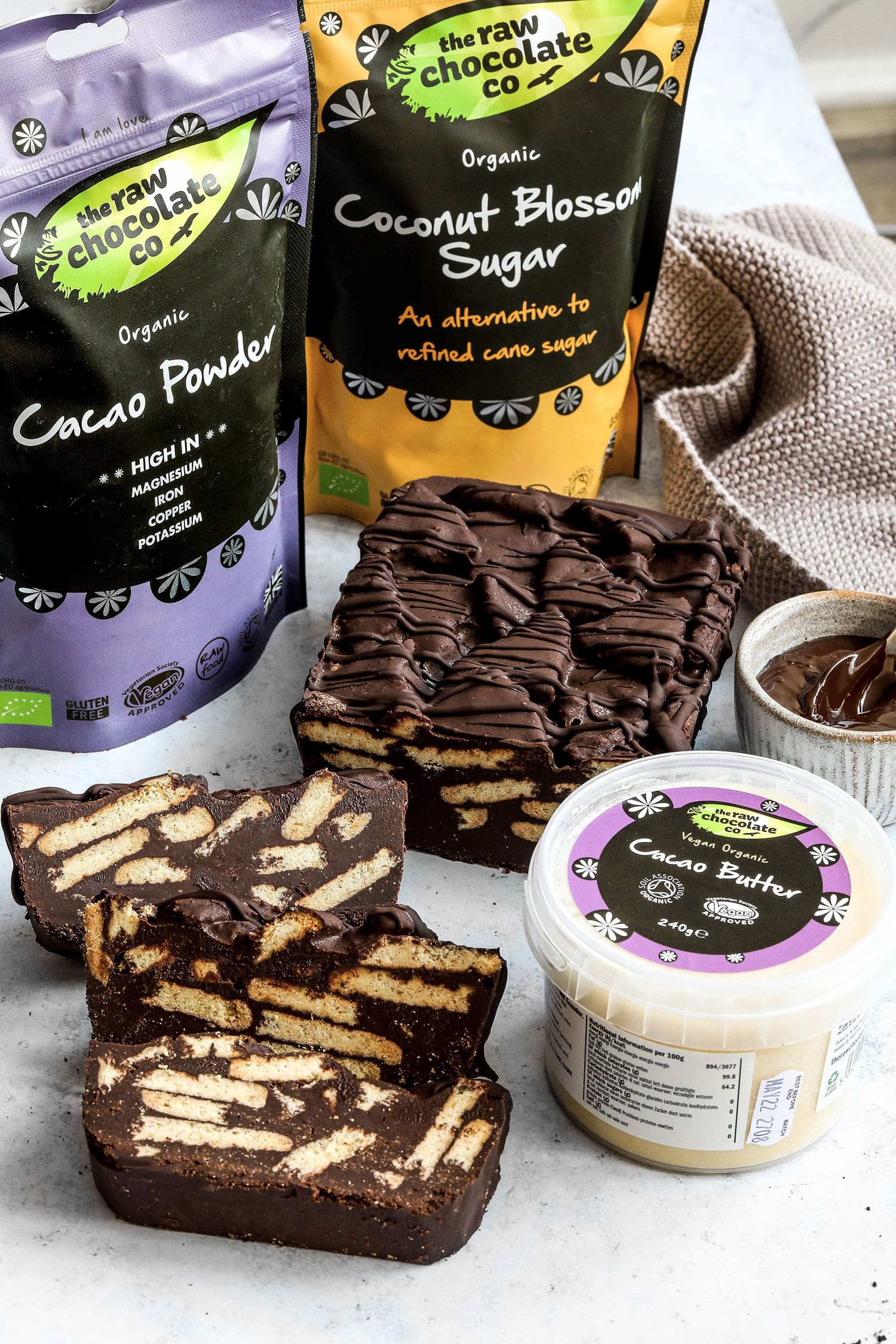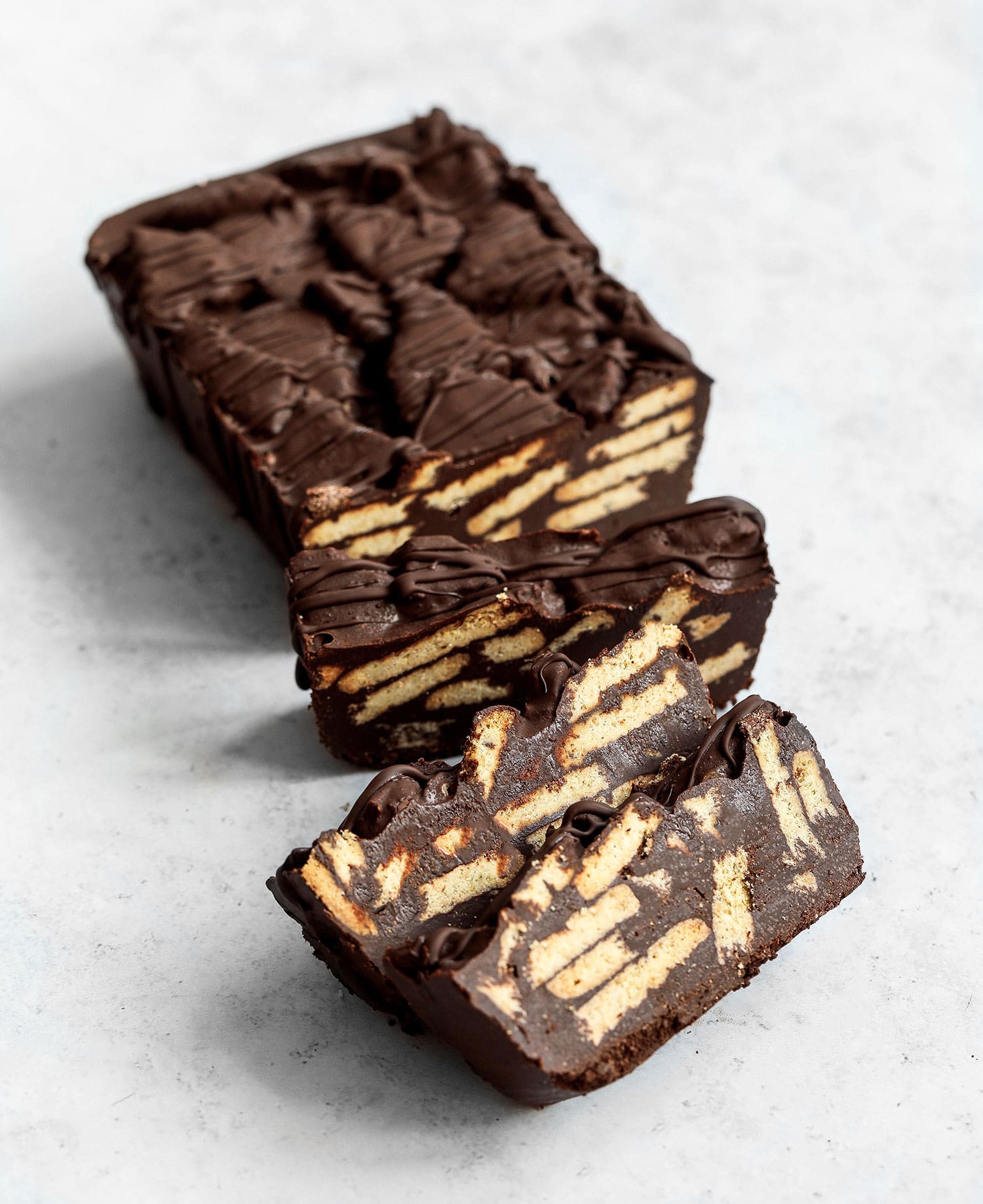 All The Raw Chocolate Company products are vegan. They use minimal additional ingredients to make the products as pure and simple as possible and to allow the taste of the cacao to shine. Most of their products are organic too!
To make this no-bake chocolate biscuit cake, I used a combination of The Raw Chocolate Company cacao butter, coconut blossom sugar and cacao powder. The result is a smooth, fudgy chocolate base for the biscuit cake. You can go all out and top the cake with things like melted chocolate, nuts, dried fruit or whatever else you fancy! But to be honest, I do think in this that simple is best.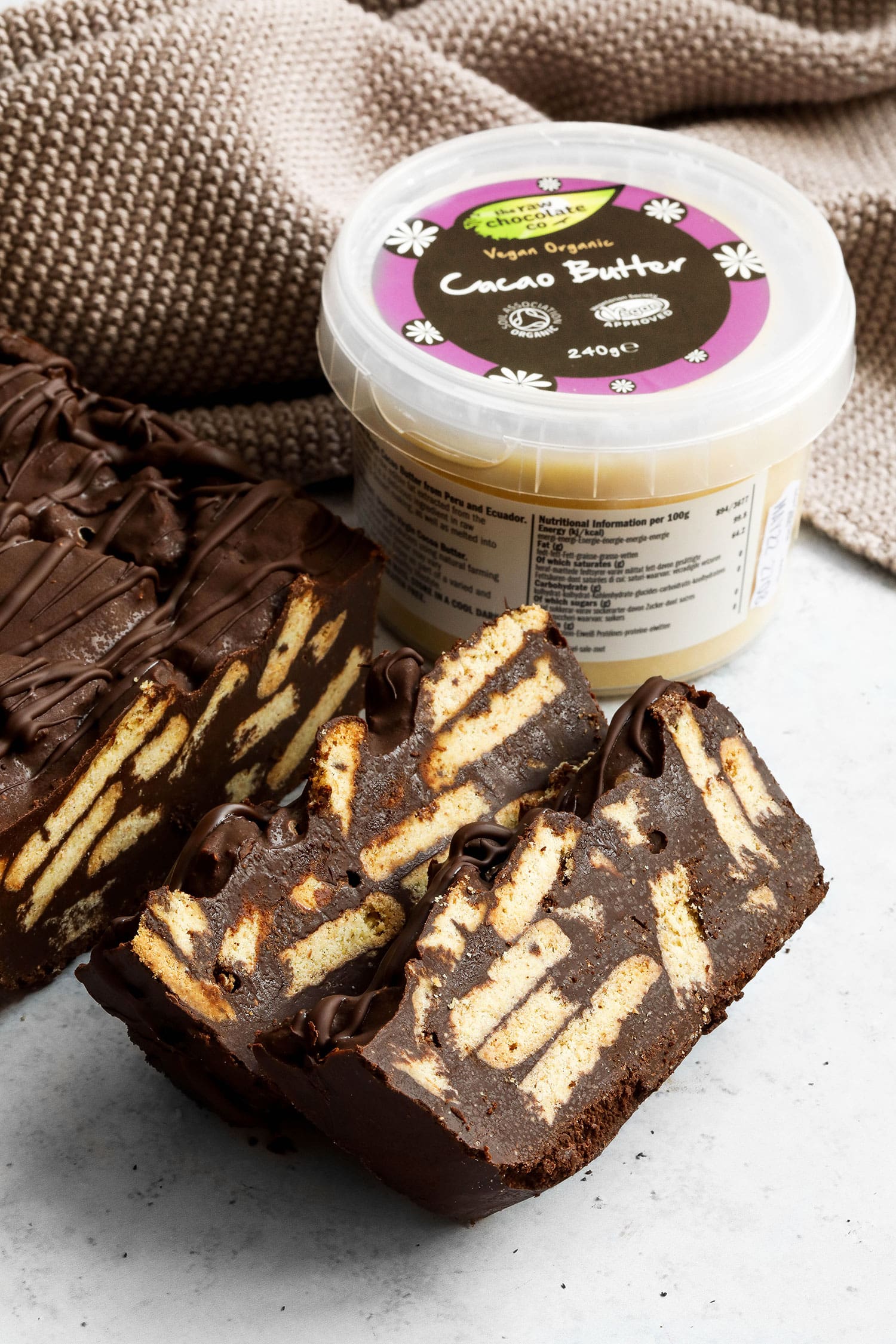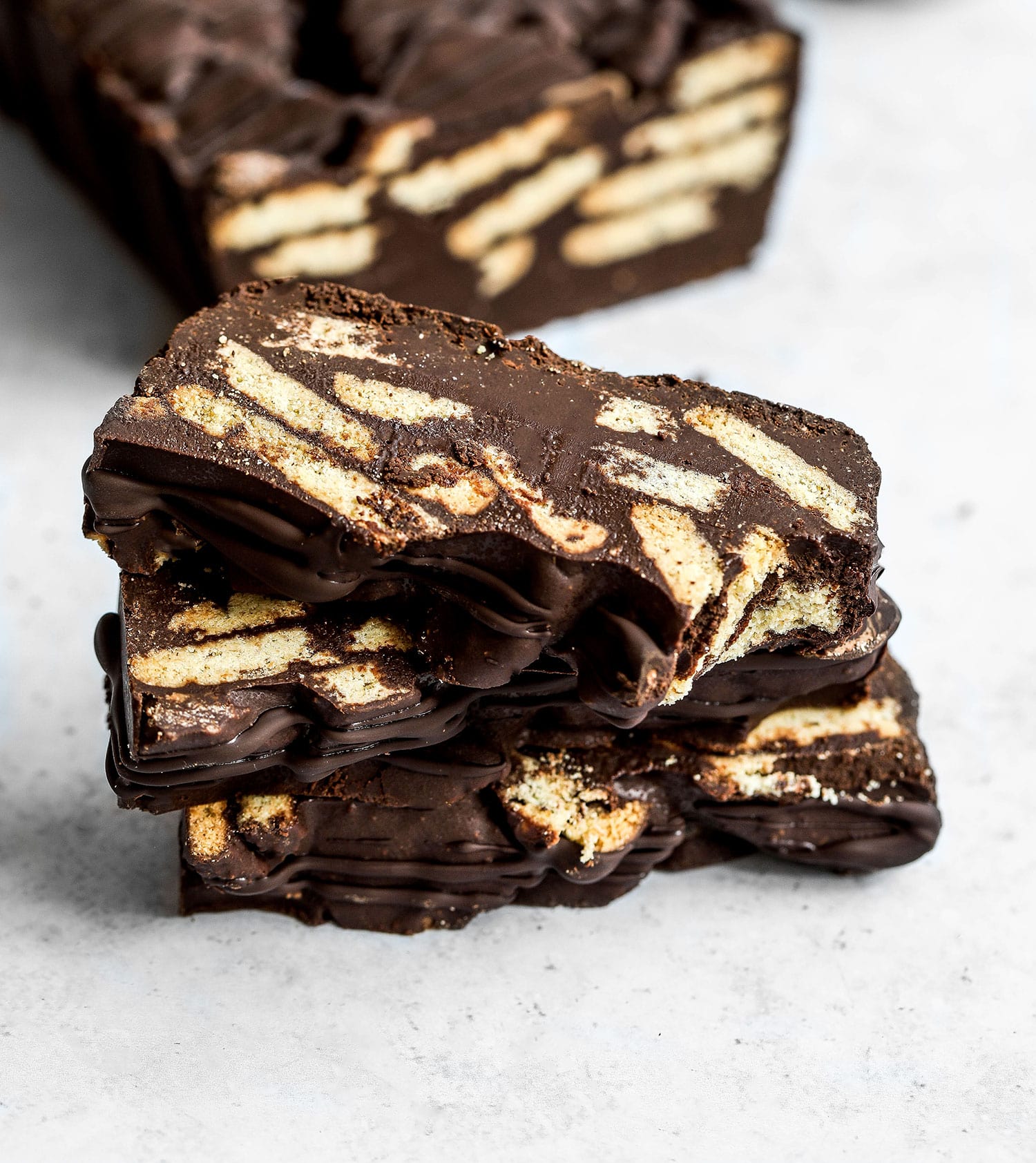 No-Bake Vegan Chocolate Biscuit Cake
Serves: 8-10
Ingredients
100g cacao butter (I used The Raw Chocolate Co cacao butter)
300g dark chocolate
140g smooth almond butter
2 tbsp coconut sugar (I used The Raw Chocolate Co coconut sugar)
4 tbsp cocoa/cacao powder (I used The Raw Chocolate Co cacao powder)
200g digestive biscuits – use gluten-free digestives for a gluten-free recipe
Method
Add all the ingredients apart from the biscuits to a large heat-proof bowl.
Place over a saucepan of simmering water ensuring the bottom of the bowl doesn't touch the water. Mix until everything is melted and you're left with a smooth glossy mixture.
Break up the biscuits into another bowl, then pour the chocolate mixture on top.
Transfer into a cake tin (I used a 22×12 cm loaf tin).
Allow to cool slightly, then transfer into the fridge and leave to set for around 4 hours.
Slice and enjoy!