A delicious mocha overnight oats recipe topped with homemade crunchy mocha granola – both made using Rheal's new Mushroom Coffee.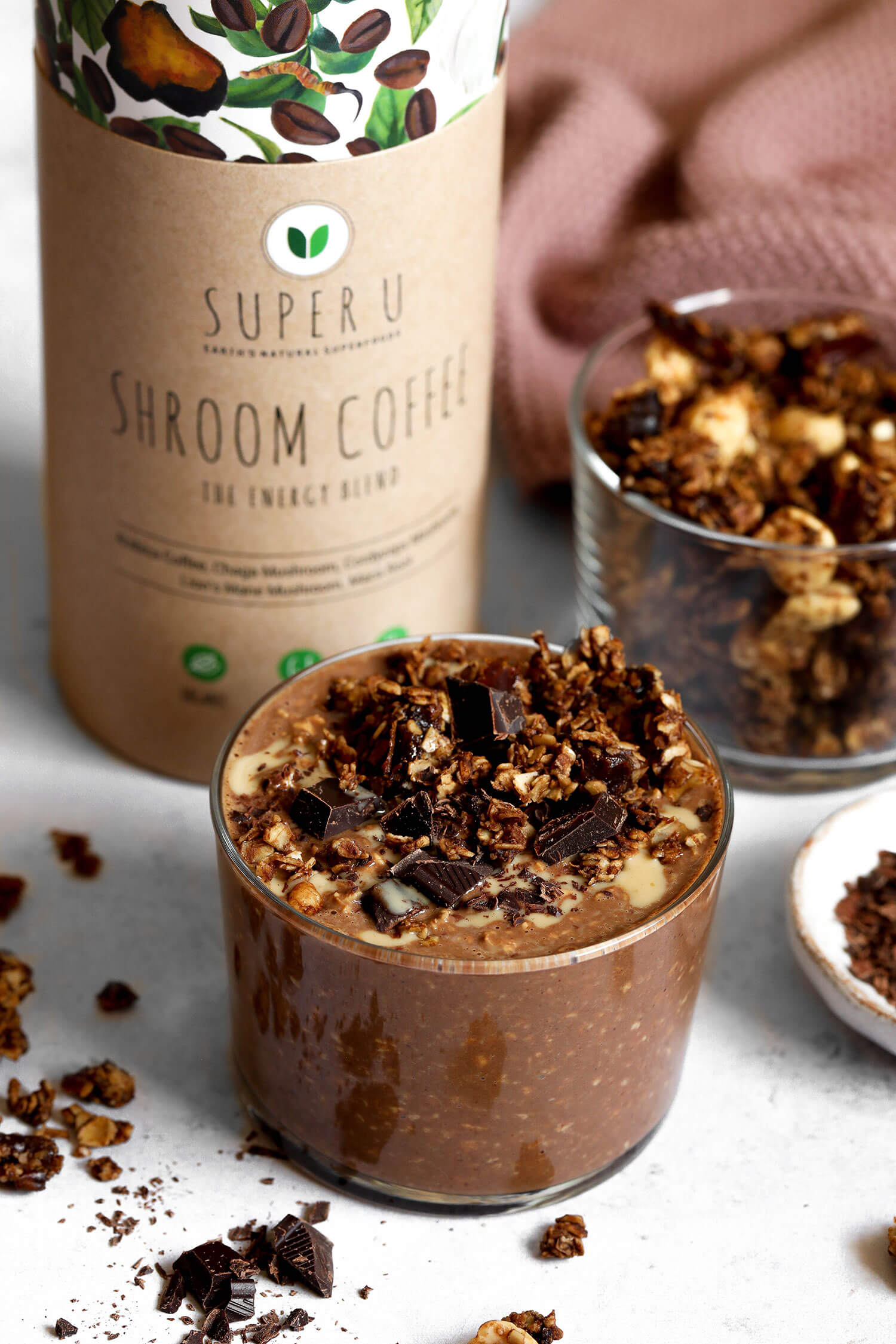 Overnight oats has been my go-to breakfast for years. It's just so convenient to prepare your breakfast the night before and have it waiting for you the next morning. It's also a healthy option for breakfast – packed with fibre in the oats and by adding things like nut butters and nuts you can get some healthy fats and protein in there too!
I always like to have a jar of homemade granola in my kitchen to enjoy as a quick breakfast or snack when I'm feeling peckish and craving something sweet and crunchy. It's also nice to have something to sprinkle on smoothies and puddings to add some crunch.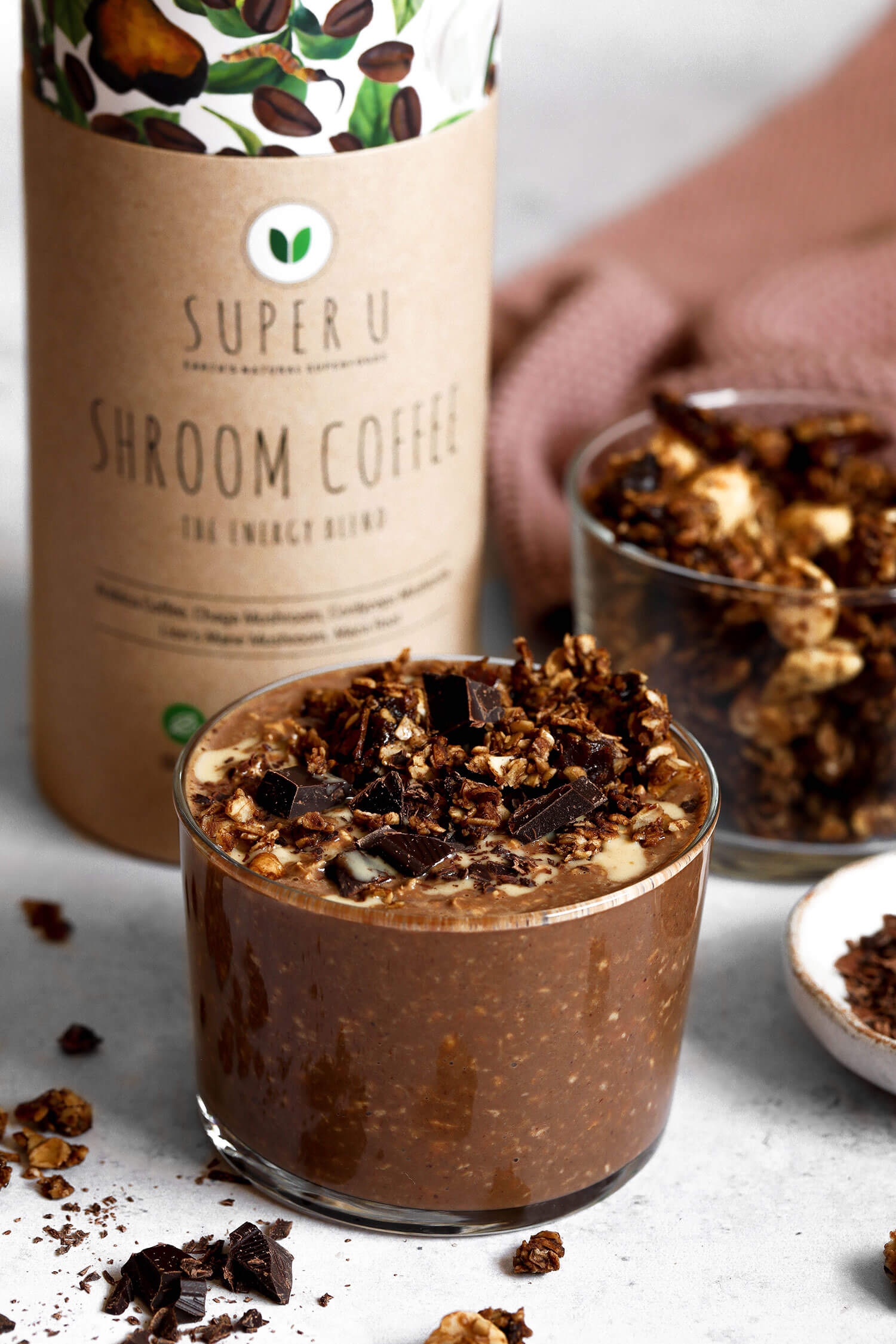 I'm a huge fan of coffee flavoured treats and desserts. It's such an underrated flavour in the dessert world and I can't get my head around why that is! We're a nation obsessed with coffee, why don't more of us add it to our recipes? I've used coffee in a few of my previous recipes, but this recipes is different. I'm using Rheal Mushroom Coffee or "Shroom Coffee", which is made up of a mixture of instant Arabica Coffee powder with added goodness of mushrooms (Chaga, Cordyceps & Lion's Mane)! Don't let the idea of having mushrooms in your coffee put you off as you can't taste the mushrooms one bit! They're in there purely for their nutritional and health benefits.
While studying nutrition I learned all about the amazing benefits of mushrooms on gut health and by extension the immune system and overall health! Chaga mushrooms have amazing immune-boosting properties and Lion's mane mushroom supports brain health by promoting neuronal growth and protecting nerve fibres. This has been shown to boost cognitive function
If you're looking to make your mocha overnight oats bowl extra decadent and delicious, I would highly recommend you go ahead and top it with chopped dark chocolate, a drizzle of tahini and a handful of your homemade crunchy mocha granola!
Check out the rest of Rheal Superfood range here.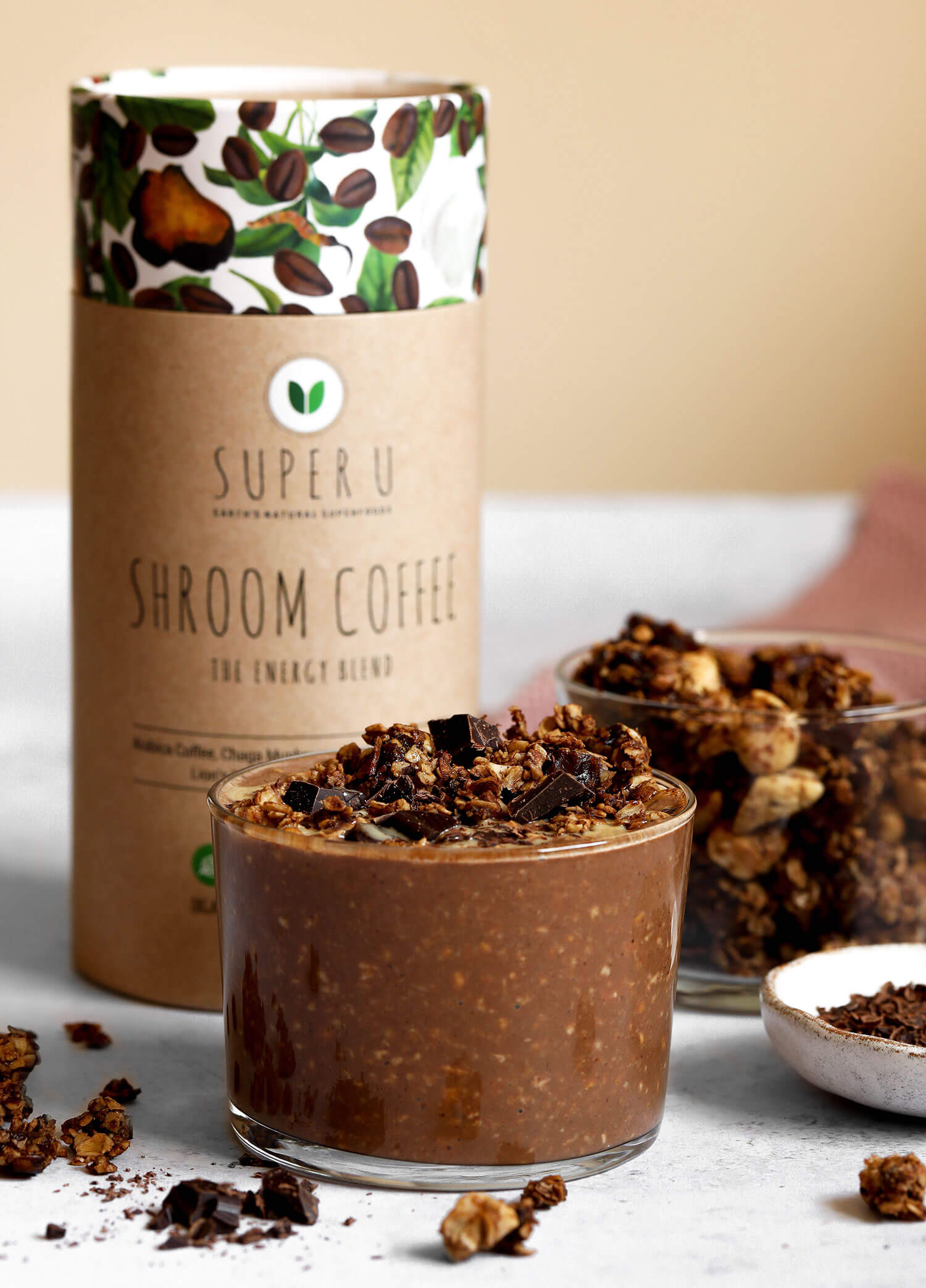 Mocha Overnight Oats
Serves – 2
Ingredients
110G (1 cup) rolled oats – used gluten-free oats if allergic/intolerant to gluten
4 tsp cocoa powder
2 tsp Rheal Mushroom Coffee
350ml (1 ½ cups) milk of choice
2 tbsp almond butter
2 tbsp maple syrup
Method
Mix the oats, cocoa and Rheal Mushroom Coffee in a bowl, then pour in the milk, almond butter and maple syrup. Cover and leave to set in the fridge overnight.
Top tahini/nut butter and mocha granola (see recipe below)
Mocha Granola
Ingredients
2 tbsp maple syrup
2 tbsp coconut oil
1/4 tsp salt
1/2 tbsp Rheal Mushroom Coffee
1/2 tbsp cocoa powder
2 tbsp boiling water
1 cup (110g) rolled oats – used gluten-free oats if allergic/intolerant to gluten
1/2 cup (70g) cashews, chopped
1/2 cup (70g) dates, chopped
Method
Preheat your oven to 160c/150C fan/320F
Add the cocoa, Rheal Mushroom Coffee and coconut oil in a mug, then add in 2 tbsp boiling water and mix. Add the oat, cashews, dates and salt into a large bowl, then pour over the coffee mixture as well as the maple syrup.
Transfer onto a baking sheet lined with baking paper and bake for 20-25 minutes.
Leave to cool completely before serving.