Chocolate Mint Mousse Pie
I love mint and chocolate. I think that combination is so delicious, especially in the form of a post dinner treat. The chocolate gives the desserts a decadent feel and the mint is just so refreshing after a meal!
Recently I posted a mint Oreo recipe where I spoke more about my love for this flavour combination (click here to read more about it)! It made me realise that I haven't really experimented with mint and chocolate much in my recipes before, so now all I want to do is create mint chocolate recipes!
So today, I'm sharing with you this, rich, smooth and decadent chocolate mint mousse pie! A simple oaty base with a lush, velvety centre made using only 4 ingredients!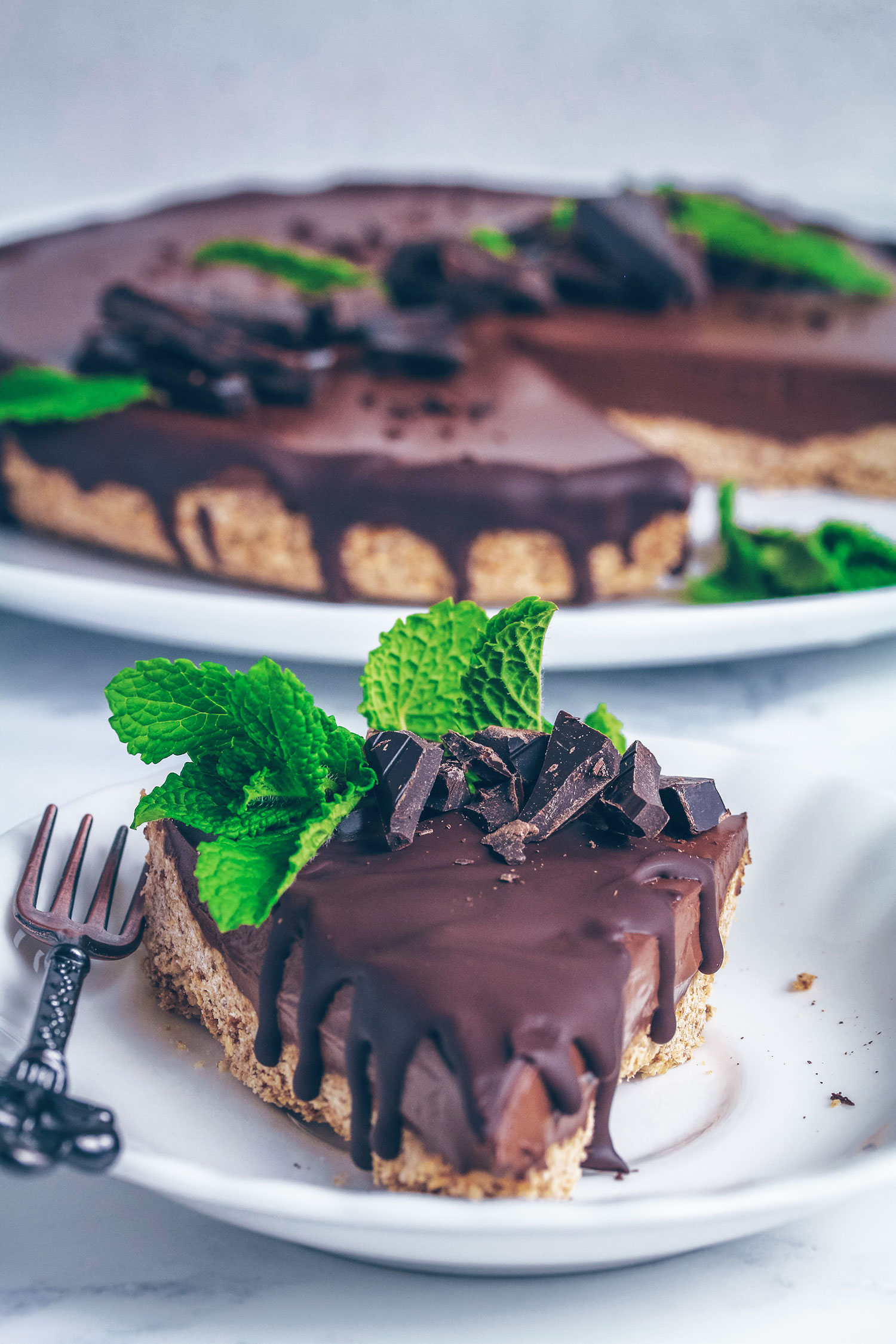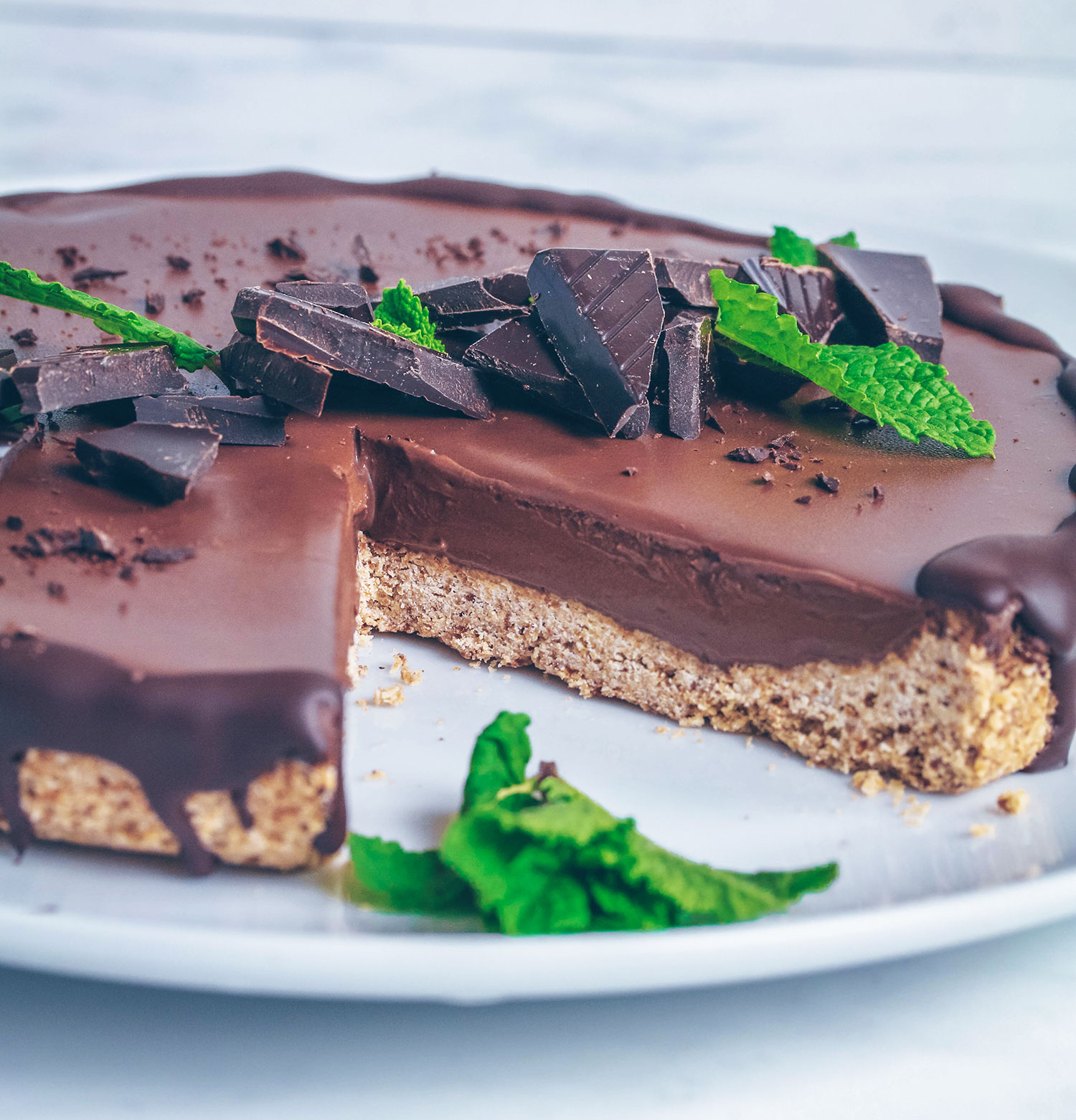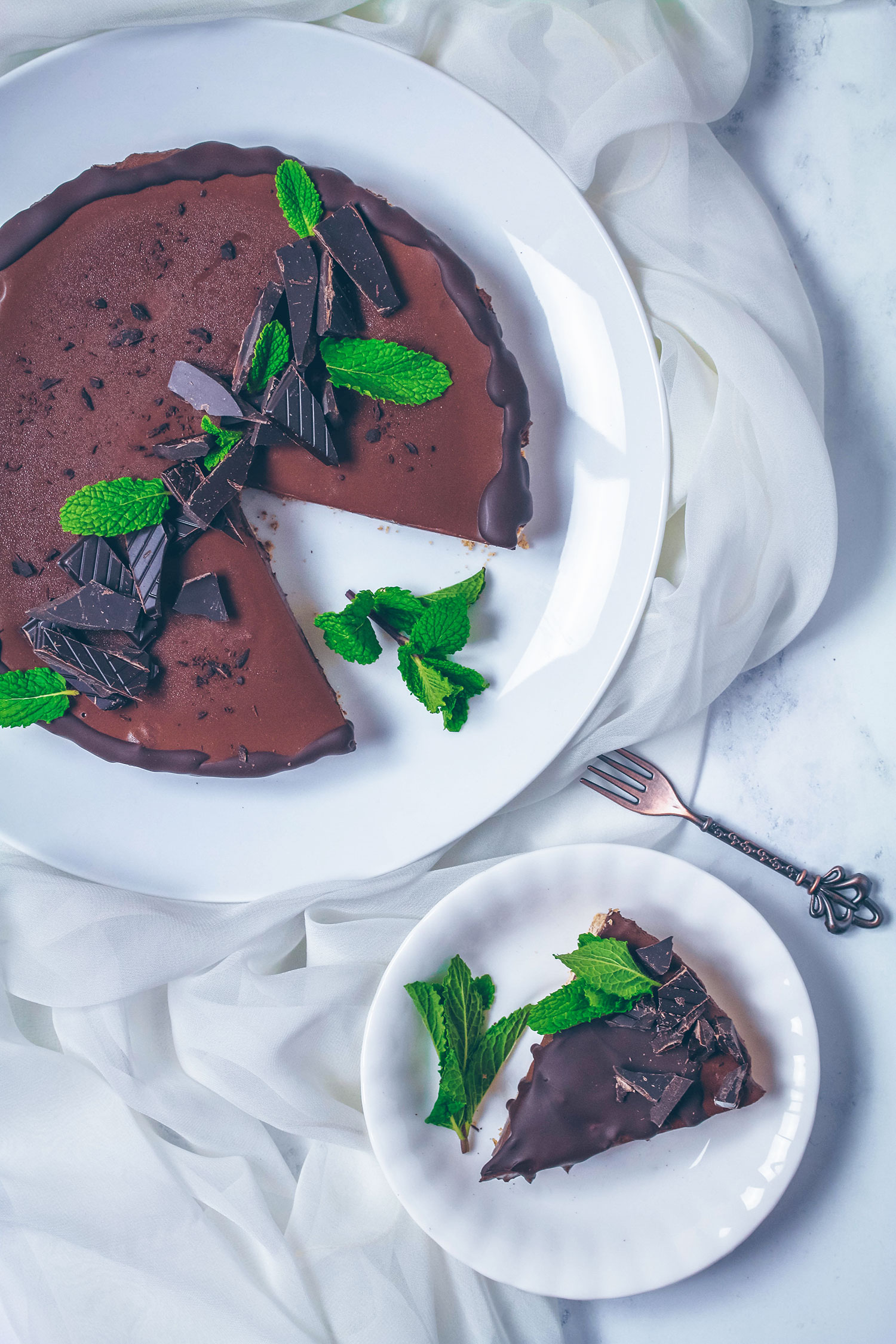 You'll find that most mint dessert recipes, including my mint oreos, use mint extract to add the minty flavour, but I've found an interesting alternative way to create mint recipes.
How?
By using mint tea bags!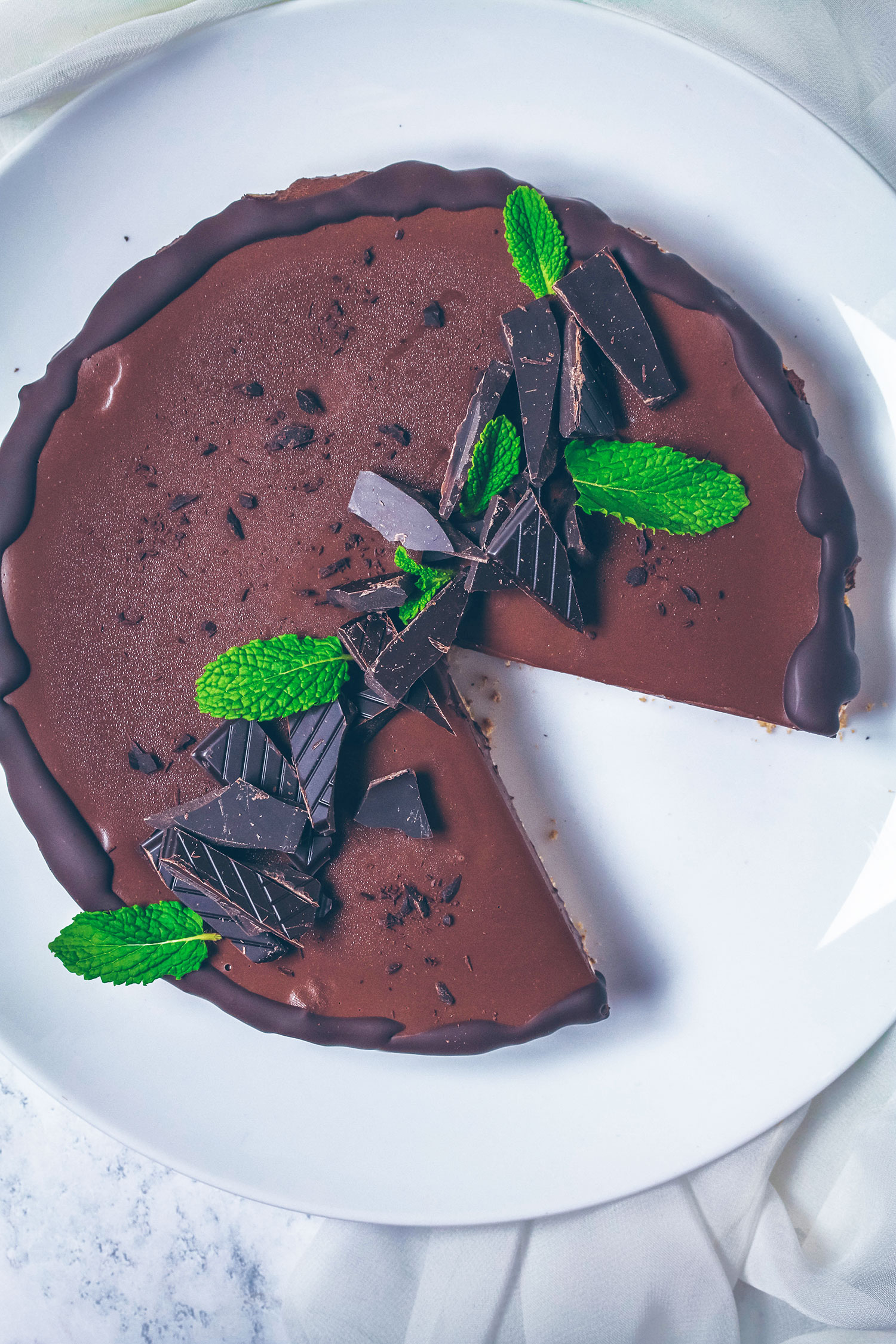 This the first time I use tea bags in one of my recipes. It's not something I've played around with much and to be honest I've never really associated tea bags with desserts and baking before. So when We Are Tea contacted me asking me to create a dessert using one of their ethical, hand-picked teas, it opened my eyes to a whole new concept and now I'm itching to create more recipes using tea bags!
Their Moroccan mint green tea was the perfect addition to this chocolate mint mousse pie recipe. I only had to use three tea bags and it added so much natural flavour. All I had to do was place them in a pan of hot coconut milk and allow the natural flavours to steep through.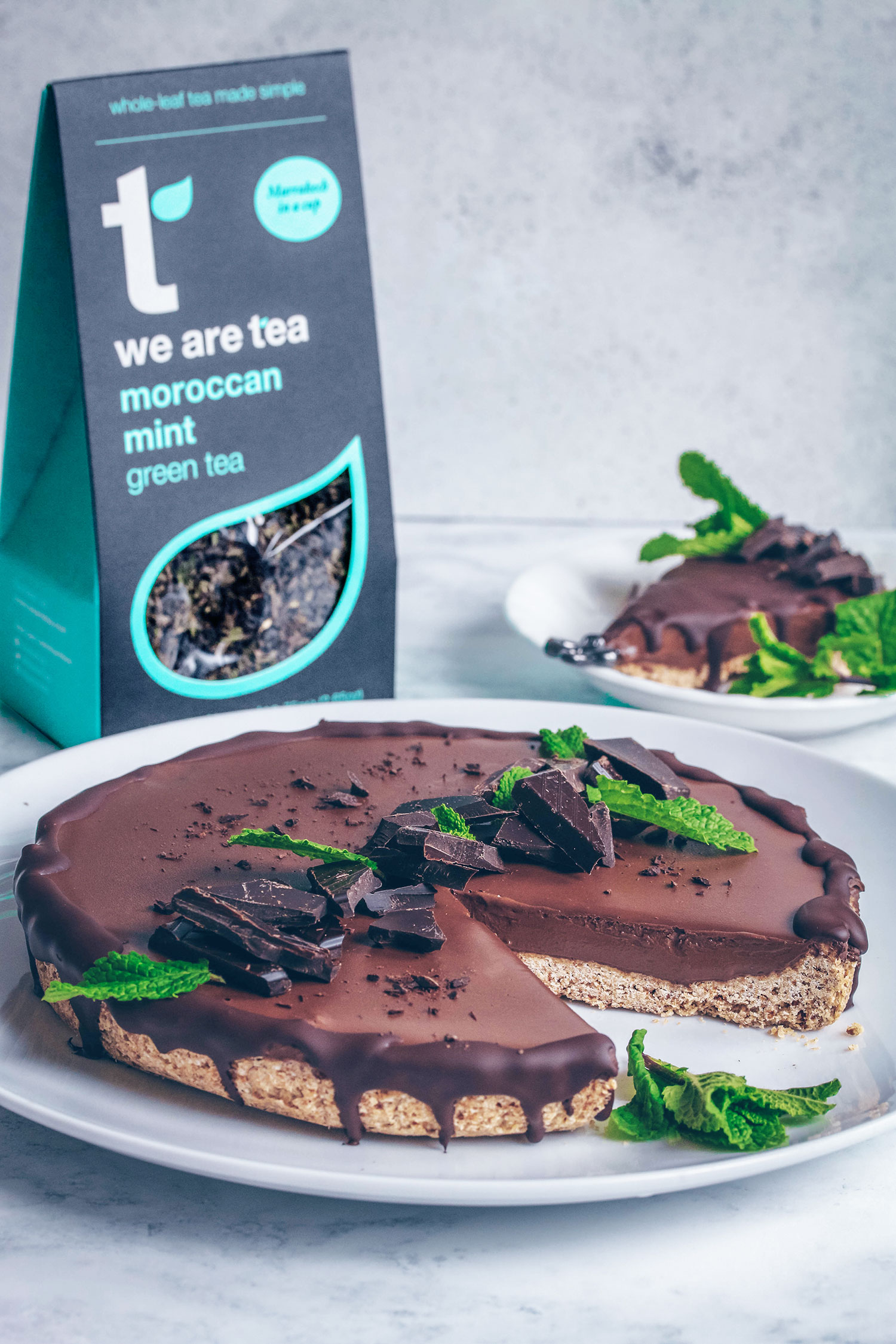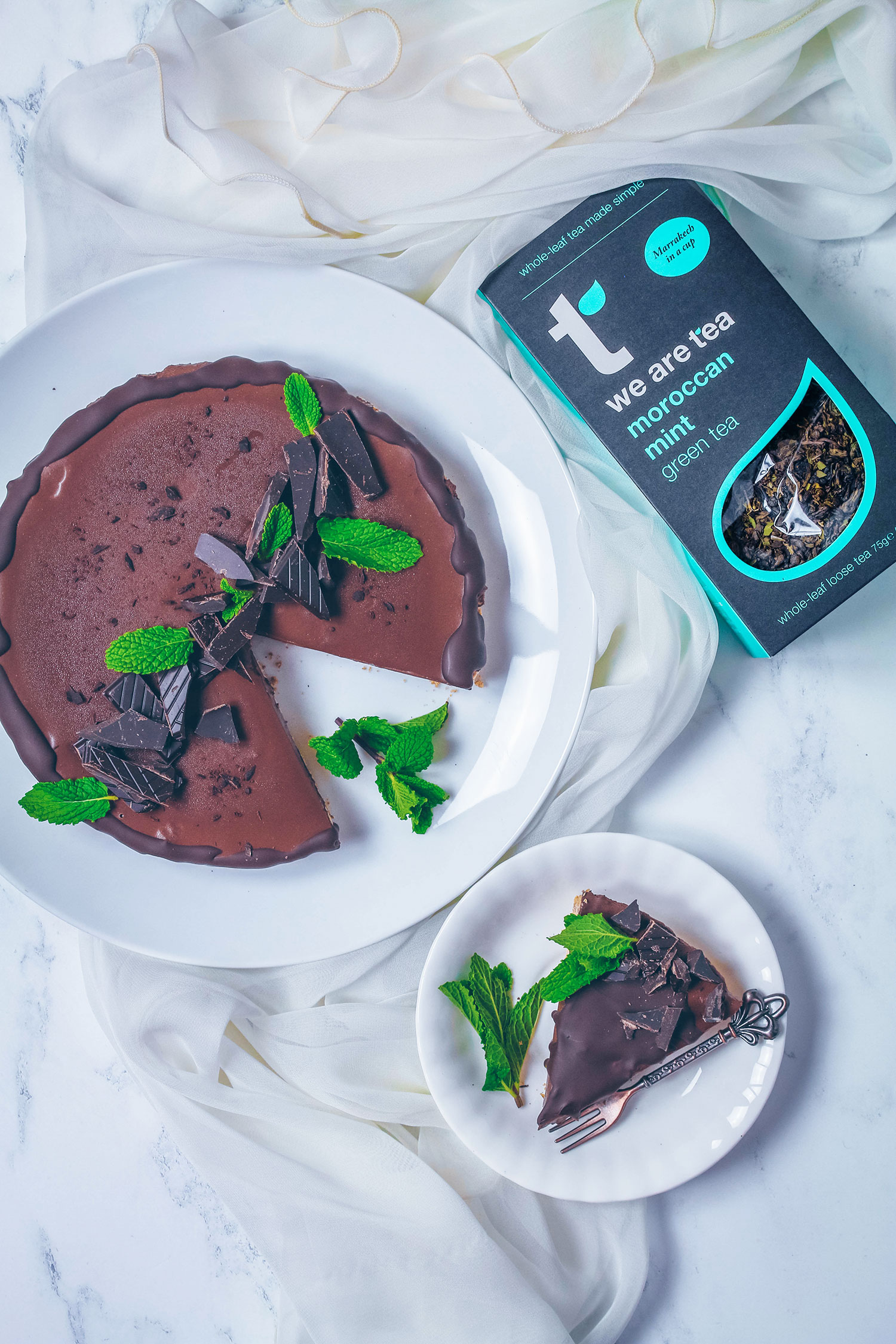 This recipe is so simple and straight forward and it only calls for a few ingredients. If you want to make it even simpler, skip the crust and just pour the chocolate mousse into serving glasses. You literally only then need 4-5 ingredients (depending whether you choose to add salt) and that's it!
This chocolate mint mousse pie is:
Vegan
Dairy-free
Gluten-free
Quick
Easy
And so quick and easy to put together!
If you're looking for a simple dinner party dessert, look no further! Especially now that Christmas is just around the corner. The last thing you want to be doing during this hectic time of the year is creating complex desserts with loads of steps and ingredients. It would also make a great edible gift to take with you when you've been invited to get togethers to celebrate the festivities with friends and family!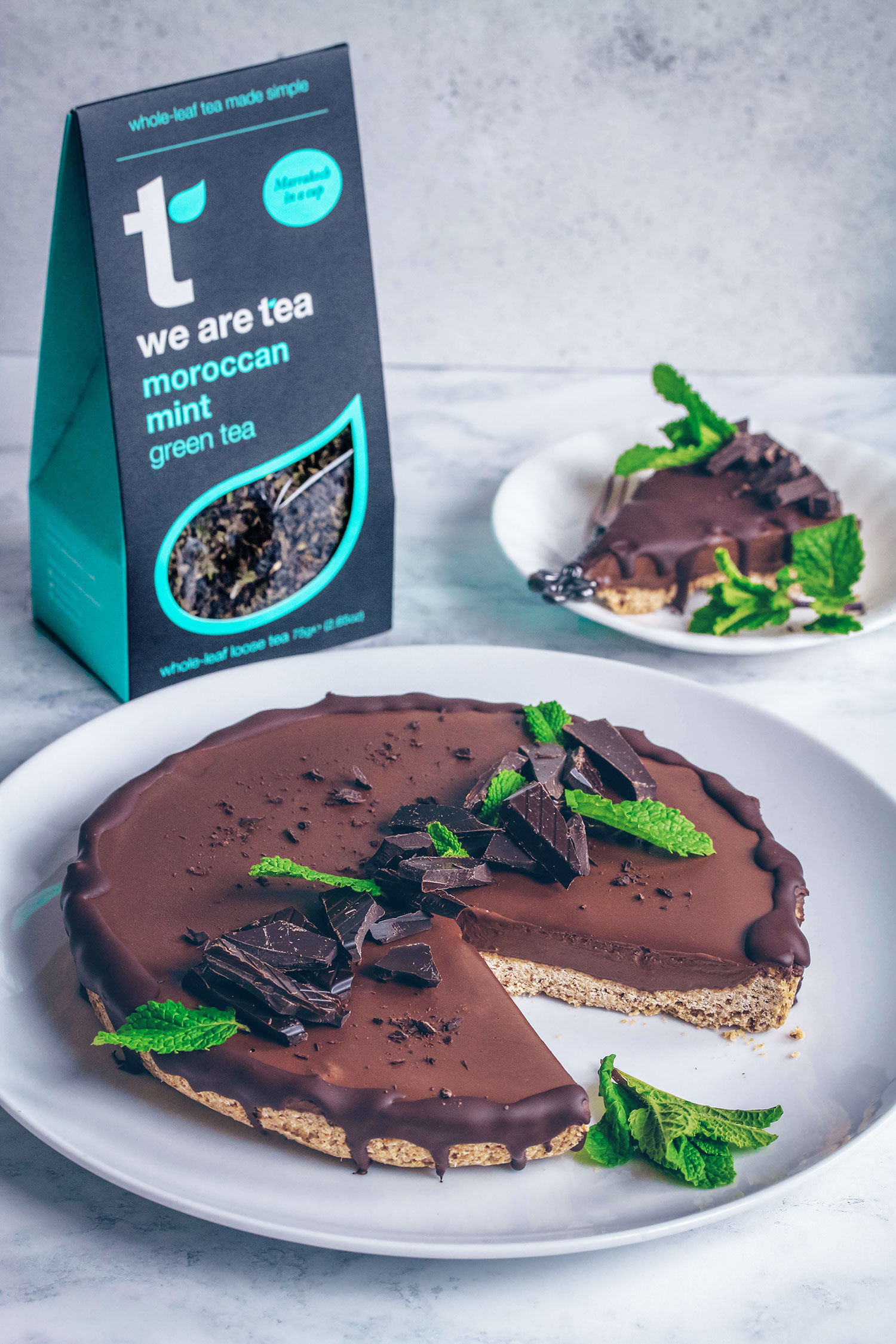 ---
Chocolate Mint Mousse Pie
Serves: 8
Ingredients:
For the base
1 3/4 cups oat flour – use gluten-free if allergic/intolerant
1/4 tsp salt
2 tbsp coconut sugar
5 tbsp coconut oil, melted
For the chocolate mint mousse filling
1 (400g) can full fat coconut milk
150g dark chocolate (70% cocoa or higher), melted
3 bags We Are Tea Moroccan mint green tea bags
2 tbsp stevia or granulated sweetener of choice. Add more to taste
Pinch of salt (optional)
Method
Preheat your oven to 180°C (160°C fan assisted)/ 350°F
Mix all the base ingredients together in a bowl, then press into an 8″ round cake tin lined with parchment paper.
Bake for 20 minutes. Leave to cool completely before adding the filling.
Pour the coconut milk along with the sweetener into a saucepan and cook over a medium heat. Bring to a quick boil, take off the heat then add the Moroccan mint tea bags. Leave to steep for 5 minutes, then squeeze the liquid out and remove the bags.
Fold in the melted chocolate and add a pinch of salt. Leave to cool for 10-15 minutes.
Pour over the base and refrigerate until the filling sets (3-4 hours).
Enjoy!
---
تورتة موس الشوكولاتة و النعناع
واحد و ثلاثة ارباع كوب دقيق الشوفان – شوفان كامل مطحون في الخلاط
١/٤ ملعقة صغيرة ملح
٢ ملعقة كبيرة سكر جوز الهند او سكر ابيض
٥ ملاعق كبيرة زيت جوز الهند، مذابة
لحشو الشوكولاته و النعناع
علبة (٤٠٠ غم) حليب جوز الهند
١٥٠ غم شوكولاته داكنة مذابة
٣ أكياس شاي نعناع
٢ ملعقة كبيرة ستيفيا أو سكر – او حسب الرغبة
رشة ملح (اختياري)
الطريقة
سخن الفرن١٨٠درجة مئوية
اخلط الشوفان، السكر، ملح و الزيت في وعاء، ثم افرد في قالب كيك و ضع في الفرن لمدة ٢٠ دقيقة.
صب حليب جوز الهند مع الستيفيا في قدر على نار متوسطة الى ان يغلي ثم ازل من الموقد و ضف أكياس الشاي. اترك لمدة ٥ دقائق، ثم تخلص من اكياس الشاي
أضف الشوكولاته المذابة وإترك لتبرد لمدة ١٠–١٥ دقيقة.
ضع الخليط فوق قاعدة الشوفان وضع في الثلاجة لمدة ٣–٤ ساعات
زين بشوكولاتة مقطعة وأوراق النعناع
---

Thanks to We Are Tea for sponsoring this post. Commissioned posts is how I'm able to continue working on the blog and creating recipes and recipe videos for you. As always, all opinions are my own.