Mexican Bean Rice with Salsa & Guacamole
I grew up eating rice, lots and lots of rice! We literally had it everyday for lunch with some kind of tomato gravy/stew based dish. By the time I moved to England, I was so fed up of rice and never ate it out of choice.
However, since I've cut out gluten, I find myself having strong cravings for rice, and after ten years of not eating much of it, I can finally appreciate it now!
I only cook brown rice at home, BUT I do still eat white rice when I'm out or at a relatives house…etc. Even though white rice does taste better, I love how hearty and filling brown rice is. You've probably noticed that when you eat a meal containing brown rice, you tend to eat less. This is because brown rice is high in fibre, most of which is removed during the process of converting brown rice to white rice! If you can, I would always recommend you eat brown rice, and if you're not used to it, just give it a try and soon enough you'll start appreciating it too! 🙂
I get lots of requests to film more savoury recipe videos and I want to make them as easy as possible and as short as possible, because I know everyone is super busy these days and don't have time to sit and watch through 10 minutes of footage that can easily be shortened to 3!
In this video, I show you how to make a simple Mexican bean rice recipe and I also threw in how to make a quick and easy salsa and guacamole – because no Mexican meal is complete without them!
Watch the video above and if you enjoy it, make sure you like it 😉 and SUBSCRIBE for many more upcoming quick, easy and healthy (of course!) recipes.
Also, if you would like me to create and film anything specific, please don't hesitate to leave me a video comment with your suggestions/ideas.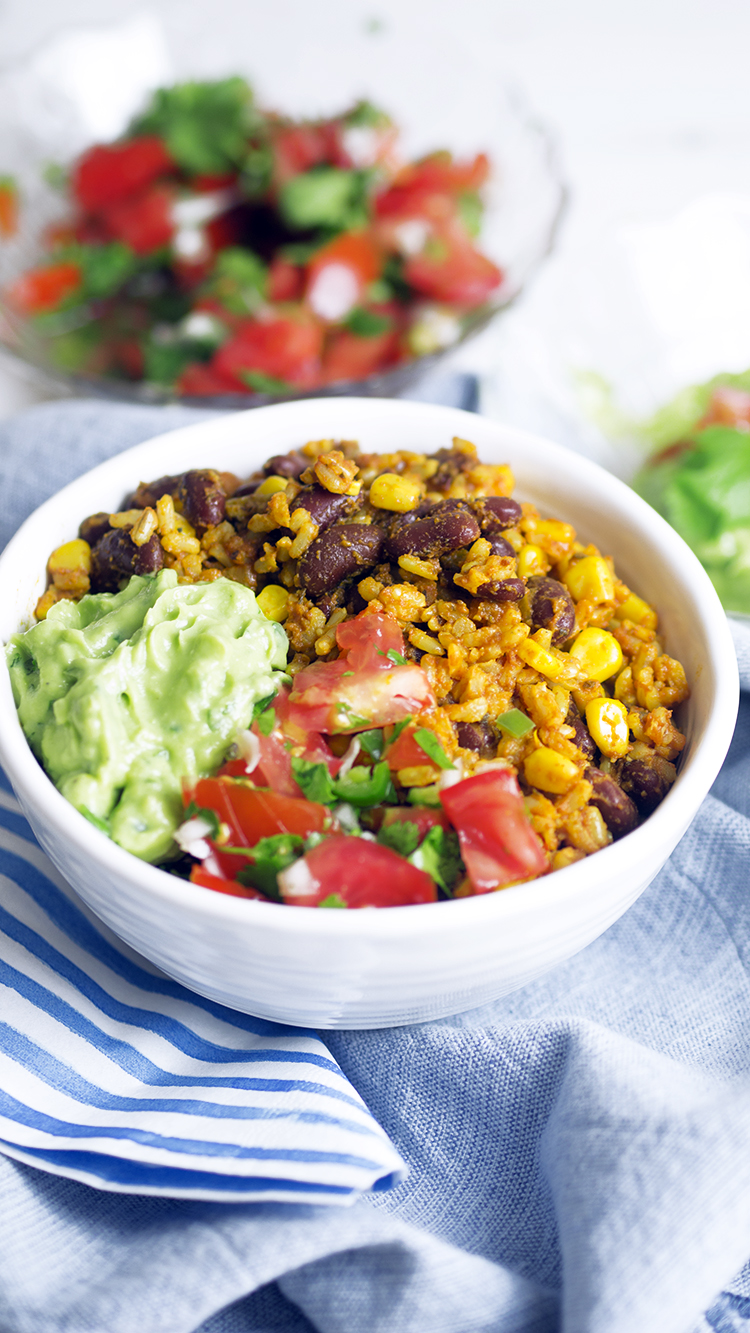 Mexican Bean Rice with Salsa & Guacamole
2016-05-25 11:15:21
Serves 3
Ingredients
1/2 cup (90g) brown rice
1 cup (200ml) vegetable broth (I mixed 1/2 vegetable stock cube in 1 cup boiling water)
1/2 medium onion, chopped
1 400g can red kidney beans
1 200g can sweetcorn
juice of 1 lime
spices
1 tsp paprika
1.5 tsp cumin
1 tsp oregano
1 tsp chilli power
pinch cinnamon
salt & pepper to taste
For the salsa
3 tomatoes
2 tbsp chopped onion
handful of fresh coriander
1 garlic clove
1/2 medium green chilli, finely chopped
juice of 1 lime
salt & pepper to taste
For the guacamole
2 ripe avocados
1 tbsp chopped onion
1 tbsp chopped green chilli
juice of 2 limes
handful of fresh coriander
salt & pepper to taste
Instructions
WATCH THE VIDEO ABOVE FOR INSTRUCTIONS
Notes
Nutritional information (estimated per serving - Mexican bean rice only)
Calories: 313 kcal
Protein: 10.6g
Fat: 6.9g
Carbs: 55g
Fibre: 8.8g
Nadia's Healthy Kitchen https://nadiashealthykitchen.com/