Crunchy homemade high protein vegan granola that's super easy to make and tastes just as good as the shop bought kind!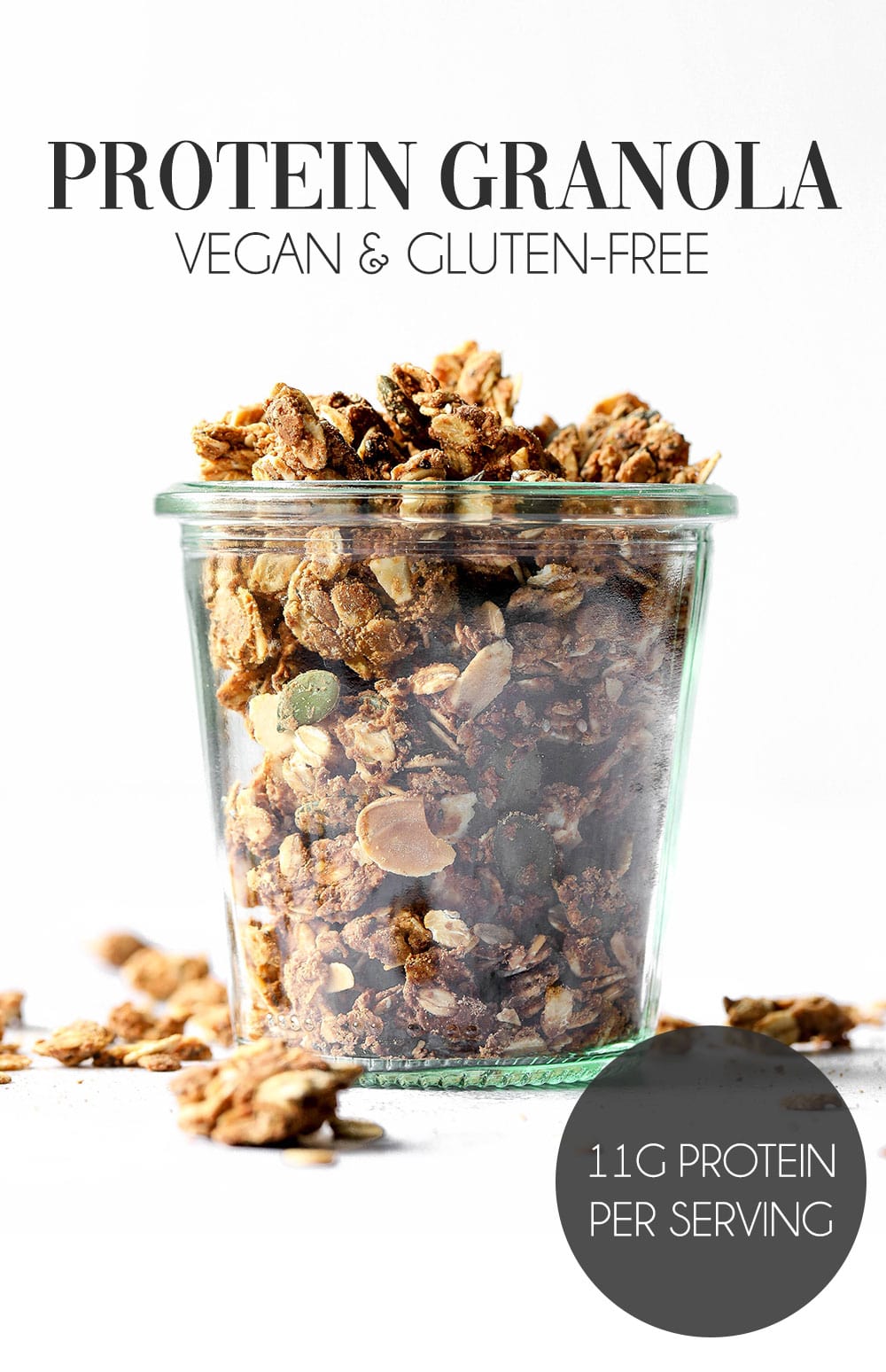 Each serving provides 11g protein, which isn't bad for a granola! Pair it with some Greek yoghurt (or Greek style vegan yoghurt) and nut butter to bump up the protein even more.
Make a big batch of this high protein vegan granola to have on your kitchen counter for when you're feeling snacky. I always make better snack choices when I have healthier options there in front of me. When I have granola at hand, especially when it's the first thing in sight when I walk into my kitchen. I'm more likely to reach out for it rather than a packet of biscuits or crisps.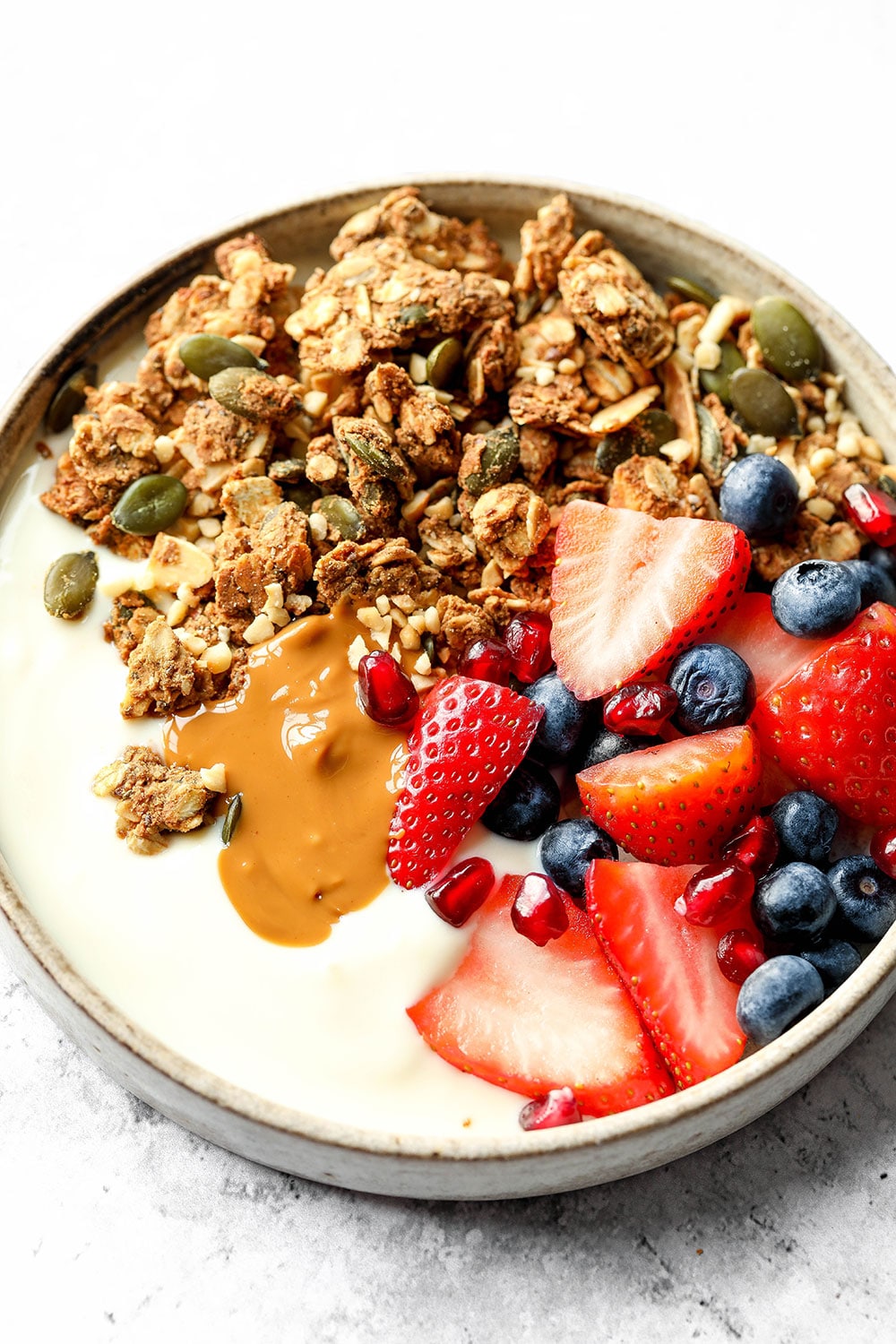 Granola is usually thought of as a healthier breakfast option, especially compared to things like cereal or pastries. Now I'm not saying it can't be healthy, but shop bought granola is usually packed with sugar and is quite low in protein. Not exactly ideal for your first meal of the day.
Considering how easy it is to make at home, I prefer to make my own. This way I know exactly what's in it and I can control how much sugar I add. I can also add more protein, which is what makes this granola stand out from the ones you can pick up from the supermarket.
Enjoy it with milk, as a smoothie topping, or on its own as a snack. My favourite way to eat it is with a bowl of live Greek style yoghurt (for even more protein + gut friendly probiotics) and a generous serving of fresh colourful berries. A well-balanced meal with protein, healthy fats and complex carbohydrates. A meal that's also packed with fibre and polyphenols to feed your gut microbiome.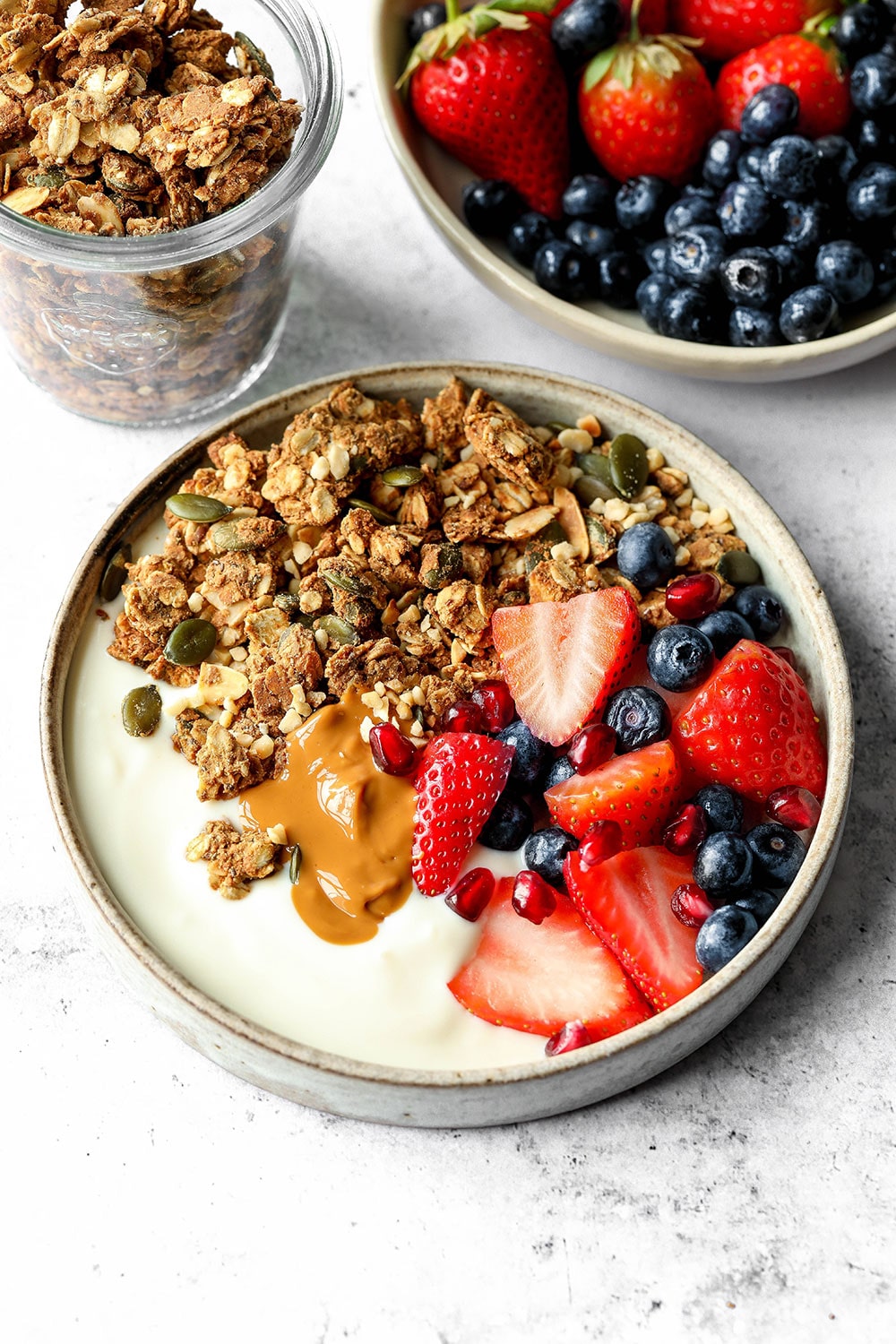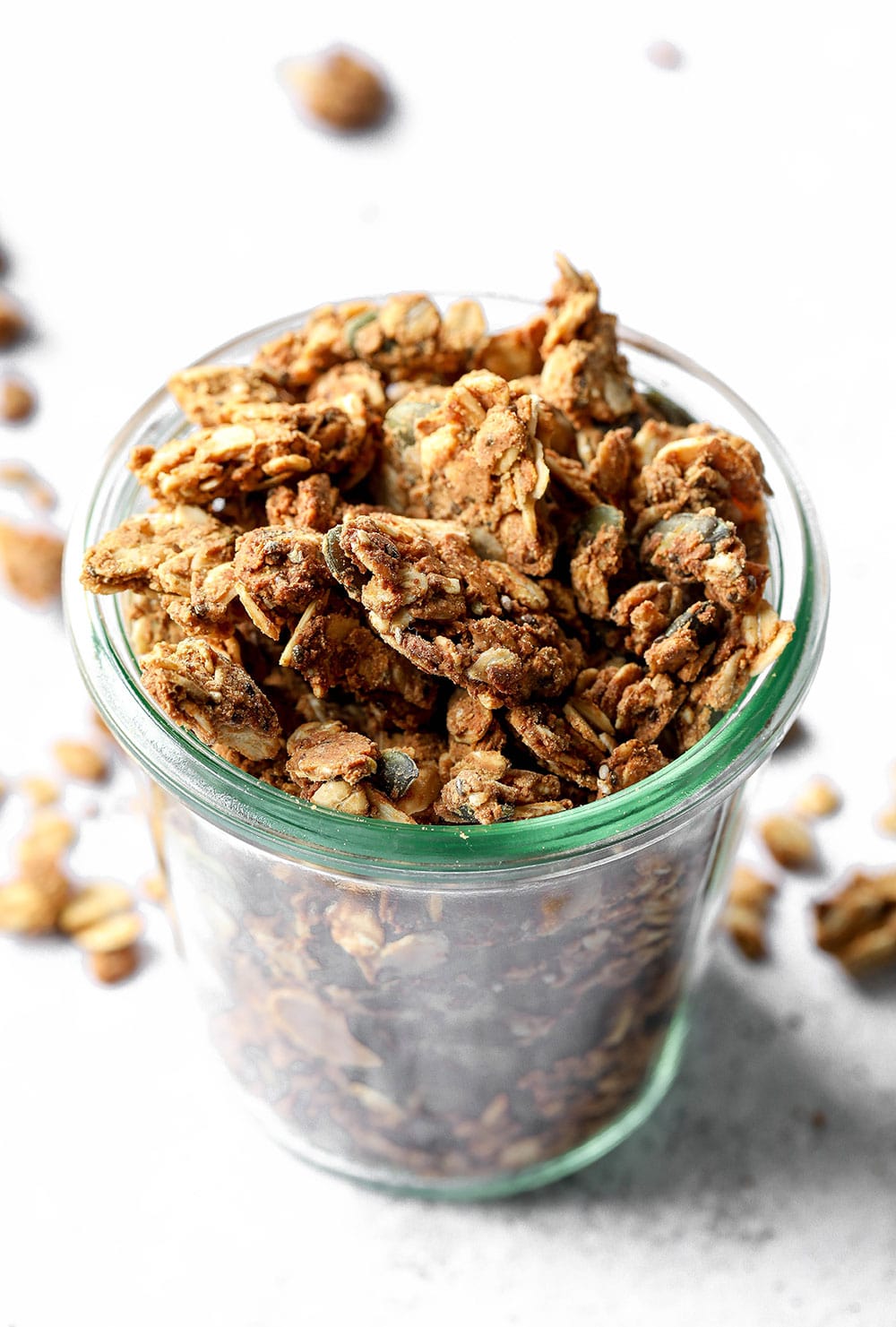 What you need to make this high protein vegan granola:
Oats – The base for most granola recipes. I used jumbo rolled oats, but rolled porridge oats will also work.
Protein powder – I love using protein powder to bump up the protein content of recipes. Such an easy way to add extra protein to plant-based recipes. I used caramel flavoured to add extra sweetness, so I didn't need to use as much maple syrup to sweeten. My go to protein powder is Bulk's gourmet vegan protein powder. It's the best tasting vegan protein powder I've tried so far.
Nuts & seeds – I used a mixture of flaked almonds, pumpkin seeds, flaxseed and chia seeds, but you can use whatever you like. Another way to add a bit of protein, fibre, healthy fats and polyphenols!
Peanut butter – any nut or seed butter will work here. I used it instead of oil to help everything stick together.
Maple syrup – I only used 1 tbsp to add a little extra sweetness and to help everything hold together as it bakes in the oven.
Cinnamon & salt – a little spice never hurt anyone! I love cinnamon in breakfast recipes. Cardamom will also work here. Also a little bit of salt is recommended helps enhance the flavours.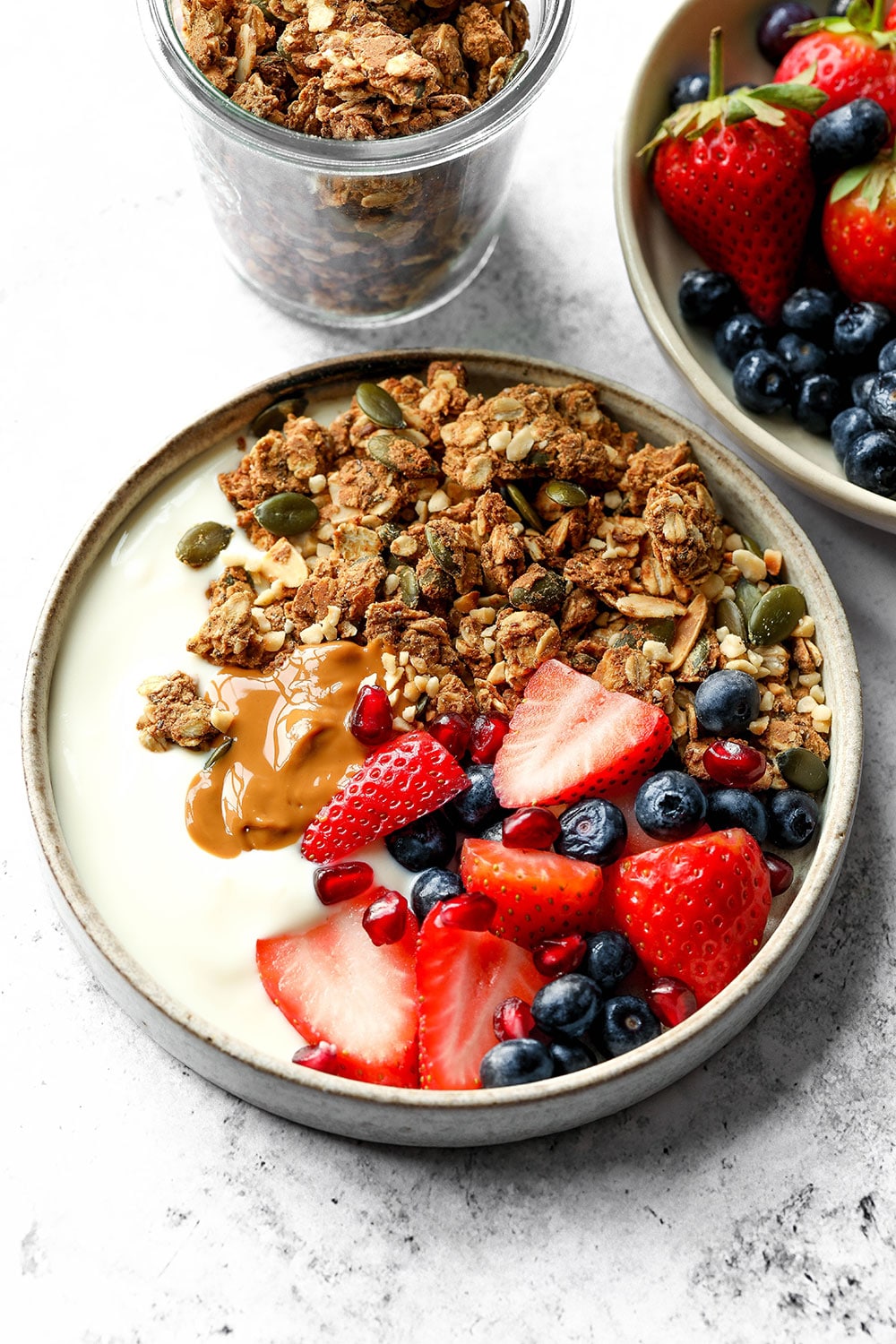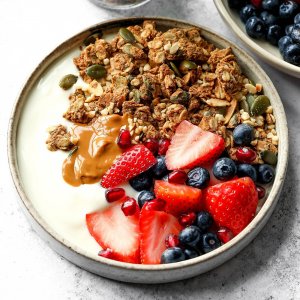 High Protein Vegan Granola
Crunchy homemade high protein vegan granola that's super easy to make and tastes just as good as the shop bought kind! Enjoy with milk, sprinkle onto smoothies or as a crunchy snack on its own. I love serving it with Greek style yoghurt and berries.
Ingredients
65g

oats*

3

tbsp

protein powder

I used Bulk caramel gourmet vegan protein powder

2

tbsp

flaked almonds

2

tbsp

pumpkin seeds

1/2

tbsp

flaxseed

1/2

tbsp

chia seeds

2

tbsp

peanut butter

1

tbsp

maple syrup

1/2

tsp

cinnamon

Pinch of salt
Instructions
Pre-heat your oven to 130C/150C fan.

Mix the oats, protein powder, nuts & seeds, cinnamon and salt in a large bowl, then add the peanut butter and maple syrup. Mix until everything is well combined.

Spread the granola onto a baking sheet lined with baking paper.

Bake for 10 minutes, then give it a quick toss and bake for another 10 minutes.

Leave to cool completely. Enjoy!
Notes
* Use gluten-free oats to make the recipe gluten-free.
**

Store in an air-tight container at room temperature. It should keep for a couple of weeks.
Nutrition
Calories:
215
kcal
Carbohydrates:
19
g
Protein:
11
g
Fat:
12
g
Saturated Fat:
2
g
Polyunsaturated Fat:
4
g
Monounsaturated Fat:
5
g
Trans Fat:
0.01
g
Sodium:
88
mg
Potassium:
208
mg
Fiber:
4
g
Sugar:
4
g
Vitamin A:
3
IU
Vitamin C:
0.1
mg
Calcium:
51
mg
Iron:
3
mg