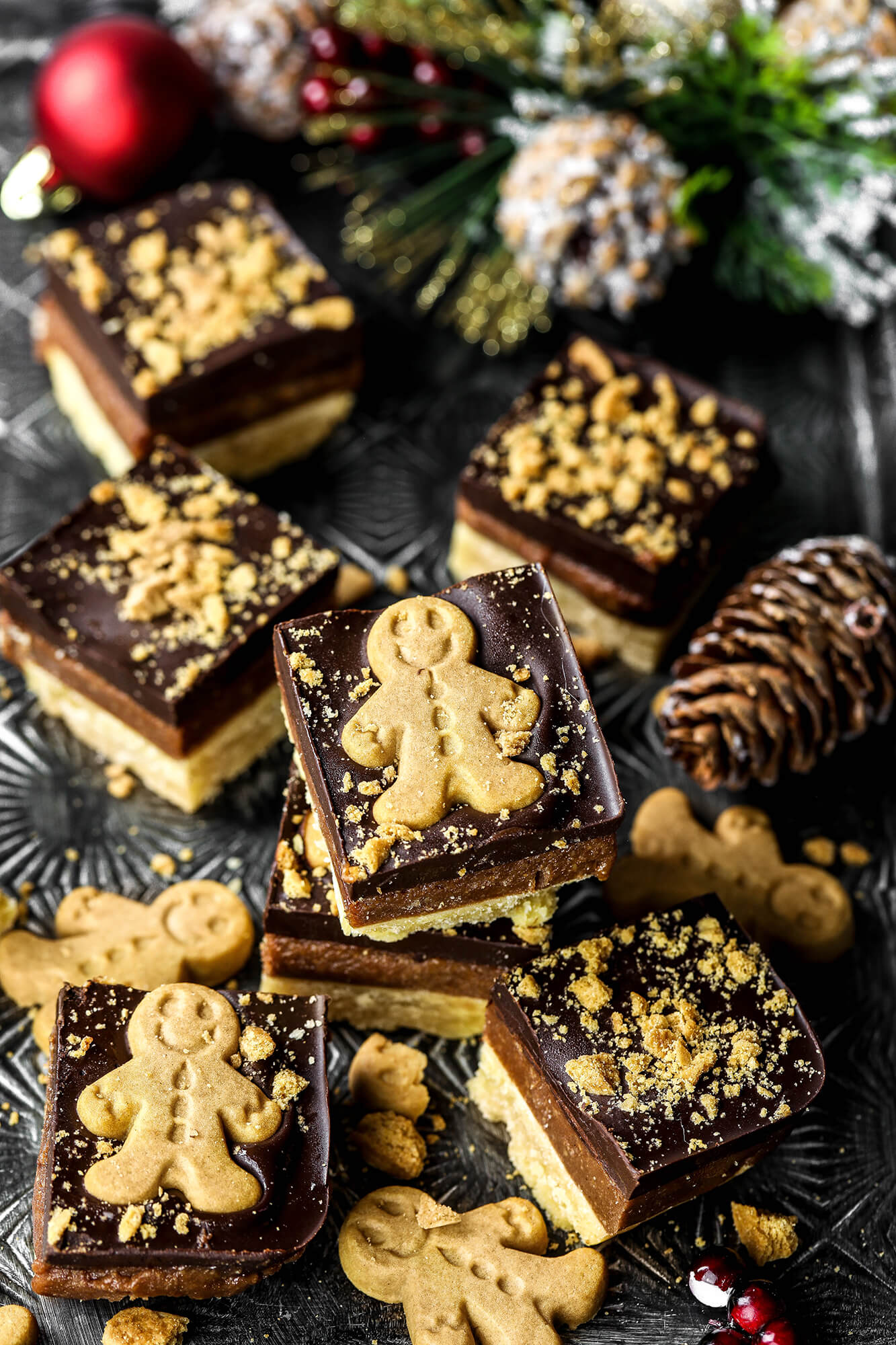 *This post is sponsored by FREEE*
Delicious and decadent, these gingerbread millionaire shortbread are perfect for the festive season and they happen to be both gluten-free AND vegan!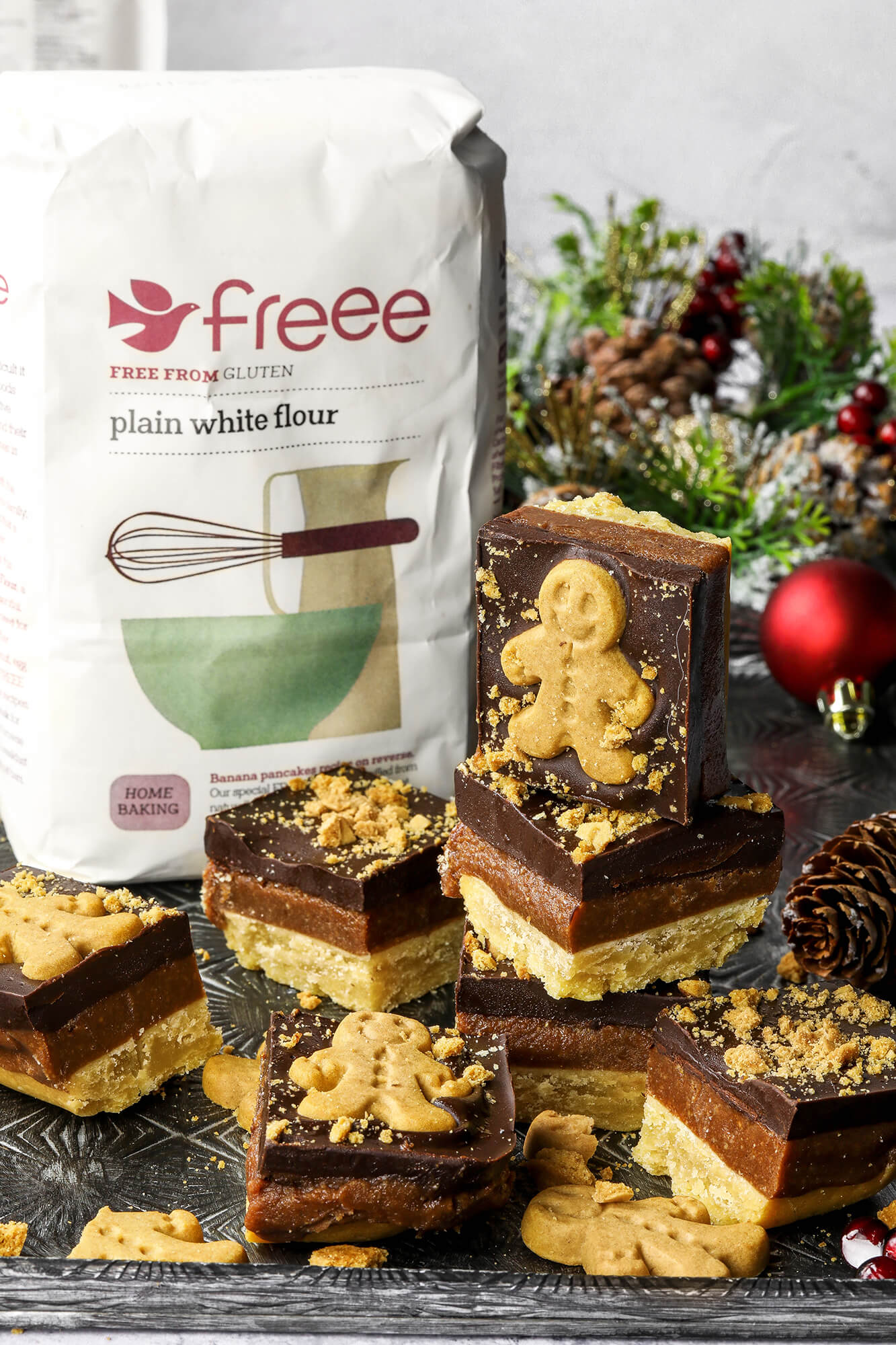 I can't believe there's only a few more sleeps left before Christmas Day! Is it just me or has this year flown by? If you're looking for a last-minute festive treat that's both gluten-free and vegan (and delicious!), then you have to try these festive gingerbread millionaires shortbread.
I don't know anyone that doesn't love millionaires shortbread, so I decided to put a fun spin on a classic dessert and make it festive by adding gingerbread spices (ginger, cinnamon and allspice) in the caramel centre. I also used date molasses to add to the depth of the gingerbread flavour.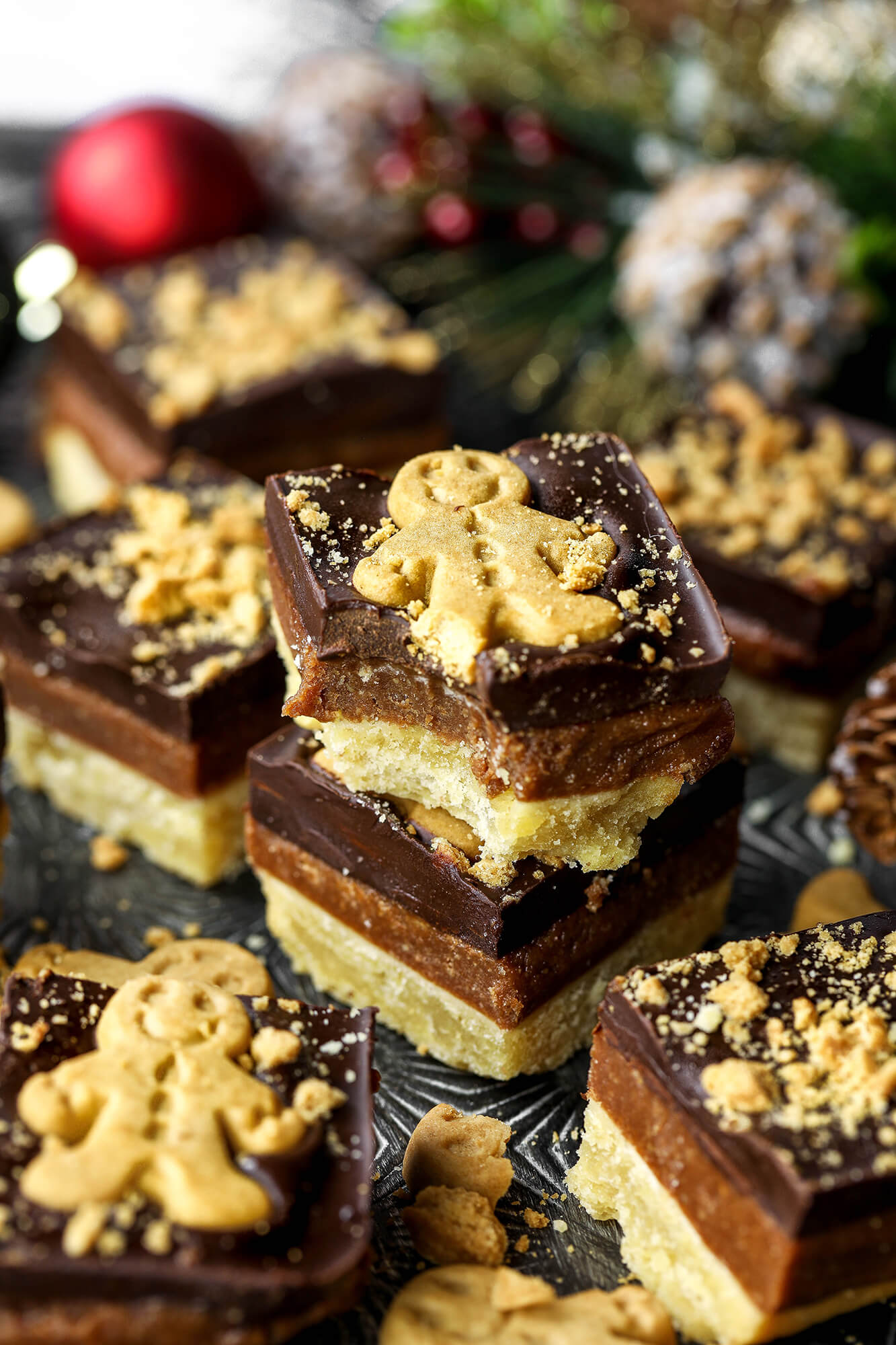 I'm teaming up with FREEE to create delicious gluten-free bakes that everyone can enjoy this Christmas using FREEE flours. It's as simple as 1, 2, FREEE
FREEE offers trusted and naturally gluten free food for the whole day that never compromises on taste, is subject to a rigorous testing regime and is always clearly labelled. All FREEE products are produced in dedicated production facilities. The range incorporates flour, baking mixes, cookies, oat bars, pasta and breakfast cereals and is home to the #1 gluten free flour range in the UK.
The whole FREEE Breakfast Cereal range is available at www.freee-foods.co.uk and Ocado, with selected cereals available instore at Sainsbury's.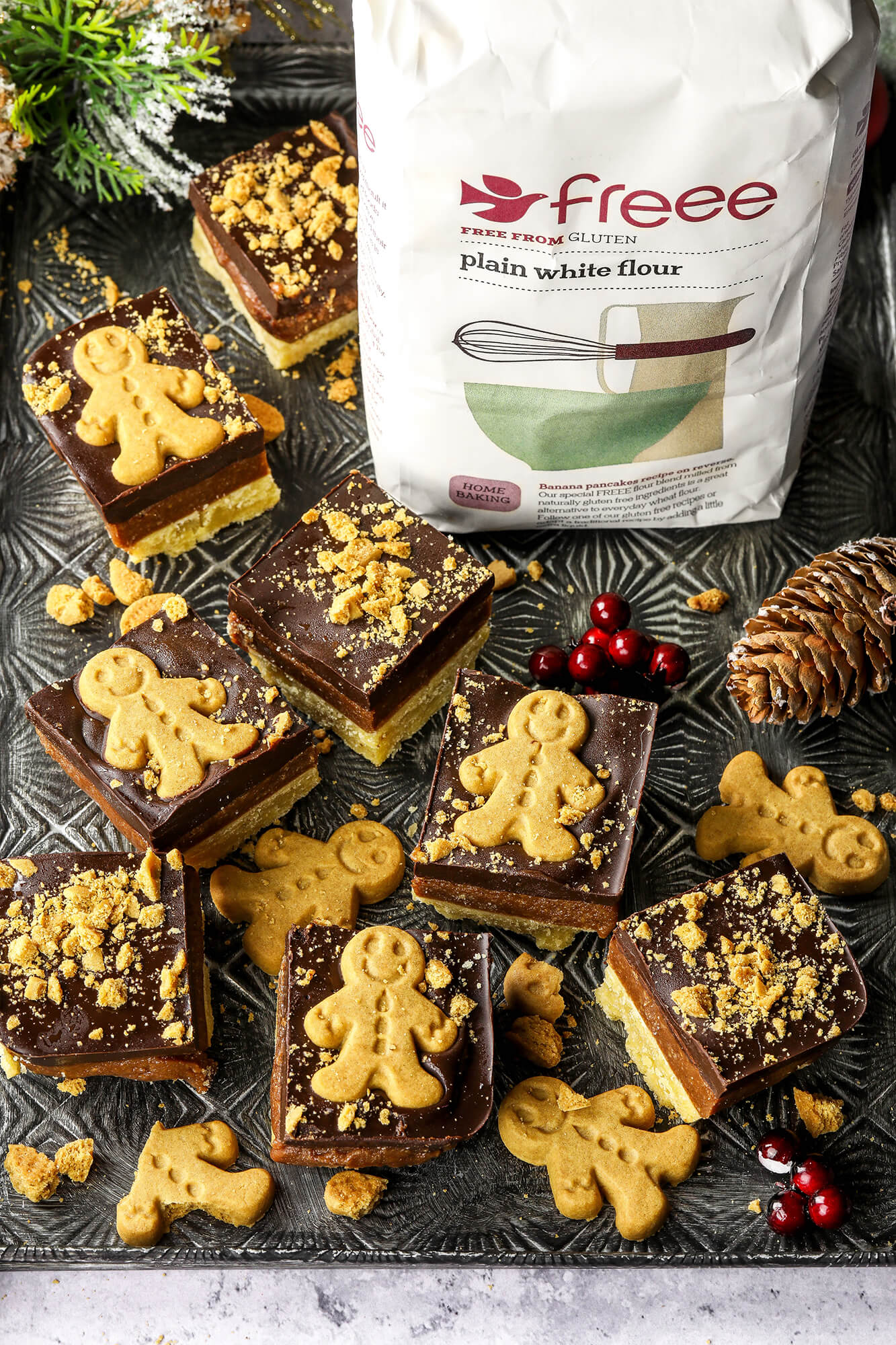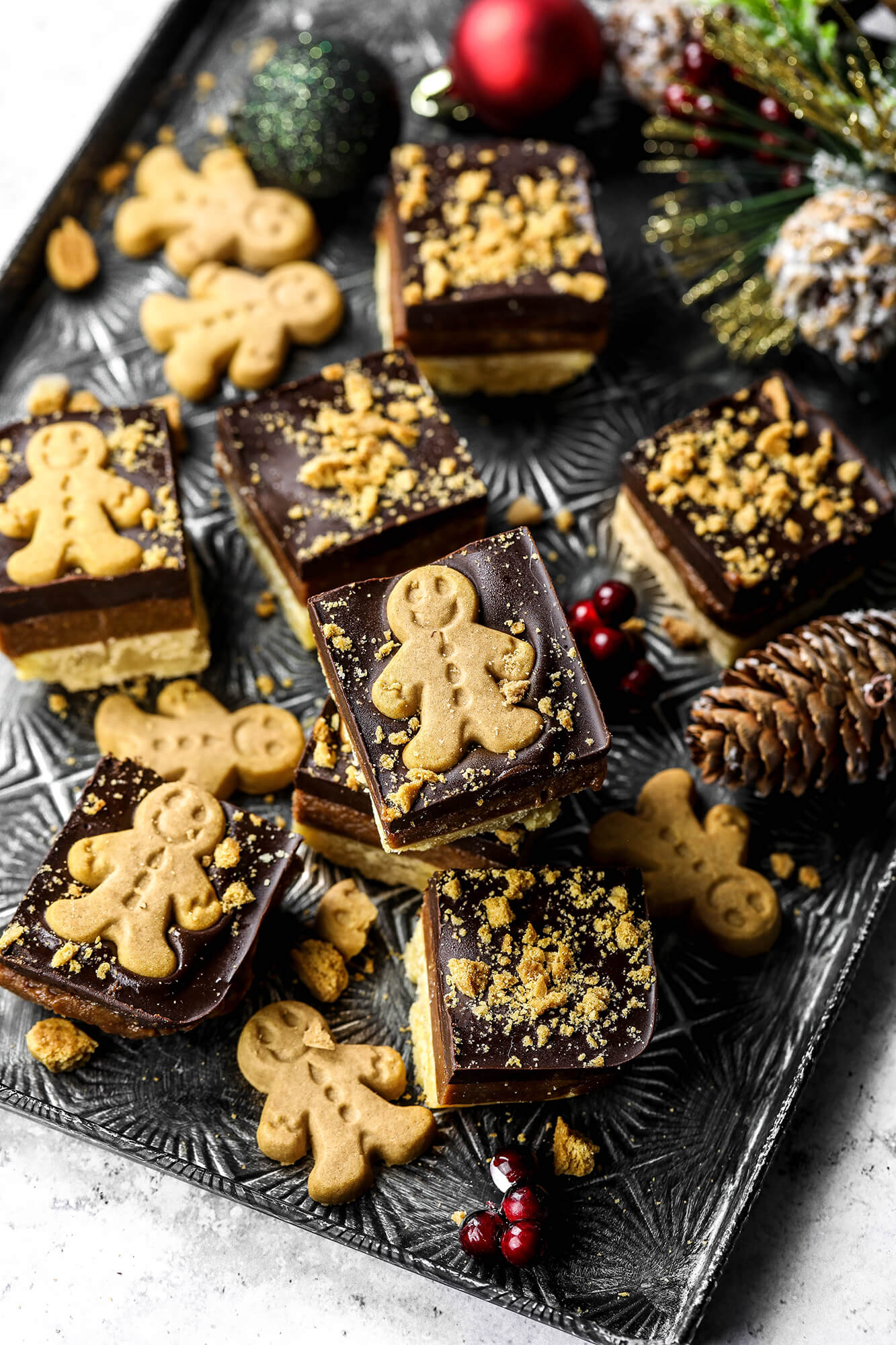 Gluten-Free Vegan Gingerbread Millionaires Shortbread
Makes – 8 squares
Ingredients
For the shortbread base
120g FREEE Gluten-free Plain White Flour
70g dairy-free butter, chilled
1 tbsp maple syrup
A pinch of salt
For the gingerbread caramel centre
130g smooth almond butter
2 tbsp maple syrup
2 tbsp molasses or date syrup
1 tbsp coconut oil
1/2 tsp cinnamon
1/2 tsp ginger
1/4 tsp allspice
A pinch of salt
For the topping
150g dark chocolate
½ tbsp coconut oil
Gingerbread men for decoration
Method
Preheat your oven to 180C/160C fan.
Place the gluten-free flour, chilled butter, maple syrup and a pinch of salt in a food processor and pulse until you have a smooth dough.
Transfer into a loaf tin lined with baking paper (I used a 22×12 cm loaf tin) and press down to create an even base. Prick with a fork and bake for 25 minutes. Leave to cool while you prepare the caramel layer.
Add all the caramel ingredients into a saucepan and heat until melted and you have a smooth mixture, then spread over the base.
Freeze for 30 minutes, then pour the melted chocolate on top and decorate with the gingerbread men.
Freeze again for 2 hours, then slice into 8 squares*
Enjoy!
Store in an air-tight container in the fridge for up to 3 days.
*I like to pour some hot water over the blade of a sharp knife before slicing. This will make it easier to slice through the chocolate topping and avoid it cracking.