This easy dal with vegetable paratha is such a yummy and cosy meal to enjoy on a week night. Both the dal and paratha are really easy to make and are packed with plant protein, fibre and nutrients. They're also packed with so many aromatic flavours.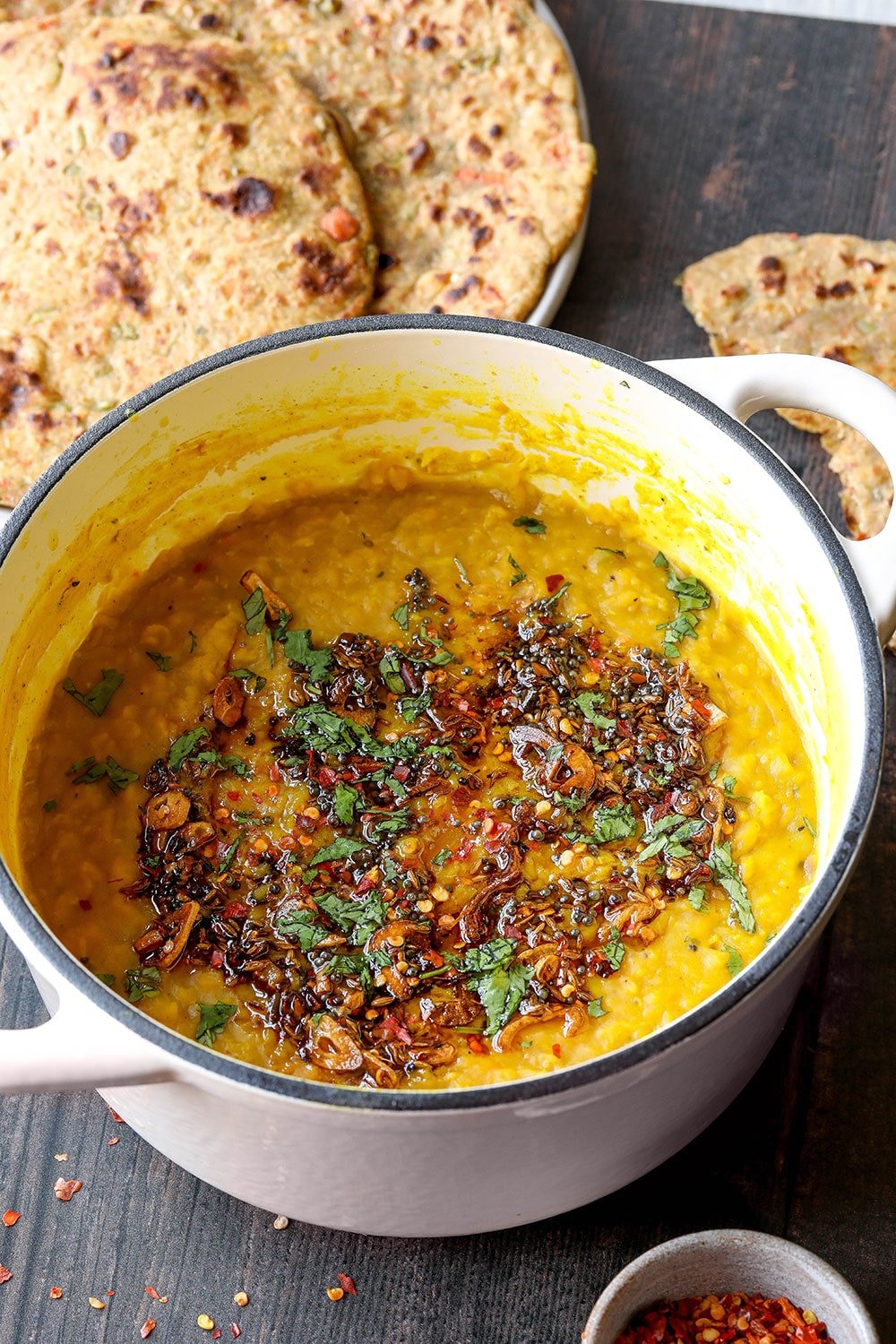 Dal is one of those meals that are so easy to make, yet so delicious and comforting. It's also really healthy with a good amount of plant-based protein, fibre and antioxidants! Each serving offers 20g protein and 23g fibre! As well as being filling, it's also satisfying and nourishing packed with so many wholesome ingredients and fragrant spices.
I'm using red lentils to make my dal as they're really quick to cook. Even more so if you soak them 30 minutes before hand. With soaking, they you'll have a speedy dinner ready in 15 minutes!
The great thing about dal is that you can also batch cook so you have enough for a quick lunch/dinner the next few days. You can also freeze leftovers for a rainy day when you don't have time or the energy to cook.
I'm serving my dal with simple homemade vegetable parathas. Parathas are usually very heavy in fat and butter. I'm making a healthier version with less fat and packed it with vegetables for more fibre, nutrients and antioxidants. With each of my paratha containing 7g fibre and 8g protein, so it's a great (and yummy!) way to add more nutrition to your meal.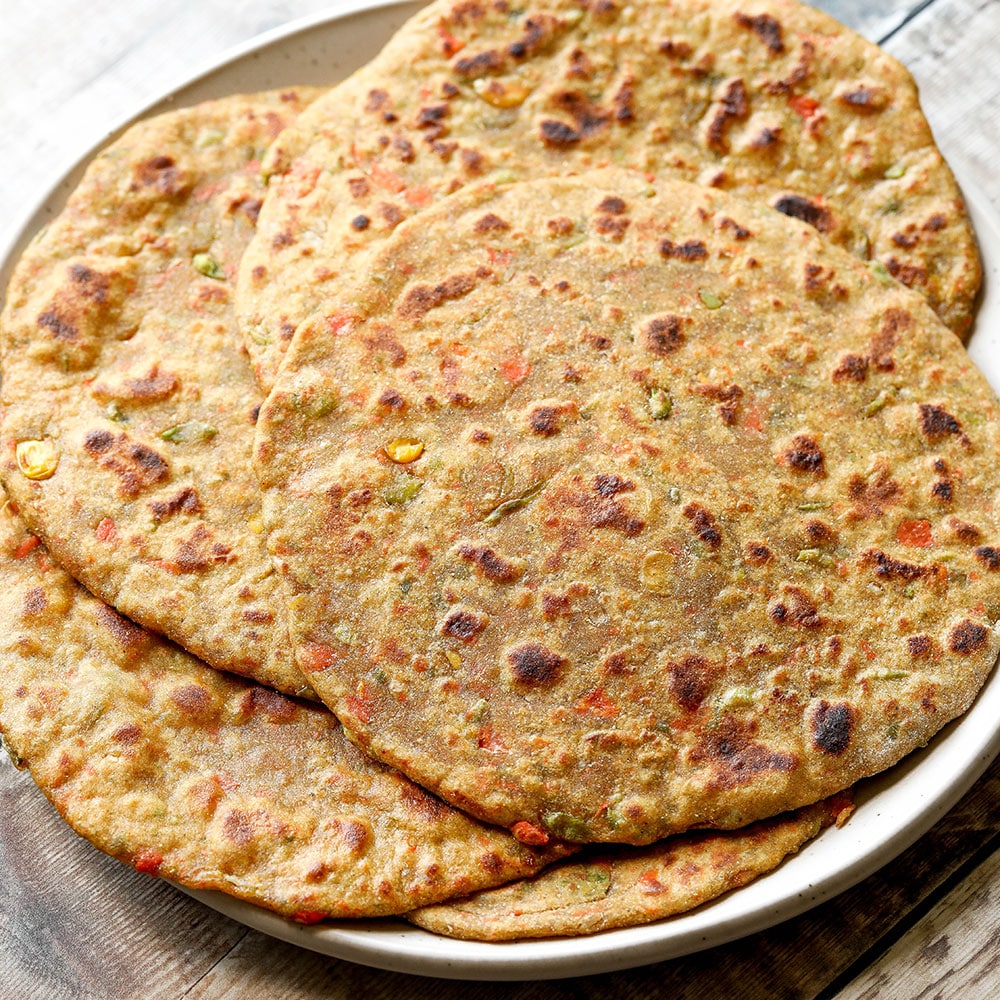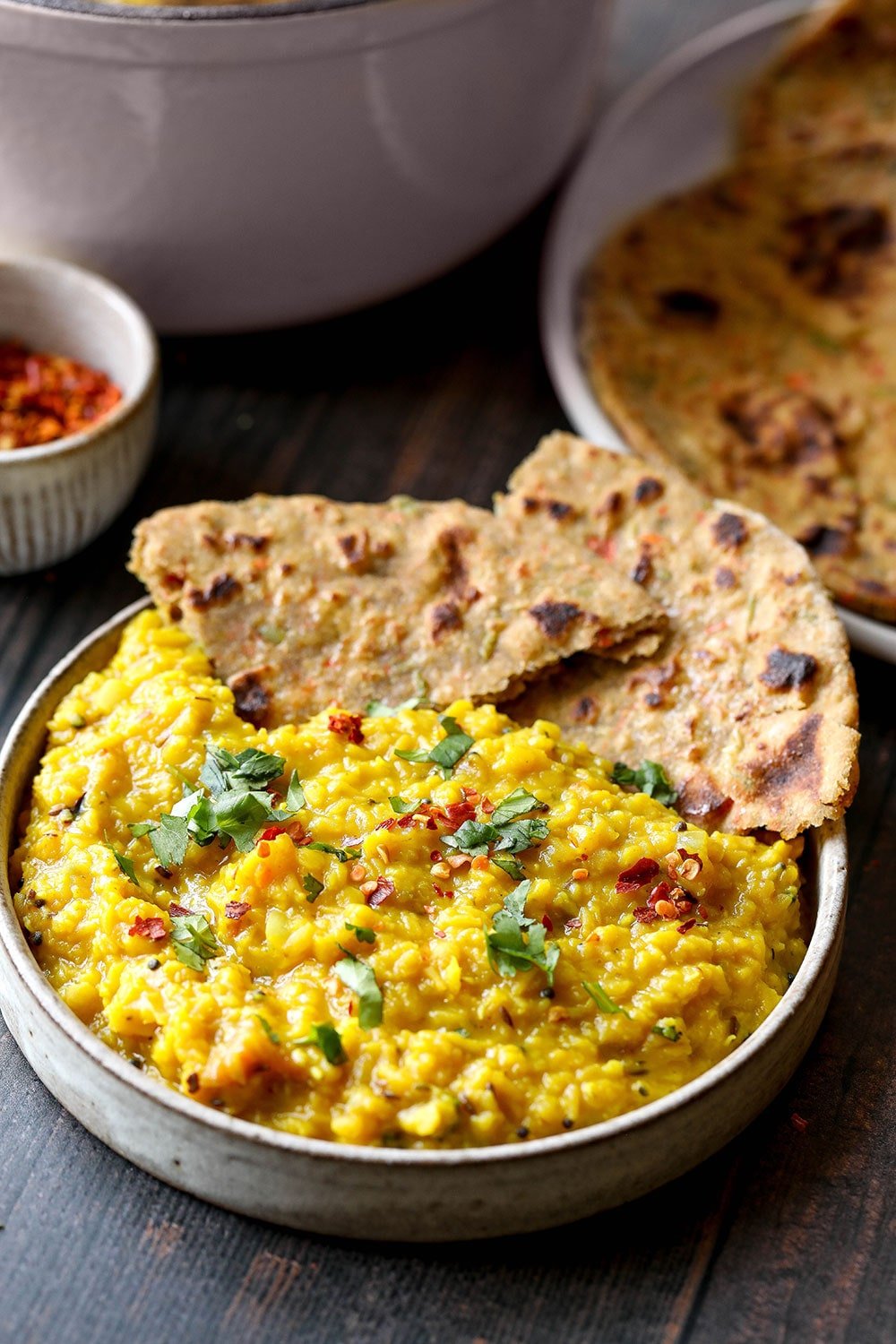 What you need to make this easy dal with vegetable paratha:
Red lentils – you can make dal with different types of lentils, but red lentils are my favourite as they're really quick and easy to cook. They're also really cheap and great to have in your kitchen cupboard.
Garlic and ginger – essential for all Indian/Asian cooking.
Spices – I'm using spices traditionally used in authentic Indian cooking like turmeric, cumin, coriander and chilli powder. I'm also including cumin seeds, mustard seeds and chilli flakes to pack in even more delicious flavours!
Vegetable stock – for more flavour and added saltiness.
Salt & pepper – to taste to enhance all the flavours.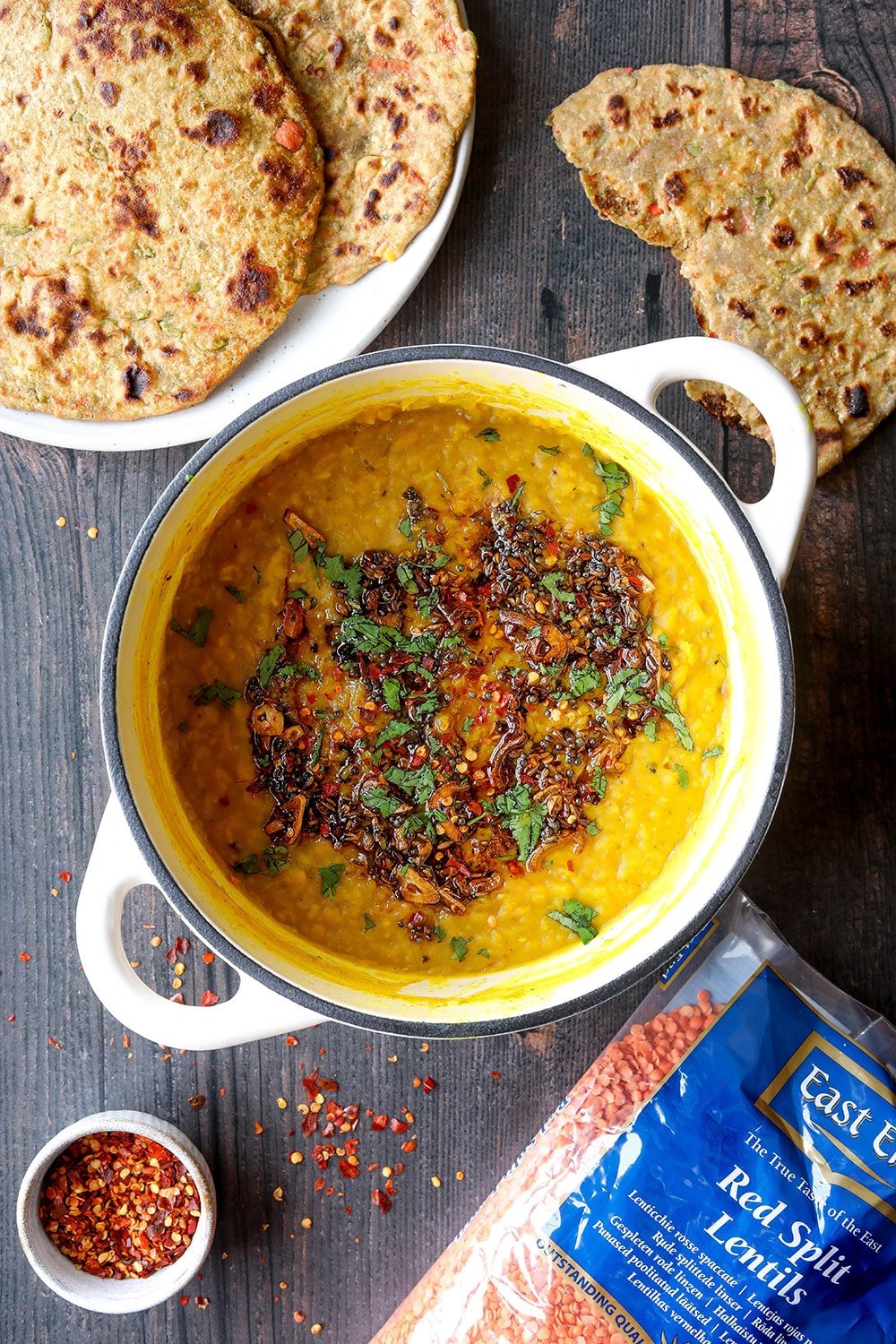 This easy dal with vegetable paratha recipe is:
Vegan
Vegetarian
Dairy-free
Nut-free
Easy to make
Super speedy
Packed with flavour
High in protein
High in fibre
Convenient
Great for meal prepping
And so delicious!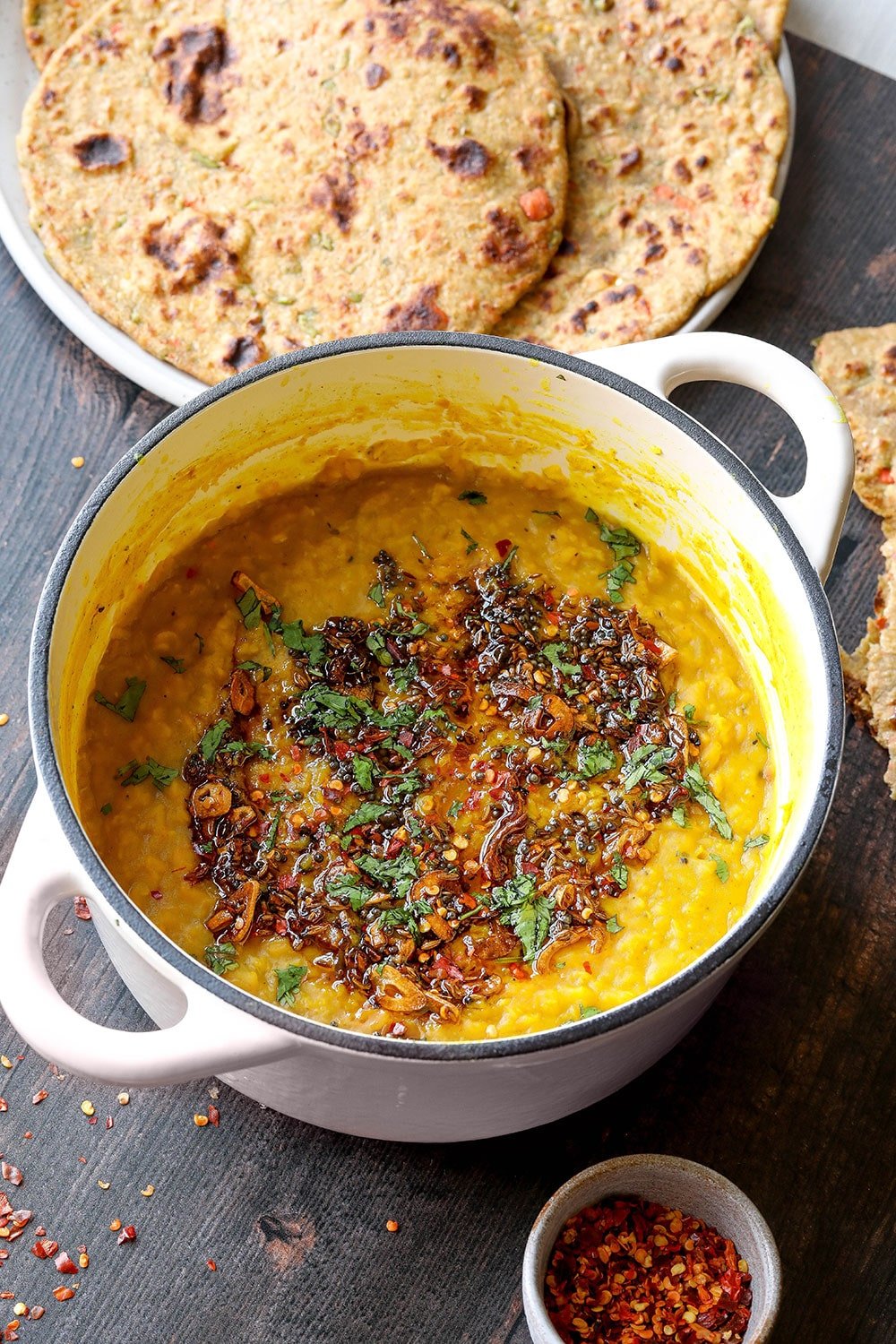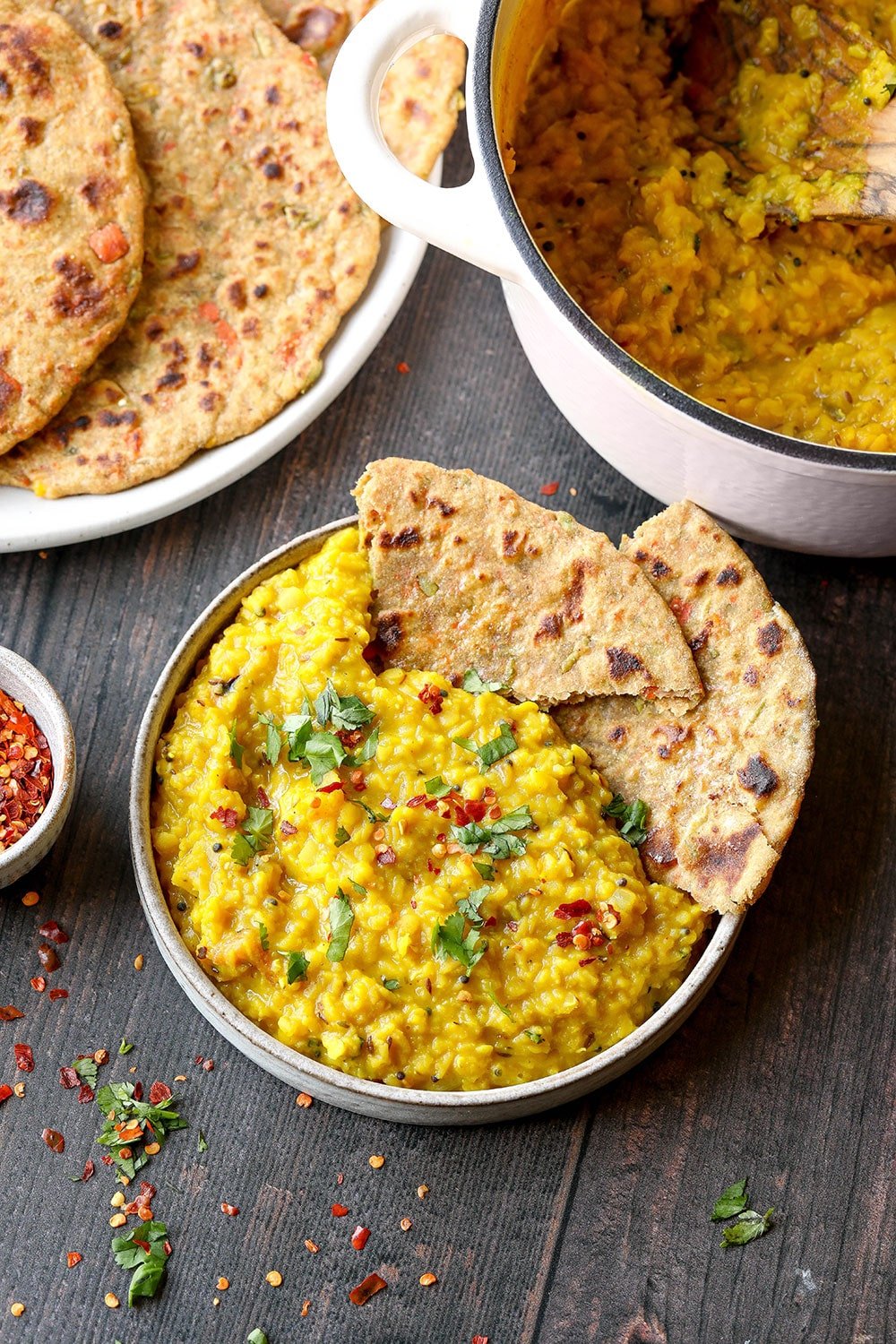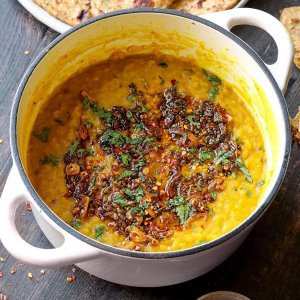 The Best Dal Recipe
This easy dal with vegetable paratha is such a yummy and cosy meal to enjoy on a week night. Both the dal and paratha are really easy to make and are packed with plant protein, fibre and nutrients. They're also packed with so many aromatic flavours.
Ingredients
300g

dried red lentils

1/2

onion

chopped

1

thumb sized fresh ginger

peeled and minced

3

garlic cloves

minced

2

bay leaves

1

tsp

coriander

1

tsp

cumin

1

tsp

turmeric

1/2

tsp

chilli powder

1

vegetable stock pot or cube

500ml

hot water

Salt & pepper to taste

1

tbsp

lemon juice
Topping
2

tbsp

oil

2

garlic cloves

sliced

1

tsp

chilli flakes

1

tsp

cumin seeds

1

tsp

mustard seeds
Instructions
Soak the lentils for 30 minutes, then drain and rinse well until the water runs clear.

Heat a little bit of oil in a large pot. Add the onions and bay leaves and cook for 5 minutes on a medium heat until the onions are translucent.

Add the garlic, ginger and spices with a splash of water and cook for another 1 minute.

Add the lentils along with the stock pot/cube and water. Bring to a boil, then lower the heat and allow to simmer for 10-15 minutes, stirring occasionally.

Take off the heat, add the lemon juice and season to taste with salt and pepper.

When ready to serve, heat 2 tbsp of oil over a medium heat and add the garlic, chilli flakes, mustard seeds and cumin seeds. Cook for a couple of minutes, then pour over the pan of dal. Mix and serve with rice of homemade vegetable paratha (recipe below).
Nutrition
Calories:
358
kcal
Carbohydrates:
50
g
Protein:
20
g
Fat:
9
g
Saturated Fat:
1
g
Polyunsaturated Fat:
3
g
Monounsaturated Fat:
5
g
Trans Fat:
0.03
g
Sodium:
190
mg
Potassium:
808
mg
Fiber:
24
g
Sugar:
2
g
Vitamin A:
272
IU
Vitamin C:
7
mg
Calcium:
70
mg
Iron:
7
mg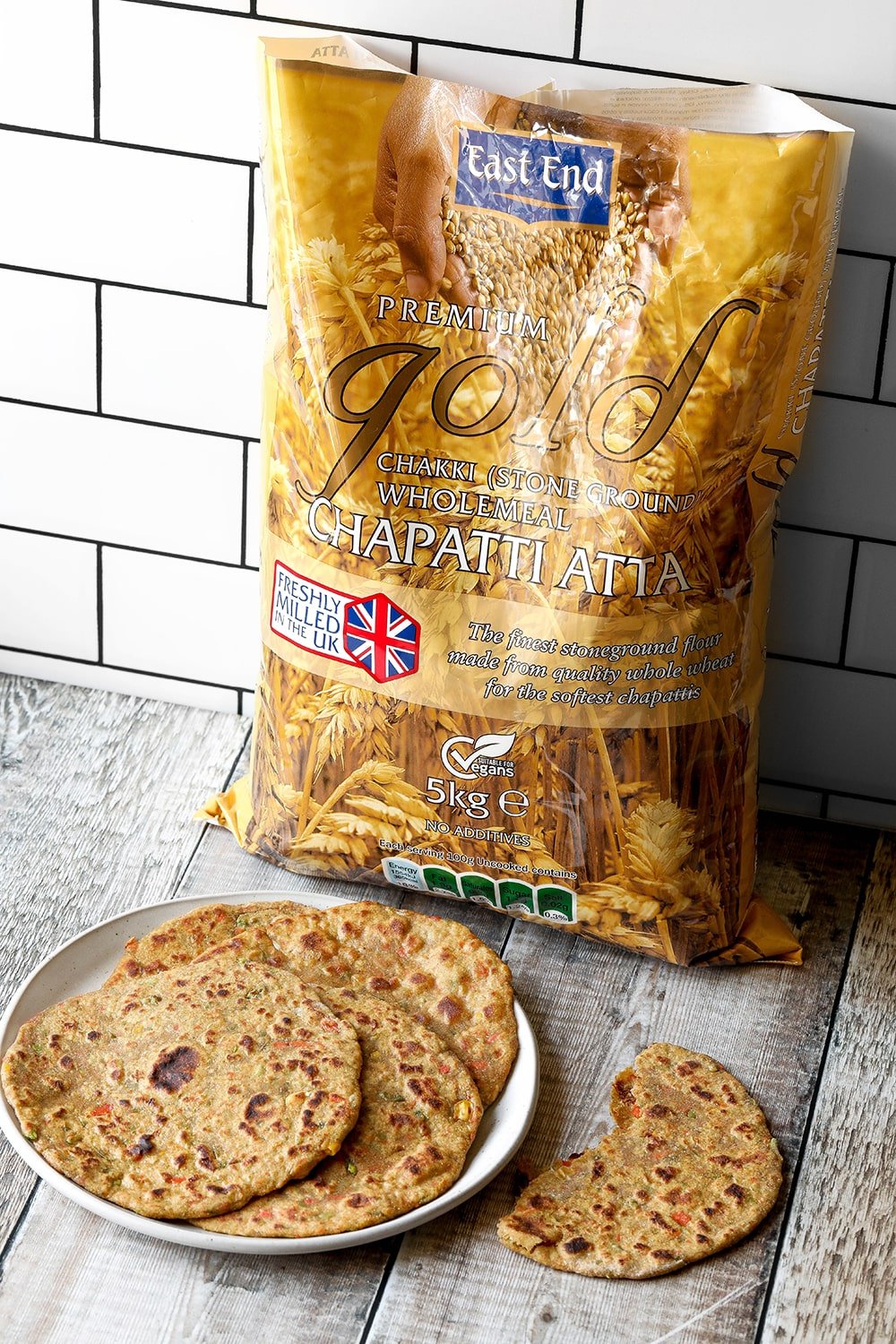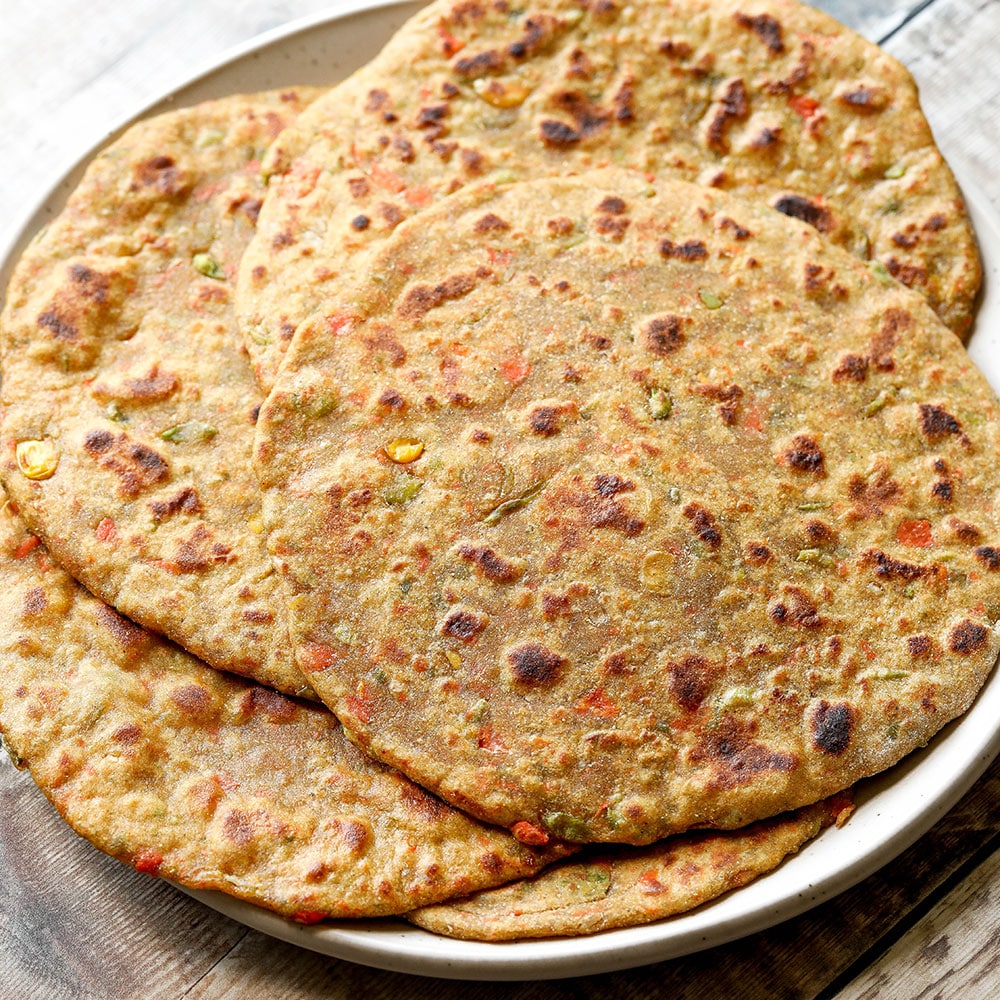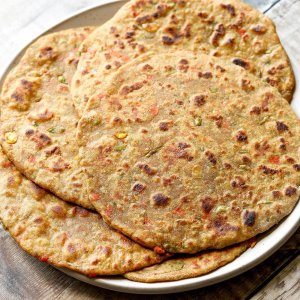 Vegetable Paratha Recipe
Super easy paratha that are healthier, packed with veggies and are so yummy! Perfect enjoyed with dal or curries.
Ingredients
400g

steamed or boiled mixed vegetables*

1

tsp

garam masala

1/4

tsp

chilli powder

1

tsp

salt

250g

atta

wholemeal wheat flour

1-2

tbsp

butter/dairy-free butter alternative

melted
Instructions
Steam or boil the vegetables until soft enough to mash. Drain them well and start mashing with a potato masher into a smooth(ish) mixture. Allow to cool completely.

Once the vegetable mash has cooled, add the spices, salt and atta/wholewheat flour. Bring everything together and start to knead until you have a soft, smooth dough.

You may need to add more flour if the dough is too sticky or a little bit of water if it's too dry (it will all depend on how much moisture is in the vegetables).

Divide the dough into 6 balls, then roll out on a floured surface into a 7inch paratha.

Heat a pan over a medium-high heat. Once hot, add the paratha and cook for 1 minute, then flip and brush the top with a little bit of melted butter.

Cook for another 1 minute, then flip again and brush with oil so both sides have a light coating of butter.

Flip a couple more times, pressing down on the paratha while they cook. Once they're browned on both sides, take off the heat and repeat with the remaining paratha.
Notes
* You can use any mixture of vegetables. I usually use carrots, broccoli, cauliflower, peas, green beans and potatoes. You can also use frozen vegetables. Steam or boil them until soft and mashable. Make sure you drain them well before mashing.
Nutrition
Calories:
186
kcal
Carbohydrates:
39
g
Protein:
8
g
Fat:
1
g
Saturated Fat:
0.2
g
Polyunsaturated Fat:
1
g
Monounsaturated Fat:
0.1
g
Sodium:
427
mg
Potassium:
294
mg
Fiber:
7
g
Sugar:
0.2
g
Vitamin A:
3414
IU
Vitamin C:
7
mg
Calcium:
31
mg
Iron:
2
mg