Chocolate Raspberry Sandwich Cookies
A smooth and silky raspberry cream sandwiched between two crunchy chocolate heart-shaped cookies. All vegan and dairy-free. High in fibre and good fats not to mention they're super cute!
Make these chocolate raspberry sandwich cookies for your other half to show them how much you appreciate them and how much you love having them in your life. You can enjoy these cookies even if you're single! Make them for your best friend, your family or just make them for yourself as a treat. We all know how important it is to treat ourselves to something special every once and a while 😉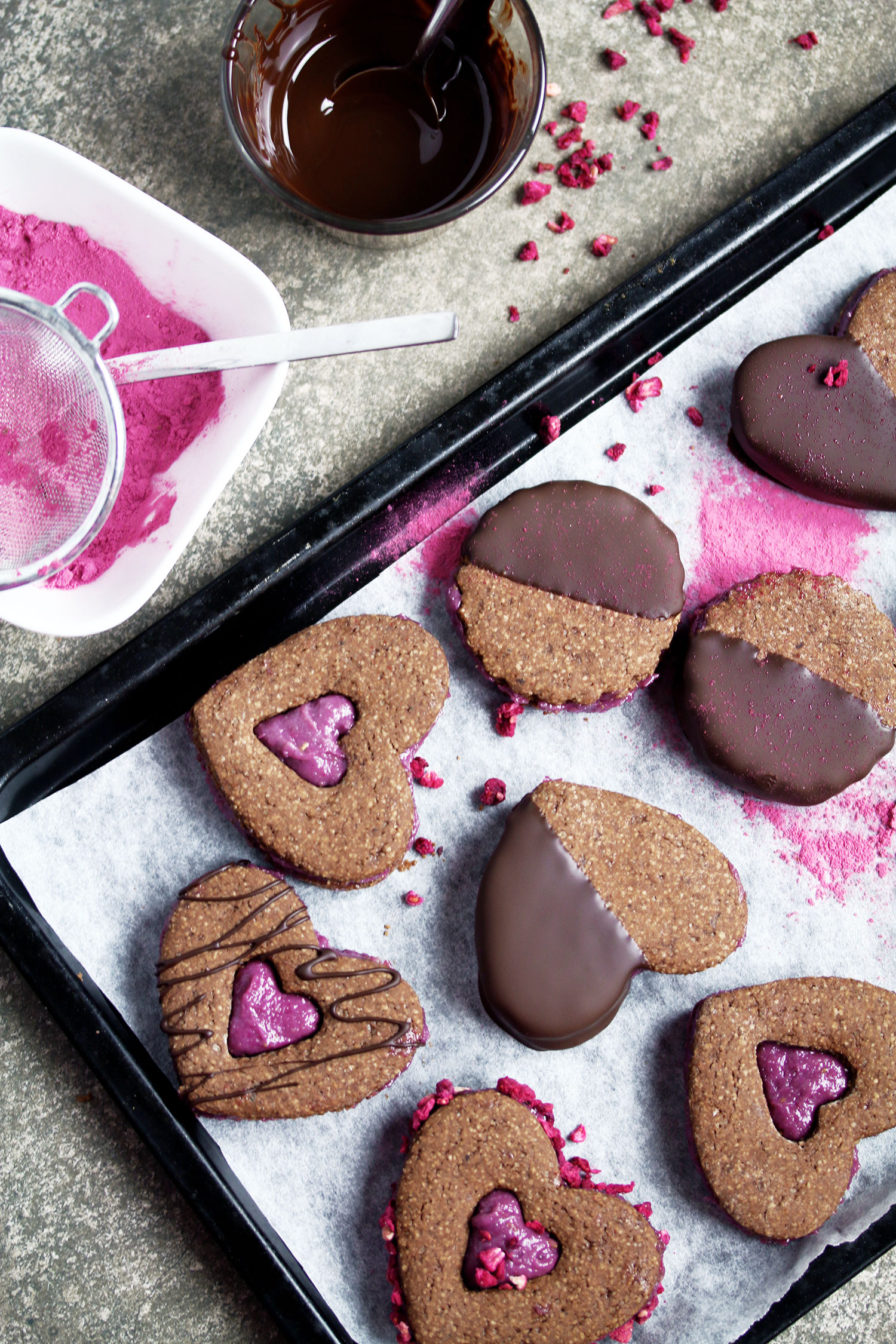 I posted a recipe for these star shaped cookies a couple of months ago and they were hugely popular, so I knew I had to make another similar recipe, but this time heart-shaped to celebrate the month of love <3
I find that using a mixture of oat flour and gluten-free flour always work best together to achieve a crunchy cookie. This time I substituted the oat flour for Mornflake oatbran as a way to bump up the fibre content even more and was curious to see how it would work out. I blended the oatbran in my blender until I had a fine flour to make the cookies more delicate and easier to work with. They turned out so well! The texture is exactly the same as when using oat flour, which I was really pleased with.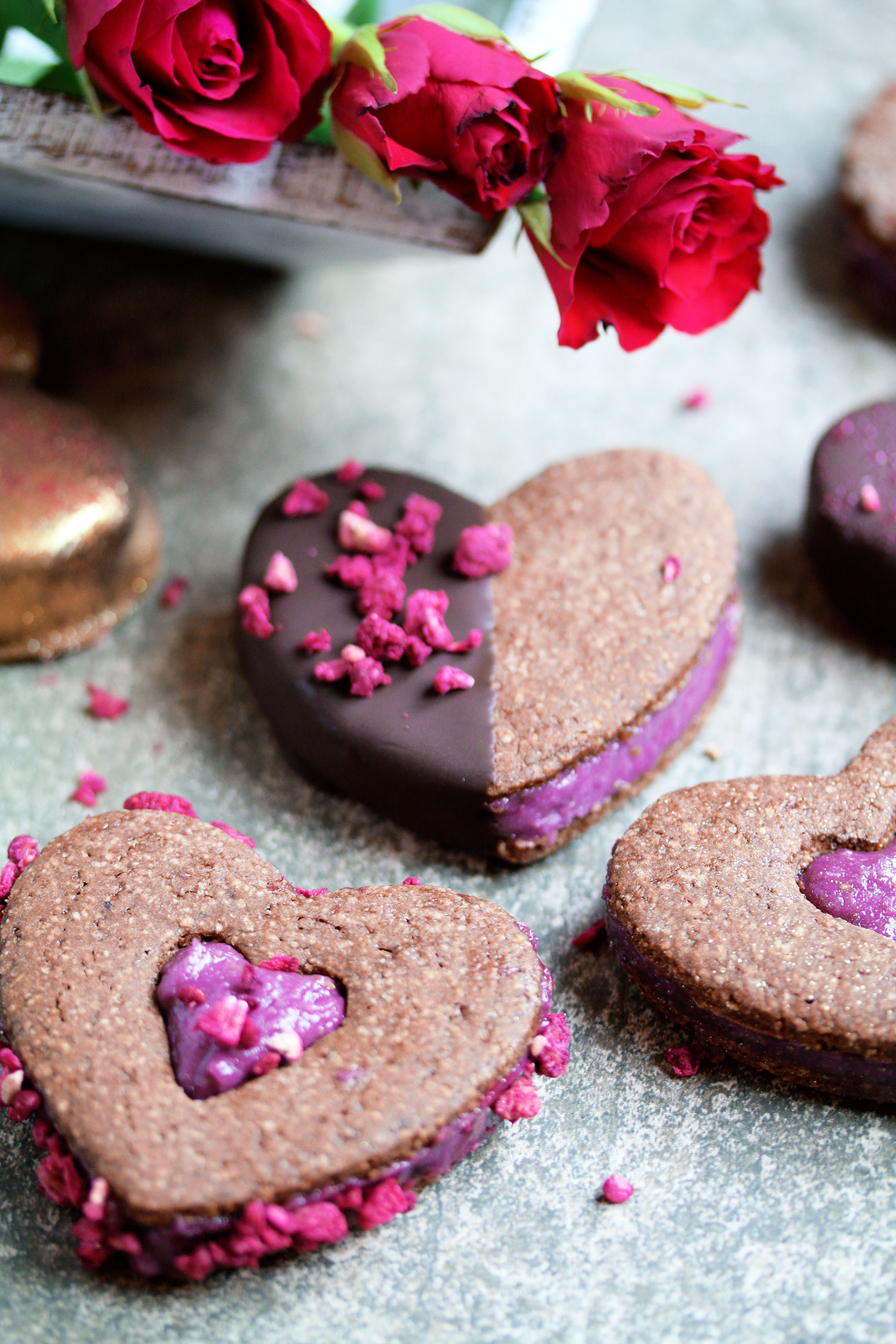 Scroll to the top to watch the short video demo that I created showing you just how easy these cookies are to make step-by-step.
If you would like to recreate this recipe and you're wondering where to buy oatbran, Mornflake is available at Morrison's, Asda, Cooperative, Waitrose, Sainsbury's and Ocado so it's very easy to find!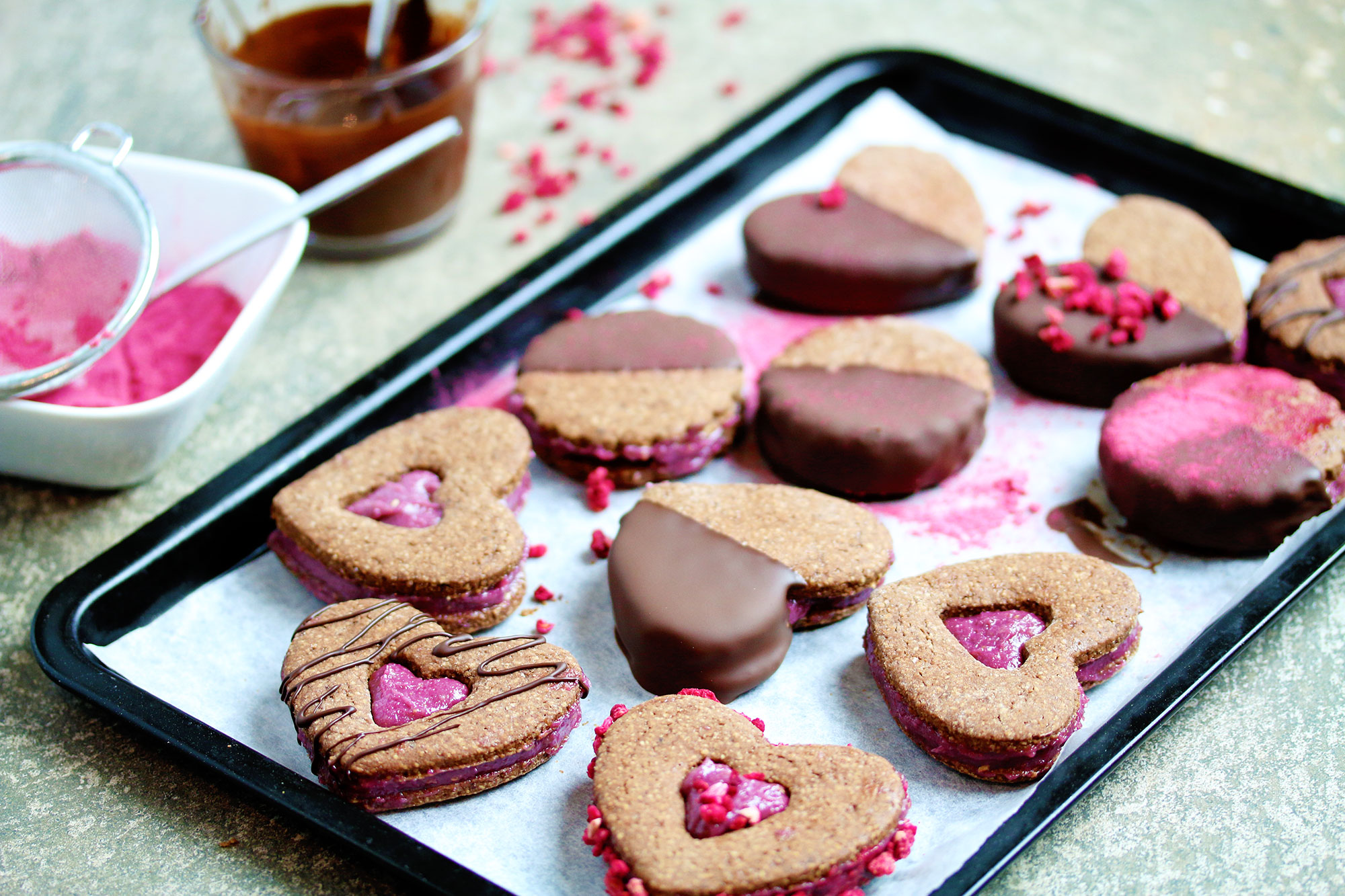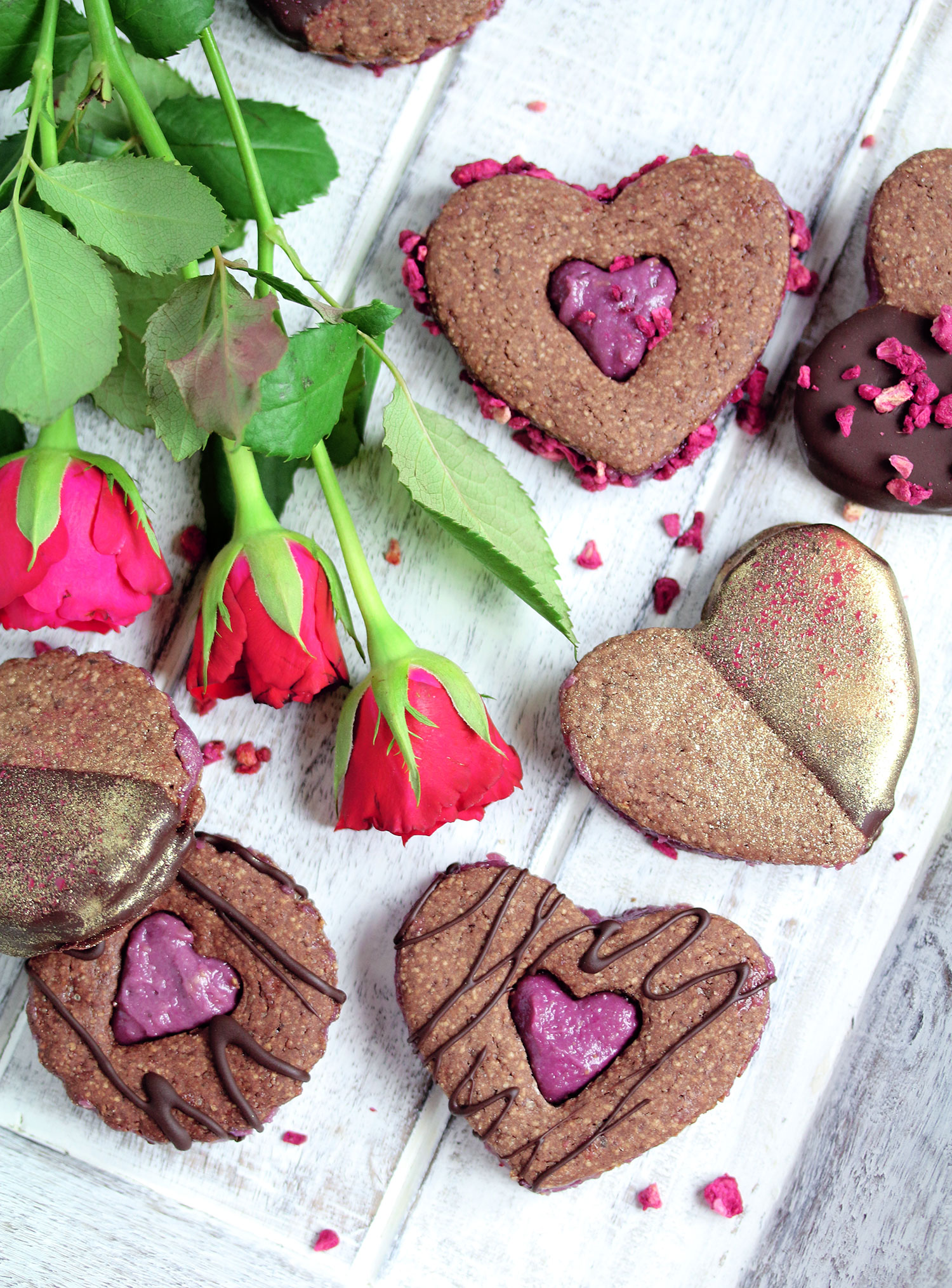 Chocolate Raspberry Sandwich Cookies
2017-02-13 11:08:18
Dry ingredients
1 cup (110g) Mornflake oatbran
1/2 cup (80g) gluten-free self raising flour
1/4 cup (4 tbsp) coconut or brown sugar
1/4 cup (4 tbsp) cocoa powder
1/4 tsp salt
Wet ingredients
1/4 cup (4 tbsp) maple syrup
1/4 cup (4 tbsp) coconut oil, melted
3 tbsp milk of choice
For the raspberry cream
1 cup (145g) cashews
1/2 cup (65g) raspberries
1/4 cup (4 tbsp) creamed coconut or coconut butter, melted
2 tbsp maple syrup
Optional - 1 tsp raspberry or beetroot powder to make the filling a more vibrant pink colour.
To make the cookies
Add the oatbran to your blender or food processor and blend on high until you have a fine flour.
Add to a large bowl along with the rest of the dry ingredients.
Pour in the wet ingredients and mix to combine.
Chill in the fridge for 30 minutes to make dough easier to roll.
Lightly flour your work surface then roll out the dough to a thickness of about 1/4 inch.
Use a heart shaped (or any shape!) cookie cutter to cut out the cookies.
Arrange on a baking sheet covered with parchment paper and bake for 12-15 minutes. Bear in mind the baking time will also depend on the size of your cookies.
Leave to cool completely.
To make the raspberry cream
Add all the ingredients to your blender/food processor and blend on high until smooth.
Spread a layer of the raspberry cream on one of the cookies and top with another. Smooth the edges out with a knife.
Chill in the fridge again to allow the cream to harden.
Optional step - dip the cookies in melted chocolate to make them even more delicious!
Enjoy!
Nadia's Healthy Kitchen https://nadiashealthykitchen.com/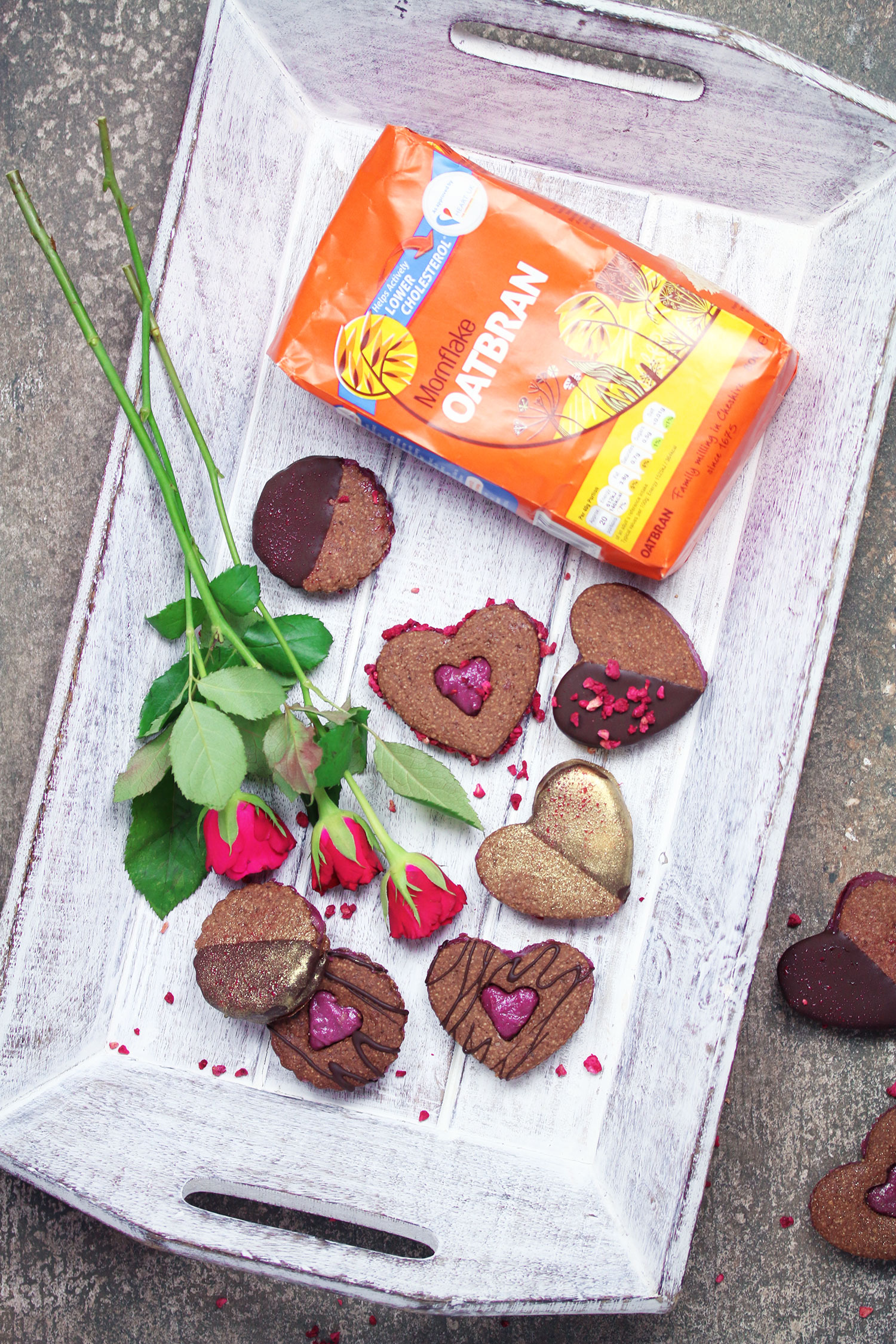 This post was commissioned by Mornflake; however all opinions are my own.