If you love chocolate treats, you need to try this chocolate pudding cake. It's rich, easy to make and requires no baking. The perfect chocolate dessert for summer!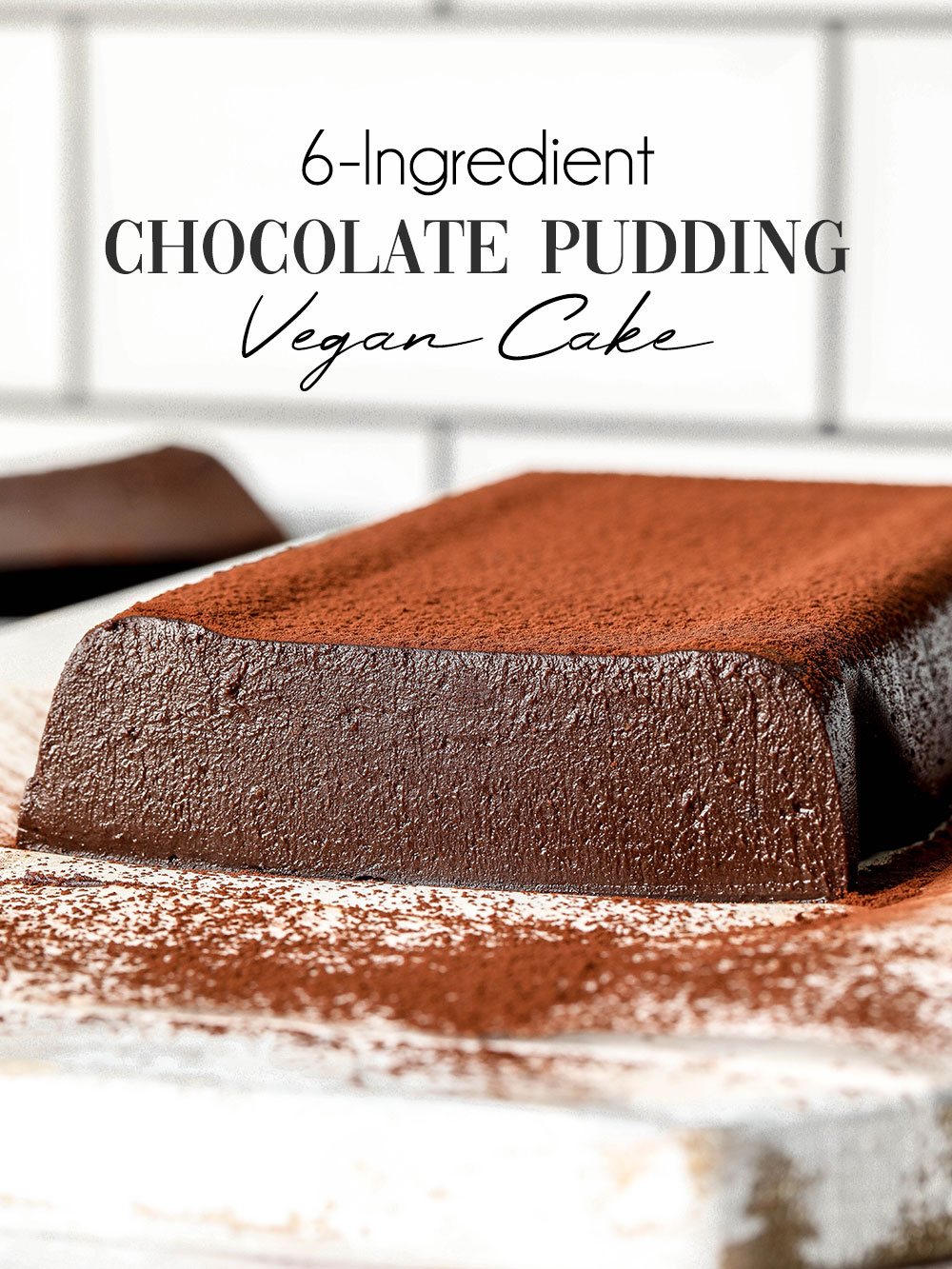 The best way for me to describe this chocolate pudding cake is that it's a mixture between a mousse and jelly – almost like a thick, gelatinous custard that you can set in a cake tin.
This is the perfect dessert to make on warmer days when you fancy something chocolatey, but also want something cold form the fridge to help cool yourself down. With it being no-bake, it also means you don't need to turn the oven on, which is the last thing I want to do on a warm day.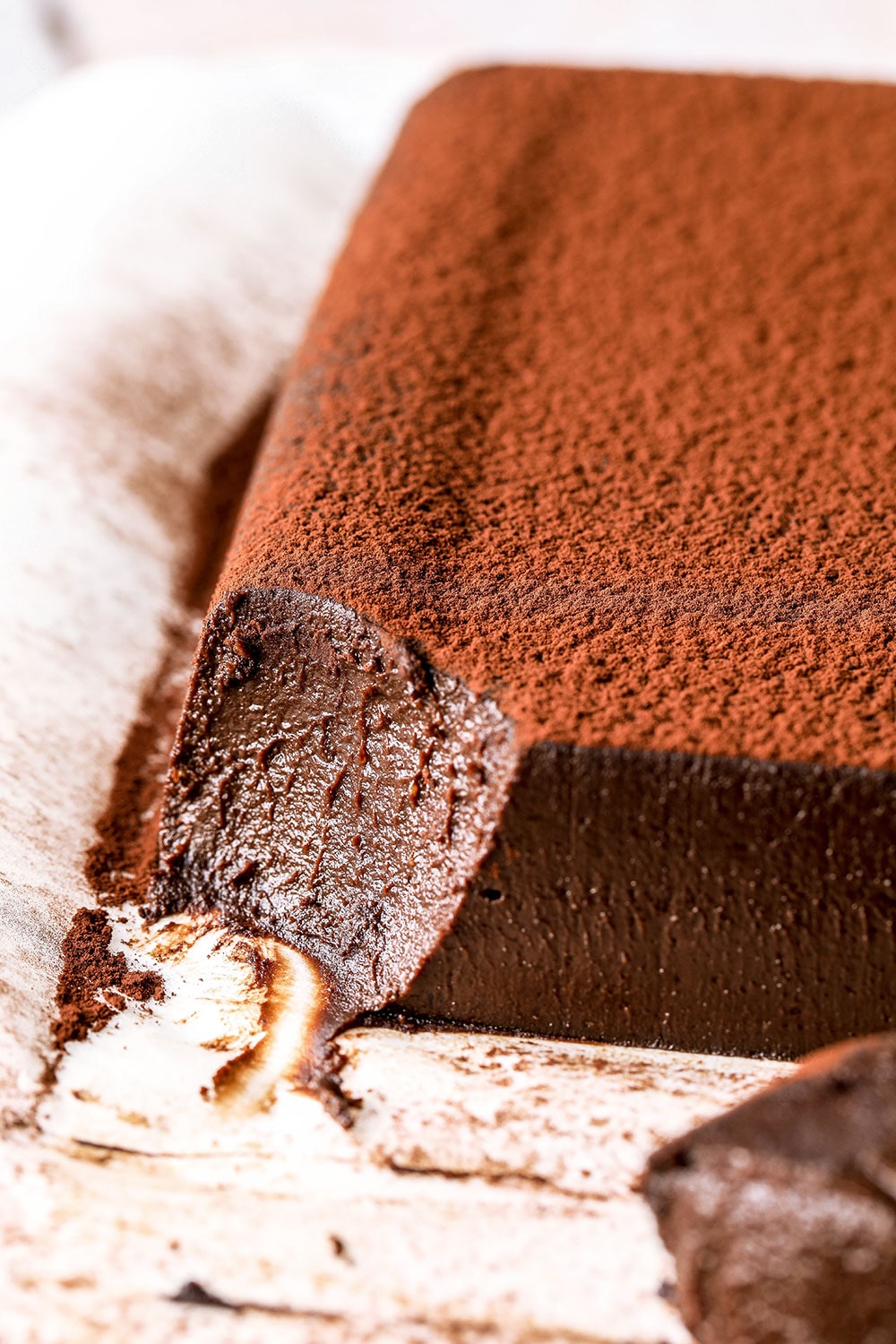 It's a super easy dessert to put together. You only need a handful of ingredients, a saucepan and something to set it in. You can use any cake tin or moulds – whatever you have on hand really.
The recipe is easily adaptable too to liking as well as your dietary preferences/requirements.
If you're anything like me and rich chocolate treats are your thing, then this will be right up your street! I love having a slice after dinner – it's something I look forward to at the end of a long day. A way to let my mind and body know it's time to wind down and relax.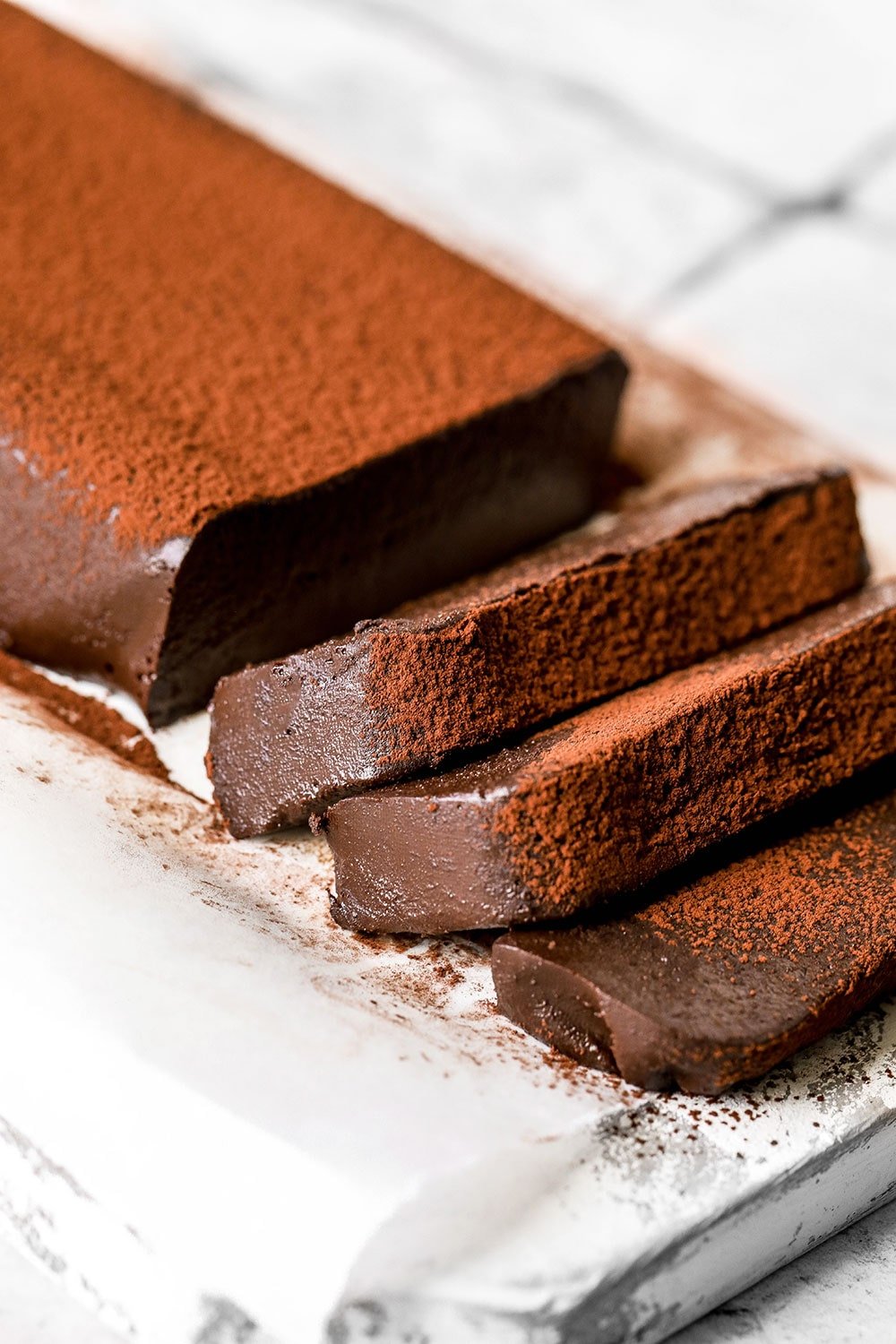 What you need to make this chocolate pudding cake:
Milk – Any milk will work here. You can use a fuller fat milk for a richer, creamier texture, or a lower fat one for a lighter end result.
Agar agar – this is a plant-based gelatin derived from seaweed. It's basically the plant version of animal gelatine. You can get it online – I get mine from Amazon.co.uk. You only need a small amount, so one small tub will last you ages! Definitely worth the investment, especially if you like making things like custards, puddings and jellies. I use it all the times in recipe like these lemon cups and crème brûlée tart.
Nut butter – to add a little extra richness, I love using peanut, almond or hazelnut butter, but any will work. You can use a seed butter like tahini or sunflower seed butter for a nut-free version. You can even use regular dairy butter if you prefer.
Dark chocolate – any chocolate will work really, but I prefer a darker chocolate with more cocoa solids. I usually go for a 70% or over. This is what will give this pudding cake that luxurious velvety chocolate taste!
Cocoa powder – for a little extra chocolatey richness!
Sugar – this is optional and will depend on your taste as well as the type of chocolate you use. If you use a sweeter, less bitter bar or chocolate, you probably won't want to see any extra sugar. You have the option of adding the sugar right at the end to give yourself a chance to taste the mixture before and decide whether you want to add more sweetness or not.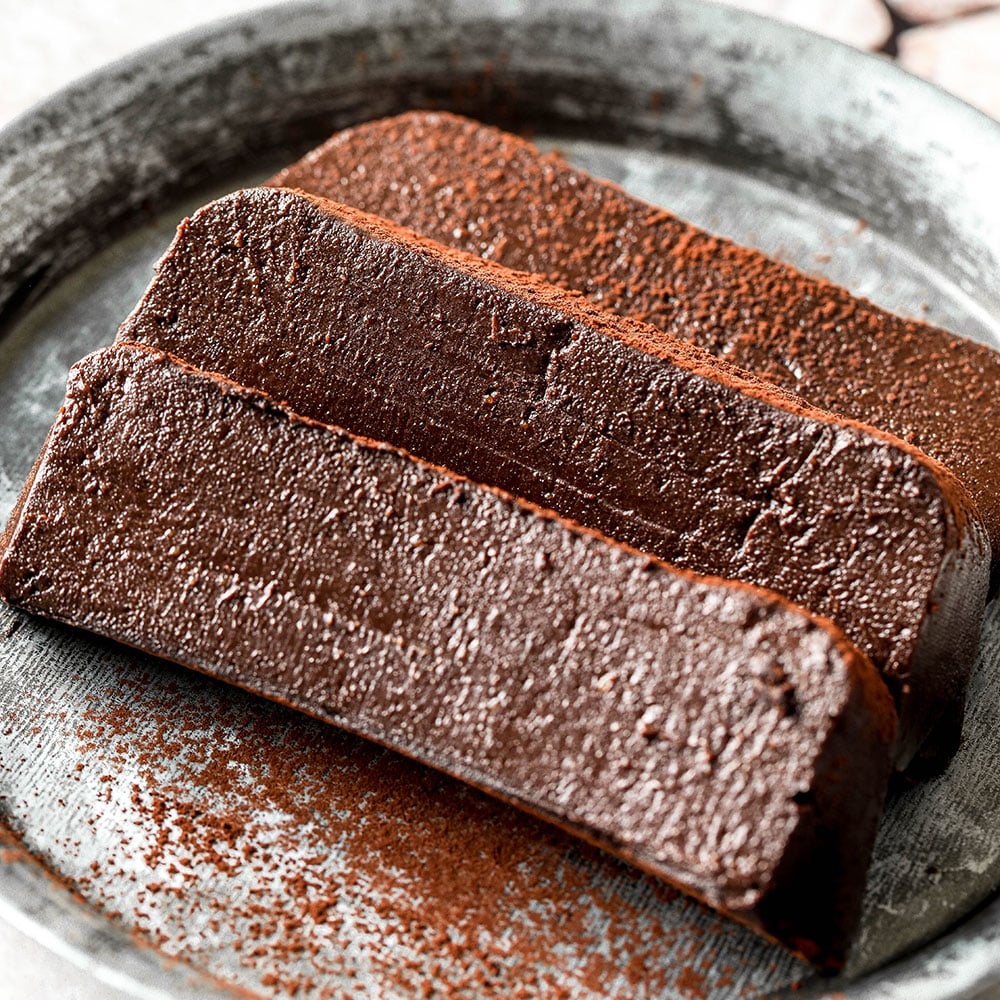 This chocolate pudding cake is:
Vegan
Gluten-free
Dairy-free
Soy-free
Can be made nut-free
Easy to make
No baking required
Only calls for 6 main ingredients
Served cold, so prefect for hot days.
Is so decadent and moreish!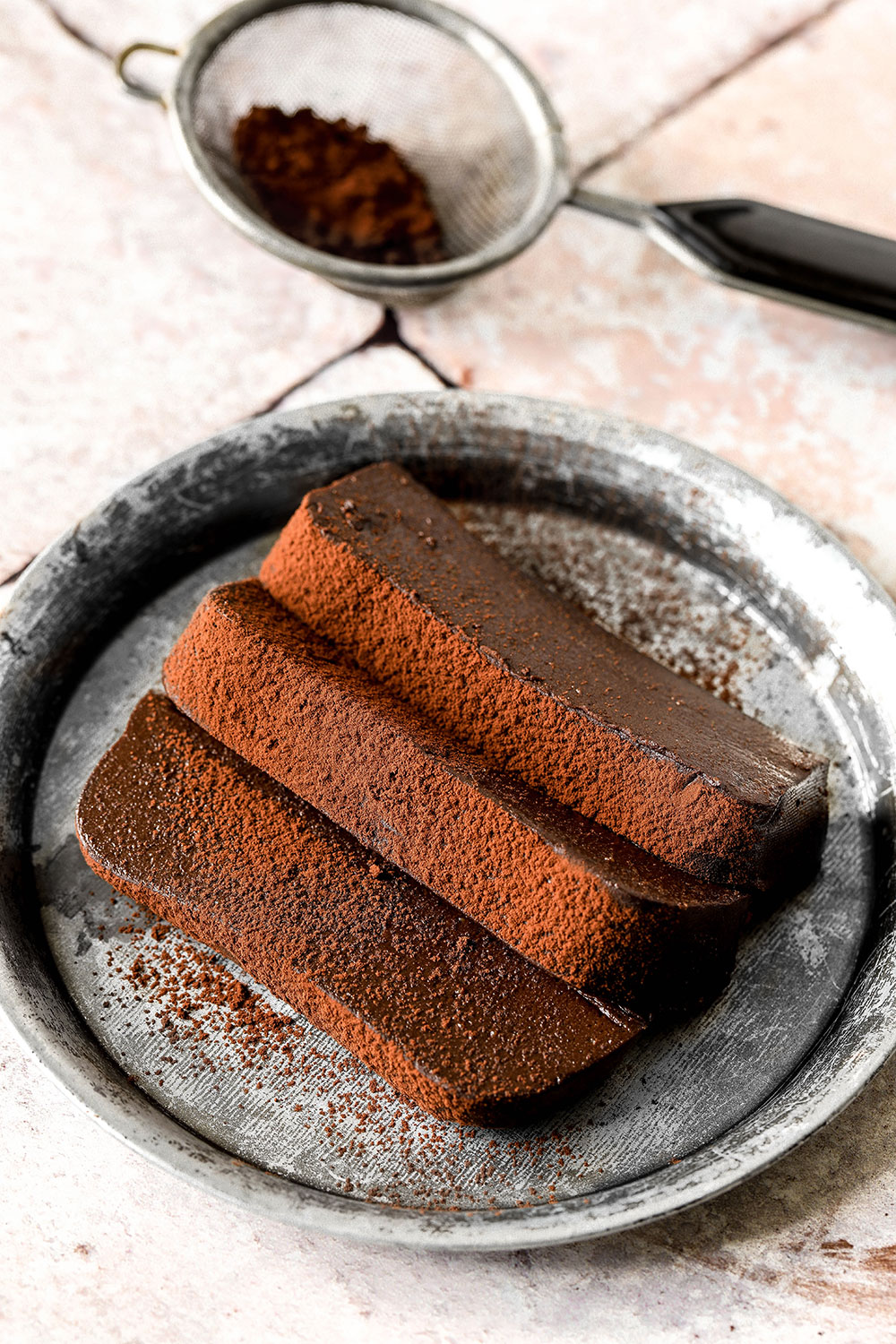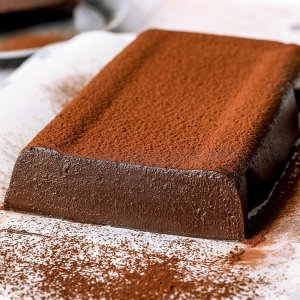 Chocolate Pudding Cake (Vegan & Gluten-free)
If you love chocolate treats, you need to try this chocolate pudding cake. It's rich, easy to make and requires no baking. The perfect chocolate dessert for summer!
Ingredients
400ml

milk of choice

2

tsp

agar agar

2

tbsp

peanut butter*

or nut butter of choice

30g

cocoa powder

150g

dark chocolate

broken up into small pieces

40g

granulated sugar**

Pinch of salt

Cocoa powder for dusting
Instructions
Pour the milk into a saucepan and add in the agar agar. Mix until completely dissolved, then place the pan over a medium-low heat.

Add the peanut butter, cocoa, sugar, a pinch of salt and dark chocolate.

Let the mixture cook until it thickens. Stir continuously to prevent it sticking to the bottom of the pan.

Once the mixture thickens, take off the heat and pour into a lined cake tin or moulds. Allow to cool before transferring into the fridge to set.

Allow to set in the fridge for 2-3 hours.

When ready to serve, dust with some cocoa powder. Store leftovers in an air-tight container in the fridge.
Notes
* For a nut-free recipe, substitute with a seed butter (like tahini or sunflower seed butter) or regular butter.
** You can use as much or as little sugar as you like. You can give the mixture a taste while it's cooking and adjust to liking. Any kind of granulated sugar will work.
Nutrition
Calories:
137
kcal
Carbohydrates:
14
g
Protein:
3
g
Fat:
9
g
Saturated Fat:
4
g
Polyunsaturated Fat:
1
g
Monounsaturated Fat:
3
g
Trans Fat:
0.01
g
Cholesterol:
0.5
mg
Sodium:
73
mg
Potassium:
171
mg
Fiber:
3
g
Sugar:
8
g
Vitamin A:
6
IU
Calcium:
67
mg
Iron:
2
mg