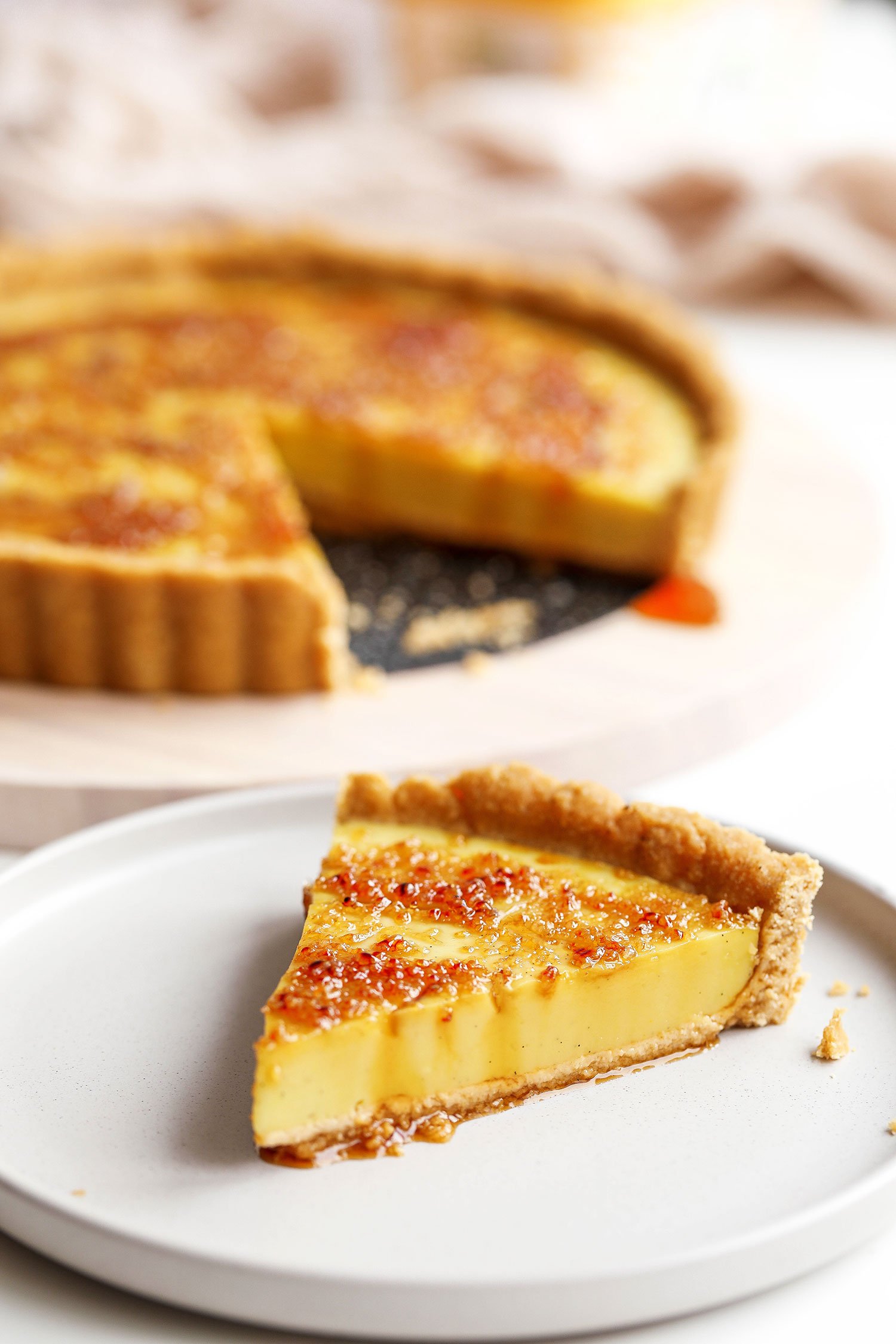 Vegan Crème Brûlée Tart
* This post is sponsored by Pure*
An indulgent treat that's free from dairy, eggs, gluten and nuts, yet still tastes insanely good! This vegan crème brûlée tart can be enjoyed by everyone and you won't be able to tell there's no eggs or dairy in there.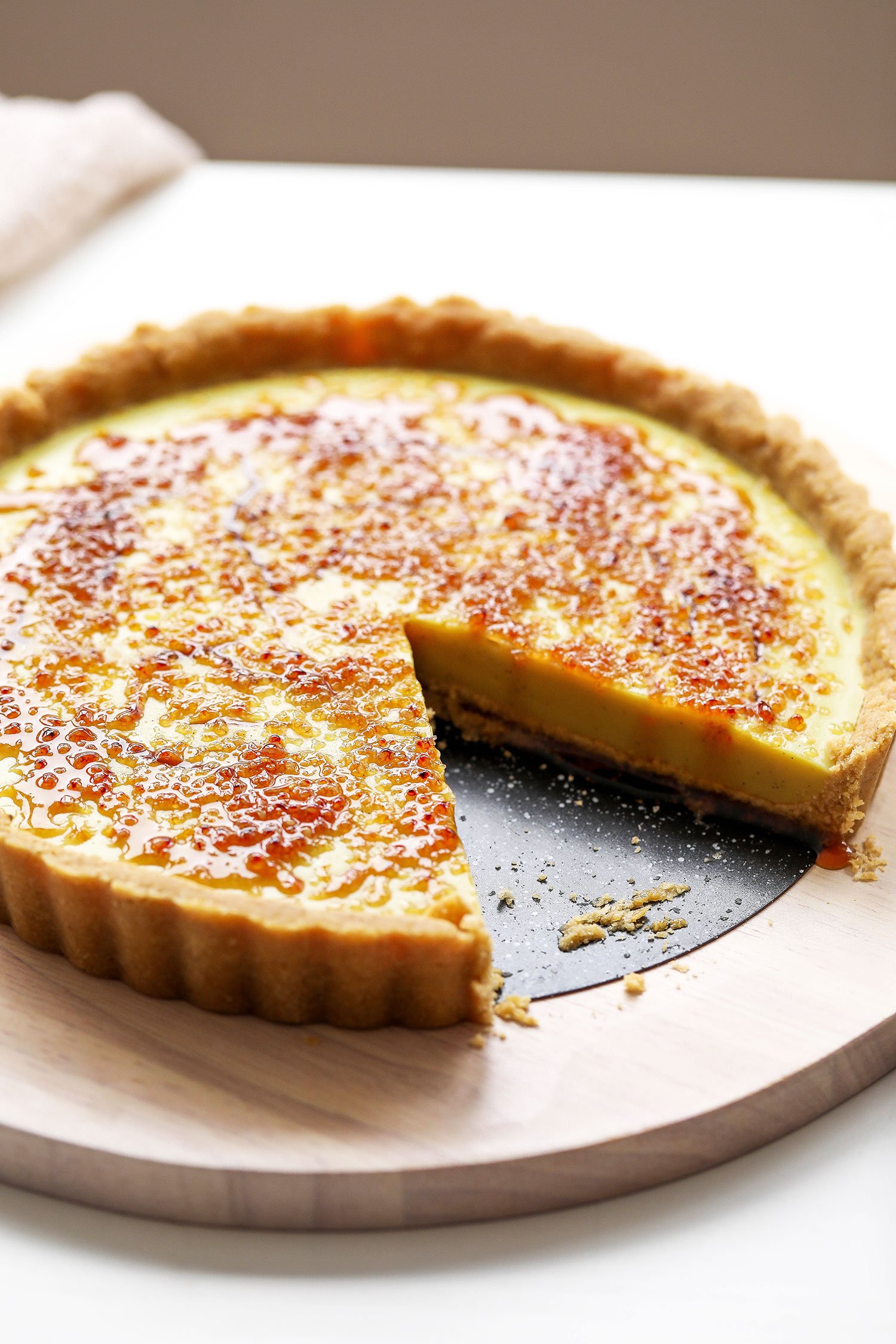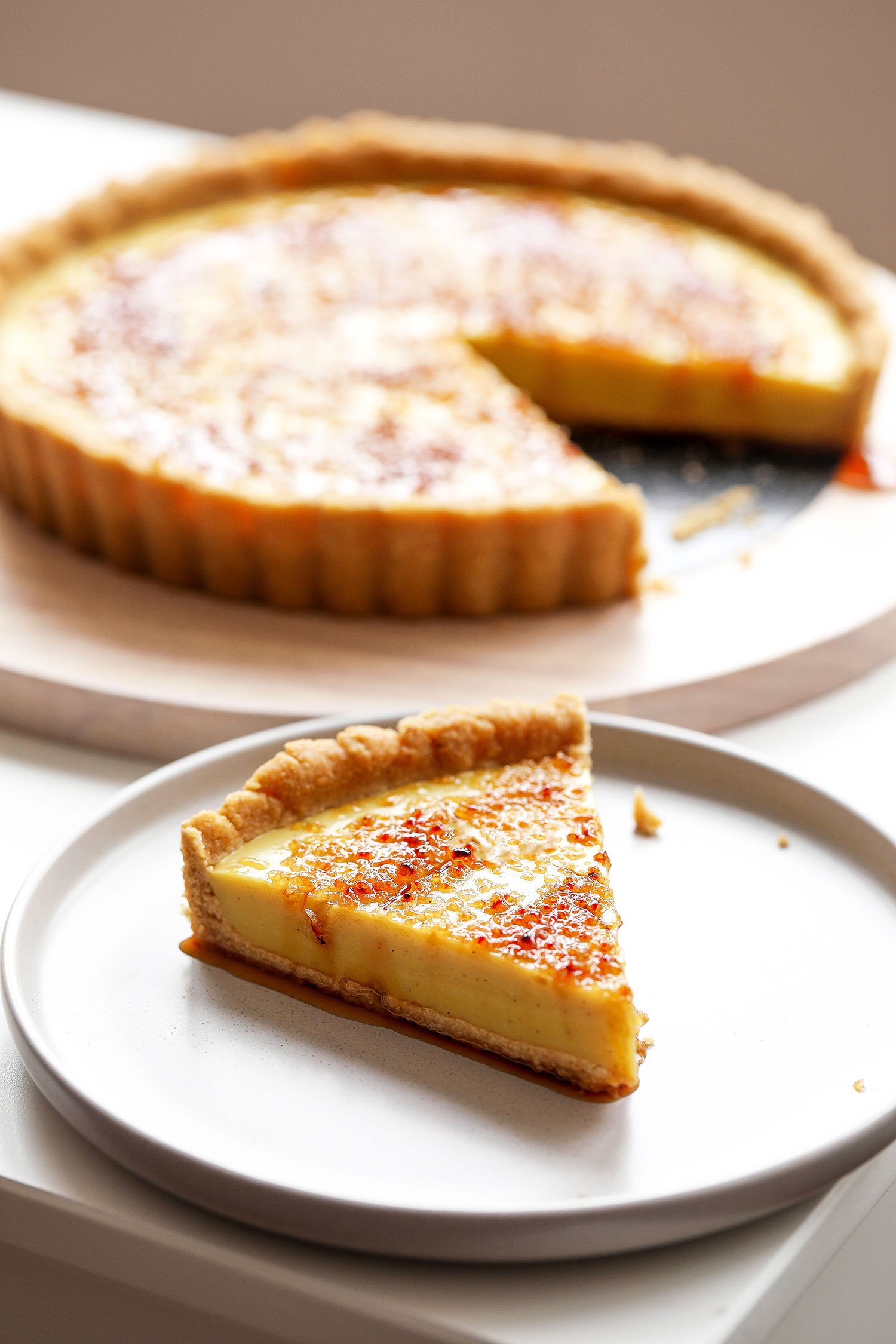 Crème brûlée is such a yummy treat as it is, but served in a crust it tastes even better! This is a super fun dessert to make for friends and family and would go down a treat at dinner parties. Perfect to serve to people with allergies, but will also be enjoyed by everyone alike.
Made using full fat coconut milk and oat milk to make it slightly lighter and healthier. To give the filling that crème brûlée texture, I used cornflour and agar agar (which you can easily get from Amazon and health food shops) to thicken up the mixture and create a custard that's creamy, but still firm enough to hold together. The last thing you want when slicing a tart for the filling to fall apart into a liquid mush when you serve it on a plate.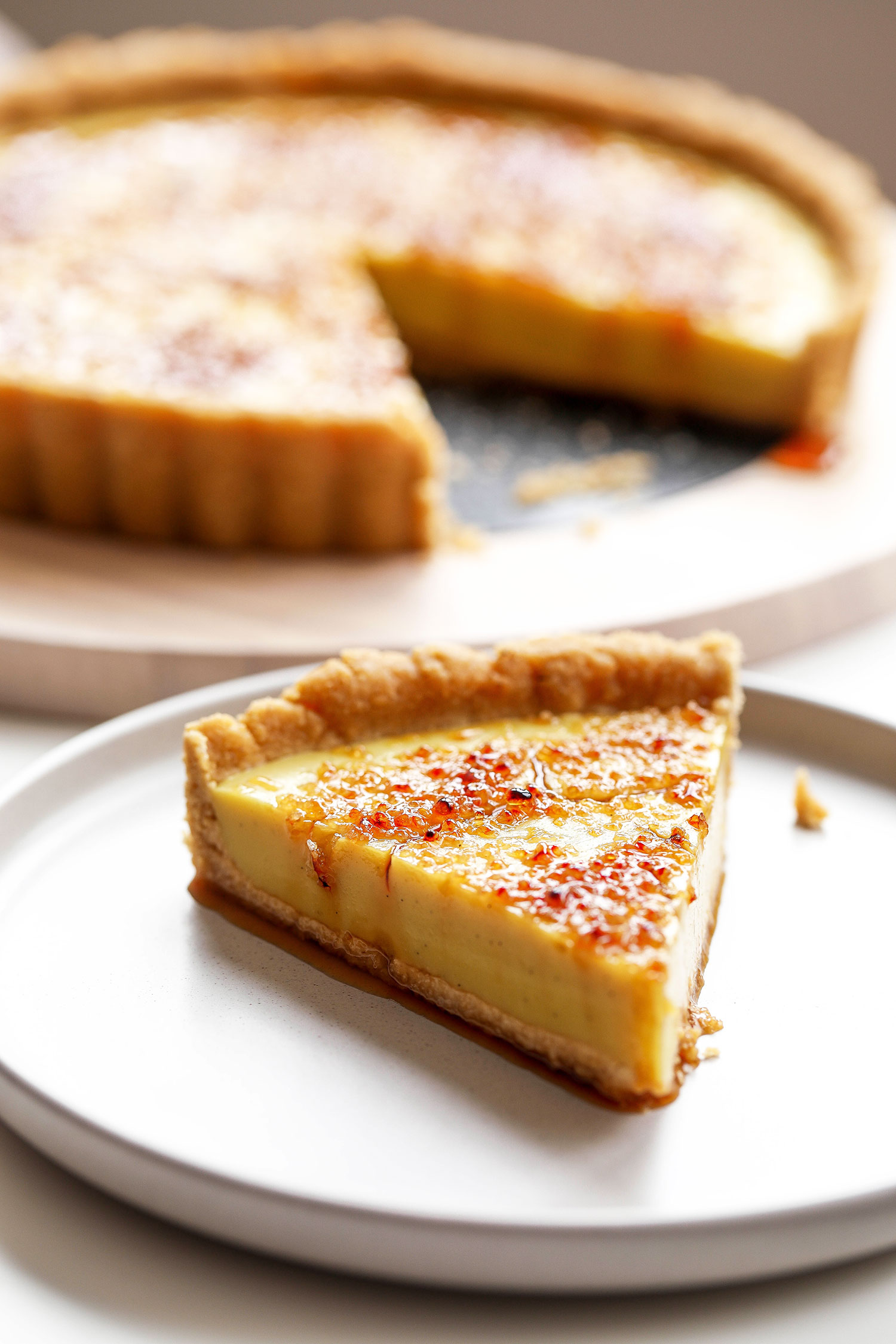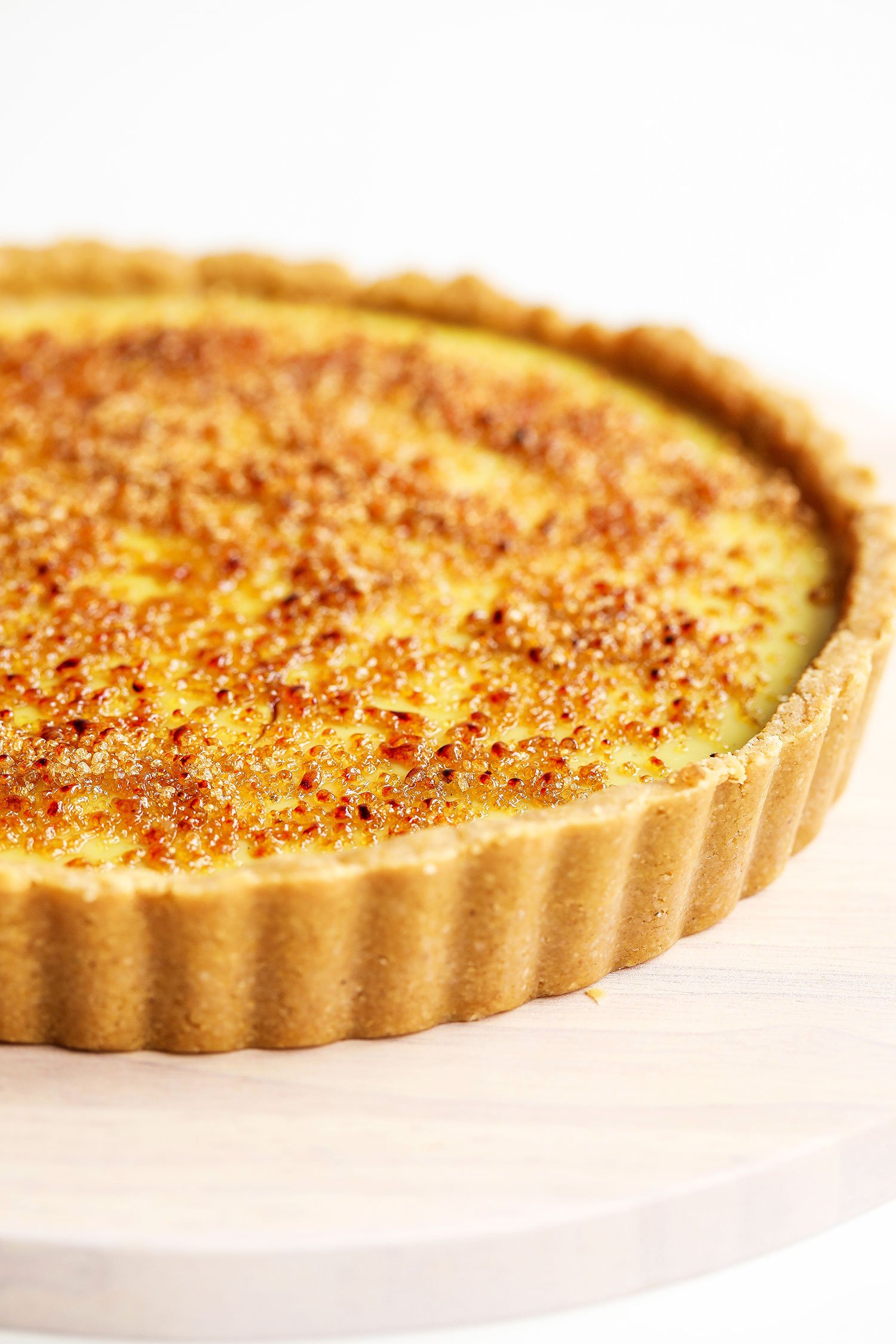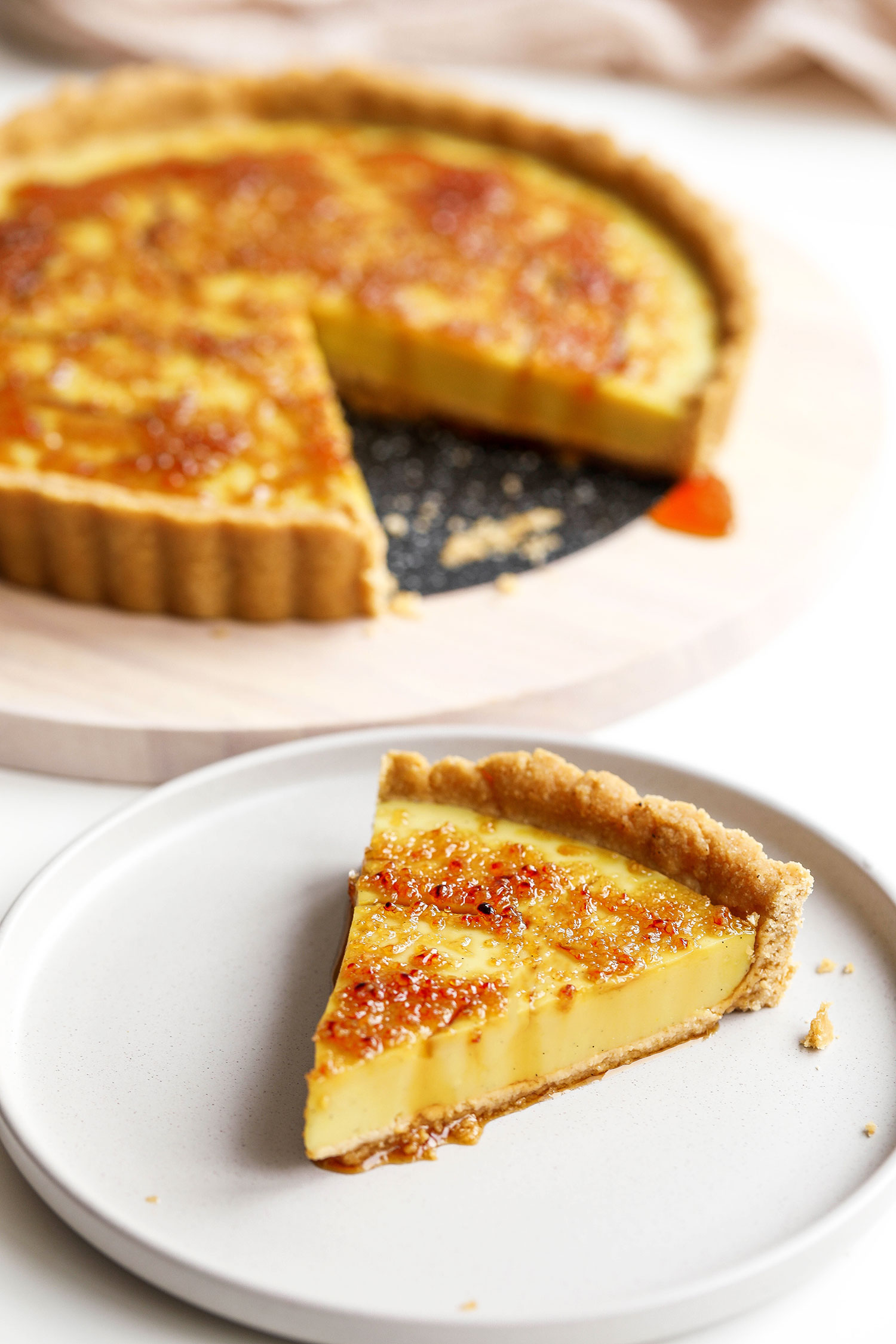 The base is no-bake, which makes the recipe much easier. All you have to do for the base is mix 4 ingredients in a bowl and press into a tart pan, that's it! I used oat flour because it's higher in fibre, and I used Pure sunflower spread instead of butter to make it plant-based and vegan.
Pure spreads are perfect for people who are looking for a dairy-free alternative to butter. Whether this is driven by a dairy/lactose intolerance or for lifestyle/health reasons. Their spreads come in four different varieties – olive spread, soya spread, the new Perfect Baking spread and sunflower spread, which is the one I'm using in this recipe.
As well as being dairy-free, Pure sunflower spread contains 70% less saturated fat compared to butter and is ideal for everyday spreading on toast or melting over vegetables. I've also used it in baking gluten-free and vegan crusts and cookies.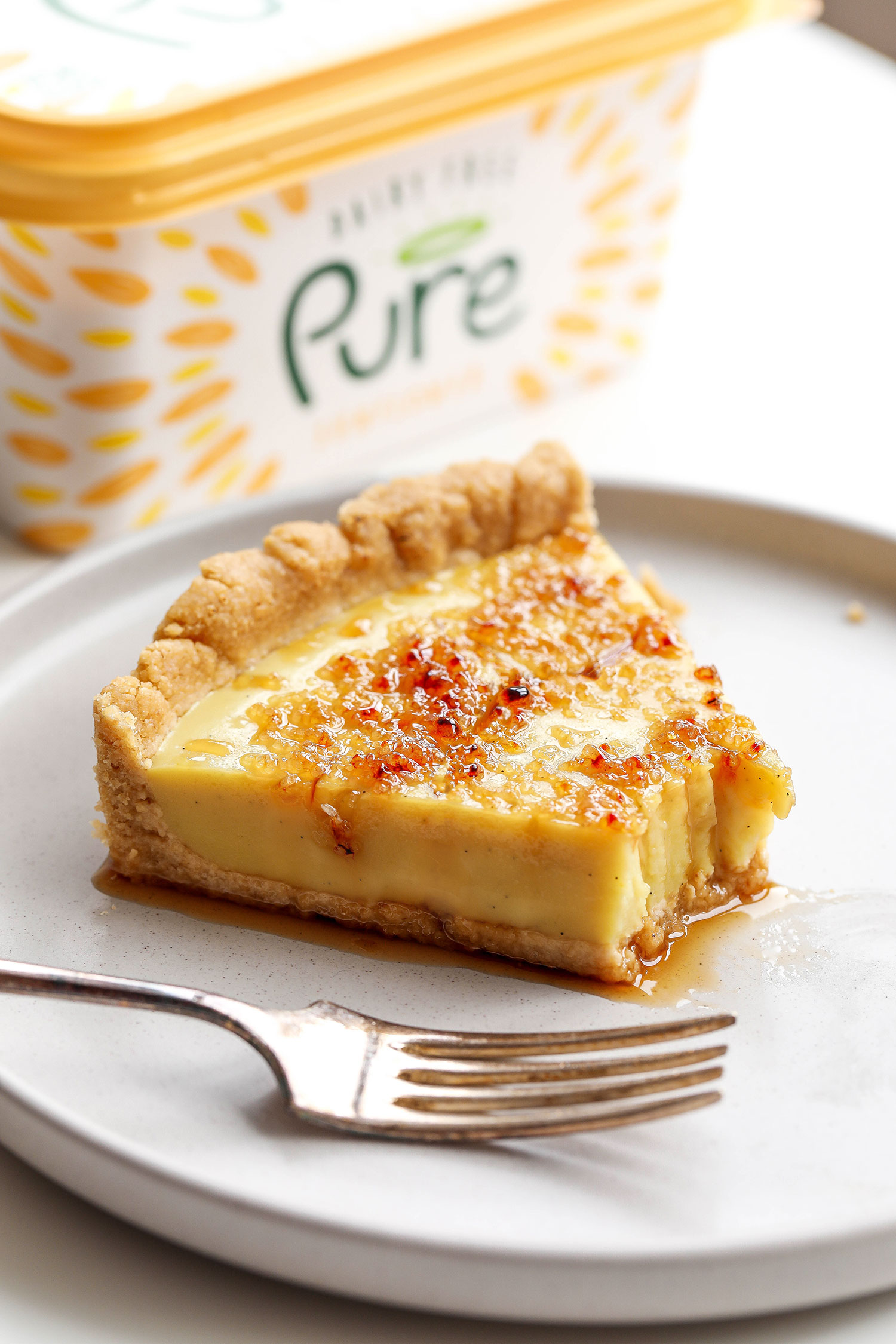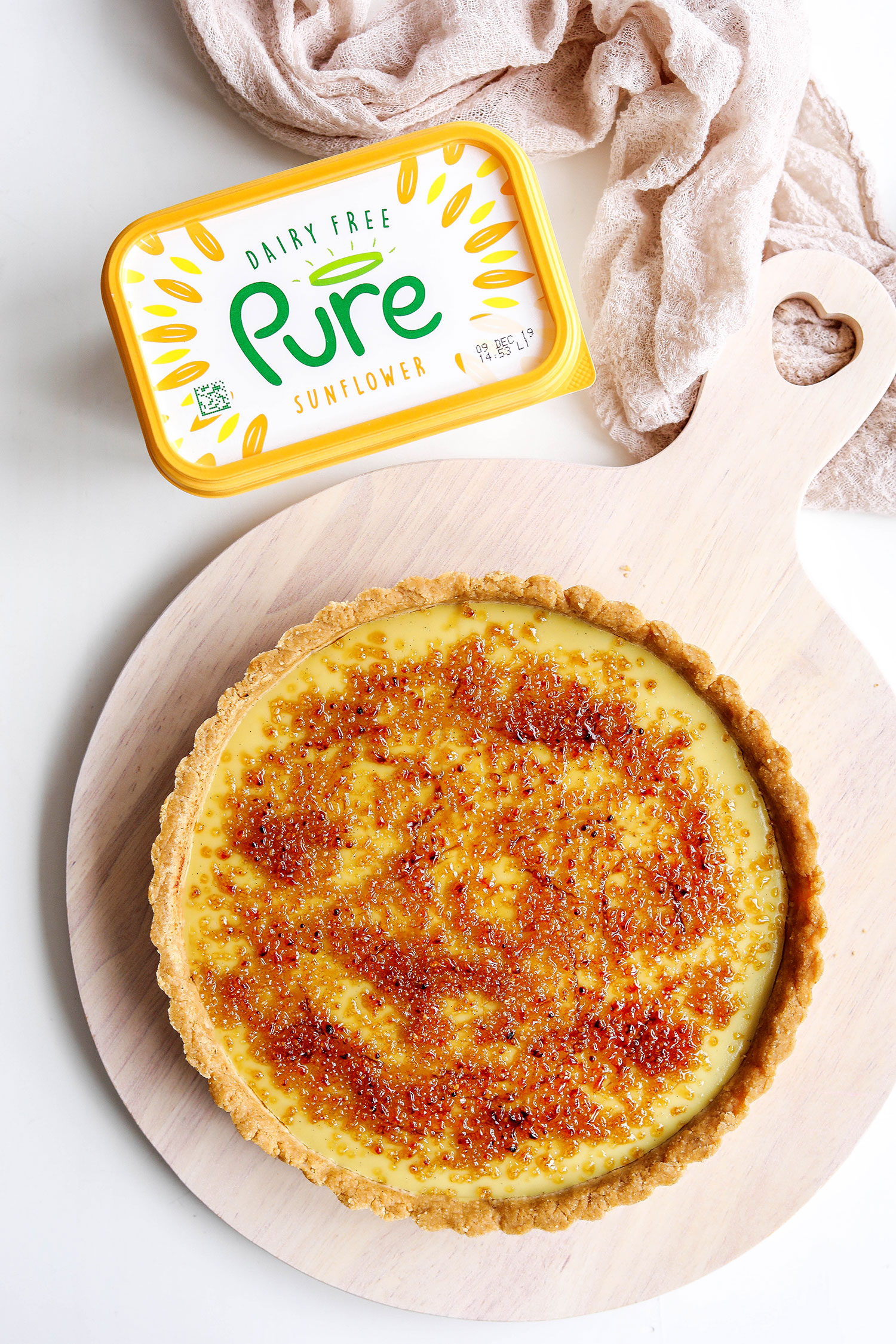 Serving crème brûlée in a tart is such a simple concept, but it takes an already stunning dessert to the next level! This vegan crème brûlée tart is a must try for every dessert enthusiast!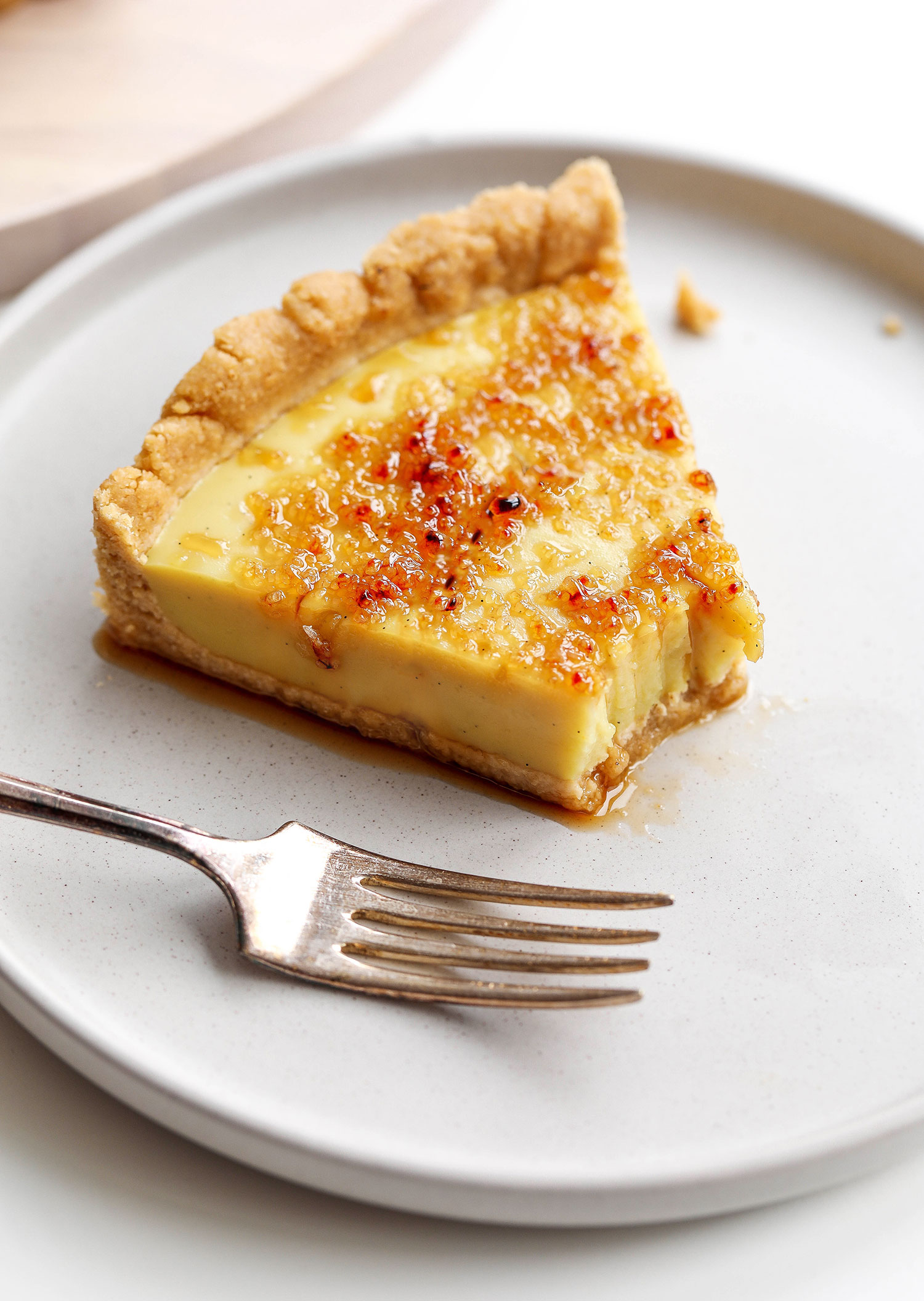 ---
Vegan Crème Brûlée Tart
Serves – 8
Ingredients
For the base
250g oat flour – blend rolled oats in a food processor into a fine flour. Use gluten-free oats if necessary
1/4 tsp salt
6 level tbsp Pure sunflower spread, melted
3.5 tbsp maple syrup
For the filling
235ml (1 cup) full fat coconut milk
235ml (1 cup) oat milk
60ml (1/4 cup) maple syrup
3 tbsp cornflour
1.5 tsp agar agar
1 tsp vanilla paste or vanilla extract
A pinch of turmeric (for colour)
Topping – 2 tbsp brown sugar
Method
To make the base – mix the oat flour and salt in a large bowl.
Pour in the melted spread and maple syrup and mix until you have a dough.
Press the dough into and up the sides of a 8 1/2-inch round tart pan with a removable bottom.
Freeze for 30 minutes while you create the filling.
To make the filling – pour the milks into a small saucepan along with the cornflour and agar agar. Mix well to combine making sure there are no lumps.
Add the maple syrup, vanilla and turmeric and mix again. Heat on a medium heat until the mixture starts to thicken, then remove from the heat and leave to sit for a couple of minutes.
Pour the mixture into the chilled base and allow to cool a little before transferring it to the fridge.
Allow to chill in the fridge for 1-2 hours or until set.
Sprinkle brown sugar on top and use a blowtorch flame to caramelise the sugar (see video above for demonstration).
Enjoy!
---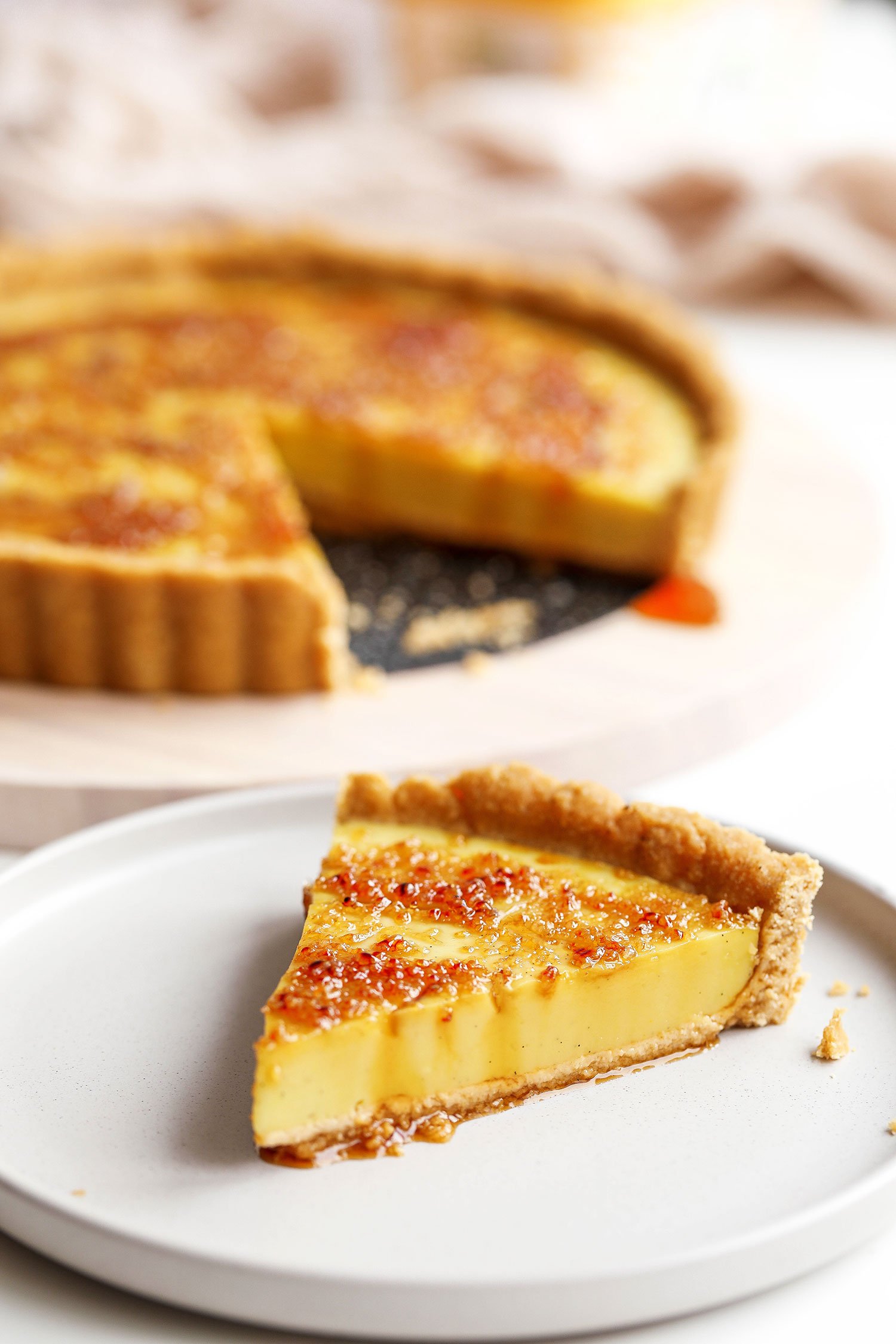 Share This Post