Ice Cream Sandwiches 2 Ways – Chocolate or Vanilla (Vegan & Gluten-free)
We've been really lucky in the UK the last couple of months in that we've had the most amazing weather. There's been so much sunshine we almost don't know what to do with ourselves. None of us is used to this much heat and sun!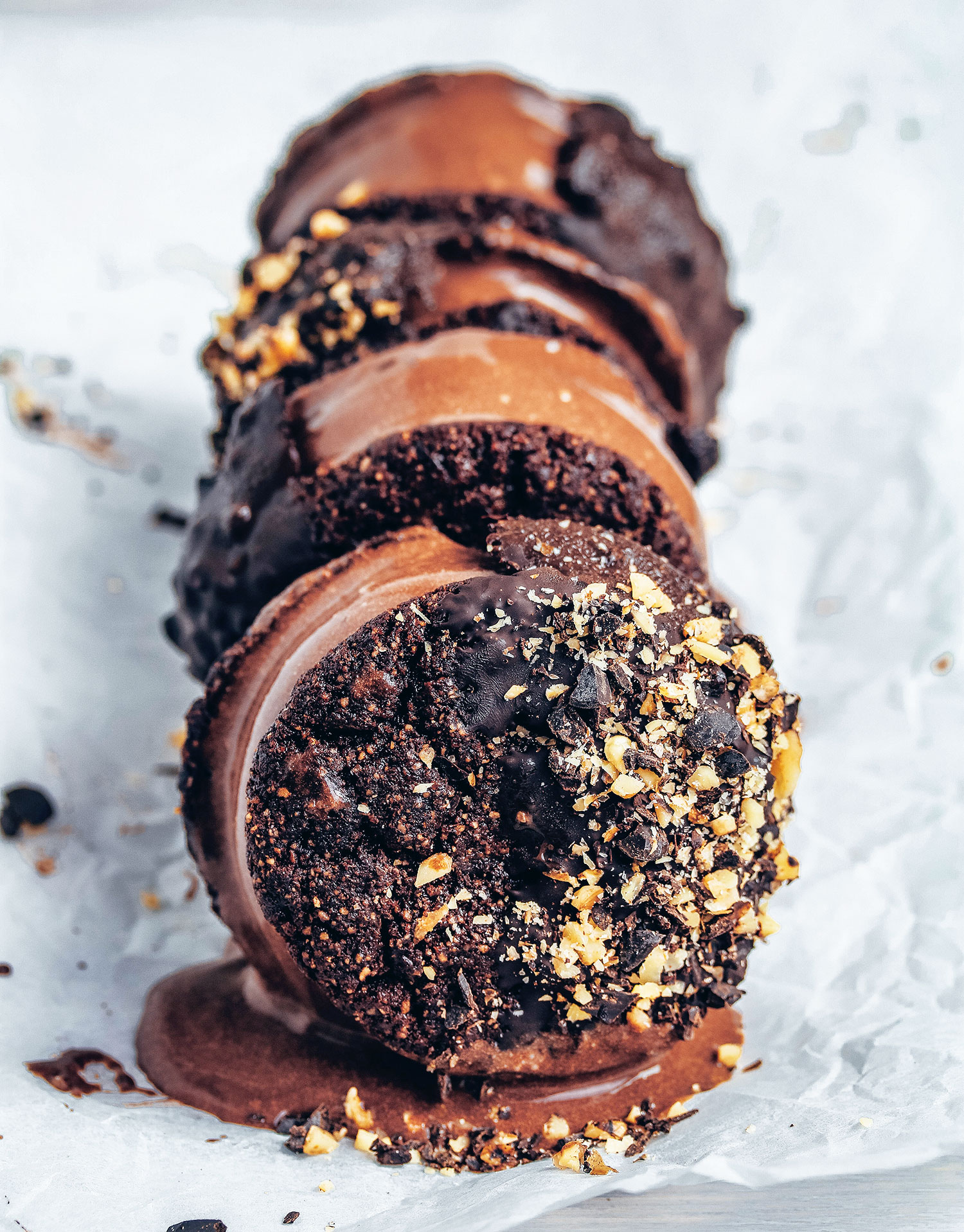 You'll find some making the most of it and enjoying every second of it, and others complaining about it. I have to say I was one of the latter. Don't get me wrong, I love the sunshine, it's the heat I can't stand. It makes me feel so sleepy, lethargic and irritable. Especially since moving into our new place. It seems our flat just draws in the heat and we feel like we're in a sauna all day. On particularly hot days, it's warmer in our flat than it is outside!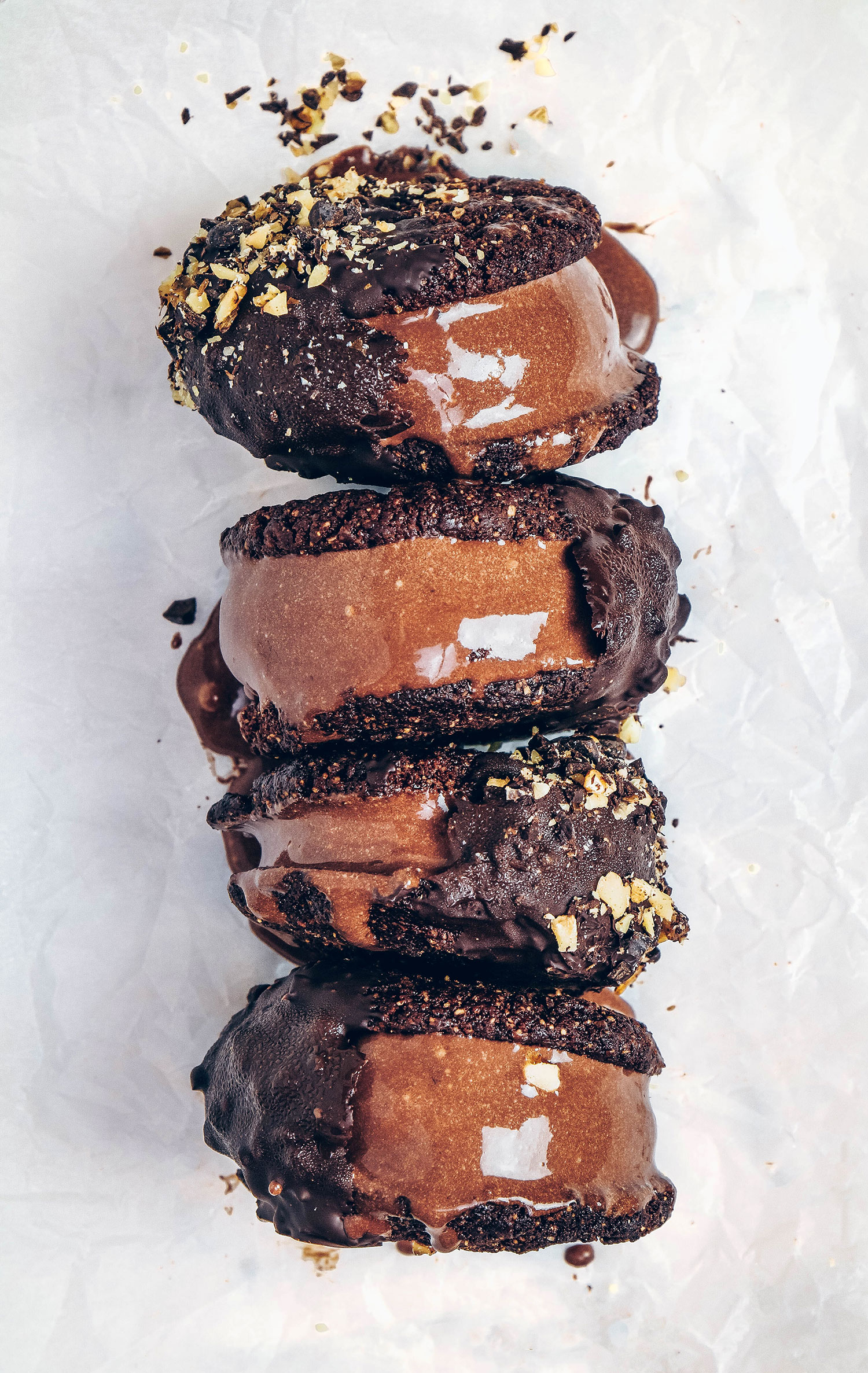 I've also been studying hard as well as doing a lot of clinical prep for my nutrition course, so as you can imagine it was the worst time for me to be feeling tired and lethargic. It's so difficult to focus and concentrate in the heat, so you may be able to understand why I wasn't as happy about the heatwave as others.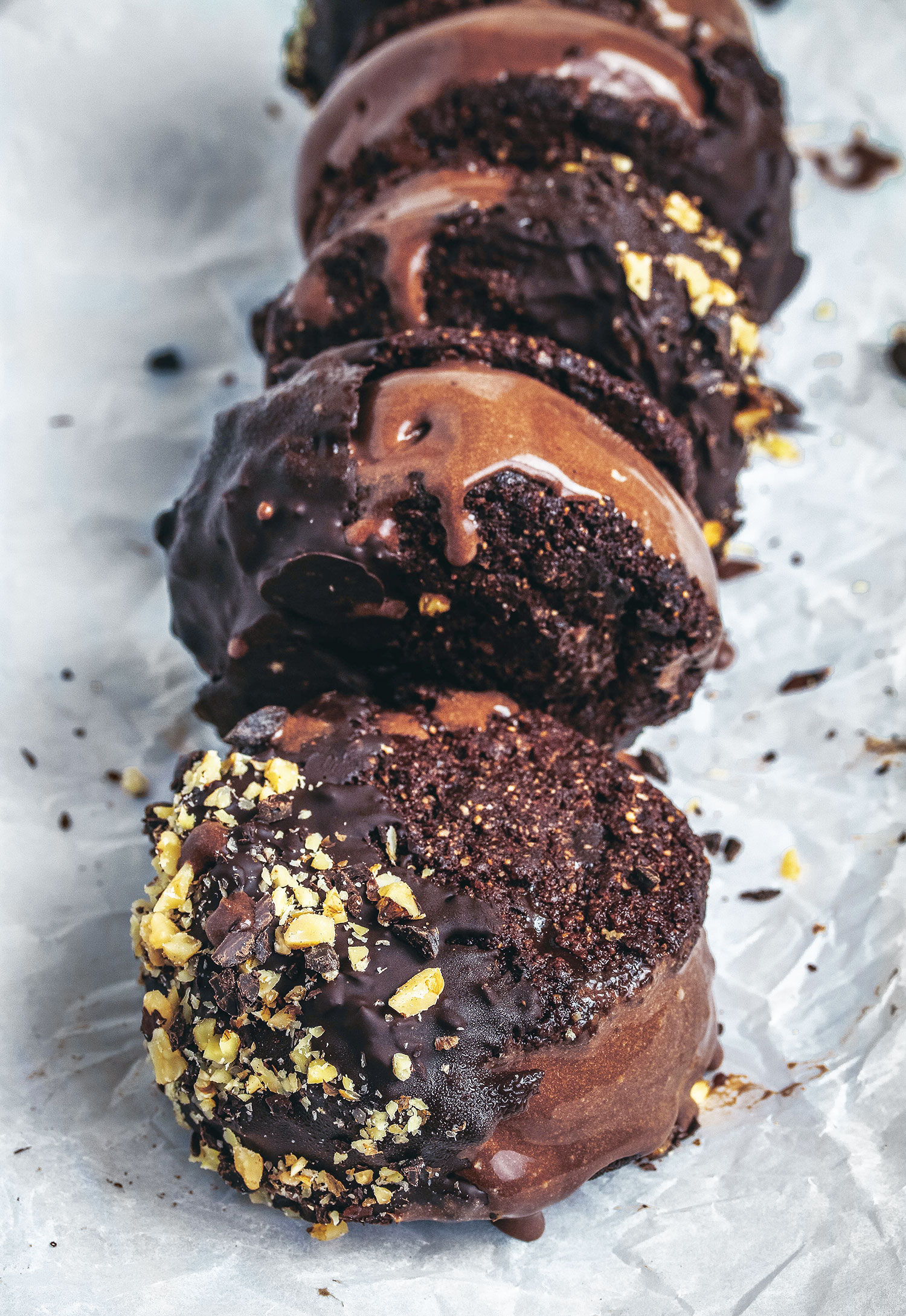 The only thing that kept me going was ice cream! All I can think of eating in the heat is frozen treats, I don't even want to look at anything else (not a great thing to admit coming from a nutrition student :P)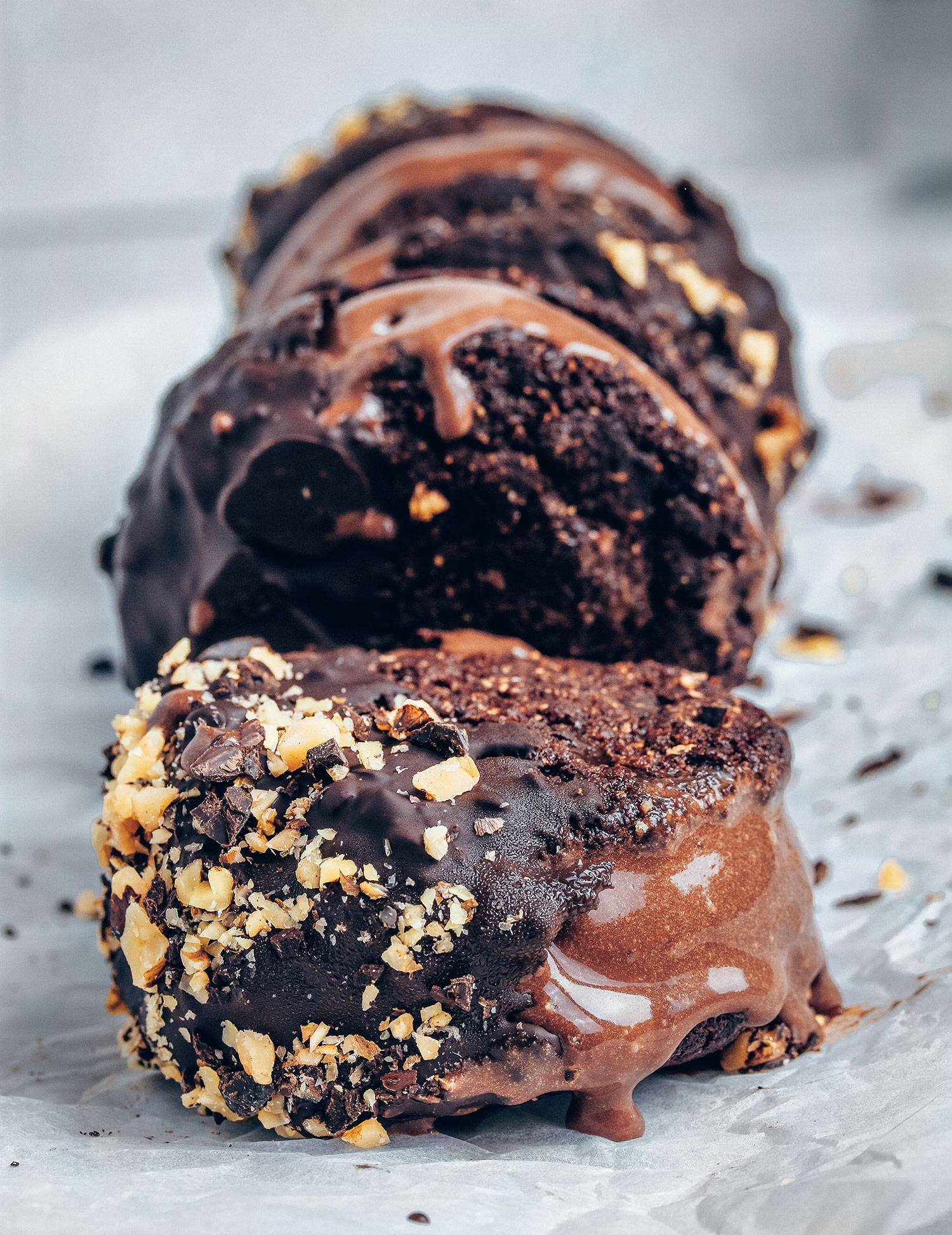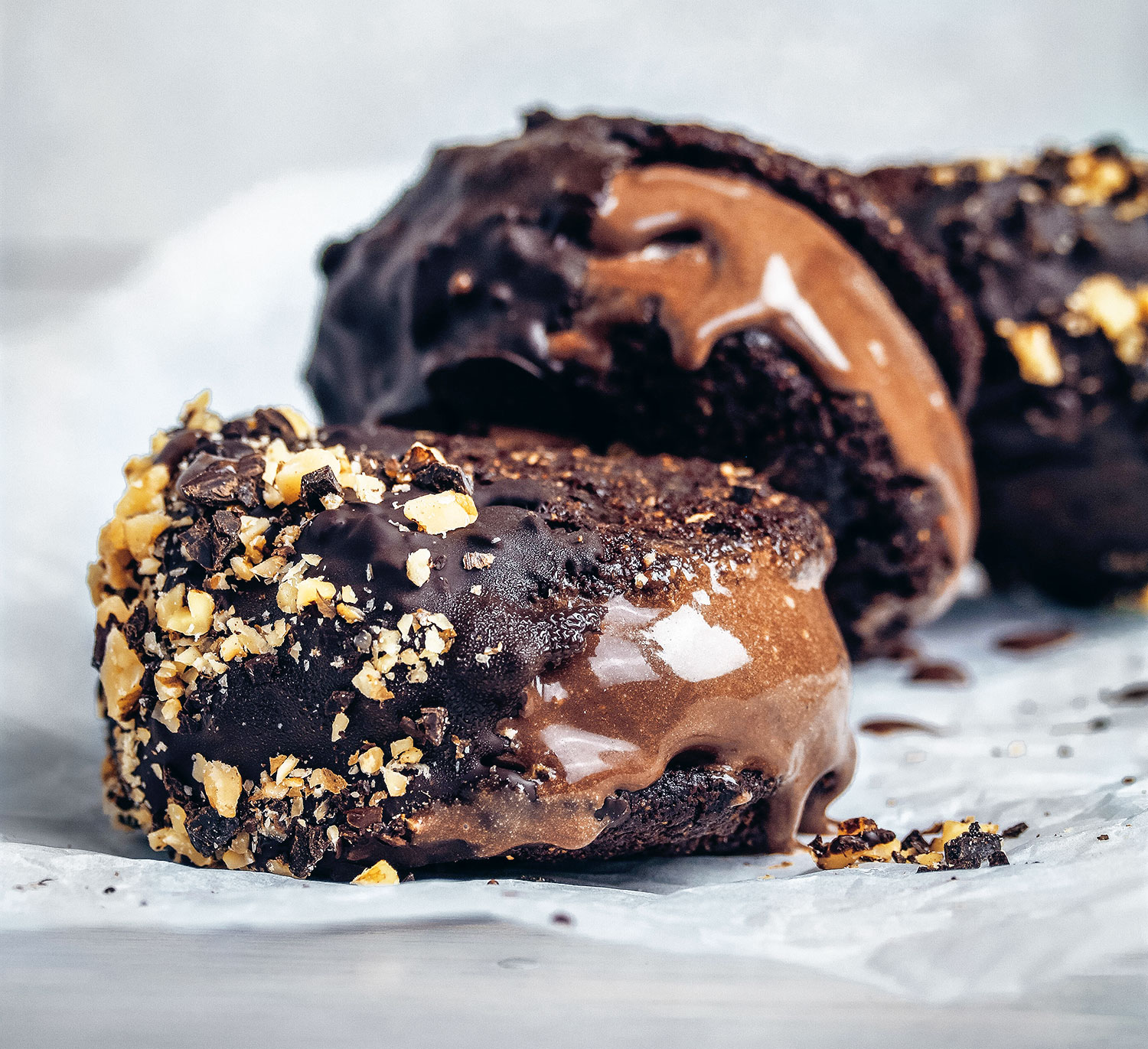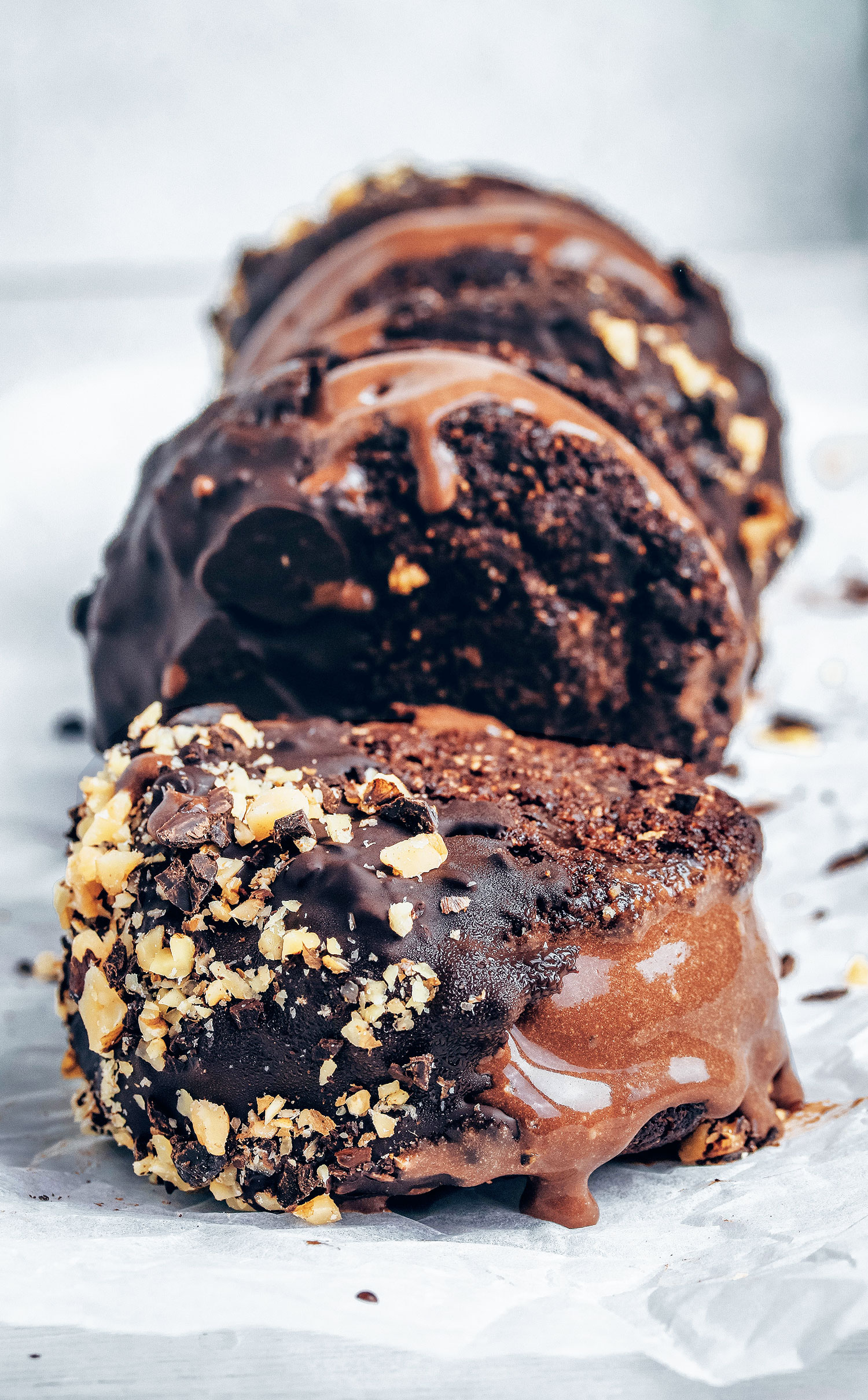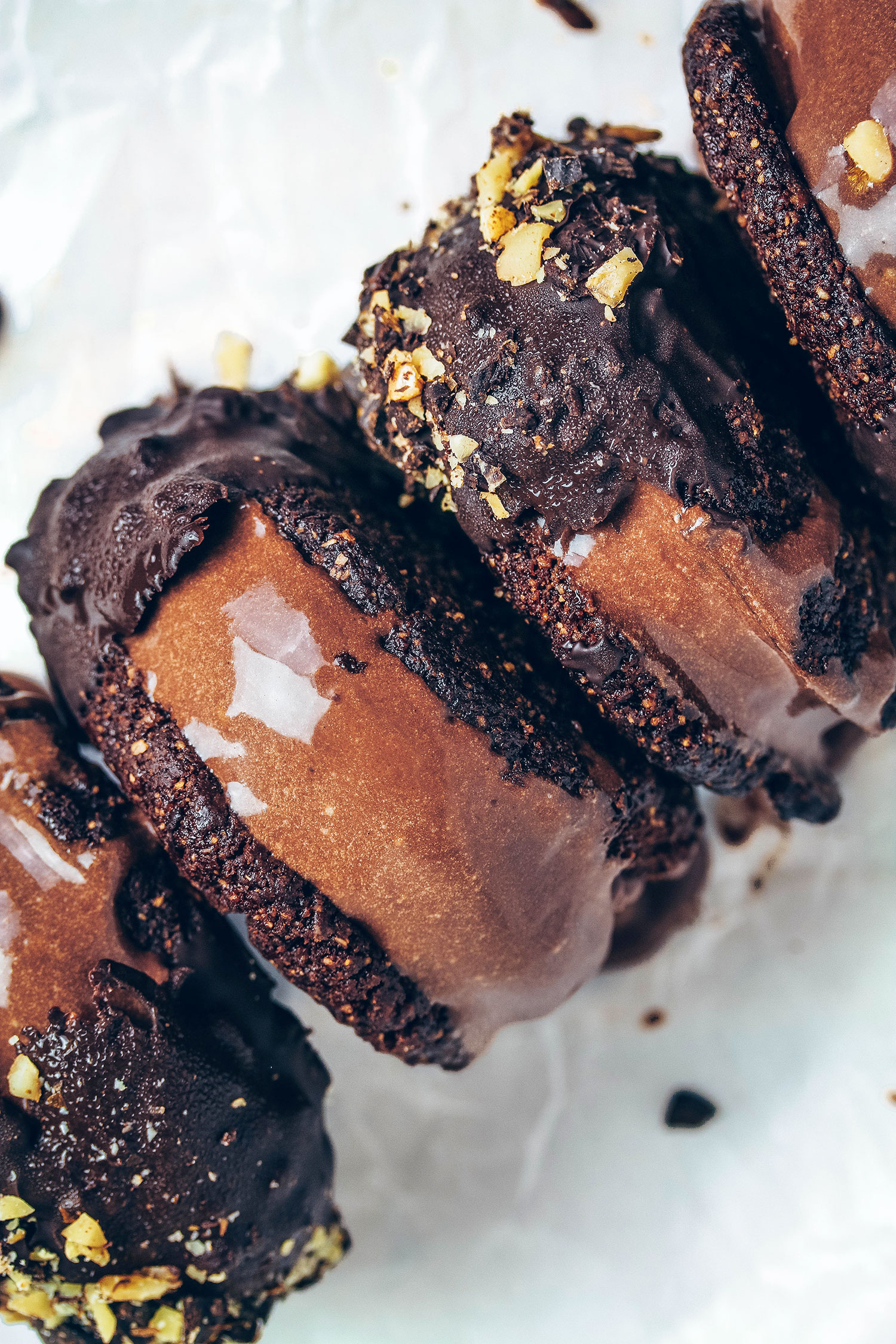 These vegan and gluten-free ice cream cookies definitely helped me get through it, both the heatwave AND studying. I just needed a chocolatey frozen treat. It was the highlight of my day.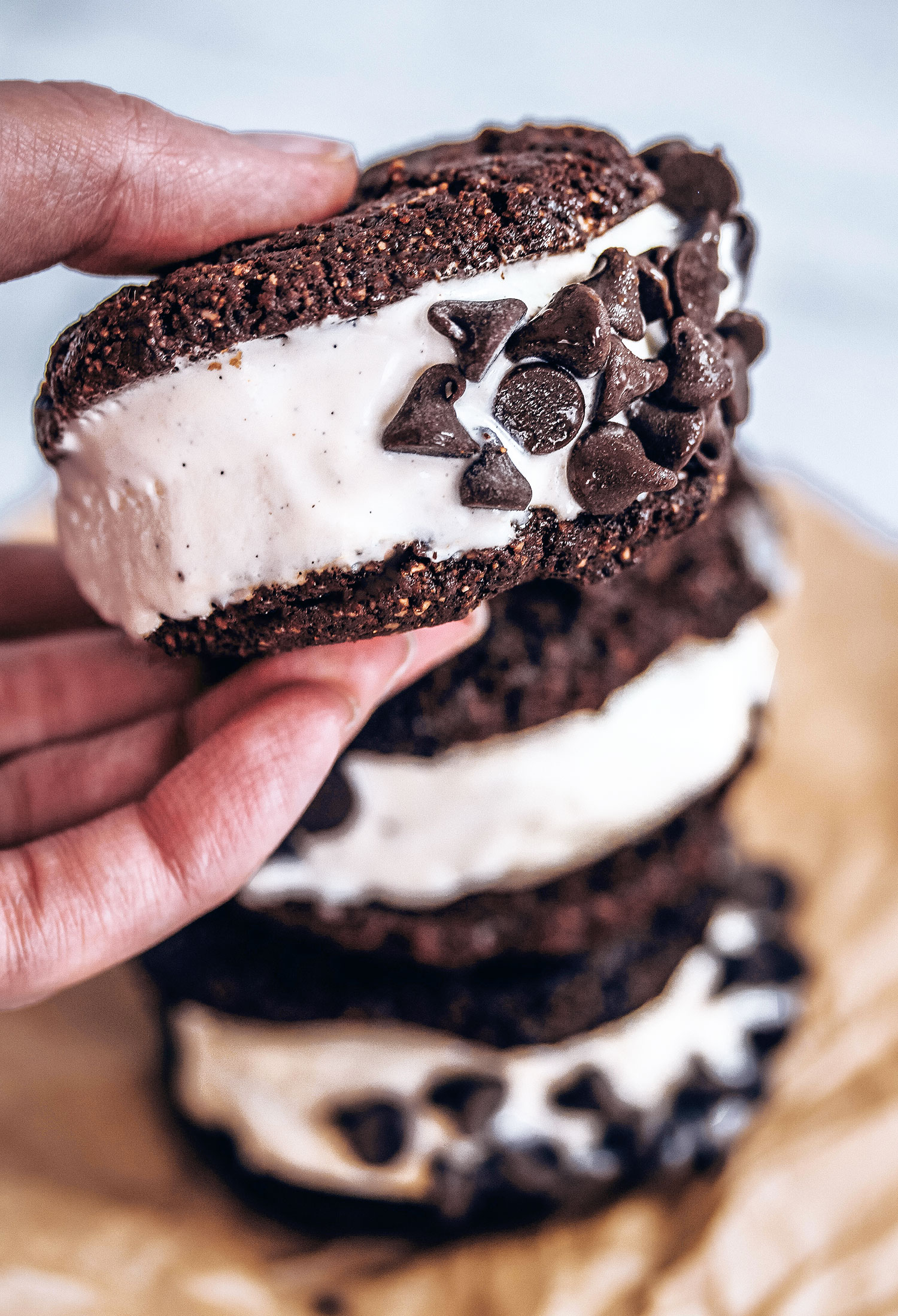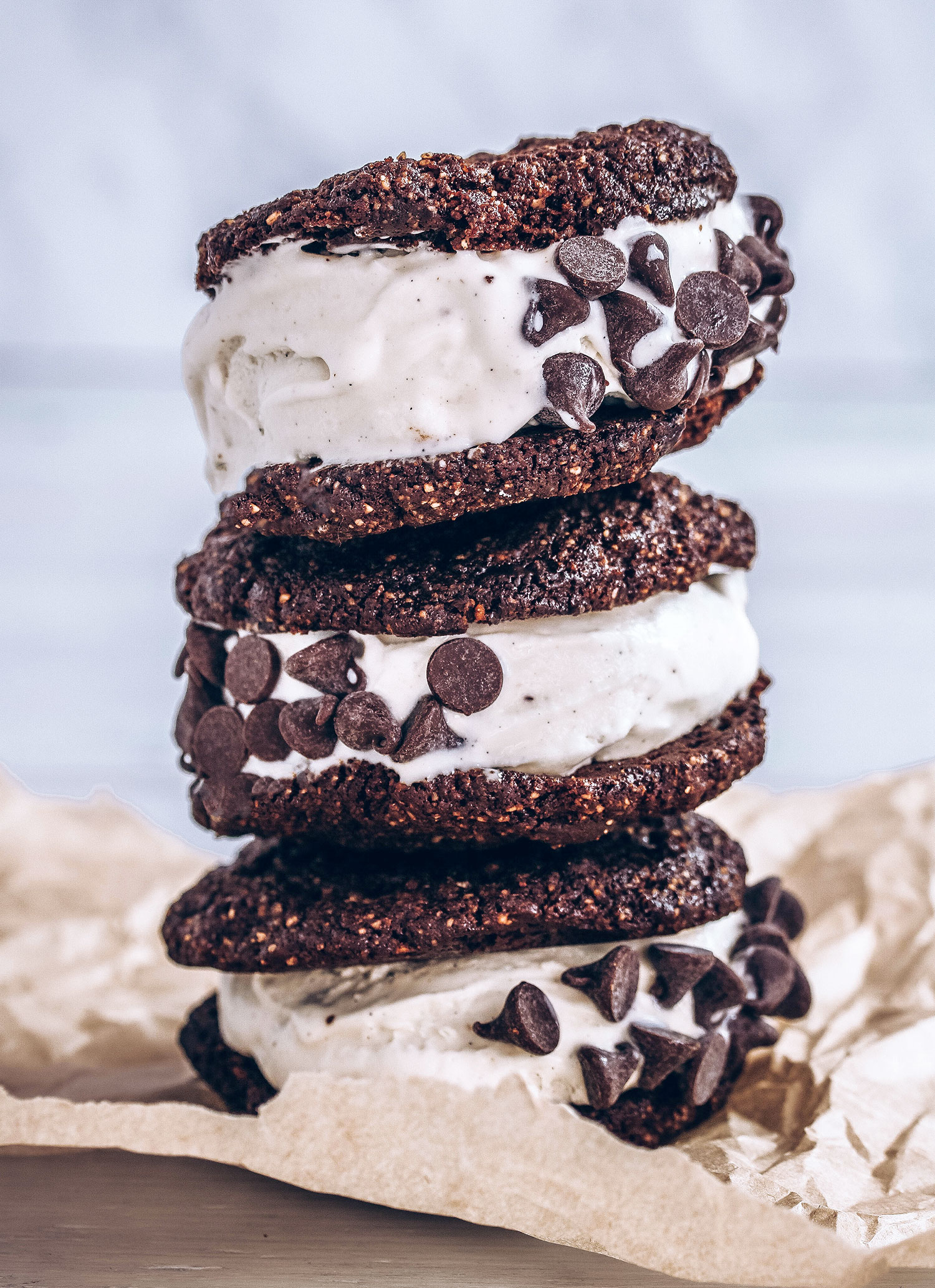 Homemade chocolate ice cream (which I must add is so rich and creamy) sandwiched between two homemade crunchy double chocolate chip cookies. Homemade dairy-free ice cream is actually really easy to make. I used an ice cream maker (you can get them really cheap on Amazon – this is the one I use), but you can still make it if you don't have an ice cream maker. I just think the end result is so much better when the ice cream is churned.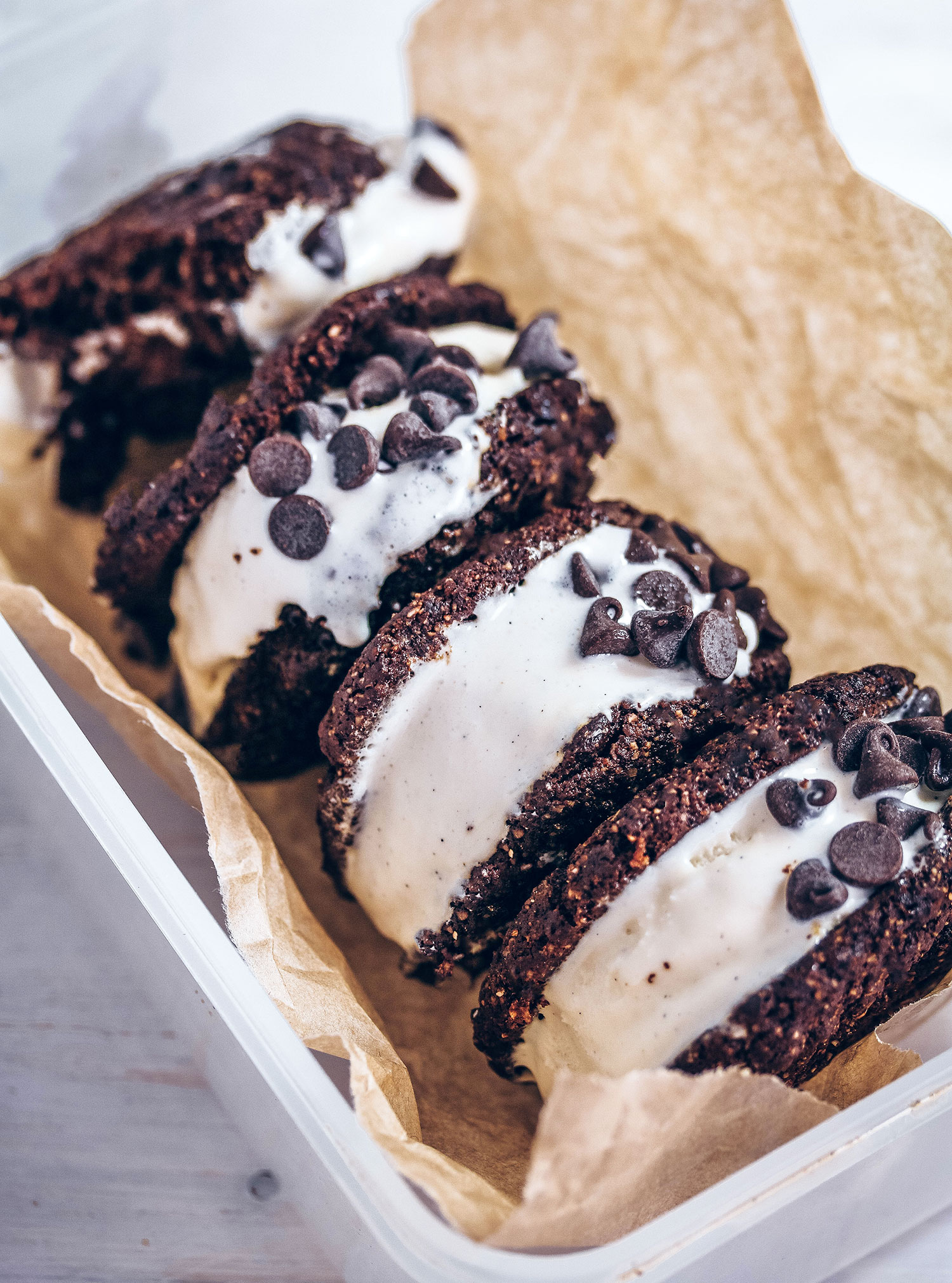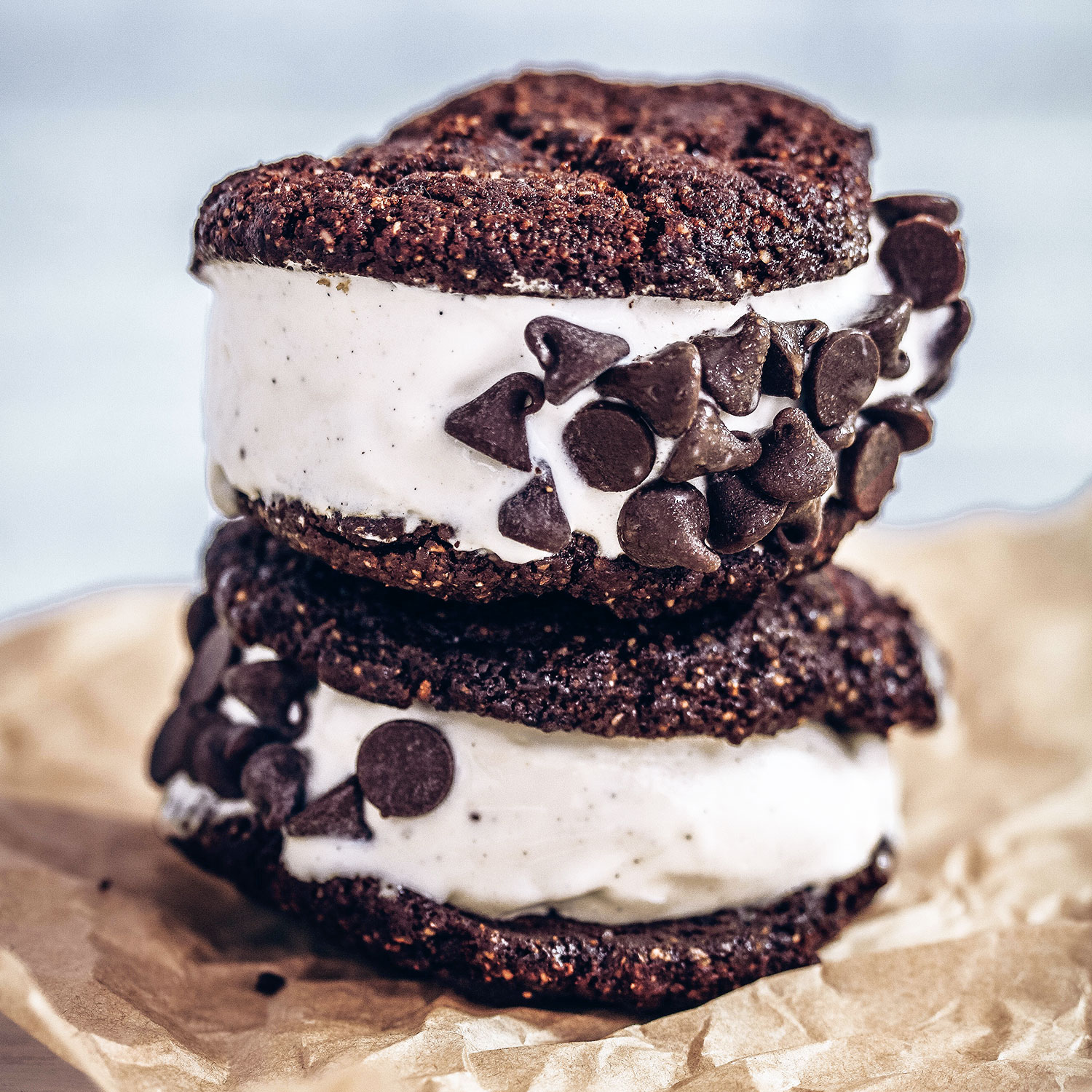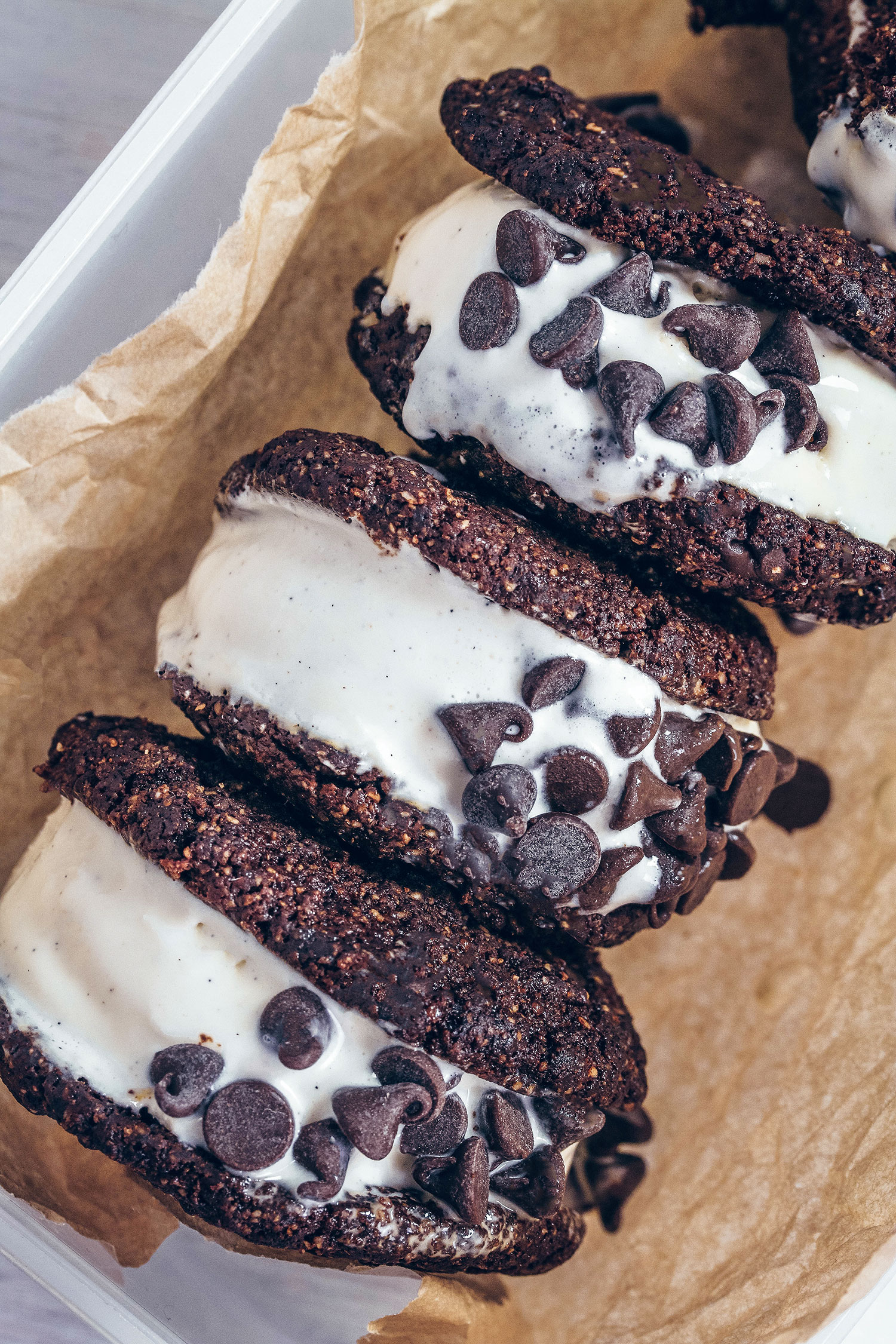 If you prefer vanilla ice cream, I have you covered too! You can follow the same recipe below, just omit the cocoa powder and substitute with vanilla extract 😉
If you don't feel like making your own ice cream, you can simply make the cookies and use shop bought dairy-free ice cream to use as the filling. I did that using vanilla ice cream and it tasted so good too!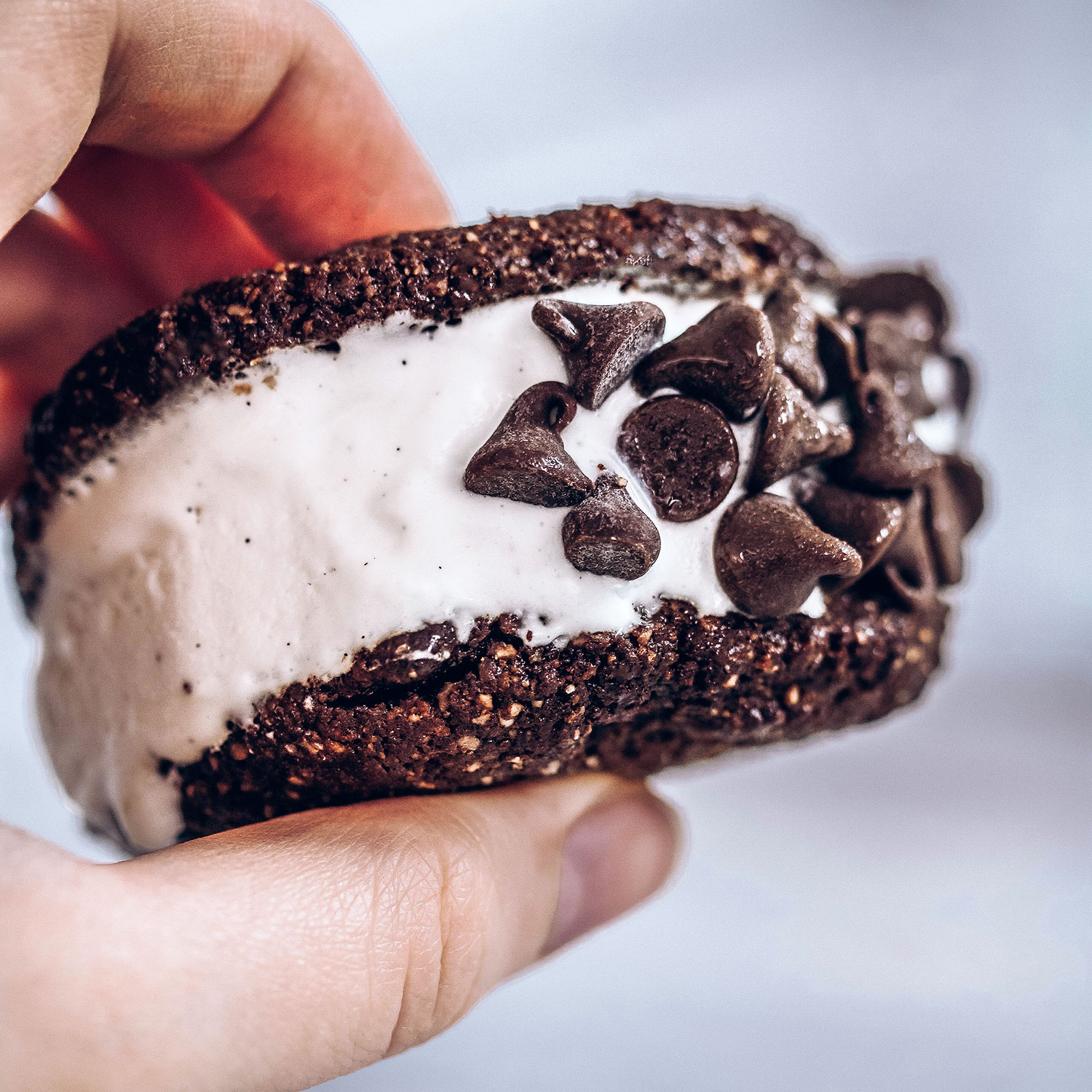 ---
Chocolate Ice Cream Sandwiches (Vegan & Gluten-free)
Makes – 5-6 sandwiches
Ingredients
For the dairy-free chocolate ice-cream
1 can full fat coconut milk
1/3 cup cocoa*
4 tbsp maple syrup or honey – add less or more to taste
1/2 tsp instant espresso powder
2 tbsp cornstarch
* If you prefer vanilla ice cream, omit the cocoa and add 1 tsp vanilla extract inistead
For the chocolate cookies

1 cup (105g) ground almonds
3/4 cup (90g) oat flour – make your own by blending plain oats into a fine flour in the food processor. Use gluten-free oats if you're allergic/intolerant to gluten.
1/4 cup (25g) cocoa
1/4 cup (50g) coconut sugar or brown sugar
1/2 tsp baking powder
1/2 tsp baking soda
1/4 tsp salt
1/2 cup (120ml) odourless coconut oil, melted
1/4 cup (60ml) maple syrup
2 tbsp milk of choice
80g dairy-free dark chocolate chips
Method:
To make the ice cream – pour the coconut milk, cocoa and cornstarch in a saucepan and heat over a medium heat stirring continuously to make sure there are no lumps. Take off the heat just as it starts to bubble (don't let it boil), then leave to cool. The mixture should have thickened a bit from using the cornflour.
Pour the mixture into a glass or ceramic baking dish and refrigerate for 3-4 hours to allow it to cool completely.
If using an ice cream maker (recommended), follow the instructions that came with your ice cream maker.
Alternatively if you don't have an ice cream maker, place the dish in the freezer and leave until the ice cream has set (4-5 hours).
To make the cookies – Preheat your oven to 180°C (160°C fan assisted)/ 350°F.
Mix the first 7 ingredients together in a large bowl, then add in the coconut oil, maple syrup and milk. Mix to combine.
Fold in the chocolate chips, use a tablespoon or a small ice cream scoop to arrange the cookies on baking sheet lined with parchment paper. Make sure you leave space between the cookies (at least 2 inches). The cookies will spread as they bake.
Bake for 10 minutes. Leave to cool for 10 minutes then transfer them onto a cooling rack and allow them to cool completely.
Assemble the ice cream sandwiches – place a scoop of the ice cream on the bottom side of one cookie and top with another. Dip in some melted chocolate to make them even more luxurious!
I would suggest freezing them again at this point for an hour just to make sure they're not too soft to serve.
Enjoy!
---