Chickpea Cookie Dough Truffles
I'm a huge fan of the idea of adding beans, lentils and pulses into sweet treats. They bump up the fibre, mineral and vitamin content while giving desserts a lovely moist texture. It also means you don't need to add as much flour or even cut it out completely!
Beans & pulses are so underrated and so under-consumed and unappreciated. They're such an amazing source of nutrients, protein and fibre and yet as a nation we hardly ever eat them! Baked beans are probably the only exception but they come with added salt and sugar and to be fair there is only so much you can do with them. On toast, on baked potatoes or on the side of a fry up.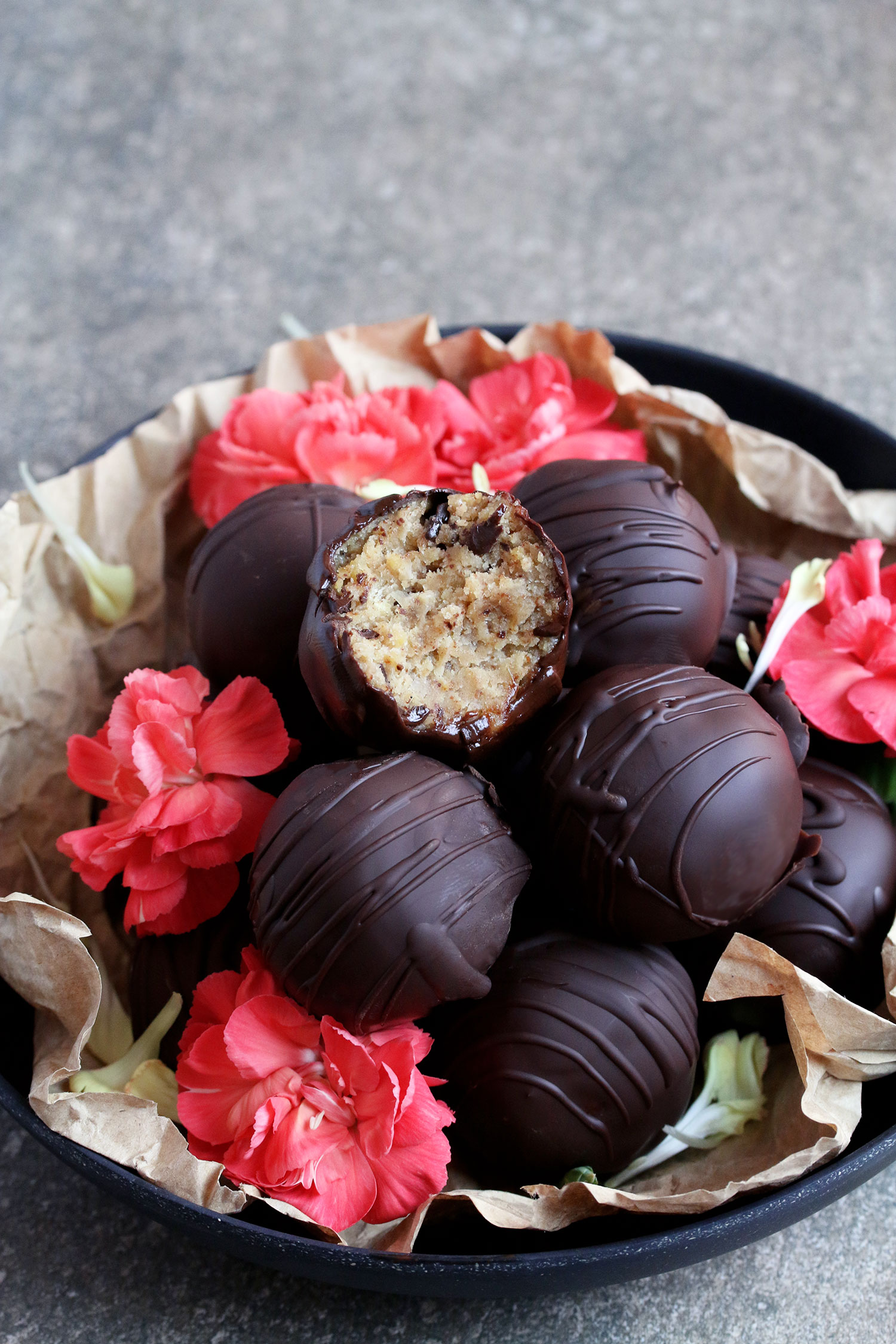 Beans and pulses are so versatile and can be used in so many interesting and fun ways. In savoury meals they can be used in an unlimited number of ways, but they can also be used in sweet treats. I've already used chickpeas in blondies and brownies recipes and used black beans in chocolate cupcakes. I've even used lentils in a porridge recipe as a way to take advantage of the goodness they have to offer first thing in the morning.
Adding chickpeas to a recipe like this is such an easy way to incorporate more beans into your diet. They're also a fantastic way to get more beans into fussy kid's diets.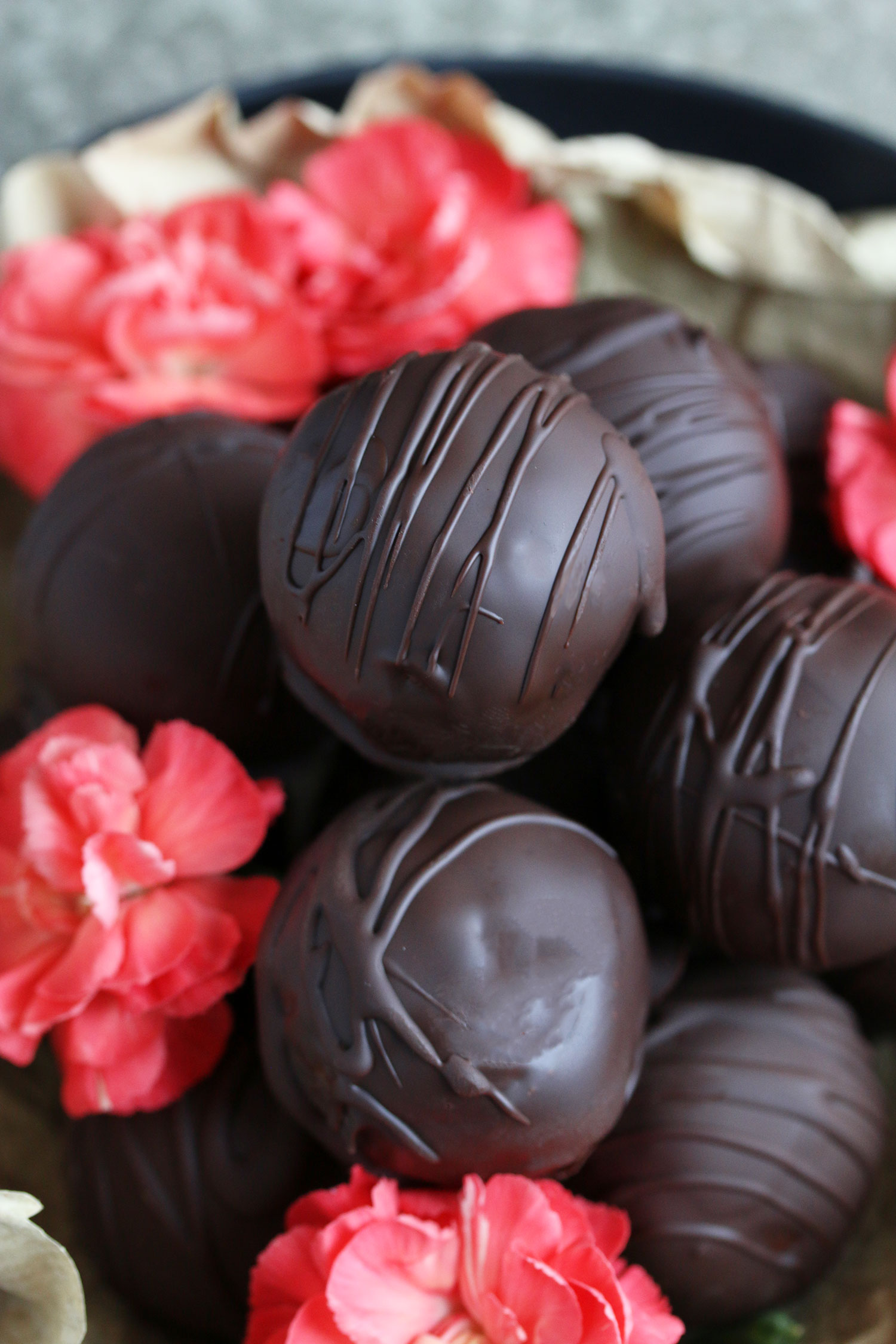 These chickpea cookie dough truffles are a great snack to have in the fridge to enjoy between meals or even as an after meal dessert. With chocolate chips in the centre and a dark chocolate coating, it will also help satisfy your chocolate cravings without consuming too much sugar and getting in some good stuff at the same time!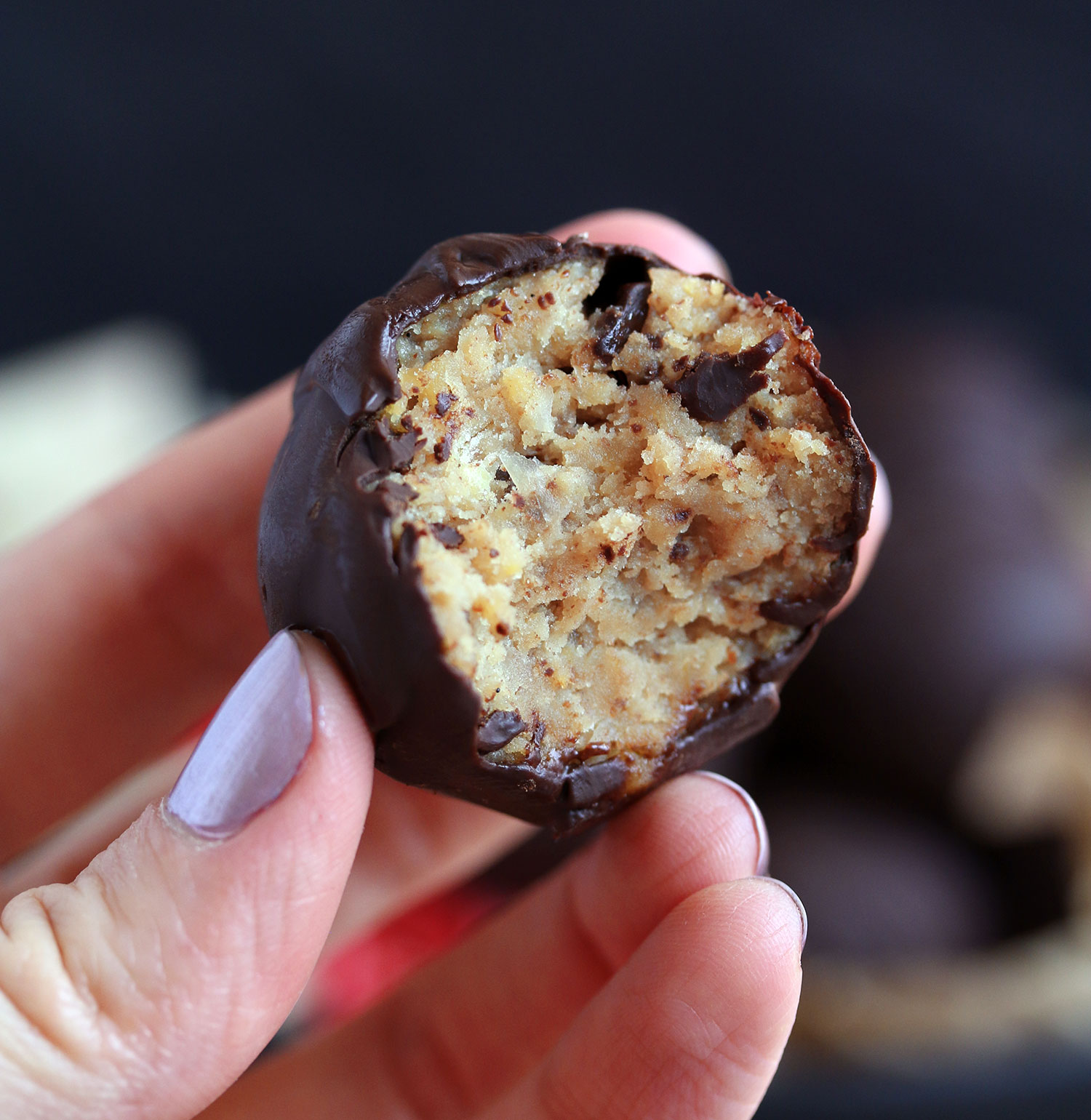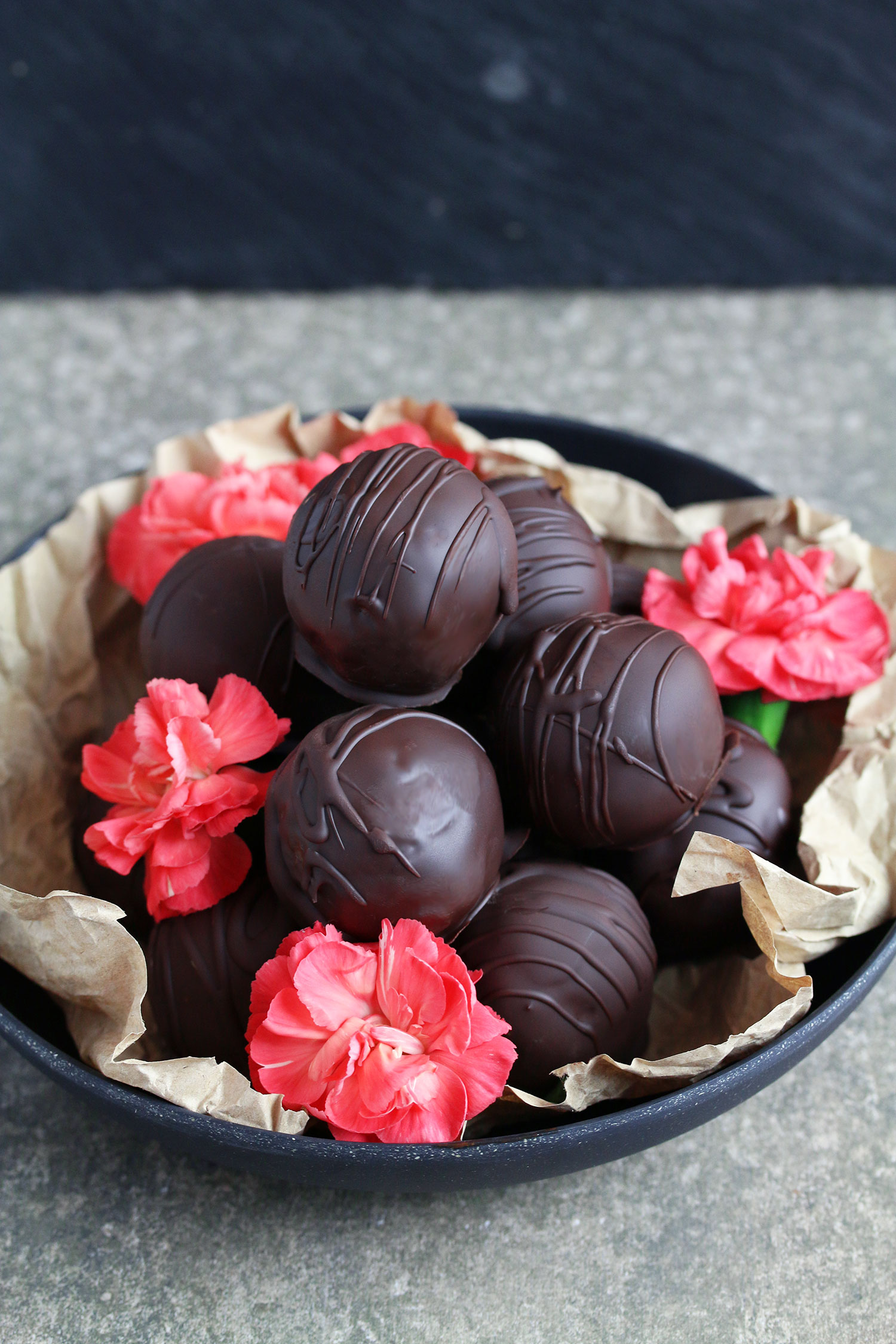 ---
Chickpea Cookie Dough Truffles
Makes: 12-14
Ingredients:
1 1/4 cup (220g) cooked chickpeas
3 tbsp maple syrup
4 tbsp coconut oil, melted
1/4 cup (4 tbsp) peanut butter
1/2 tsp vanilla paste or 1 tsp vanilla extract
1/4 cup (4 tbsp) rice vanilla protein powder
2 tbsp oat flour – plain oats ground up into a flour in the food processor. Use gluten-free if allergic/intolerant
1/4 tsp salt
25g dairy-free chocolate chips
100g Dairy-free dark chocolate for the coating, melted
Method:
Add the chickpeas to a food processor along with the maple syrup, coconut oil, peanut butter and vanilla extract. Blend until smooth.
Add in the protein powder, oat flour and salt. Blend again to combine.
Fold in the chocolate chips and shape into walnut size balls.
Place in the freezer and allow to chill for 30-60 minutes.
Dip each ball in the melted chocolate and place on a plate/chopping board covered with parchment paper.
Return to the freezer for 10 minutes or until the chocolate has set.
Store in the fridge for up to 5 days.
Enjoy!
---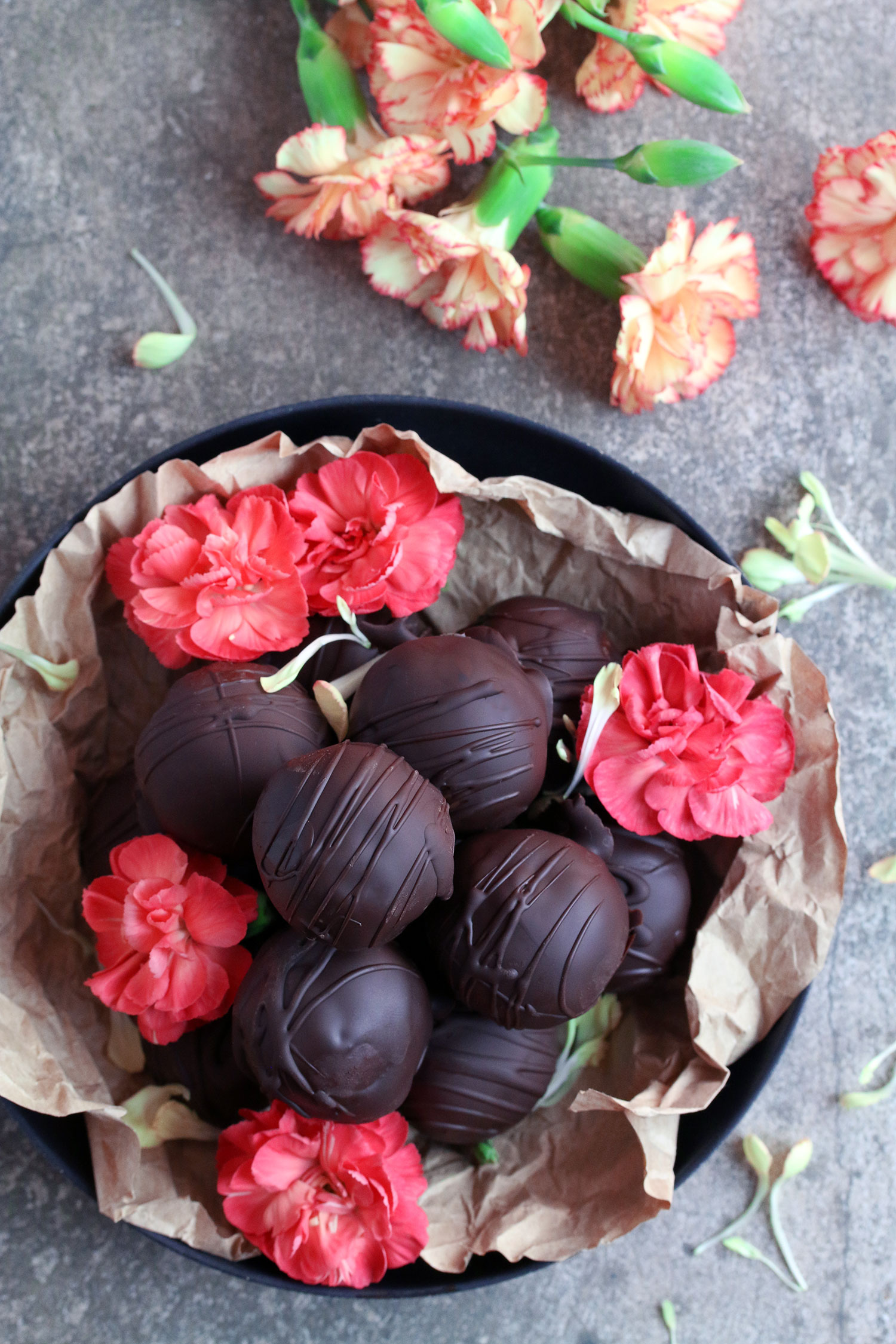 Share This Post