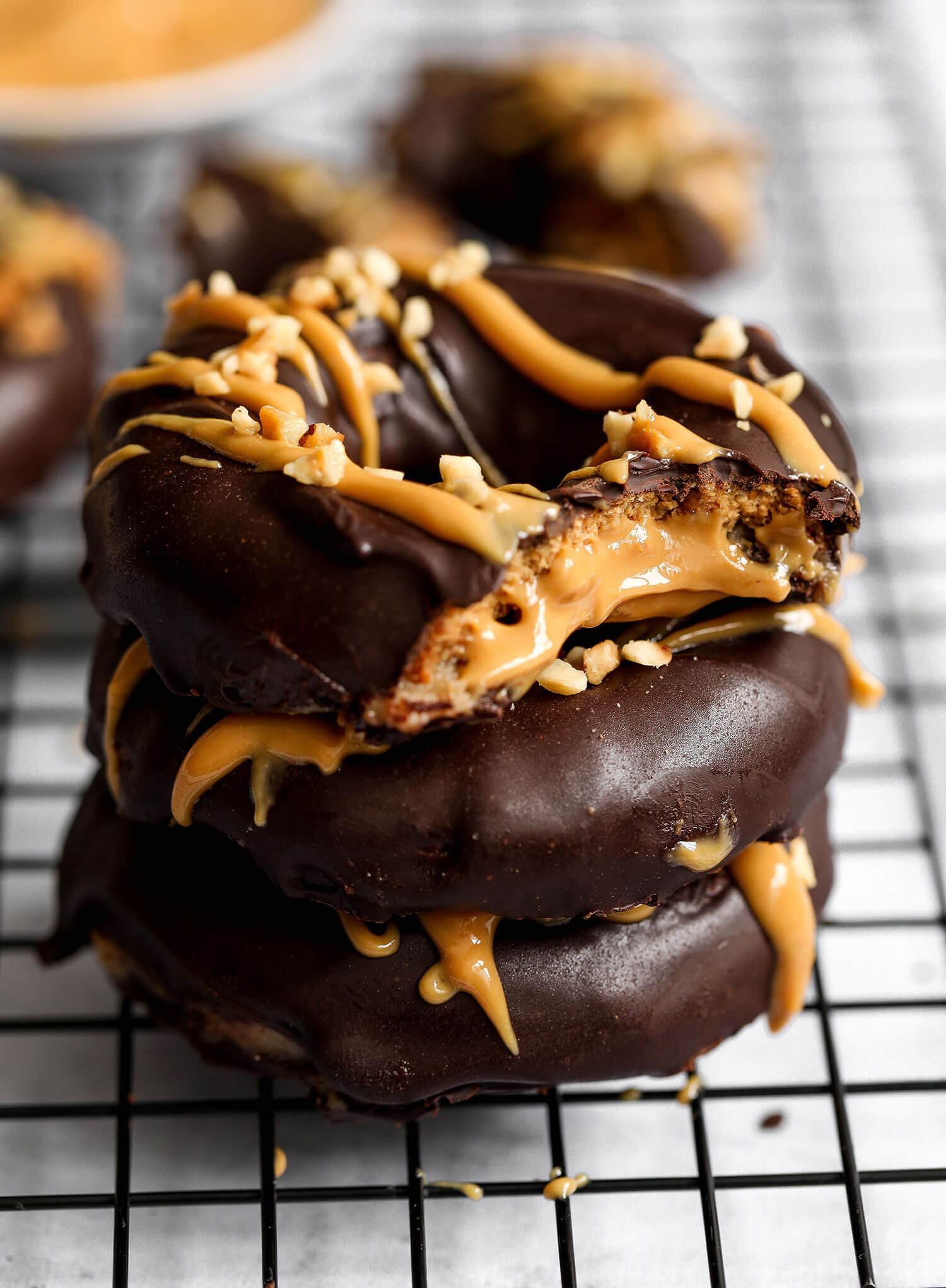 A fun recipe using silicon doughnut moulds. These caramel chocolate doughnut cookies are a fun take on Twix bars and made with healthier ingredients!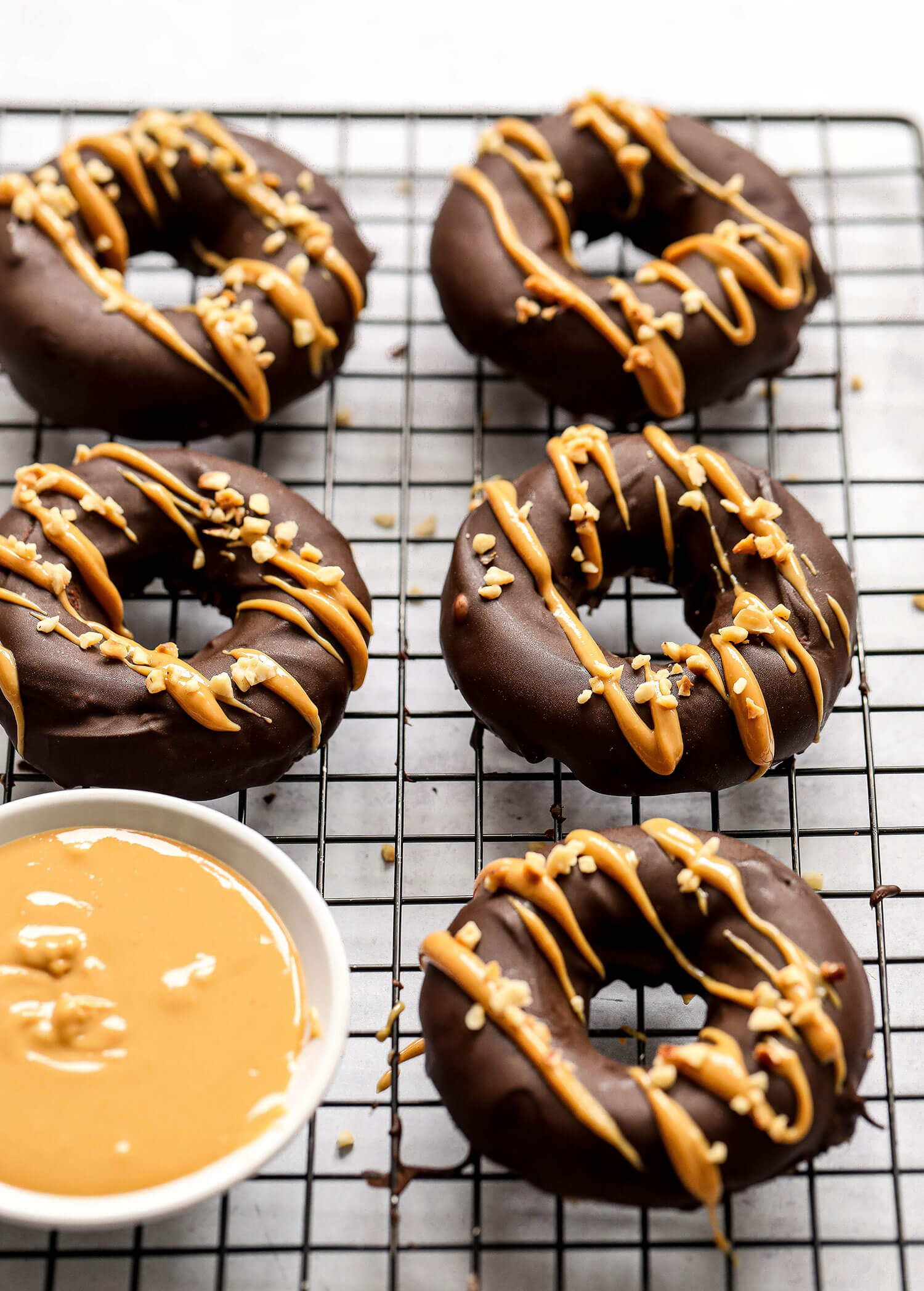 Twix meets doughnuts! A doughnut shaped biscuits (aka cookie) with a layer of caramel all dipped in chocolate. The crunchy biscuit with the sweet caramel goes so well with the bitter dark chocolate coating and there's just a pinch of salt in the caramel to help intensify the flavour. All topped with a drizzle of caramel and crunchy nuts to make it look super pretty.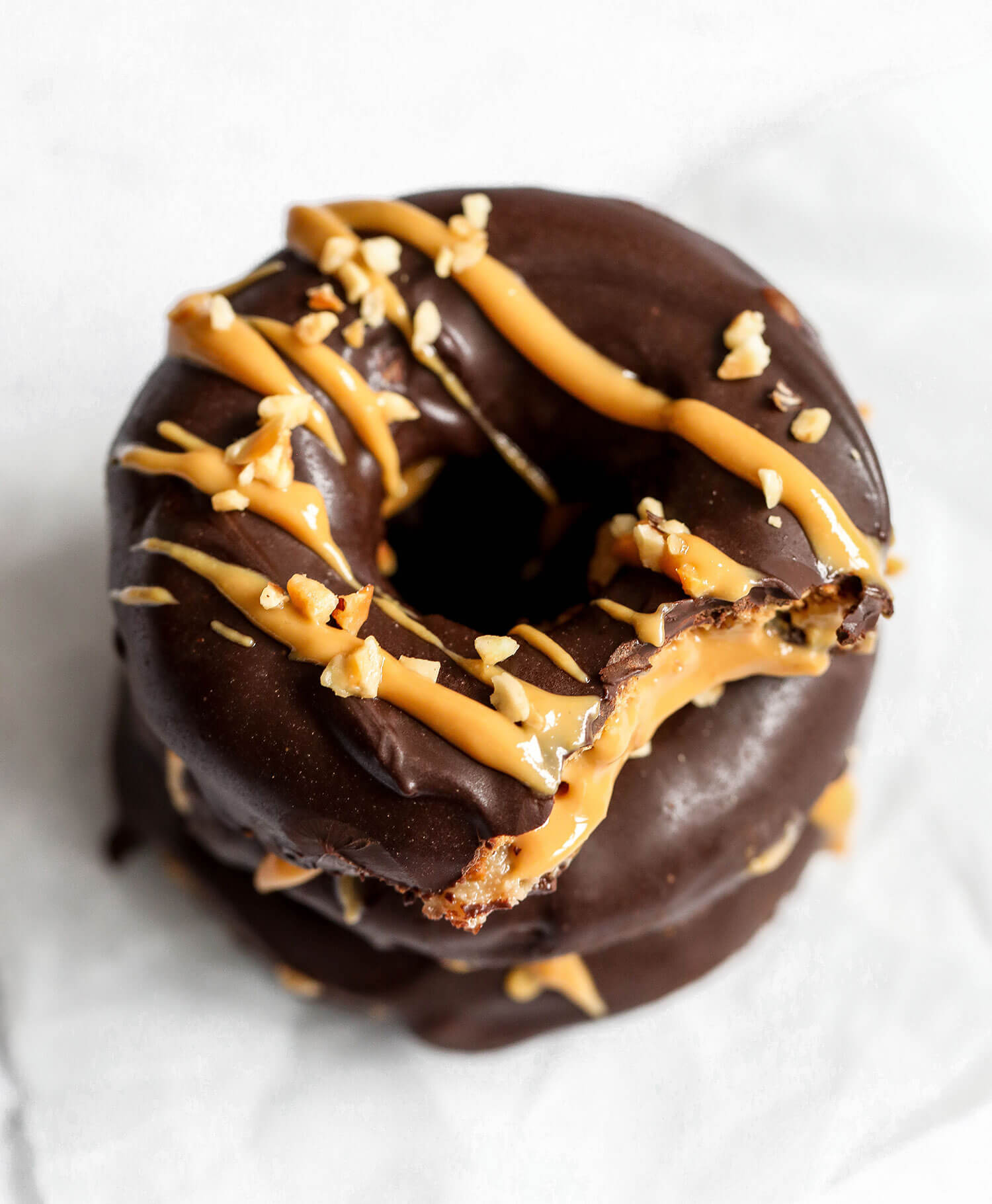 I've made a couple of doughnut shaped desserts in the past that aren't actually doughnuts. I do love the idea of using doughnut silicon moulds to make something more creative and a little different. This recipe is just one example that shows you can use doughnut moulds for much more than just doughnuts! My most popular doughnut shaped recipe is for these 3-ingredient chocolate crunch doughnuts. I've seen so many bloggers and other influencers on Instagram recreate it since I came up with the idea for them 2 years ago, which shows just how popular they are!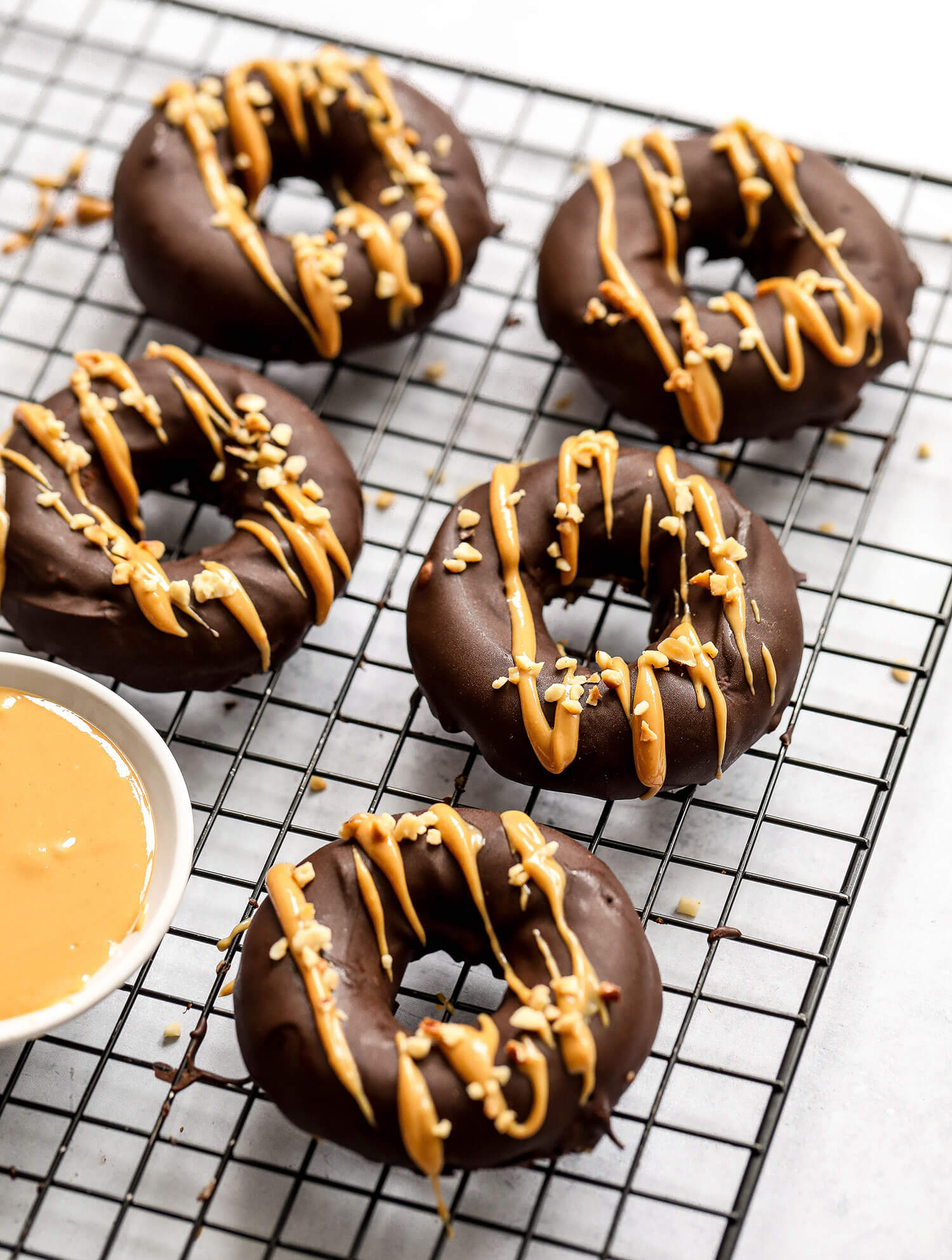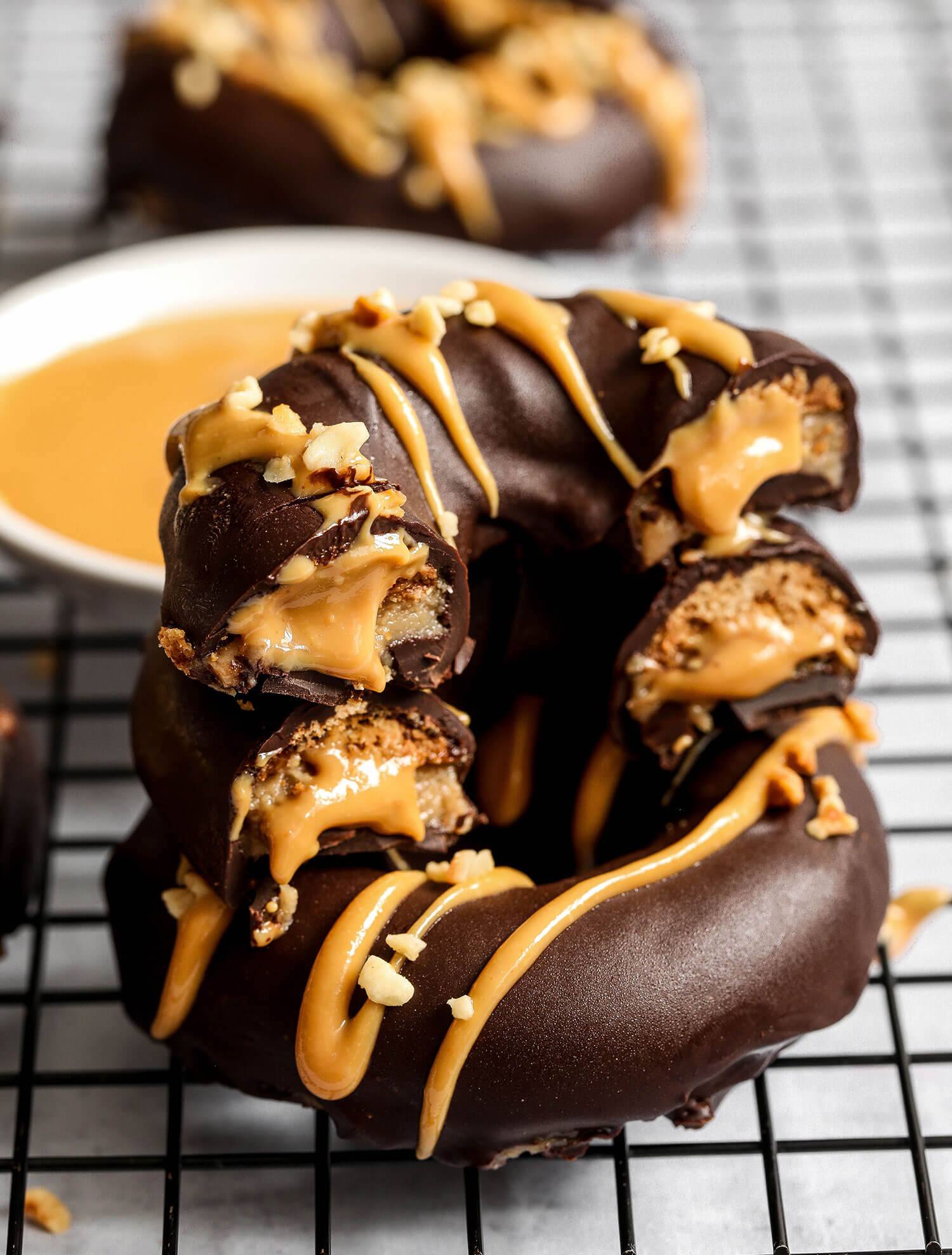 These caramel chocolate doughnut cookies are both vegan and gluten-free so can be enjoyed by those of you who are intolerant/allergic or choose not to eat animal products or gluten! You can easily make the recipe nut-free by using tahini instead of the peanut butter.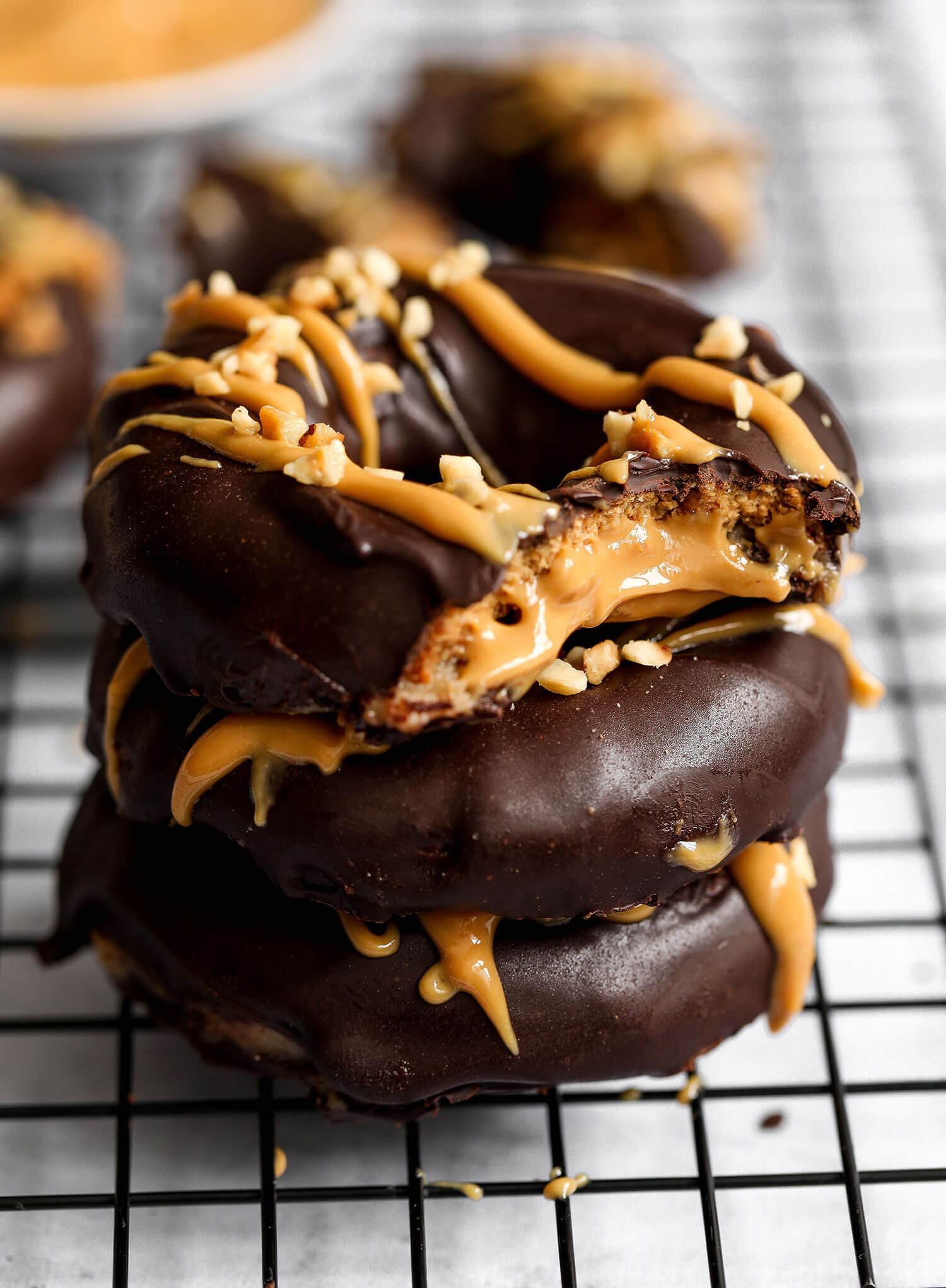 Caramel Chocolate Doughnut Cookies
Makes – 6
Ingredients
For the cookies
110g oat flour. Rolled oats ground into a flour in the food processor. Use gluten-free oats if necessary
2 tbsp brown or coconut sugar
1/4 tsp salt
1/2 tsp baking powder
2 tbsp maple syrup
2 tbsp coconut oil, melted
2 tsp milk of choice (I used oat milk)
For the peanut butter caramel
5 tbsp runny peanut butter or tahini
1 tbsp maple syrup
Chocolate coating
150g dark chocolate, melted
Method
Preheat your oven to 180C/160C fan/350F
Mix all the cookie ingredients in a bowl, then divide the mixture between 6 doughnuts silicon moulds. Press down into the moulds and bake for 15-20 minutes. Leave to cool in the moulds.
Mix the peanut butter and maple syrup in a small bowl, then spread over the cookies in the moulds.
Place the moulds in the freezer for 1 hour to allow the caramel to set, then carefully remove from the moulds and dip in the melted chocolate or drizzle the melted chocolate on top.
Place on a baking sheet lined with baking paper, then place in the fridge to allow the chocolate to set.
Store in an air-tight container at room temperature for up to 5 days.
Enjoy!