Butternut Squash Turmeric Ginger Soup
Now that I've embarked on my 30s, it's crucial for me to look after my body in any way that I can. In my younger days, it was so easy to think I was invincible, like nothing would ever hurt me. I was so used to my body being able to bounce back and recover from pretty much anything. It's only when I started getting the aches and pains that come as a result of accumulated injuries/physical stress, bad posture and the natural process of aging that I started to consider taking steps to look after myself! Now, that resilience I grew so used to having is fading and I find myself looking for ways to nurture my body in any way I can.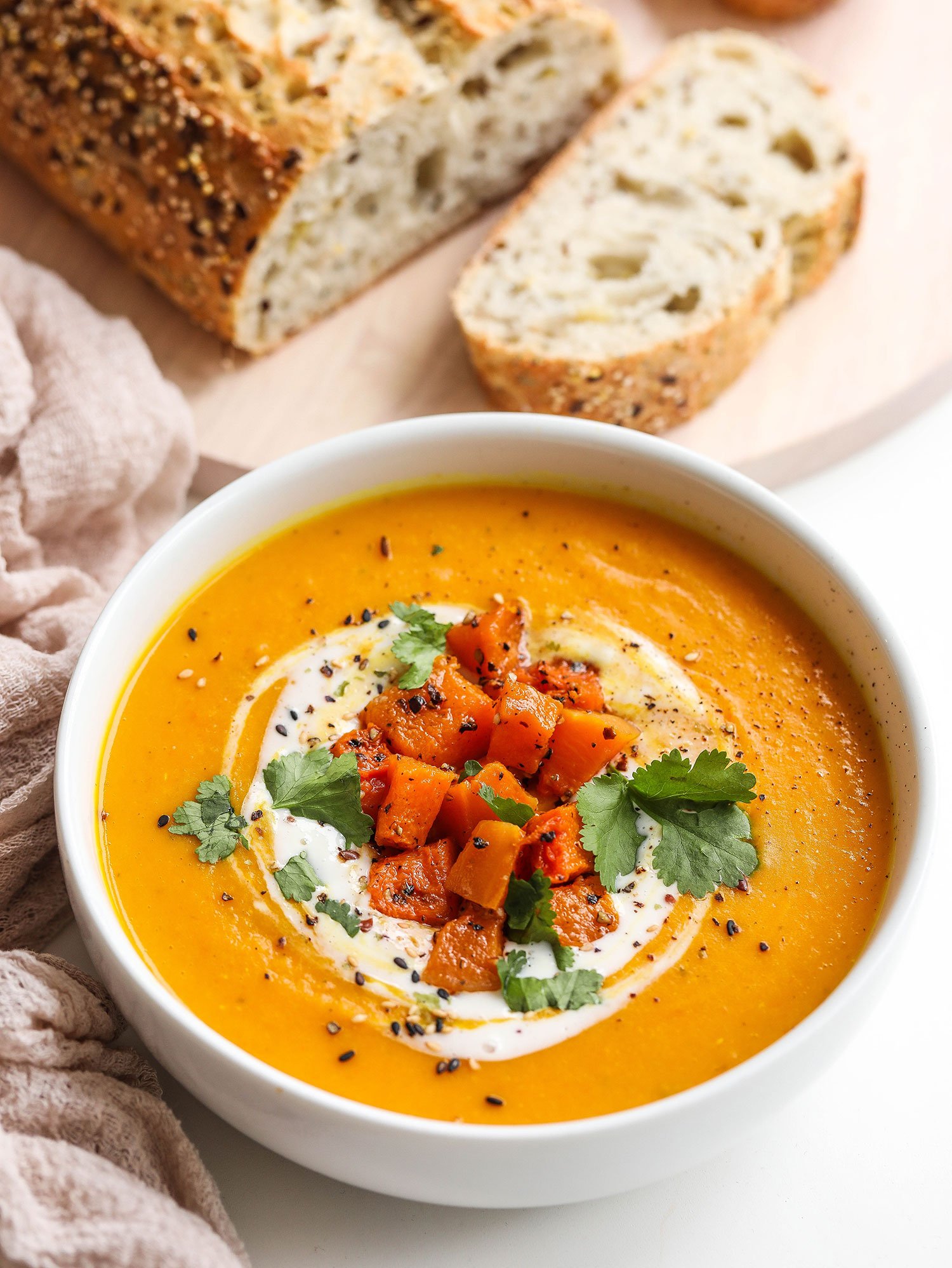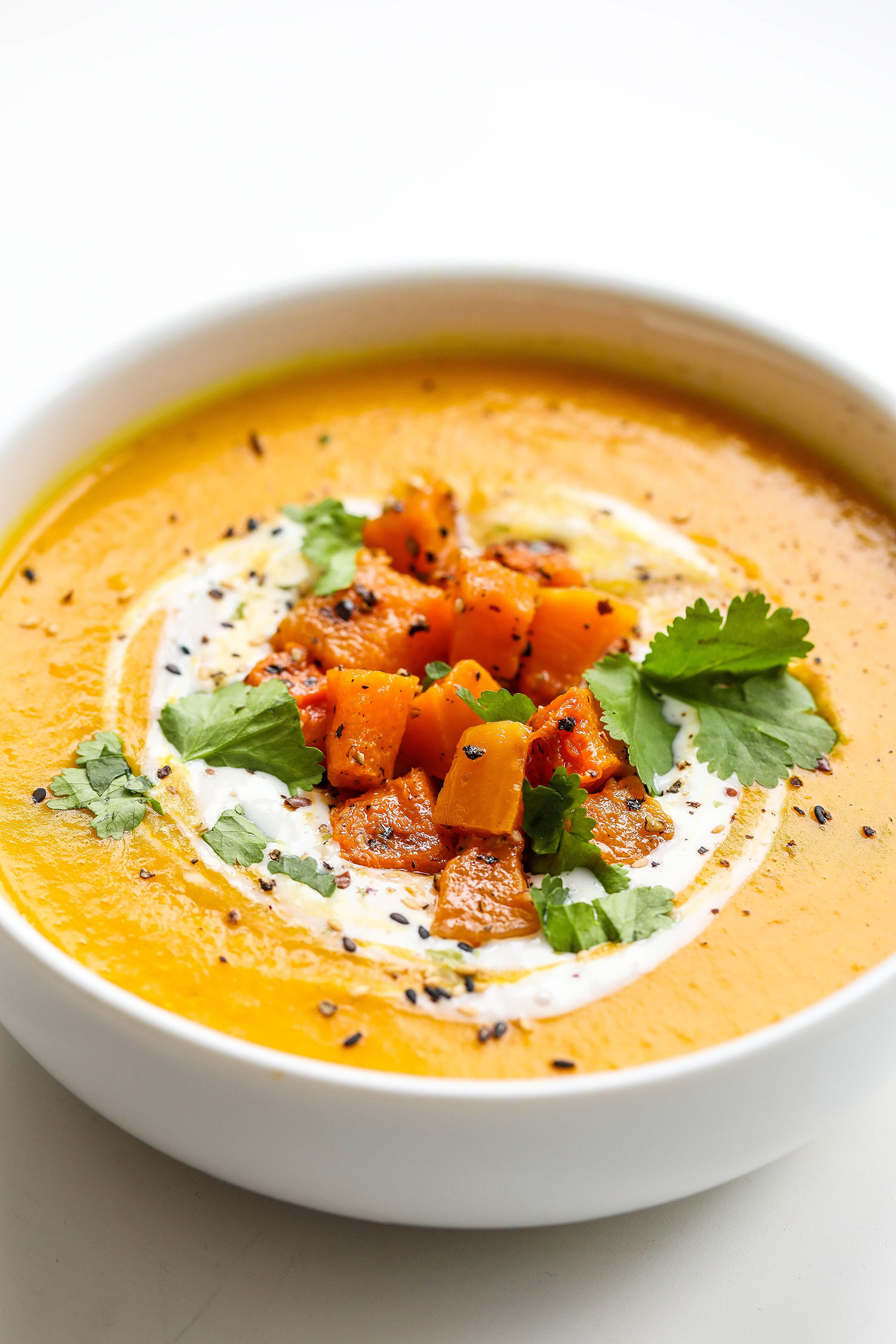 One of the really important things about being a woman in my 30s is to look after my bone and joint health. As well as wear and tear of the joints, our body's natural ability to produce collagen declines with age. Joints begin to stiffen, especially if you live a sedentary lifestyle, but also on the flip side if you do a lot of strenuous exercise. Either way there are things we can do to help support our bodies, including our joints.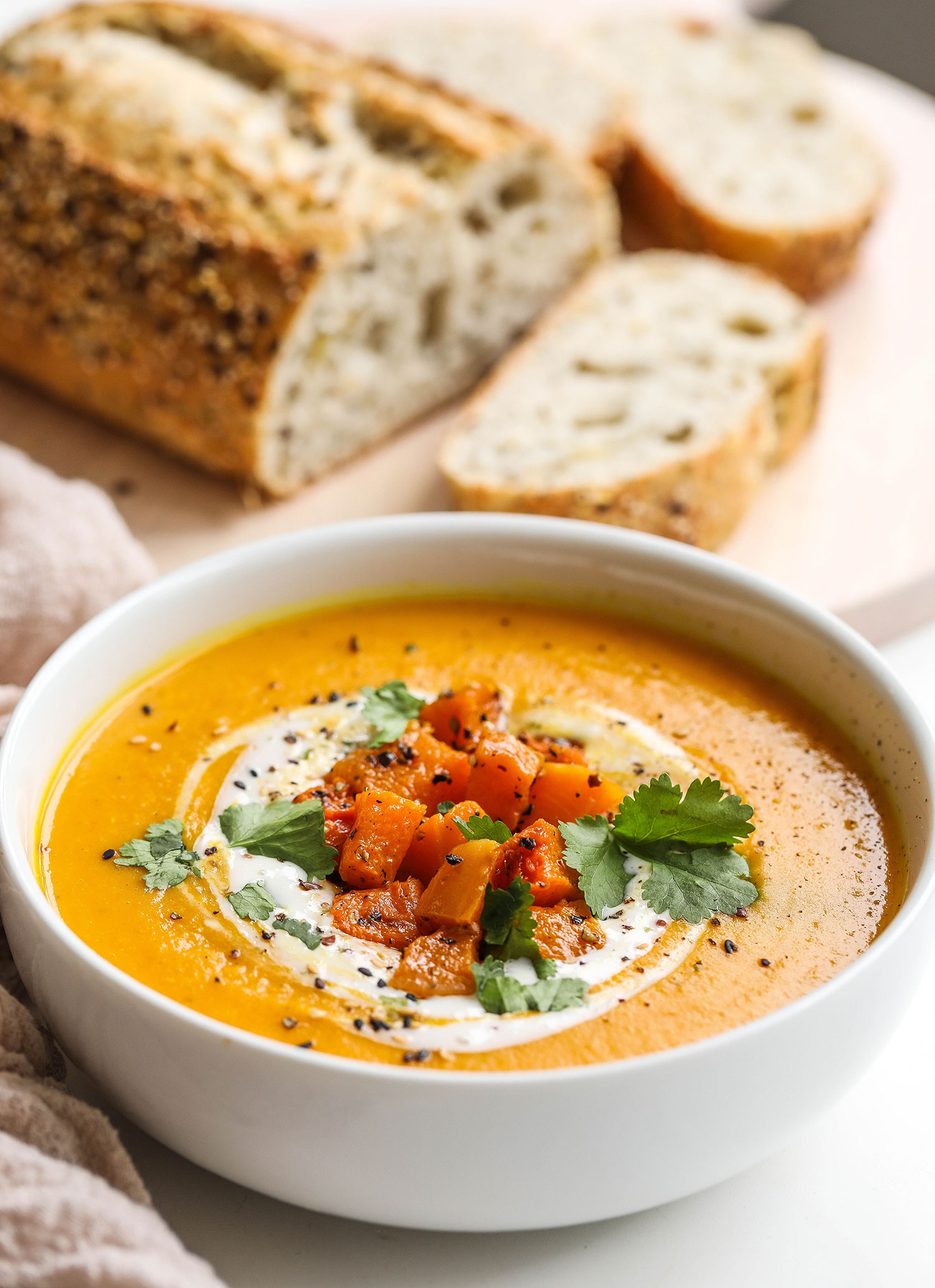 I've started taking LithoLexal® Joint Health Advanced tablets – It's scientifically formulated to support the natural collagen formation and development of cartilage, which is important for normal joint function. Collagen is a protein and a component in the body's connective tissues like tendons, ligaments, muscles and even in the skin. As the body's ability to produce collagen decrease, the risk of developing things like osteoarthritis increases.
LithoLexal® Joint Health Advanced contains LithoLexal® – a unique marine plant-derived extract, with highly bioavailable calcium and magnesium, Vercilexal® – a fish-derived cartilage-specific proteoglycan complex and vitamin C – important for the immune system, and acts as an antioxidant and also helps manufacture collagen. It also contains vitamin D to enhance the absorption of the key minerals.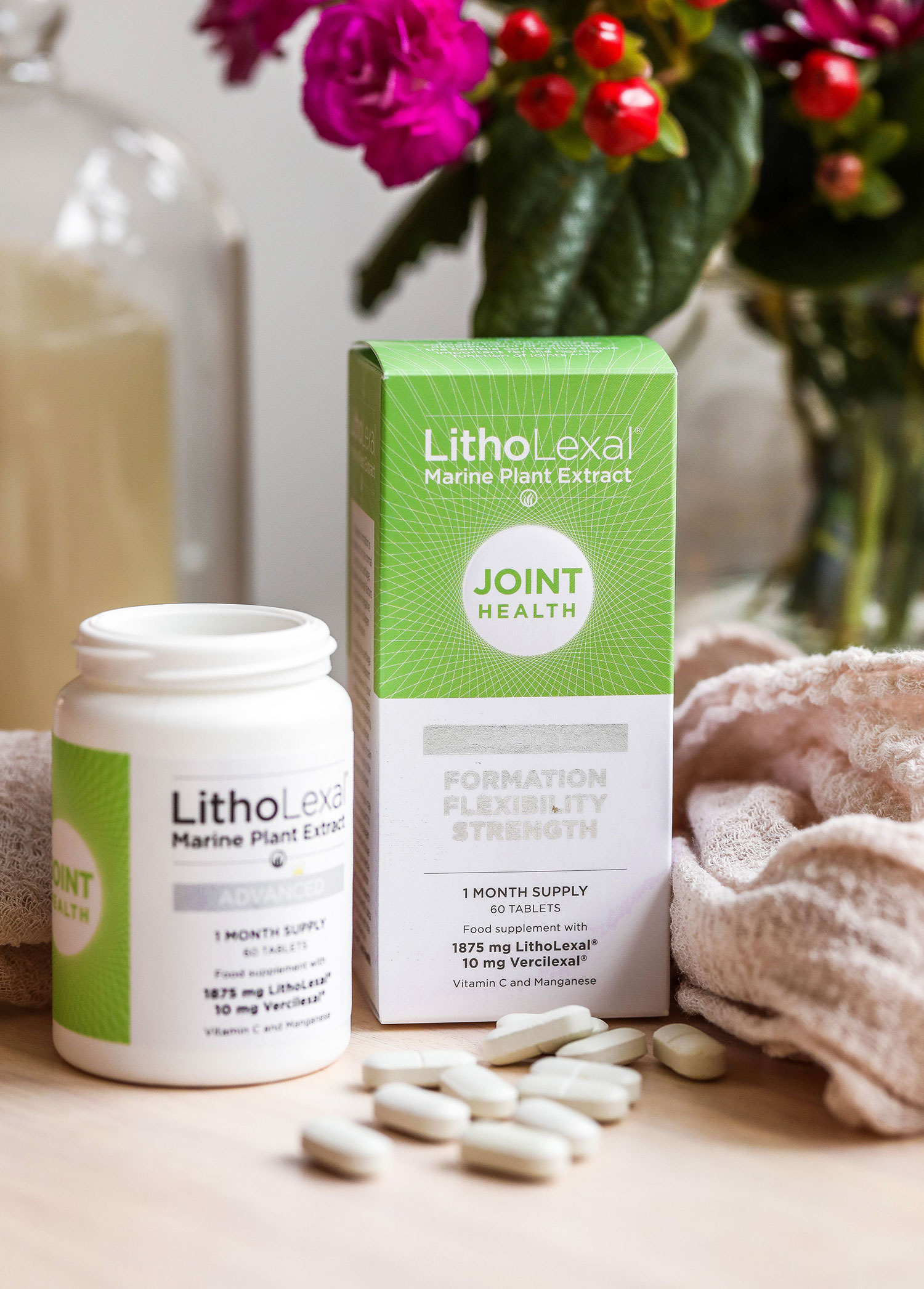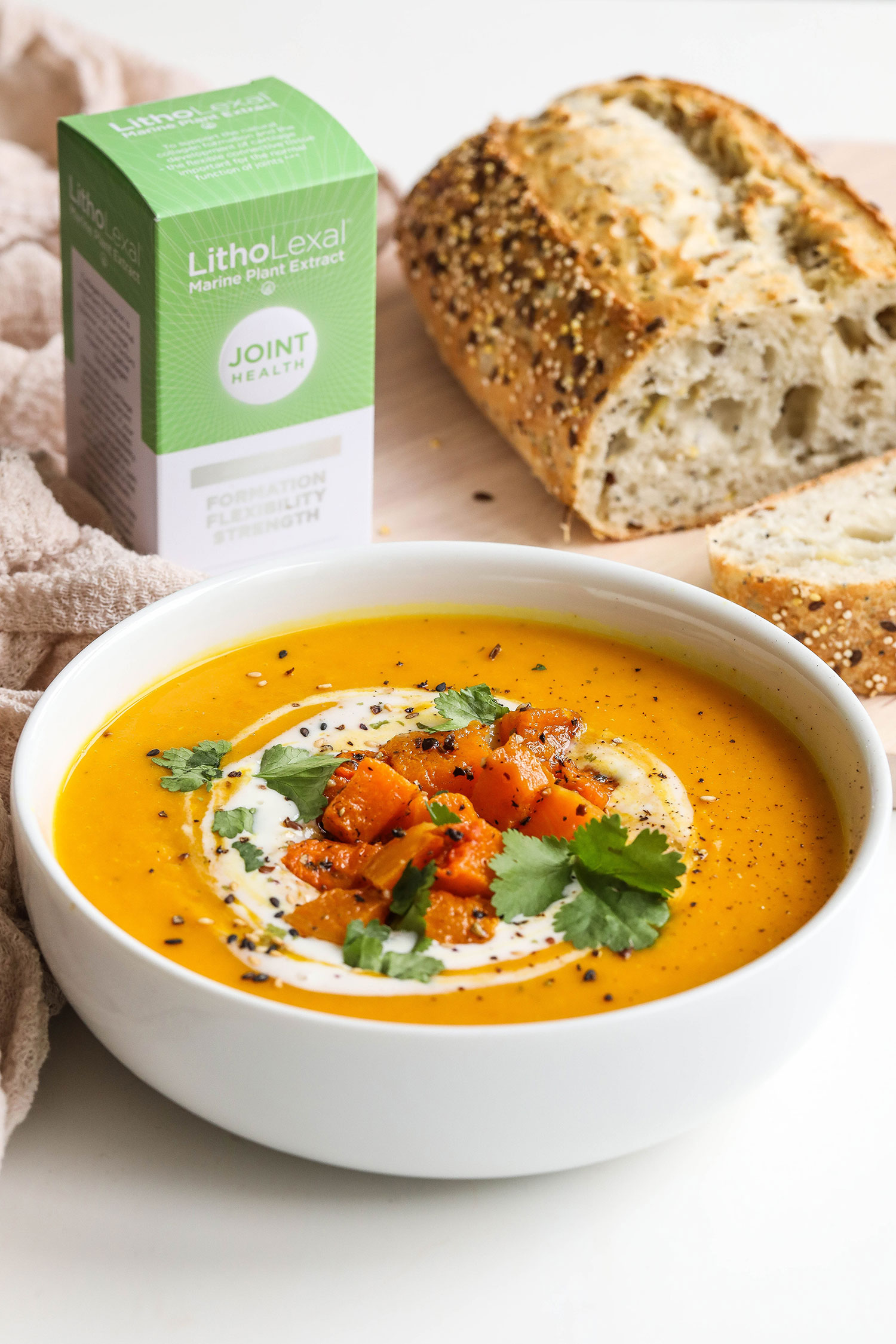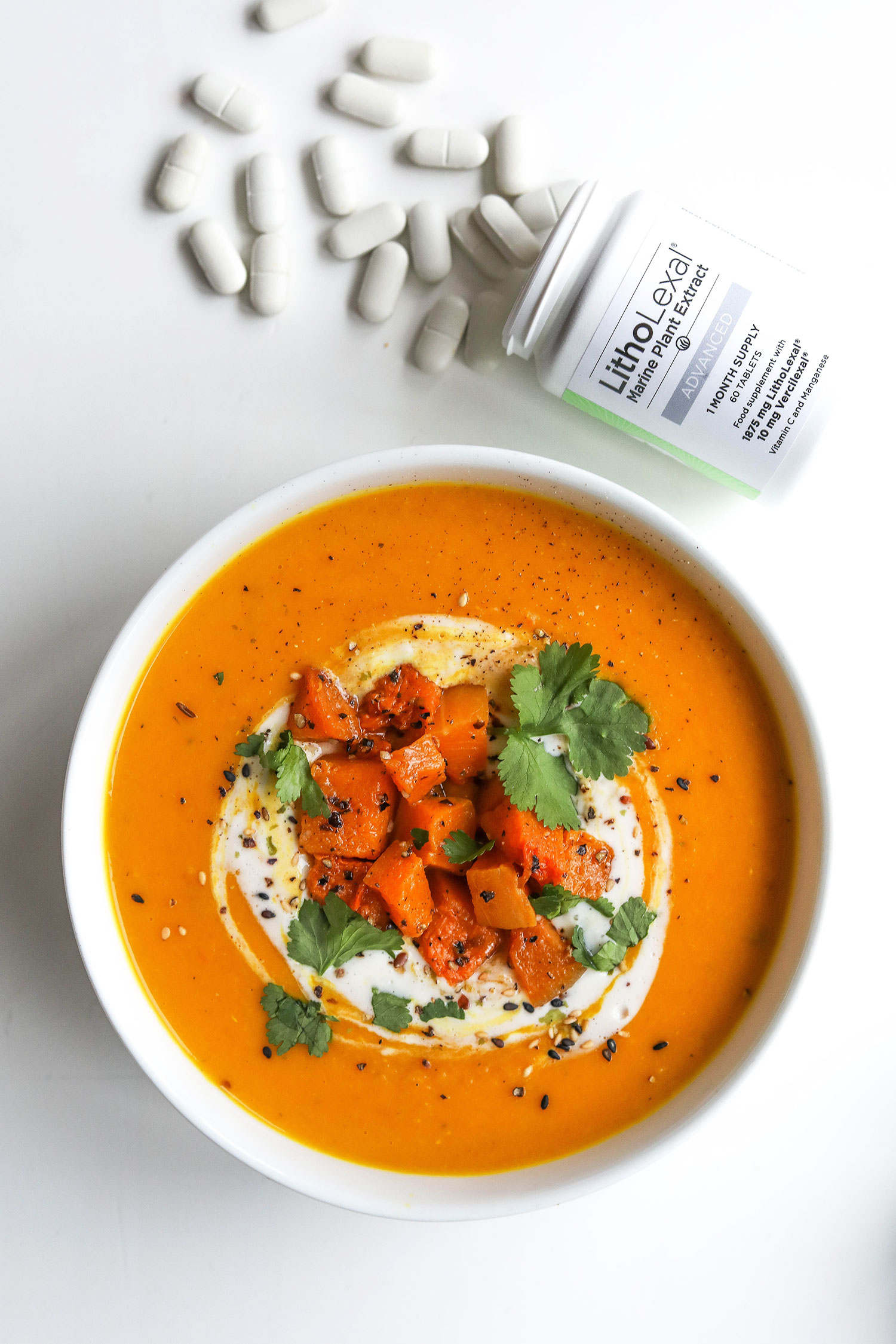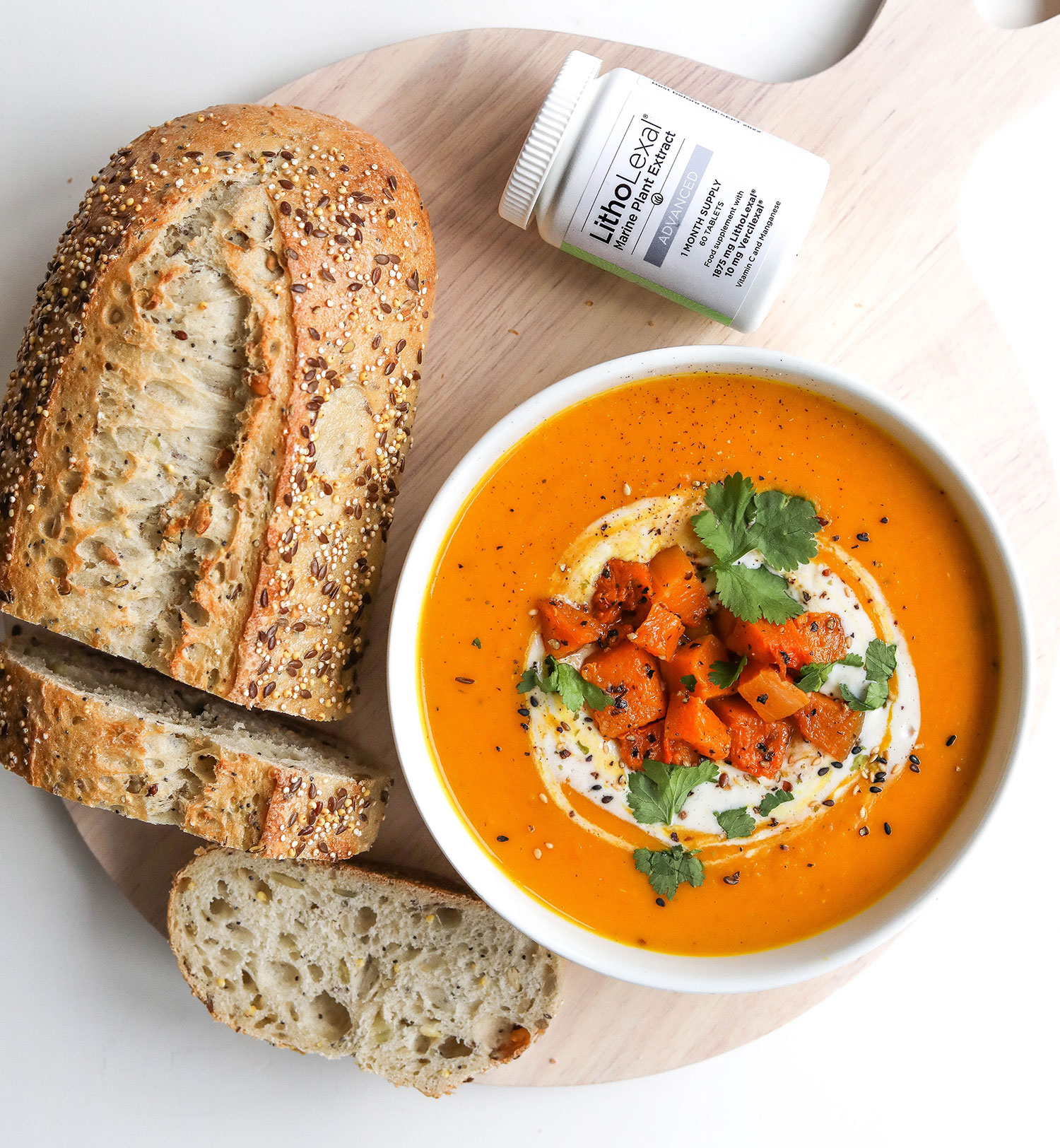 Another thing that I try to do as much as possible is to incorporate anti-inflammatory foods into my diet and reduce foods that can trigger inflammation like dairy, red meat, gluten and too much sugar. Having said that, I am a lot more flexible and relaxed with my diet as I found myself obsessing over food and becoming quite militant in what I would allow myself to eat. Now I prefer to focus on what I should eat instead of what I shouldn't eat. I try to focus on including lots of colorful vegetables, fruit, beans, pulses, protein and healthy fats. As long as I have those covered, having a biscuits, chocolate or anything else I fancy here in there won't be doing me any harm.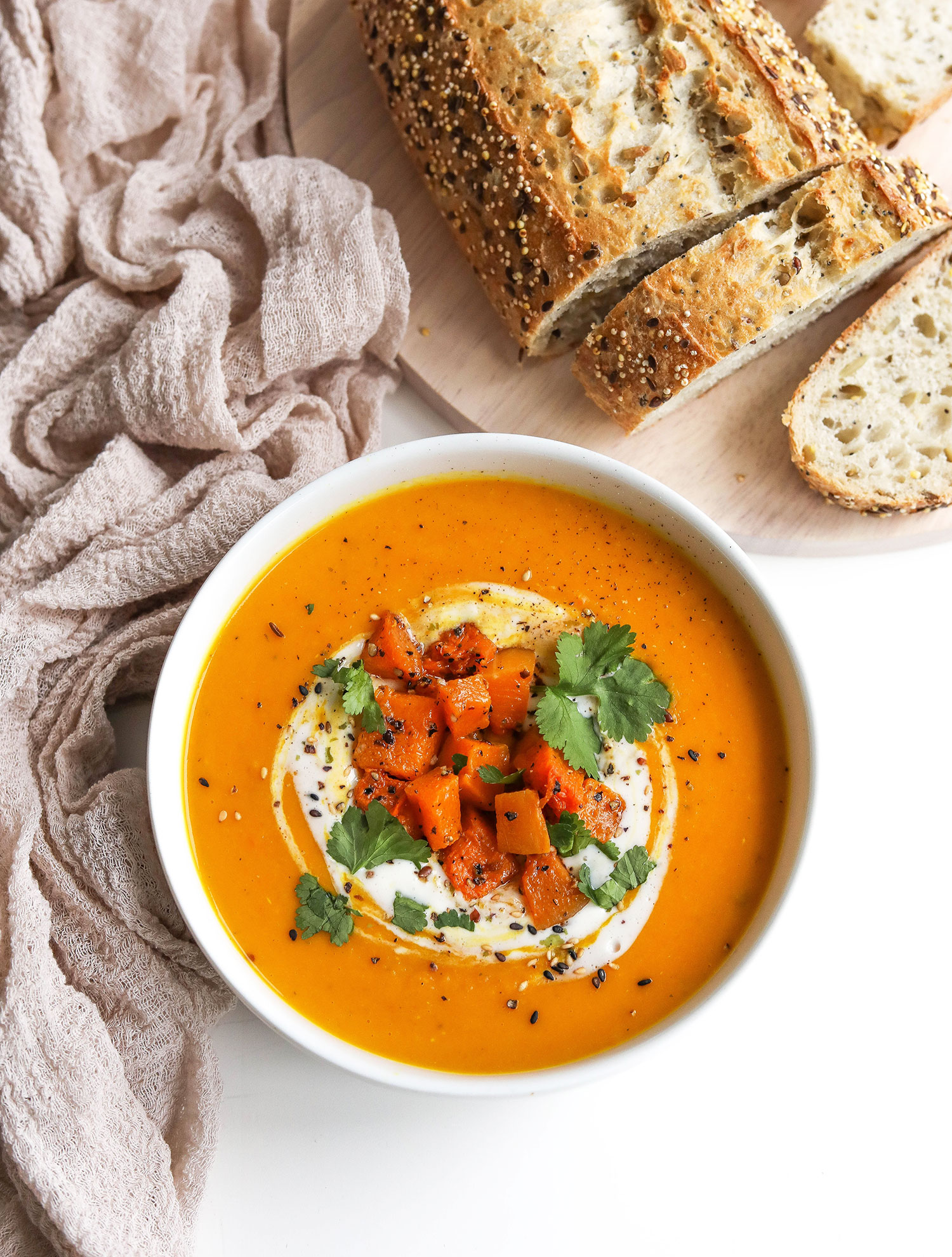 One of my favourite anti-inflammatory ingredients that I like to include in my diet is turmeric. There is a lot of debate on how effective it is in reducing inflammation, but there is some evidence to suggest it's helpful. Since taking it won't do me any harm, it's cheap and adds a delicious flavour (as well as a beautiful vibrant colour!) to dishes, I say why not incorporate it!
Vegetables in general are a really good source of antioxidants and both butternut squash and carrots are a great source of beta carotene. Ginger and garlic also have anti-inflammatory properties, so all in all this soup is a great way to nourish your body as well as to help maintain a healthy immune system, especially now that winter is approaching. It's also a really yummy and comforting meal that's easy to make and you can even make a big batch of it to freeze and enjoy on the following days. I also love pouring it into a mug and cosying up on the sofa to enjoy as a warming snack in the evening.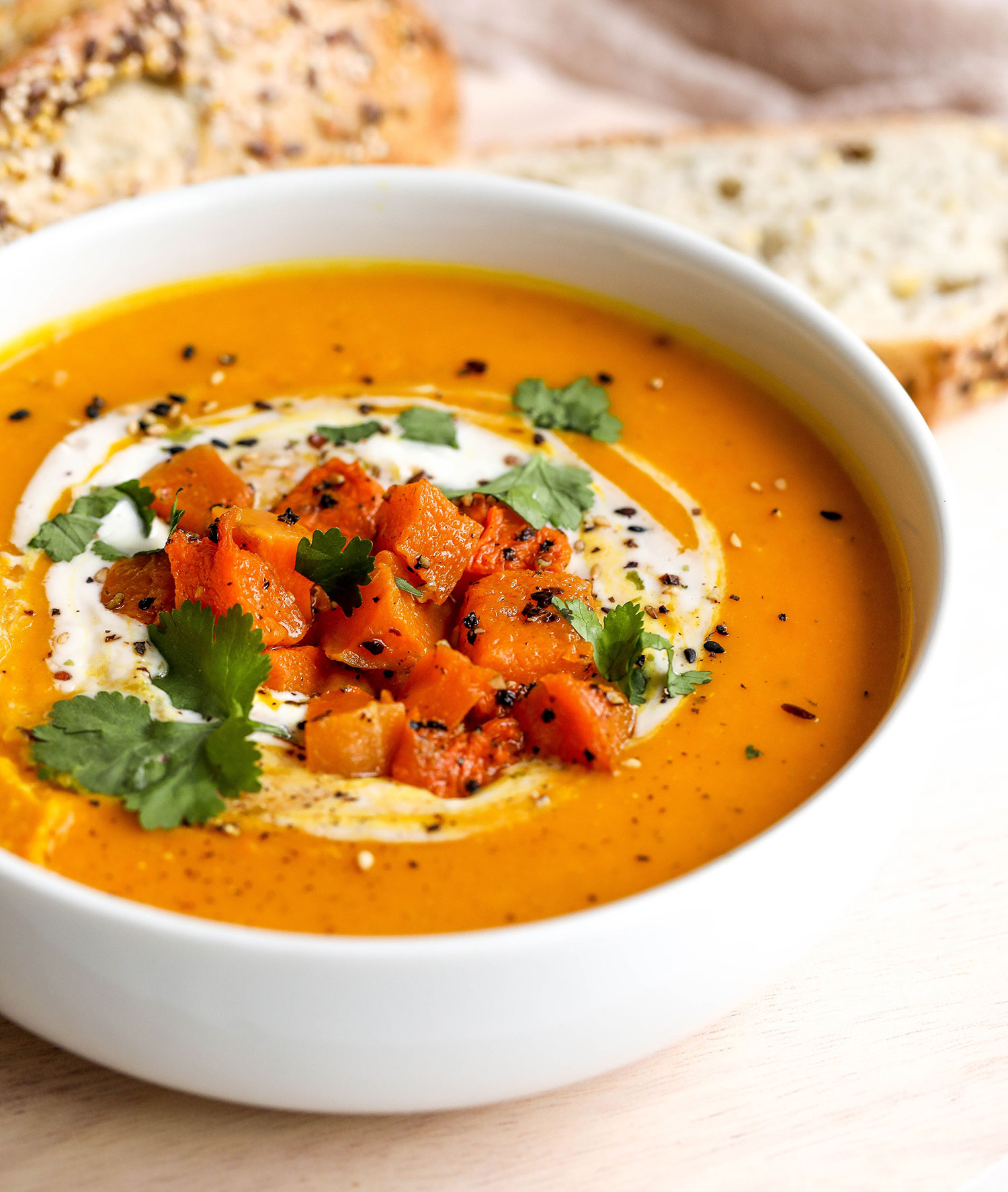 I also decided to add in some red lentils for some protein to make it a more substantial, filling and well-rounded meal. The coconut milk provides some fats that will help the body absorb the curcumin (the active part of the turmeric).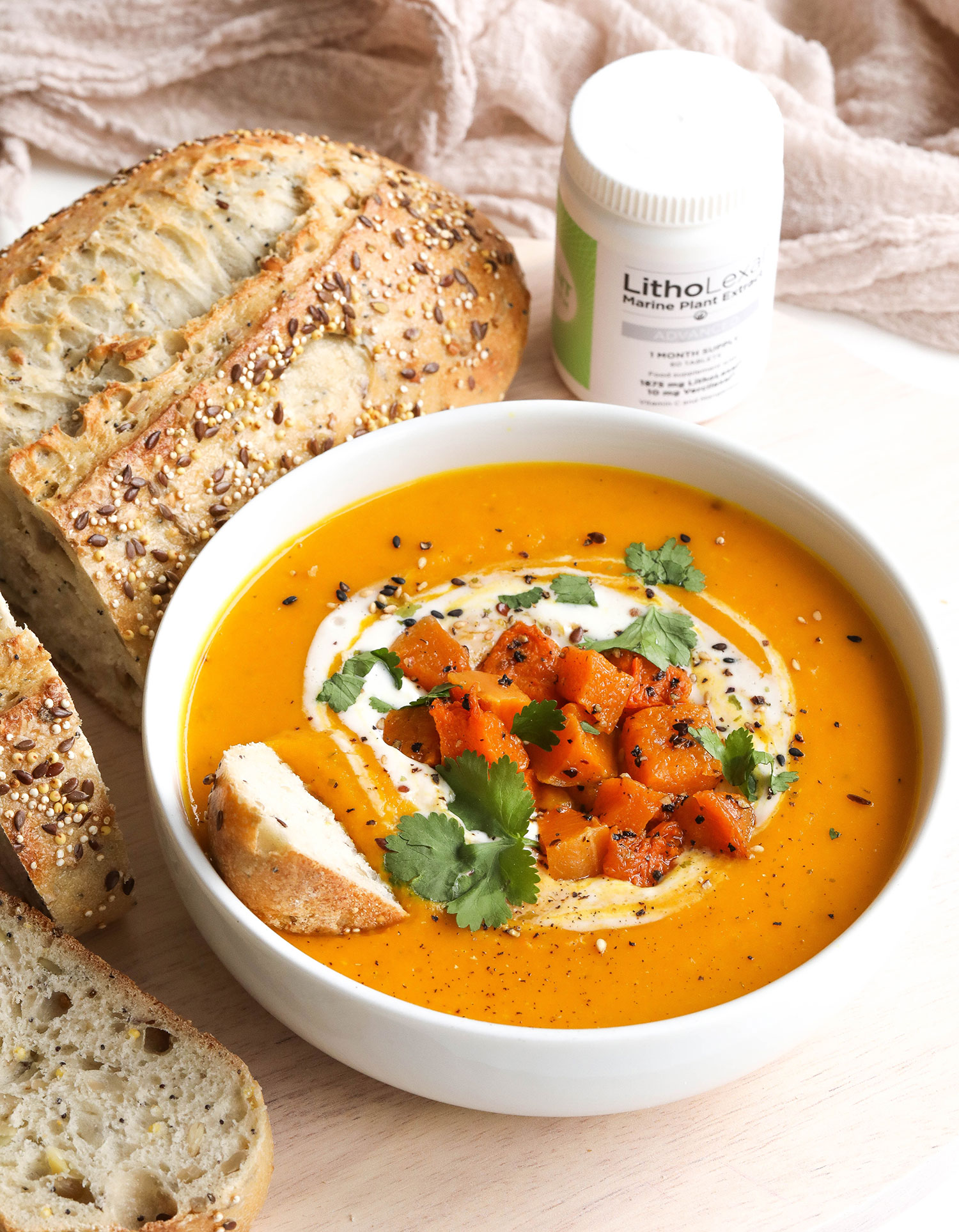 ---
Butternut Squash Turmeric Ginger Soup
Serves – 6
Ingredients
550g butternut squash, peeled and cubed
1 tbsp coconut oil
2 large carrots, chopped
100g red lentils
2 garlic cloves, finely chopped
Thumb size piece of ginger, grated
2 tsp turmeric
500ml stock made with 1 ½ vegetable stock cubes
1 can coconut milk
Juice of 1 lemon
Salt & black pepper to taste
Method
Arrange the butternut squash cubes on a baking sheet and season with salt and pepper. Drizzle with 1 tbsp of oil, give it a mix and roast for 25 minutes in a 220C/200C fan/400F preheated oven.
Heat the coconut oil in a large pan, then add in the garlic, ginger and turmeric and cook for 1 minute on a medium heat. Add the carrots and continue cooking for 5 minutes.
Add the lentils along with the vegetable stock and coconut milk. Bring to a quick boil, then lower the heat, cover and leave to simmer for 15-20 minutes. Take off the heat, add the lemon juice and season with salt & pepper to taste.
Add the roasted butternut squash and blend until smooth.
To serve – top with fresh coriander and your favourite bread.
Enjoy!
---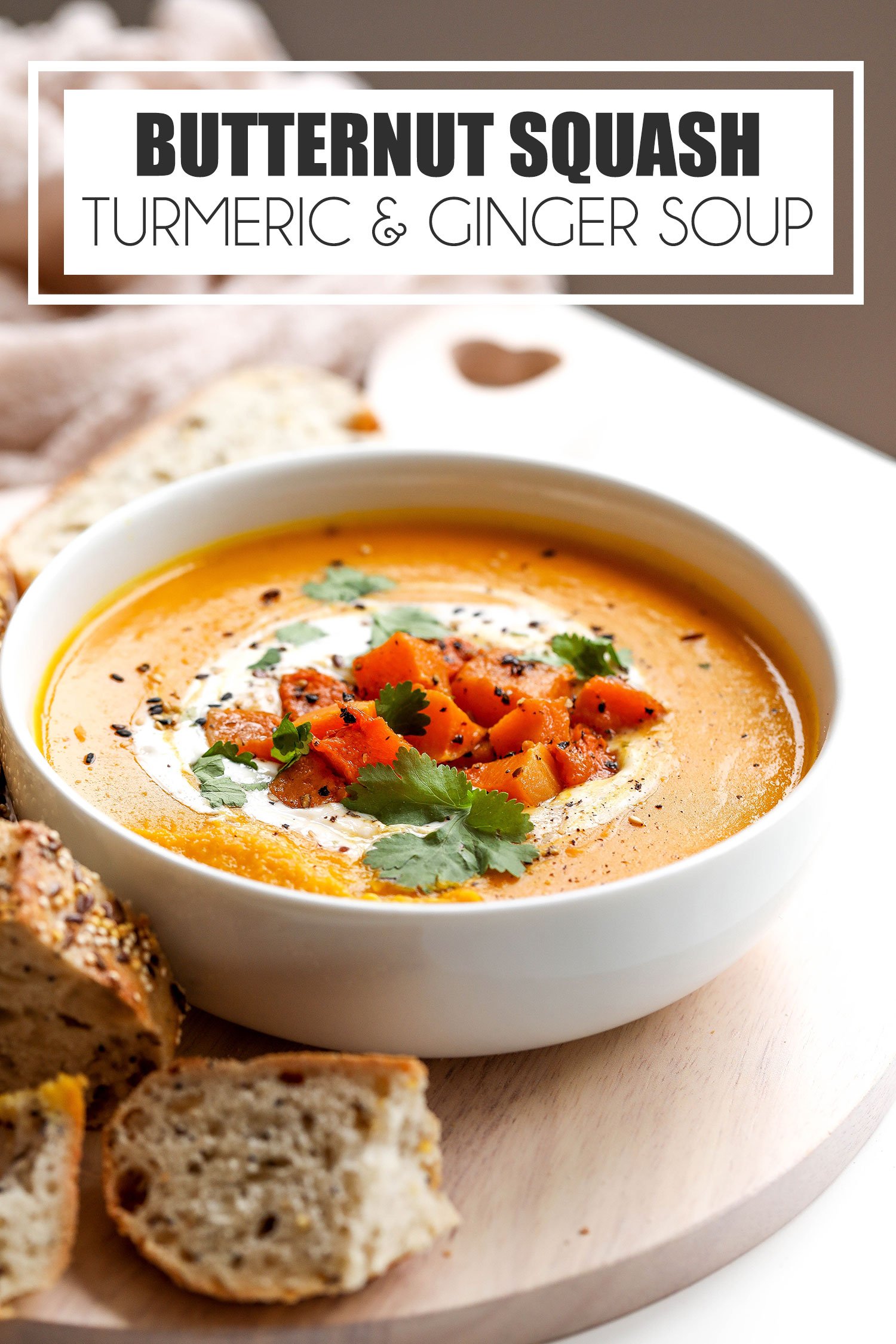 Share This Post