Blueberry White Chocolate Macadamia Blondies (Vegan & Gluten-free)
Brownies are usually my go to dessert of choice. I've made and eaten my fair share of all kinds of different types of brownies. What I've neglected in the process are blondies – brownie's younger and underrated sibling.
Just as dense, moist and moreish as brownies, but flavoured with vanilla instead of cocoa and white chocolate instead of dark chocolate. I have created a chickpea blondie recipe in the past, but it has been literally years since I made a blondie recipe and I recently had a sudden urge to revisit this old friend.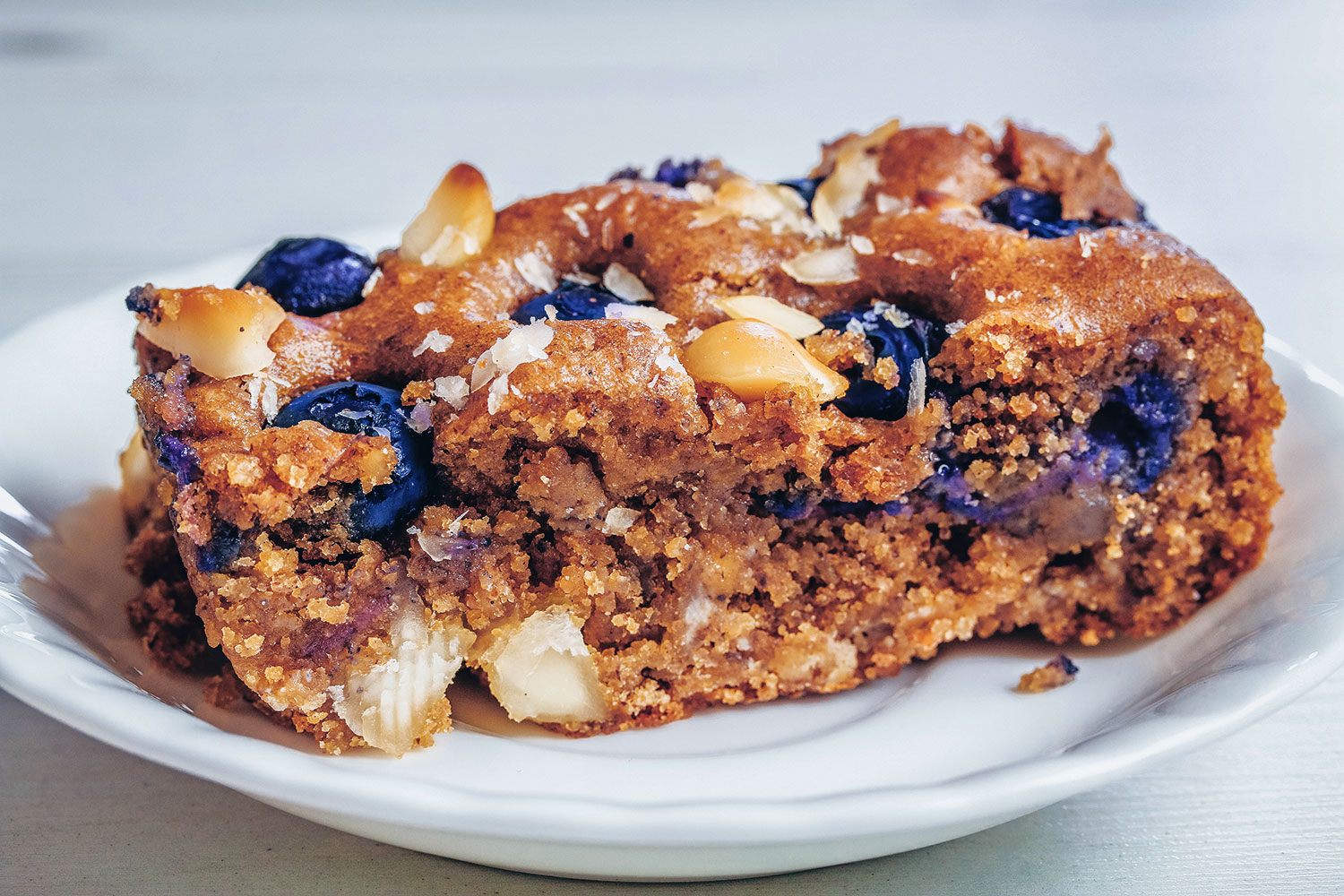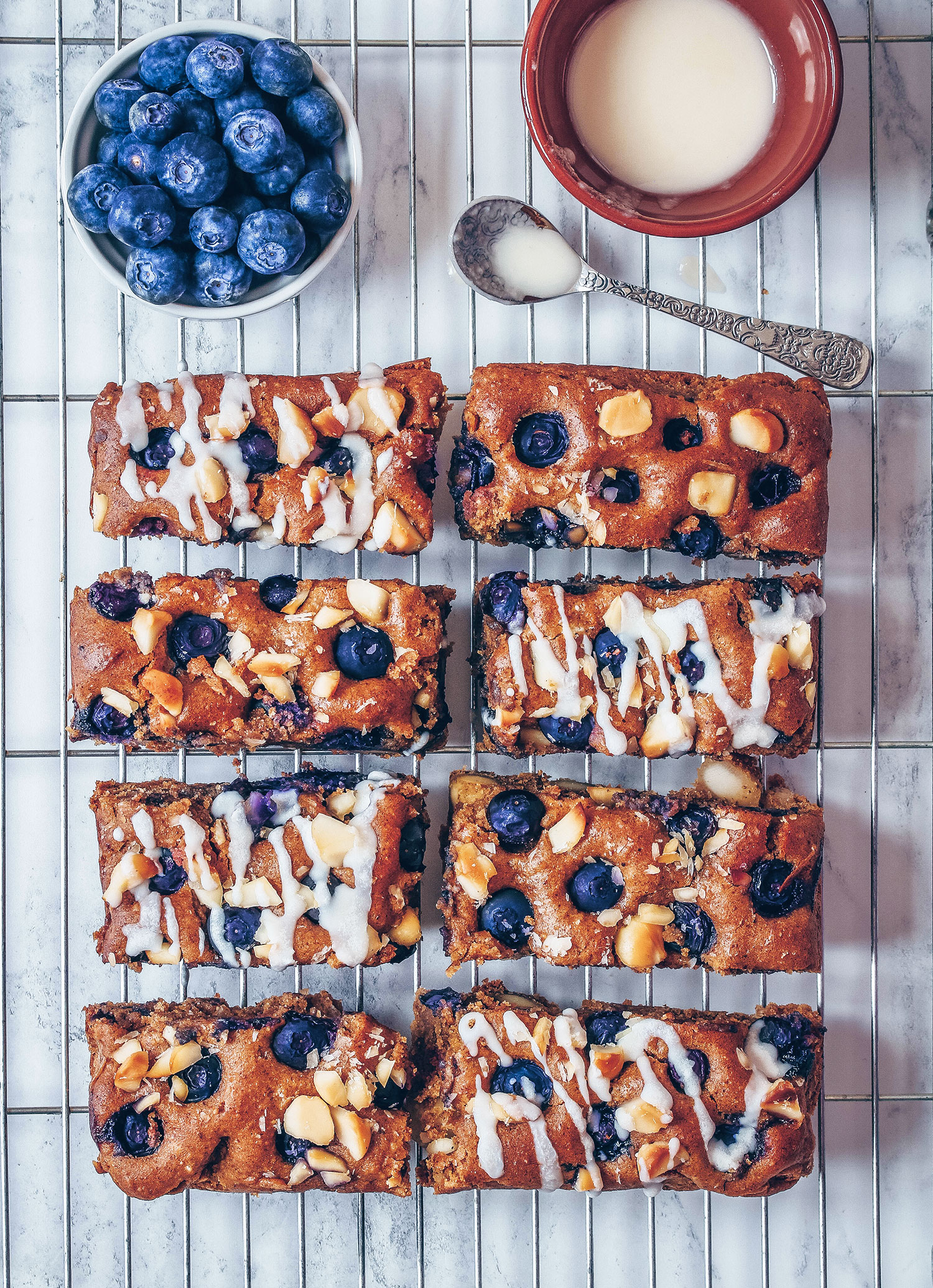 I always try to make my treats healthier and these blueberry blondies are no exception. I used a combination of ground almonds and gluten-free flour instead of just using plain flour and lowered the amount of added sugar. I also used almond butter instead of oil to add a good dose of vitamin E and monounsaturated fats. They're both vegan and gluten-free as most of my recipes are so those of you with allergies/intolerances can enjoy them! 😀
I'm teaming up again with Seasonal Berries using their blueberries from Chile. I've absolutely loved experimenting with blueberries in baking. I usually only use them in smoothies, nicecream and porridge. Rarely did I ever use them in baking. This has now changed! They're fast becoming my favourite ingredient to use in recipes and working with Chilean blueberries has inspired me and has given me so many recipe ideas for the future. So watch this space!
Blueberries are such an amazing nutrient powerhouse. Packed with anti-inflammatory phytonutrients, fibre, vitamin C and vitamin K, they're such an easy way to bump up the nutritional value of treats. They also taste amazing AND they make bakes and treats look that much prettier. Do you really need anymore reasons to include them in your diet?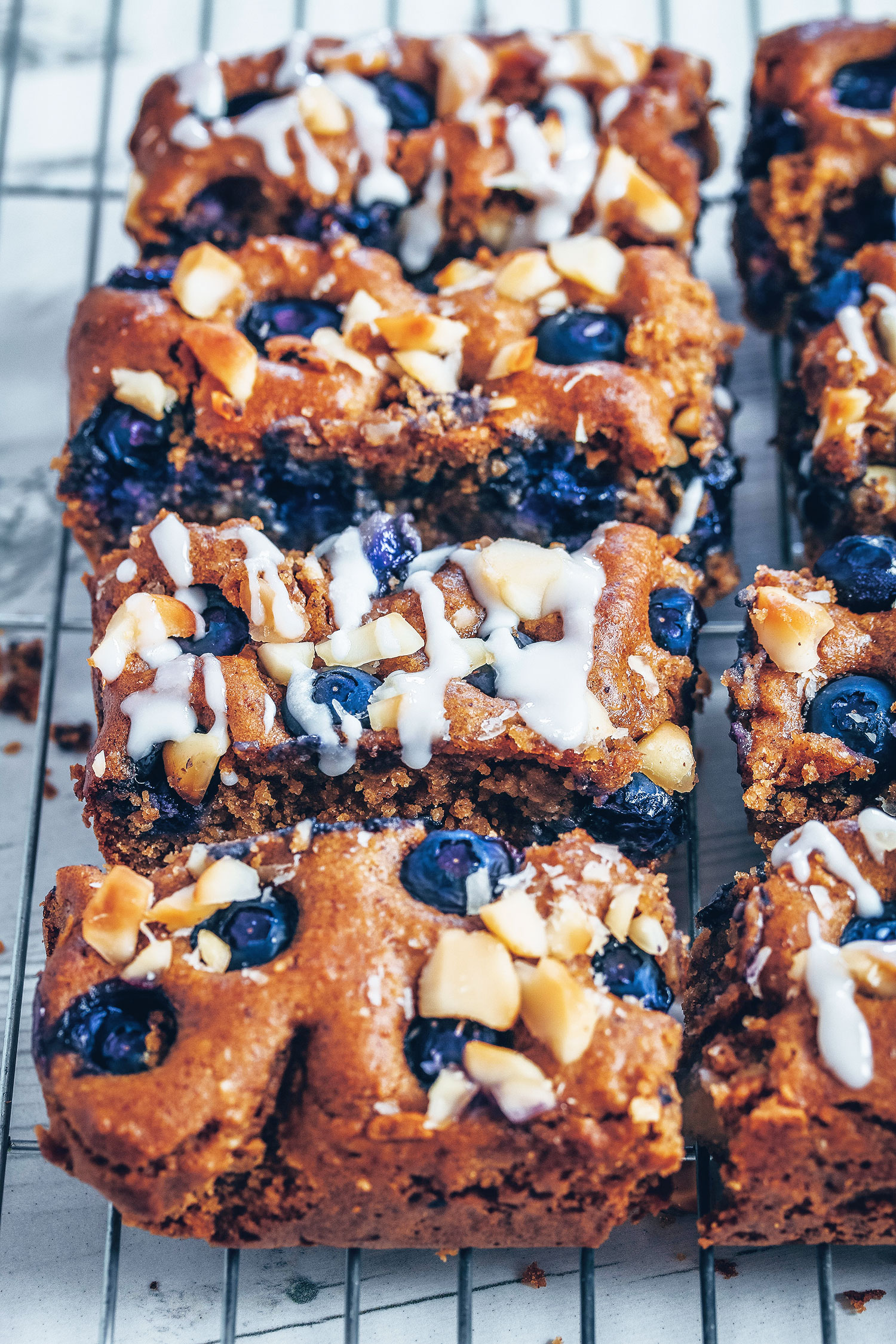 I added in some dairy-free white chocolate, but feel free to use regular dairy white chocolate if you don't have an issue with dairy or substitute it with dark chocolate as I know dairy-free white chocolate isn't the easiest thing to get hold of. It would still taste DELICIOUS with dark chocolate I promise 😀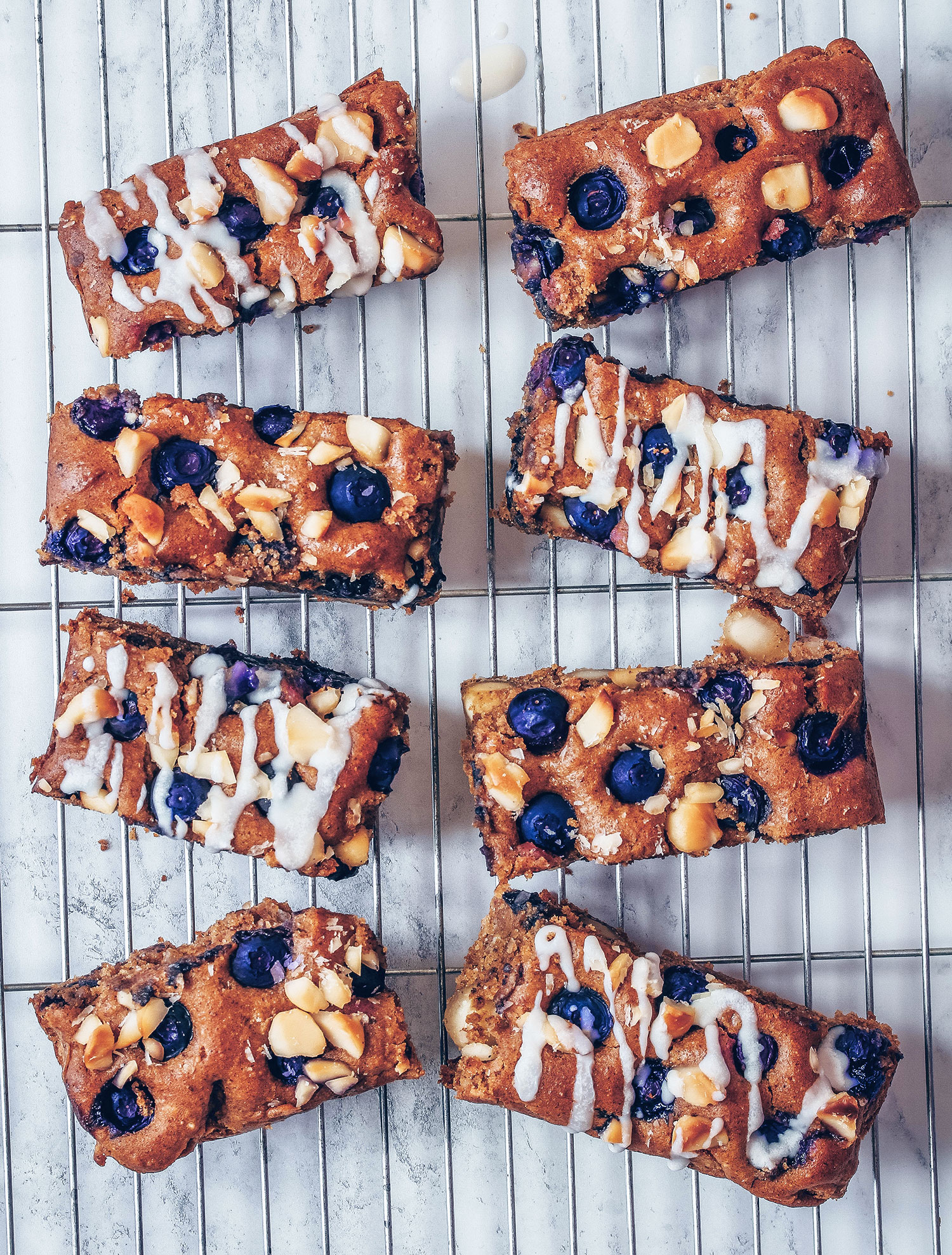 ---
Blueberry White Chocolate Macadamia Blondies (Vegan & Gluten-free)
Makes: 16

Dry ingredients
150g ground almonds
85g plain gluten-free flour
80g coconut sugar
1.5 tsp baking powder
1/4 tsp salt
90g Chilean blueberries
50g dairy-free white chocolate (or you can use dark chocolate)
75g macadamia nuts, roughly chopped

Wet ingredients
125g almond butter
170ml milk of choice
1 tsp vanilla
Method

Preheat your oven to 200°C/180°C fan
Mix all the ground almonds, flour, sugar, baking powder and salt in a large bowl.
Add the almond butter, milk and vanilla. Mix to combine.
Fold in the white chocolate and chopped macadamia nuts, then transfer into an 8" square tin lined with parchment paper. Smooth down the batter using a spatula.
Press the blueberries down into the blondie batter and top with more chopped macadamia nuts.
Bake for 25-30 minutes or until the top is golden brown.
Wait for it to cool completely before slicing into 16 blondies.
Enjoy!
---

Thanks to Seasonal Berries for sponsoring this post. Commissioned posts is how I'm able to continue working on the blog and creating recipes and recipe videos for you. As always, all opinions are my own.
Share This Post