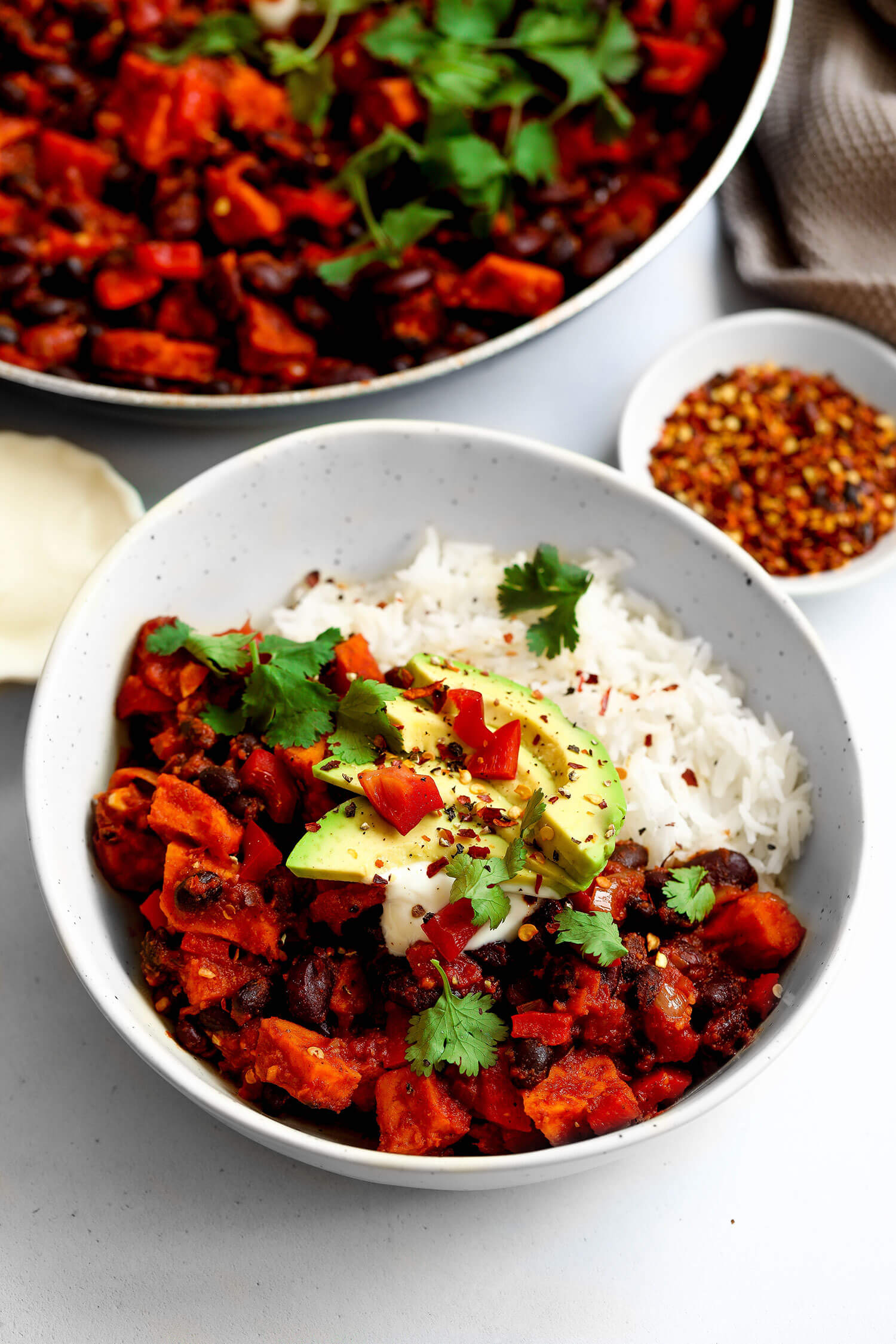 * This post is sponsored by American Sweet Potatoes*

I'm a huge fan of meal prepping and batch cooking. It's a great way to take the stress out of eating healthy as well as to save time and money! It's also such a nice feeling knowing you have a pre-prepared meal waiting for you after a long and stressful day.
It's International Sweet Potato Week between the 1st and 11th April and I'm collaborating with American Sweet Potatoes to create a quick and easy prep-ahead of time lunch recipe that's healthy, but also packed with flavour. I decided to make a vegan chilli as it's easy and uses cheap ingredients that are easy to get hold of.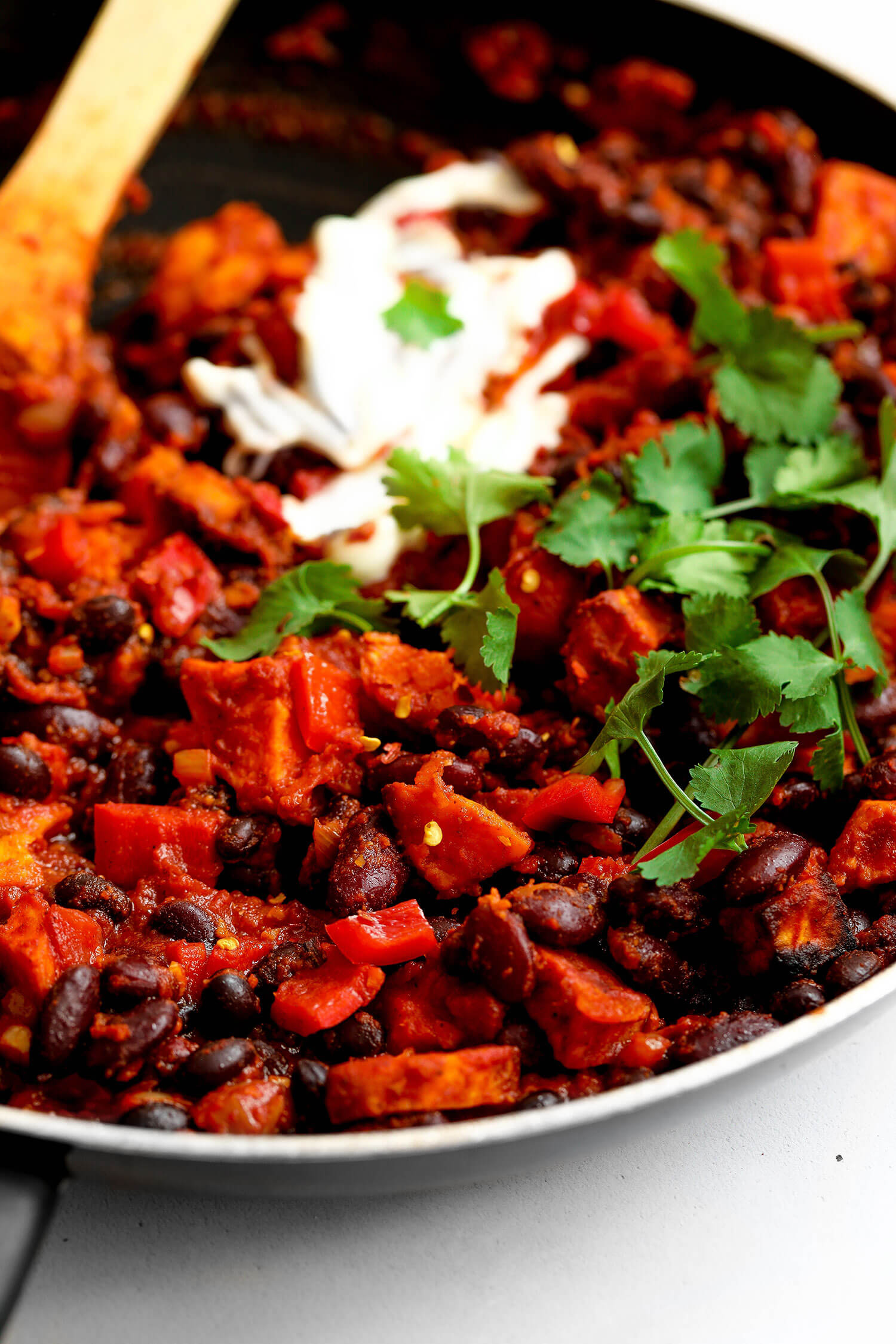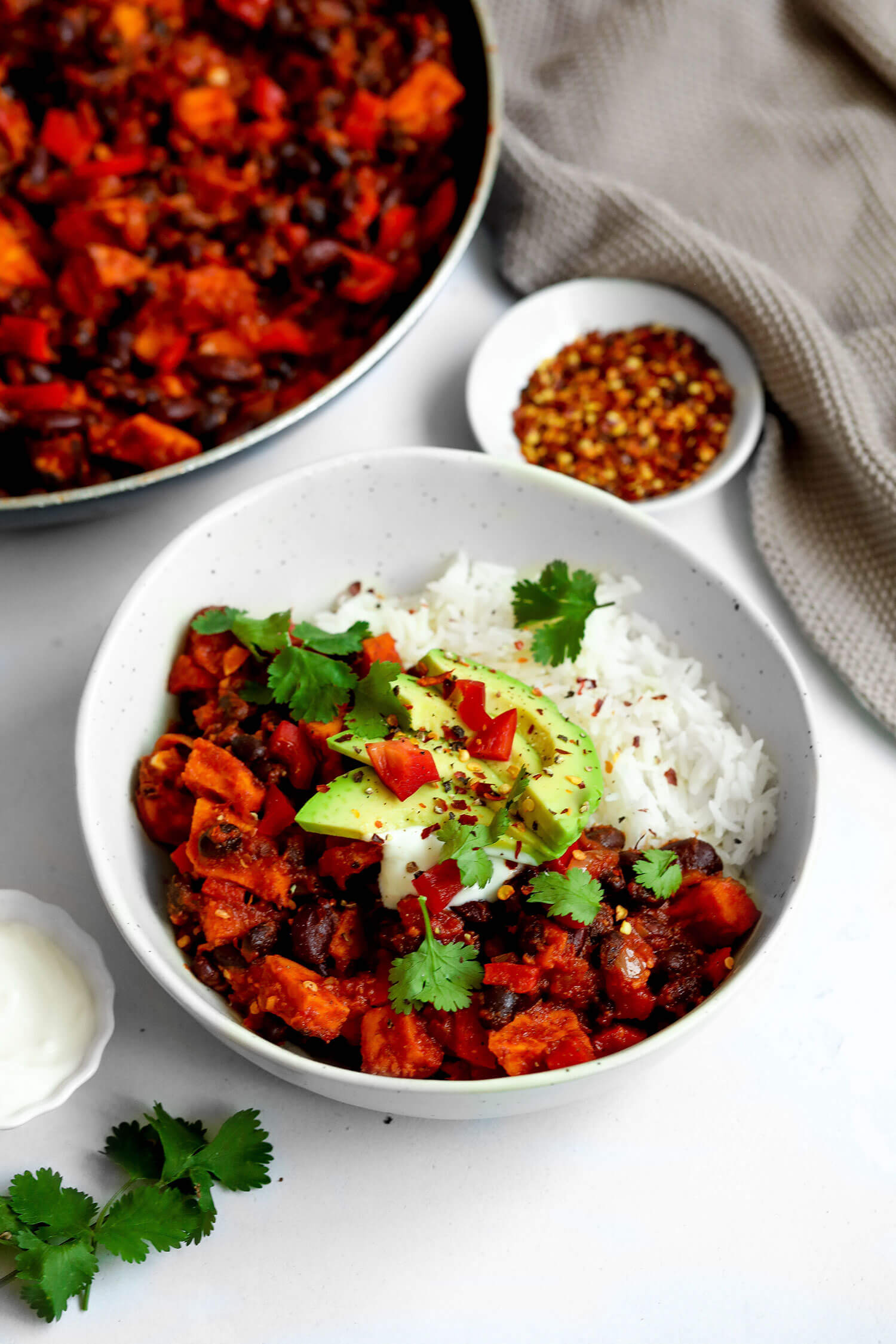 I do use sweet potatoes quite a lot in my cooking. I just think it's such a versatile ingredient that can be included in so many different types of dishes. Breakfast, lunch, dinner and even desserts! I love using mashed cooked sweet potato in my baking – it's a great way to add sweetness without adding too much sugar, but also works as an emulsifier helping hold bakes together and adding texture at the same time.
As well as being versatile and delicious, American sweet potatoes are also packed with nutrients such as vitamin A, vitamin C, potassium and fibre.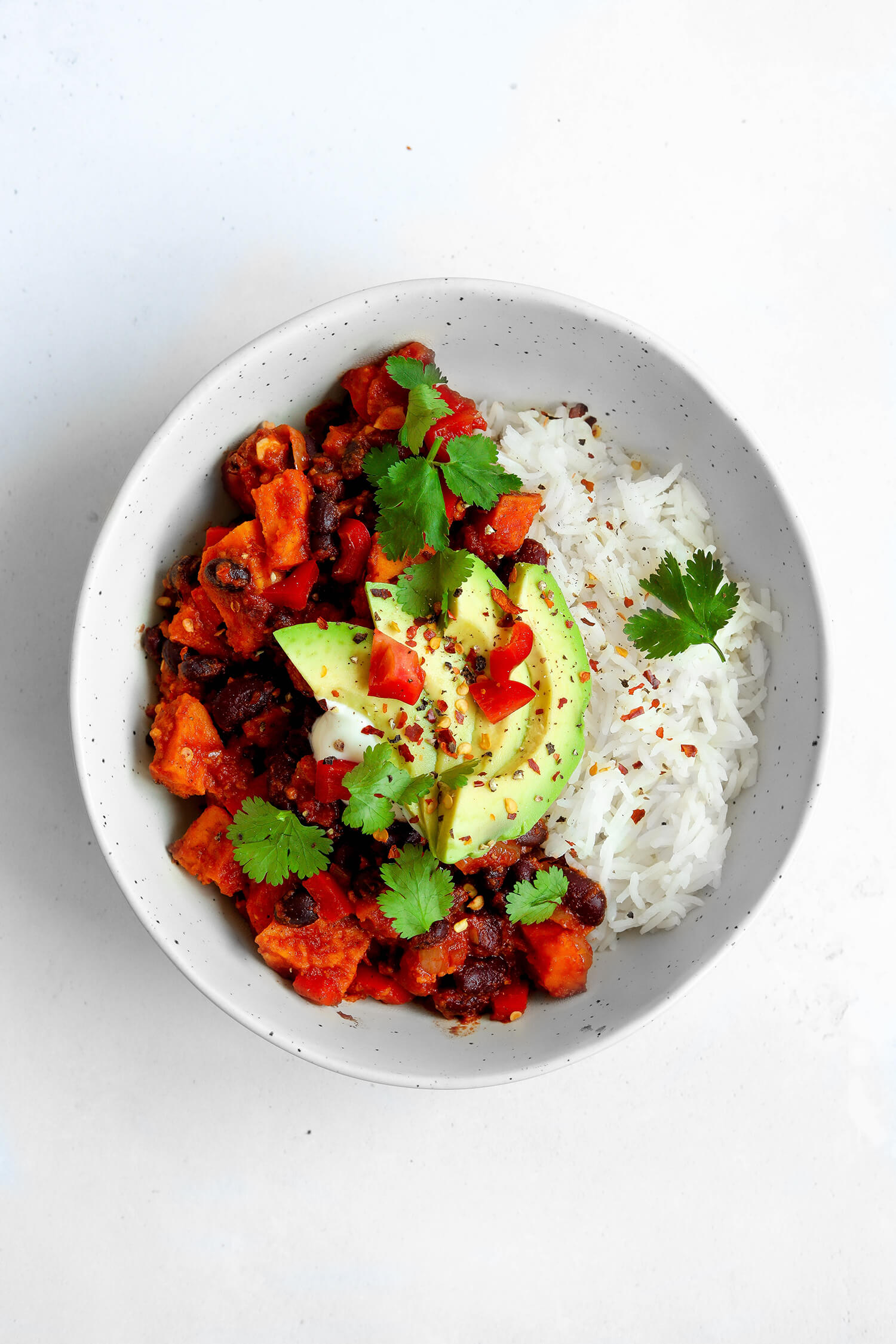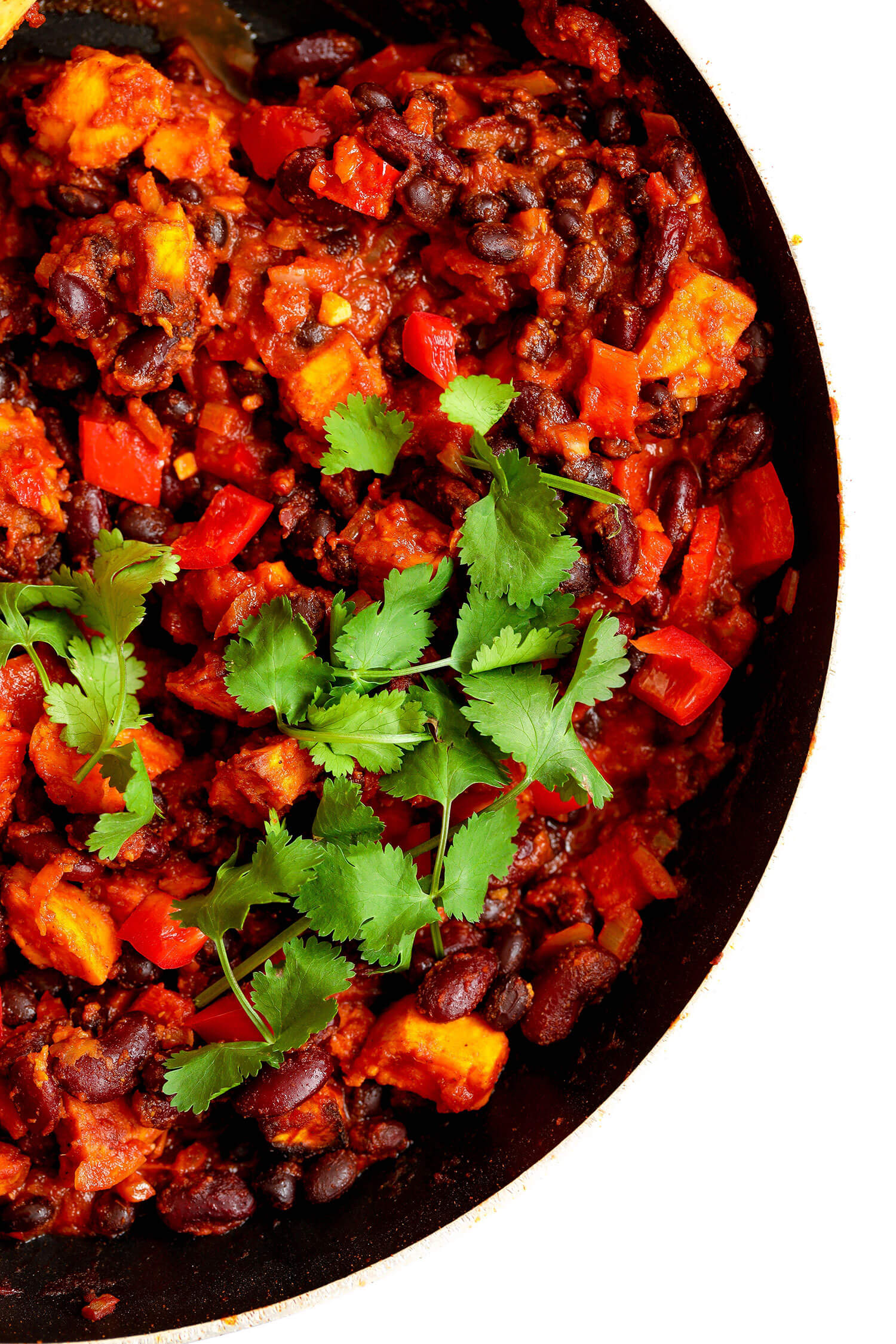 You can make a big batch of this American sweet potato bean chilli on the weekend to enjoy throughout the week, or you can freeze it to enjoy on days when you're having a particularly busy week and don't feel like cooking anything, but still want to eat something nutritious and delicious.
Now that we're all self-isolating, healthy, quick and easy meals are the way to go using ingredients that are cheap and easy to get hold of. Adding sweet potato can really bulk up a meal and make it filling whilst adding some essential nutrients making them healthier.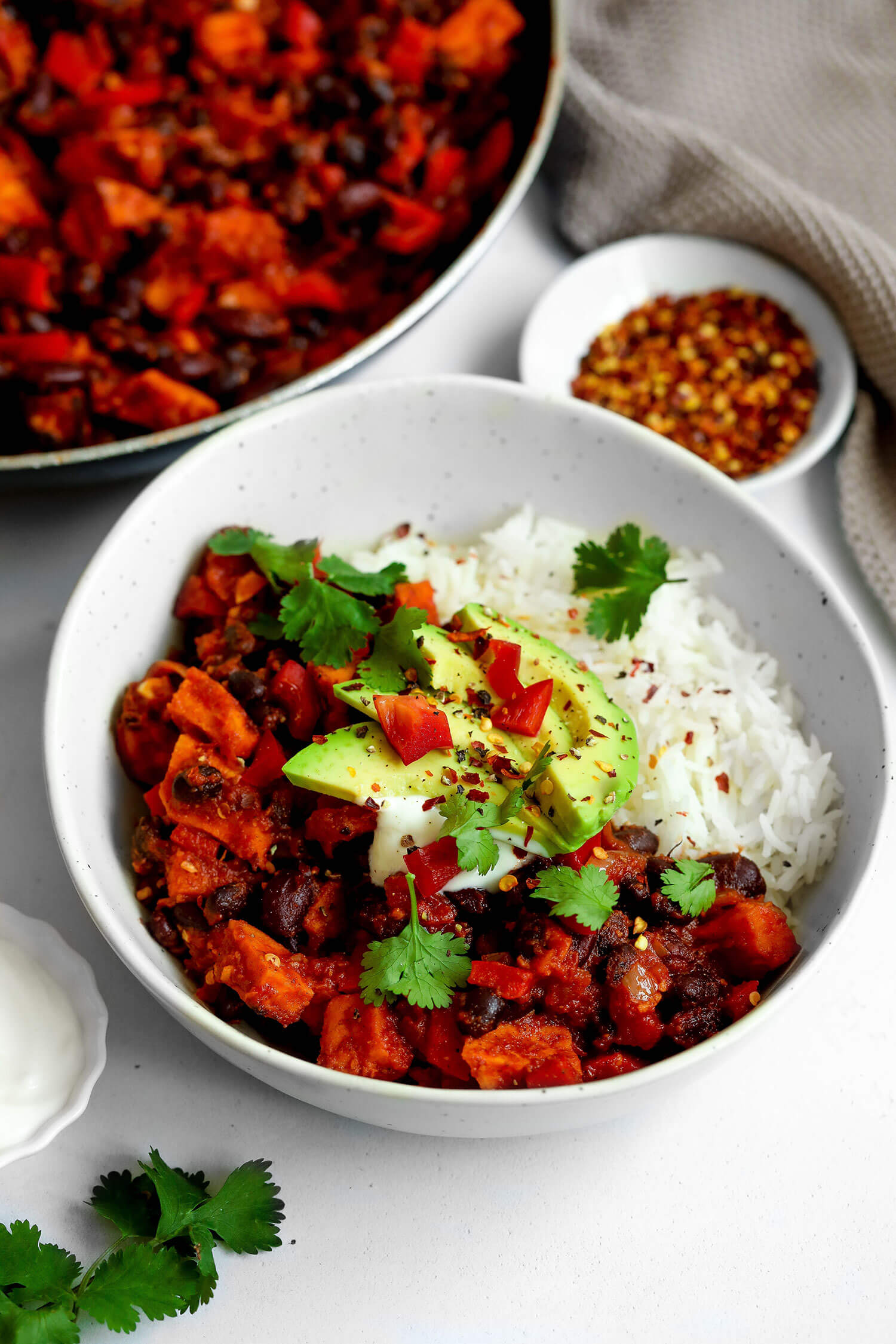 American Sweet Potato Bean Chilli
Serves – 4
Ingredients
For the sweet potato
300g American Sweet Potatoes, chopped into cubes
2 tbsp olive oil
Salt & pepper
For the chilli
2 tbsp olive oil
1 onion, chopped
2 garlic cloves
1 tbsp paprika
2 tsp cumin
1 tsp chilli powder
1 (400g) can red kidney beans
1 (400g) can black beans
1 red pepper, chopped
1 (400g) can chopped tomatoes
3 tbsp tomato puree
150ml water
Juice of 2 limes
Salt & pepper to taste
To serve
Fresh coriander
Vegan sour cream
Avocado
Chilli flakes
Cooked basmati rice
Method
Preheat the oven to 220C/200C fan/400F
Arrange the sweet potato onto a baking sheet lined with baking paper. Sprinkle with salt and pepper and drizzle 1-2 tbsp olive oil on top. Bake for 25-30 minutes.
In the meantime heat 1 tbsp of olive oil in a large pan. Cook the onions on a medium heat for about 5 minutes, then add in the garlic and spices and cook for another minute.
Add the red peppers, beans, chopped tomatoes, tomato puree, lime juice, water and season well with salt and pepper. Cook on a medium heat for about 10 minutes.
Once the potatoes are cooked, fold into the chilli and take off the heat.
Serve with cooked basmati rice, fresh coriander, vegan sour cream and avocado.
Enjoy!