American Style Vegan Burgers
Who doesn't love a delicious juicy burger? I certainly do! It's such a classic example of a comfort meal. One that's easy and quick to make and is very satisfying. Nothing beats a burger and fries when you're having a bad day and need a good 'stomach hug', for a cosy sofa-supper or to bring friends or family gatherings to life.
What if I told you, you can create fully plant-based burgers at home that taste absolutely scrumptious, are super-good for you and come in a beautiful rainbow of colours?
Well you can, and I've teamed up with plant-based food brand Reroot Foods to create some delicious recipes using their new range GOODMINZ – fresh mince, made from plants.
GOODMINZ is an inspiring new kitchen staple that's easy to turn into family favourites from veggie burgers and sausages, no-meat balls, wraps and as pasta and pizza toppings.
The Reroot Foods team and I wanted an exciting and fun theme for a series of recipes; so we decided to explore using GOODMINZ as an ingredient in recipes from the great 'global cuisines'.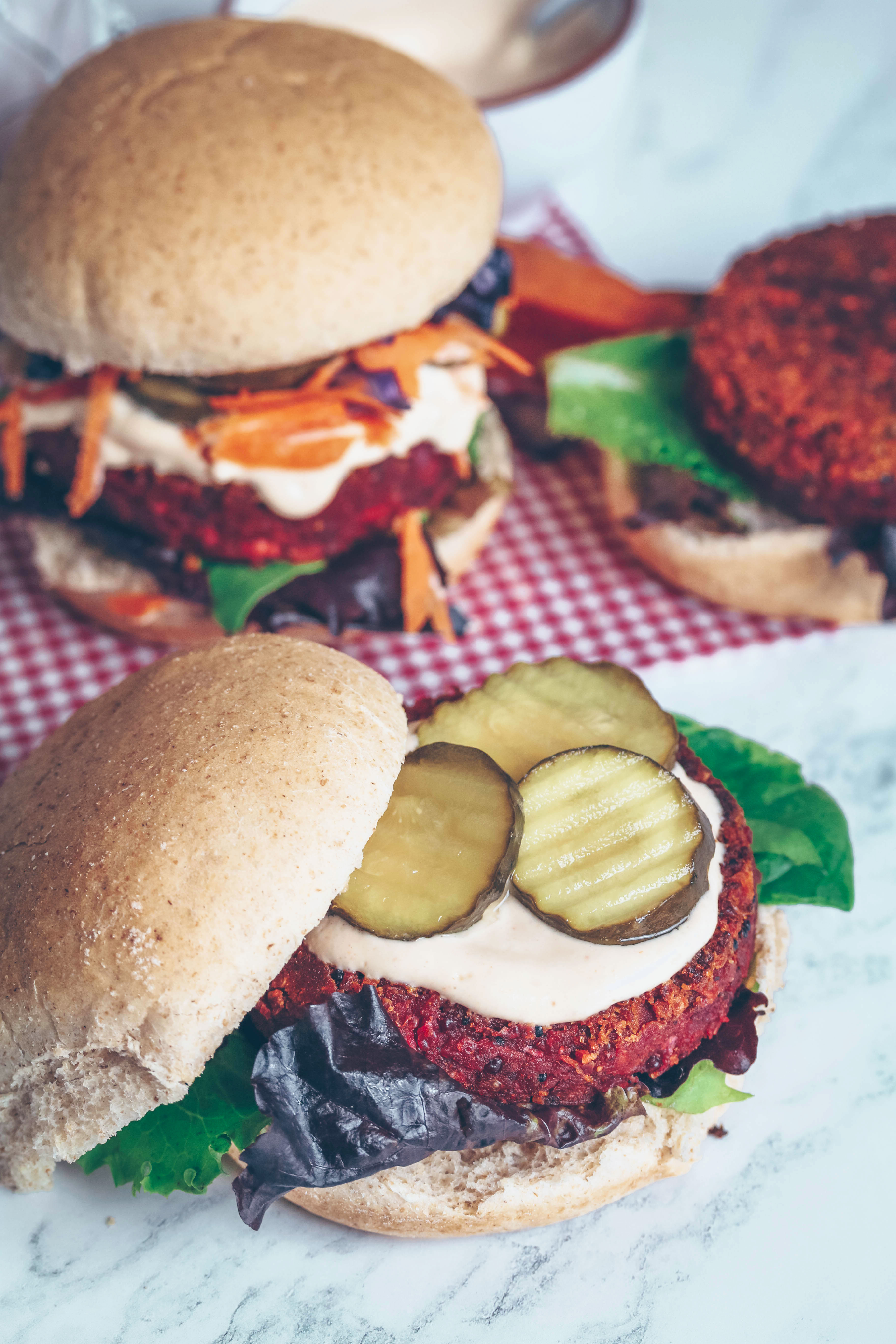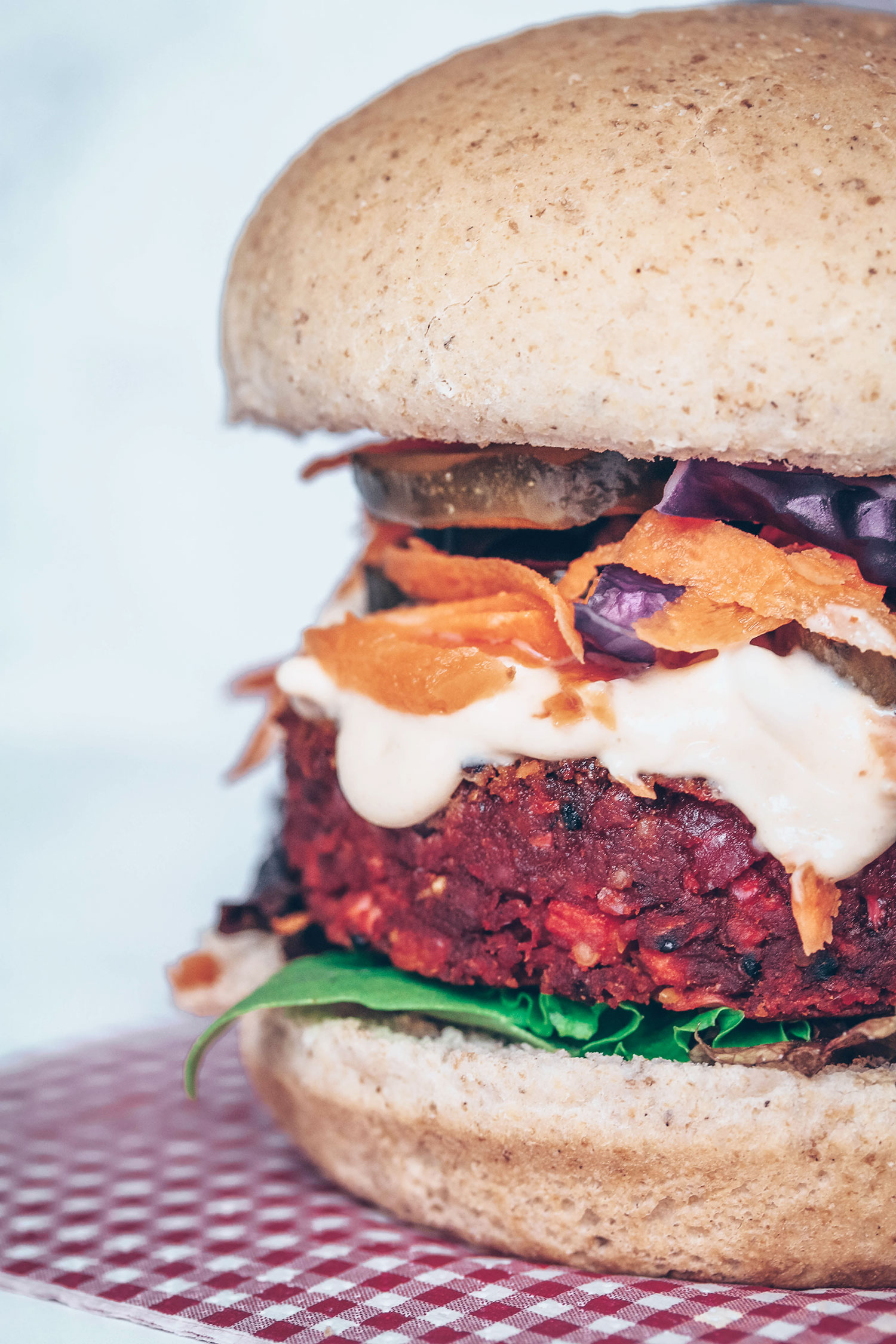 The UK is a multi-cultural melting pot of foods and flavours. Global cuisines are the most popular foods we eat – flavours from Asia to Africa fill our plates with cultural diversity and delicious-ness. I love trying and experimenting with regional recipes – it really does widen your palette and help you appreciate all the different flavours and textures our beautiful world has to offer.
So, each month I'll be using GOODMINZ in a recipe from one of the global cuisines, And, to kick off our journey we're heading to the good ol' US of A.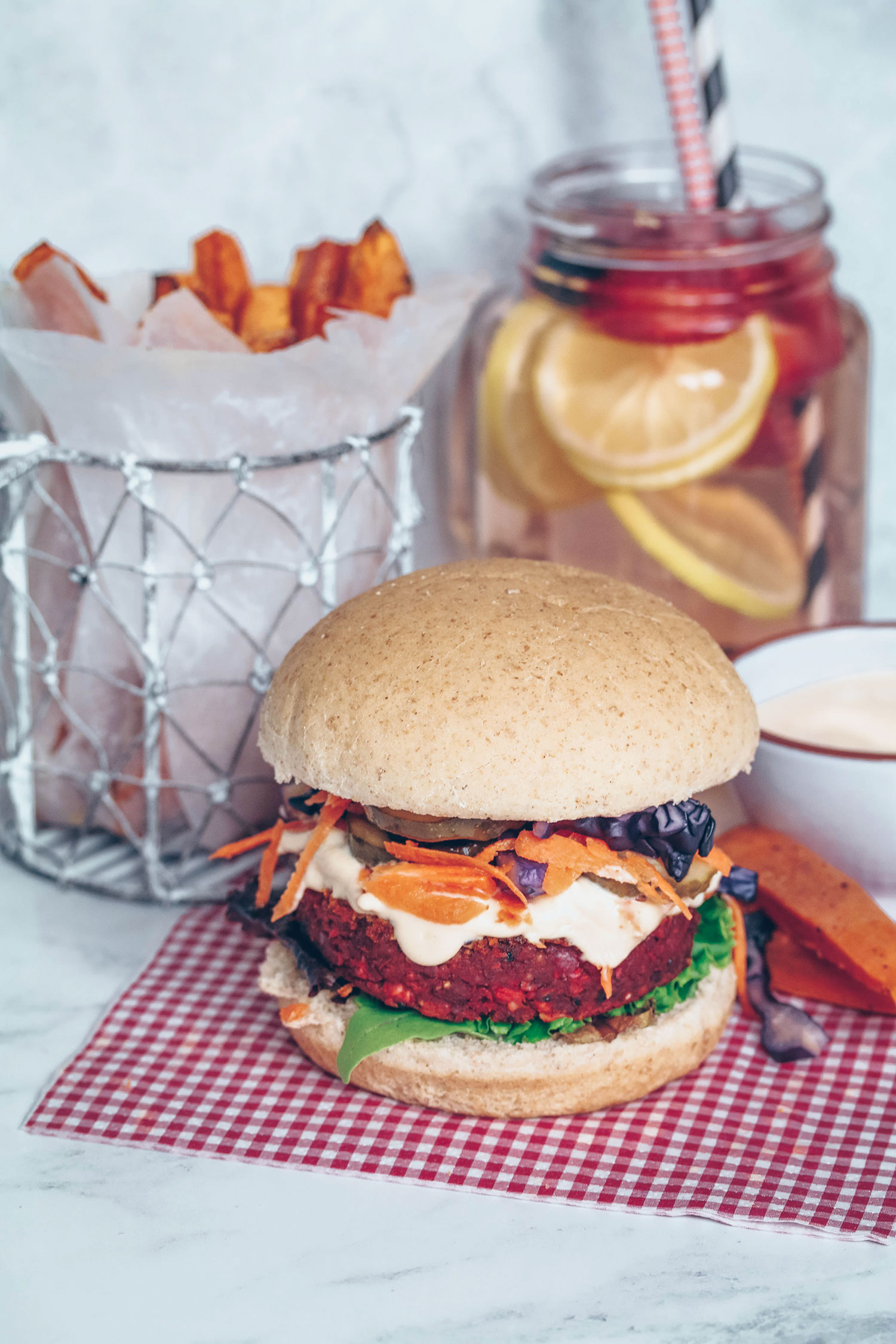 When I think of American food, the first thing that pops into my head is burgers and fries, I mean French fries 😛 and for this recipe I chose to use Purple GOODMINZ for the base as I wanted the burgers to have that medium rare, pink-in-the-middle 'meaty' kind of feel.
I kept the recipe fairly simple as GOODMINZ is already lightly seasoned, but I added a little extra flavouring to give it a bit of heat. I also created a simple homemade vegan mayo to go with it because what's a burger without mayo?!
For my next GOODMINZ recipe, we'll be heading south on our foodie journey to Mexico, so watch this space!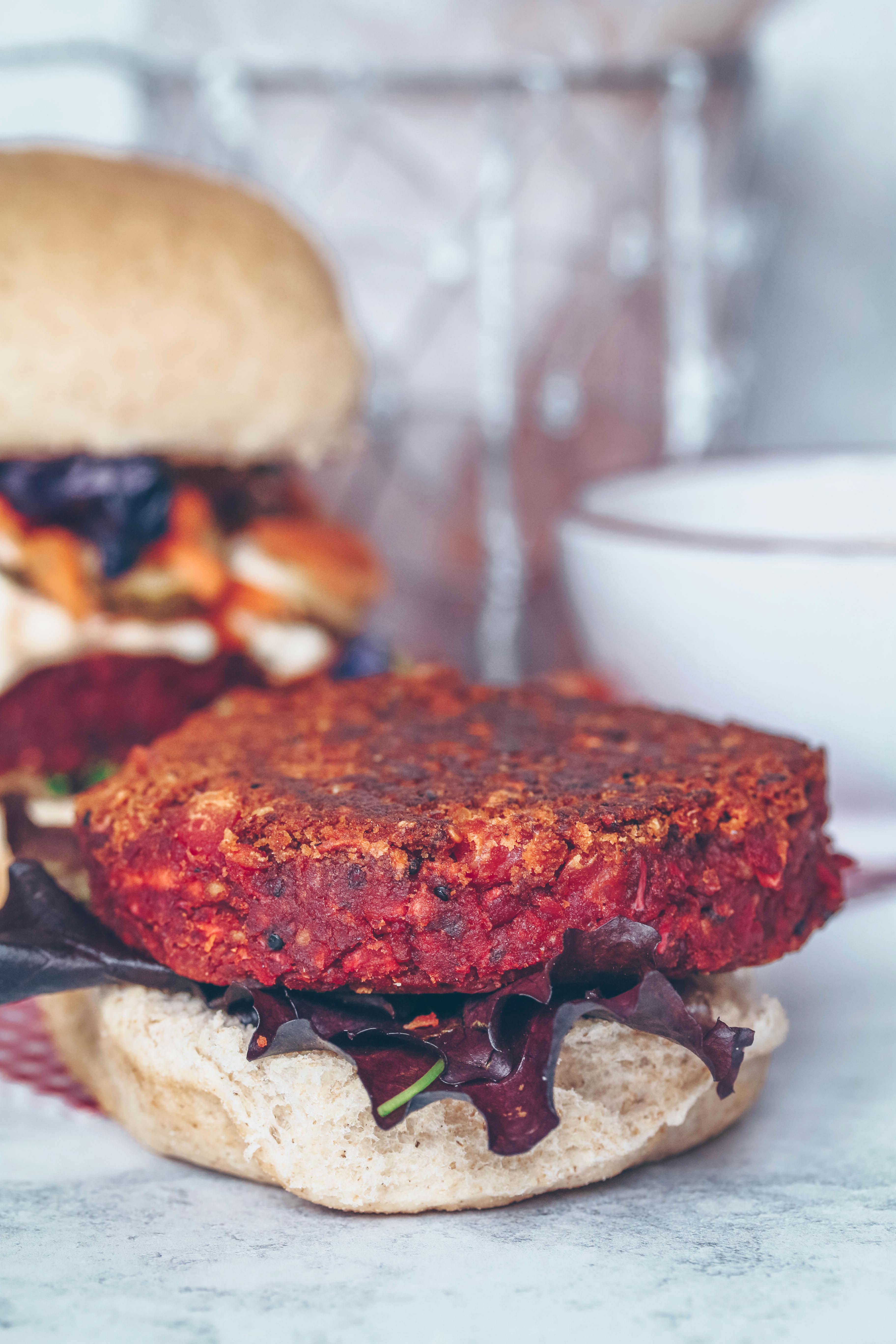 ---
American Style Vegan Burgers
Serves: 5
Ingredients:
1 pack GOODMINZ purple mince
1 tsp salt, or to taste
1/4 tsp black pepper, or to taste
1 garlic clove, crushed
1 tsp cumin
1 tbsp paprika
1/2 tsp chilli
2 tsp dijon mustard
For the vegan mayo:
1/2 cup milk
1/2 cup oil
1/2 tsp salt
1/2 tsp mustard
1 tsp vinegar
1 tsp maple syrup
To serve
5 buns of choice
Lettuce
Shredded carrot
Red cabbage
Gherkin slices
Method:
To make the burgers: Mix all the burger ingredients in a large bowl until everything is well distributed.
Squeeze the mixture in your hands to help it hold together then shape into burger patties. I used a cookie cutter to ensure they were all the same size. I usually use the burger bun to determine the size of the burger.
Allow the burgers to chill in the fridge for 30 minutes.
Heat 2 tbsp oil over a medium/high heat. Make sure the oil is hot before you add the burgers. Cook on each side for 2-3 minutes, then flip and cook on the other side for another 1-2 minutes. Both sides should be golden brown.
To make the mayo: blend all the mayo ingredients on high in your blender for 1 minute or until you have a mayo consistency.
Assemble your burgers and serve with a side of homemade sweet potato fries
Enjoy!
---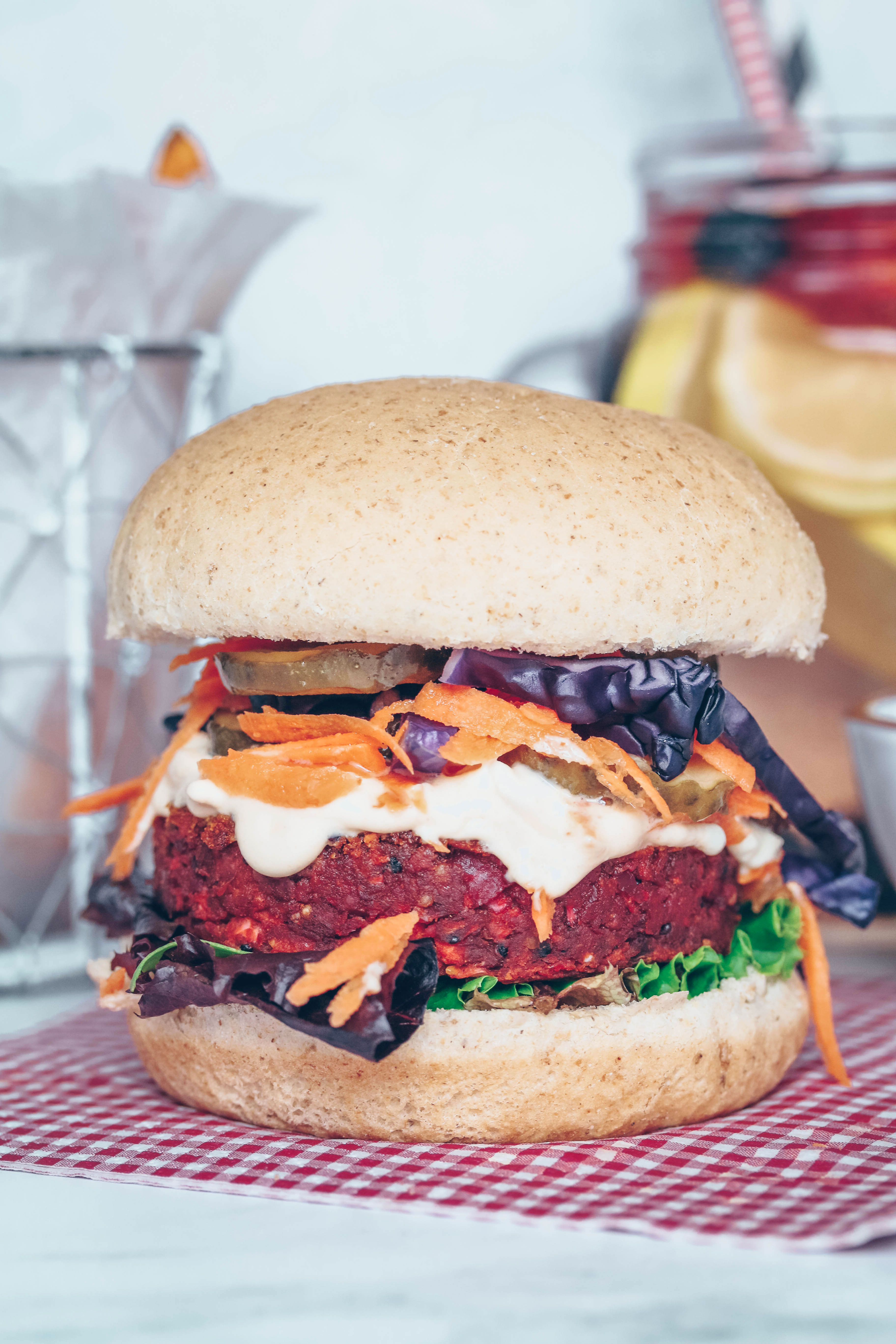 Thanks to Reroot Foods for sponsoring this post. Commissioned posts is how I'm able to continue working on the blog and creating recipes and recipe videos for you. As always, all opinions are my own.
Share This Post