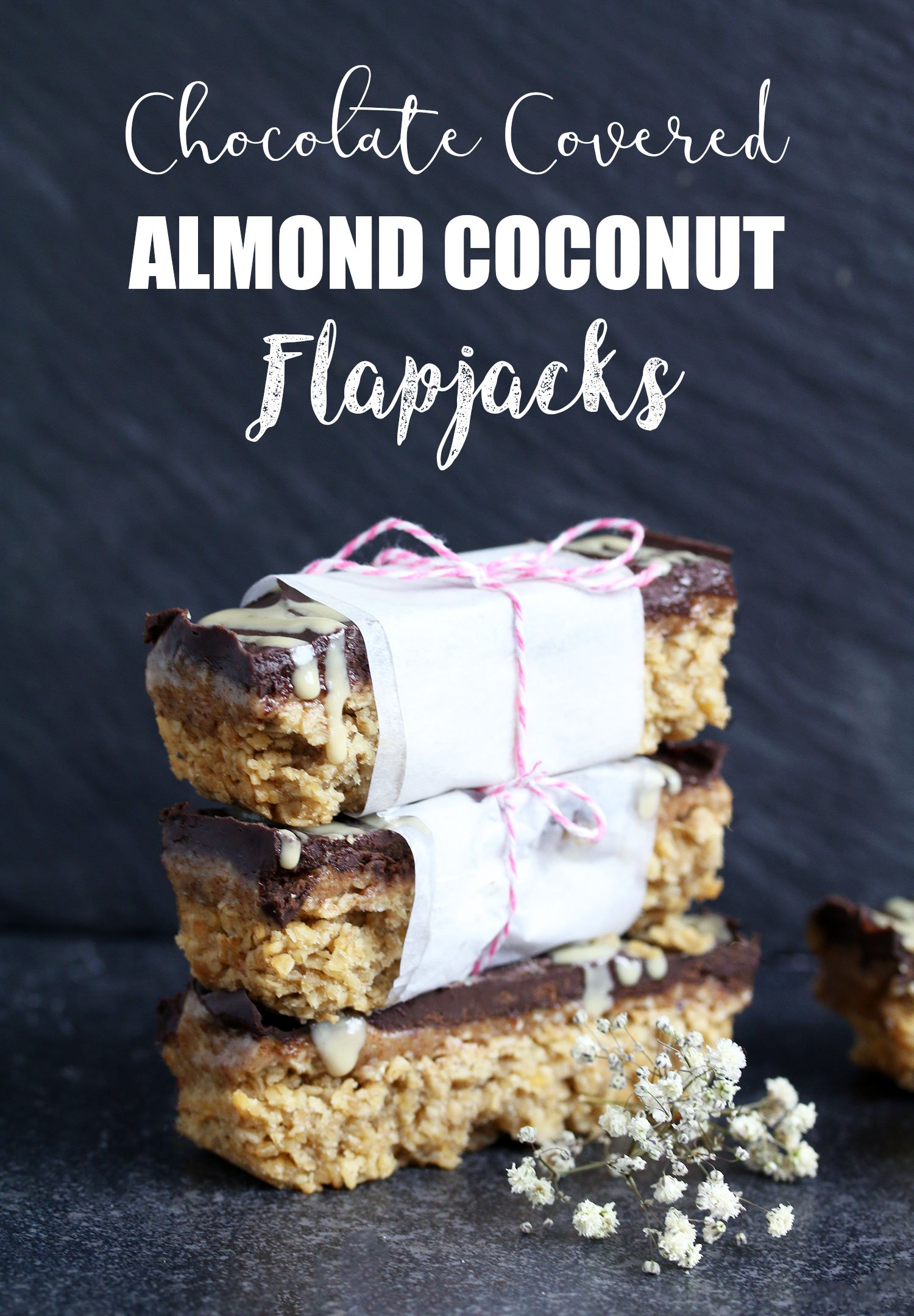 Chocolate Covered Almond Coconut Flapjacks
This is my first ever flapjack recipe!
EVER!!
Can you believe it? How have I been blogging for this long without making flapjacks before? I honestly don't know the answer to that question because I LOVE FLAPJACKS!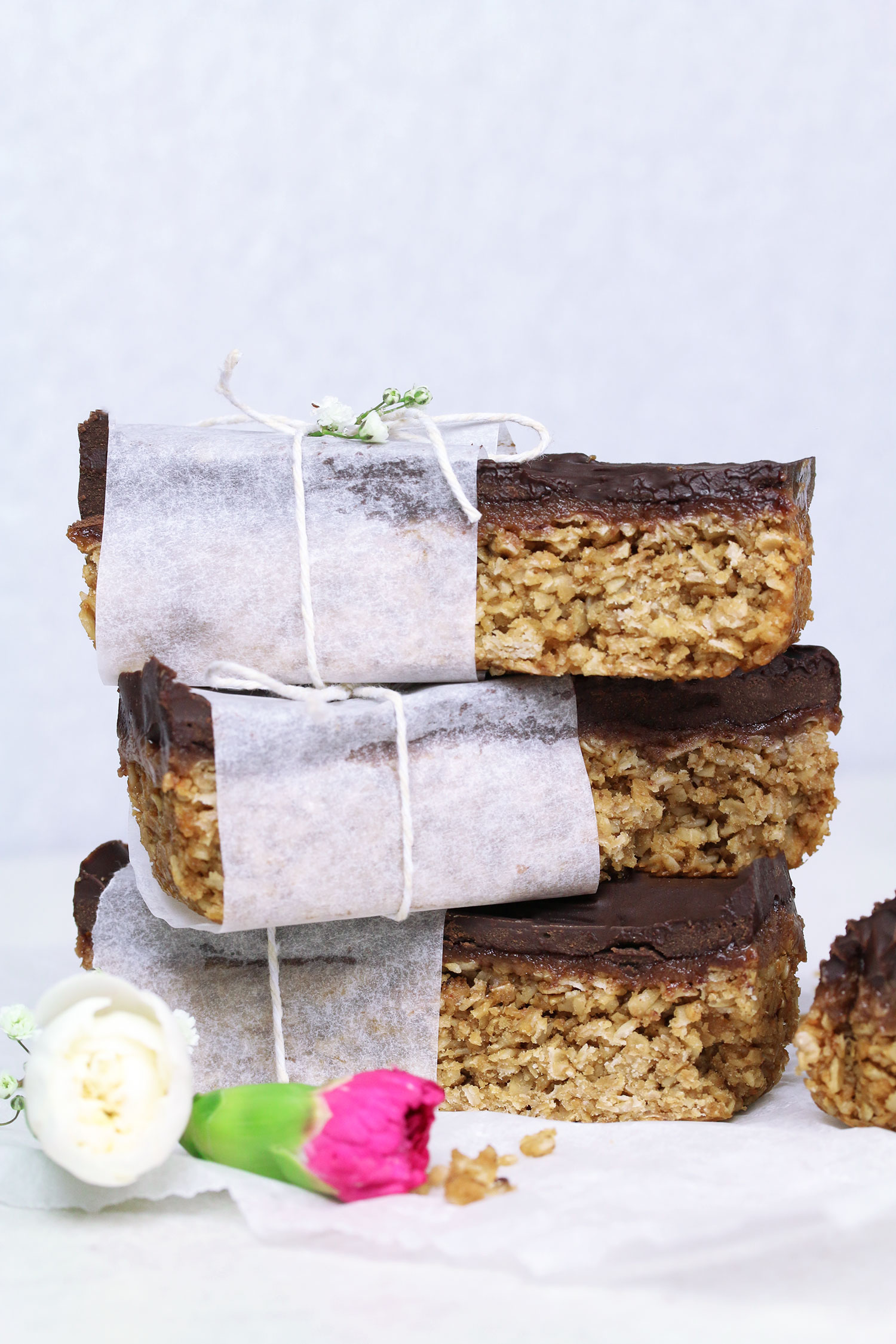 I guess flapjacks can come across as a slightly less interesting treat. Are they a dessert? Are they a snack? They feel like they're somewhere in between. Depending on how you make them they can look slightly bland and uninspiring, especially in the eyes of a food blogger who wants to create something visually stunning that the camera will love.
So I finally got my act together and made my first batch of flapjacks. I couldn't make any plain old flapjacks though. I had to go all out and make them extra special to make up for all the flapjack-free years that I missed out on!
So instead of making plain flapjacks, I'm making chocolate covered almond coconut flapjacks! Buttery flapjacks topped with a layer of almond butter and chocolate ganache, because why not? Everything is made better with a layer of chocolate. Am I right or am I right? 😛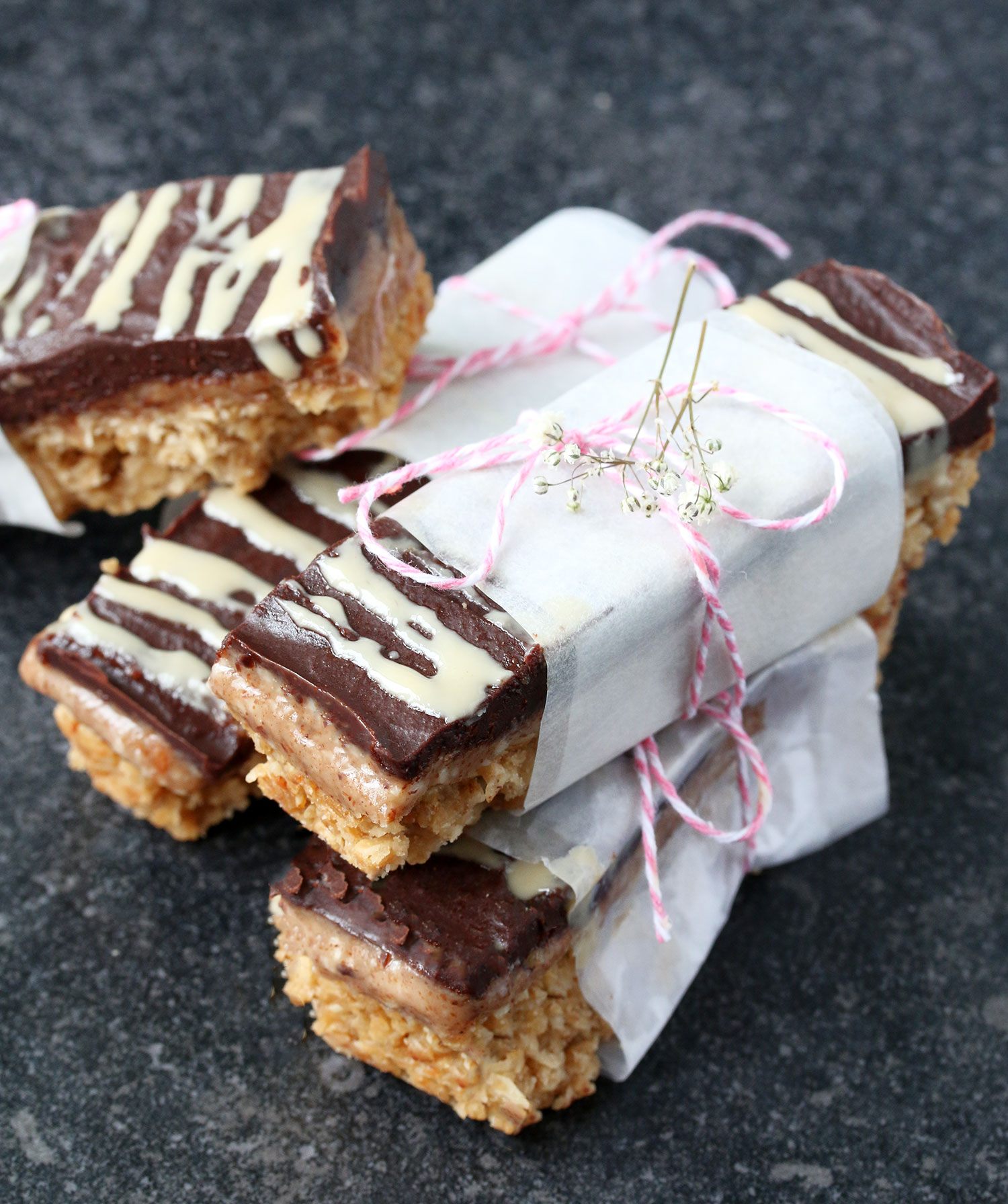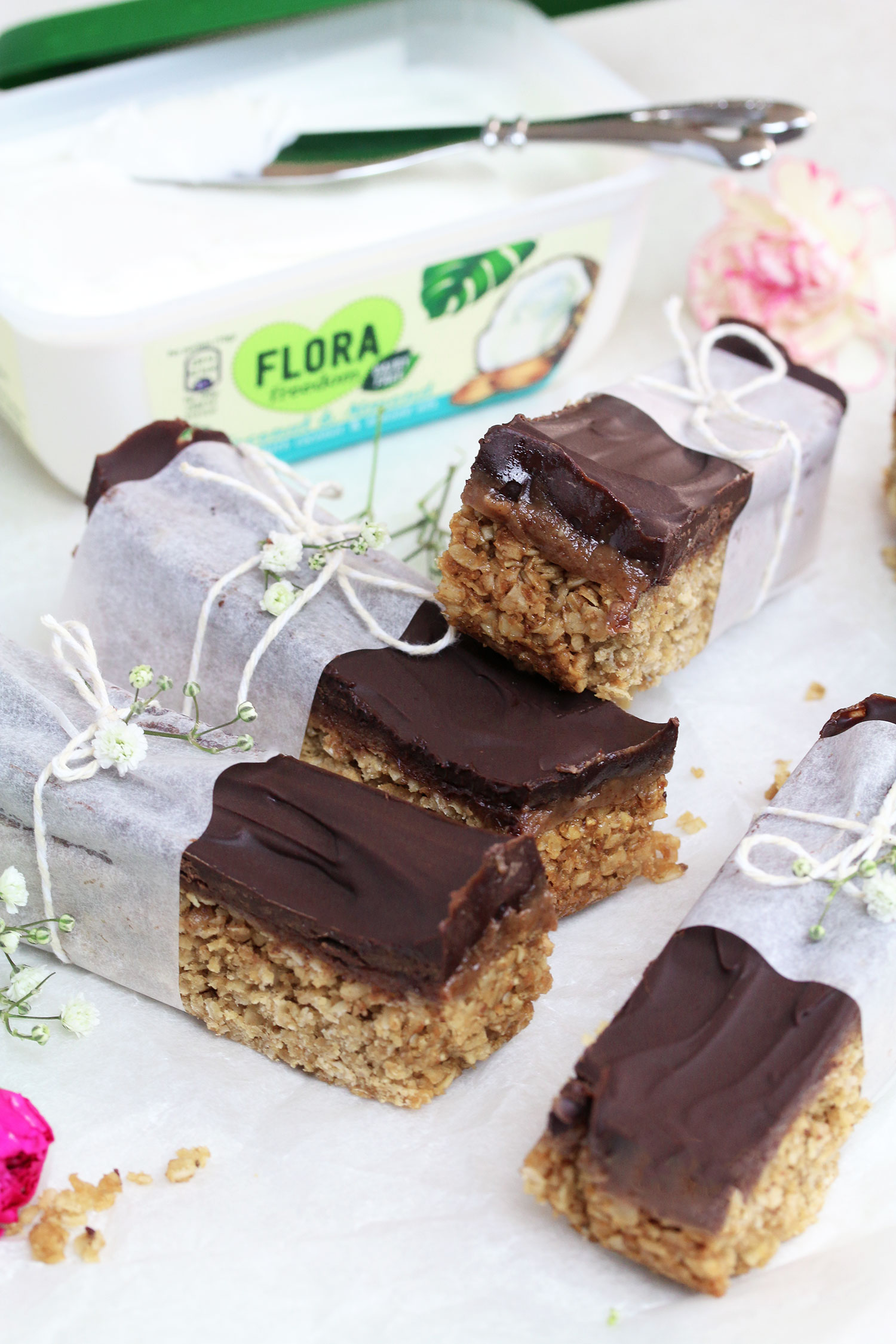 Flora challenged me to create a recipe using their new dairy-free coconut & almond spread. When you open the pack you can instantly smell hints of coconut and almond so if you're a fan of either/both then you will love this spread! It makes for a great vegan alternative to butter to slather on toast in the morning with some chia jam or nut butter. It's also a great to use in baking plant-based sweet treats.
They're really easy to make and they call for only a handful of ingredients. Having those extra layers of almond butter and chocolate topping make them feel so much more luxurious and decadent whilst still maintaining a healthier status.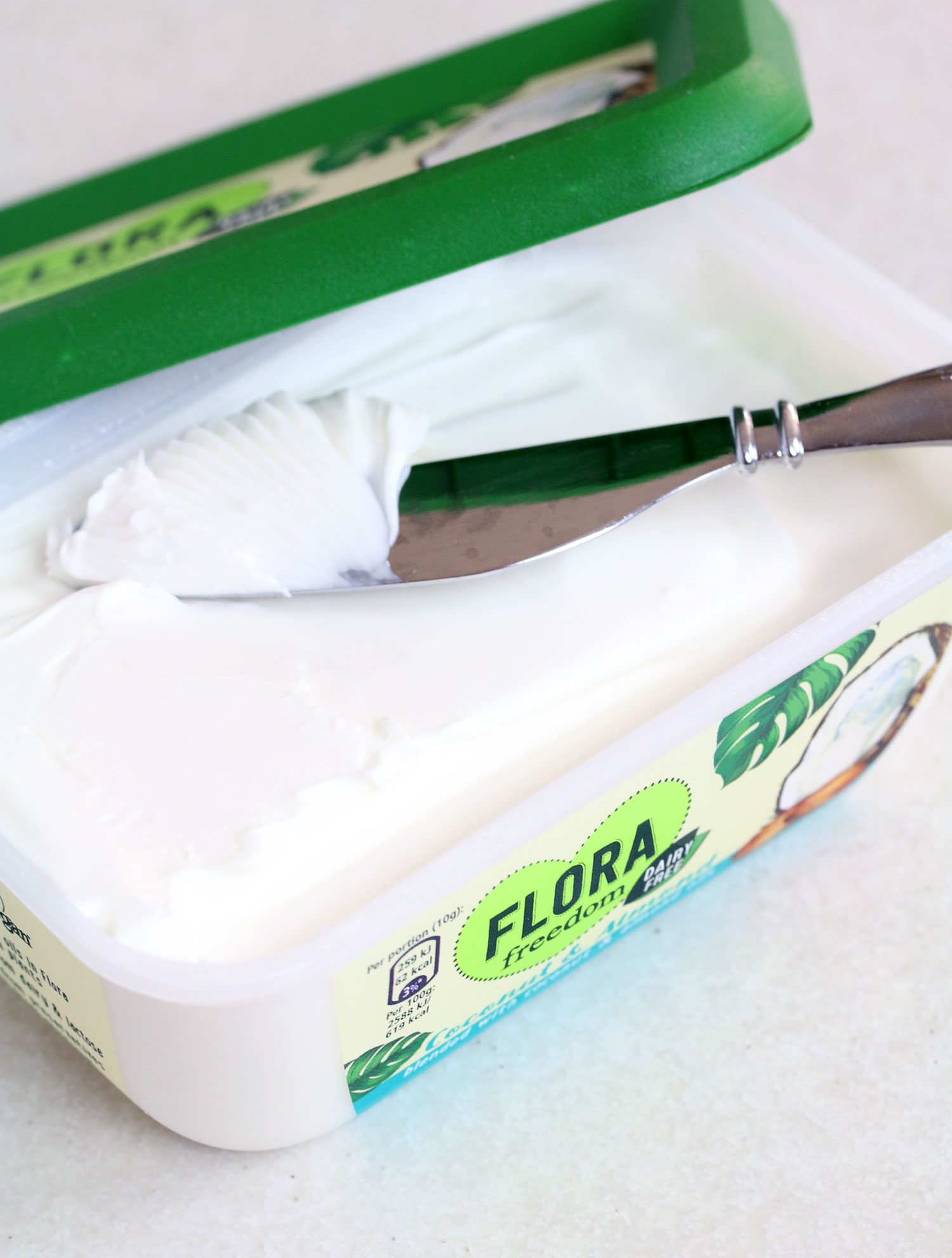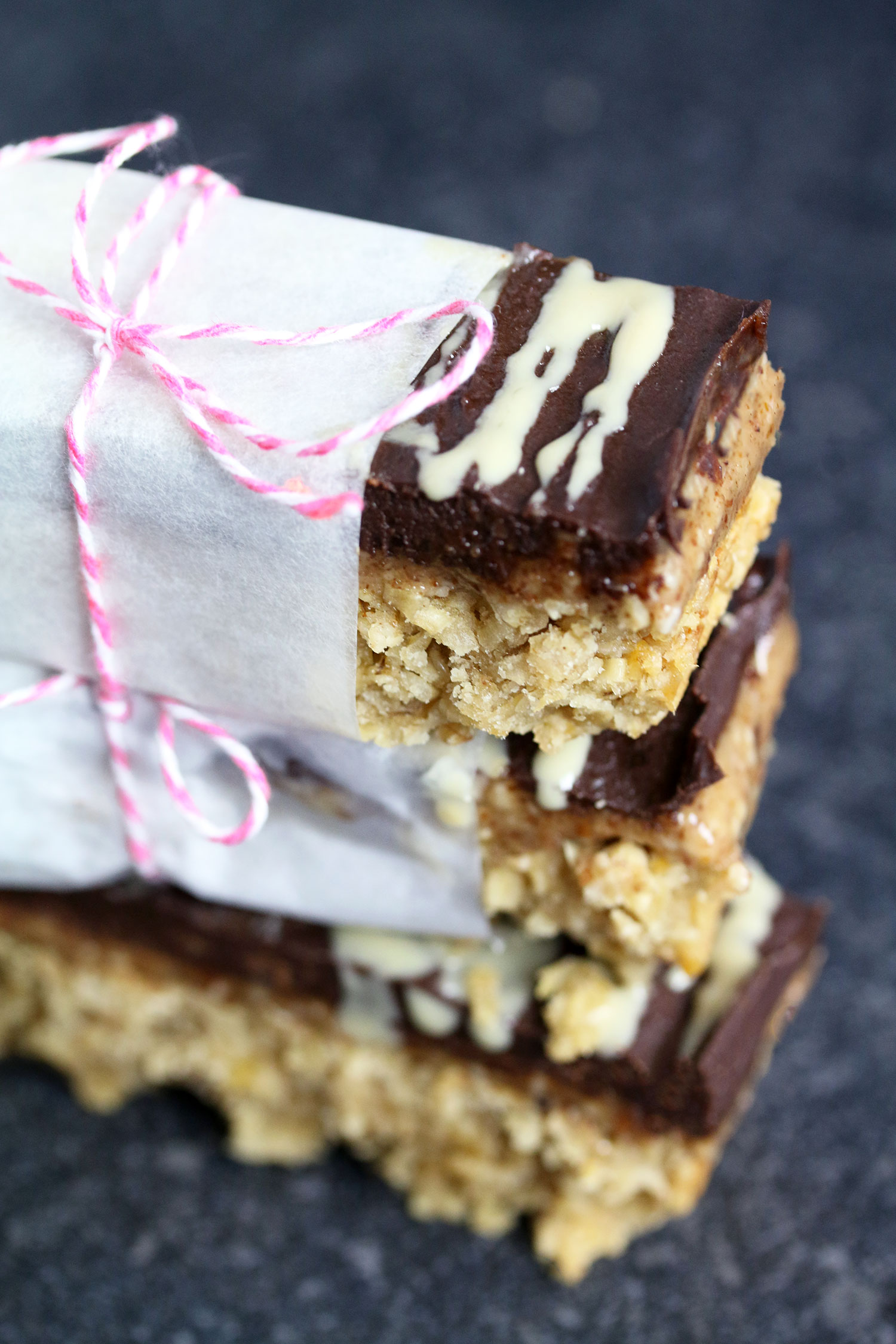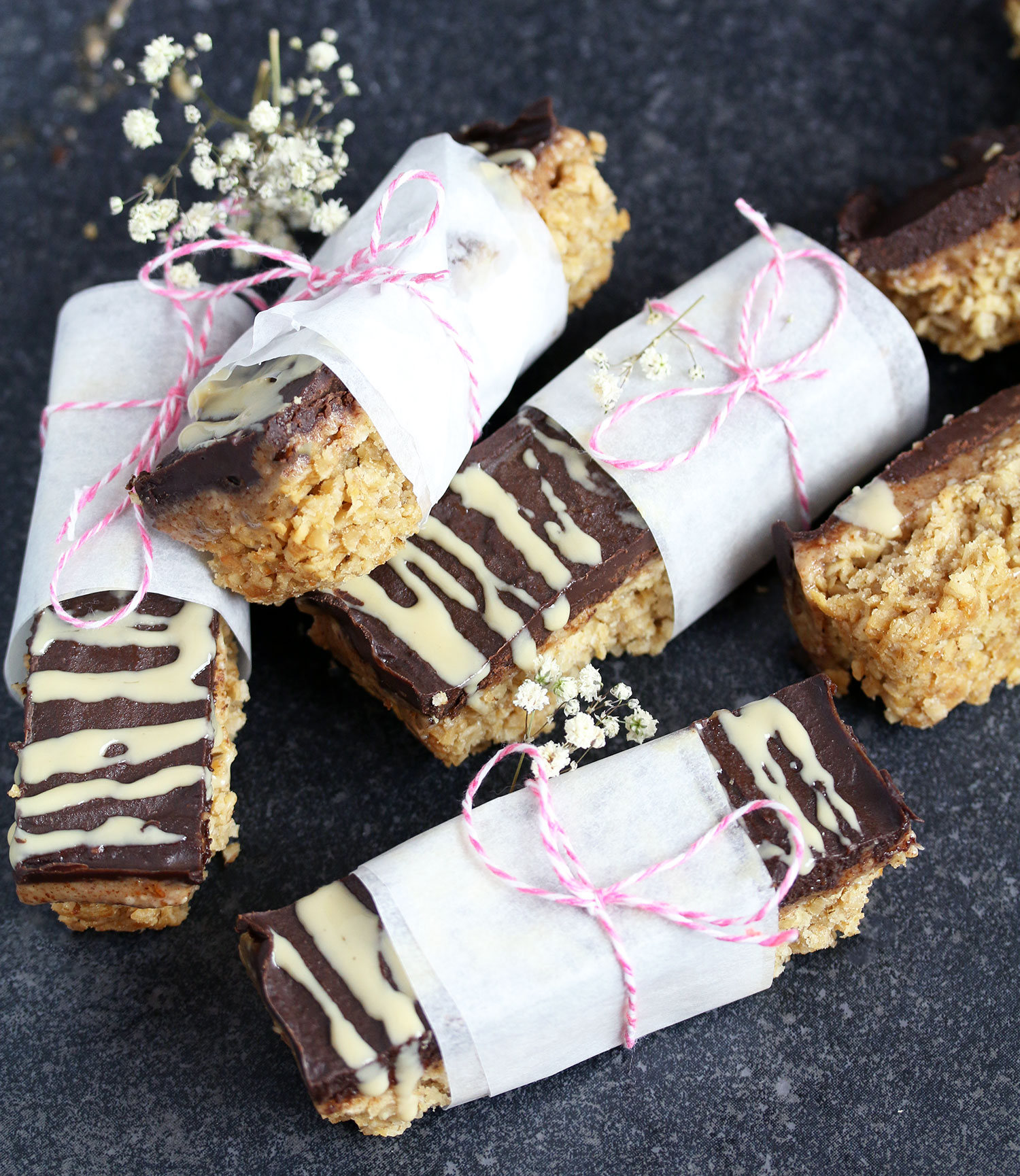 ---
Makes: 8
Ingredients:
For the flapjacks:
160g plain oats – use gluten-free if allergic/intolerant
90g Flora dairy-free coconut & almond spread, melted
50g coconut sugar – or you can use brown sugar
2 tbsp maple syrup
1/4 tsp salt
For the almond layer:
65g almond butter
1 tbsp (15g) Flora dairy-free coconut & almond spread, melted
1 tbsp maple syrup
For the chocolate layer:
80g dairy-free 70% dark chocolate
2 tbsp almond or soya milk
Method:
Preheat your oven to 180*C (160*C fan assisted)/ 350*F
Toss together the oats and salt in a bowl.
Add the Flora spread, coconut sugar and maple syrup in a pan and cook over a medium heat until everything is melted mixed together. Pour the mixture into the bowl of oats. Mix to combine.
Press into a loaf or cake tin lined with parchment paper (I used a 22×12 cm loaf tin, or you can use an 8″ cake tin) and bake for 25 minutes. Leave to cool completely.
In a small bowl, mix together the almond butter, Flora spread and maple syrup. Spread over the cooled flapjacks.
Break up the chocolate into another bowl and add in the milk. Melt in the microwave, mixing every few seconds to make sure it doesn't burn.
Pour on top of the almond layer and spread with a spatula or the back of a spoon.
Refrigerate for an hour, then slice into bars.
Enjoy!
---

Thanks to Flora for sponsoring this post. Commissioned posts is how I'm able to continue working on the blog and creating recipes and recipe videos for you. As always, all opinions are my own.