Vegan Spinach Cheese Rolls
Delicious flaky pastry rolls filled with dairy-free 'cheese' and spinach. A great treat to have on the weekend, at parties or a speedy evening treat!
Not too long ago cutting out dairy or being vegan meant you had to go on living your life without things like milk, yoghurt and cheese! Plus the endless list of the other food products that had hidden milk in the ingredient list. Even when more plant-based options became available, they were a lot harder to get hold of and not very accessible to the masses. Now, you can find dairy-free alternatives in almost all supermarkets, and definitely in the bigger stores.
I must say that although I love cheese, I was never one of those people who would say "I could NEVER live without cheese". I think that's mainly due to the fact that it always used to give me acid reflux and would feel so heavy in my stomach after eating it. So I guess subconsciously I developed a negative association to it. However, since I started avoiding dairy a few years ago, I have missed it and I do crave it from time to time. I've tried different brands and never thought they tasted good enough for me to want to buy them again.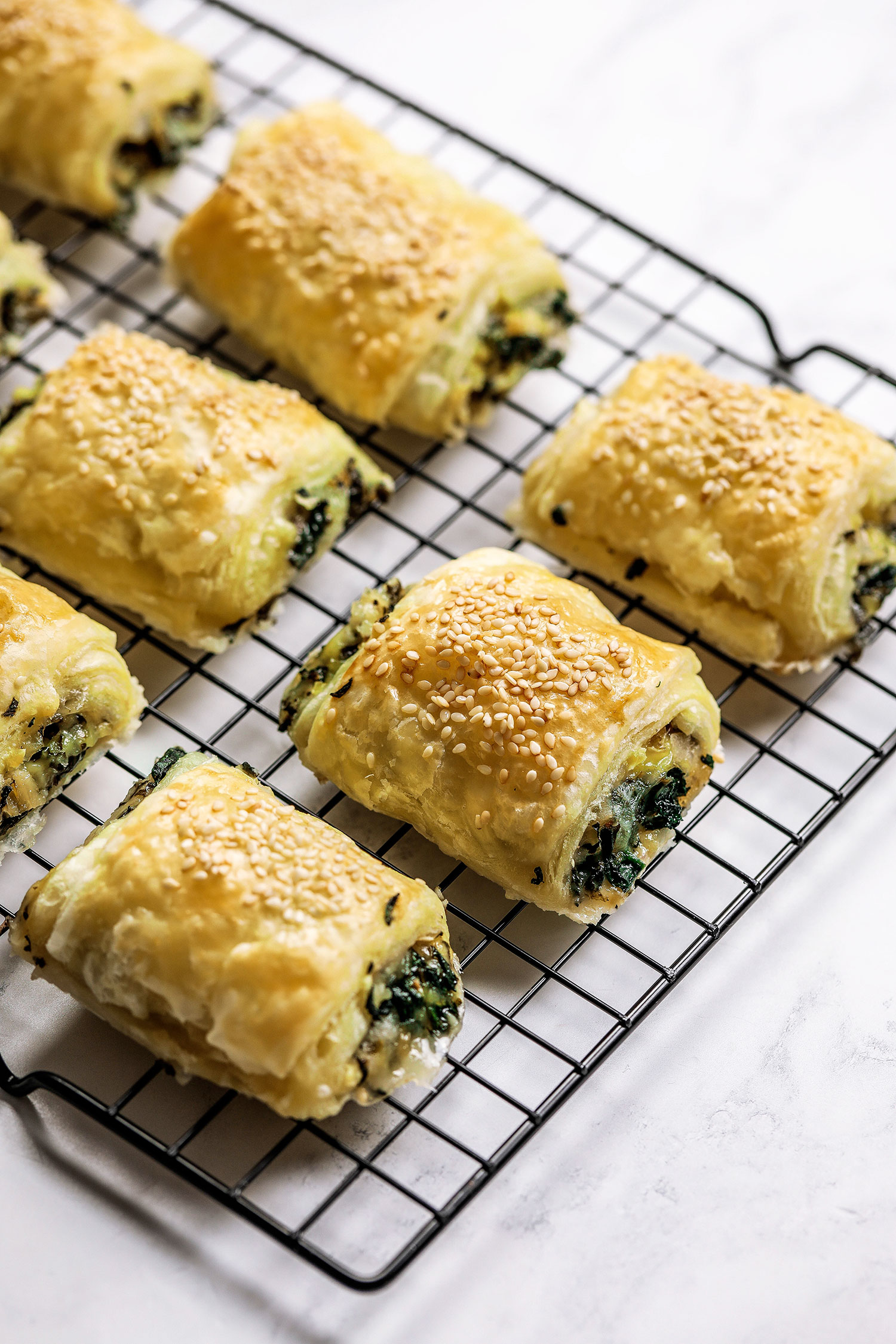 Since discovering Violife, I've never looked back! Their products taste so much better compared to other plant-based cheeses I've tried, especially their creamy spread and original block. The main thing for me is that they don't have that strong 'artificial' taste to them. Even the hubby likes them and he's a huge cheese fan and would add it to everything and anything if he could.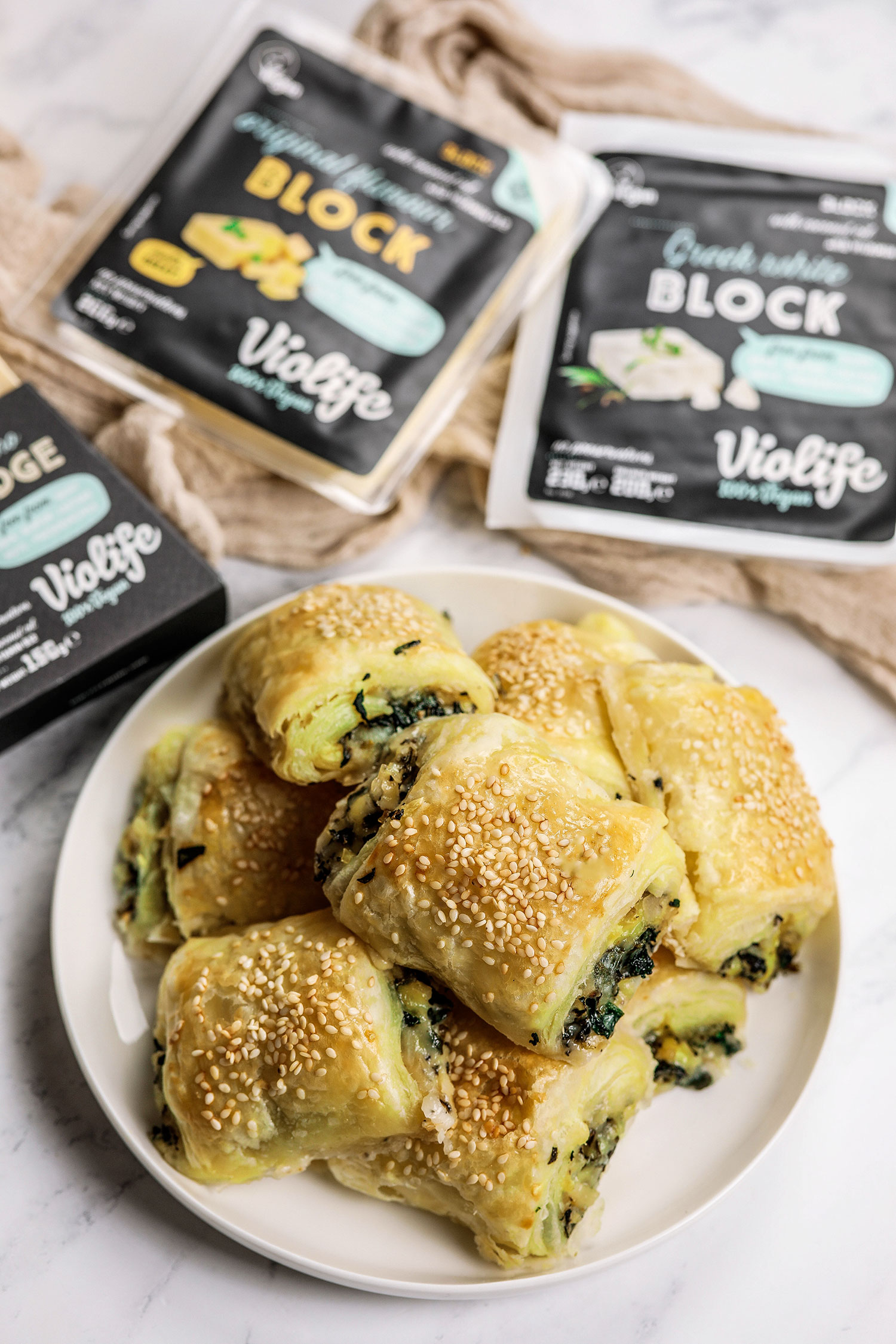 I was thrilled when the Violife team contacted me recently to work on some recipe video projects. I hadn't filmed a video in a few months since I've been super busy and stressed with my studies, clinic prep and exams, but I was so happy to jump back into it. Filming and editing videos is definitely my happy place. That and creating recipes…and photography…and of course eating the food. Are you getting a sense of how much I love my job? 😛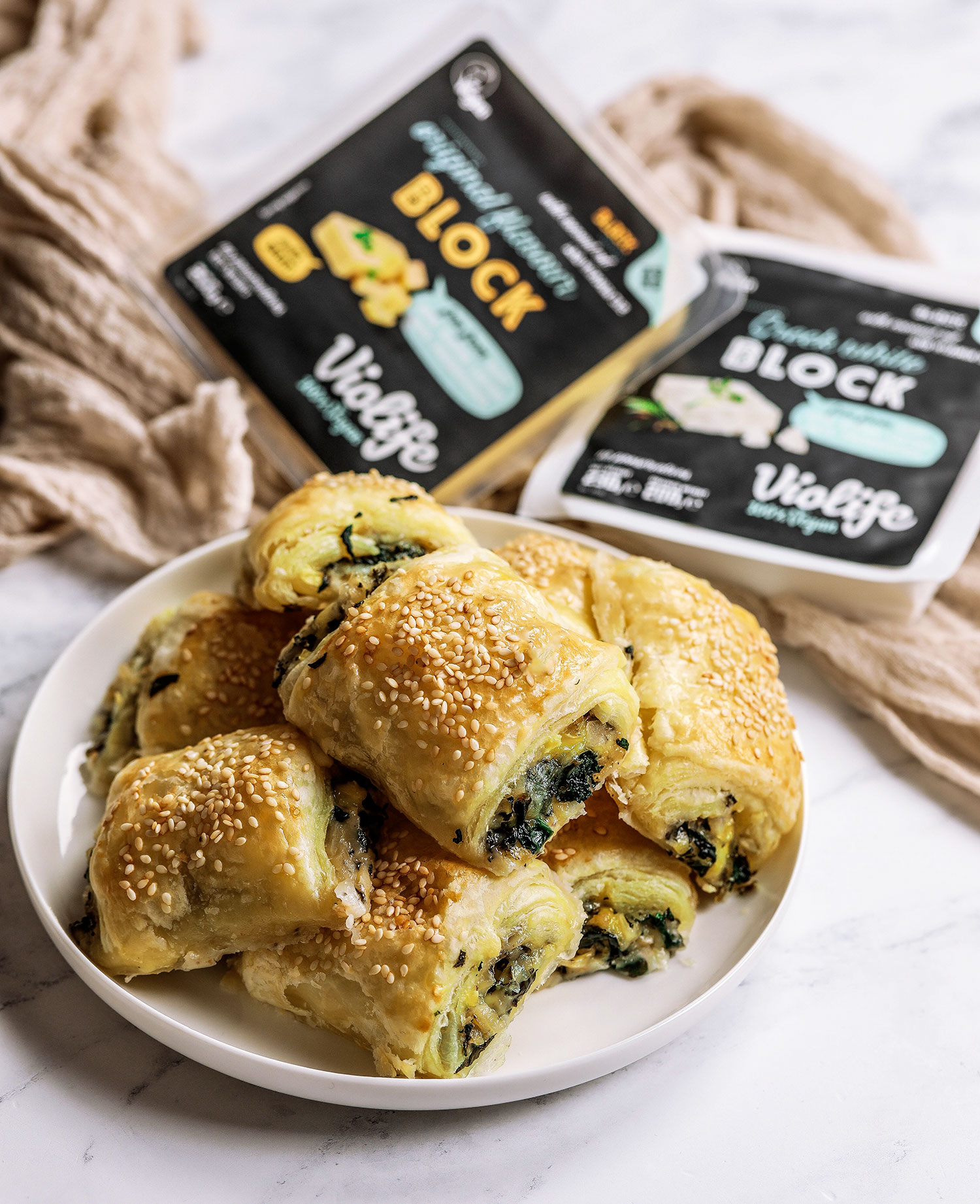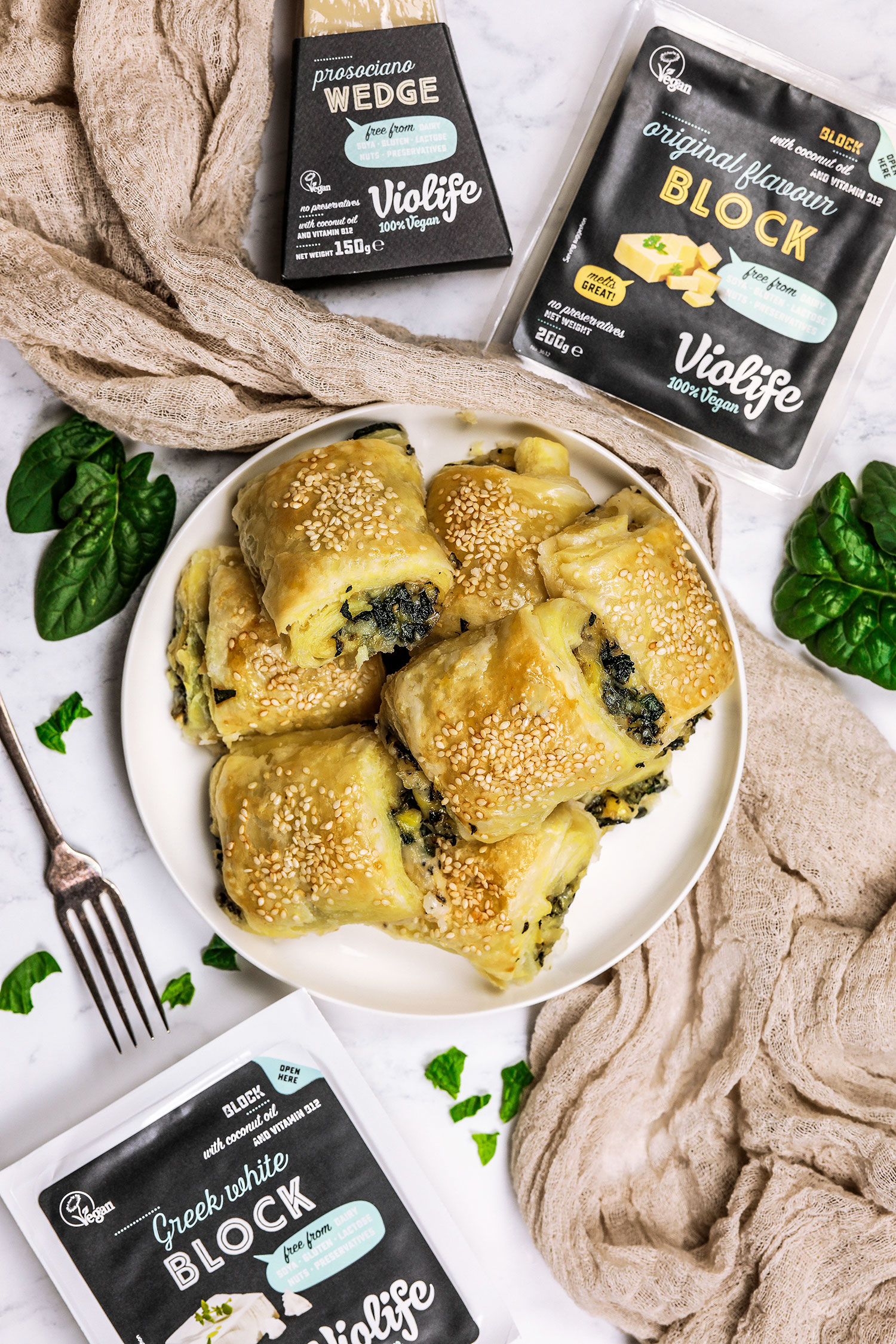 This is my second video collaboration with Violife (you can see the vegan mini cheesecakes recipe I created for them here), I wanted to create a fun 'cheesy' recipe that's really quick and easy to make, but still super delicious. I decided to mix a few of Violife's products in a bowl with some garlic, onion and spinach and rolled it in some ready made puff pastry and voila, these Greek inspired vegan spinach cheese rolls were born! You can use shop bought gluten-free puff pastry if you're allergic or intolerant to gluten.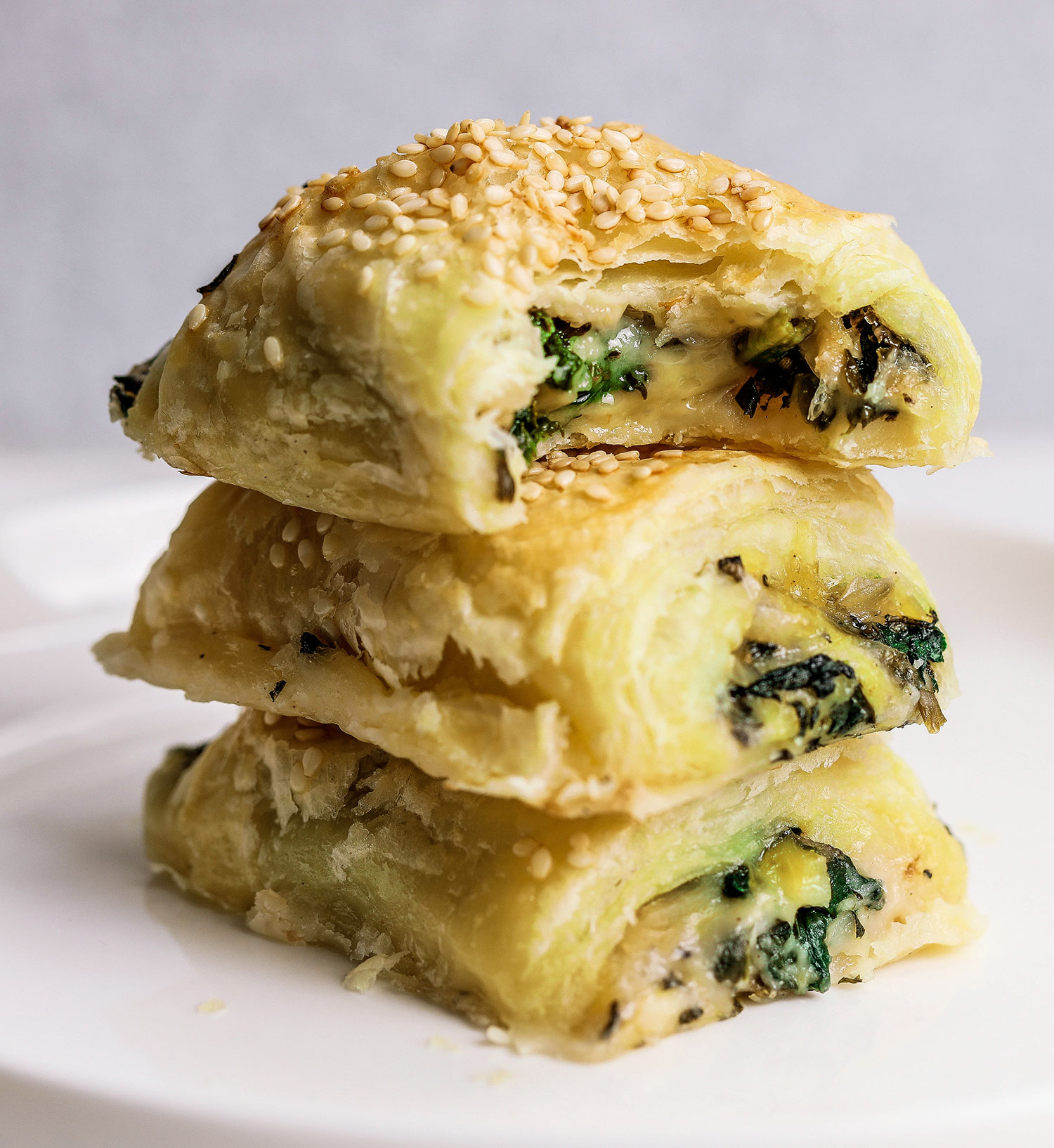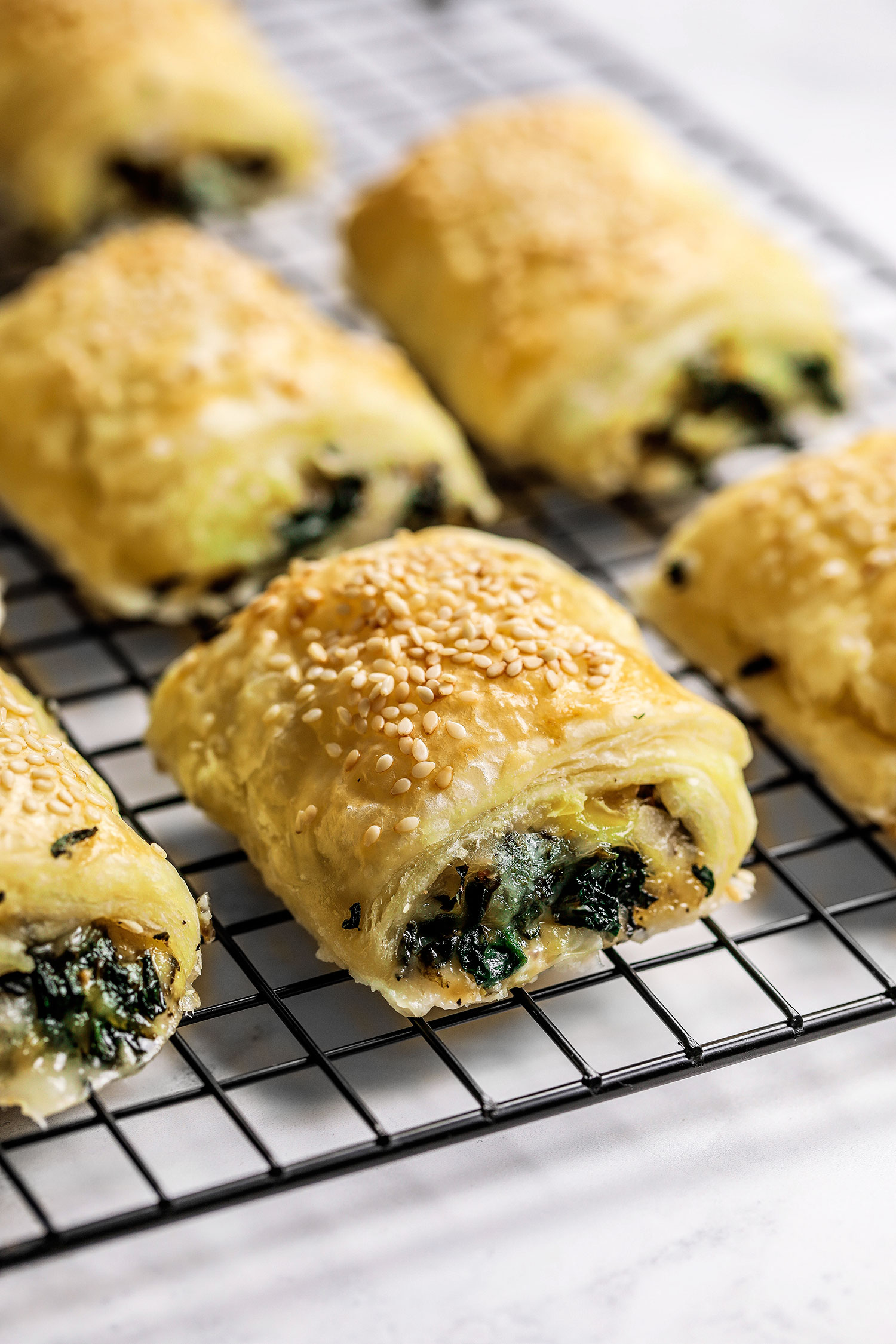 Watch the video below to see just how quick and easy they are to put together. You know you can't wait to make them now! 😀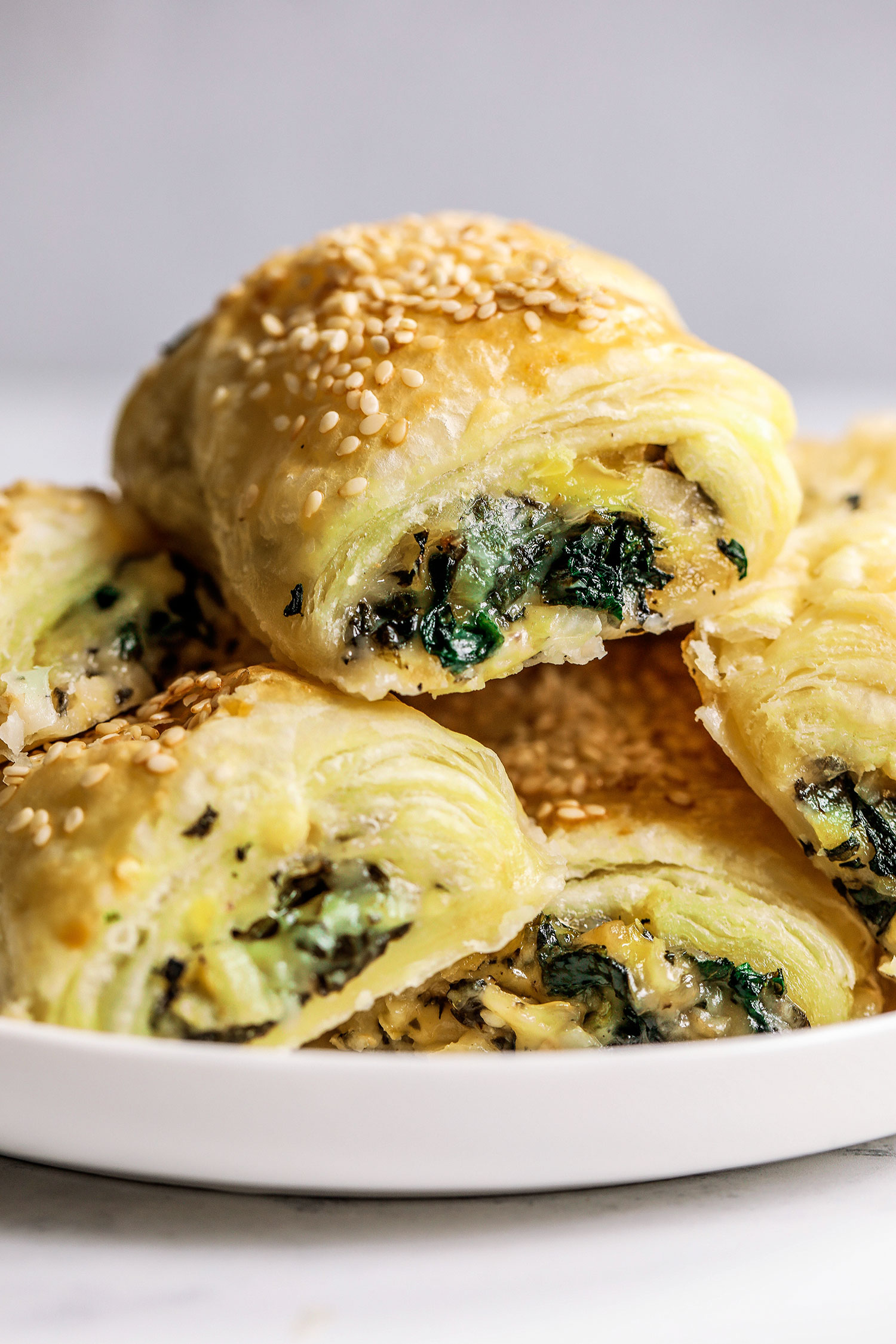 ---
Vegan Spinach Cheese Rolls
320g ready rolled puff pastry – or use gluten-free puff pastry if allergic/intolerant
100g Baby spinach
100g Violife Greek White
50g Violife Original Block, Grated
30g Violife Prosociano, grated
¼ white onion, finely chopped
1 garlic
Salt & pepper to taste
Sesame seeds for decoration
Method
Heat oil in a pan and cook the onions for 5 minutes. Add the garlic and cook for another 1 minute. Add the spinach and cook until wilted and all the water has evaporated.
Leave to cool, then chop finely and add to a bowl along with the salt and pepper. Crumble in the Greek white, add the grated original block and the grated Prosociano. Mix well.
Roll out the puff pastry sheet and cut into 2 even rectangles. Spoon the spinach mixture along one long edge of pastry strip. Brush the other long edge with dairy-free milk. Roll up to enclose filling and form rolls. Cut each roll diagonally into 4 pieces. Place on a greased baking tray and bake for 20-25 minutes in a 200C/180C fan oven.
Leave to cool a little and enjoy!
---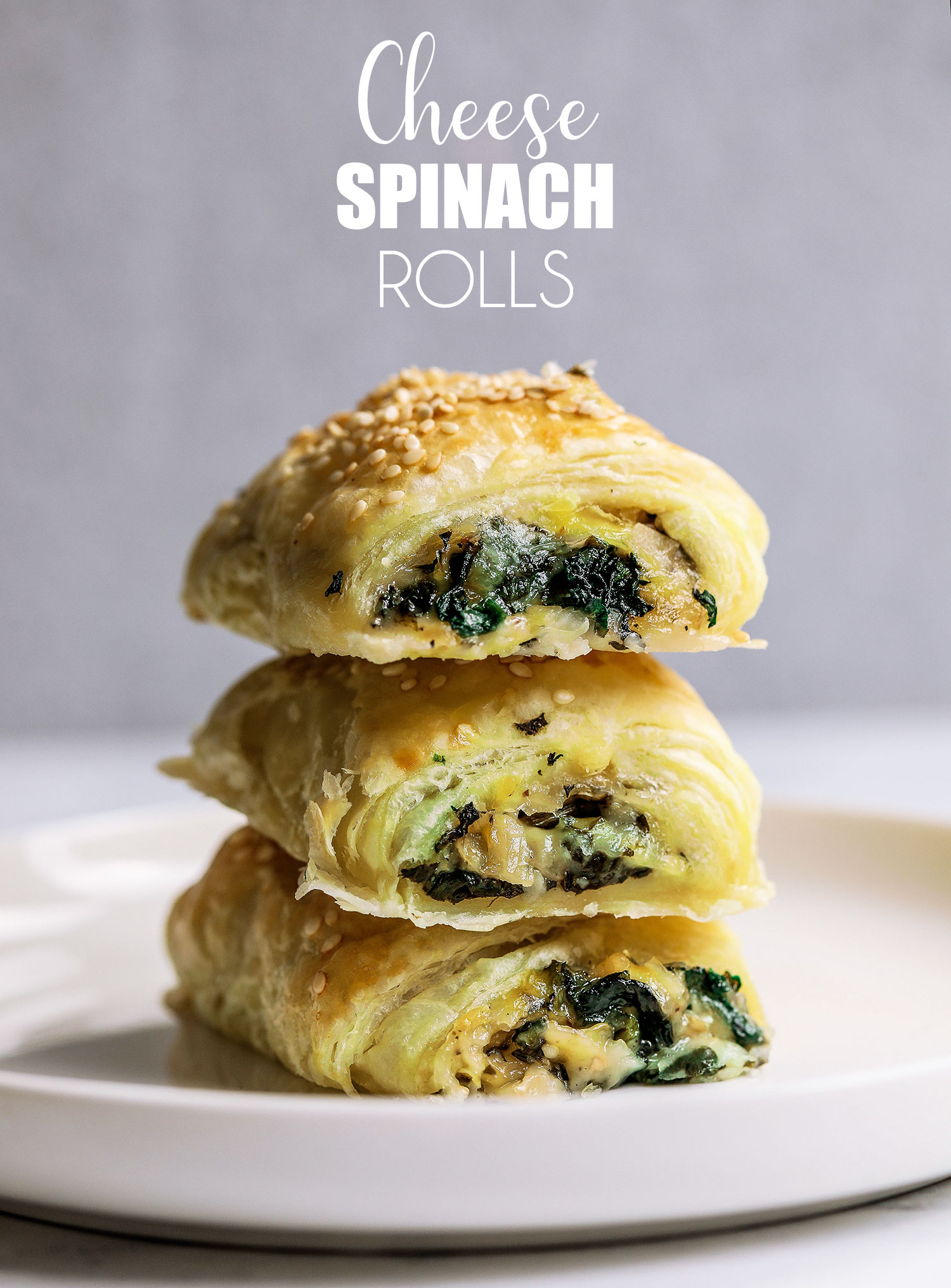 Thanks to Violife for sponsoring this post. Commissioned posts is how I'm able to continue working on the blog and creating recipes and recipe videos for you. As always, all opinions are my own.