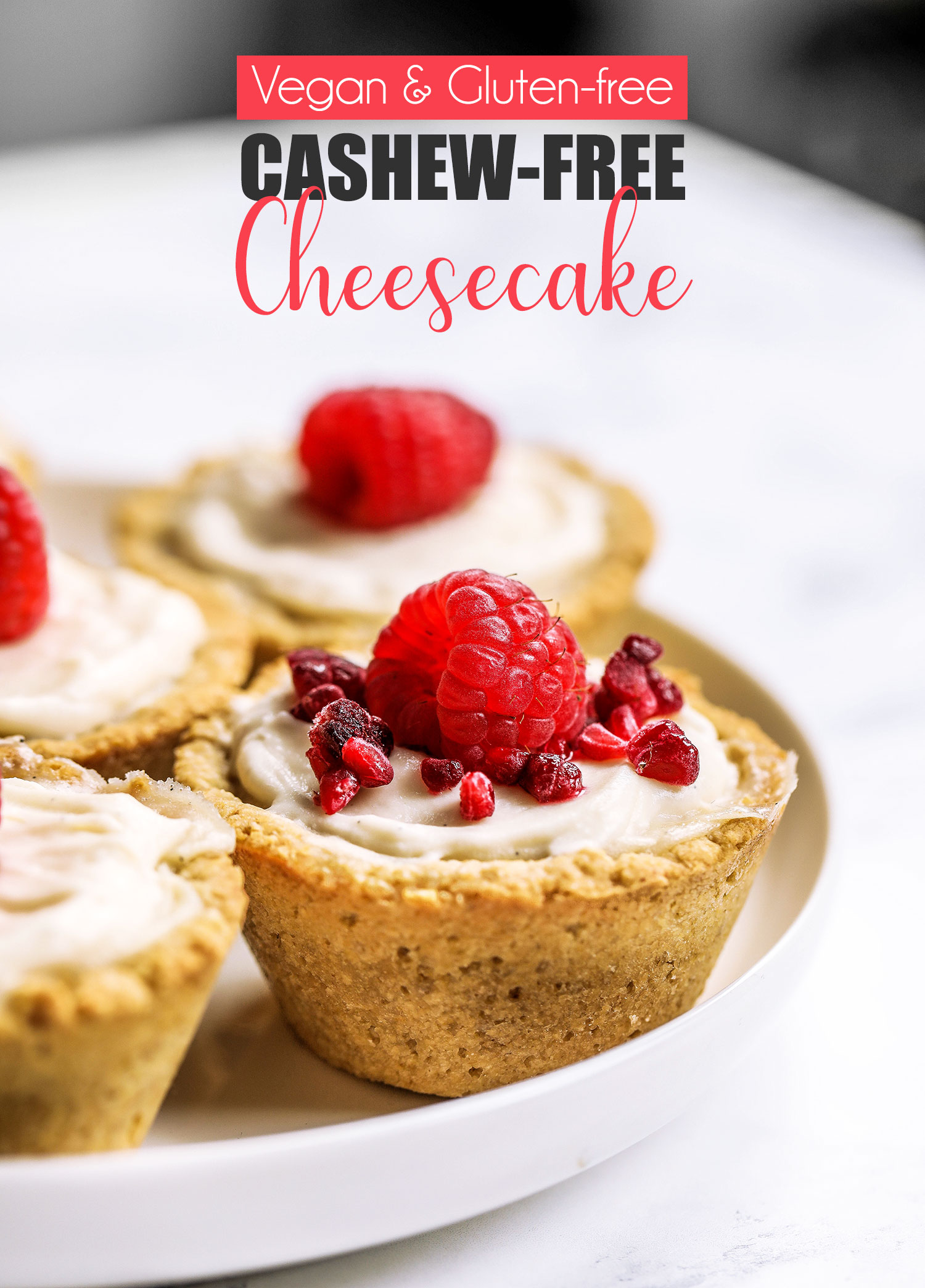 Vegan Raspberry Cheesecake Cups
Mini vegan raspberry cheesecake cups that also happen to be cashew-free, nut-free and gluten-free!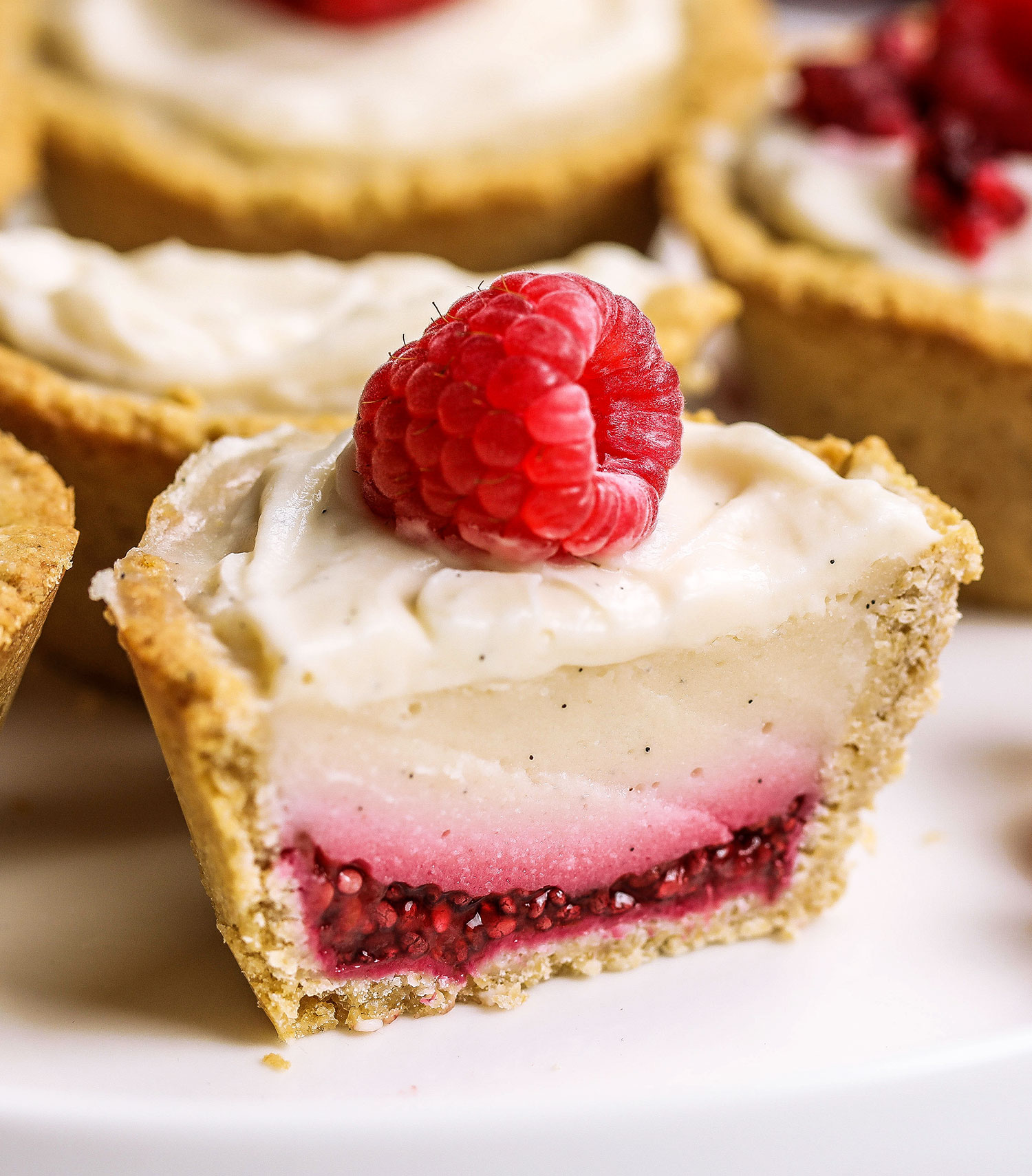 If you search for vegan cheesecake recipes online you'll find that most of them are made with the same main ingredient – cashews! Not that there's anything wrong with cashews, but I wanted to make a plant-based cheesecake that resembles the 'real thing' and I found the best way to do that is by using a dairy-free cream cheese alternative. Both the taste and texture is more true to the original, which is what you want really if you're making a 'cheesecake'.
Especially if you're making it for a non-vegan and you want to impress them, a cashew cheesecake just won't cut it. Trust me, whenever I've made a cheesecake using cashews, I'll get the "it's nice, but doesn't taste like cheesecake" comment.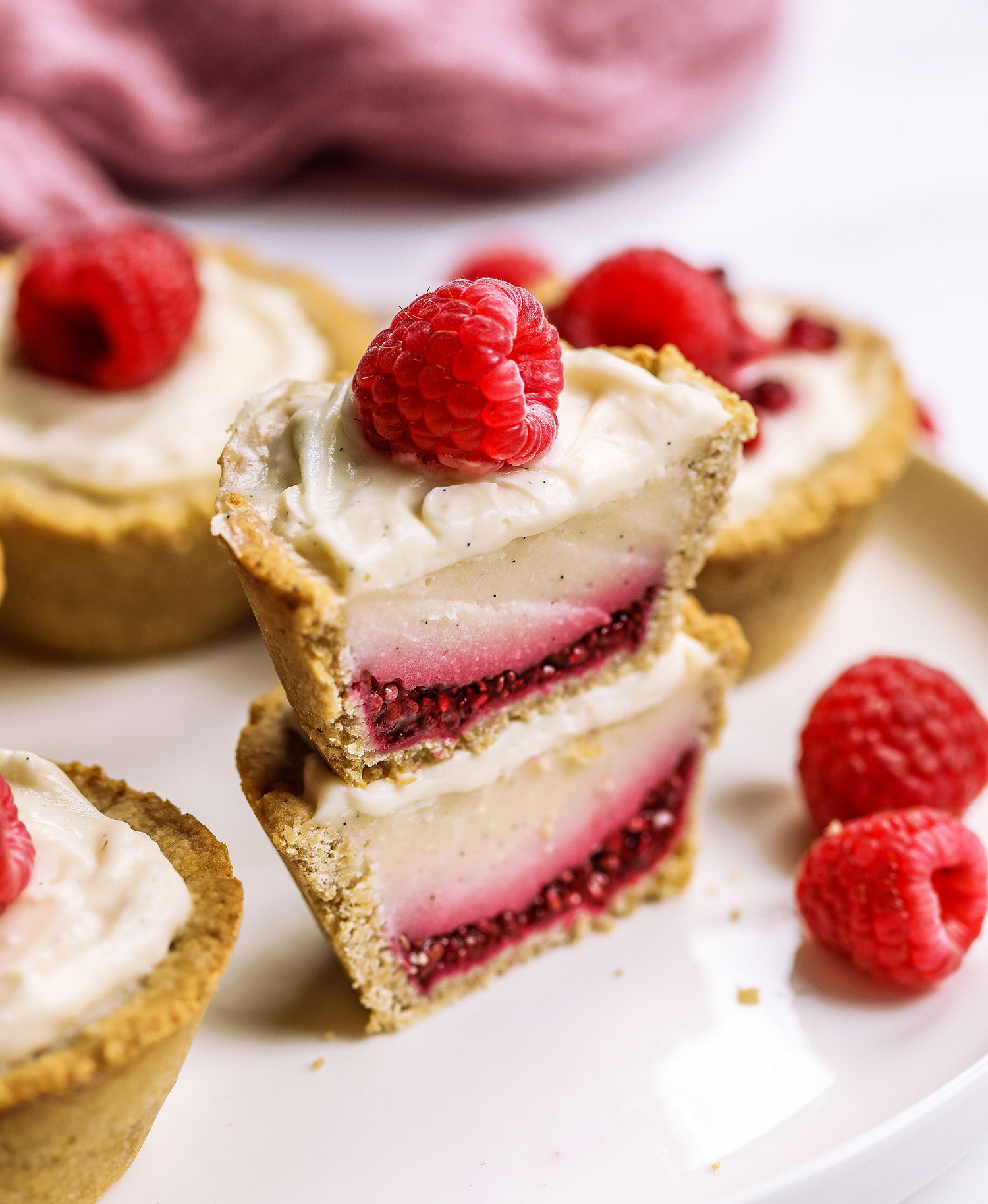 This is my first video in collaboration with Violife. They have the most amazing (and delicious) range of dairy-free products catered towards those who can't eat dairy or wish to avoid it. A I decided to make a dessert using their creamy original and I knew it would make the perfect filling for a cheese-free plant-based cheesecake, and I was SO right! I don't know why I never thought of trying a dairy-free cream cheese in a cheesecake recipe before. Such a simple substitution with amazing results.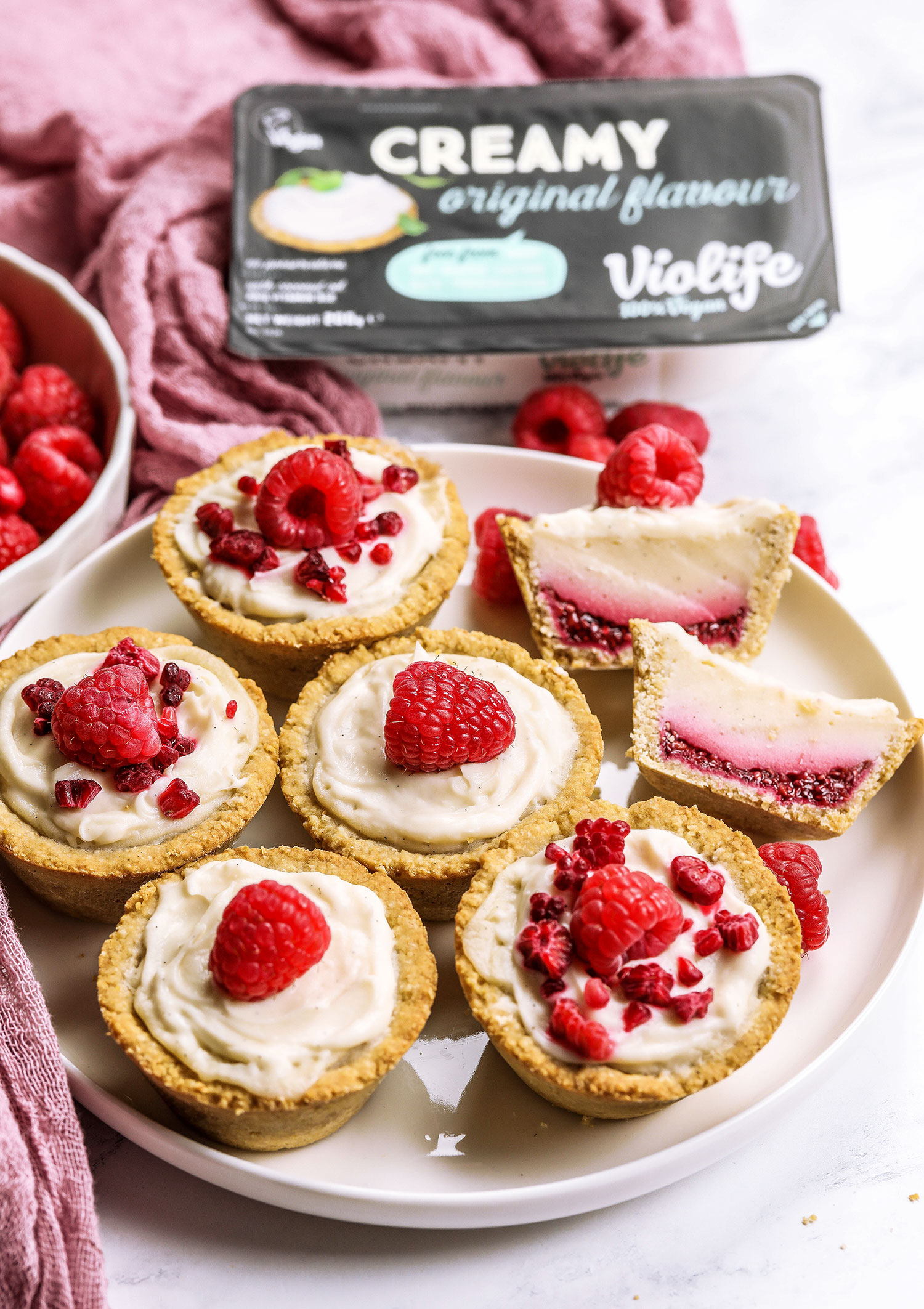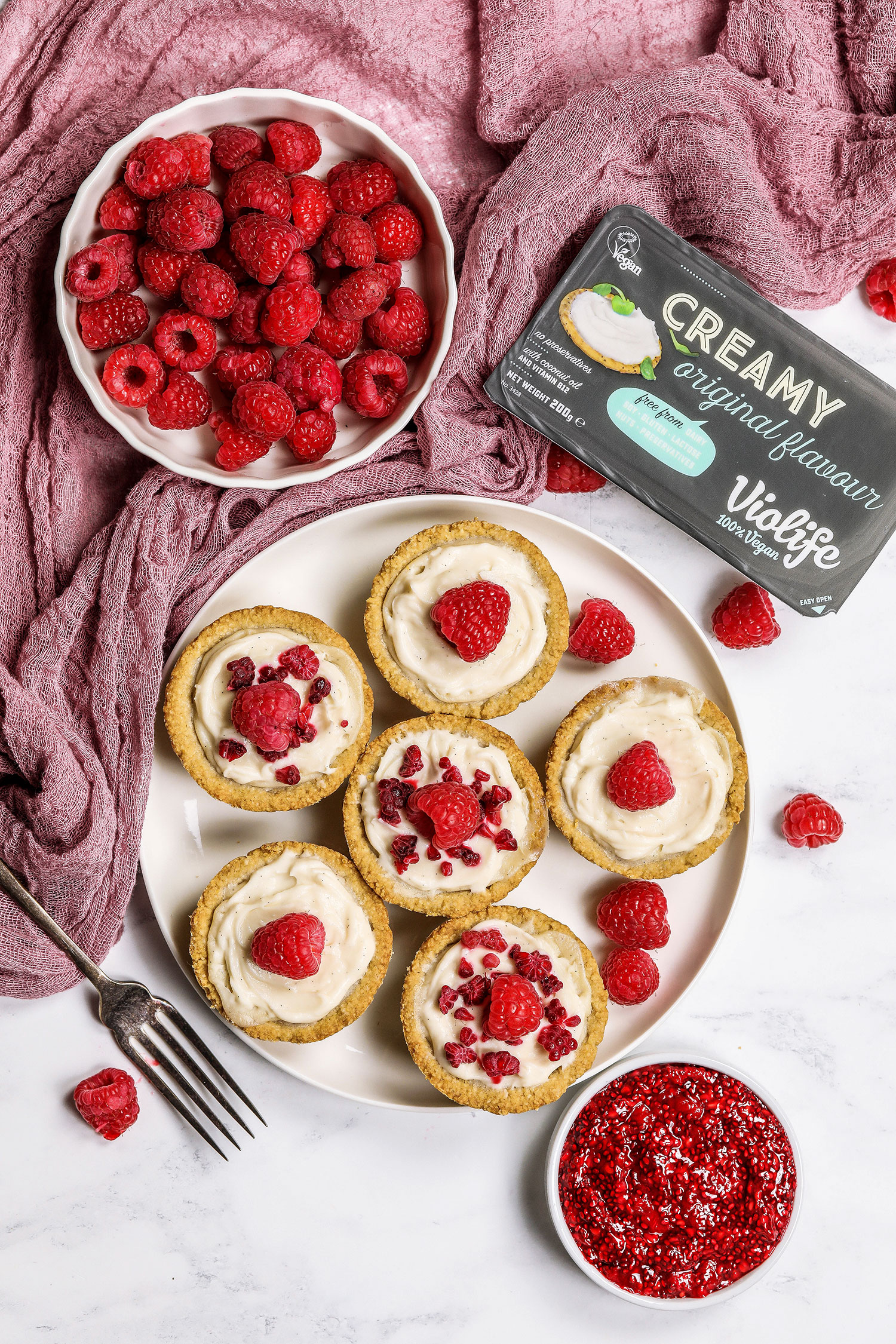 The base is a simple mixture of oats and a bit of maple syrup to sweeten and coconut oil to help hold the mixture together. Then there is a raspberry surprise in the middle topped with the cream cheese centre and topped with fresh raspberries. They feel so much lighter than a regular cheesecake and they're bite sized so you're less likely to be tempted to over eat. I always think bite size food is so much more fun anyway, don't you agree? 😛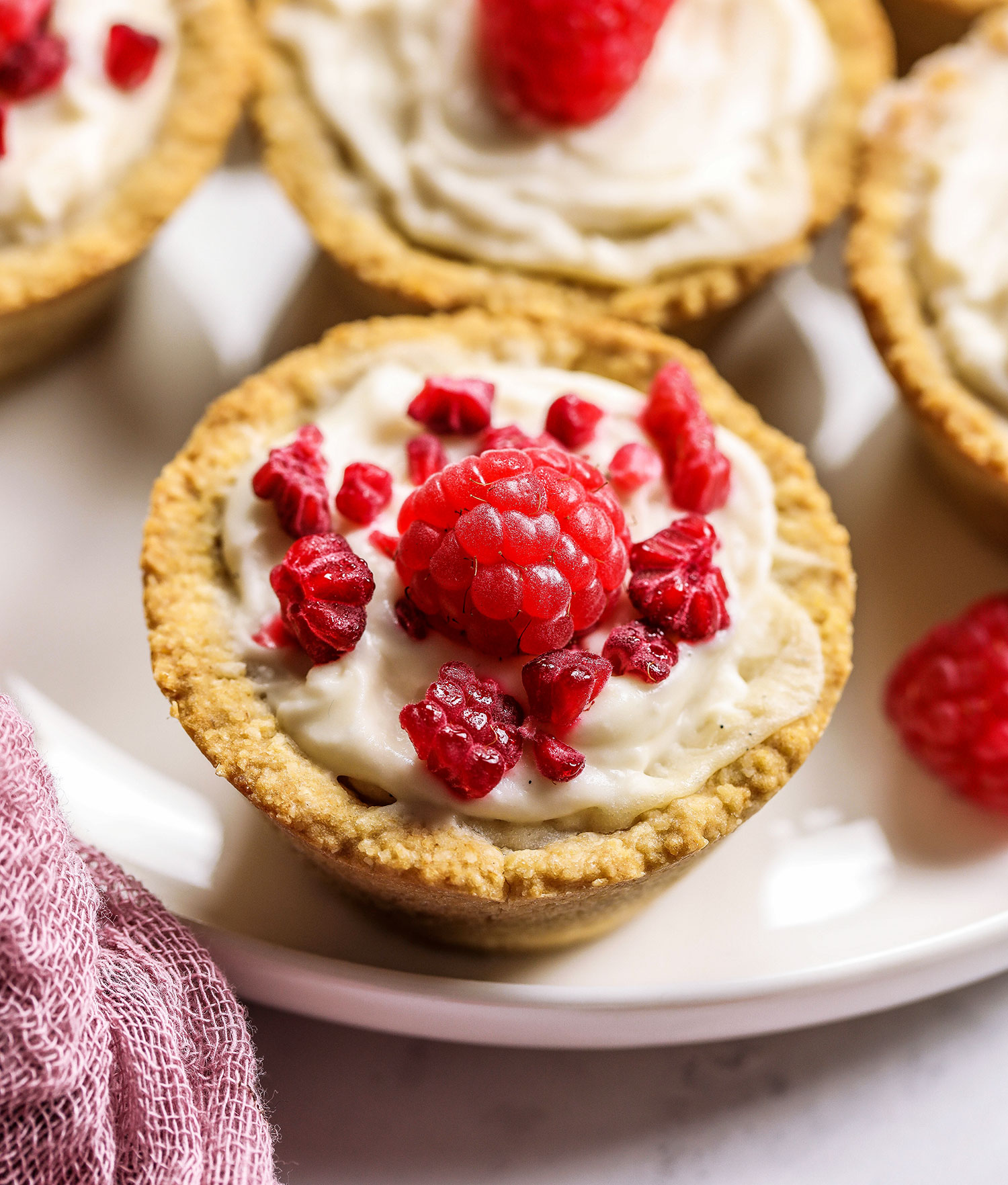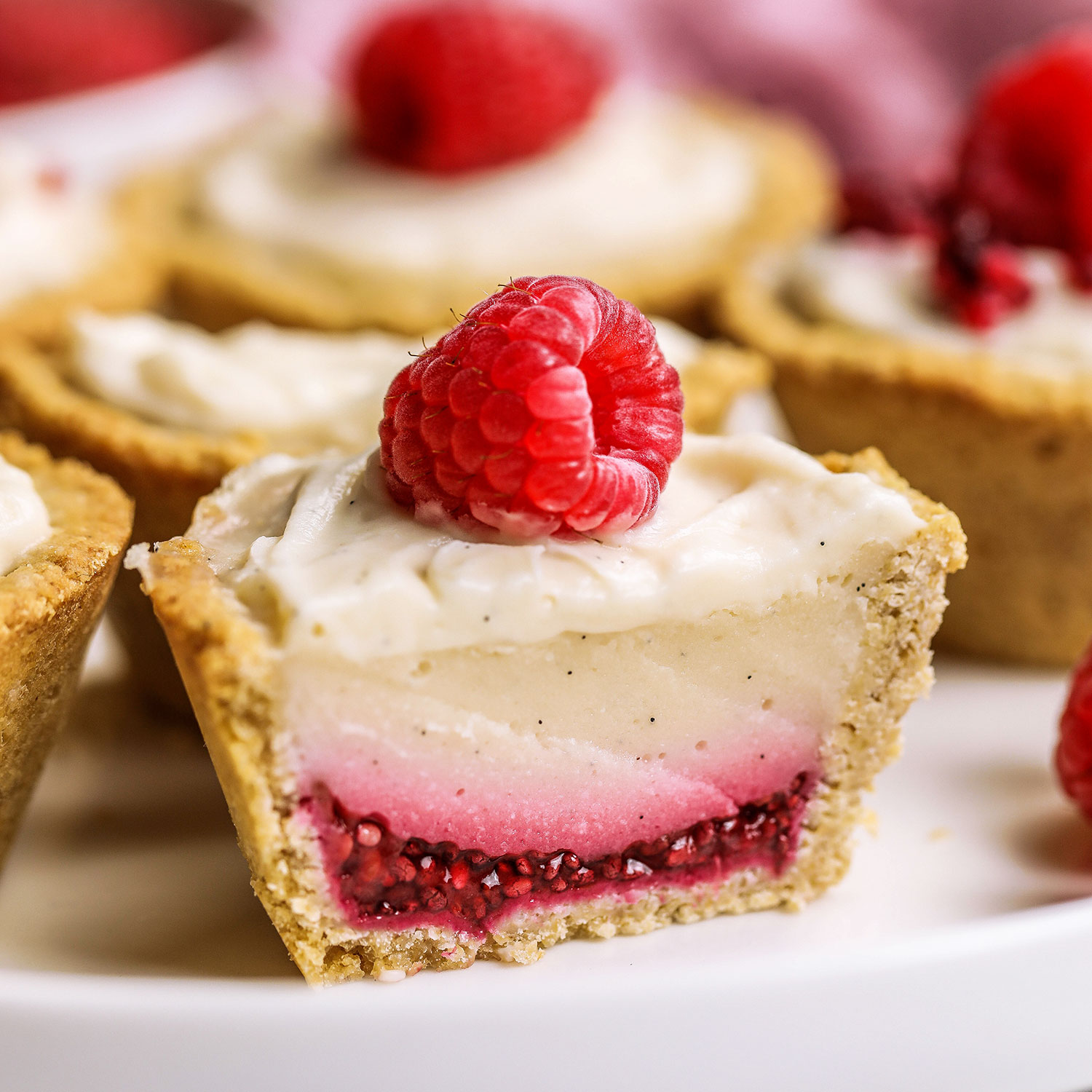 If you've never tried using dairy-free cheese to make a cheesecake before, then you need to try this recipe! It's also gluten-free and nut-free so it's great for those with intolerances and allergies to gluten and nuts.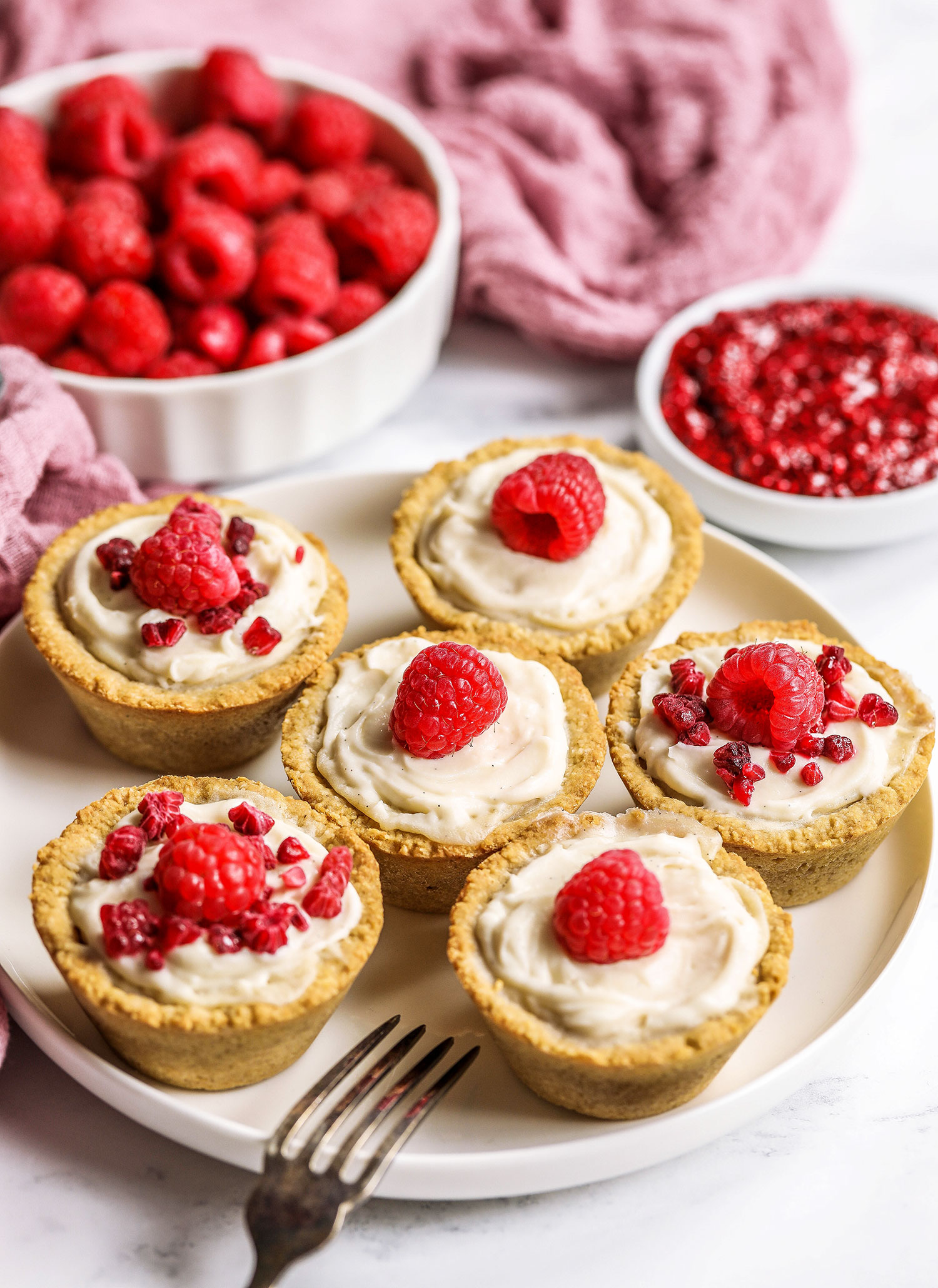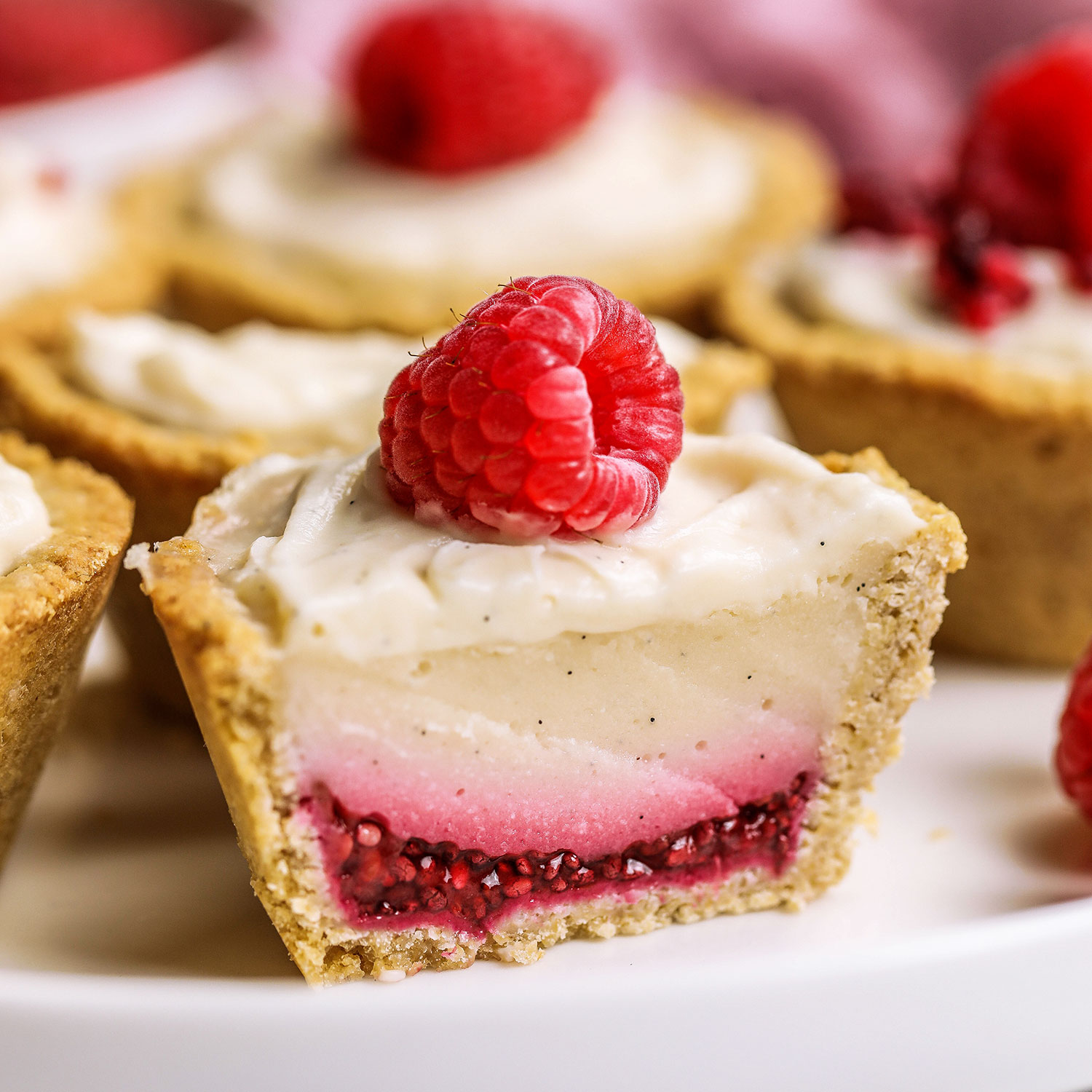 Watch the video below to see just how easy these vegan raspberry cheesecake cups are to make 😀
---
Vegan Raspberry Cheesecake Cups
Makes – 6
Ingredients
For the base
110g oat flour – rolled oats blended into a flour in the food processor (Use gluten-free oats if allergic/intolerant)
A pinch of salt
2 tbsp maple syrup
2 tbsp Coconut oil, melted
Cheesecake filling
250g Violife Creamy Original
2 tbsp maple syrup or icing sugar
3 tsp cornflour
2 tsp lemon juice
½ tsp vanilla paste
6 tsp raspberry jam
Fresh raspberries for decoration
Method
To make the base – Mix the oat flour and salt in a bowl, then add in the maple syrup, vanilla and coconut oil. Press into lightly greased muffin tins.
To make the filling – Mix Violife Creamy, maple, cornflour and lemon juice in a bowl. Spread a layer of the jam in each of the cups, then fill the rest with the cheesecake filling.
Bake in a 180C/160C fan oven for 20-25 minutes.
Leave to cool completely, then leave to set in the fridge for 4 hours.
Decorate with more jam and fresh raspberries
Enjoy!
---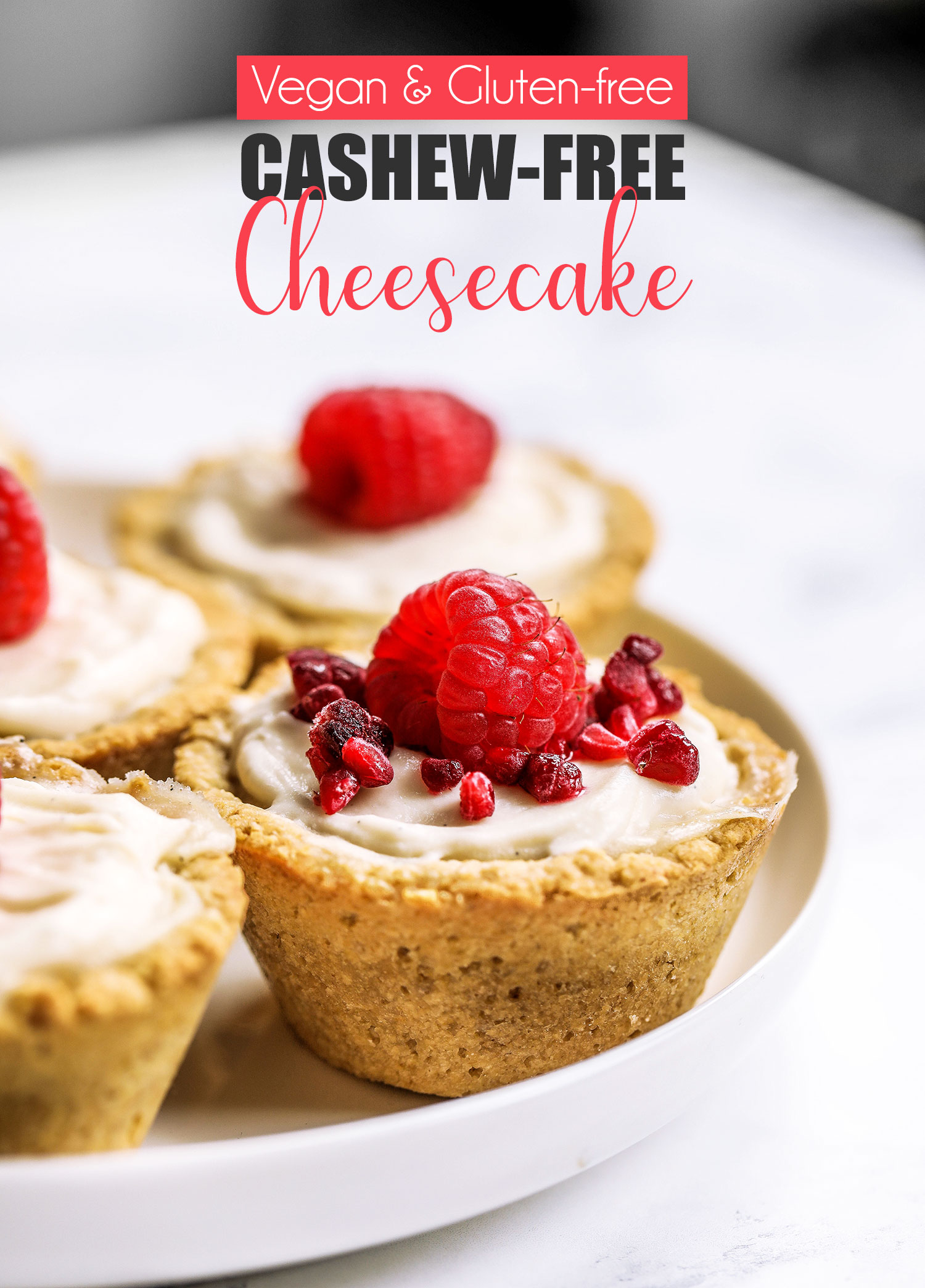 Thanks to Violife for sponsoring this post. Commissioned posts is how I'm able to continue working on the blog and creating recipes and recipe videos for you. As always, all opinions are my own.