* This post is sponsored by East End Foods*
Vegan Pumpkin Curry
A delicious and warming vegan pumpkin curry that's perfect for the autumn and winter months!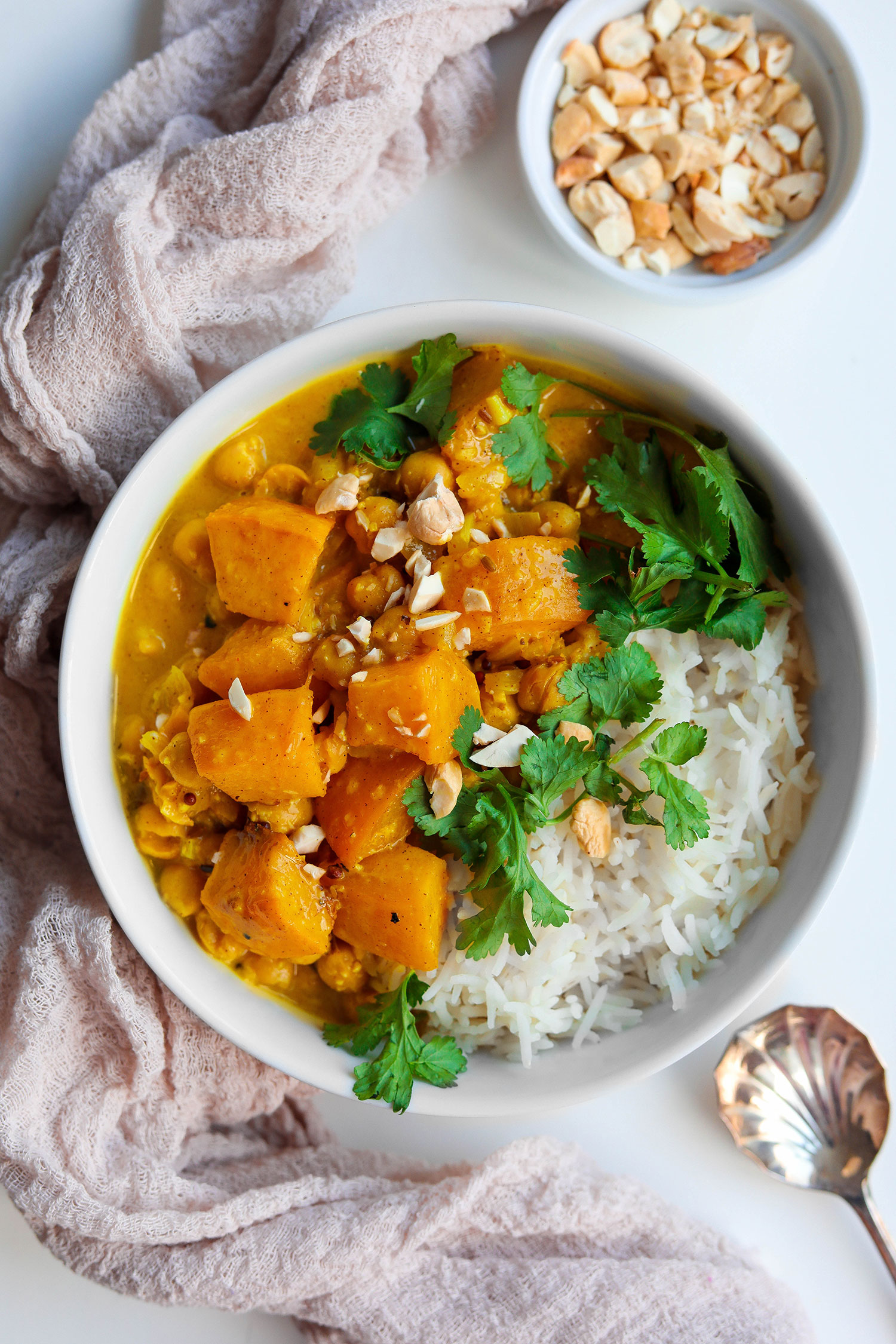 I can't think of anything more comforting than a coconut based curry to warm me up on a cold day. Especially now that the days are becoming shorter too here in the UK. Come 6pm, I need a bowl of something comforting that's also packed full of flavours, and this curry ticks both those boxes!
With it also being Halloween season and pumpkins are everywhere, this vegan pumpkin curry is a great way to make the most of this in season vegetable. It's also a great way to use up the flesh of carved pumpkins so it doesn't all go to waste. So many pumpkins are wasted every year when they could be utilised to make a yummy and nutritious meal.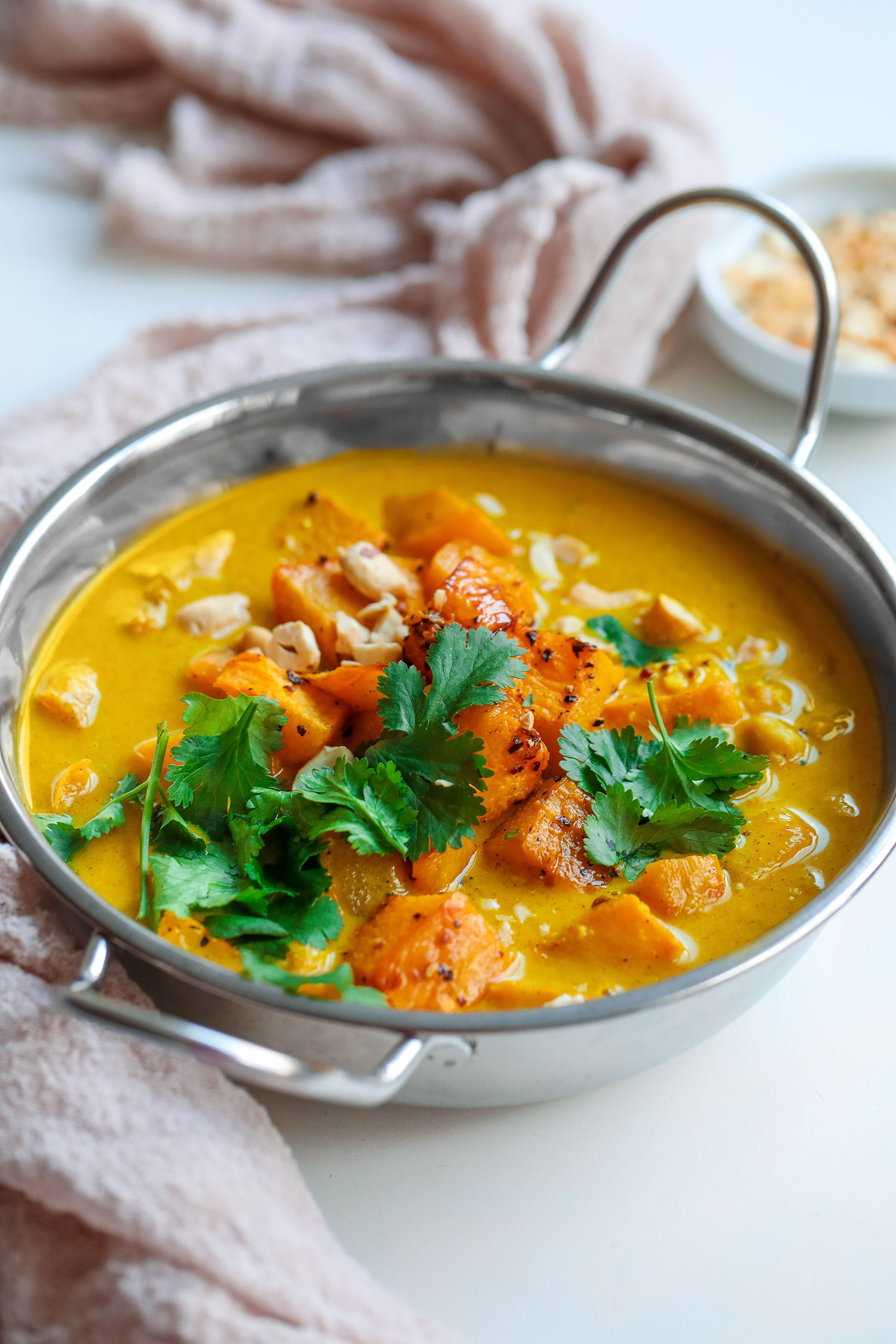 I roasted the pumpkin first to give it an extra depth of flavour, then added chickpeas as a source of protein and extra goodness. The coconut milk is what makes this curry so comforting and satisfying. It's so creamy and aromatic.
I created this recipe for East End Foods using a variety of their ingredients including their ginger garlic paste, coconut milk, chickpeas and spices (cumin seeds, mustard seeds, turmeric, chilli powder and cinnamon) They only use the finest spices from around the world, store them under climate controlled conditions and re-clean them using the very latest technology to help retain their purity, fresh aroma and flavour.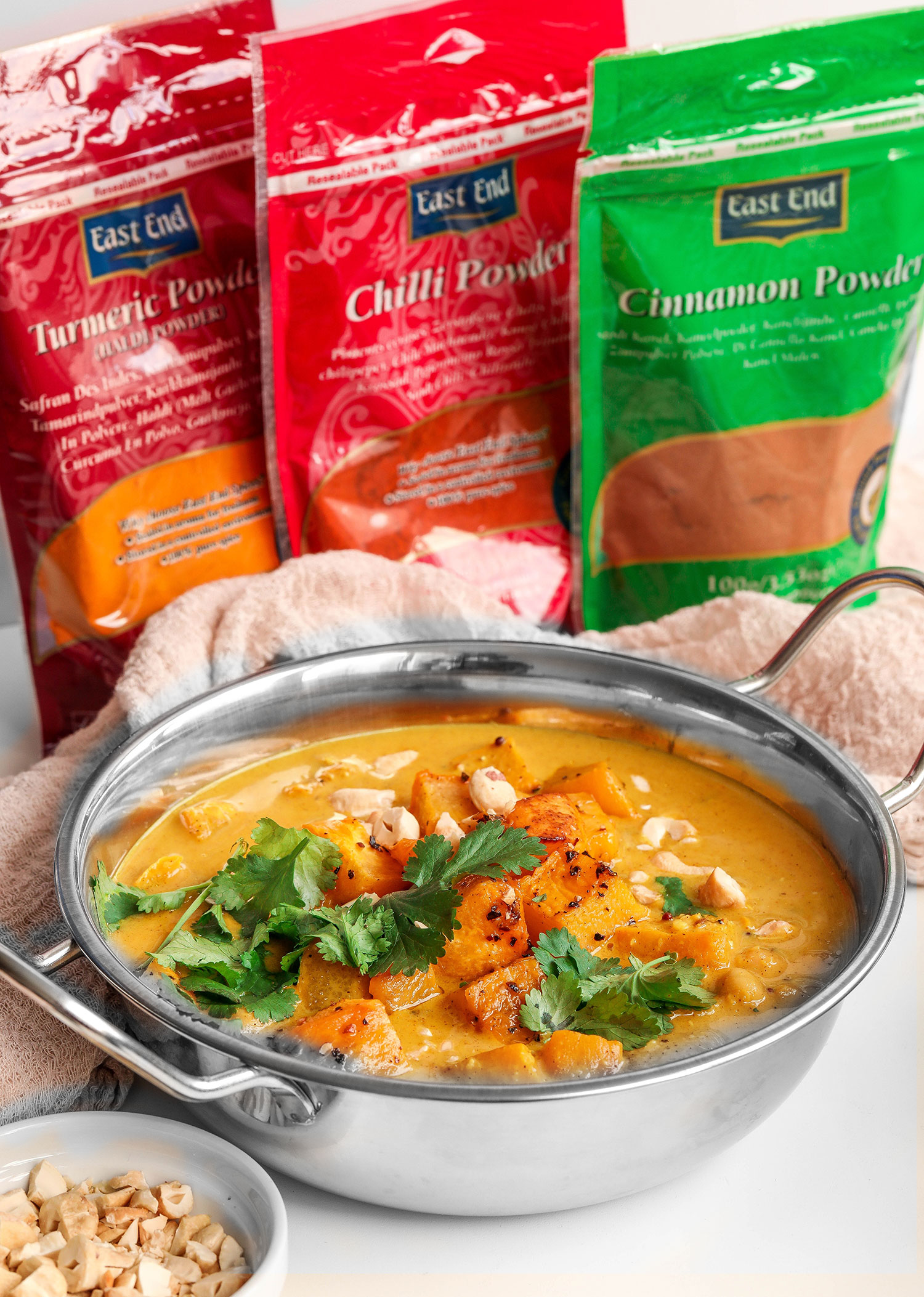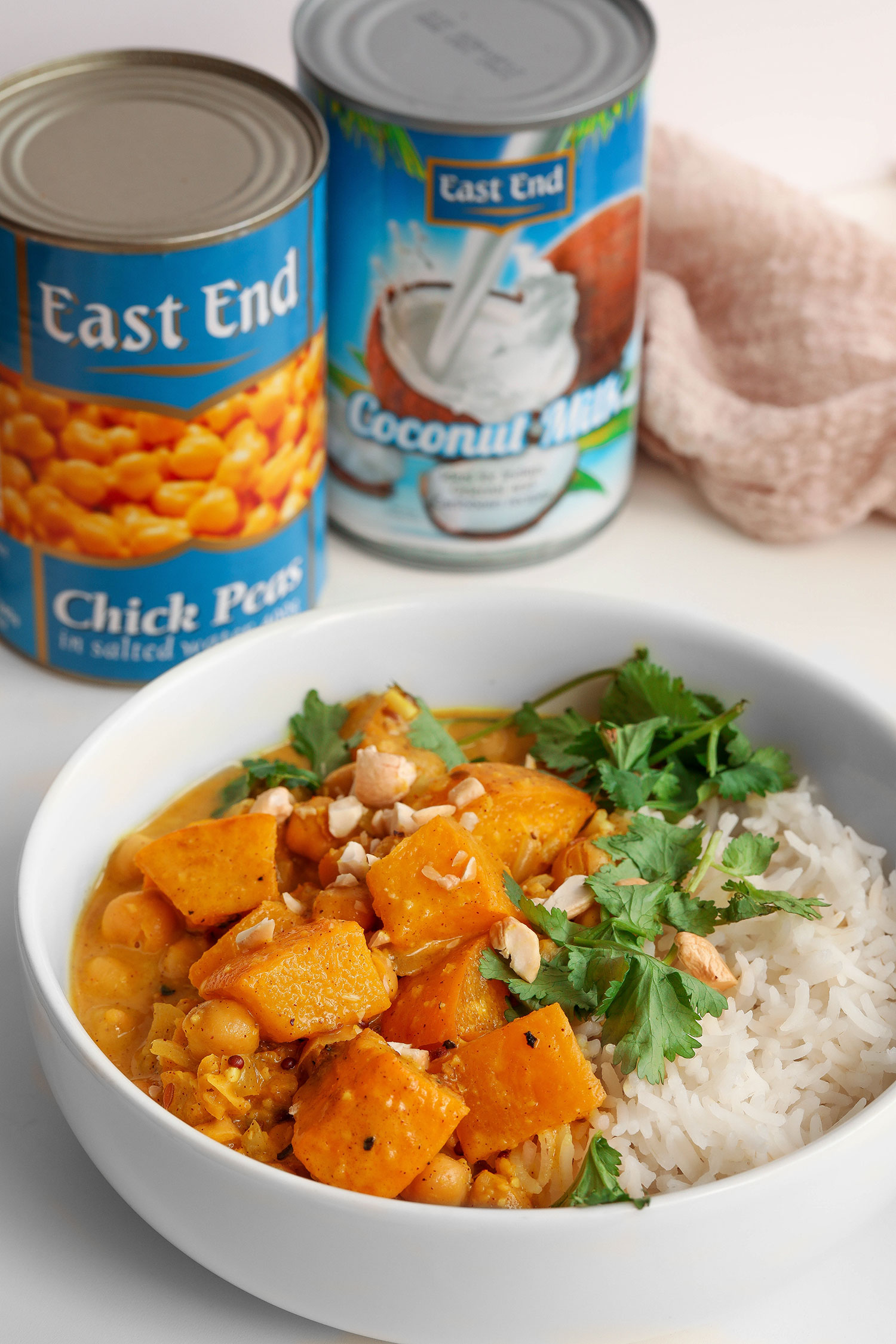 Make use of your pumpkin this year and create this satisfying and delicious curry 😀
---
Vegan Pumpkin Curry
1/2 pumpkin, diced
1/2 onion, chopped
2 tbsp East End ginger garlic paste
1 (400g) can East End chickpeas
1 (400lm) can East End coconut milk
1/2 tsp East End cumin seeds
1/2 tsp East End mustard seeds
1 tsp East End cinnamon
2 tsp East End turmeric
1/2-1 tsp East End chilli powder
2 tbsp maple syrup
Juice of 1 lemon
Method
Preheat oven to 220C/200C fan/400F
Arrange the pumpkin cubes on a baking tray and season with salt and pepper. Drizzle with 1 tbsp olive oil and bake for 30-25 minutes.
Heat 1 tbsp oil in a large pan over a medium heat. Add the mustard and seeds seeds and leave until they start popping. Add the onions and cook for 5 minutes.
Add the ginger garlic paste along with the rest of the spices. Cook for 1 minutes, then add in the chickpeas, coconut milk, maple syrup and lemon juice. Transfer the roasted pumpkin cubes and cook until heated through.
Top with chopped cashews and fresh coriander. Serve with rice and chapati. Enjoy!
---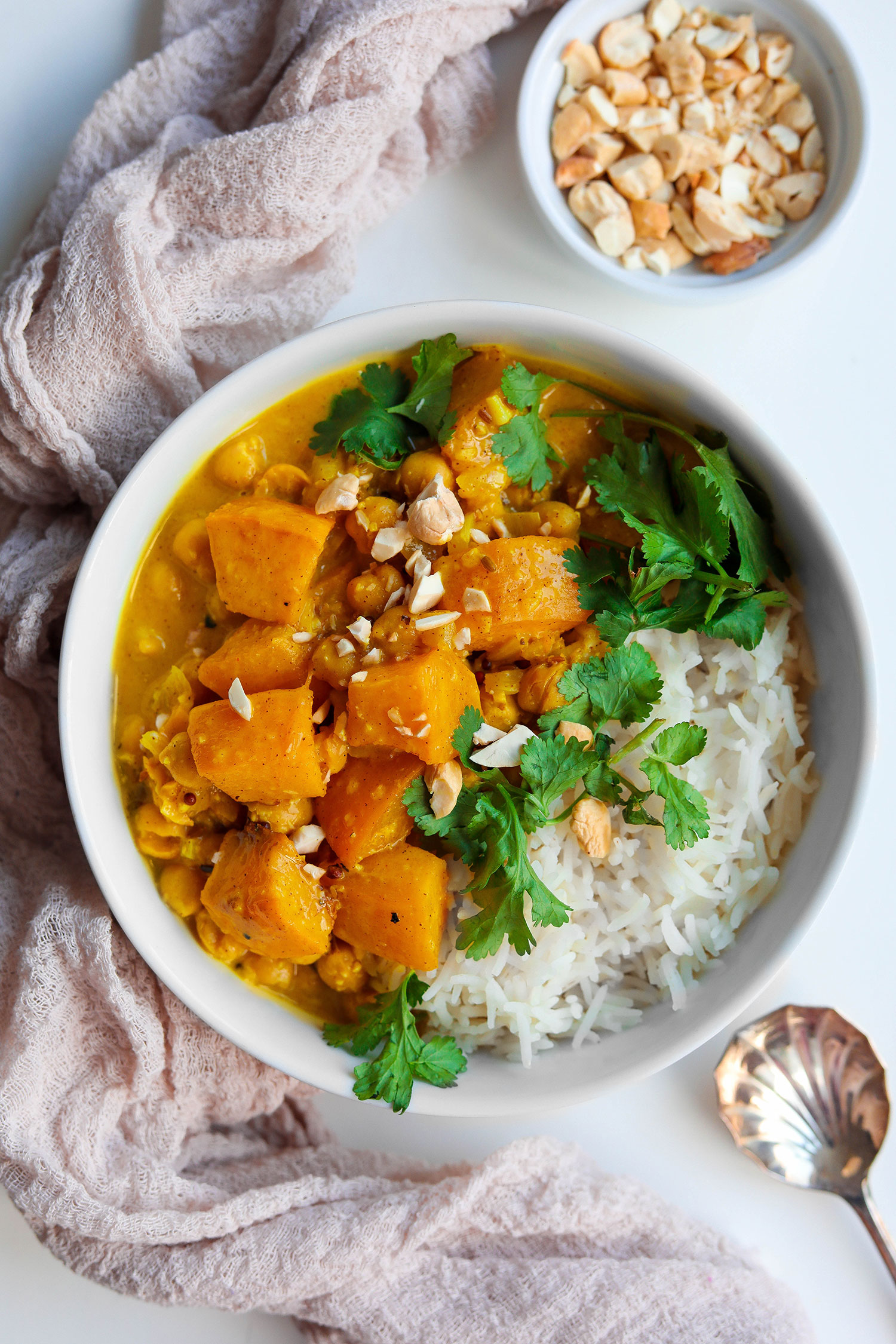 Share This Post