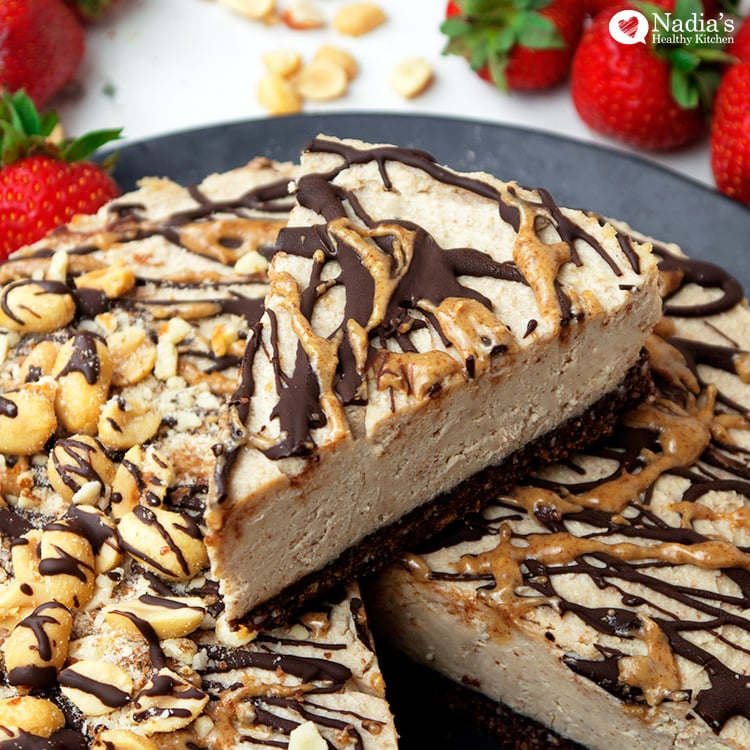 Vegan Peanut Butter Cheesecake
I made this cheesecake for my brother's birthday the other day. I thought it would be a nice change from a regular birthday cake, plus he likes peanut butter and chocolate and I thought that combo would go so much better in the form of a cheesecake!
This cheesecake is vegan, dairy-free and gluten-free.
This vegan peanut butter cheesecake has a secret ingredient. Care to guess what it is? Well as the title suggests, there is no 'cheese' in this recipe, or any type of dairy for that matter. To make it vegan, I used tofu (yes, TOFU!) instead of cream cheese. I've been loving using tofu recently. I try to avoid dairy products as much as I can and since the hubby and I have started reducing our meat intake, tofu has become an essential ingredient in my kitchen. It's so versatile! I've been using it in main meals as a source of protein, in desserts and in baking instead of, or to reduce the amount of oil I use.
To some, tofu may sound like an exotic ingredient that will be almost impossible to get hold of, but in reality, most supermarkets now stock it. You can find it either in the 'free-from' section where you usually find the Quorn products or in the international isle where you find Asian foods. I live in the city centre and our main supermarket is tiny and I was still able to find it.
I wanted this vegan peanut butter cheesecake to have a chocolate base, because let's face it, one of the best things to pair with peanut butter (apart from jam, of course!) is chocolate! Literally all I did was pulse peanuts, dates and cocoa in the food processor with a little bit of coconut oil to help the mixture hold together.
The same with the 'cheese' topping, again in the food processor I blended tofu, peanut butter, creamed coconut and sweetener and boom, you have the most gorgeous, rich peanut butter cheesecake topping!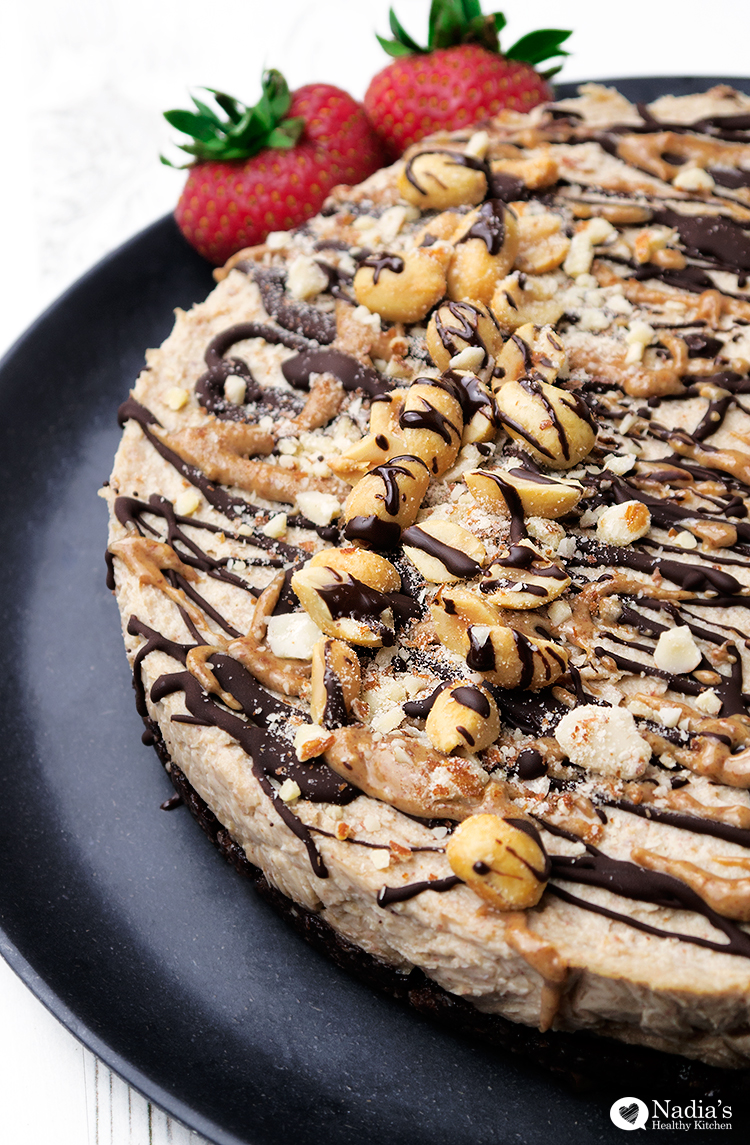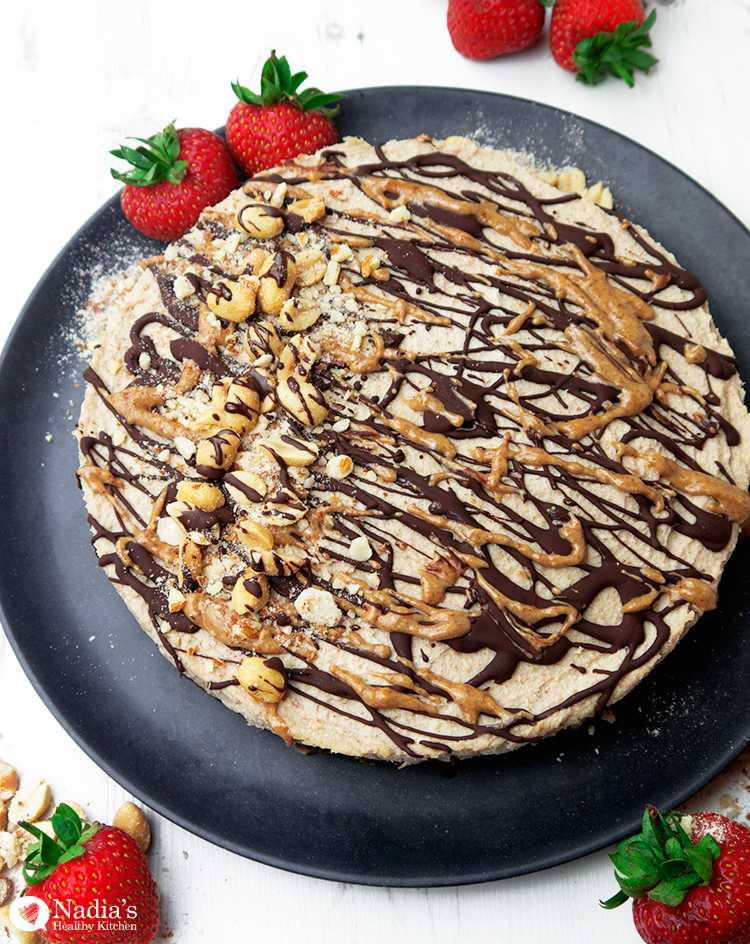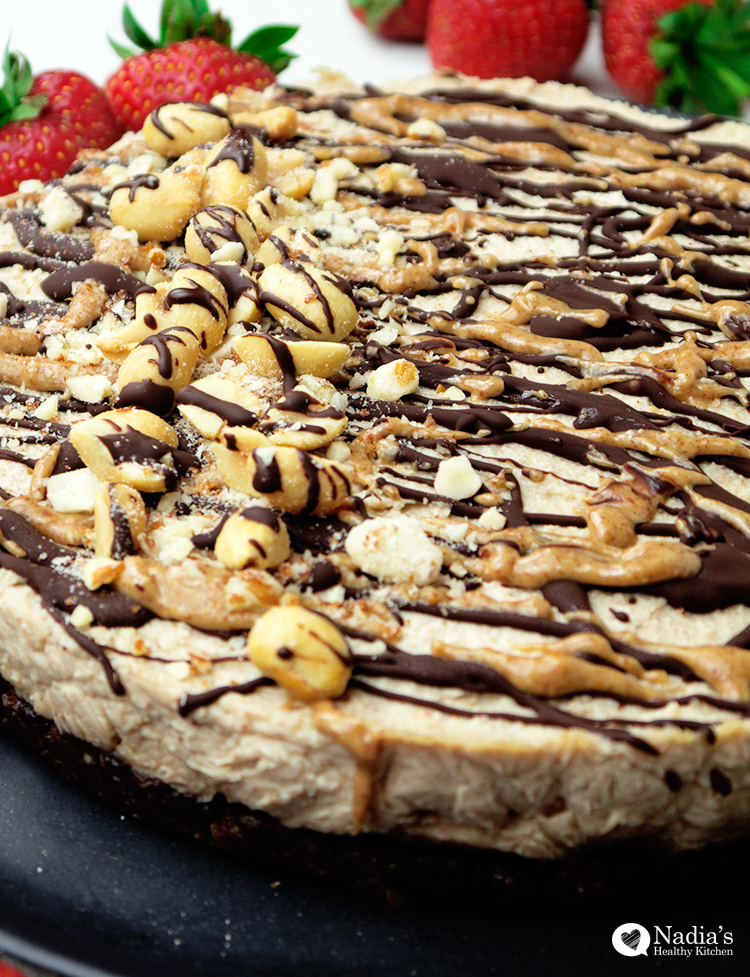 This vegan peanut butter cheesecake is by no means low in calories and it's definitely not low in fat, however all the ingredients are unprocessed and good for you! It's full of healthy fats, the kind that you NEED in your diet and to make it lower in carbs I'm using stevia instead of sugar. Of course if you don't like stevia you can use any other sweetener you prefer!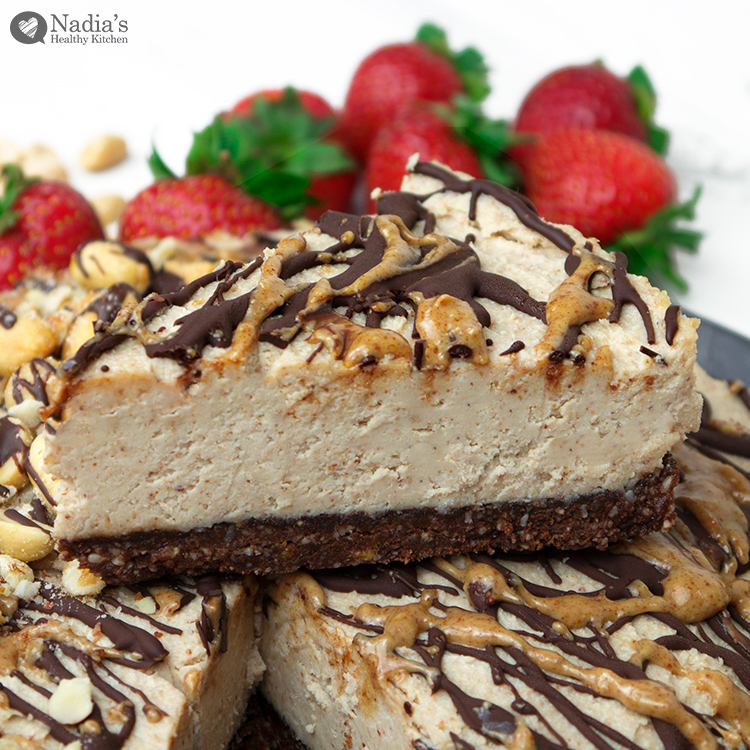 Vegan Peanut Butter Cheesecake
2015-08-25 08:18:56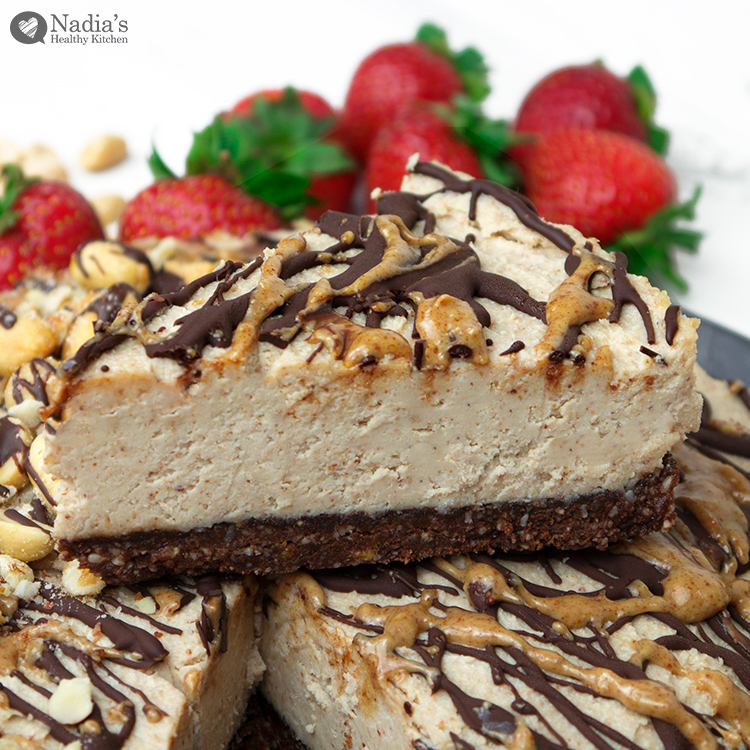 Serves 10
To make the base
Add your peanuts to a food processor and blend until you have a flour like consistency.
Add in your dates then blitz again until the dates and nuts are combined.
Now add in the coconut oil, cocoa and salt and give it one final blitz.
Transfer the mixture into an 8" springform pan lined with parchment paper.
Press the mixture down using your hands or the back of a spoon.
Place in the freezer for around 30 minutes to set.
To make the topping
Melt the creamed coconut/coconut butter using the double boiler method - Place your creamed coconut in a heat proof bowl. Bring some water to a gentle simmer in a small pan then place the bowl with the creamed coconut on top (make sure the water doesn't touch the bottom of the bowl). Stir the creamed coconut until completely melted. Take off the heat and leave to cool down slightly.
Depending on how firm the tofu you're using is, you may need to drain it first to achieve a firmer cheesecake - using a tea towel or a nut milk bag, squeeze out as much of the excess tofu liquid as possible.
Place the tofu in the food processor along with the cooled creamed coconut, peanut butter, sweetener, vanilla paste and salt.
Blend for a few minutes until everything is well combined and you're left with a smooth mixture.
If the mixture is too thick and sticky, add a tbsp of milk at a time to thin the mixture out. I used around 4 tbsp.
Take the base out of the freezer then transfer the cheese filling on top. Smooth down using a spatula then place back in the fridge for 8 hours or overnight. If you can't wait that long, place it in the freezer for a couple of hours instead. Just make sure you take it out about 15-20 minutes before serving.
Decorate with some melted chocolate, peanut butter and crushed peanuts.
Enjoy!
Notes
Nutritional Information (estimated per slice)
Calories: 306 calories
Protein: 12.3g
Carbs: 15.6g
Fat: 24g
Nadia's Healthy Kitchen https://nadiashealthykitchen.com/
If you liked this recipe you may also like my Raw Strawberry Cheesecake