Vegan & Gluten-free Afternoon Tea
If you're looking for a vegan & gluten-free afternoon tea, you've come to the right place! One of my favourite things ever is going to afternoon tea. There is something so special about sharing sandwiches, scones and little, bite sized desserts with loved ones. The husband and I celebrated our first wedding anniversary with a spot of afternoon tea.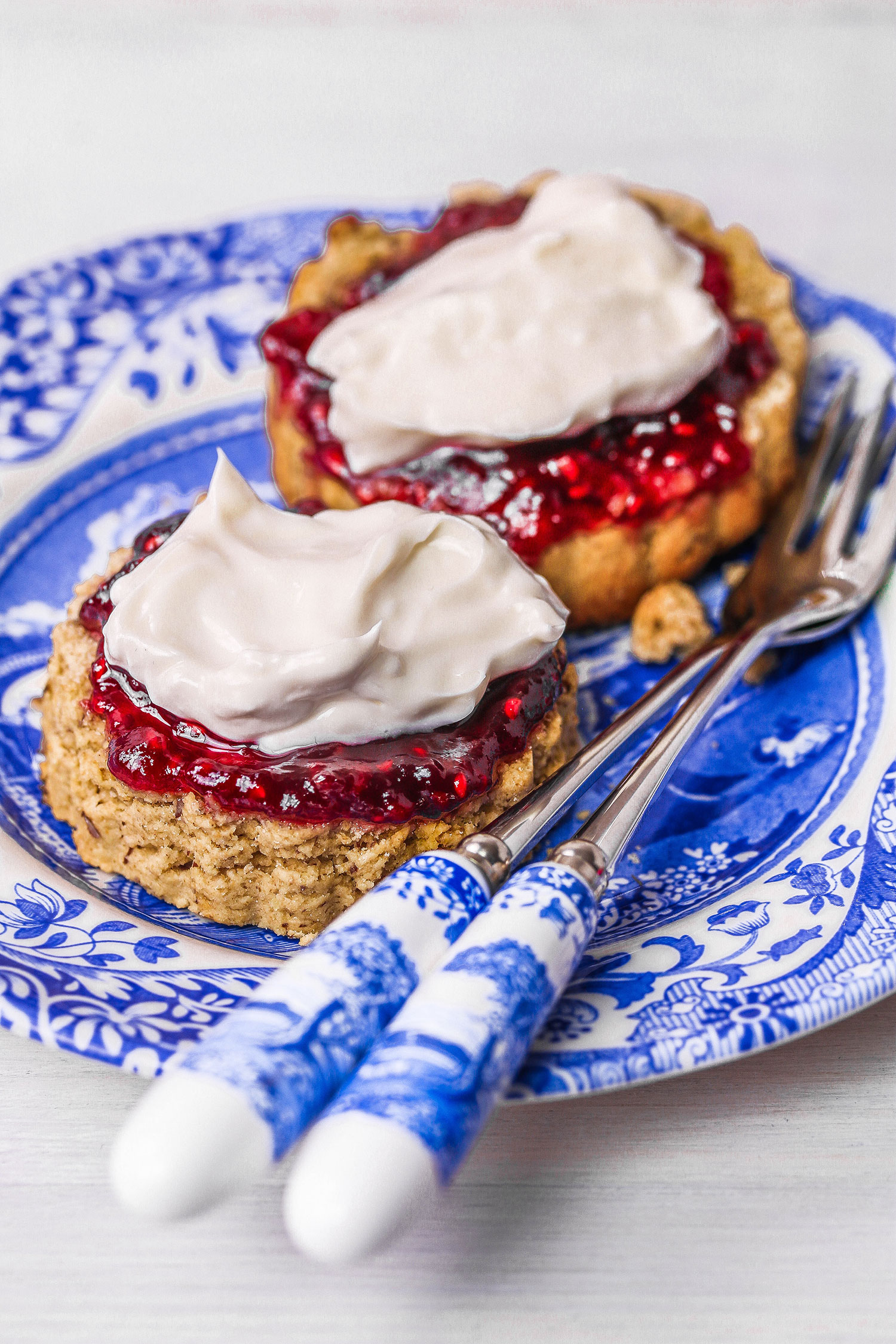 If you know me, you'll know I love nothing more than cakes and sweet treats. I used to be known for glancing at the dessert menu before looking at anything else when at a restaurant. I just have such a sweet tooth. I also love bread and anything baked, so you can imagine why I love afternoon tea so much. It basically has all my favourite foods as well as my all time favourite drink…tea!
Having said that, I haven't been to an afternoon tea in years. My worsening IBS lead to me trying my best to avoid anything too heavily processed, fatty and sugary as well as dairy, so afternoon tea was off limits. I could still go if I really wanted to. I know it's not the end of the world, but I will suffer the consequences and to be honest the symptoms that follow are just not that worth those few minutes of pleasure for me.
That doesn't mean I won't attempt making my own afternoon tea party at home though!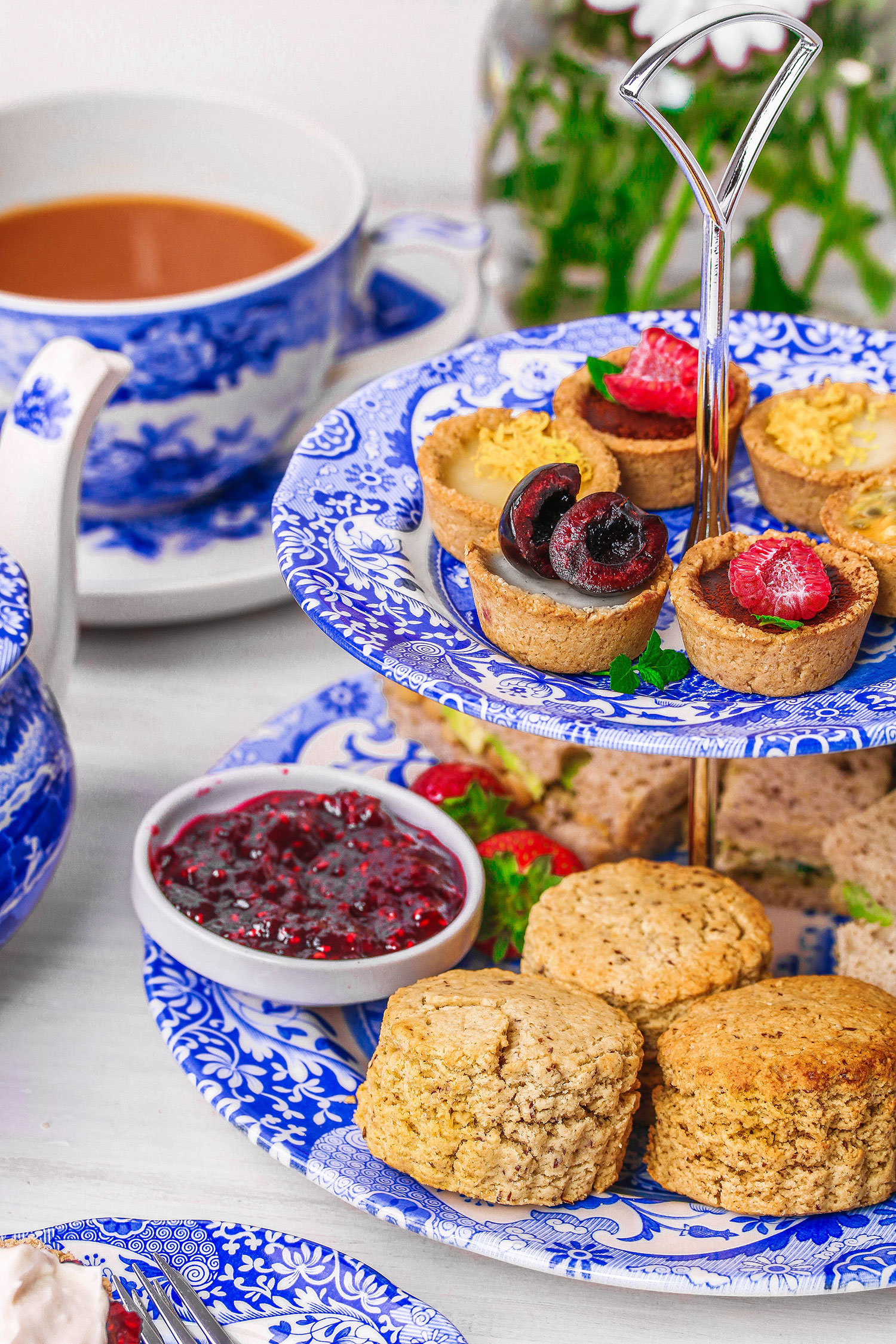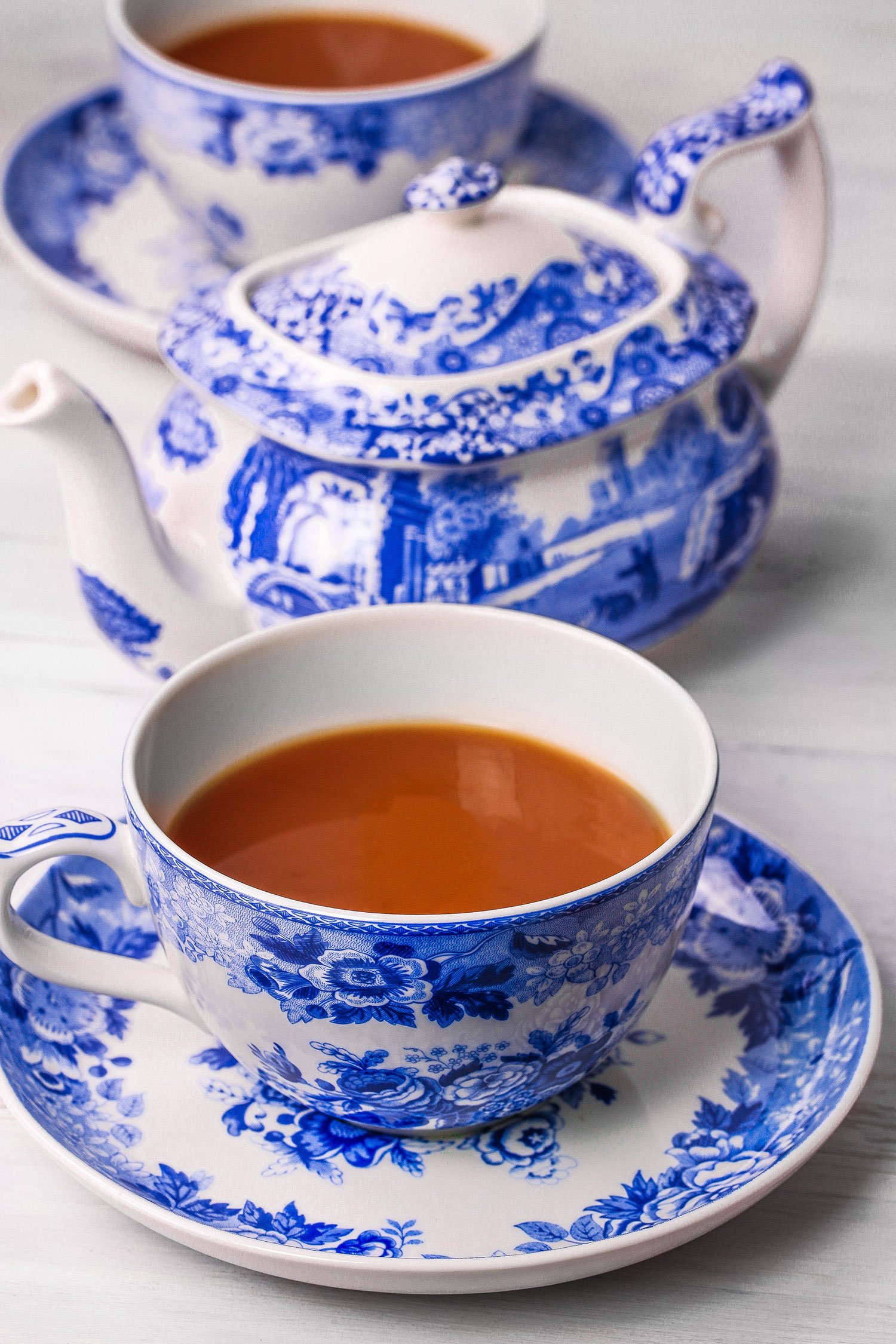 I'm celebrating afternoon tea week in collaboration with Spode by creating my very own homemade tarts, scones and sandwiches. I'm serving my vegan and gluten-free afternoon tea using their beautiful Blue Italian collection. I don't think I've ever owned tableware this pretty! The spread looked stunning on my white wooden dining table and I just couldn't wait to present it all to family.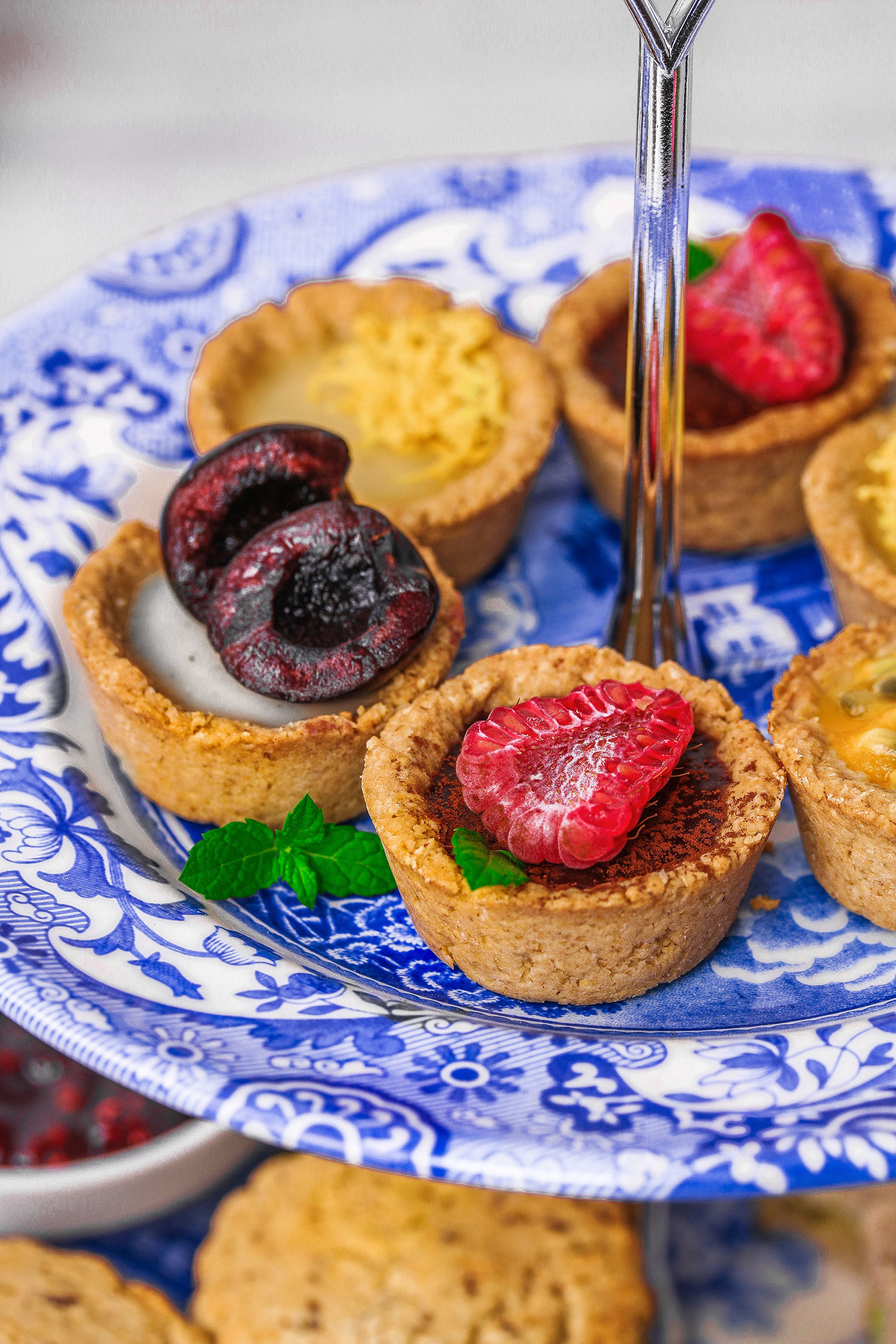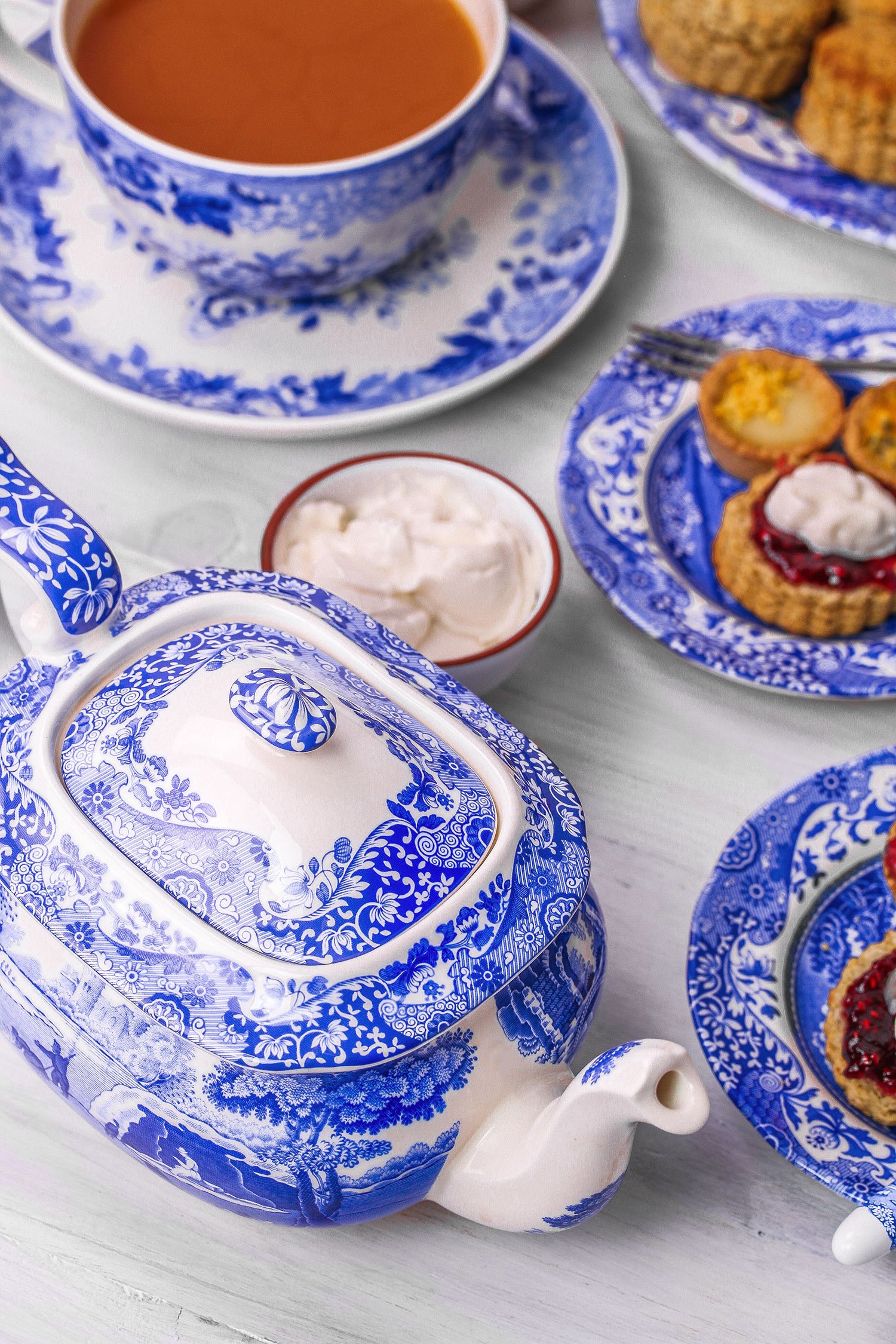 Spode were kind enough to send me a few items from their Blue Italian collection including the teapot, 2-tier cake stand, 6 inch tea plates, pastry forks as well as two of their Blue Roseto jumbo cup and saucer (perfect for a teaholic like me!) to help create the most elegant and stunning afternoon tea spread.
As the title of this post implies, all the afternoon tea recipes are vegan and gluten-free, but I also made them nut-free. I haven't found any places local to me that create vegan, gluten-free and nut-free afternoon tea, so I wanted to create recipes that cater for all. That way no one has to miss out on any of the afternoon tea fun!
I was so pleased with the way the scones turned out. I've been playing around with a scone recipe for a while now and was so thrilled when I finally perfected it. They taste so delicious with raspberry jam and I topped them with oat creme fraiche instead of cream just to make them a little lighter.
I also created three types of mini tarts with the same base and the same filling ingredients. I just changed a couple of the flavour ingredients around to create more of a variety. Which would you go for first – lemon, chocolate or coconut?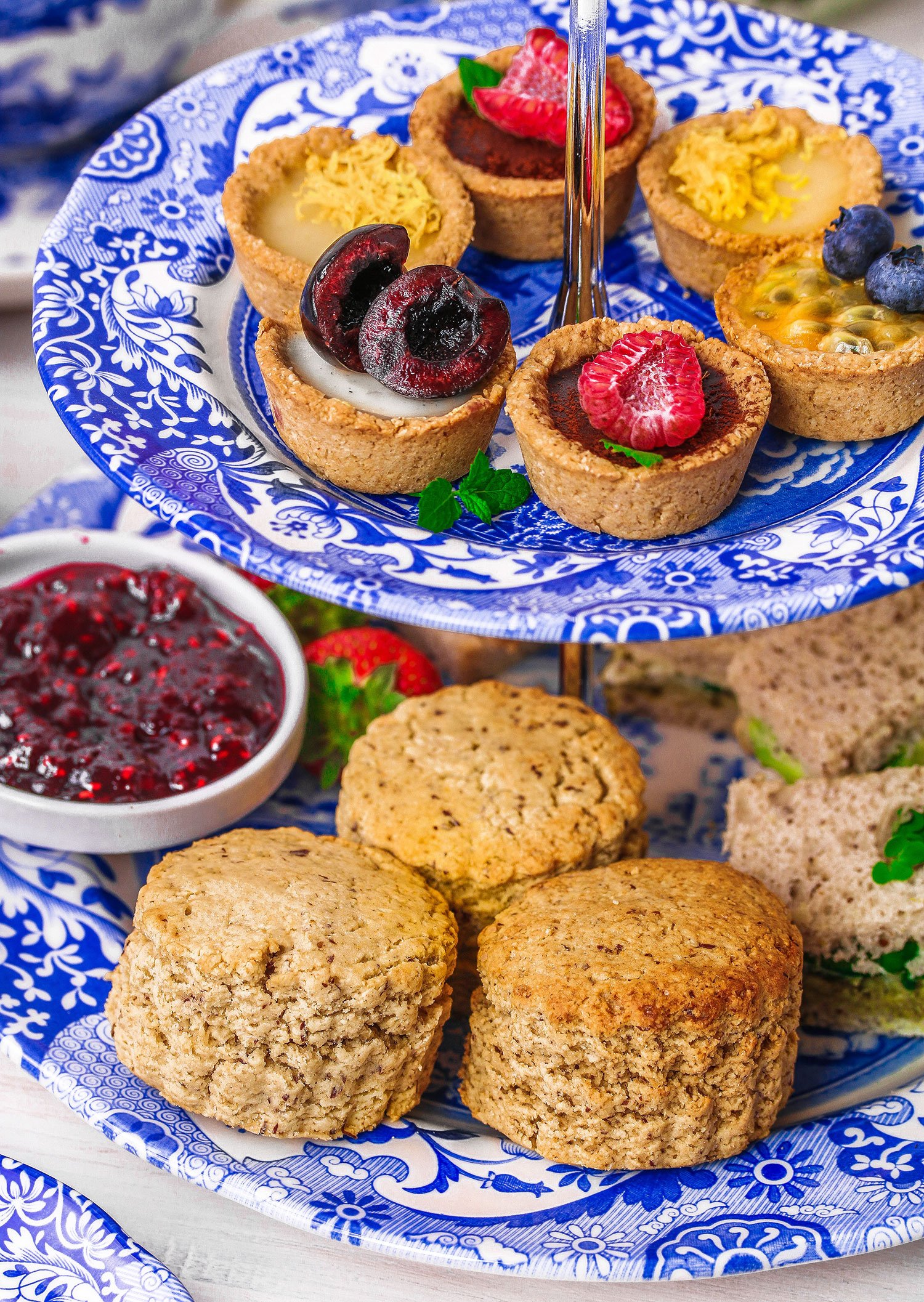 ---
Vegan & Gluten-free Afternoon Tea
Lemon, coconut & chocolate tartlets (makes 12)
Base
135g (1 1/4 cup) gluten-free oat flour. Make your own by simply blending the oats in your blender/food processor.
1/4 tsp salt
2 1/2 tbsp coconut oil, melted
2 1/2 tbsp maple syrup
Lemon filling
100ml full fat coconut milk
1/4 tsp agar agar powder
1/4 tbsp cornflour
1-2 tbsp maple syrup
2 tbsp fresh lemon juice
1/2 tsp lemon zest
Pinch of turmeric for colour – optional
Coconut filling
100ml full fat coconut milk
1/4 tsp agar agar powder
1/4 tbsp cornflour
1-2 tbsp maple syrup
1/4 tsp vanilla paste or extract
Chocolate filling
100ml full fat coconut milk
1/4 tsp agar agar powder
1/4 tbsp cornflour
1-2 tbsp maple syrup
1 tbsp cocoa
Method
Preheat your oven to 180C/160C fan/350F.
Mix the oat flour and salt in a bowl, then pour in the coconut oil and maple syrup. Mix to combine then press into mini tart moulds. Bake for 8 minutes, then leave to cool completely.
To make the lemon tarts – pour the coconut milk in a small sauce pan along with the agar agar and cornflour. Mix well making sure most of the agar and cornstarch has dissolved before heating the pan. Cook on a medium heat, stirring continuously and take off the heat just before the milk starts to boil. Mix in the lemon juice, lemon zest and a pinch of turmeric. Leave to cool slightly (10-15 minutes) before pouring into the baked tart cases. Transfer to the fridge to set.
To make the coconut tarts – repeat the same process above, but add the vanilla extract at the end instead of the lemon, lemon zest and turmeric.
To make the chocolate tarts – repeat the same process above, but add the cocoa powder at the beginning when you add the agar and cornstarch.
---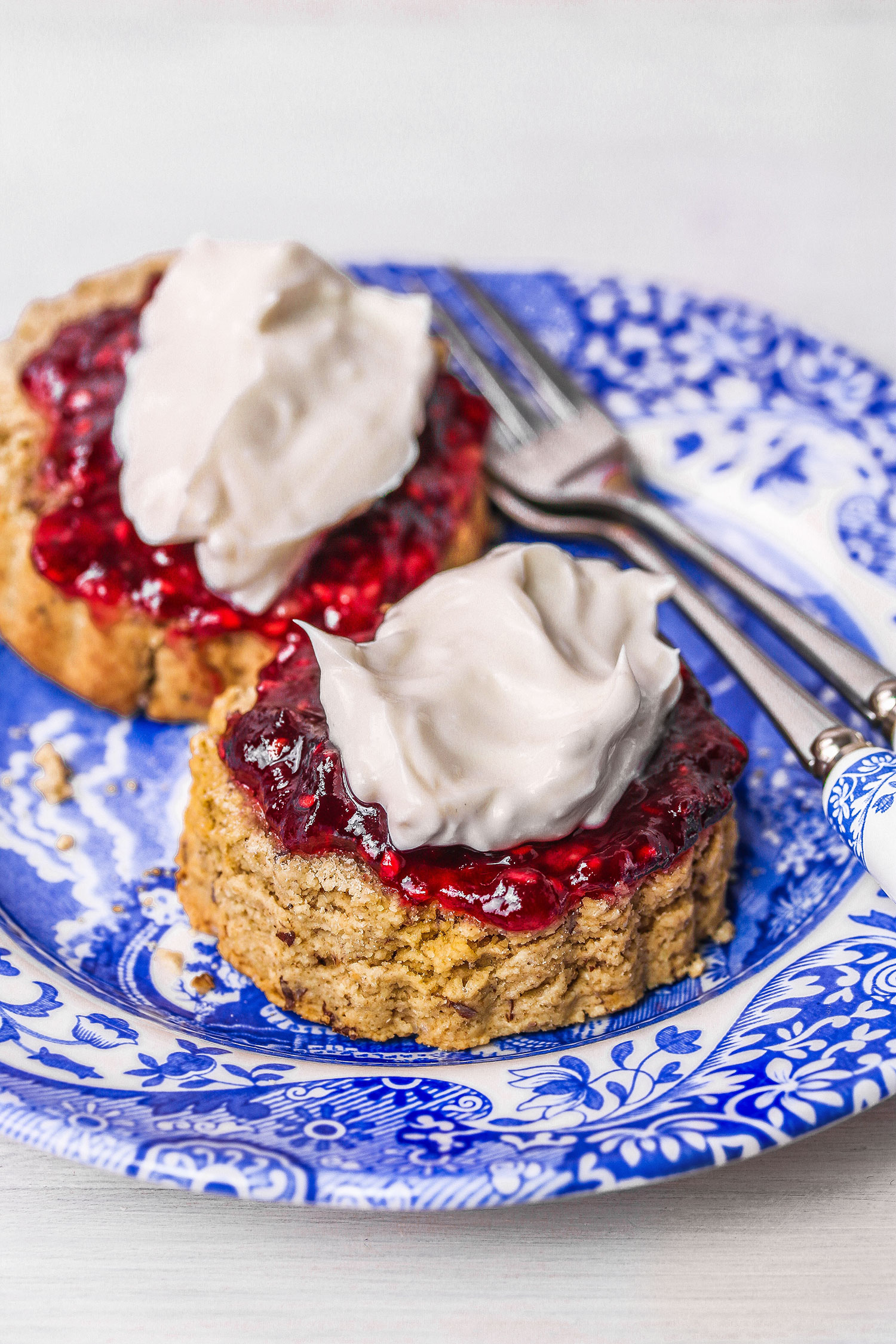 ---
Vegan & Gluten-free Scones (makes 5)
120g self raising gluten-free flour
100g oat flour
1 tsp baking powder
1/2 tsp salt
2 tbsp brown sugar
40g dairy-free spread.
5 tbsp milk of choice
1 flax egg – 1 tbsp milled flaxseed + 3 tbsp water. Mix in a small bowl and leave to set for 15 minutes
Method
Preheat your oven to 220C/200C fan/400F
Mix the flour, oat flour, baking powder and salt in a large bowl. Add the dairy-free spread and rub in with your fingers until the mix looks like fine crumbs. Stir in the sugar, then fold in the milk and flax egg. Kneed until you have a dough consistency.
Transfer the dough onto a sheet of baking paper and top with another sheet and roll out to a thickness of 3cm. Use a small cutter to cut out the scones, place on a baking sheet lined with parchment paper and bake for 15 minutes.
Leave to cool completely before slicing. Serve warm with jam and oat creme fraiche.
Enjoy!
---

Thanks to Spode for sponsoring this post. Commissioned posts is how I'm able to continue working on the blog and creating recipes and recipe videos for you. As always, all opinions are my own.