Vegan Chocolate Orange Pancakes
Rich and indulgent yet not too sweet or heavy – these vegan chocolate orange pancakes are the perfect Veganuray brunch!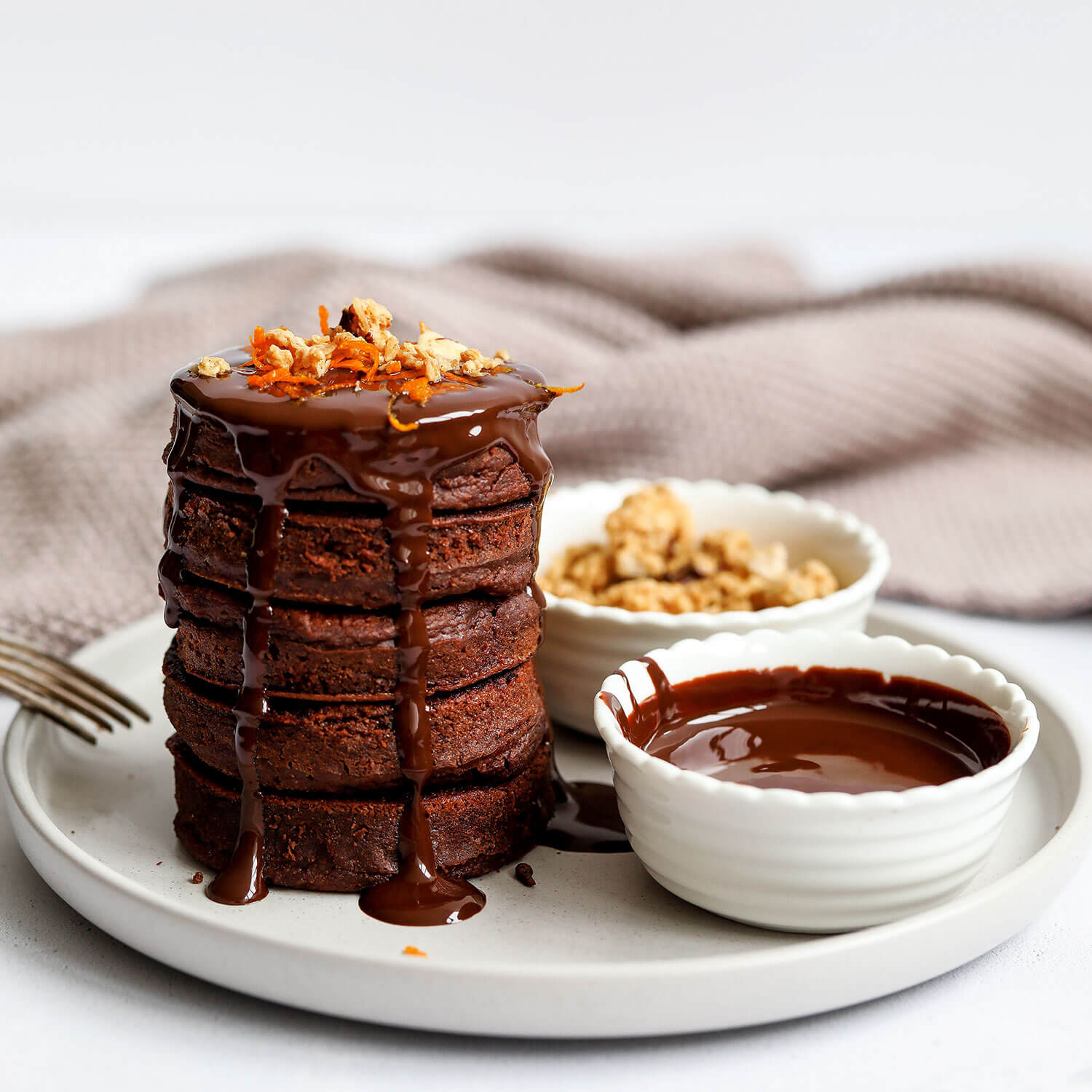 I haven't made pancakes in the longest time! Longer than I would like to admit. I usually only make them on special occasions like as a special treat on someone's birthday or on a weekend if I wake up nice and early, but the truth is pancakes can (and should!) be enjoyed often and so I'm taking it upon myself to increase my pancake intake, because they're too damn delicious not to be enjoyed on a regular basis!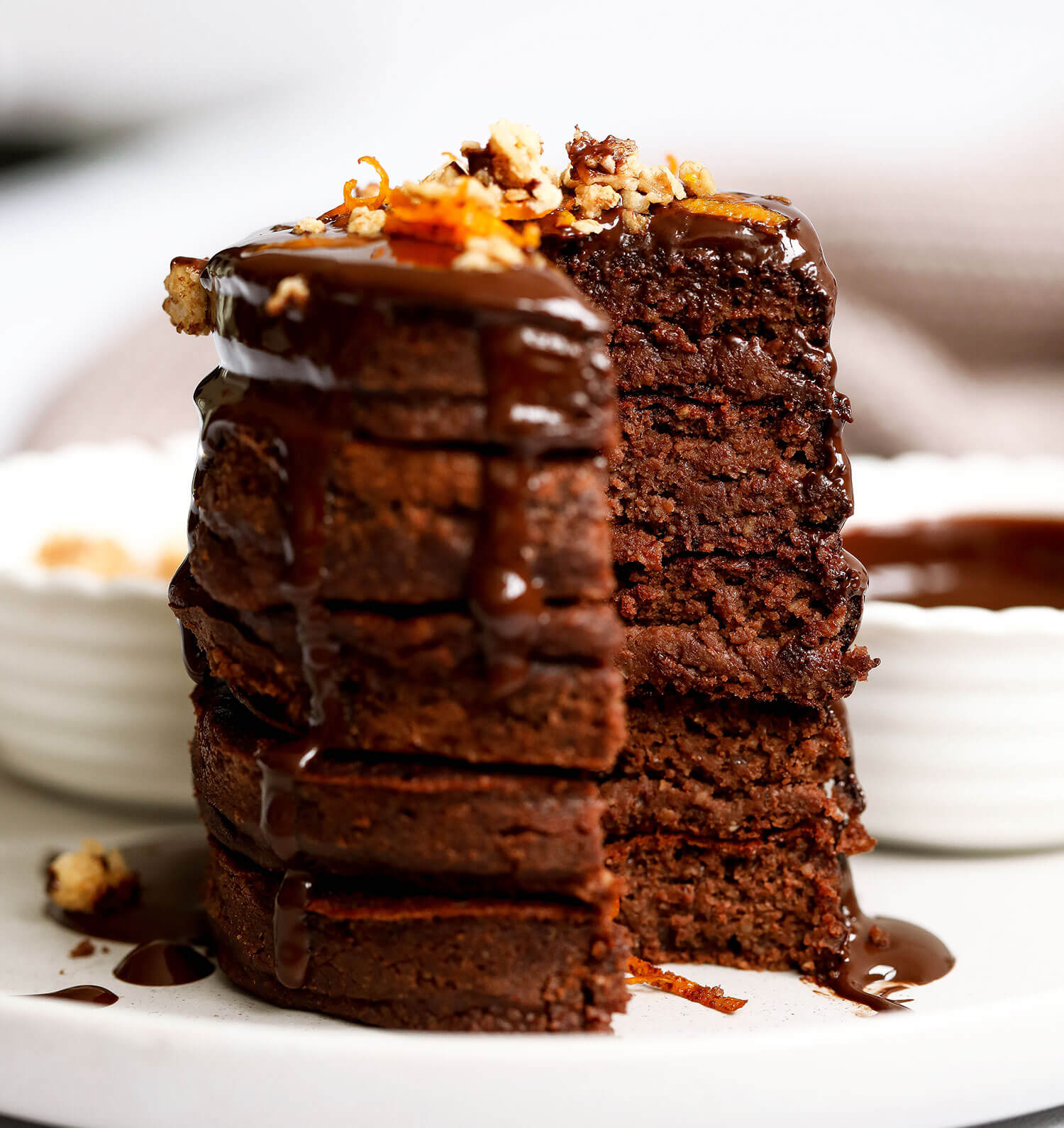 To make the batter super chocolatey with a hint of orange, I'm using Whittard's orange flavoured hot chocolate. It's completely vegan as is a few of their other hot chocolate flavours. Click here to see the full range of their vegan hot chocolates.
Whittard challenged me to create a recipe using one of their vegan hot chocolates to show how versatile hot chocolate mixes can be and that they can be used for a lot more than making hot chocolate. They also work very in well in baking as a substitution for cocoa.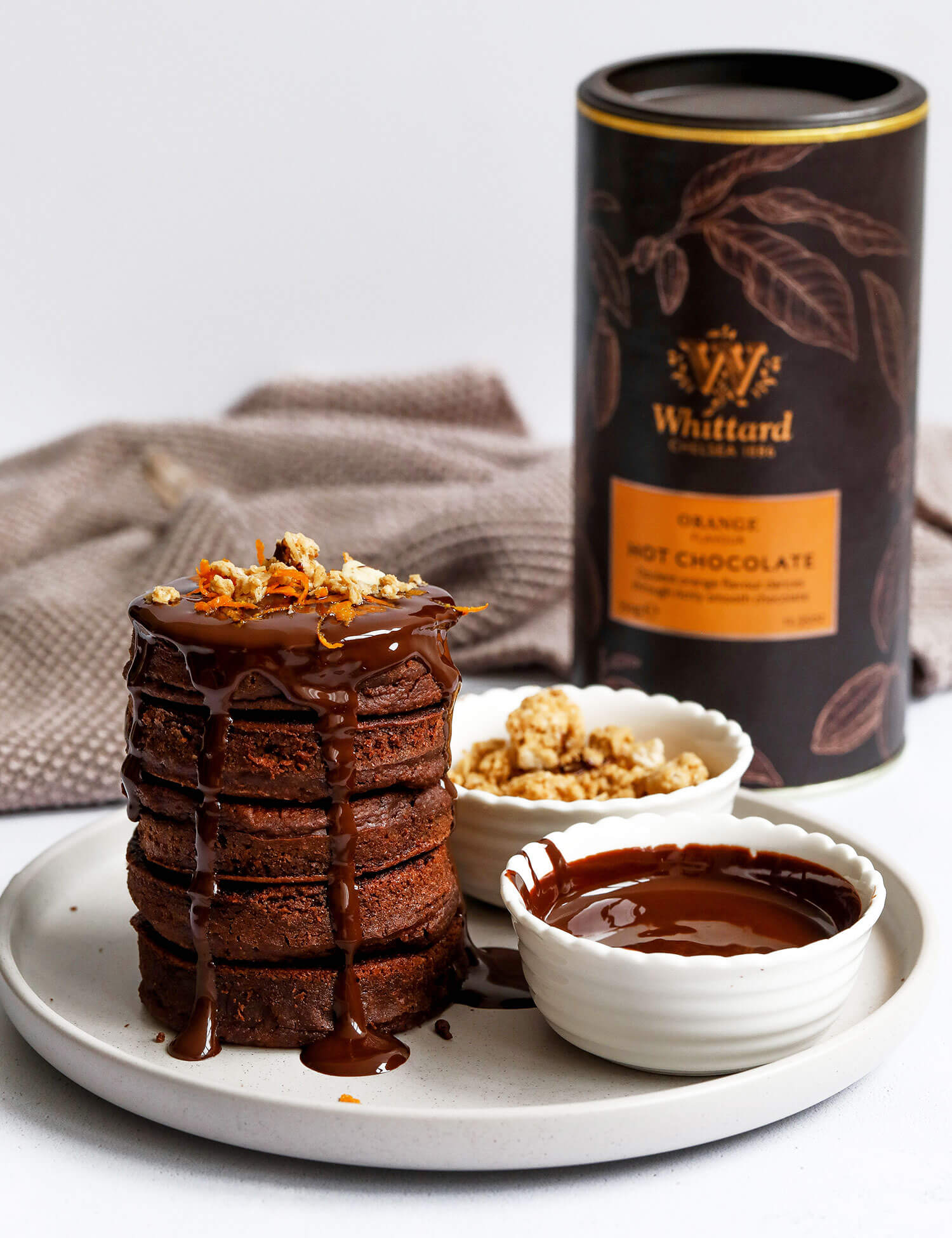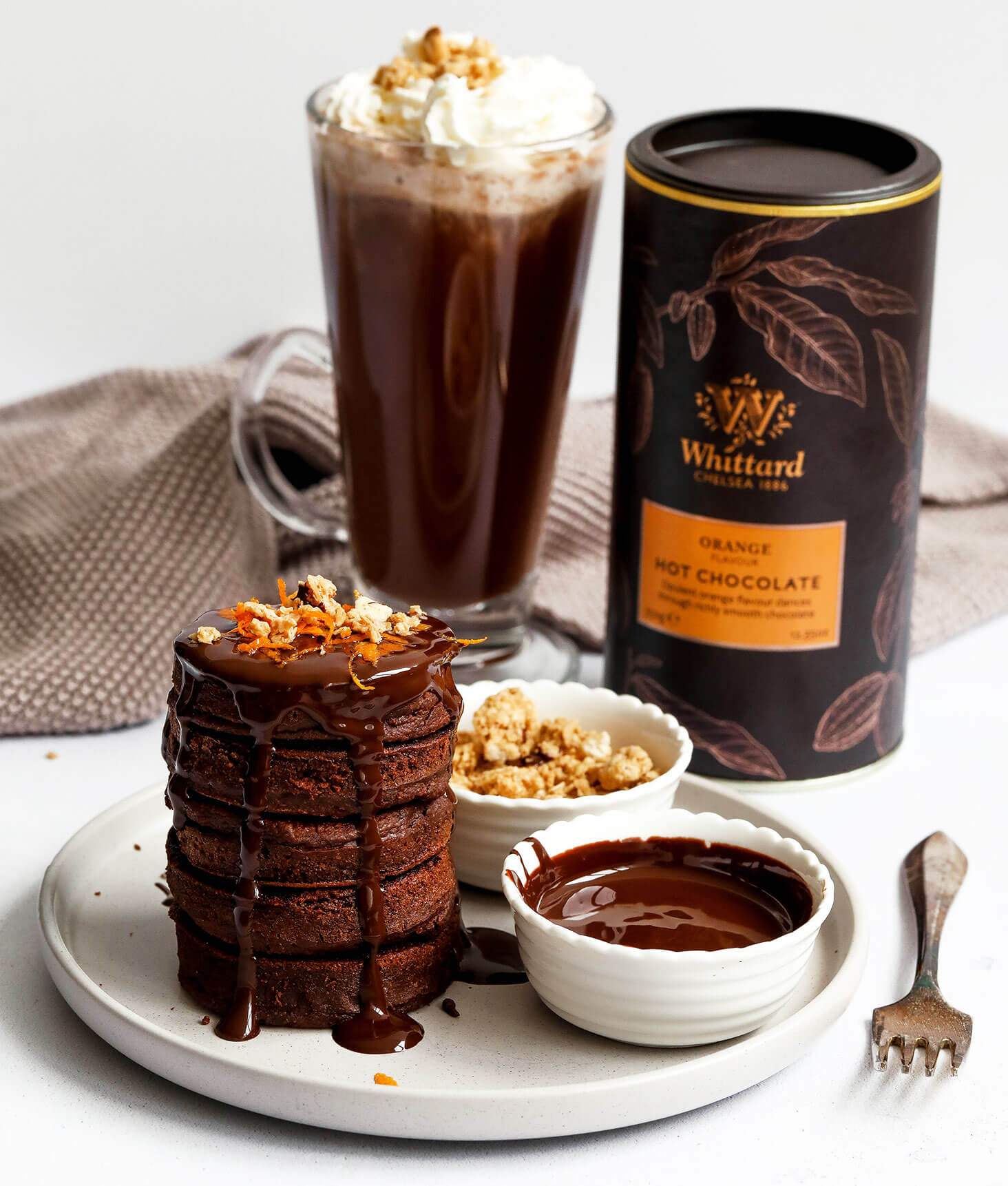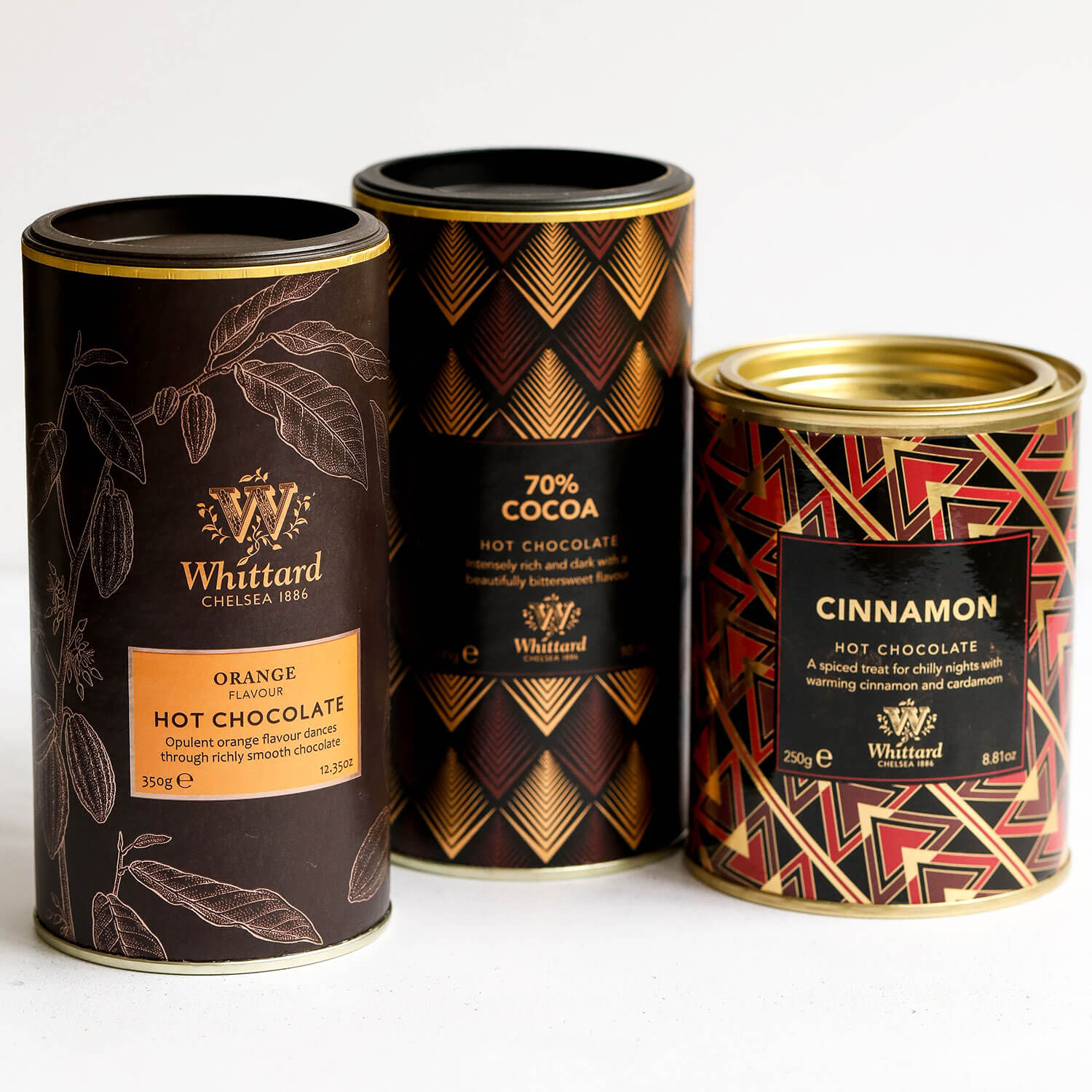 Since their hot chocolate mixes are already sweetened, I didn't end up having to add any sugar or extra sweetener. And because the one I used in this recipe is so well flavoured with chocolate and orange, I didn't need to add any cocoa or orange extract, juice or zest. The taste of the chocolate and orange came through nicely and wasn't too overpowering.
These pancakes are so tasty, but not too sweet. Made healthier with the use of oats instead of plain flour. They're completely vegan and can easily be made gluten-free by making sure you use gluten-free oats. They would be perfect for Valentines to surprise your special someone with, because let's be honest, there's no better way to show how much someone means to you than with chocolate! It would also be an indulgent way to celebrate pancake day next month. Chocolate orange is so much more exciting than plain vanilla pancakes 😉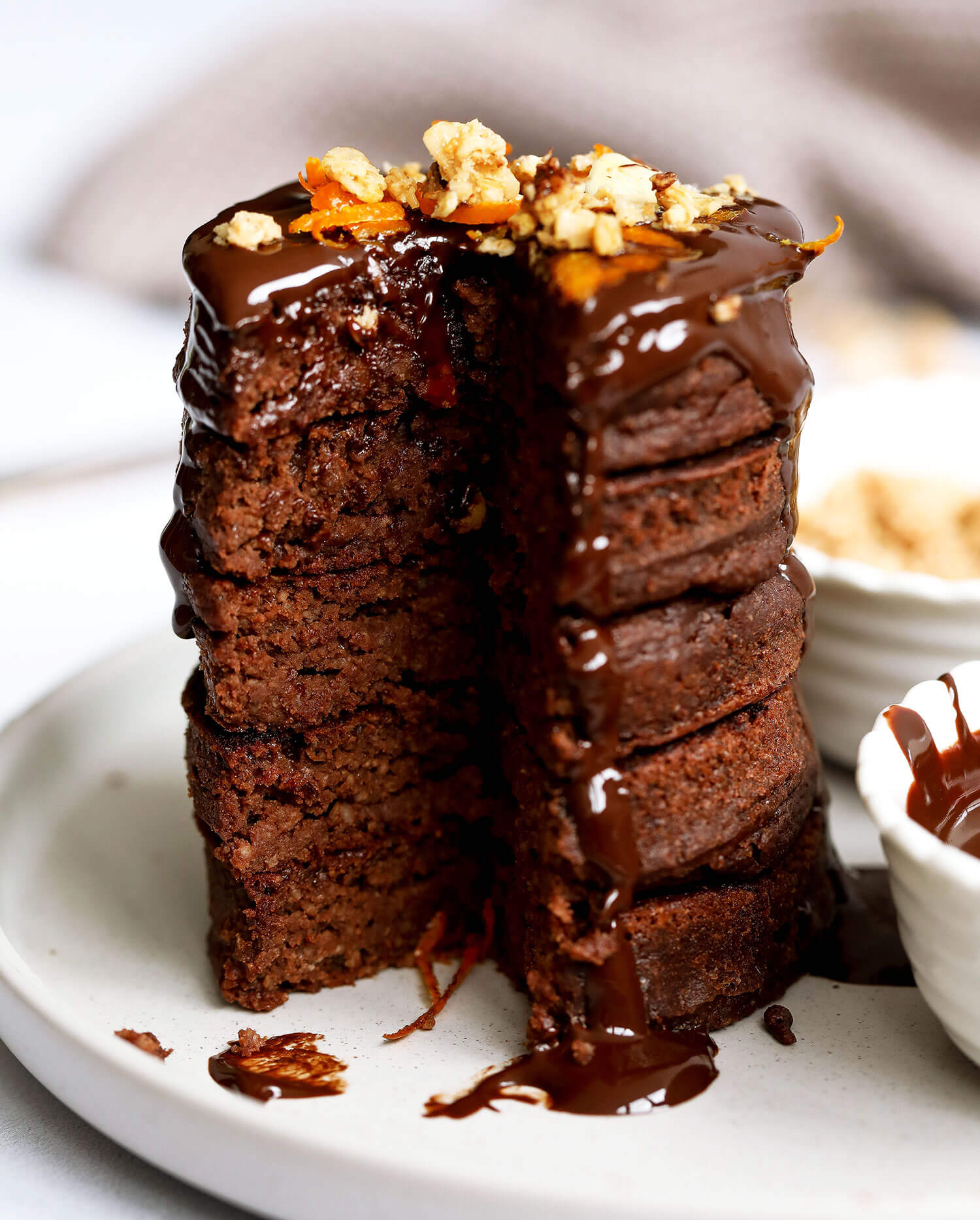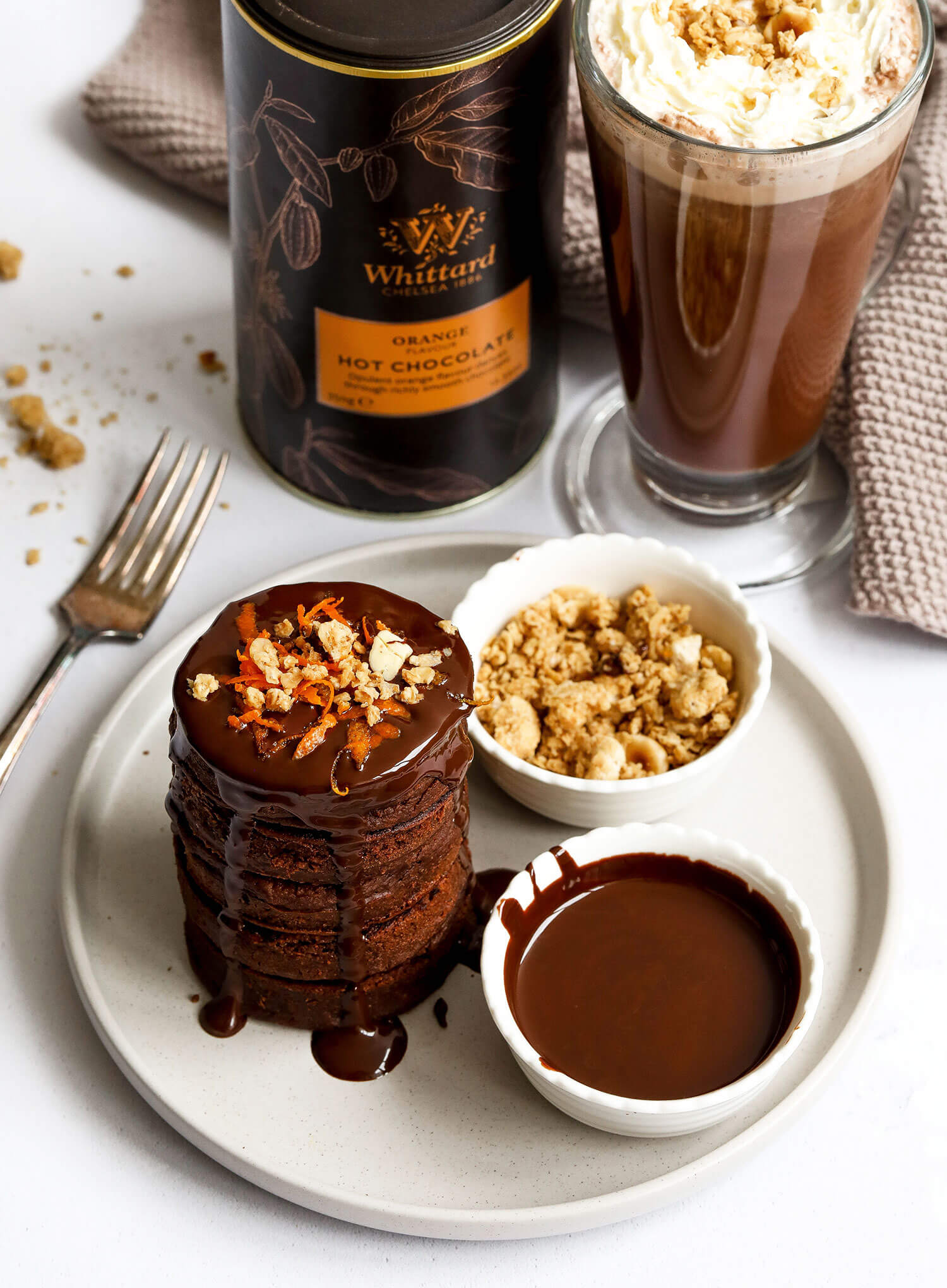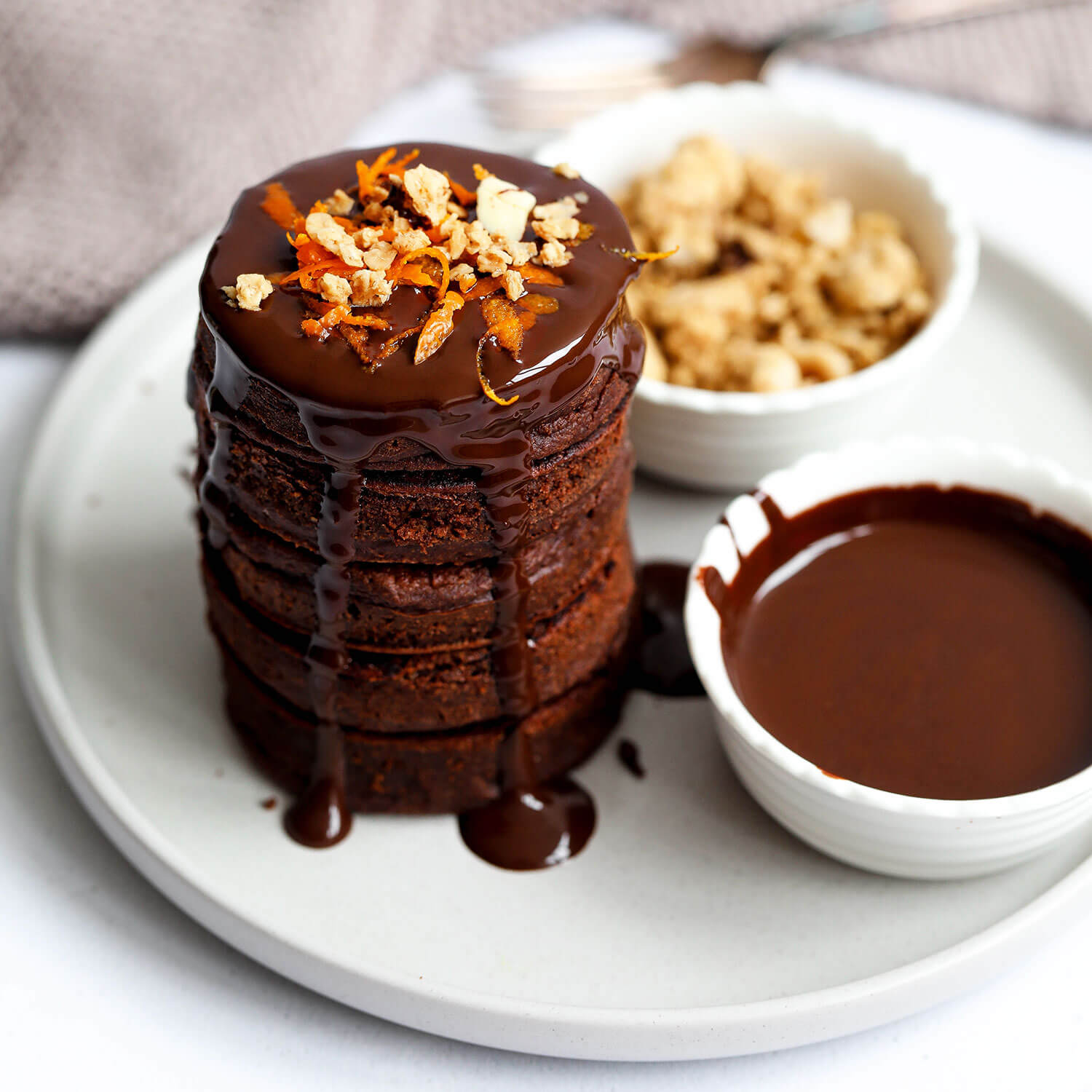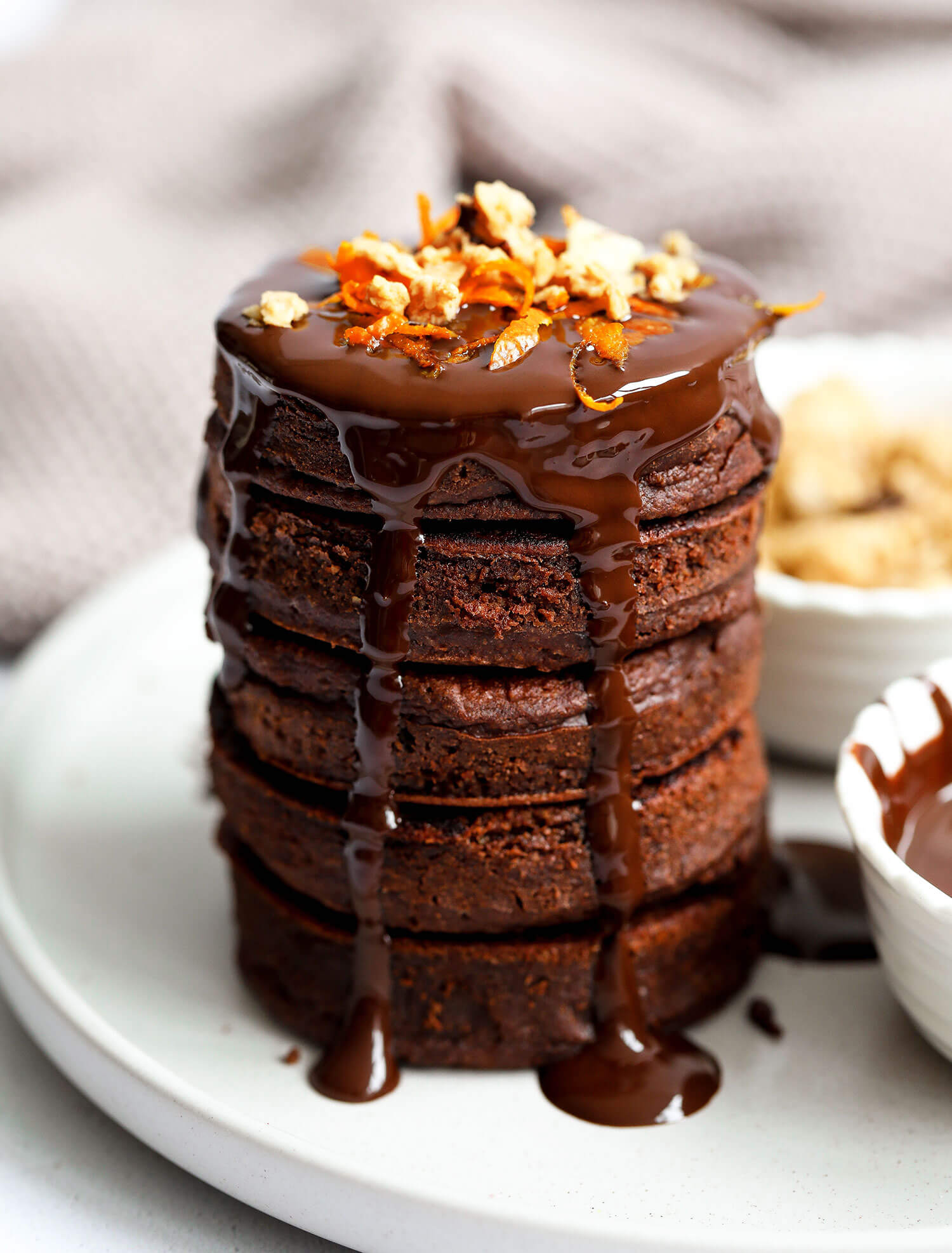 ---
Vegan Chocolate Orange Pancakes
Serves – 2-4
Ingredients
110g oat flour – rolled oats blended into a flour in the food processor. Use gluten-free flour if allergic/intolerant to gluten.
70g Whittard orange flavour hot chocolate
1 tsp baking powder
1/4 tsp salt
2 tbsp oil
1 flax egg – 1 tbsp milled flaxseed + 3 tbsp water
180ml milk of choice – I used oat milk
Method
Prepare the flax egg by mixing the milled flaxseed with the water in a small bowl. Leave to set for 10 minutes.
Mix the oat flour, hot chocolate mix, baking powder and salt in a large bowl.
Pour in the oil, milk and flax egg. Mix to combine.
Heat 1 tbsp coconut oil in a frying pan over a medium-heat. Make sure the pan is hot before you start cooking the pancakes.
Drop large spoonfuls onto the and cook for about 2-3 minutes, then flip and cook on the other side for about 1 more minute.
Optional – serve with melted dark chocolate for extra indulgence!
Enjoy!
---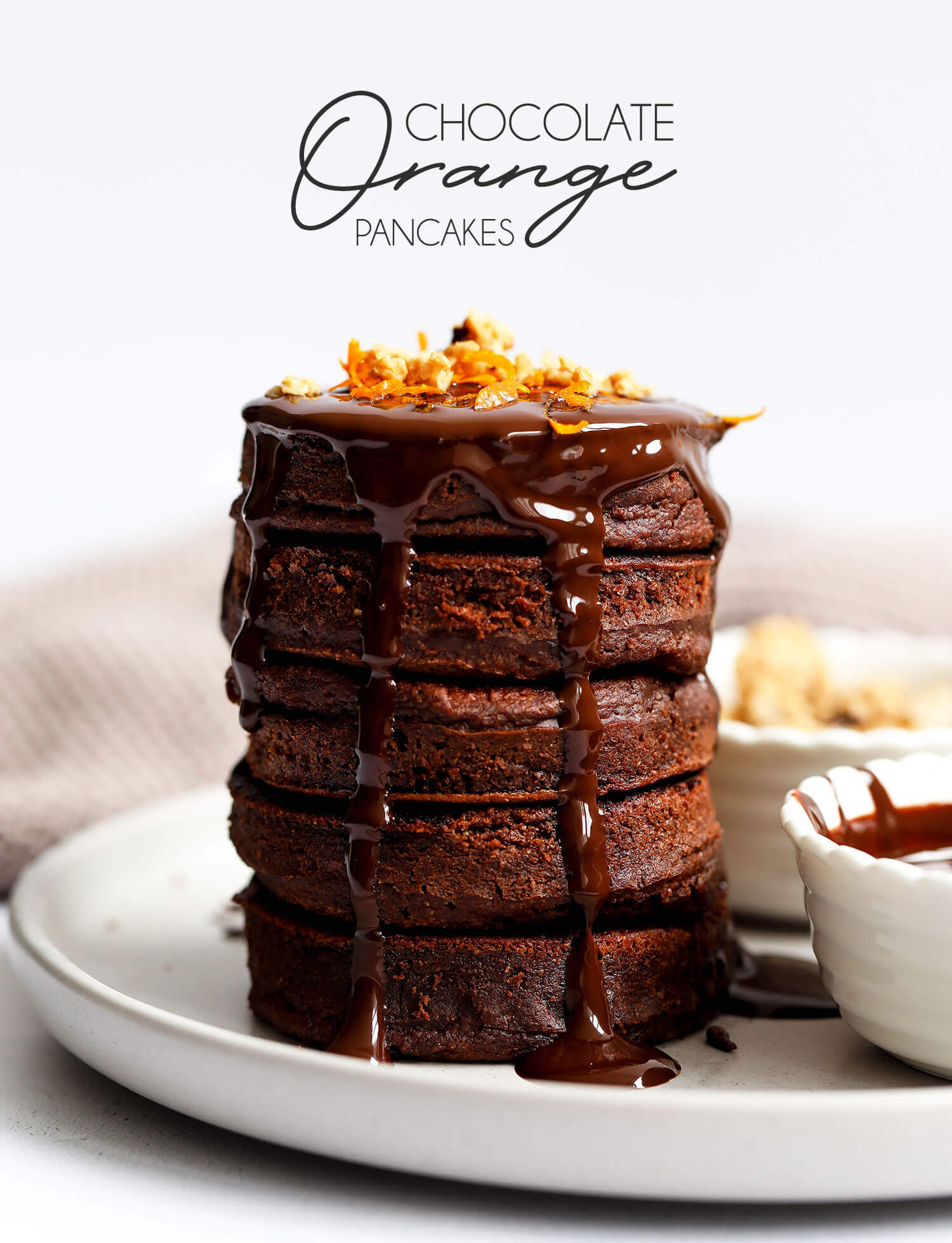 Share This Post