Vegan Butternut Squash Alfredo
In my eyes, any pasta-based dish is classed as a comfort food, especially during the colder autumn and winter months when I start to crave warm high-carb meals.
If you've ever had Alfredo pasta, you'll know that the sauce is not exactly made up of the healthiest of ingredients. Things like full fat milk, cream, butter and cheese don't exactly scream the word 'health'. There is no doubt that it tastes delicious, creamy and indulgent (with those ingredients, how can it not be!), but if it's something that you want to enjoy on a regular basis (I for one could eat pasta all day everyday!) then perhaps a healthier alternative is exactly what we need.
My version of Alfredo pasta is much lower in fat and calories and much higher in protein, fibre and nutrients. It's also fully plant-based, vegan and gluten-free.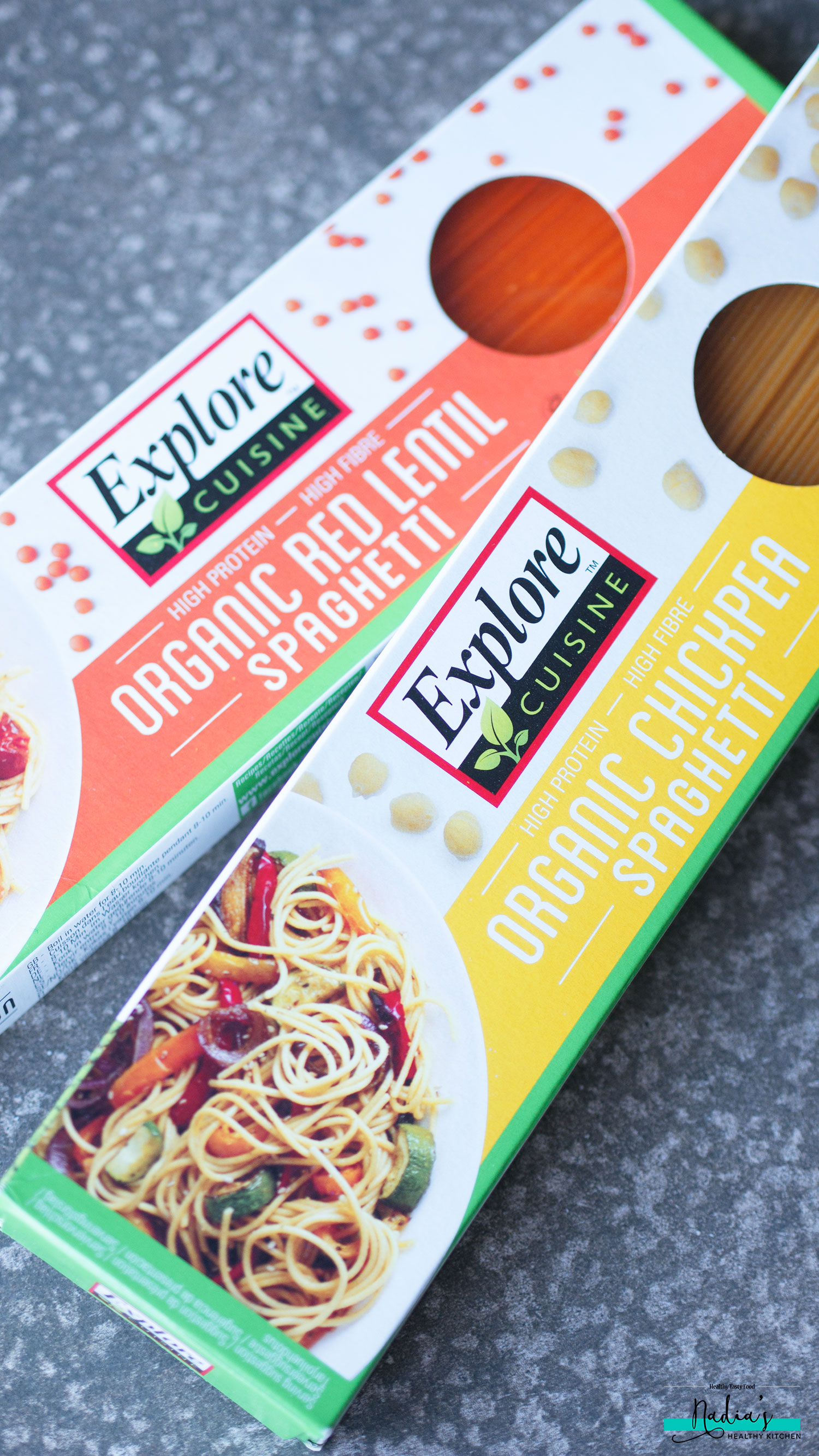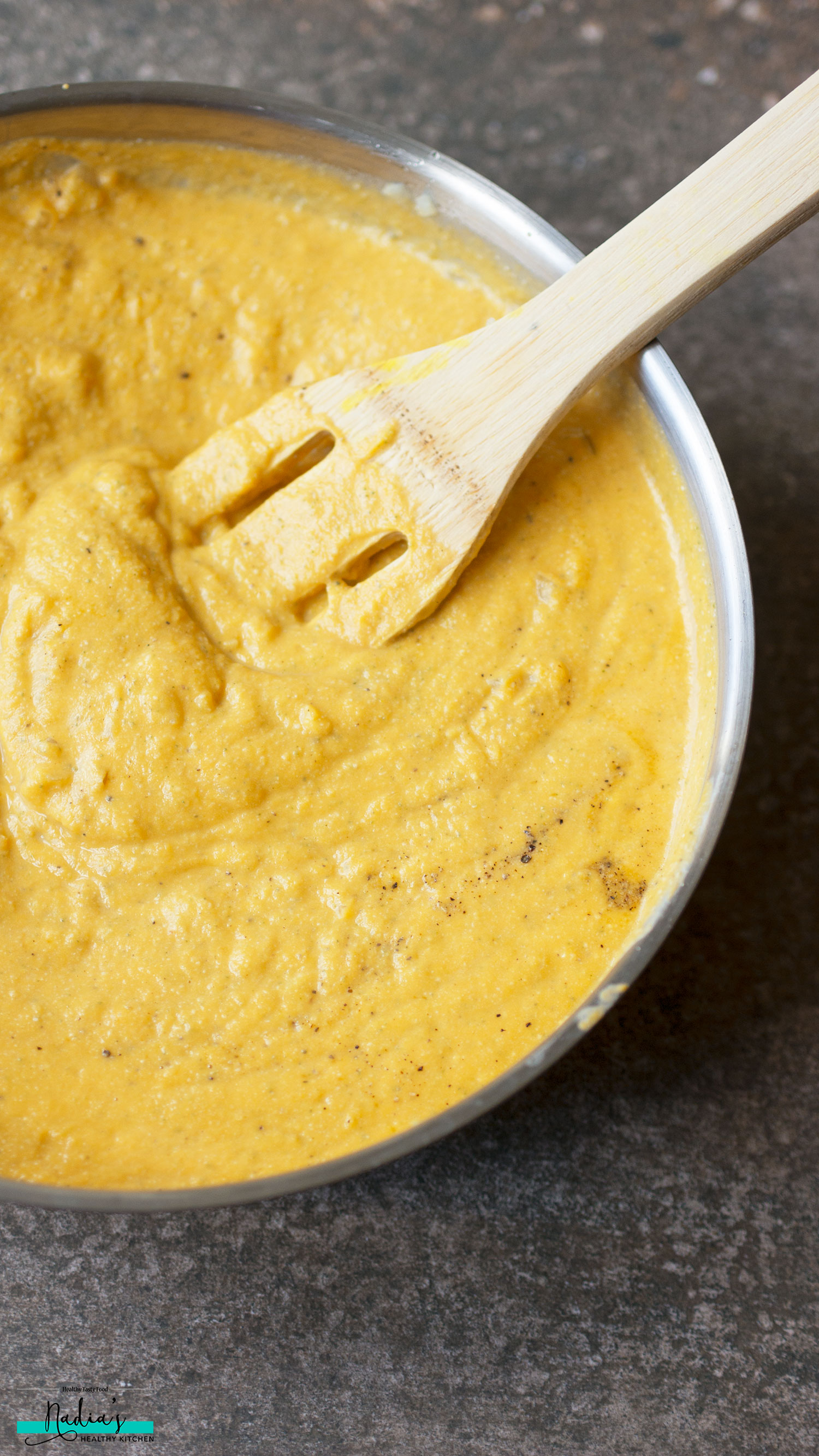 To make this dish higher in protein, I'm using Explore Cuisine's chickpea pasta (yes, pasta made out of chickpeas!), which is part of their new pulse pasta range. Organic and gluten-free with added pea protein to bump up the protein content. So even though this vegan butternut squash Alfredo looks like it's made up of carbs and only carbs, I'm using the spaghetti as a source of protein making it a more well-rounded meal.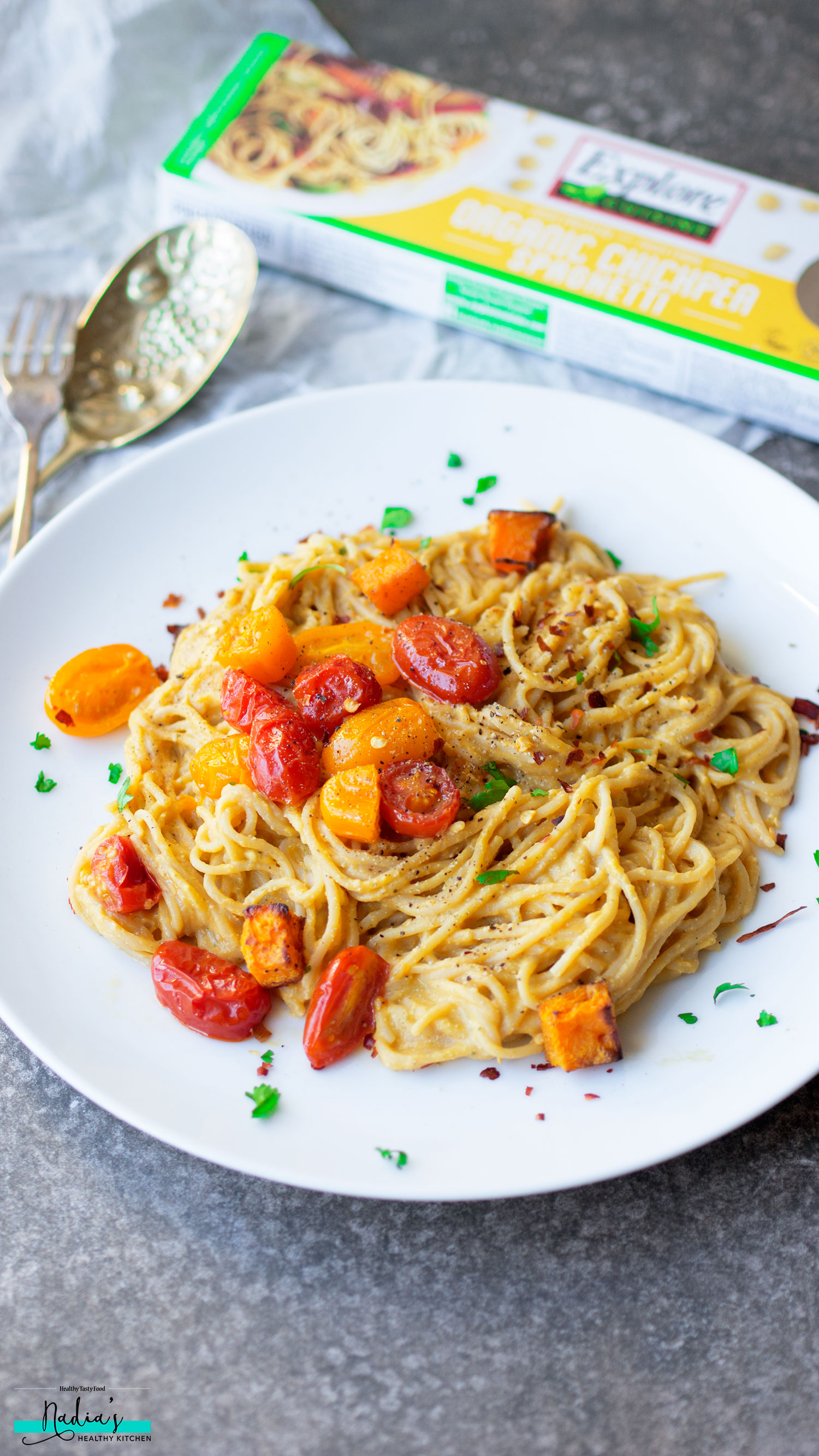 Explore Cuisine's chickpea pasta is only made out of 4 ingredients – organic chickpeas flour, organic brown rice flour, organic tapioca starch and organic pea protein. That's it! They also offer a selection of red and green lentil pastas and even lentil lasagne sheets!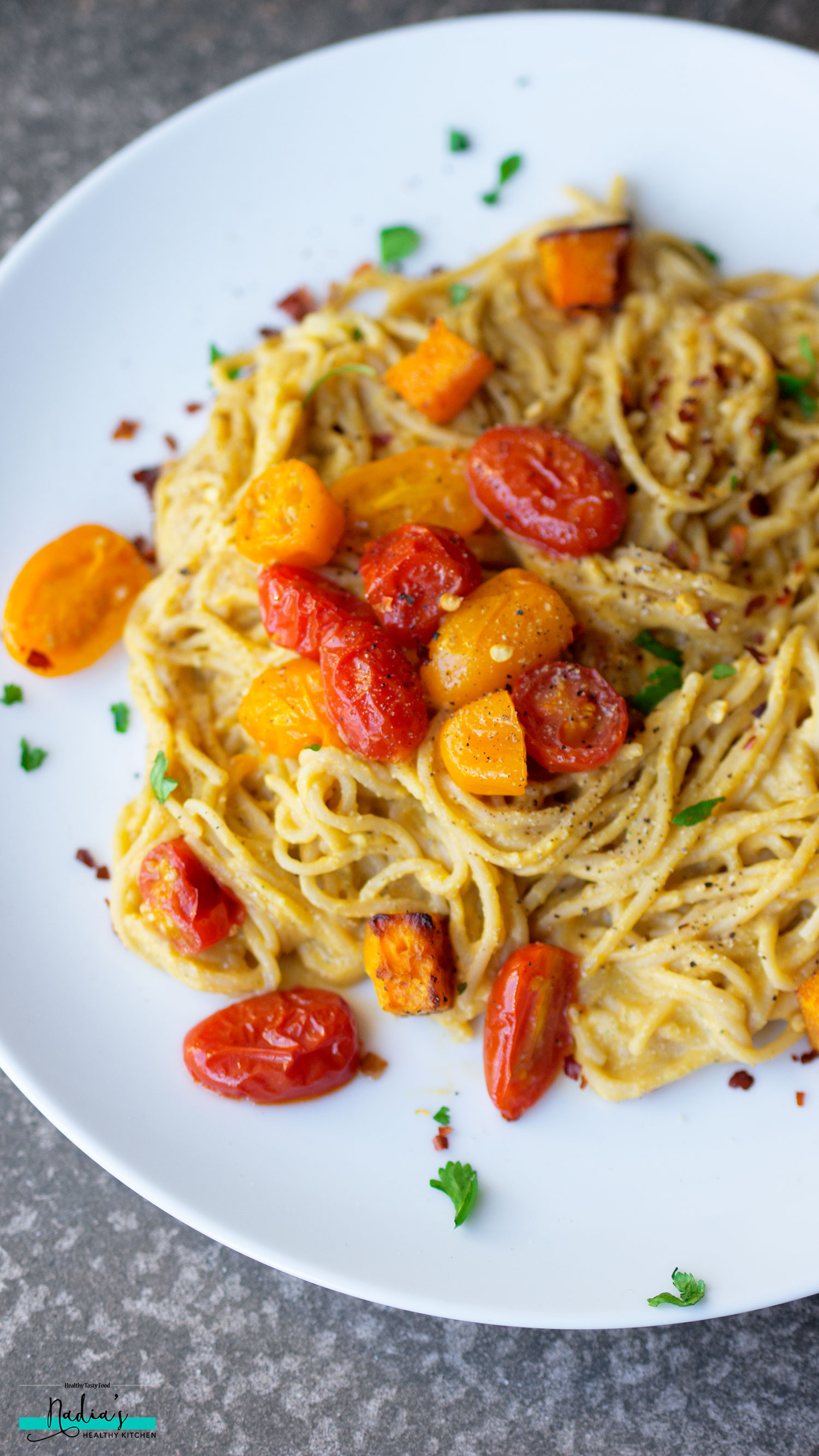 This vegan butternut squash Alfredo is perfect as a week day dinner idea for the whole family. Since you can't tell there's butternut squash in there (blended into a sauce with cashews and other wholesome ingredients!) as well as chickpeas, brown rice and pea protein in the spaghetti, this dish is perfect for fussy easters to make sure they're getting some of their five a day whilst laying off the saturated fat that comes with a regular Alfredo sauce.
You can always add some extra protein in the form of tofu, peas, lentils or even chicken if you like.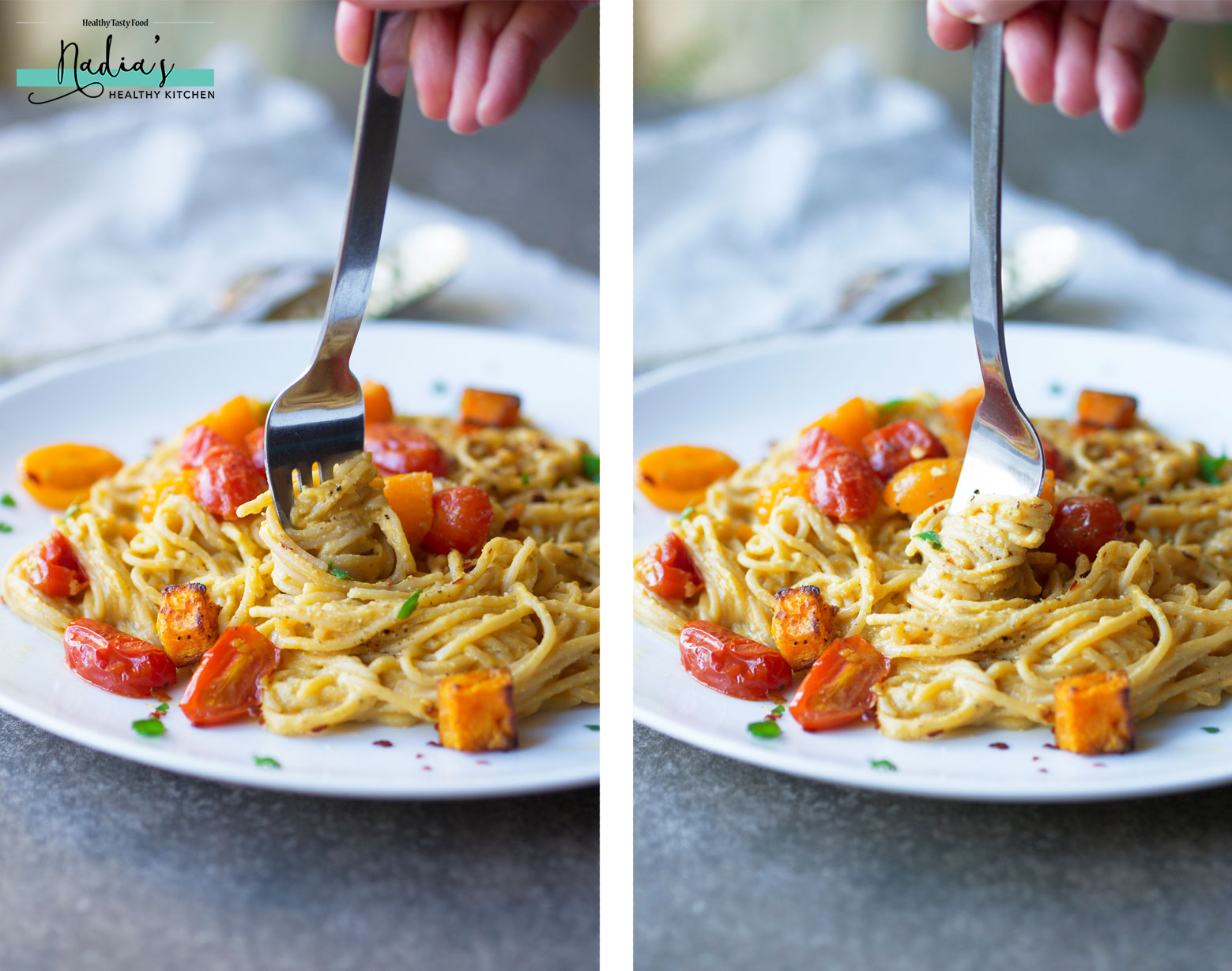 Vegan Butternut Squash Alfredo
2016-10-21 11:18:41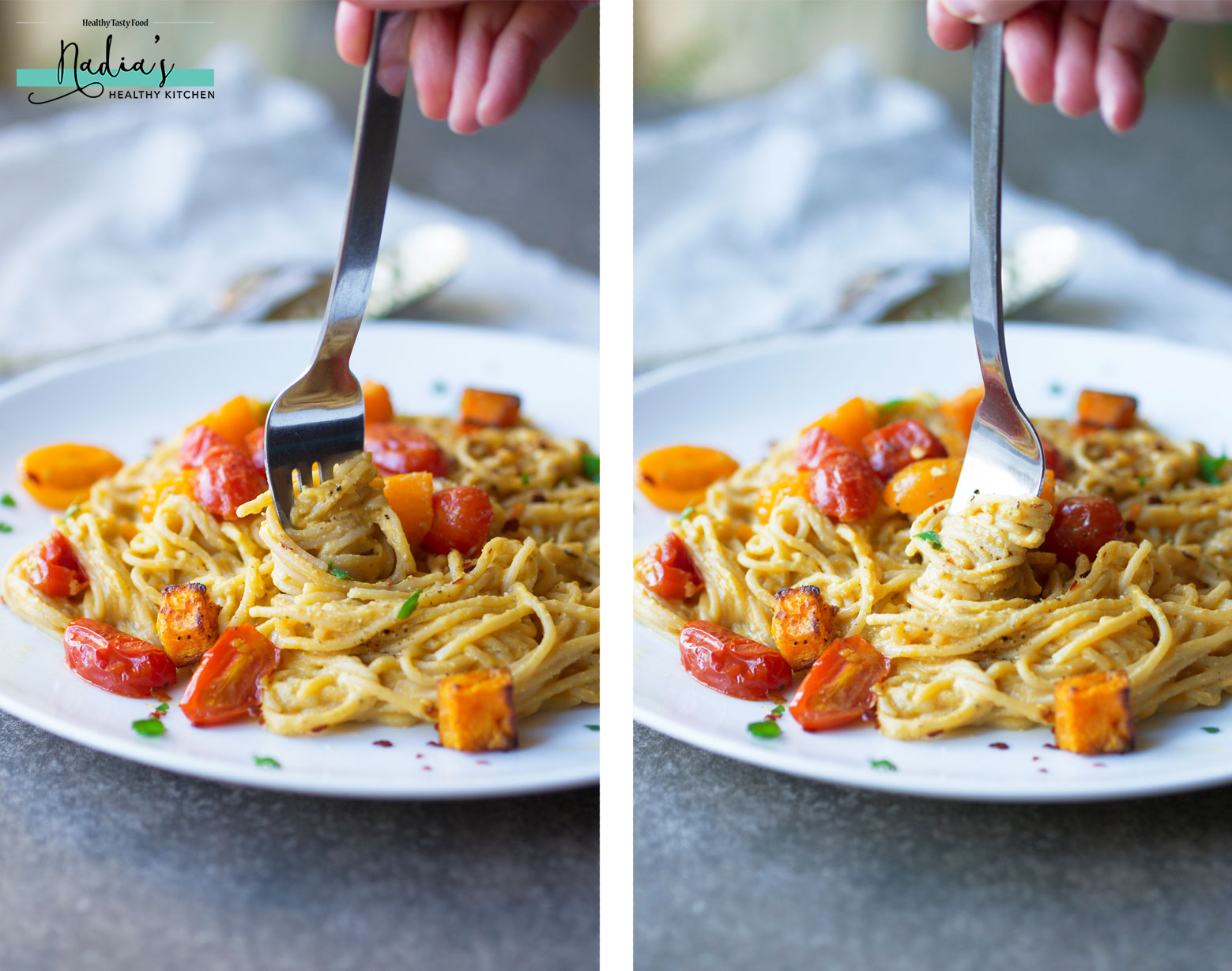 Serves 4
Ingredients
500g butternut squash, peeled and cubed.
50g raw unsalted cashews, soaked for 4 hours, then drained and rinsed
5 tbsp nutritional yeast
1/2 vegetable stock cube mixed in 170ml hot water
6-10 fresh sage leaves
1 tbsp dried thyme
Juice of 1/2 lemon
2 garlic cloves, crushed
1/2 onion, finely chopped
Salt and pepper to taste
250g baby tomatoes
1 pack (227g) Explore Cuisine chickpea spaghetti
For the Alfredo sauce
Chop the butternut squash into small cubes and steam/boil until soft. Drain and leave to cool.
While you're waiting for the butternut squash to cook, chop the baby tomatoes in half and arrange on a baking sheet. Sprinkle some salt, black pepper and drizzle with olive oil. Bake in a preheated oven at 200*C for 20 minutes.
Add the butternut squash to a food processor along with the cashews, nutritional yeast, sage, thyme, lemon juice and vegetable stock. Blend on high until completely smooth.
Heat 1 tbsp oil in a frying pan and sauté the chopped onions on a medium heat for 5 minutes.
Mix in the garlic and continue cooking for 1 minute.
Pour in the butternut squash sauce and mix. Leave to simmer on a very low heat while you cook the spaghetti
In the meantime, add the chickpea spaghetti to a large pan along with a pinch of salt and a drizzle of olive oil to prevent the spaghetti strands from sticking together. Cover with boiling water and give it a good stir. Bring to a boil, lower the heat and simmer for 8-10 minutes. Drain and rinse in cold water for a few seconds.
Return the spaghetti to the pan and pour over the sauce.
Serve with the roasted tomatoes and top with dried chilli flakes.
Enjoy!
Nadia's Healthy Kitchen https://nadiashealthykitchen.com/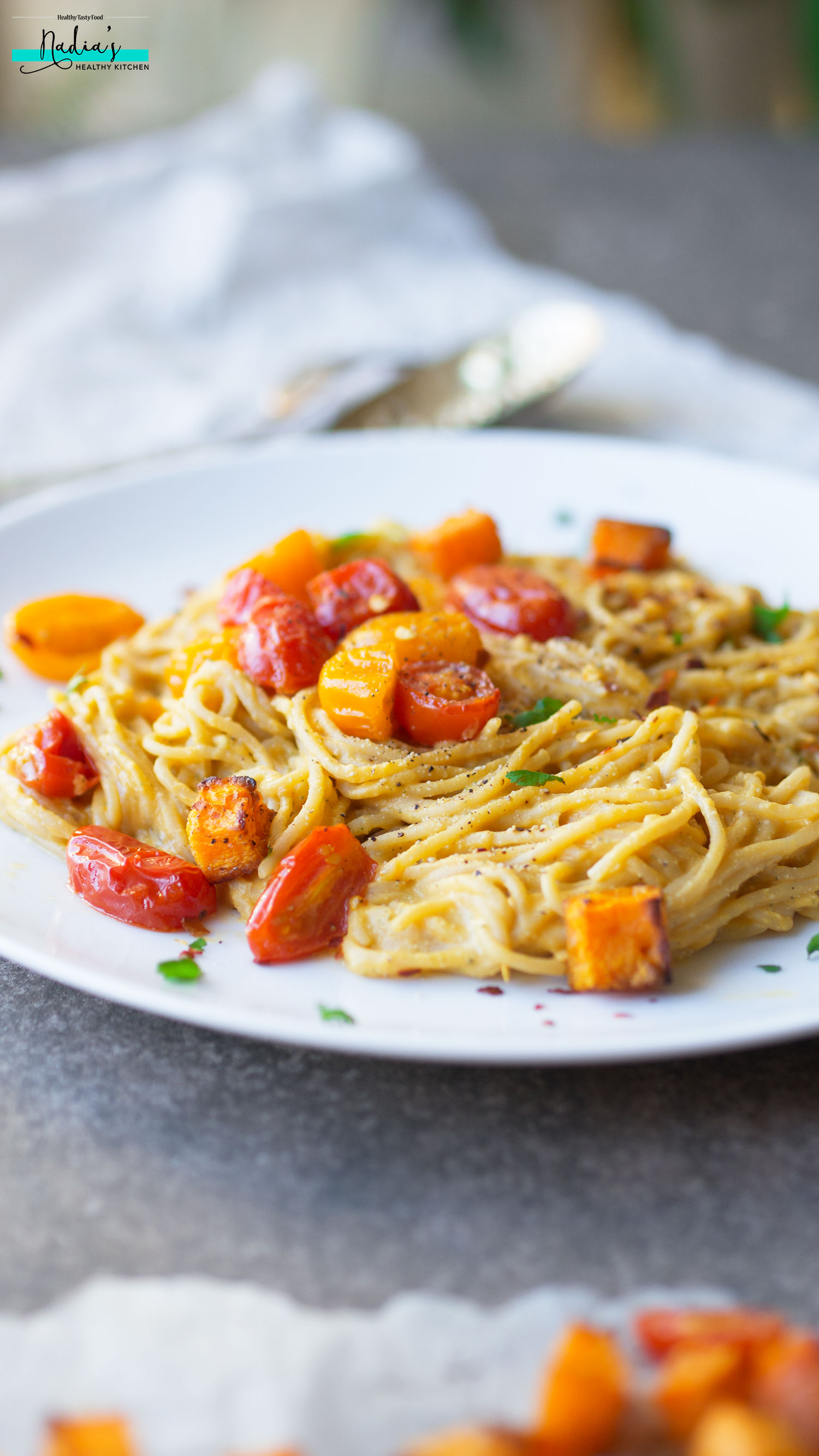 *This recipe was commissioned by Explore Cuisine; however, all opinions are my own.