Vegan Baklava Overnight Oats
A quick and easy breakfast that you can prepare in advance to enjoy on a busy morning or on the go.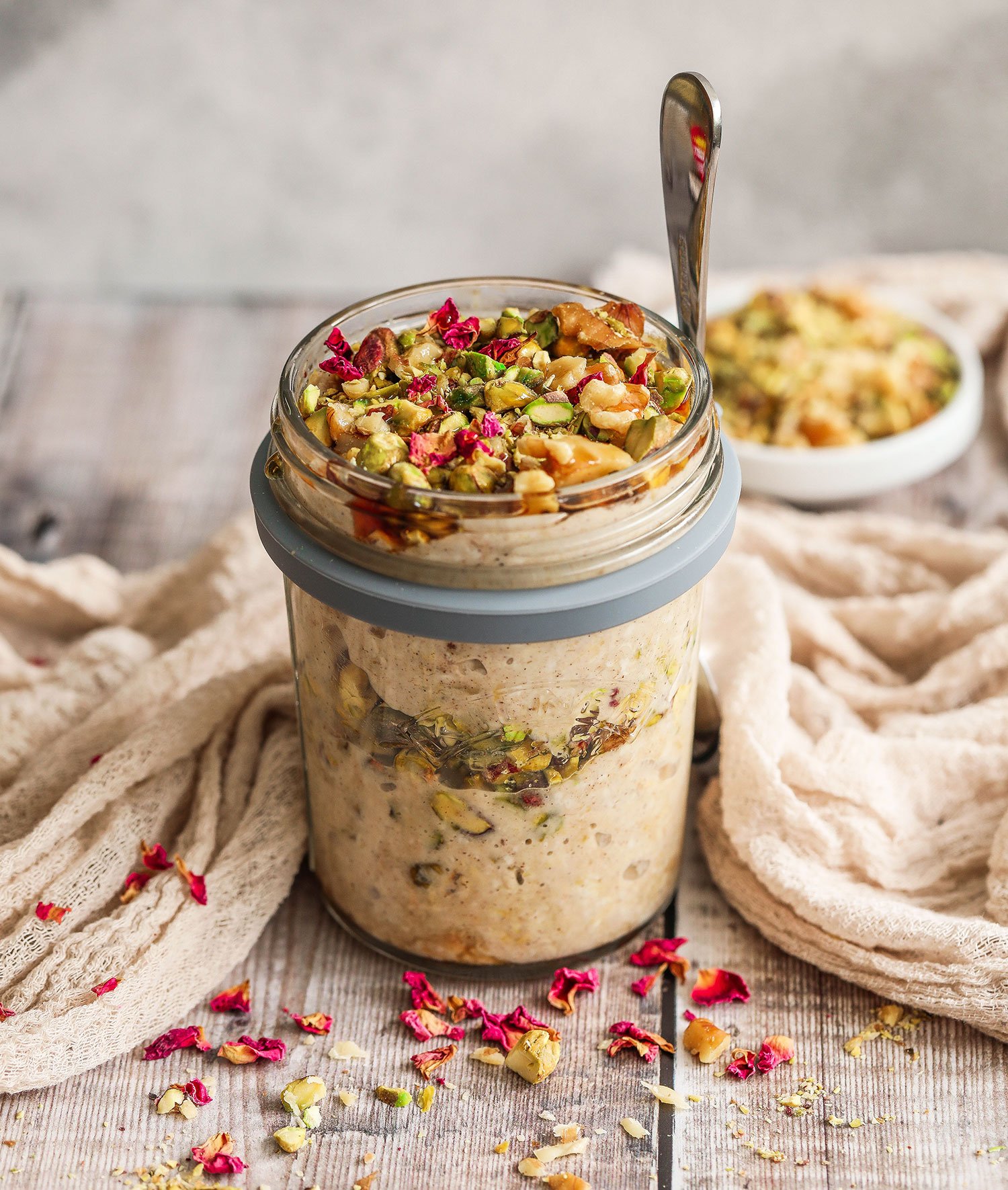 Baklava is one of the many Middle Eastern desserts I really miss from my childhood. Growing up in Iraq, we rarely had desserts and treats because they were considered a luxury, so we would only have them when we were guests at someone's house or during special occasions. Because they were such a rare treat, when we did have them, we savoured every bite because we didn't know when we would be getting another treat.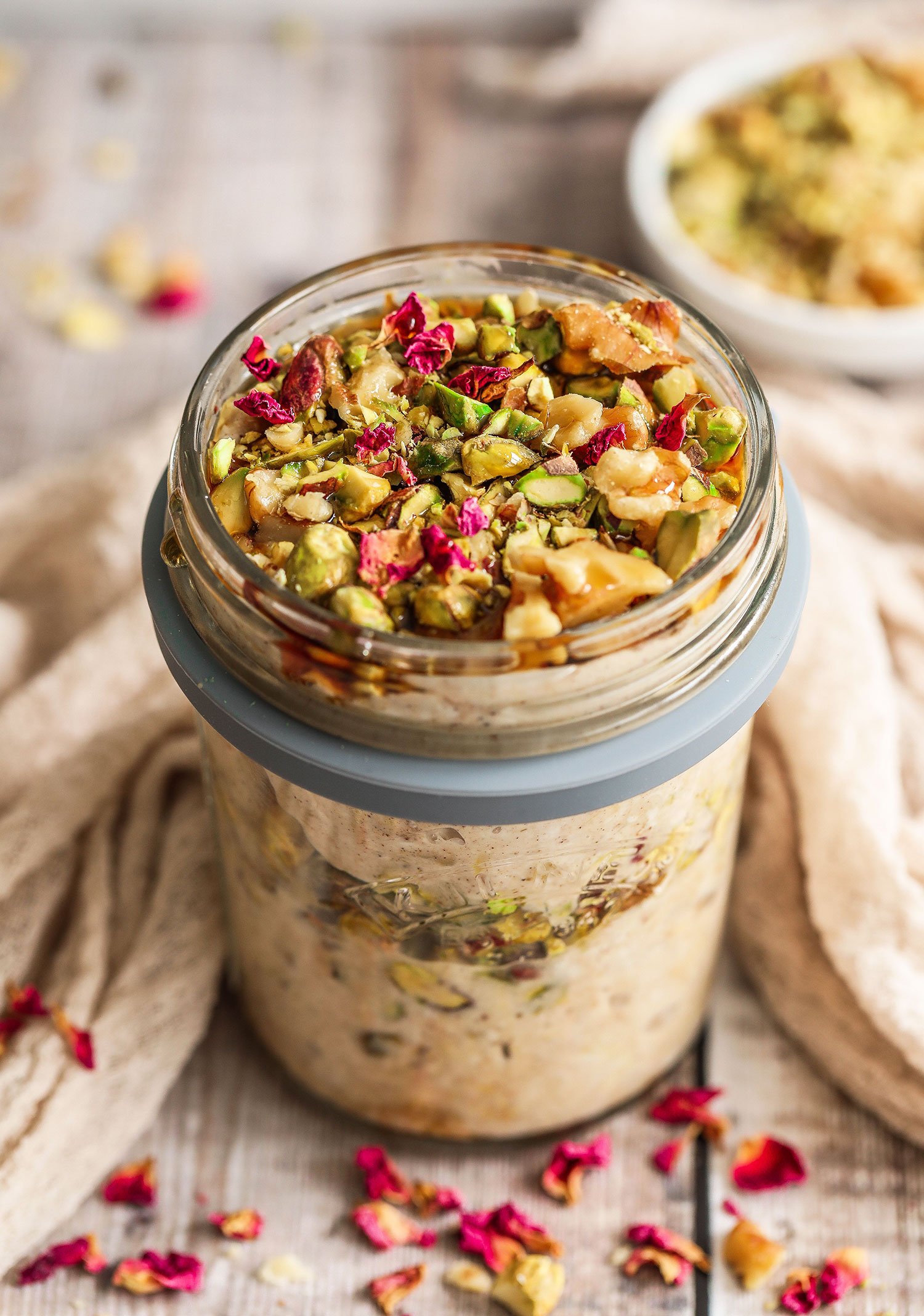 Baklava was one of those treats that we used to enjoy on special occasions. Rich & flakey filo pastry layered with chopped nuts and drenched in a sweet syrup with hints of citrus and rose water. It's so irresistible, but so rich that one small square is enough to satisfy anyone with a major sweet tooth.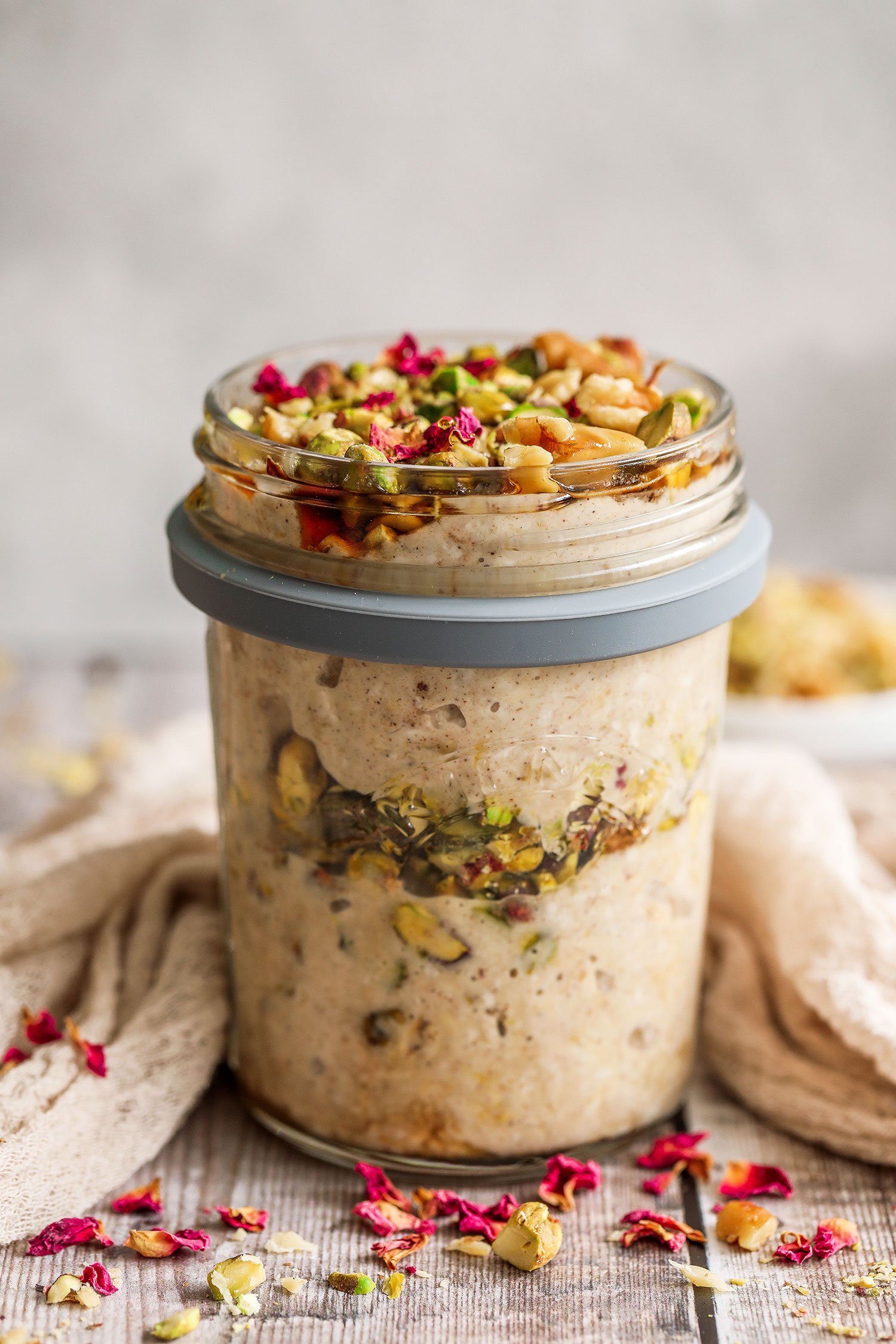 I'm always inspired by Middle Eastern flavours and love incorporating them into my recipes. I made a halva overnight oats recipe a few years ago that I completely forgot about. I was looking through some of my older recipes and came across it and thought "why not make a baklava overnight oats too!", and that I did.
To make this vegan baklava overnight oats recipe, I used flavours and ingredients used to make traditional baklava like rose water, orange and lemon zest, cinnamon and chopped nuts.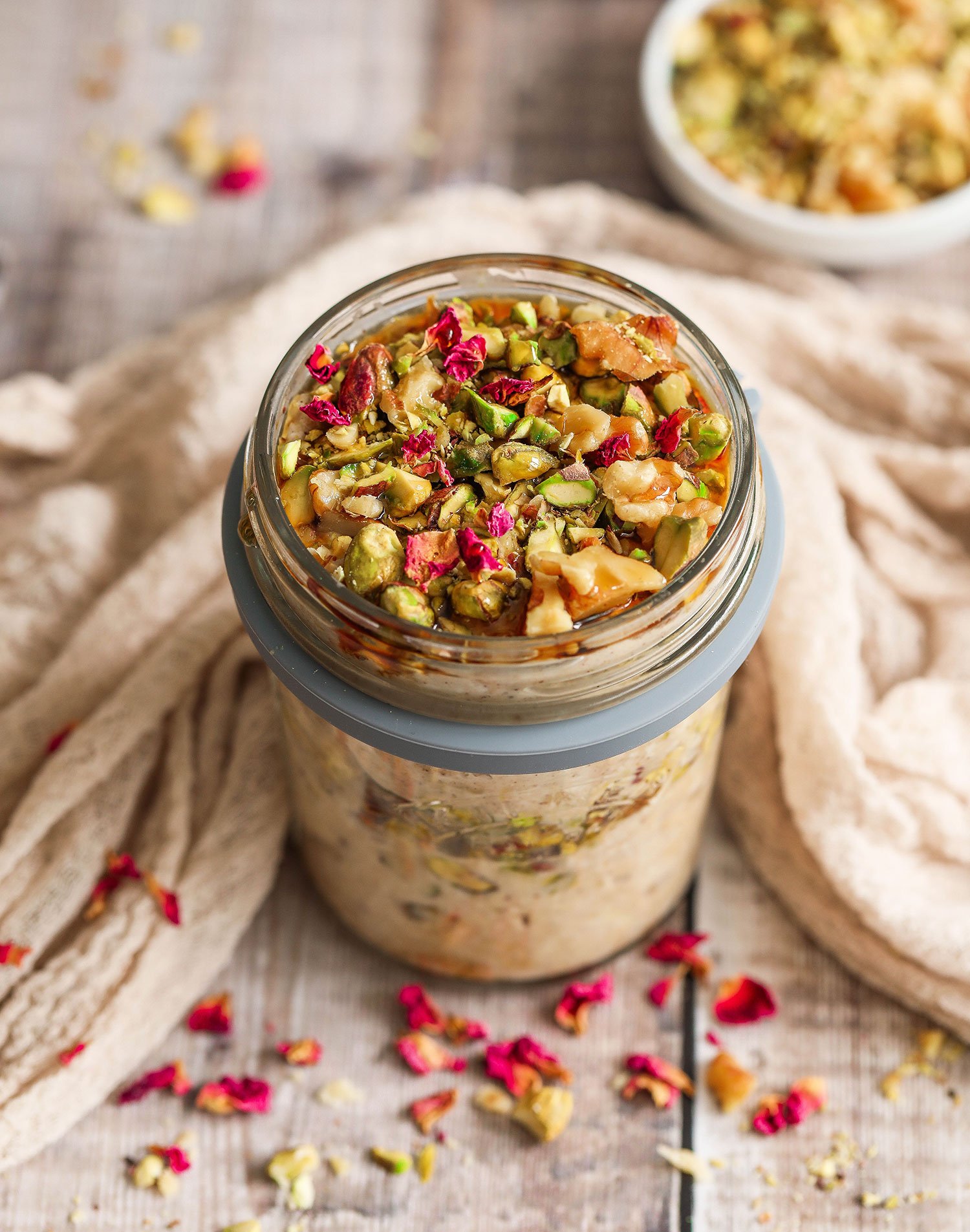 ---
Vegan Baklava Overnight Oats
Serves – 2
Ingredients
80g (2/3 cup) rolled oats – use gluten-free oats if allergic/intolerant to gluten.
1 tsp cinnamon
1/2 tsp cardamom
2 tsp lemon zest
2 tsp orange zest
1/2 tsp rose water
235ml (1 cup) milk of choice – I used oat milk
2 heaped tsp almond butter – pistachio or walnut butter will also work
2 tsp maple syrup – or to taste
1 tbsp each of chopped pistachios and walnuts
Method
Mix the oats, cinnamon, cardamom, lemon zest and orange zest in a large container. Add in the milk, rose water, almond butter and maple syrup. Mix to combine.
Leave to set in the fridge overnight. Sprinkle the chopped nuts on top before serving.
Enjoy!
---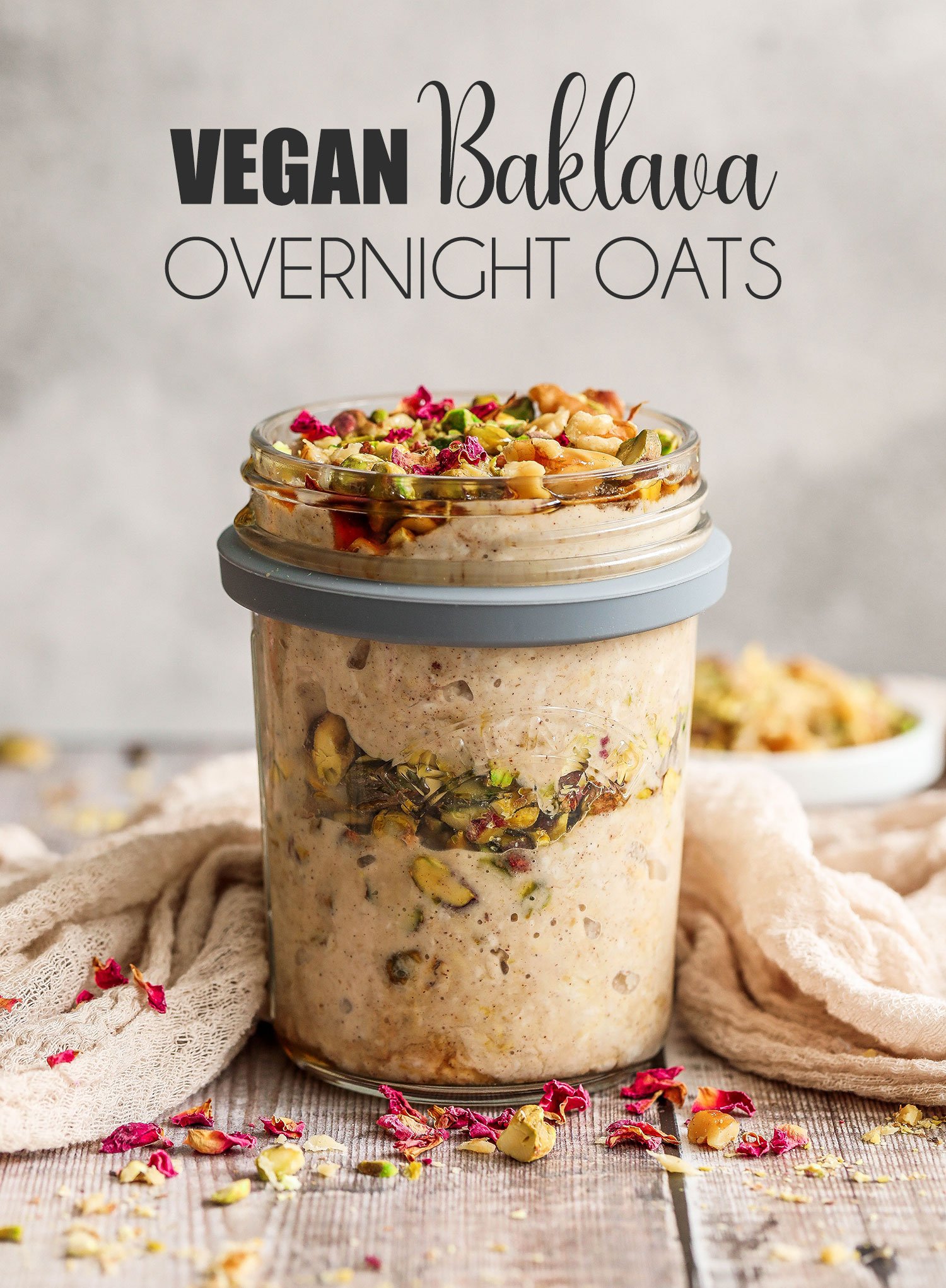 Share This Post