I use applesauce in a lot of my baking and you will be surprised at how easy it is to make at home!
The great thing about making your own applesauce is that you can control the sweetness. I've never been able to find an unsweetened brand of applesauce in supermarkets or health shops, and apples are naturally sweet so I don't see the need to add more sugar.
Applesauce is an excellent substitution for things like oil, butter and eggs. It adds loads of moisture to bakes and is perfect in things like cakes, muffins and cookies. Using applesauce also adds natural sweetness which means you can reduce the amount of added sugar which is a bonus!
I love using applesauce, especially in autumnal and winter recipes. Paired with cinnamon you can make the most delicious and comforting bakes.
Another way to use applesauce is to add a couple of tablespoons to your morning porridge. I don't know about you but I find myself eating porridge almost every morning now that the weather is getting cooler! I try to avoid using sweeteners, especially so early on in the day, so adding something like applesauce is a great way to sweeten porridge naturally while adding lots of extra fibre and nutrients.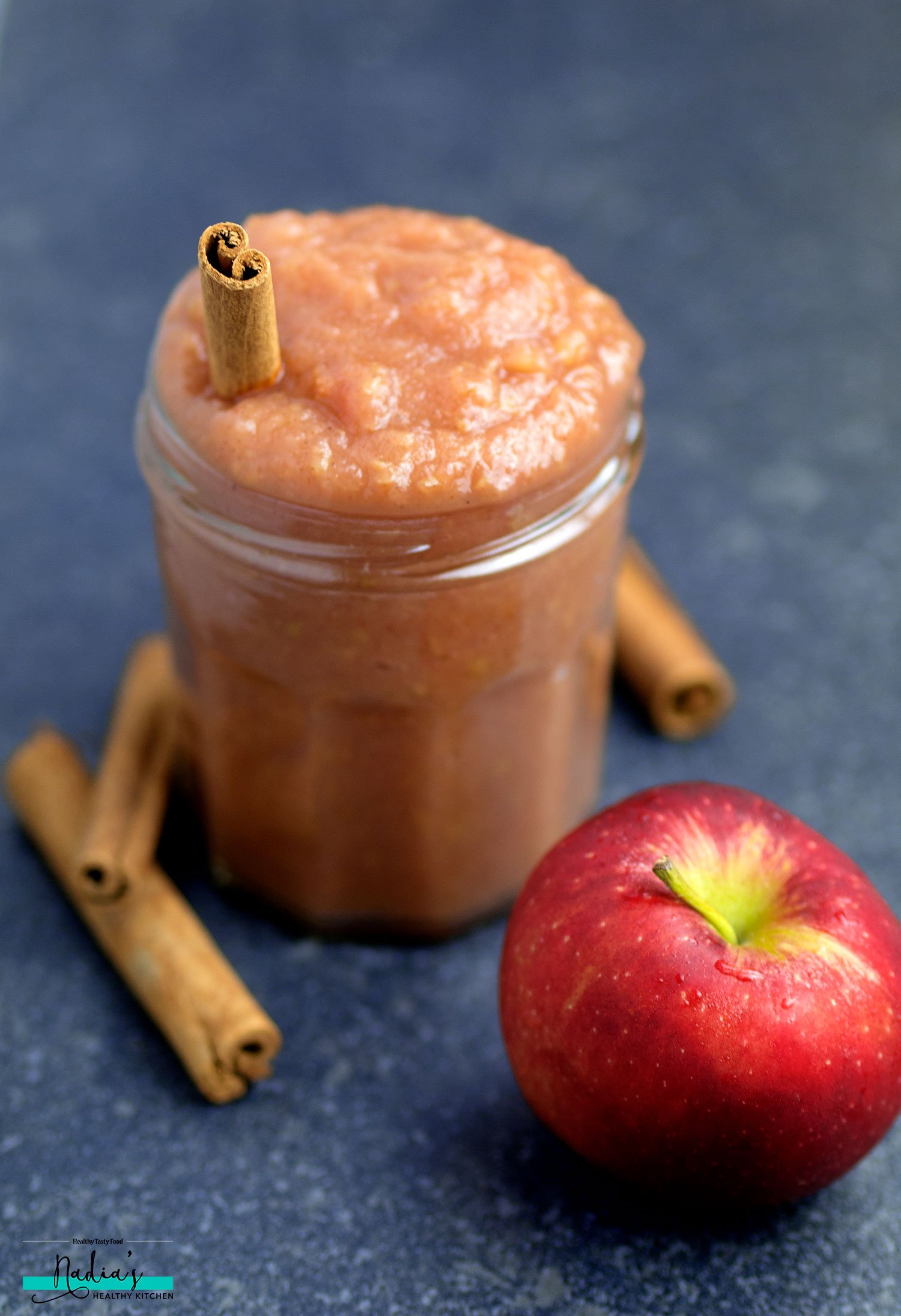 Applesauce as a substitute for oil/butter:
Applesauce works great as a substitute for oil or butter, bearing in mind the texture of your baked goods may be slightly different. It gives a softer and sweeter finish. And if you're substituting for butter you'll obviously lose the buttery taste.
Generally, when substituting applesauce for oil in baking, use a 1:1 ratio. So if a recipe calls for 1/4 cup oil, substitute that with 1/4 cup applesauce. However, this is not always the case, when baking cookies for example. You may need to use slightly less applesauce to make sure the cookies are not too soft.
If you're not 100% keen on the texture that applesauce gives you when baking, you could always use half the amount of oil and substitute the other half for applesauce instead of substituting the whole amount.
Apples are high in vitamins, minerals and fibre which make them a much more nutritious option compared to oil and butter.
| | |
| --- | --- |
| 1/4 cup Applesauce | 25 calories |
| 1/4 cup Sunflower oil | 480 calories |
| 1/4 cup Butter | 400 calories |
Applesauce as a substitute for eggs:
Applesauce can also be used as a substitution for eggs, if you're vegan or can't eat eggs. Generally speaking, you can substitute one egg for 1/4 cup applesauce.

Here's how to make unsweetened applesauce recipe
Unsweetened Applesauce Recipe
2016-10-19 08:33:34
Ingredients
4 medium apples
1/2-1 cup (118ml-235ml) water
1/2 tsp cinnamon*
1 tbsp lemon juice*
*You don't have to add cinnamon or lemon if you don't want to. I choose to do it simply because it adds more taste and complements the flavour of the apples.
Instructions
WATCH THE VIDEO ABOVE FOR INSTRUCTIONS
Core and chop your apples - I chose to keep the skins on, but you can peel the apples if you prefer.
Add the apples to a saucepan along with the cinnamon and lemon juice.
Add the water - starting with 1/2 cup (118ml). Add more if needed during cooking.
Bring the water to a boil, reduce, cover then leave to simmer for 25-30 minutes until the apples are soft.
Mash the apples using a potato masher or you could blend using a hand blender.
Leave to cool completely then transfer into a jar/container and store in the fridge.
Notes
This recipe makes enough to fill a 500g jar.
Store in the fridge for up to a week.
Nadia's Healthy Kitchen https://nadiashealthykitchen.com/