Delicious parcels that are so quick and easy to make. These tofu rice dumplings make a great main meal or a protein packed snack/side dish.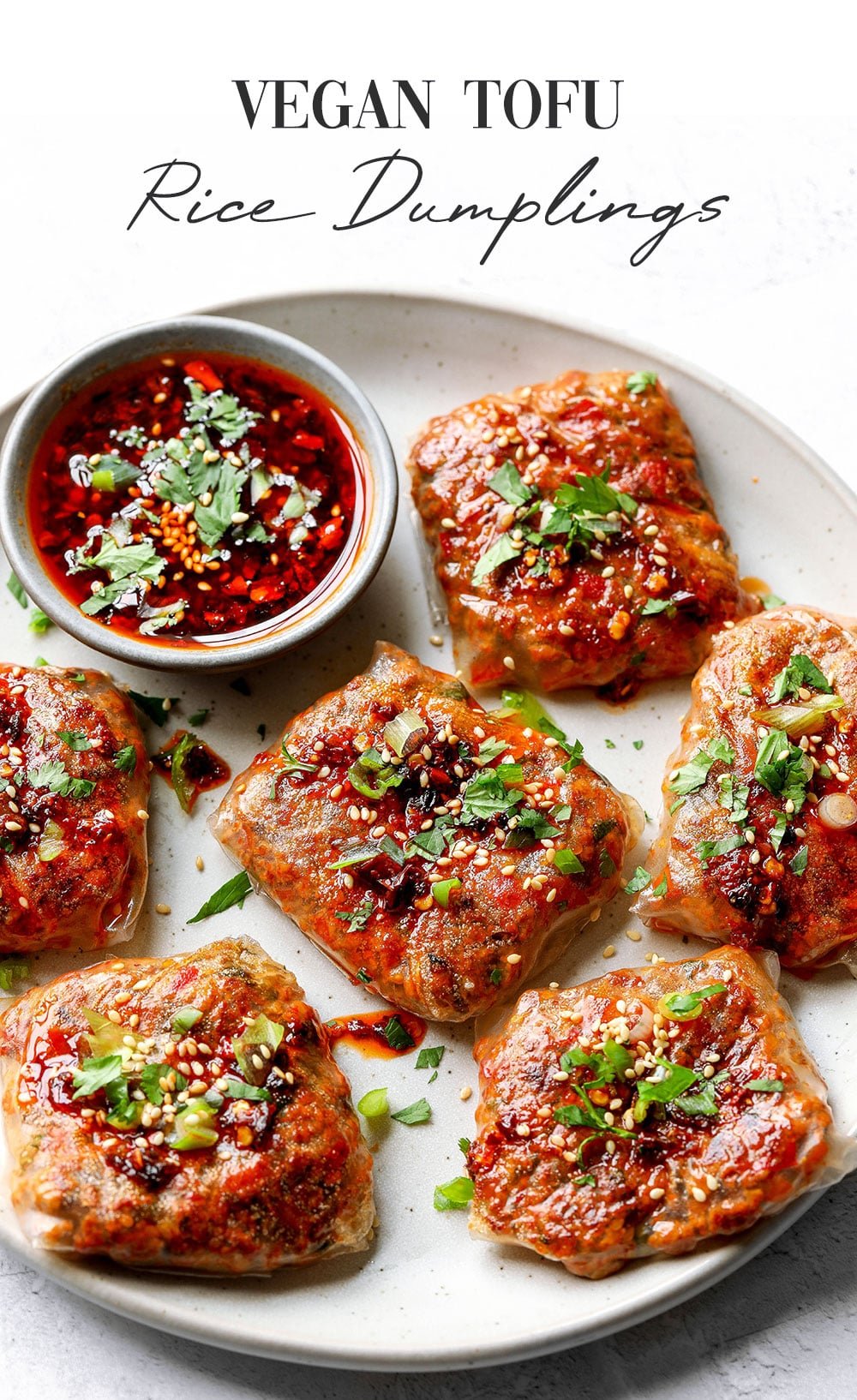 Tofu is one of my favourite ingredients to use in main meals. Even though I'm not fully vegan, I do follow a mainly plant-based diet. I find tofu one of the best and easiest ways to add protein to meals without resorting to using ultra processed fake meats.
Tofu can also be high in calcium, especially if it's set in a calcium solution. Calcium is another nutrient that can be lacking in a poorly planed plant-based diet or if you don't eat things like dairy and boney fish. Tofu is a great way to make sure you're meeting your daily recommended intakes.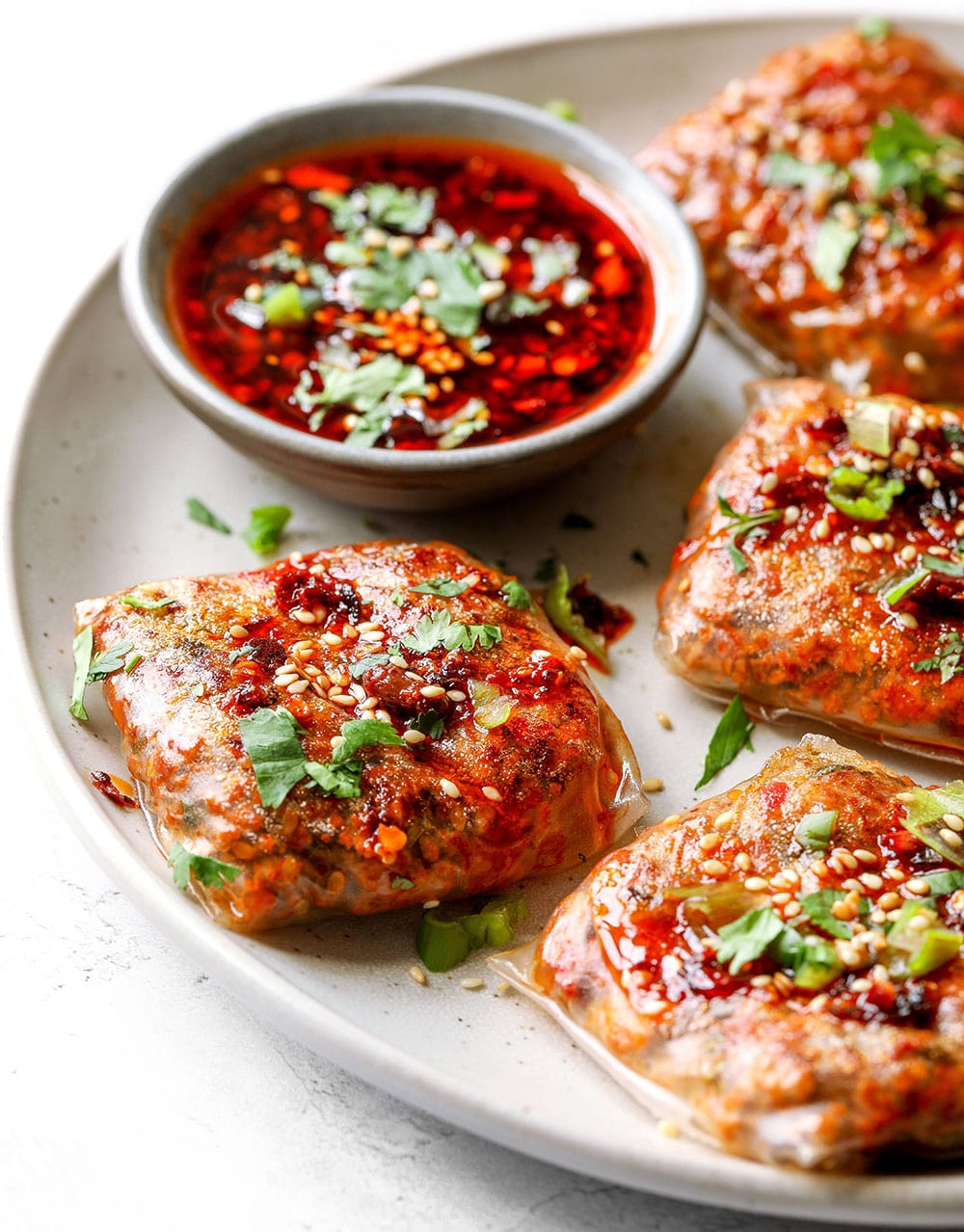 It also doesn't require much time to cook – another reason why I make sure I always have a pack or two of tofu in my fridge. I usually crumble it up (until it resembles minced meat) straight into a pan. This way it cooks within minutes, meaning I don't need to cook it first separately, then add it into the final dish later like many recipes instruct you to do.
To save time, I use firm tofu that doesn't need pressing. You may need to press your tofu first before cooking depending on the brand you buy. Always check the pack instructions before cooking your tofu.
As the title of this recipe suggests, I'm using rice paper wraps to make these tofu rice dumplings. I prefer using them to things like filo pastry or spring roll sheets as they're so much lighter. They also happen to be gluten-free, which is a bonus if you can't eat it/choose to avoid gluten.
I love to serve my tofu rice dumplings with some chilli oil (my current favourite is this crispy chilli oil), but they taste amazing without!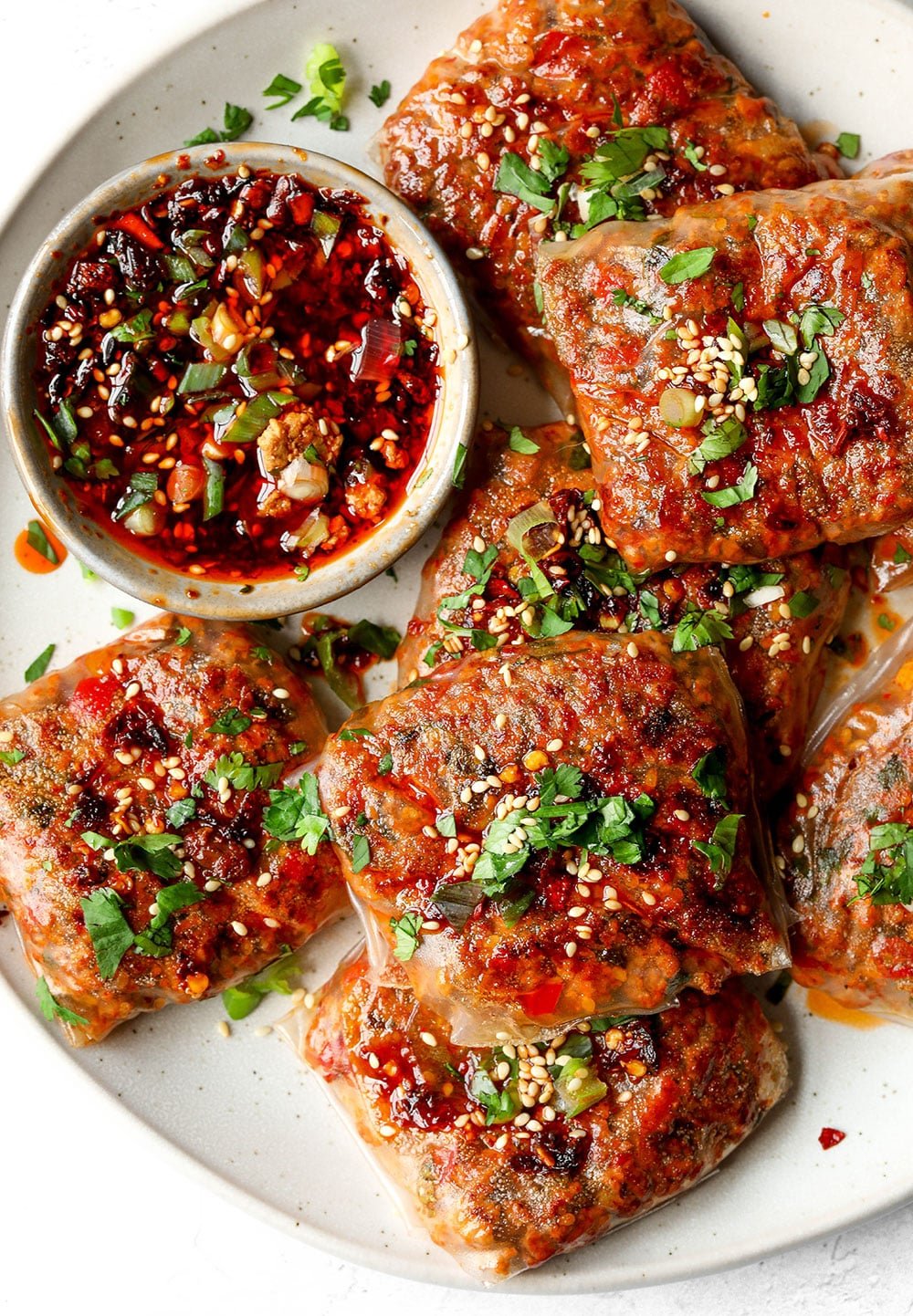 What you need to make these tofu rice dumplings:
Tofu – Packed with protein, tofu is a great ingredient to add to meals to increase protein content without using processed meats. Firm tofu works best.
Carrots – You can use any vegetables you like, but I like to use carrots for the crunch and to add a pop of colour.
Garlic & spring onions – Onions & garlic are the backbone for most dishes, especially Indian cooking. They both add depth, richness, but also character to dishes.
Soy sauce – to add an umami flavour as well as a hint of sweetness. I love using dark soy sauce as it has a more intense flavour and richer colour.
Sriracha – An easy way to add a bit of heat and lots of extra flavour!
Rice vinegar – When making a savoury meal, it's important to balance all the flavours. I'm using rice vinegar to add a bit of sourness to contract the salty soy sauce and sweetness of the chilli sauce and maple syrup. Lemon or lime juice will also work.
Maple syrup – A bit of sweetness helps balance out all the other flavours. You can also use honey or granulated sugar here.
Rice papers – I love using rice papers because they're light, low in calories and also happen to be gluten-free. In my opinion they're a better option compared to things like spring roll pastry.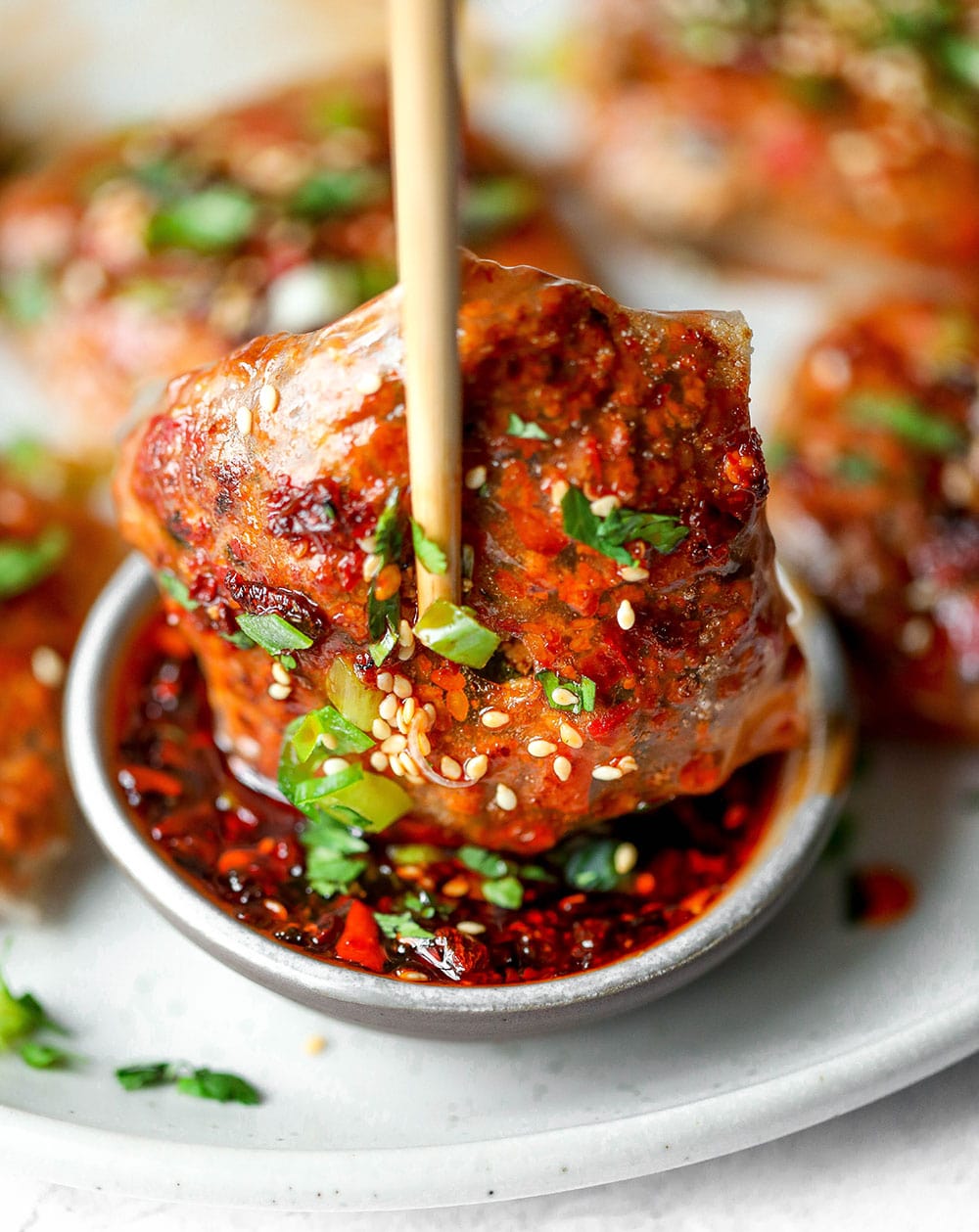 Why you need to try these tofu rice dumplings:
They're high in protein (with 18g per serving).
Easy to make
Super delicious
Packed with antioxidants
Vegan
Dairy-free
Gluten-free
Egg-free
Nut-free
Healthy and light
Can be enjoyed as a side, main or snack!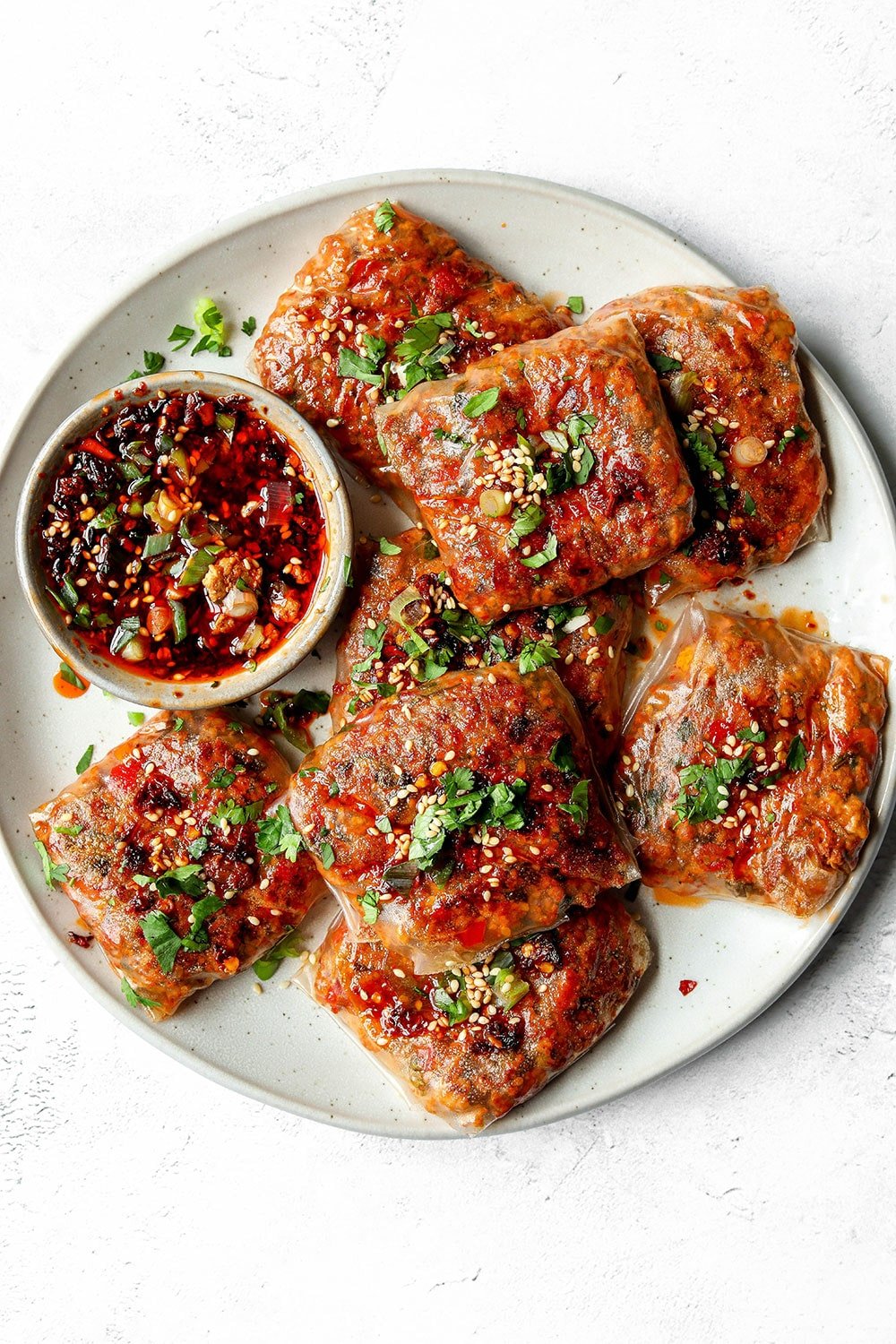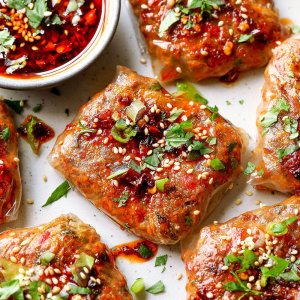 Tofu Rice Dumplings
Delicious parcels that are so quick and easy to make. These tofu rice dumplings make a great main meal or a protein packed snack/side dish. Once you try them you'll want to make them all the time!
Ingredients
1

tbsp

oil

450g

firm tofu

3

Spring onions

finely chopped

1

medium carrot

finely chopped

2

garlic cloves

minced

1/2

tbsp

sesame oil

2

tbsp

dark soy sauce

2

tbsp

sriracha

1

tbsp

rice vinegar

1

tsp

maple syrup

Handful coriander

finely chopped

1

tbsp

sesame seeds

dry toasted in a pan

14

rice papers

Chilli oil to serve
Instructions
Heat 1 tbsp oil in a pan and add the chopped onions, pepper, carrot and garlic.

Cook for 1-2 minutes, them crumble in the tofu (or you can blend it up into a ground meat consistency in a food processor). Continue cooking for 5-7 minutes.

In a bowl, mix together the sesame oil, soy sauce, rice vinegar, sriracha and maple syrup. Mix and pour into the pan. 

Fold in the chopped coriander and toasted sesame seeds and continue cooking for a further 2 minutes. Take off the heat and allow to cool slightly.

In the mean time dip a rice paper into a large bowl of cold water for 3-5 seconds - just until it's soft enough to work with. 

Place onto a dampened chopping board (so it doesn't stick) and add 2 tablespoons of the filling in the centre.

Fold the in the left side all the way over the filling. Then work either clockwise or anti-clockwise to fold in all the sides. (I like to single wrap my dumplings, but you can double wrap with another rice paper if you find yours is ripping). 

Heat 1/2 tbsp of oil in a frying pan and start frying your dumplings on a medium heat. You only need to fry them for 1-2 minutes on each side until they're golden brown. 

Serve with an optional crispy chilli dip
Nutrition
Calories:
370
kcal
Carbohydrates:
46
g
Protein:
18
g
Fat:
12
g
Saturated Fat:
1
g
Polyunsaturated Fat:
6
g
Monounsaturated Fat:
5
g
Trans Fat:
0.01
g
Cholesterol:
6
mg
Sodium:
1082
mg
Potassium:
177
mg
Fiber:
3
g
Sugar:
3
g
Vitamin A:
2658
IU
Vitamin C:
8
mg
Calcium:
210
mg
Iron:
4
mg