Tandoori Tofu Chickpea Pizza
I usually make pizza on a Friday or Saturday evening and I know it's only Tuesday, but I spent the whole weekend working and this evening I really feel like having pizza and a movie night with the hubby.
Today, I'm making two pizzas; one with cheese (for the hubby) and one without (for myself). I try to avoid dairy as much as I can for several reasons. The main one being it triggers my IBS flare-ups. To my husband's disappointment I usually leave out cheese when I make pizza. He LOVES his cheese and wouldn't consider a pizza "a pizza" without it, although he made an exception with my avocado pizza.
I have to agree with him to a certain extent. A pizza just isn't the same without cheese. In the past whenever I would make pizza I would add cheese to one half only so I could eat the other cheese-less half, but it was such a faff and it didn't guarantee I wouldn't get any dairy on my side.
Now I no longer have to worry certain food contaminations. Why? Because I'm now a proud owner of a Bosch Serie 6 oven!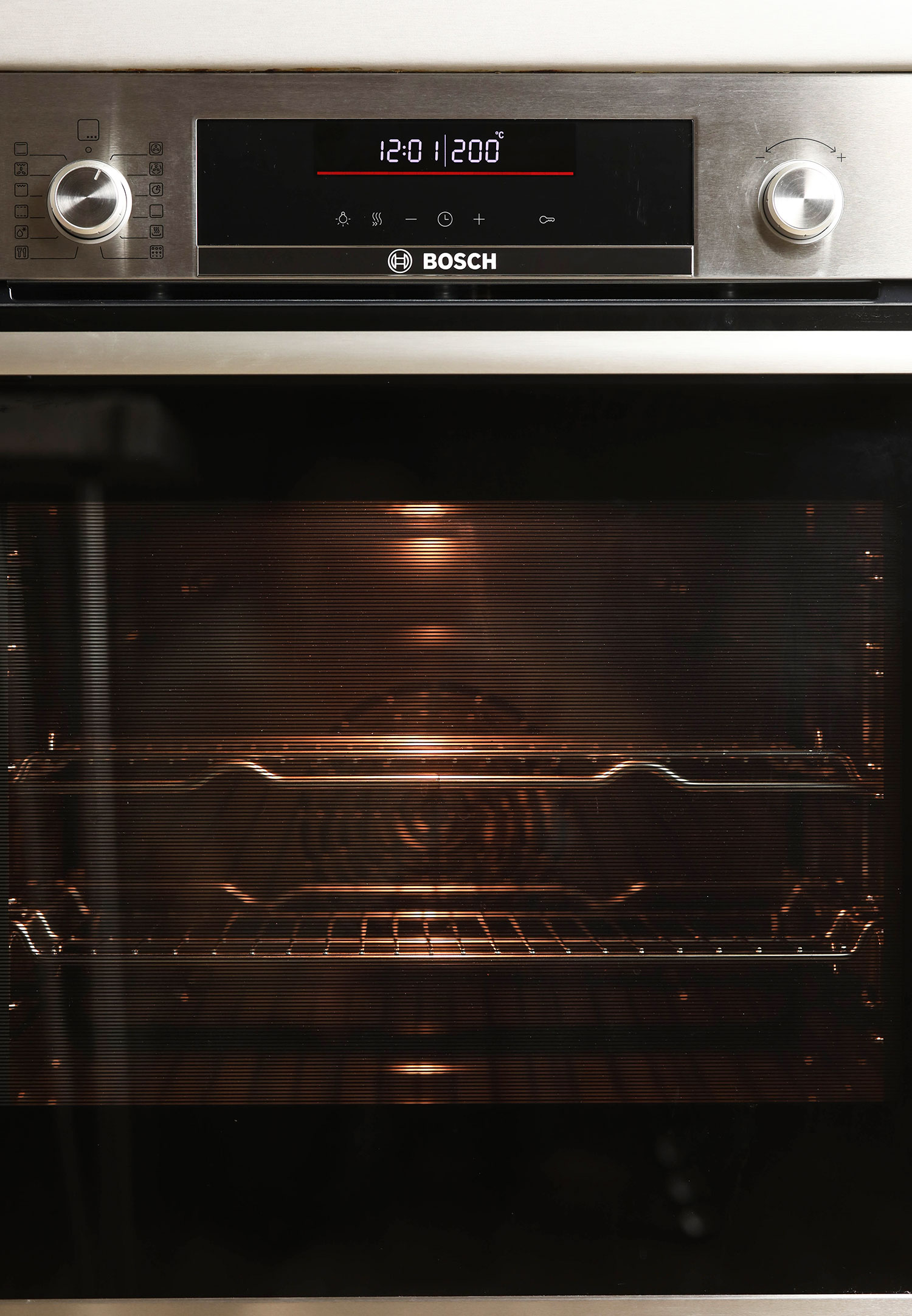 Bosch recently contacted me asking if anyone in my household suffered with food allergies/intolerances and if that made meal prepping awkward and time consuming. They offered for me to try out one of their new Bosch Serie 6 ovens, which came with a 2 piece split pan allowing to cook two different dishes simultaneously.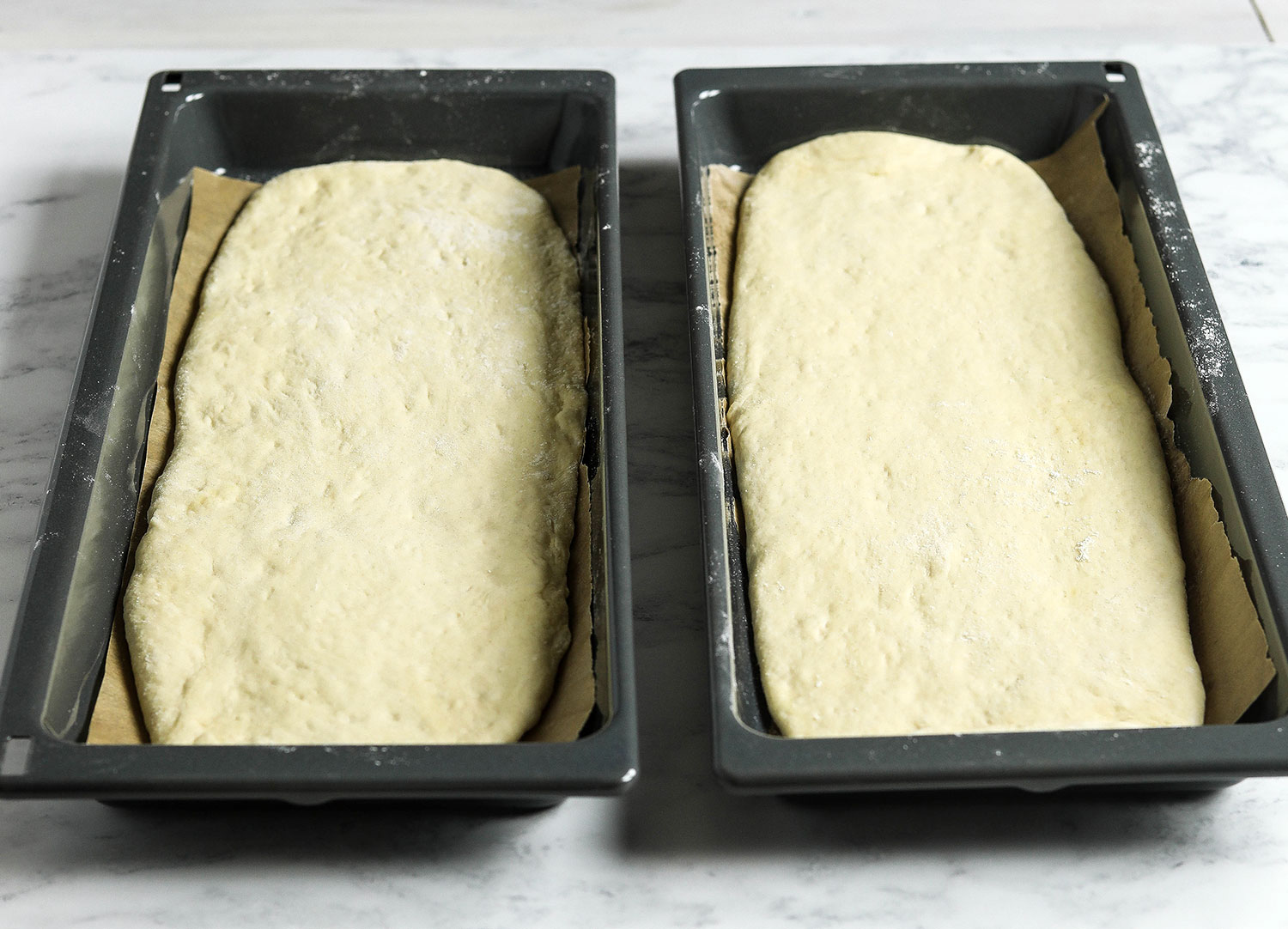 As well as avoiding dairy and gluten myself, I also have relatives with different dietary requirements who I cook for on a regular basis. One is vegan and another has a mild nut allergy. Since having the Serie 6 oven, it has made meal prepping for myself and others so much easier. It has a 3D HotAir function, which means it's able to maintain the right temperature across all three shelf levels resulting in consistently even cooking with no intermingling of flavours.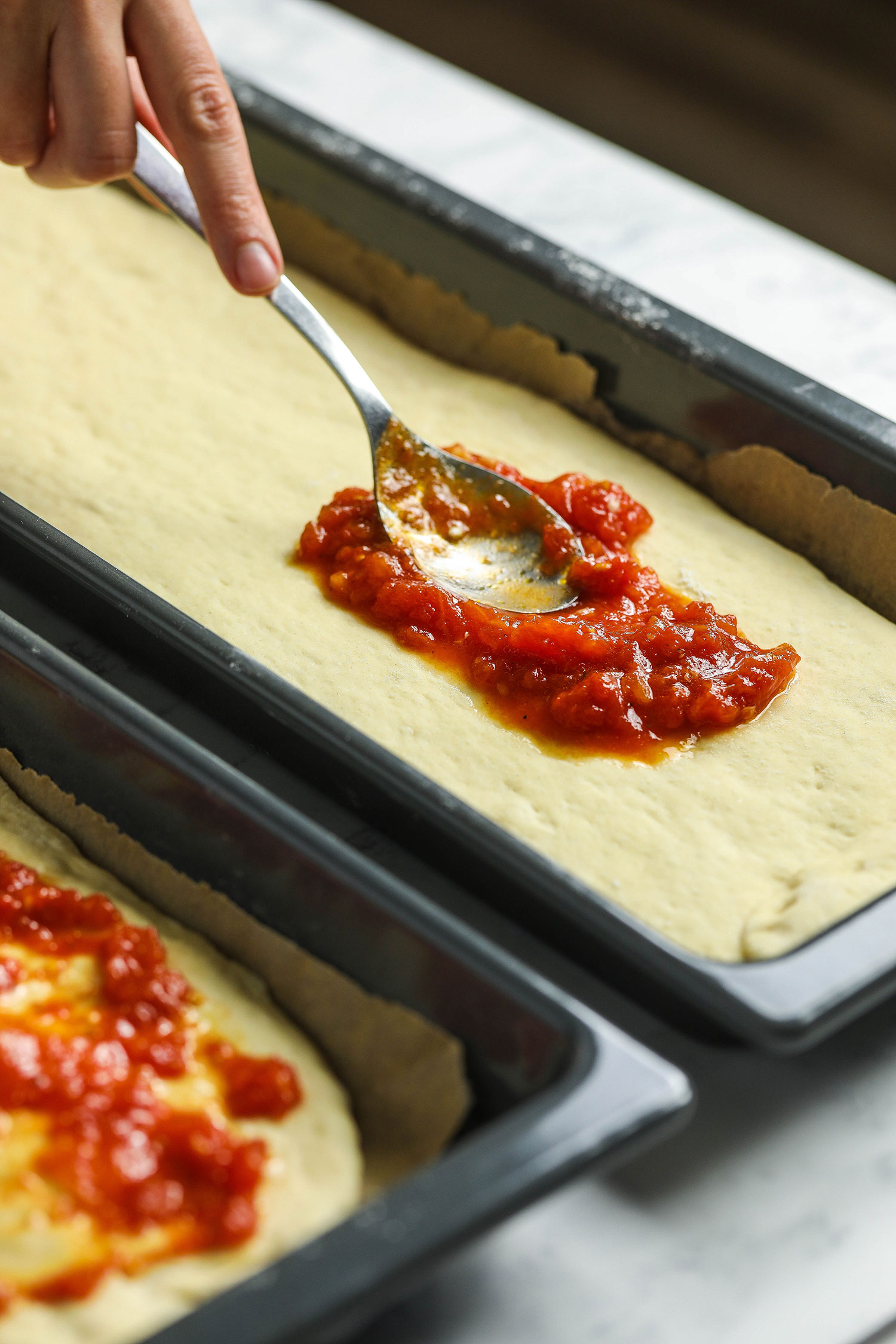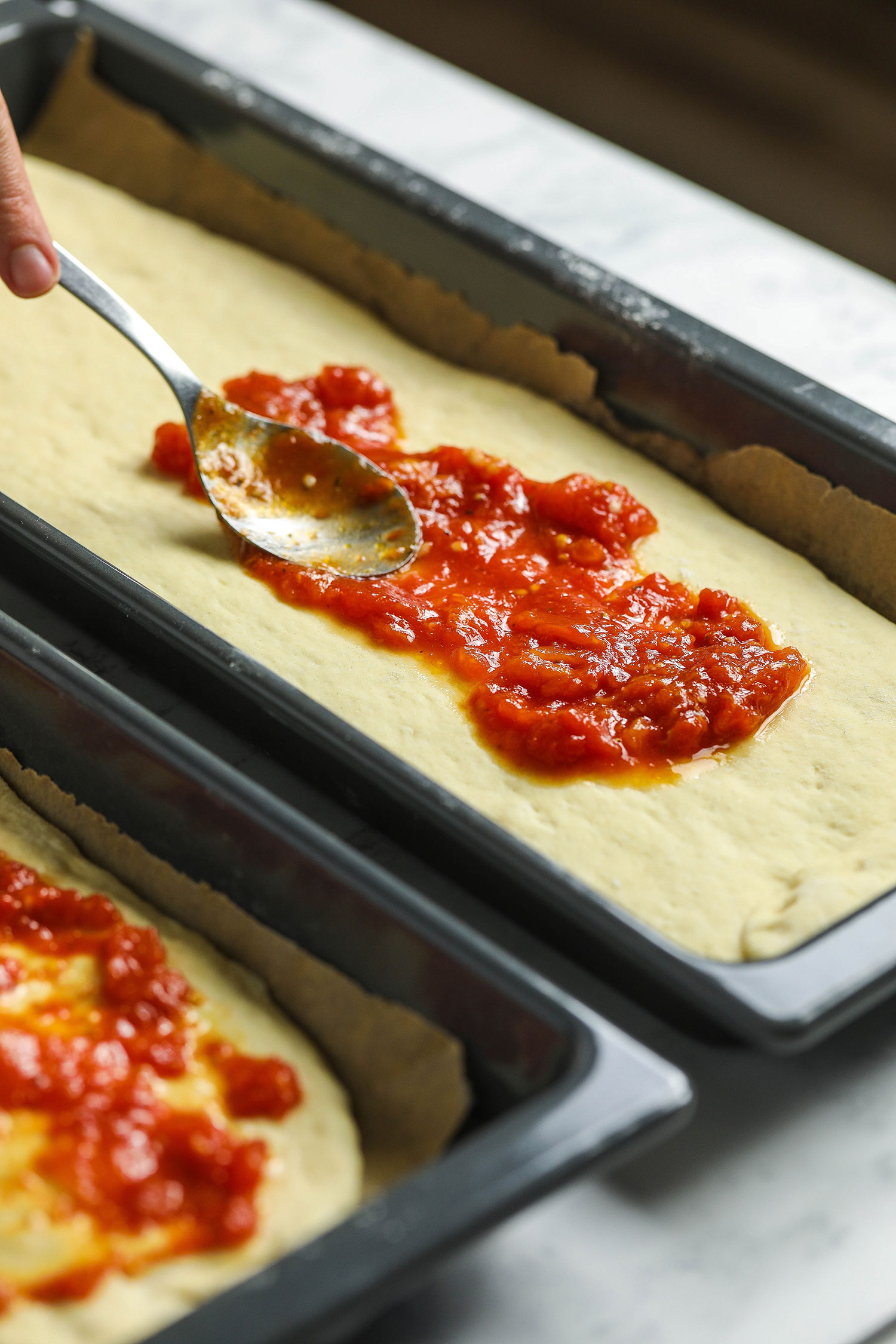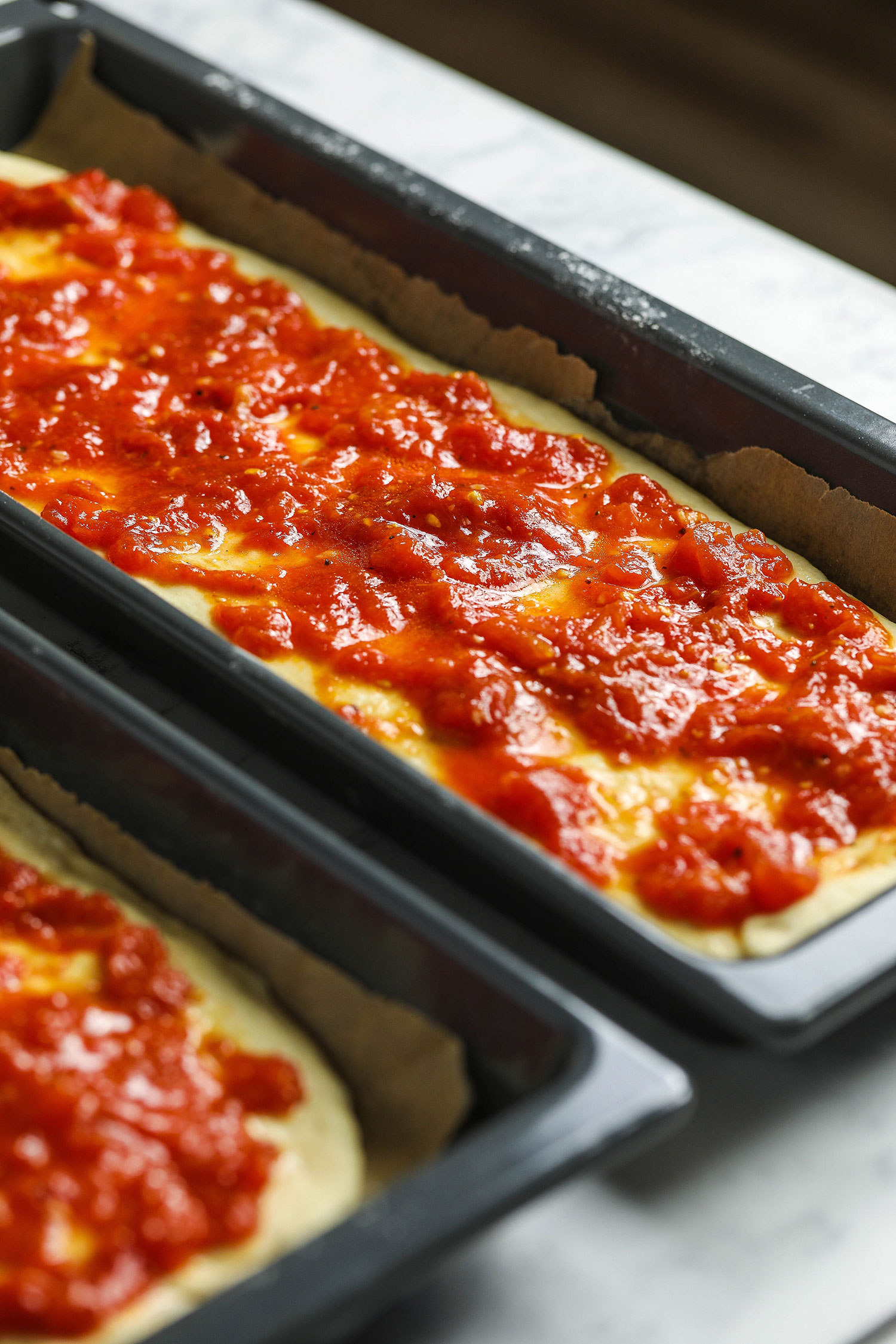 Bosch has recently conducted research around the changes in our eating habits and found the following statistics:
One quarter of all households have someone suffering from either an allergy or food intolerance
The largest of these being dairy (making up 40 percent of those with allergies) followed by gluten (24 percent) and nut (23 percent).
Parents spend 2.5 hours in the kitchen every week making food which meets everyone's needs
Those stats are quite significant and a lot higher than I expected!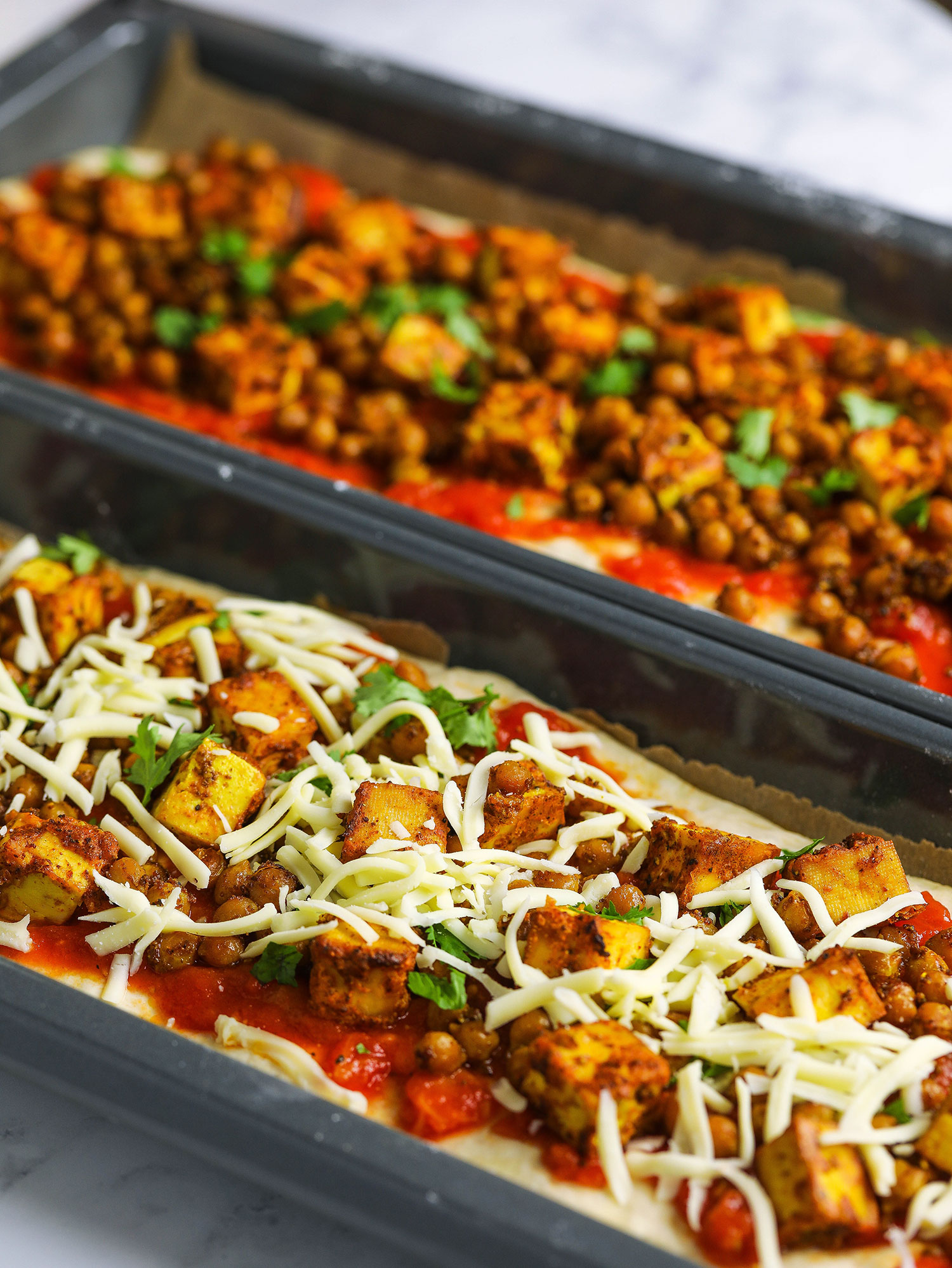 As well as making food prep for people with different food preferences and dietary requirements much easier, the other thing I absolutely love about this Serie 6 oven is just how unbelievably quiet it is. You literally can't hear a sound! When I first turned it on I was so confused. The light was on, but there was no sound. I thought it was faulty until I stuck my hand in only to realise it was heating up. The fan does turn on every now and then to speed up the heating process, but even then you can barely hear a thing. It also heats up in minutes. One of my issues prior to owning a Bosch Serie 6 was having to wait 10-15 minutes for the oven to preheat. I always used to forget about preheating the oven until the minute I wanted the food in the oven, which meant I'd waste 10 minutes waiting around instead of the food being cooked.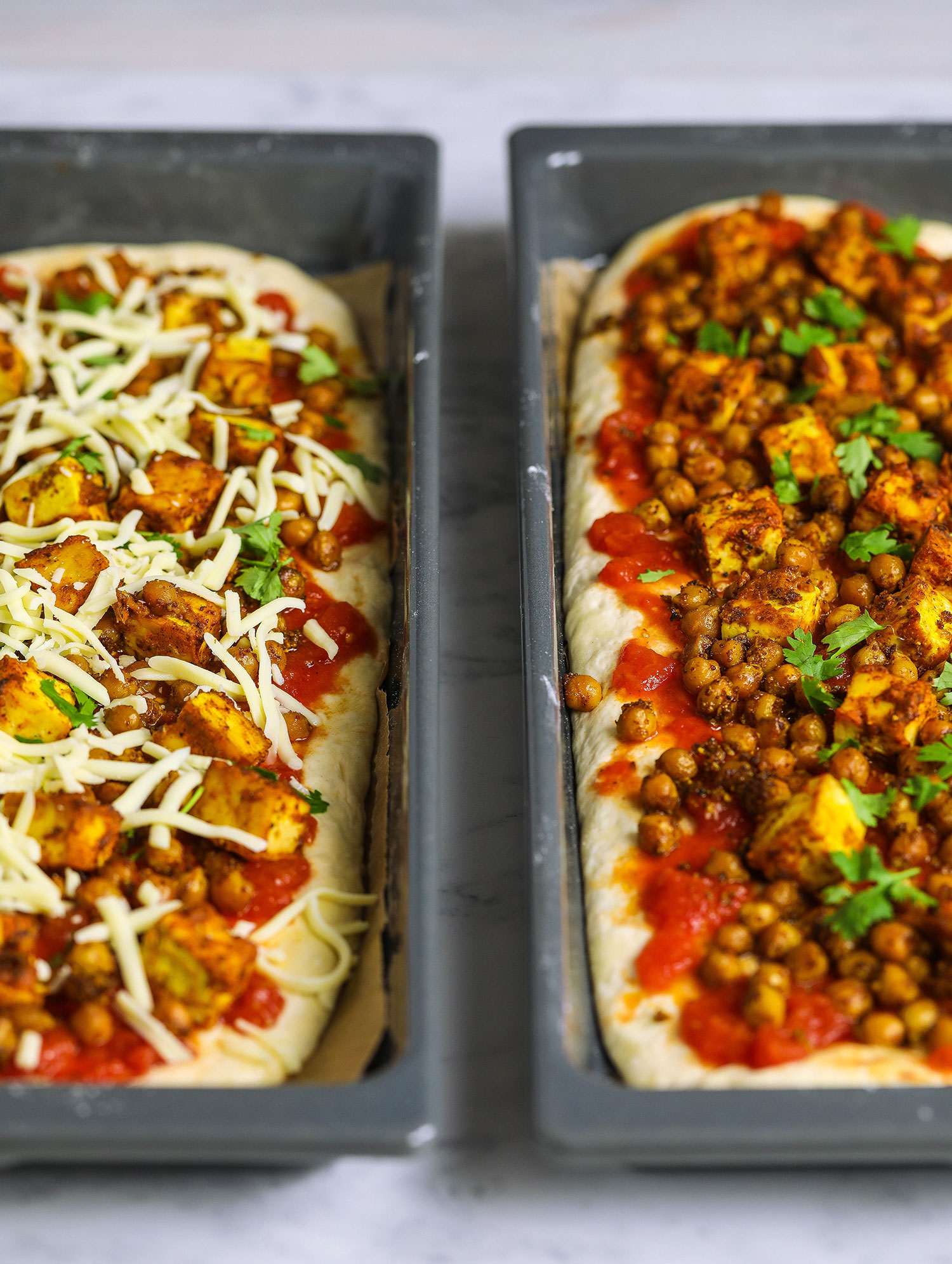 Even the hubby was impressed with the oven. He's a huge tech geek and was so impressed by how quiet it was and how quickly it heated up. The first few days after we had it installed, he kept saying "This is so amazing…I love tech!"
It also has level-independent telescopic rails. The interchangeable level-independent telescopic rails can be added to any level of the oven. Helping to make cooking more convenient, the rails can be simply clipped on for flexible use and removed for easy cleaning.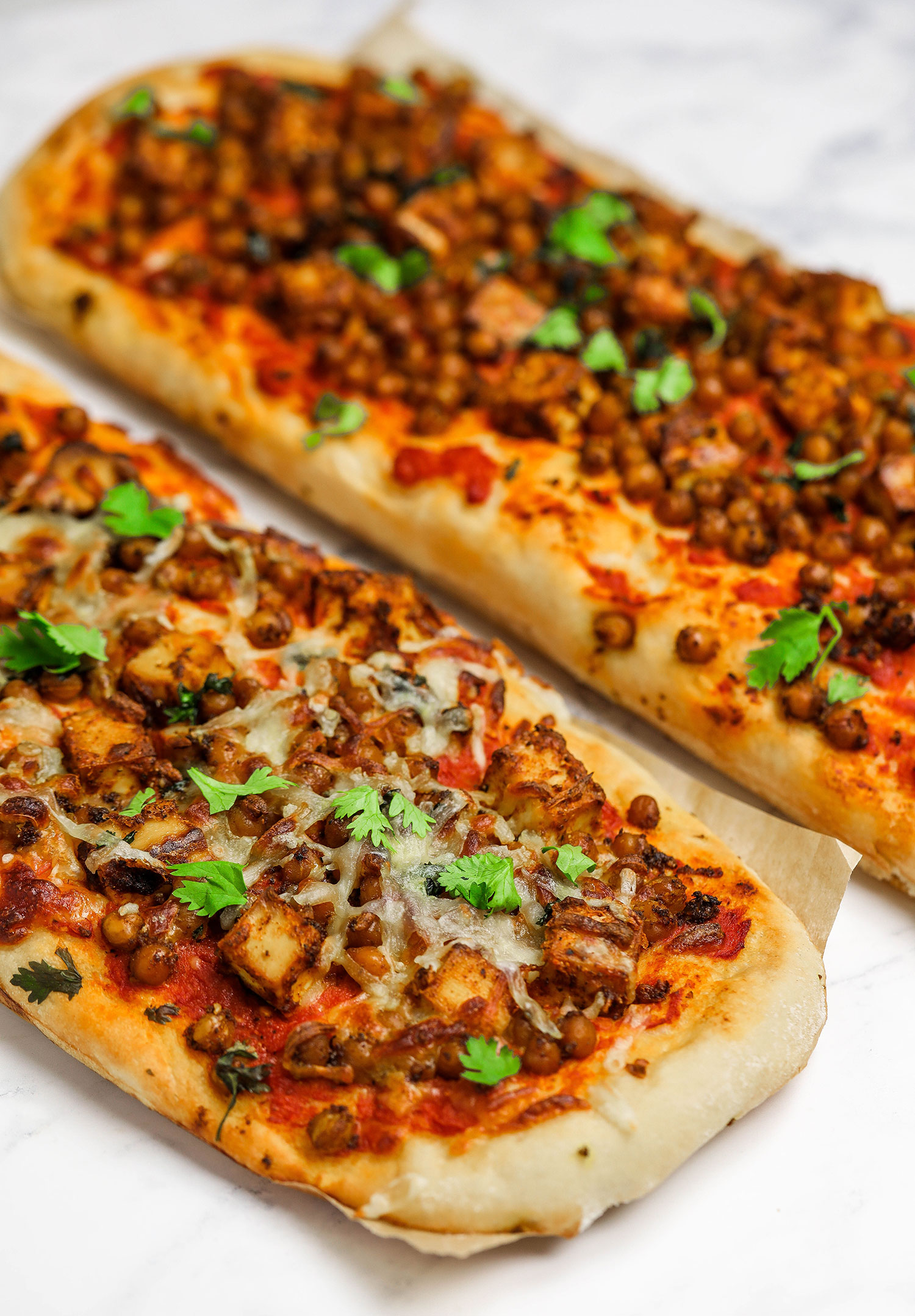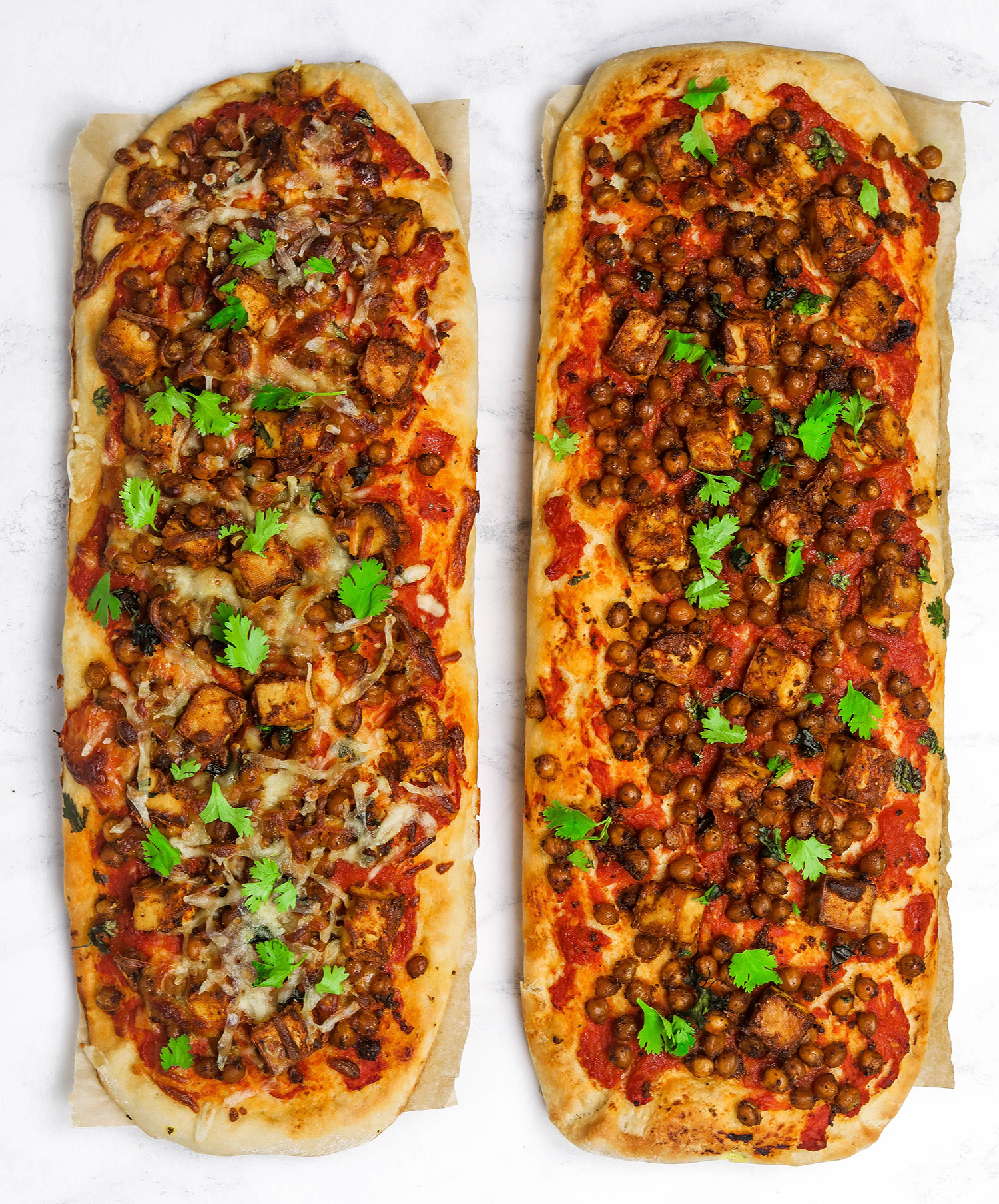 I wanted to create a plant-based pizza that had a good amount of protein as I'm trying to up my protein intake for each meal. When I think of plant-based protein, the first thing that comes to mind is tofu! It's also an amazing source of omega-3 and calcium, both of which I think my diet is fairly low in and I'm working on trying to boost my levels of those two essential nutrients.
I'm using the Bosch split pans to create two pizzas, the only difference between them is one is topped with cheese and the other isn't.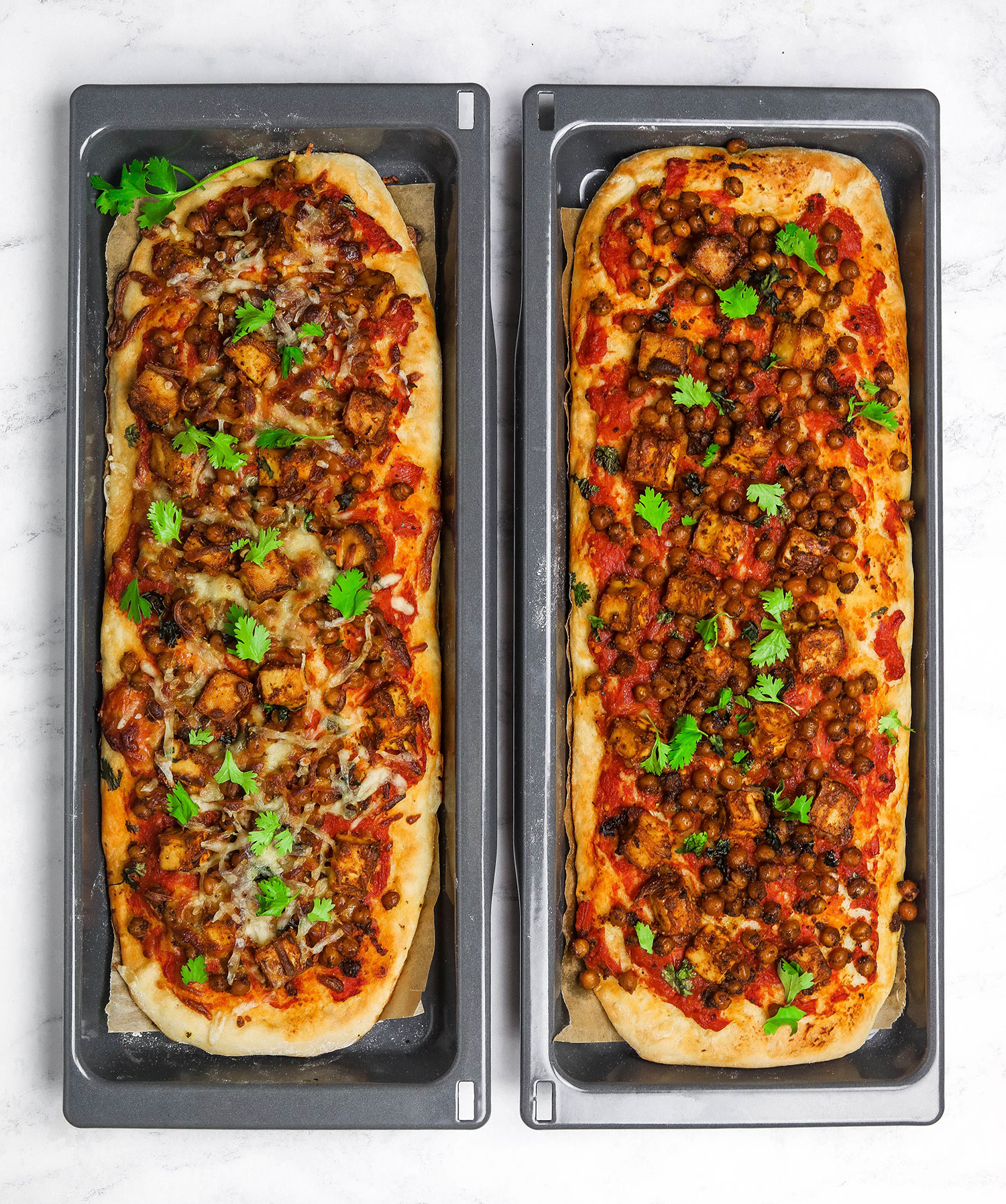 If you're looking for something delicious to make for a crowd with vegans and non-vegans, I would highly recommend making these tandoori tofu chickpea pizzas. They're easy to make and great crowd pleasers. You can customise each to fit your guests dietary requirements.
Both Bosch Serie 4 and Serie 6 ovens available to buy at www.bosch-home.co.uk.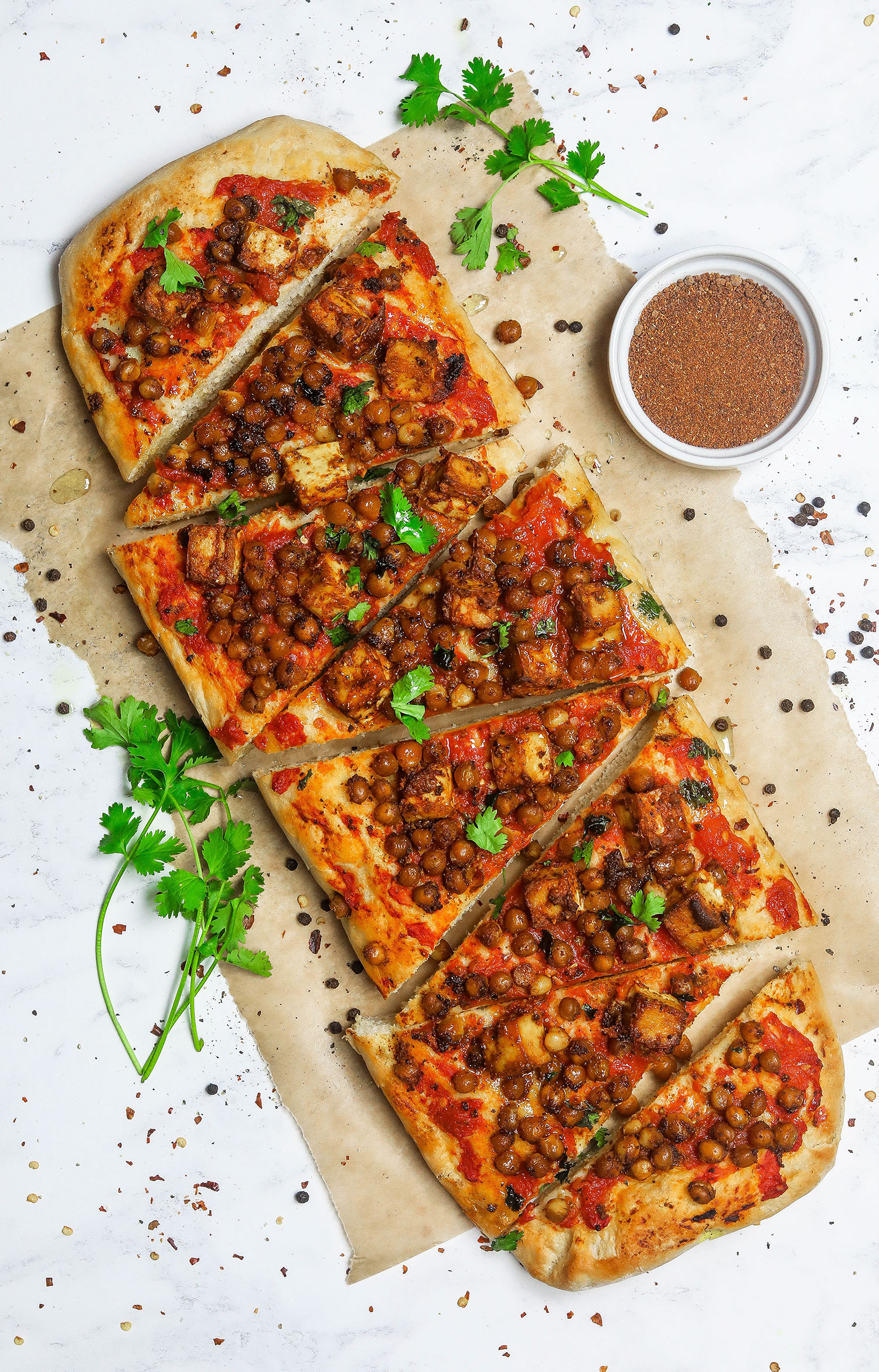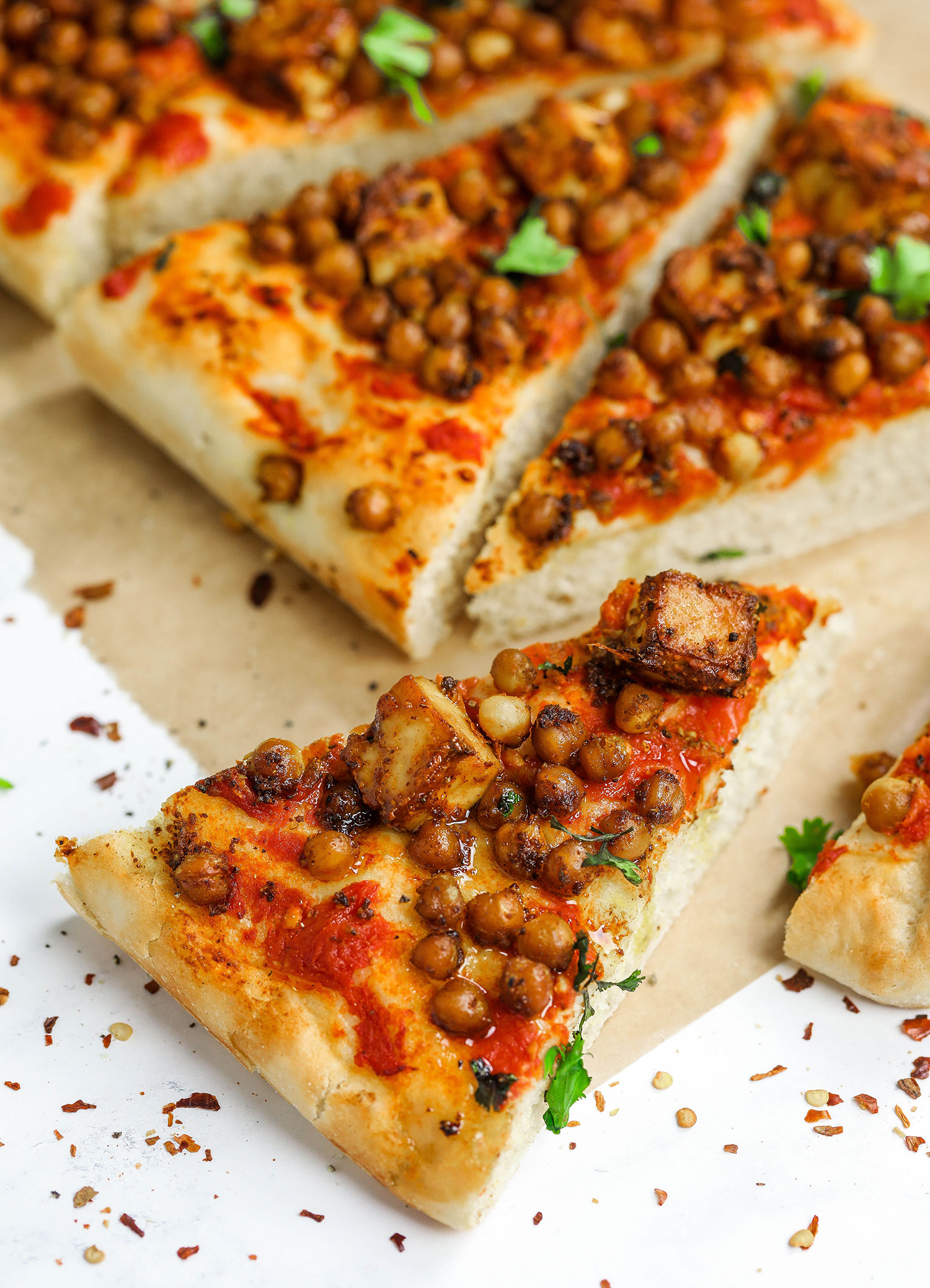 ---
Tandoori Tofu Chickpea Pizza
Makes: two 40cm x 15cm rectangle pizzas
For the pizza base
500g wholemeal/white spelt flour
2 tsp dried active yeast
1 tsp salt
2 tbsp olive oil
280ml warm water
For the tandoori tofu
400g firm tofu, drained according to pack instructions and chopped into small cubes.
2 tbsp tandoori
1/4 tsp garlic powder
Salt and pepper
1 tbsp Lemon juice
1/4 tsp turmeric
1/4 cup yoghurt
2 tbsp tomato purée
1 tbsp cornflour
For the tandoori chickpeas
1x 400g can chickpeas
2 tbsp tandoori powder
1 tbsp Lemon juice
1.5 tbsp oil
Salt & pepper
1/4 tsp turmeric
For the tomato sauce
400g can chopped tomatoes
1 tbsp olive oil
1 garlic clove, crushed
Salt & pepper to taste
Method
To make the base – mix the yeast, sugar and warm water in a bowl and leave for 5 minutes to activate.
Mix the flour and salt in a large bowl, then add the oil and pour in the water-yeast mixture. Kneed until you have a soft and tacky dough. Cover and leave in a warm place for an hour.
To make the tandoori tofu – mix all the tofu marinate ingredients in a large bowl, then add in the tofu making sure the marinate coats the cubes evenly.
To make the tandoori chickpeas – mix all the chickpea ingredients together in a large bowl making sure everything is coated evenly.
Preheat your oven to 180°C (I used the 3D hot air setting on my Bosch Serie 6 oven).
Arrange the tofu and chickpeas on a baking sheet covered with parchment paper and bake for 20 minutes.
To make the tomato sauce – heat 1 tbsp olive oil on a low/medium heat. Add the garlic and cook for a few seconds, just until you can smell the garlic, then add in the can of chopped tomatoes. Bring to a quick boil, then lower the heat and simmer for 5 minutes. Season with salt and pepper.
Divide the dough into two equal balls. Roll each onto a lightly floured surface. I rolled mine out into two 40cm x 15cm rectangles to fit into one of the Bosch split pans.
Spread the tomato sauce, then top with the tandoori chickpeas and tofu cubes (I then added cheese to my husband's pizza).
Bake for 15-20 minutes.
Enjoy!
---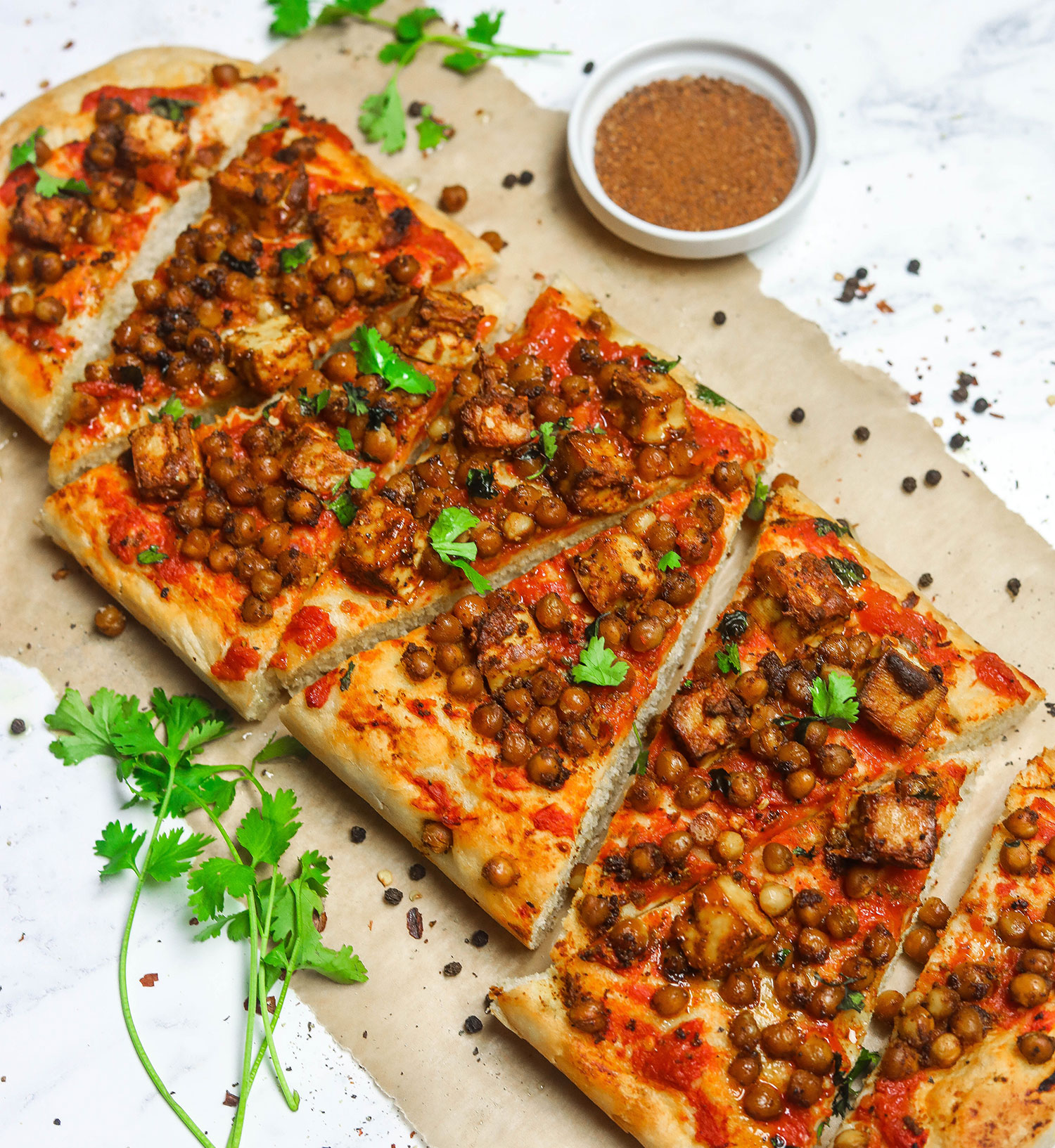 Thanks to Bosch for sponsoring this post. Commissioned posts is how I'm able to continue working on the blog and creating recipes and recipe videos for you. As always, all opinions are my own.